This was no ordinary trip. More than anything, this trip was a reunion. My college friends and I had not met one another in years and it was the first time that all of us would be going on a trip together. Needless to say, the trip was bound to be memorable primarily because of the people I was with.
But that's not saying the place didn't matter. Our destination — Pagbilao and Padre Burgos, Quezon — made this reunion a lot more special.
Our original plan was Lucban, Quezon for the Pahiyas Festival. Unfortunately, not everyone was free at the time. We  moved our target date to the weekend after but of course, we needed to find another destination. We ended up with Pagbilao and Padre Burgos.
Again, I'm not a fan of camping but everyone else wanted to do it that way. If you're planning to go on a camping trip in Quezon, check out this post to see our itinerary and preparations:
Please take note of the tips enumerated on that post. It will help you a lot. Also note that there's a limited supply of water in the area so you should bring your own.

Also note that we hired a budget travel agency for this trip since we had no time to borrow tents and other items and we really wanted a more relaxed weekend and just enjoy each other's company.
Day 1 – On the Road, Puting Buhangin, Kwebang Lampas
We decided to rendezvous somewhere in Mandaluyong. As soon as we were complete, we hit the road. We left at around 2:30am, made a few stops and at 5:30am we were at a terminal in Lucena City. We had a quick, cheap breakfast at an eatery in the area. Mine was only P40. Hihi. At 6:30, we hit the road again.
An hour later, we were at the Padre Burgos Port prepping up for our island hopping. Our first stop was Puting Buhangin and Kuwebang Lampas in Pagbilao. We were awed by the beautiful islands we saw along the way.
We spent the next four or five hours just swimming and exploring Kuwebang Lampas. We also had lunch on this island. Lunch was provided by our agency and was included in the package we availed of.
At around 2pm, we moved to another island — Dampalitan Island. The first thing we noticed was the pine trees, which reminded us of Anawangin Cove. Hehe. ANyway, this was were we would spend the night. Since it was summer when we were here, the place was a bit crowded. It was like a tent village.

After setting up camp, we swam and camwhored until we were exhausted. Teehee. For more information on how we survived the night — restrooms, food, etc — click on the link below.
We left Dampalitan Island after lunch the next day. We proceeded to our next and last island.
Day 2 – Borawan Island
After lunch at Dampalitan Island, we dismantled our tents and hopped on our boat. Our next stop was Borawan Island, which was like a combination of Boracay's white sand and Palawan's rocky cliffs.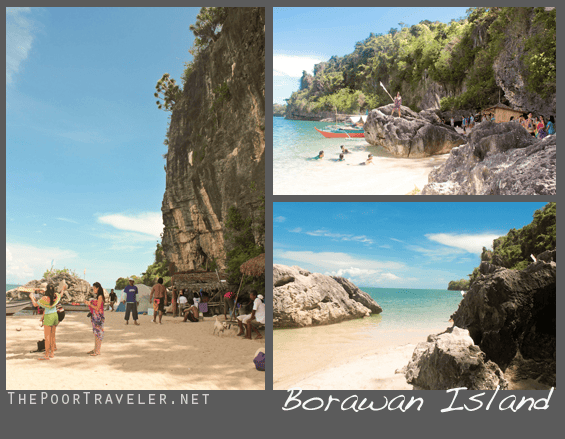 Borawan is quite small and its stretch of sand is narrow. There were also too many tourists at the time, making it crowded. Although many tourists also choose to stay overnight on this island, we only stayed here for about an hour.
After taking pictures and swimming, we went back to Padre Burgos port and changed clothes. There were restrooms at the port but you will be charged P20. It was OK though. The restrooms were clean and very spacious.

We hit the road at around 4pm. We made a quick stop in Tiaong for a McDo dinner. One of my friends is a Marketing Manager at McDonalds so our dinner was on her. Yay. I love treats! Thank you, McDonald's!
Expenses
Here's a list of everything we spent on this trip. Note that we hired a budget travel agency for this trip at P2800 per person, inclusive of meals, van rental, boat rental, island fees, tents, etc. Water is also included in the package but I still bought a bottle for myself. The package was supposed to be only P2500 per person but because 8 people backed out, we somehow absorbed some of their deposit. Long story.
Note that we were a group of 10.
P2800 – Package inclusive of tents, food, boat rental, van rental, tour guide
P40 – first breakfast (not included in the package)
Free – last dinner at McDo. (Thanks McDo for the free meal. Yipee.)
P34 – bottled water
P50 – incidentals (softdrinks, CR fee)
P30 – bath water (Dampalitan Beach, P300/drum)
P10 – wood for bonfire (Dampalitan Beach, P100/bundle)
P 2,964 – TOTAL
I'm pretty sure you can make this cost a lot lower by NOT hiring a travel agency and doing everything on your own. Unfortunately, we needed to hire an agency for this reunion trip to make this trip a lot easier for us.
How to Get There
Although we availed the services of a budget travel agency for this trip, let me share you how to get to this place from Manila by public transport.
Ride a bus to Lucena City. There are many terminals in Metro Manila that go to Lucena. Fare is somewhere between P250-260. Travel time: 3 hours.
Alight at Lucena Grand Terminal.
From the terminal, take another bus to Unisan. The bus is not air-conditioned and fare is around P35-40. Travel time: 1 and a half hours.
Get off at QCRB Bank (Padre Burgos) or ask the driver to drop you off here.
Take a tricycle to Aplaya. Tell the driver you intend to go to Borawan.
There are boats for rent in Aplaya. These boats can take you on an island-hopping tour with stops in Puting Buhangin (Pagbilao), Dampalitan Island and Borawan Island.
That's it! Enjoy Padre Burgos and Pagbilao, Quezon!
Padre Burgos and Pagbilao Trip: Summary, Itinerary and Budget - Quezon, Philippines

,
Got something to say? Spill!