Because we flew to Singapore with Cebu Pacific Air, we landed at the Budget Terminal of the Changi Airport. This is the same terminal that low-cost carriers Seair and Tiger Airways use. Unlike the other terminals in Singapore, the Budget Terminal is relatively less impressive but still great and probably better than any terminal we have here. It has everything a traveler needs.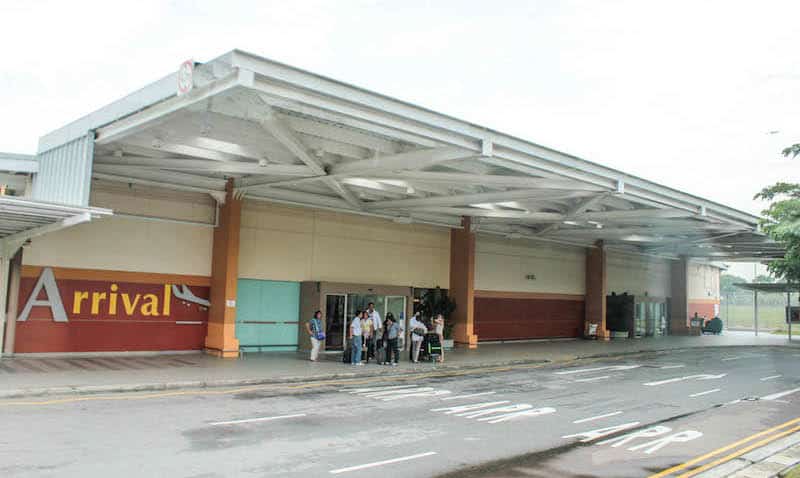 Arriving in Singapore
At one point during our Cebu Pacific flight, we were given Arrival Cards that everyone needs to accomplish. We provided some personal information and the address of the hotel we would be staying in. After landing, we walked to and lined up before the Immigration Booth and handed our passports, tickets and the accomplished arrival cards. The Immigration Officer then stamped our passports after a quick check. The officer did not ask us any questions.
To Exchange Currencies or Not
After passing through Immigration, we then proceeded to the Arrival lobby where we got several maps and brochures about Singapore. There was a Forex counter in one corner. While planning this trip, I was told that the rates at the airport were not that good so we exchanged enough US dollars to SG dollars to get us through the day. Later in the trip, I checked the rates in various money exchange centers along the way and found that the Money Changer at Mustafa mall offered the best rates.
However, when I computed, the difference would just be around PhP250 per USD600. To be honest, I don't think the difference was that big. (Say, if you're planning to take a cab to a money changer to get the best rate then the fare would have easily canceled out the rate difference. But if you're sure that there is an authorized money changer near your hotel, then change only enough to get you to the hotel.)
Getting Out of the Singapore Changi Airport BUDGET TERMINAL
The Budget Terminal is, in a way, isolated from the other three Changi terminals. It is not part of the Airport Skytrain system. That said, it doesn't mean that it's difficult to get out of it. There is a taxi stand right outside. There is also a free bus service that takes passengers from the Budget Terminal to Terminal 2. From Terminal 2, it is now easy to get to the city. You may take another bus or the MRT.
Changi Airport Budget Terminal: Arriving in Singapore

,
Got something to say? Spill!