As our boat glided through the waves into the Big Lagoon of Miniloc Island in El Nido, Palawan, I couldn't help but think about how much I needed this break. The limestone cliffs that surround the clear, turquoise water reflecting the sunny skies were more therapeutic than any massage or cigarette I had. It was the perfect moment. A classic corporate-slave-meets-paradise moment. Every stress that work had brought me in the past few weeks was blown away by the wind, washed away by the waves of El Nido.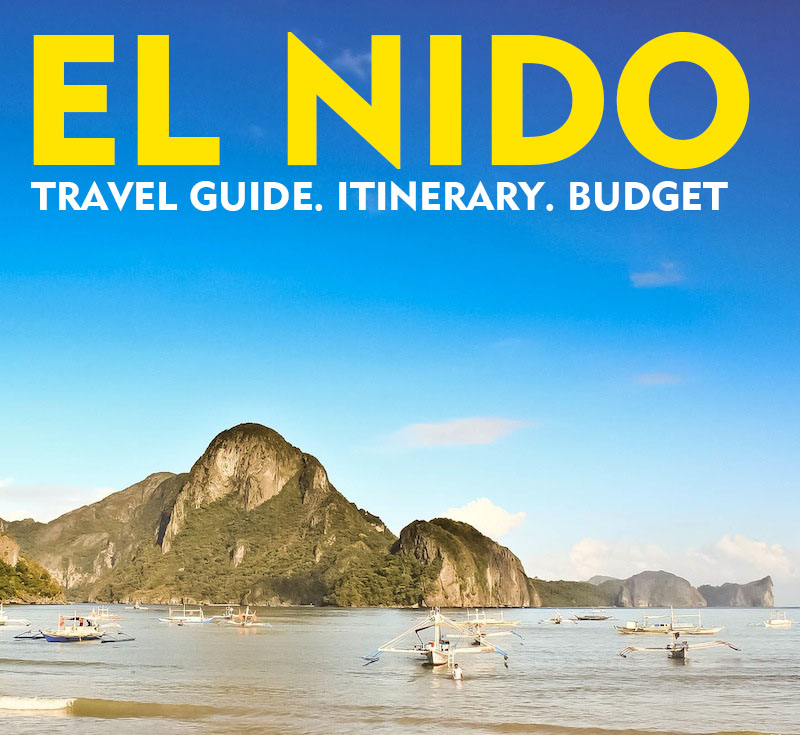 The only expensive thing about El Nido, Palawan is the cost of direct flights getting there but no one is forcing anyone to take direct flights. Taking a flight to Puerto Princesa and then catching a bus or shuttle to El Nido proves to be much more pocket-friendly although it demands more time. Hence, taking the Puerto Princesa-El Nido route takes more effort as far as preparations are concerned. That's the thing about El Nido — it's playing hard-to-get. But it's the kind of destination you'd want to marry. When you're in this paradise, you will never want to leave. El Nido is pure beauty.
How to Get to El Nido, Palawan
Booking cheap tickets to Palawan should be on top of your list if you're coming from Manila. El Nido is in the northernmost tip of the main island of Palawan. There are three possible gateways.
Direct Flights. Fast and direct, yes, but rates can be steep.
Via Coron. There are big outrigger boats that ply the El Nido-Coron route. The catch is that travel time is around 8 hours. And it also proves more expensive as you will have to fly to Coron first and then shell out a couple of thousand pesos to boat to El Nido. This is a great option for those who wish to visit both Coron and El Nido.  (Update: PAL Express now flies from Busuanga to Puerto Princesa.)
Via Puerto Princesa. All major airlines in the country (Cebu Pacific, PAL Express, Zest Air, and Seair) fly from Manila to Puerto Princesa. From here, there are buses and vans that take passengers to El Nido.
There are now Roro buses to El Nido every 2 hours from 6am-10pm. This means saving a lot of time (and a hotel night) because you can sleep in the bus on the way to El Nido.
Fare is P350, travel time at least 6 hours.
Shuttle service provider Fort Wally also carries passengers to El Nido every day at 5am, 7am, 9am, 11am and 1pm. Fare is P700, travel time 5-6 hours.
Where to Stay in El Nido
The town has a long stretch of hostels and inns parallel to the beach that are very, very affordable. You will find rooms that you can rent for as low as P300 per night but most of the rooms this cheap do not have air conditioners. You will find a dense concentration of hotels along the shore. If you can't find a beachfront hotel, don't worry  because they can never be too far from the beach.
Anyway, here are three of the inns and hotels I have tried myself. Click on the name of the hotel for full reviews.
El Nido Waterfront Hotel. Located on the beachfront and along the main road of the town, it has the best of both worlds. Air-conditioned double room from P1800. Free coffee. Quezon Road, El Nido. +63 918 6632771
Garnet Hotel. A newly-built hotel along the main road. There's a common area with cable TV. Airconditioned double room from P1800. Free coffee.  +63 928904252, +63 90591189
Cliffside Cottages. Not beachfront but just a short walk away. At the base of a massive cliff which fosters a more rustic atmosphere. Double room (fan only) from P500 per night. Rizal Street, El Nido. 63 919 7856625.
For more El Nido accommodations, visit this website.
Just make your way to the town proper and you'll see lanes of them along the main road and along the shore. If you're visiting during off-peak season, you might want to try booking just one night in advance and then book the rest when you're in town already.
What to Consider Before Your Trip to El Nido
A number of things have to be considered when preparing an El Nido itinerary.
First, what is your gateway to El Nido? While some choose to fly directly to El Nido, others are thrown off by the expensive direct flight tickets. Spending much on airfare was not an option for me so I was left with two options: via Coron or via Puerto Princesa. I chose the latter.
Second thing to consider was the time of flight to Puerto Princesa. Ours was scheduled at 7:30am. Why is it important? Because it takes approximately 6 hours to get to El Nido from Puerto Princesa. That's an entire morning and afternoon, if you ask me. We landed at 8:40am at Puerto Princesa airport, stopped at Fortwally Terminal/Office to book a shuttle trip to El Nido, and had a quick brunch in the city. We finished brunch minutes before 11am, just in time for the shuttle (van) to pick us up. If you plan on doing the same and everything goes right, then expect to be in El Nido by 5pm. (Yep, that's almost an entire day lost on the road but you'll find a way to enjoy the journey.) The guy from Fortwally Shuttle Services who entertained us said that their last trip to El Nido was at 1pm so make sure that the flight you take is scheduled to arrive by that time.
Third, the return flight. If your return flight is via Puerto Princesa, too, then make sure that you arrange the timing perfectly. Always remember that the travel time between El Nido and Puerto Princesa is five to six hours.
At least that we planned when we booked our flights. For everything else since then, we just went with the flow.
What to Do in El Nido: Packaged Day Tours
We didn't book any packaged tour before the trip. Hours before the trip, we just browsed through several websites and learned that there are usually four major boat tours that await tourists who visit El Nido. There are many establishments in the town proper and along Bacuit Bay that offer such tours and there isn't much difference between their rates because the local government standardizes them (Yay!). You can also haggle and some of them can even pull the price lower.
Tour A - Small Lagoon and Big Lagoon on Miniloc Island, Simizu Island, Entulala Island, Payong Payong Beach, and 7 Commando Beach, P700/person
Tour B - Snake Island, Cudugnon Cave, Pinagbuyutan Island, Cathedral Cave, P800/person
Tour C - Matinloc Shrine, Matinloc Island, Secret Beach, Hidden Beach, Tapuitan Island, Helicopter Island, P900/person
Tour D - Nat Nat Beach, Pasandigan Cove, Paradise Beach, Ubugon Cave, Bukal Island, Cadlao Lagoon, P700/person
Note that a minimum of 4 people per tour is required. Lunch is also included but you might want to clear with the tour operator if water is included. Otherwise, bring water, lots of it! Lunch usually includes grilled fish, grilled pork/chicken, rice, vegetables, and fruits.
Snorkels, masks and aqua shoes are not included.
Places to Visit in El Nido
The photos below will take you to a more detailed description of the place and my experience there. I will be adding more to this list when I visit El Nido again. But here's what I have so far.
Where to Eat in El Nido
The following are some of the restaurants I have tried in El Nido. Click on the photo for the full review:
Preparing an El Nido Itinerary
Here's a sample itinerary for a 3D2N trip to El Nido via Puerto Princesa. Of course, you must adjust yours according to your flight schedule and other considerations. You may also opt to tour Puerto Princesa or, if you have more days, make a stop at Port Barton or San Vicente. For more sample itineraries, visit this page.
Day 1: PUERTO PRINCESA TO EL NIDO
05:30 am – Check-in NAIA Terminal 3
07:30 am – ETD NAIA Terminal 3 – Manila (via Airphil Express)
08:40 am – ETA Puerto Princesa Airport
09:00 am – Fortwally Shuttle Services Office/Terminal Booking
09:30 am – Breakfast somewhere in Puerto Princesa
011:00 pm – ETD: Pick up by Fortwally Shuttle/Van
01:00 pm – Stopover at an Eatery in Roxas, Palawan
05:00 pm – ETA El Nido Terminal
05:10 pm – Check-in: Cliffside Cottages
06:00 pm – Walk along Bacuit Bay, Dinner
Day 2: TOUR A
06:00 am – Wake up call
07:00 am – Breakfast
09:00 am – TOUR A
05:00 pm – Change clothes, rest
06:00 pm – Dinner
08:00 pm – Drink at a bar (Yep, I said it)
Day 3: TOUR C
06:00 am – Wake up call
07:00 am – Breakfast
09:00 am – TOUR C
05:00 pm – Change clothes, rest
06:00 pm – Dinner
08:00 pm – Drink at a bar (Yep, I said it again)
Day 3: DEPARTURE
03:00 am – Wake up call
04:30 am – ETD Fortwally Shuttle to pick us up at the hotel
11:00 am – ETA Balinsasayaw Restaurant, Lunch
12:30 pm – Check in at Puerto Princesa Airport
02:00 pm – ETD Puerto Princesa Airport
03:10 am – ETA NAIA Terminal 3 – Manila
Budget and Expenses
My wallet had a pleasant surprise for me when I opened it after my El Nido trip — money! I had always thought that El Nido was an expensive destination. My recent trip, however, proved that it is anything but expensive. In fact, it is one of the cheapest four-day vacations I have had.  Here's the breakdown of the expenses.
P353 – Airphil Express roundtrip fare to Puerto Princesa (P100 SALE)
P1,200 – Fortwally Shuttle roundtrip fare
P300 – Cliffside Cottages (P600 per room/2 pax)
P1,000 – El Nido Waterfront Hotel (2 nights at P2000 per night/4 pax; air-conditioned)
P600 - Total food expenses
P200 – Eco-Tourism Development Fee (ETDF)
P550 – Tour A (El Nido Corner, with group discount)
P650 – Tour C (El Nido Corner, with group discount)
P240 – Terminal fees (Manila and PPS)
P100 - Incidentals (water, trike rides, snacks)
P 5,193 – TOTAL EXPENSES
I brought P7000 in this trip for pocket money (with the airfare being paid way before the trip) and I was pleasantly shocked that I still had so much left. I guess it pays to bring snacks with me, too. And for breakfast, just buy a pack of pandesal from any of the bakeries there and divide the cost among the group.
The Budget Travel Guide to El Nido, Palawan, Philippines

,
Got something to say? Spill!