A bright pink glow was beginning to spread across the horizon when we reached the middle of the boardwalk. Without a word, all of us agreed to stop and watch the luminous display of colors in the heavens. We were on a walkway connecting mainland Singapore to the island of Sentosa, and this viewpoint allowed us to fully appreciate the surrounding beauty. We weren't alone. Almost everyone taking the boardwalk halted and took a moment to have a good look at the clouds being painted pink and red by the retiring sun. Thank Heavens for the long queue at the monorail station.
Several minutes earlier, my friends Ces, Astrid and I found ourselves amongst the hundreds of people flooding through the front gate of Universal Studios Singapore. The Hollywood Dreams Parade had just ended, and everyone made their way to the main exit as soon as it was over. Where did you all come from? I was blown away by the sheer volume of the crowd. But I was blown farther away when I set eyes on the queue that snaked towards the monorail station. Our plan was to take the train to go back to the main island, but that would prove to be so stressful with this big a crowd.
"You still have some energy left?" I asked the ladies.
"Barely," replied Ces. "Why?"
"The line is too long. I say, let's just walk to the main island."
I knew that there was a boardwalk somewhere around the area so we scurried around the place looking for it. It wasn't long until we reached the riverbank and found the bridge that stems from it over the undisturbed channel below.
Sentosa Boardwalk
Sentosa Boardwalk is an option that visitors may take to reach Sentosa. Located just a few yards from VivoCity Mall's promenade, this covered bridge allows visitors to get to Sentosa Island and back on foot. Not only are visitors able to cross to Sentosa at a leisurely pace, they can also be mesmerized by the gorgeous vistas of the landscapes and cityscapes around it and the small details that make the walkway endearing. Ornamented by a lush greenery, it is Southeast Asia's first garden-themed boardwalk.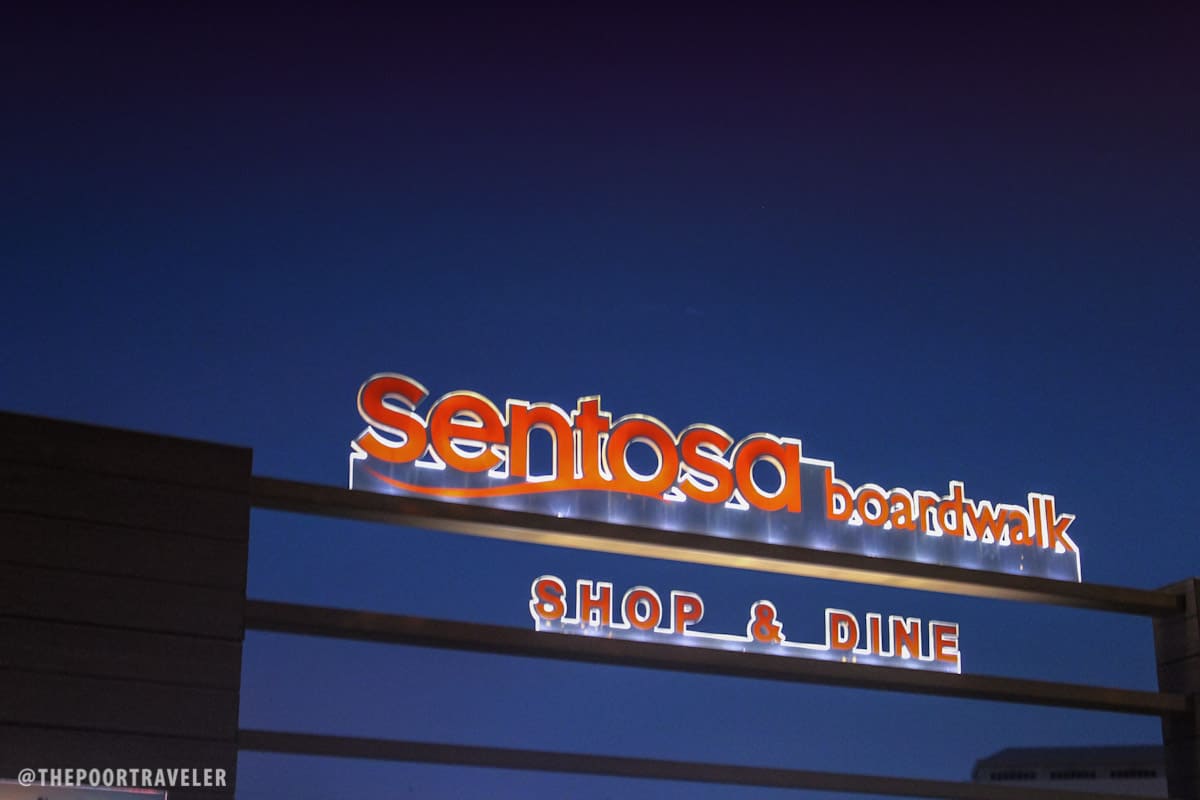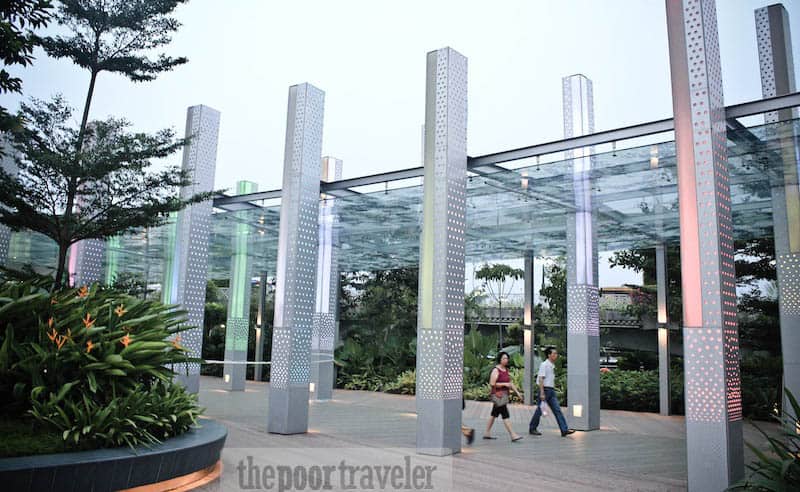 The Romero Britto Neo-Pop Exhibit
On the way to the boardwalk, we passed by a cute, merry exhibit by Brazilian-American neo-pop artist Romero Britto. It was an unexpected treat. Our ankles and knees were on the verge of giving up, but our spirit was suddenly drenched in a weird mixture of excitement and happiness upon seeing these modern sculptures. The colors just exude gaiety, and the designs just warped us into a time when we found absolute fulfillment in cartoons and pets and drawings. My friends Ces and Astrid could not help but take pictures with these fun and joyful pieces of art.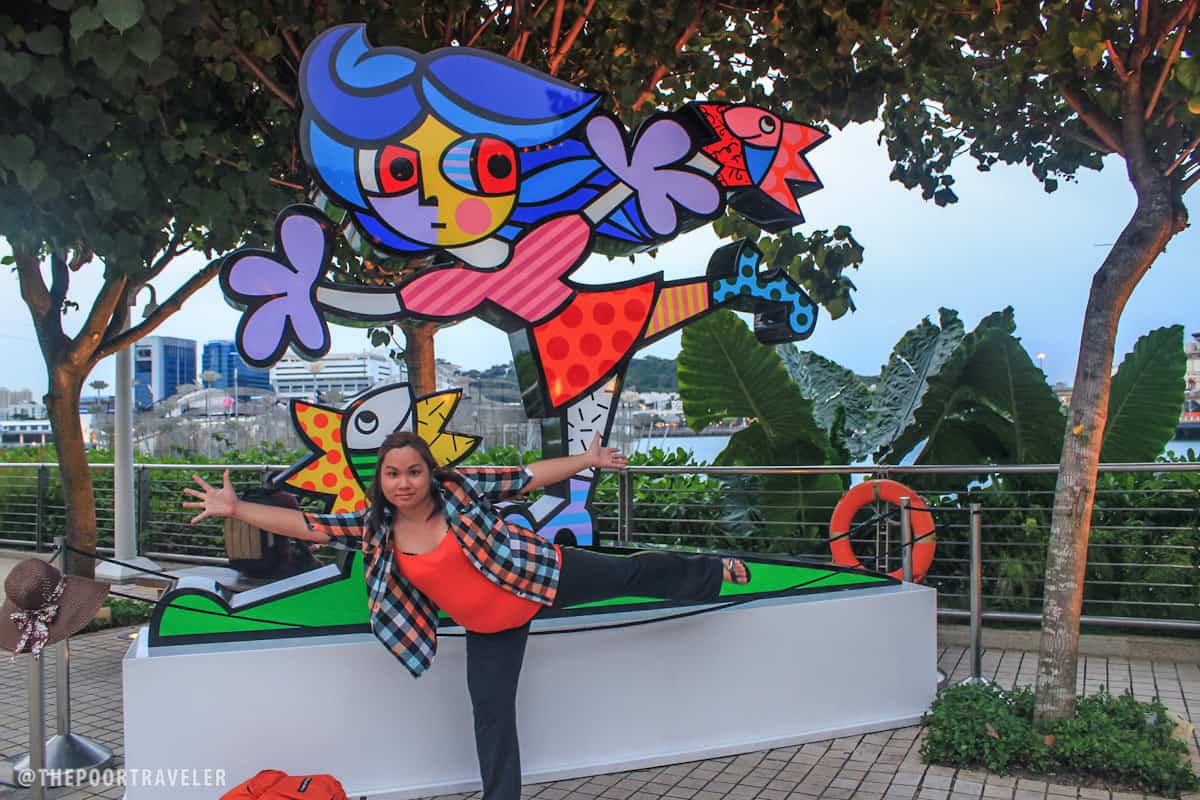 Unfortunately, I believe they will be on display for a limited time only.
A Leisurely Walk
I was under the impression that the Sentosa Boardwalk was just a simple, narrow passageway straddling the channel, but on my first step on it, I knew I was gravely mistaken. The boardwalk is wide enough to harbor flights of stairs, gardens, and travelators. Its nooks are perfect vantage points and its fringes great venues for bondings. There was so much to see and admire on that long walk that we stopped countless times to allow ourselves more time to take it all in and wallow in its magnificence. The best part was when the sky was painted hot pink by the sun just when it was about to take a dip. The pink glow slowly blended with purple and blue, staging a spectacular free show right before us.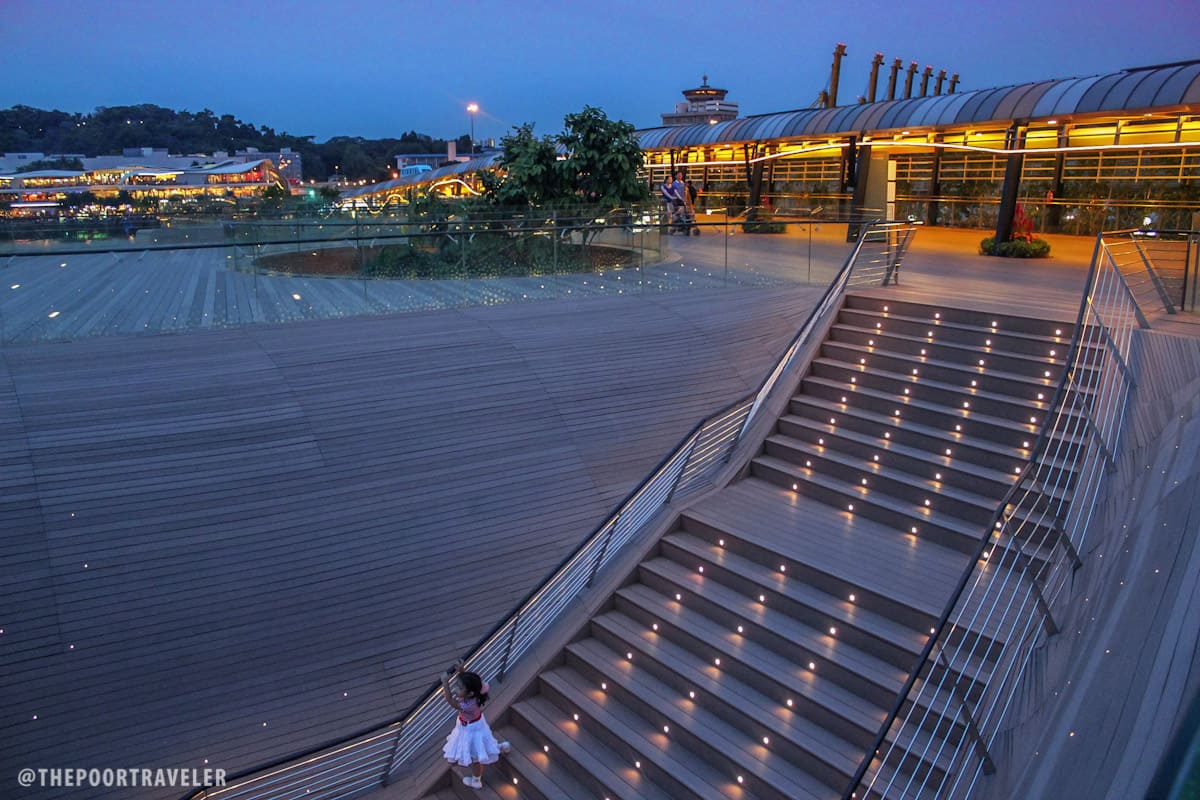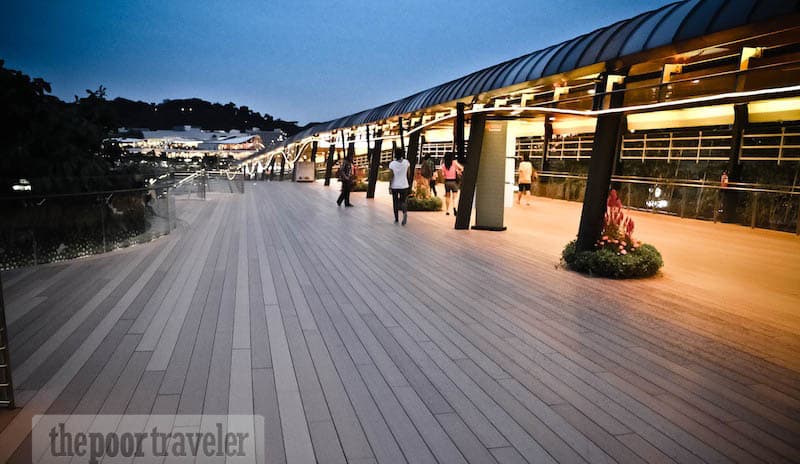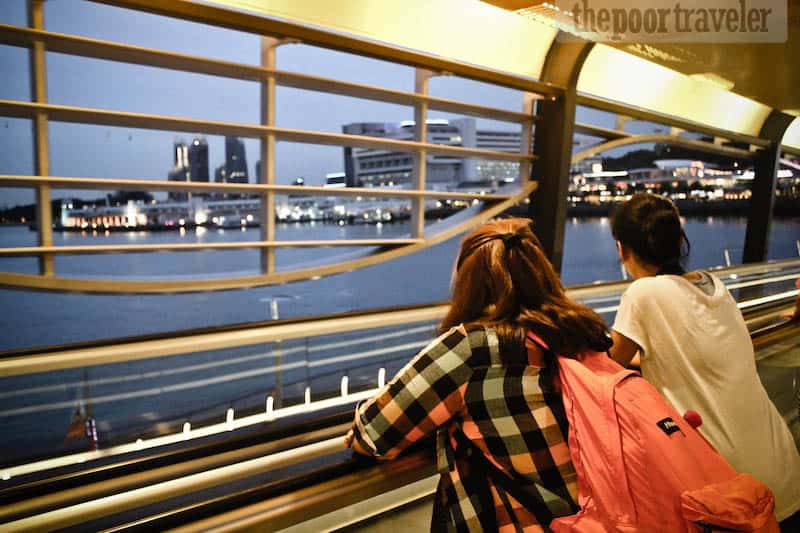 As darkness slowly swallowed both islands and the moon reclaimed her dominance, lamps of various shapes and colors illuminated the walkway. It was time for us to leave, and we did with a happy heart despite aching soles, all the while thinking that the Sentosa Boardwalk is not a gateway but a destination on its own. And a great one at that.
How to get there: Take the MRT North East Line going to Harbourfront and alight at the last stop — Harbourfront Station. Walk towards the VivoCity Waterfront Promenade.
Check Hotel Rates and Discounts!
Follow us on Instagram!


Yoshke is a part-time digital marketing consultant, part-time travel blogger, and full-time dreamer. He has three passions in life: social media, travel, and --- wait for it --- world peace. Yoshke has won 3 PHILIPPINE BLOG AWARDS and received 9 nominations. Learn more about his personal journeys at
Yoshke.com.


Latest posts by Yoshke Dimen (see all)