Hi there! We're Yoshke and Vins! Welcome to The Poor Traveler, the rich blog for the budget traveler.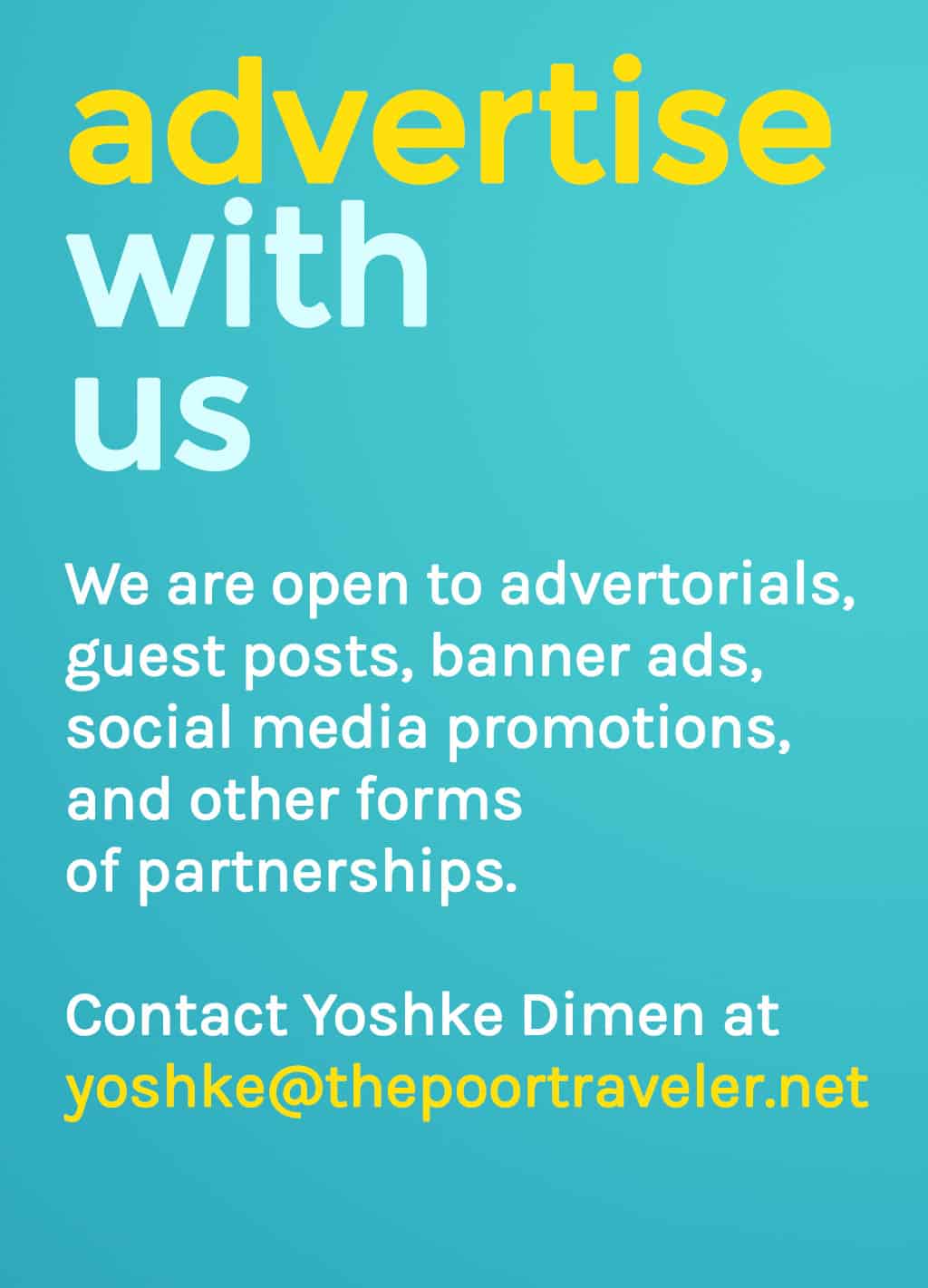 When we started this blog, we were struggling to make ends meet. We were both at the very bottom of the corporate ladder, working an 8-5 job. We shared a dodgy apartment with four other friends, and every payday we would always watch our wages vanish into thin air. And by thin air we mean rent, bills, and daily expenses. We could not even afford to go out of town on our own.
The first several posts on this blog were actually part of company outings and business trips that we gladly took advantage of. The more places we visited for work, the more we were inspired to work harder, save bigger, and eventually go farther. We accepted part-time jobs and grabbed every opportunity to earn extra. Whatever we saved, we spent on indulging our wanderlust.
That's how it started. But two years ago, we quit our day jobs to travel full-time while working online. We've come a long way. Thanks to this blog.
Over the last six years, The Poor Traveler has emerged as one of the biggest travel blogs in the world in terms of traffic and social media presence.
What makes our blog click
is that we are relatable.

Like most people,
we're casual travelers, not hardcore backpackers.
We're vacation-goers, not long-term nomads.
We enjoy solo adventures,
but we also love sightseeing with friends and family.

And although we're a budget travel blog,
our primary audience is composed mainly of
21-45 yo full-time professionals
who wish to take a break from work.
They are budget-conscious
but are willing to spend hard-earned money
on experiences that are worth it.
Success in numbers
Our 300,000-strong base is one of the largest travel blog communities on Facebook, and it's still growing fast. Our consistent search- and social-driven traffic has put us among the top travel blogs.

301K
likes/ followers

39K
followers

17.3K
email subs

7.4K
followers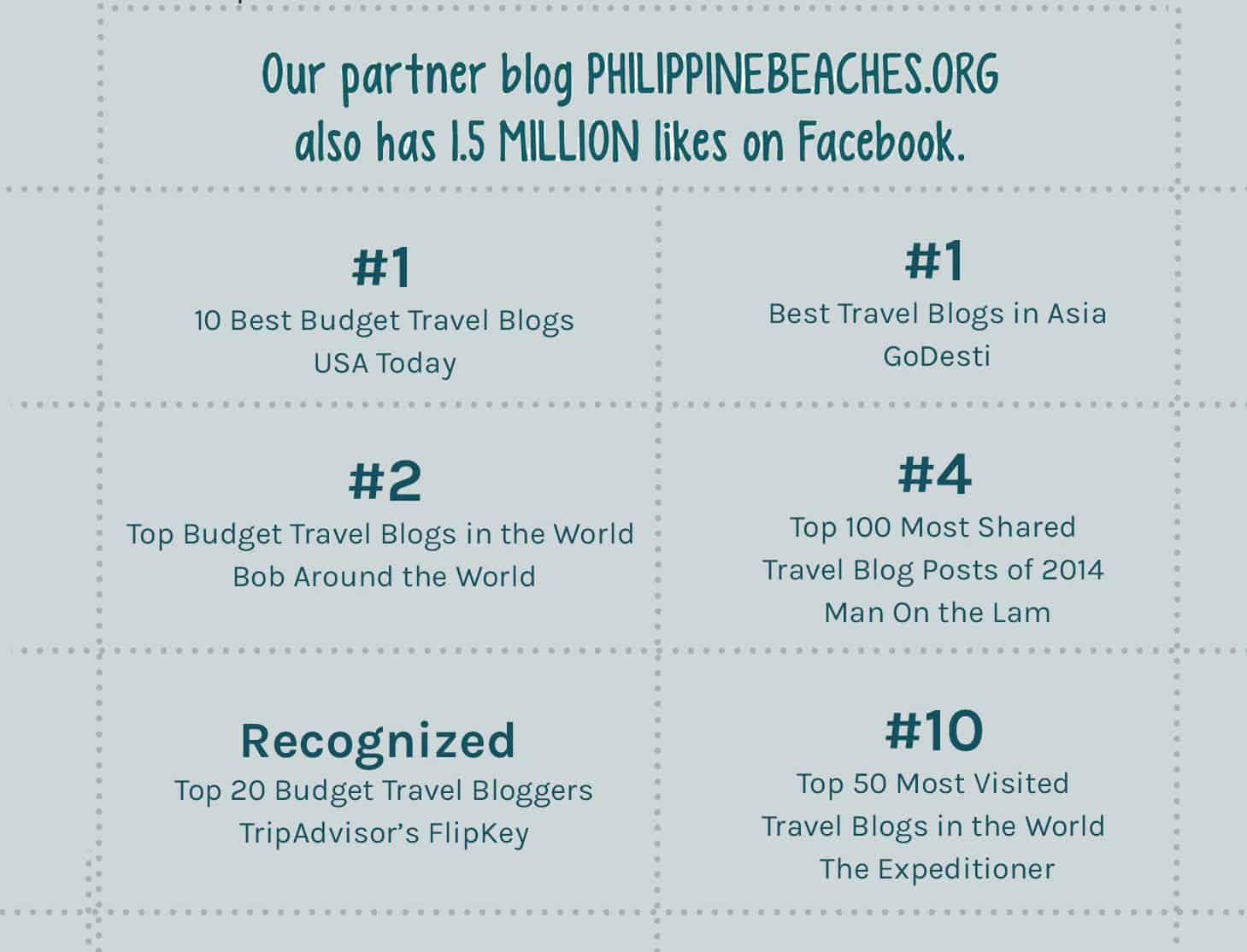 In addition, we have been cited by the following organizations and publications:
Our partner website PhilippineBeaches.org, with 1.5 million likes on Facebook, was Asia's biggest travel/leisure page based on 2012 SocialBakers data.
Content comes first
We strive to make each of our posts informative, entertaining, or both. We do our best to add value to our readers' user experience and be as useful as we can. We believe our content is why our readers trust our blog and share our articles. We are protective of our content and have always held it sacred.
We have been featured on BBC World's The Travel Show and CNN's list of Top Travel Bloggers, among others.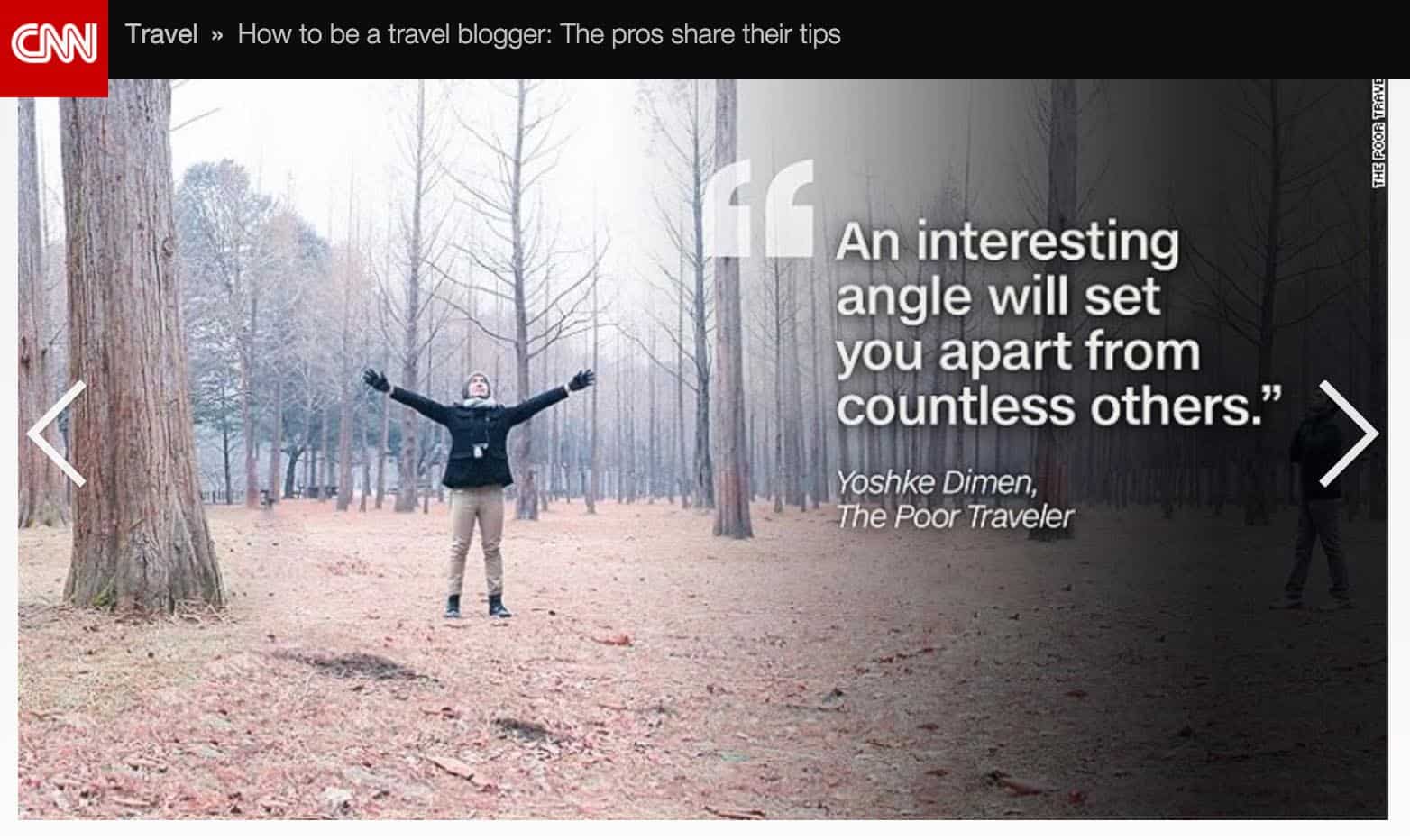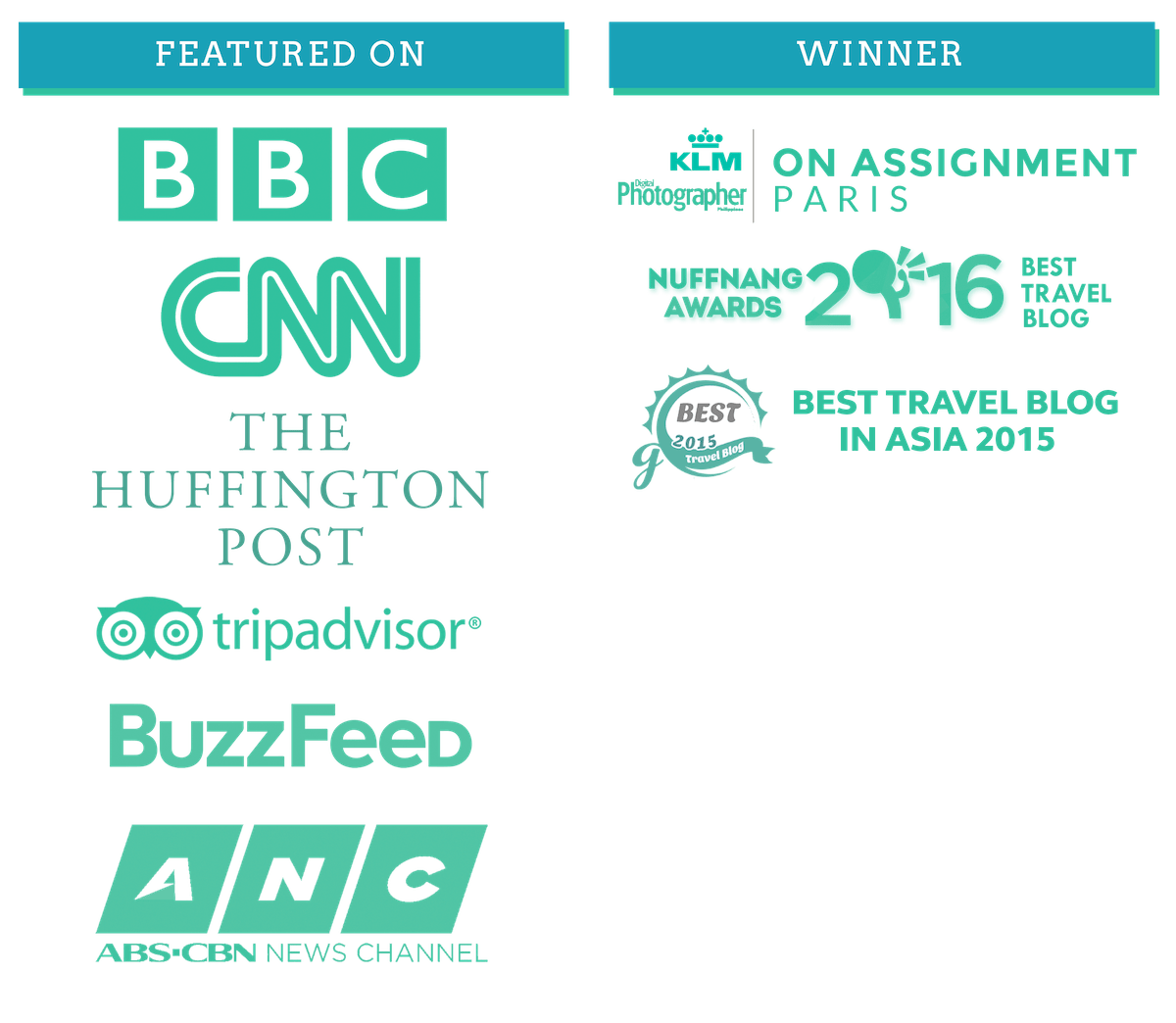 On plaques and in print
The Poor Traveler won Best Travel Blog at the Nuffnang Awards 2016 and Best Budget Travel Blog at USA Today's 10 Best Awards, and was chosen as the Best Travel Blog in Asia by GoDesti.
Co-founder Yoshke Dimen has also received 3 Philippine Blog Awards out of nine nominations (for this blog and his personal blog Yoshke.com). Most recently, Dimen won the On Assignment travel writing project by Digital Photographer Magazine and KLM Royal Dutch Airlines.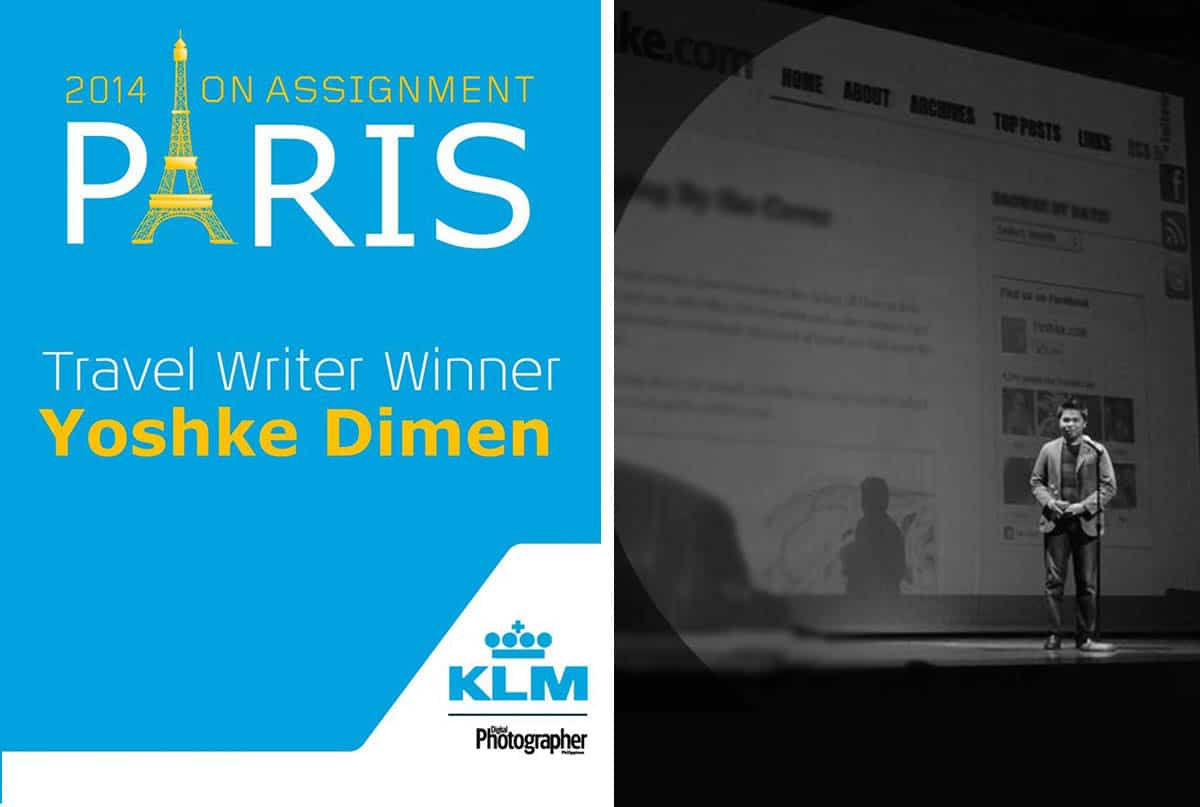 We have contributed to and been featured on many magazines including Travel Now, Navigator, and Mabuhay Magazine. See our print portfolio here.
Other Recognitions:
Also featured on:
In good company
Our content and reach are why we have worked with some of the biggest corporations and industry leaders in Asia: AirAsia, Expedia, Globe Telecom, Philippine Airlines, and Tiger Airways among others.
We have also spoken at the World Tourism Forum 2016 in Istanbul.


Trivia: The name of this blog was inspired by Charles Dickens's The Seven Poor Travelers, a short piece that narrates the events at a charity house that provides shelter to broke travelers for a night. On that night, the seventh poor traveler relates a story from his journeys. It is this spirit of storytelling that we wish to capture and share on this blog.
Advertise with us!

We are open to banner advertisements, ex-deals, social media promotions/online contests, and other forms of partnerships. For the rate card, please get in touch with Yoshke Dimen at yoshke@thepoortraveler.net