2012 • 5 • 21
Listed as a UNESCO World Heritage Site, the historic city of Malacca (or Melaka, its local name) is one of Malaysia's most important tourist destinations. Its long history has seen the rise and fall of the Portuguese, the Dutch, and the British as they conquered the place, leaving long-standing structures and cultural influences that are still alive and visible, creating a melting pot of cultures that is truly one of a kind. Although this city is rapidly developing into an urban hub, at its core is a heritage area divided into two parts by the Melaka River. On the river's eastern bank lies the Chinatown and on its western bank, the center of the European settlement during their rule.
WHAT'S COVERED IN THIS GUIDE?
How to Get to Malacca
Malacca has an international airport that was opened a few years ago. Unfortunately, there are NO direct flights to Malacca from Manila. The best way to go about it is to choose between Kuala Lumpur and Singapore. Plenty of flights ply the Manila-Kuala Lumpur and there are daily flights to Singapore from Manila and Cebu. While Singapore is five hours away from Malacca, Kuala Lumpur offers the faster route as Malacca is only a two-hour drive from the Malaysian capital.
From Kuala Lumpur. Buses going to Malacca are parked at Terminal Bersepadu Selatan, near the LRT station and KTM Komuter station Bandar Tasik Selatan. Fare is RM13. But if you want to skip Kuala Lumpur altogether and go straight to Malacca from the airport, here are the schedules.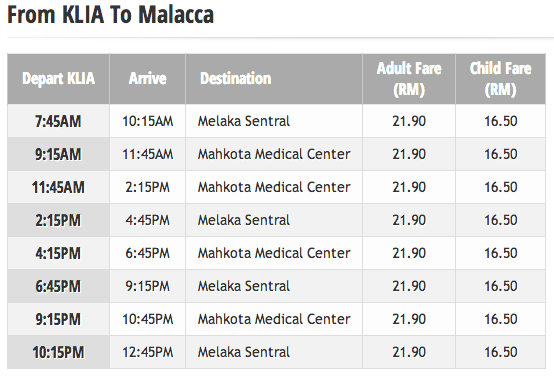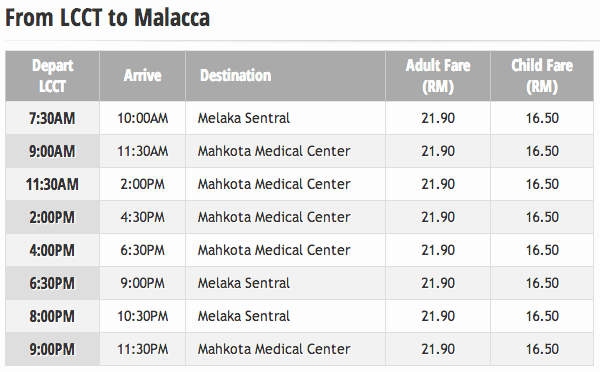 From Singapore. Malacca is four to five hours away from Singapore and it entails crossing the border (which means going through another set of Immigration processes and getting another stamp on your passport). Buses are the most common way to get there. There are several aggregator websites that offer this service. I tried one — Easibook.com — but we didn't like the experience.
I wish I could recommend this site but we encountered a major glitch along the way. Our booking did not reflect in the bus company's system. Poor me, indeed. We ended up taking another bus and tried to catch the right bus at the border.  Read this post for my explanation.
The lesson here is: you might want to call the bus liner directly even if you booked via a third party site to confirm that the seats were truly reserved. Transnasional and Malacca-Singapore Express ply this route for around SGD 20 per head.
Reader Insight: A more affordable approach is to travel by bus to Johor Bahru, and then another bus to Melaka.
Preparing Travel Documents
Malaysia does NOT require Filipino citizens an entry visa. All you need to prepare is a valid passport. If you still do not have a passport, it is wise to apply as soon as you can for it takes time for our government to process it. For more information on how to get a Philippine passport, check out my application guide here.
Don't forget to print out your flight itinerary (including the return trip details) before your trip. You might need it when passing through the Immigration. It will also help if you print out your hotel reservations just in case the Immigration Officers doubt your intentions.
Finding a Cheap Hostel/Hotel in Malacca
While there are dozens of hotels throughout the city, the biggest concentration of budget accommodations are in Chinatown, at the heart of the UNESCO World Heritage Site. (Is that cool or what?)
---
Top Budget Hotels in Malacca
Based on review scores by Agoda customers.
---
Places to Visit in Malacca
Here's a gallery of the places that I have visited in Malacca. Most of these are clustered together and they are all within walking distance of each other. Click on the photo for more information about that attraction.
I will be adding more to the above list in the future.
Where to Eat in Malacca
While the map of Malacca is dotted by countless restaurants and eateries, you'll be surprised to find mile-long queues in front of them during lunch and dinner. Well, not really mile-long but you get the picture. One trick is to not brave the crowd and just have your meals too early or too late. Or better yet, just beat the crowd and fall in line early. Here are some food and restaurants I have tried.
Sample Malacca Weekend Itinerary
Building a trip itinerary may be fun but it is also the most painstaking part of planning a trip. You need to research and learn about the destinations (and you really should) and take into consideration the wants and needs of everyone you're traveling with. Yes, it's hard but if you're the one responsible for the itinerary and your trip becomes a success, I bet you will feel the most fulfilled and happy out of everyone in the group.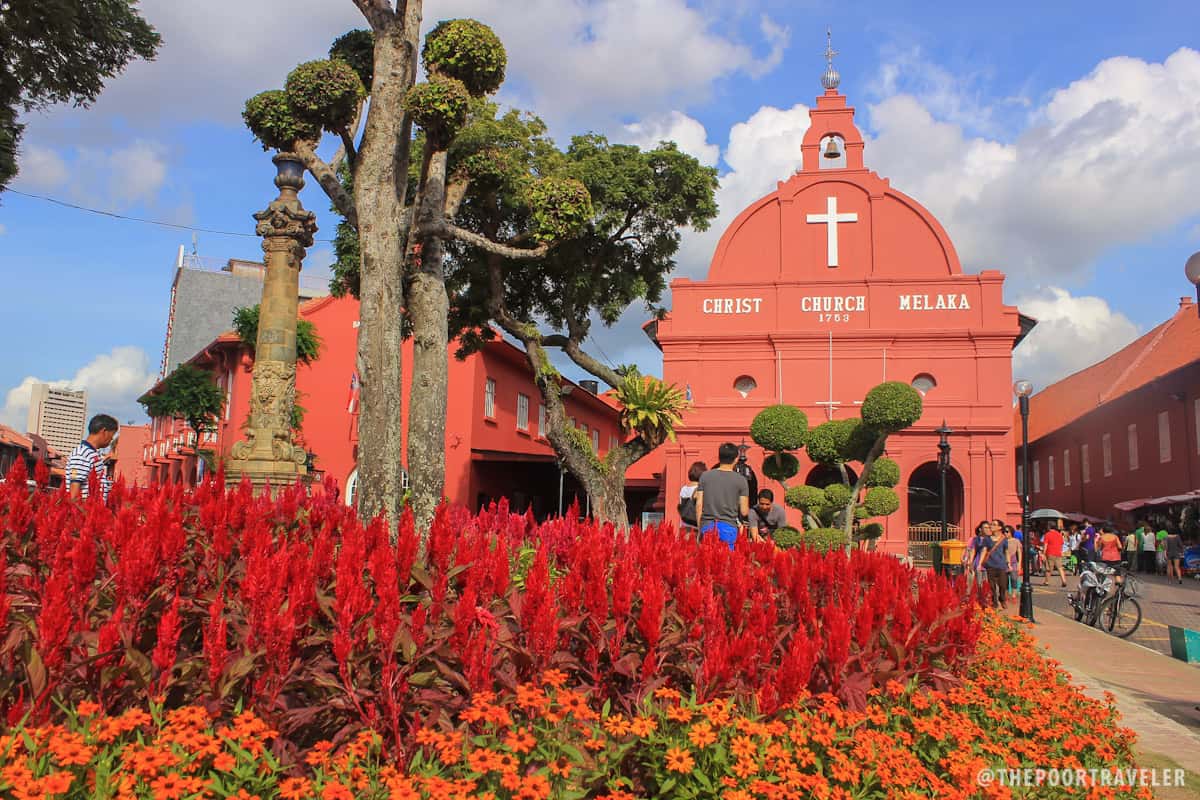 If your Malacca visit is just a side trip or is part of a bigger tour, you can simply insert the itinerary below and make the needed adjustments. For this one, let's suppose you're coming from Singapore.
Day 1: MALACCA – DUTCH SQUARE AND RIVER CRUISE
07:00 am – Wake up
08:45 am – ETD: Keypoint Terminal, Singapore
01:45 pm – ETA: Melaka Central Terminal, Malacca
02:30 pm – Check in to Oriental Riverside Residence, Malacca
03:30 pm – Dutch Square and Museums, Malacca
07:00 pm – Melaka River Cruise
08:30 pm – Jonker Street Night Walk
11:00 pm – Sleep
Day 2: MALACCA CHINATOWN WALK, BACK TO SINGAPORE
07:00 am – Chinatown Heritage Walk
11:00 am – Jonker Street Morning Walk and Lunch
01:00 pm – Check out: Oriental Riverside Residence
04:00 pm – ETD: Melaka Sentral (Malacca Central Terminal)
09:00 pm – ETA: Singapore
10:00 pm – Mustafa (Shopping)
12:00 mn – Sleep
Sample Travel Budget
Here's the breakdown of my expenses for this trip. Note that how you spend during this trip might be different from how I did but I'm publishing this just so you could have a ballpark figure. Again, let's assume that you're coming from Singapore.
Not much was spent on transportation around Malacca for it's a small city and the places of interest are within walking distance of one another. Pasalubong is not yet included in the breakdown, either. Figures are in Philippine pesos.
P1,620 – Travel Tax
P750 – Terminal Fee
P400 – Oriental Residence Guesthouse – Malacca (P800/2 pax)
P810 – Bus Singapore to Malacca (via EasiBook)
P337 – Bus Malacca to Singapore
P440 – EZ Link Card (for MRT Singapore)
P500 – Total food expenses
P200 – Other transpo expenses
P135 – Melaka River Cruise
P150 – Other entrance fees (Malacca)
Note that we were a group of three and it helped reduce the expenses as we chipped in for most things. Also, we did not pay anything for our Singapore accommodations, thanks to our friend Mimi.
That's it! If you're planning on doing the same trip and you have questions, just let me know.