I didn't like the idea of returning to Batanes. At least, not in the beginning.
It's not because I did not enjoy my previous trip. Quite the contrary. Batanes has always been atop my list of dream Philippine destinations, and when I was finally able to set foot in it in 2014, it gave me much more than I imagined. Site after site, day after day, Batanes blew my mind and snatched my heart. Perfect was a word I had never used to describe a journey, but that's exactly what it was. It was perfect. I was afraid that a second trip would ruin all my precious, flawless memories of it.
But it could not be helped. We were invited to a wedding there, and our old Batanes Travel Guide seriously needed some updating. With a strange mixture of excitement and nervousness, we went back. In classic Batanes fashion, as soon as we landed, rain poured so hard, we could barely get a clear view of our surroundings. But in a matter of minutes, the sky cleared up and we saw that not much has changed. And in this case, that's a good thing, a very good thing.
I've said this before: When the time comes that you have to leave Batanes, she will break your heart. And I left heartbroken the second time around.
WHAT'S COVERED IN THIS GUIDE?
UNDERSTANDING BATANES
Remote and isolated, Batanes is the northernmost province in the Philippines. It's a 10-piece archipelago, with the three biggest islands being the only ones inhabited: Sabtang, Batan, and Itbayat. Sabtang and Itbayat are their own municipalities, while Batan is further divided into Basco, Ivana, Uyugan, and Mahatao. Although it is the capital, Basco isn't a city but a small town. It is also where the main airport is located and the most populated.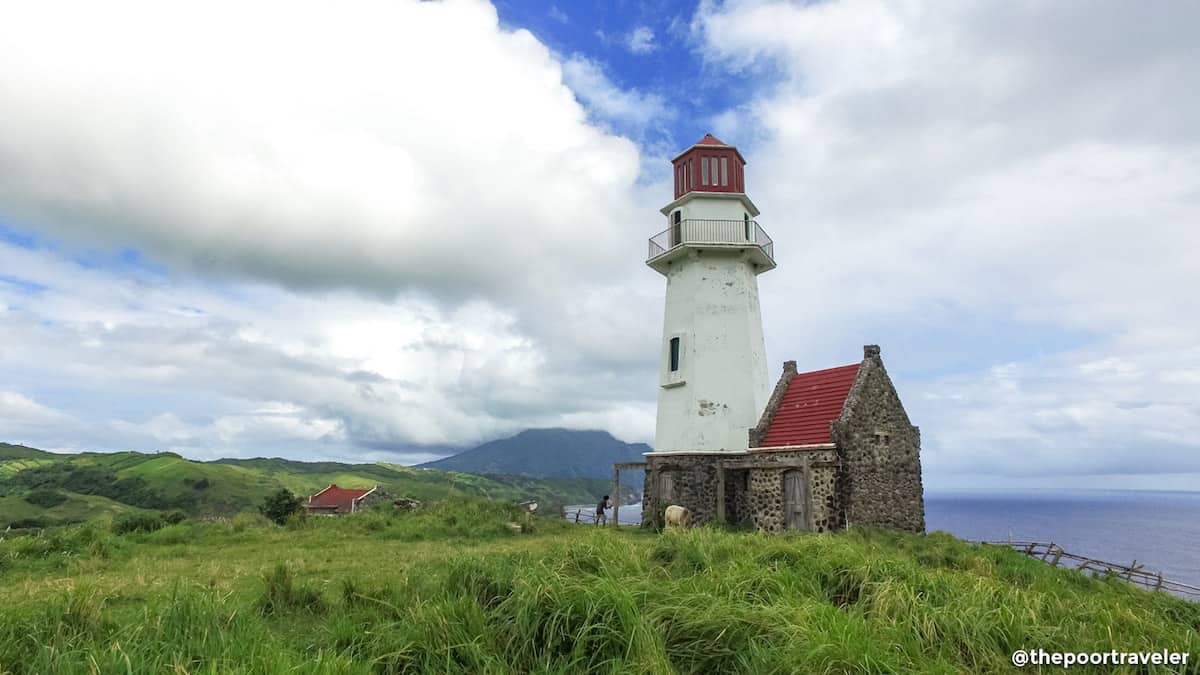 Sabtang, the largest island, is situated 45-minutes by boat from the town of Ivana, while Itbayat, in the extreme north, 3 hours from Basco.
For tourism purposes, the provinces is divided into four zones:
North Batan, which is basically Basco.
South Batan, which covers the attractions in Uyugan, Mahatao, and Ivana
Sabtang Island, can be reached by boat. Day tour from Batan Island is possible, although an overnight stay is highly recommended.
Itbayat Island, can be reached by boat or plane.
Here are more things you need to know about Batanes.
Language: Ivasayen (northern parts of Batan Island), Isamurongen (Sabtang and southern parts of Batan), and Itbayaten (Itbayat). Tagalog, Ilokano, and English are all widely understood and spoken.
Currency: Philippine Peso (PHP, ₱). PHP100 = USD 2, EUR 1.57, SGD 2.56 (as of February 2018).
Modes of payment: Cash. There's also a Cebuana Lhuillier branch along Abad Street, where you can receive money, pay bills, or purchase travel insurance.
---
WHERE TO STAY IN BATANES
As the capital and commercial center of the province, Basco is a good base for tourists. Inns and homestays are heavily concentrated in the poblacion area, which is also where the airport is located. Tour operators also have their offices here.
The cheapest options are homestays. Two popular homestays are Troy's Lodge, where we stayed the first time, and Marfel's Lodge, which is a favorite among travel bloggers. Here are the details.
TROY'S LODGE
A loft with a few rooms for guests on the 2nd floor.
Rates: P700-P1000 per room (up to 3 pax)
Contact No.: +63 938 976 2237
MARFEL'S LODGE
Started out as a single house, it is now a network of 4 separate lodges — Main Lodge, Annex Lodge, Triple MP Homestay, MAC Homestay — being marketed together.
Rates: P500-P600 per room (2 pax), P350/person for a single fan room
Contact No.: +63 908 893 1475
Both inns are located in the town proper of Basco and near the airport.
---
HOW TO GET TO BATANES
The fastest and easiest way to reach Batanes is by air. Basco has an airport (Basco Airport) located in the town proper. Travel time is 70-110 minutes, depending on your choice of airline and departure.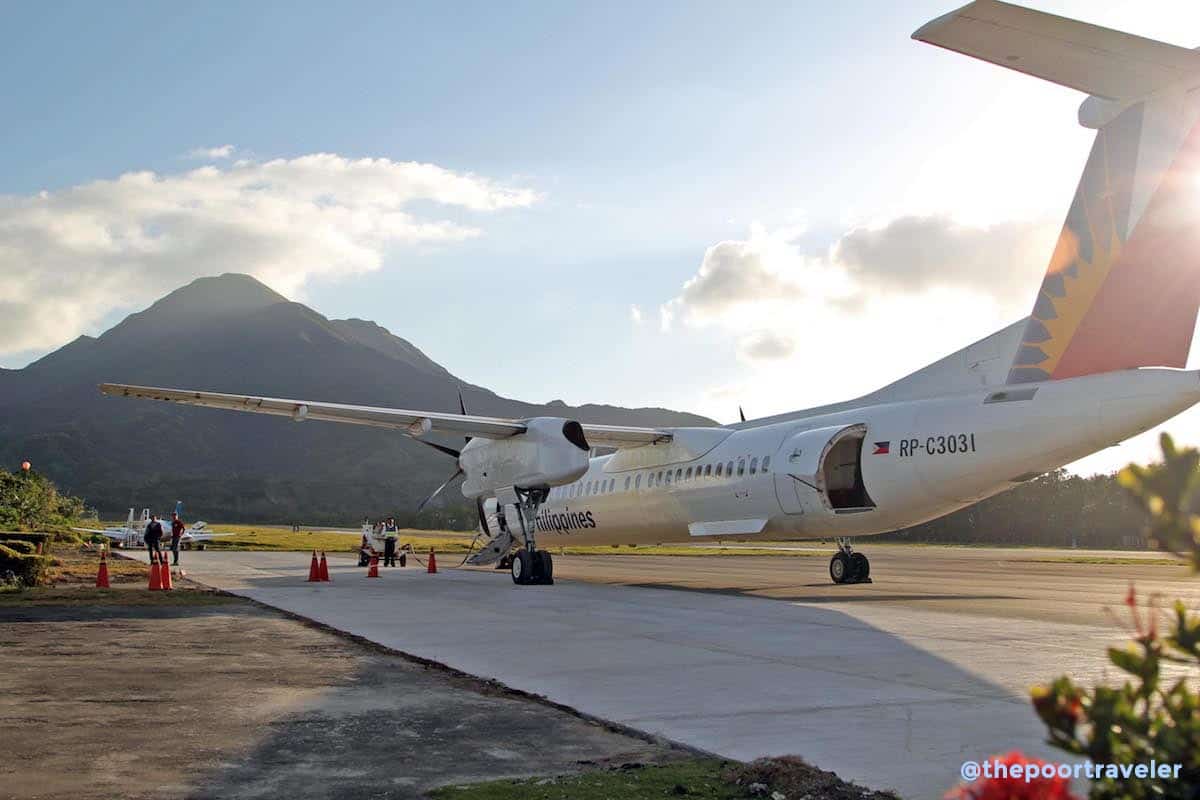 Fares to Basco are infamous for being expensive. Year-round fares can cost more than P10,000 per way if you book at the last minute. But there are ways to save more.
Fly PAL from Clark. PAL flights from Clark are significantly cheaper than from Manila. I did a mock booking for April 2018 (April 24-28) and found these fares: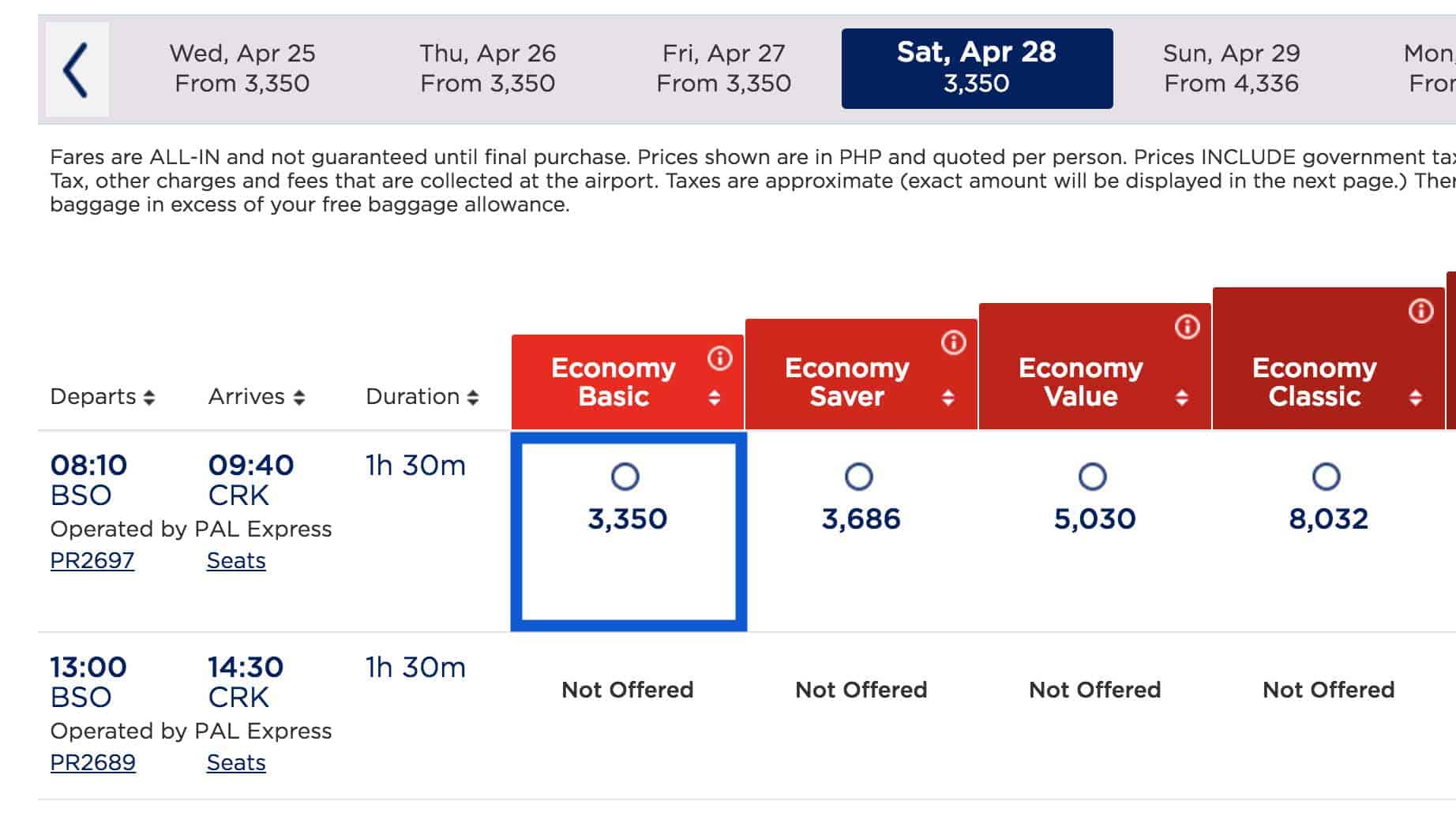 Book a Tuesday/Wednesday Flight. Manila/Clark-Basco flights scheduled on Tuesdays and Wednesdays are considerably lower than other days. While return flights (Basco-Clark/Manila) are cheaper on Fridays and Saturdays.
Watch out for SEAT SALES. Promo fares to Batanes are rare, but they exist. You just need to catch them when they're up for grabs. How? Stalk Philippine Airlines. Like them on Facebook. Follow them on Twitter. Subscribe via email. This way, you'll be the first to know when a big Basco sale is about to happen. Seat sales usually open at around midnight.  (For more information, read: How to Book Piso Fares.)
How much did it cost me to fly to Batanes the first time? P1757, roundtrip. Yep! No kidding. I got it from a P288 base fare sale that amounted to P1757 with taxes and all.

Just last week, my friend Angel was able to score fares for Clark-Batanes for only P2500!
If you want to be notified when there's a new BATANES SEAT SALE, download the Traveloka App and set up the PRICE ALERTS feature. When the price of Batanes flights go down, you will get a notification on your phone so you won't miss it. More info here: Traveloka Price Alerts
---
HOW TO GET AROUND BATANES
By Bicycle or Motorcycle
The bicycle is the cheapest way of going around the island, but make sure you have the stamina to match. The landscape is rugged and a bicycle ride can take you up and down the slopes of rolling hills a hundred times over. Not really a hundred, but you get the point.
Bicycle Rental Rates:
Old bikes: P25/hour
Small/Japanese bikes: P300/day
Mountain bikes: P600-P1000/day (depending on the type and how long you're gonna use it).
For those who have a driver's license and can drive two wheels, the motorcycle is a good option. Motorcycle rent costs P500-1000 per day. Gas is not yet included.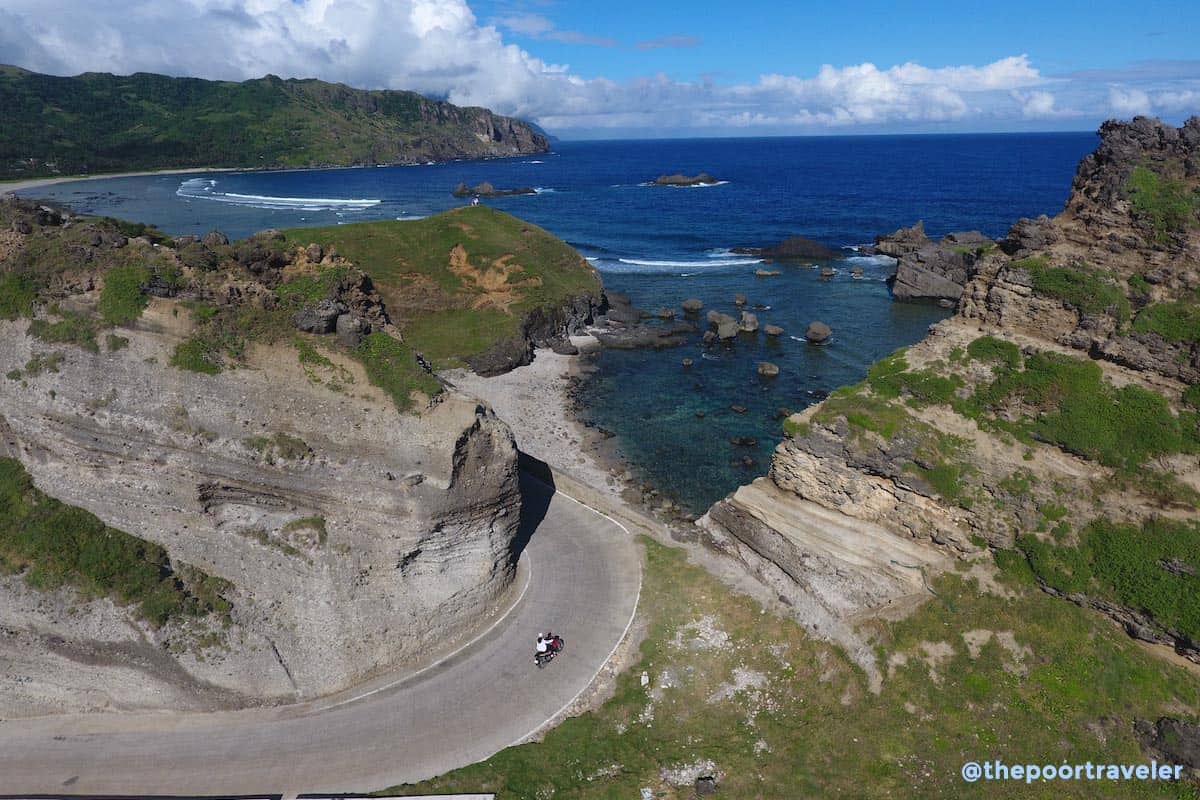 ---
By Tricycle
For short distances, the tricycle is the most usual mode of transportation. Here are the fares:
Within Basco Town Proper: P30
From Basco Town Proper to outskirts: P50
You can also book a tricycle for a full-day tour. This is great if you're a party of two or more because you can split the costs. The good thing about this is that the driver already know where to go or have bits of local info about the place. The rate is usually P200 per hour. Given the time it takes to tour these zones, here are the estimated (and the usual) trike rates, good for two (2) persons:
North Batan: P1000
South Batan: P1500
Sabtang Island: P1000
Again, the rates above are good for 2.
Note that the rates for Sabtang island cover only the tour within the island. Not included are the boat ride and the tricycle transfers from Basco to Ivana port and back.
Our tricycle driver was: Dale Veracruz, 0929 341 0941.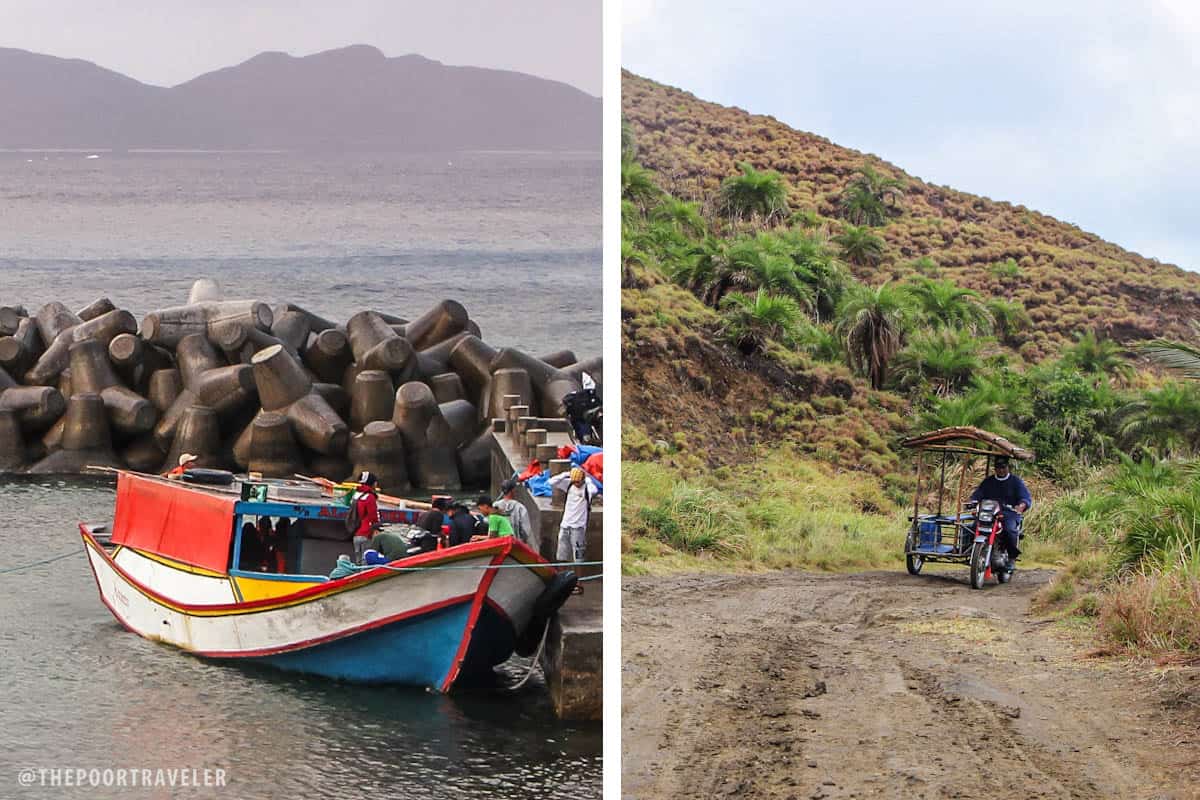 ---
By Group Tour
Numerous travel agencies and hotels offer tours, but the one that we have personally tried on our most recent visit was Bisumi Tours, a duly-licensed local tour operator based in Basco.
Bisumi Tours can personalize an itinerary for you. You can even request to have it bundled with accommodations and airport transfers. But if you only need a guide and a way to get around conveniently, you can join one of their group tours.
Compared to just hiring a tricycle driver, Bisumi's tours are pricier for a reason. These tours are led by trained local guides. While it's true that some drivers can serve as your guide, most of them can only share limited information about the sites you visit. If you want a better appreciation and deeper understanding of the places you visit, join a group tour instead. This way, you're not just looking at random rolling hills, you're also learning about their significance.
Below are the rates PER PERSON (as of February 2018):
North Batan Tour: P999
South Batan Tour: P2000
Sabtang Island Tour: P2000
Each booking is inclusive of the following:
Complimentary Round-trip Basco Airport Transfers
Tour Guide Services
Lunch
Registration fees and taxes
Round-Trip "Faluwa" Boat Ride (for Sabtang Tour)
To inquire, contact Ryan Cardona, 0998 988 5898.
Basco to Sabtang
To get to Sabtang Island, you will need to travel by tricycle first to Ivana Port and then board the faluwa to Sabtang. One-way tricycle fares (per ride, not per person):
If you're alone: P120
If yo're a group of two: P220-250
The boat leaves some time between 6:00am and 7:00am and returns between 1:00pm and 2:00pm.
Boat fare: P100 one way.
The driver will take you to the port in the early morning and will come to fetch you in the afternoon.
Basco to Itbayat
To get to Itbayat, you may travel by boat that leaves Basco at 6:00am.
Travel time: 2.5 to 3.5 hours.
Fare: P450.
You may also travel by plane. It takes only 10-12 minutes, but the cost is at P1800 and the plane must be full each flight.
---
PLACES TO VISIT IN BATANES
Tourist spots in Batanes are often divided into four zones: North Batan, South Batan, Sabtang, and Itbayat. I always recommend taking the North Batan Tour first because it gives just the right dose of what's to come, sort of a teaser. If you're based in Basco, it is the closest and shortest of the tours. The whole thing takes just half a day, around 4 hours.
South Batan takes much longer, covers a wider area, and in my opinion, much more breathtaking. If you do South Batan first, the North might leave you a bit underwhelmed.
Important! Please take note of the following tourism/environmental fees:
Batan Island (collected upon landing at Basco Airport): P350
Sabtang Island: P200
Itbayat Island: P100
More info per zone below.
---
North Batan
The North Batan Tour takes only half a day (around 4 hours including the lunch stop). This is more about visually stunning landscapes and a little bit of history. There isn't any stop here where you can swim or take a dip.
Below is the list of attractions in the northern half of Batan Island. For more information about these sites, read: 10 Incredible Places in Batan Island North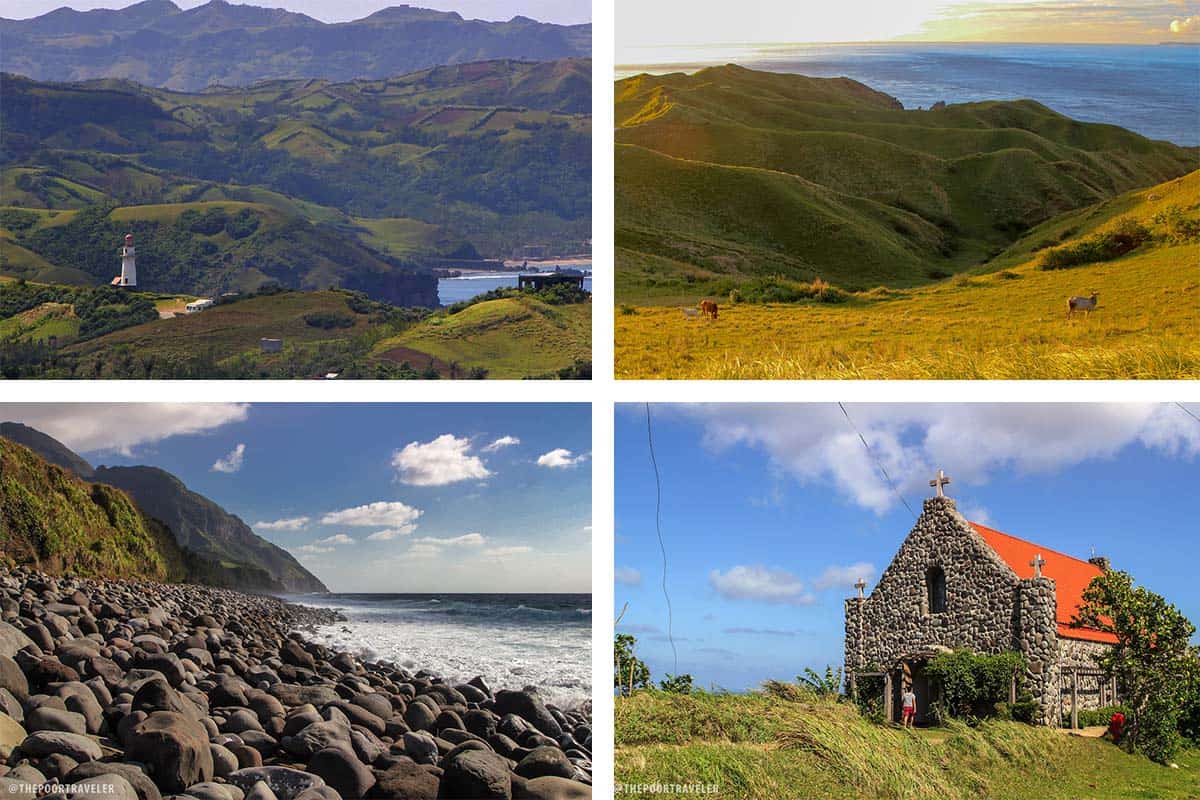 Tukon Church
PAGASA Weather Station
Dipnaysupuan Japanese Tunnel
Valugan Boulder Beach
Basco Lighthouse at Naidi Hills
Vayang Rolling Hills
Chadpidan Boulder Beach
The first stop is usually either Tukon Church or Valugan Beach. If you want to start early in the morning, visit Valugan Beach first because it faces east — Valugan means "east" — and is a great spot to watch the sunrise.
On the other hand, if you're exploring in the afternoon, you might want to request making Vayang Rolling Hills your last stop because it is a perfect place to see the sunset.
Chadpidan Beach is also often not included in tour itineraries, and might entail additional fees. However, you can have a good view of this boulder beach from Vayang Rolling Hills.
---
South Batan
Roaming the southern half of Batan Island takes an entire day. It straddles the municipalities of Mahatao, Ivana, and Uyugan.
Below are the tourist spots in most southern itineraries. For more information about each site, read: 12 Must-Visit Spots in Batan South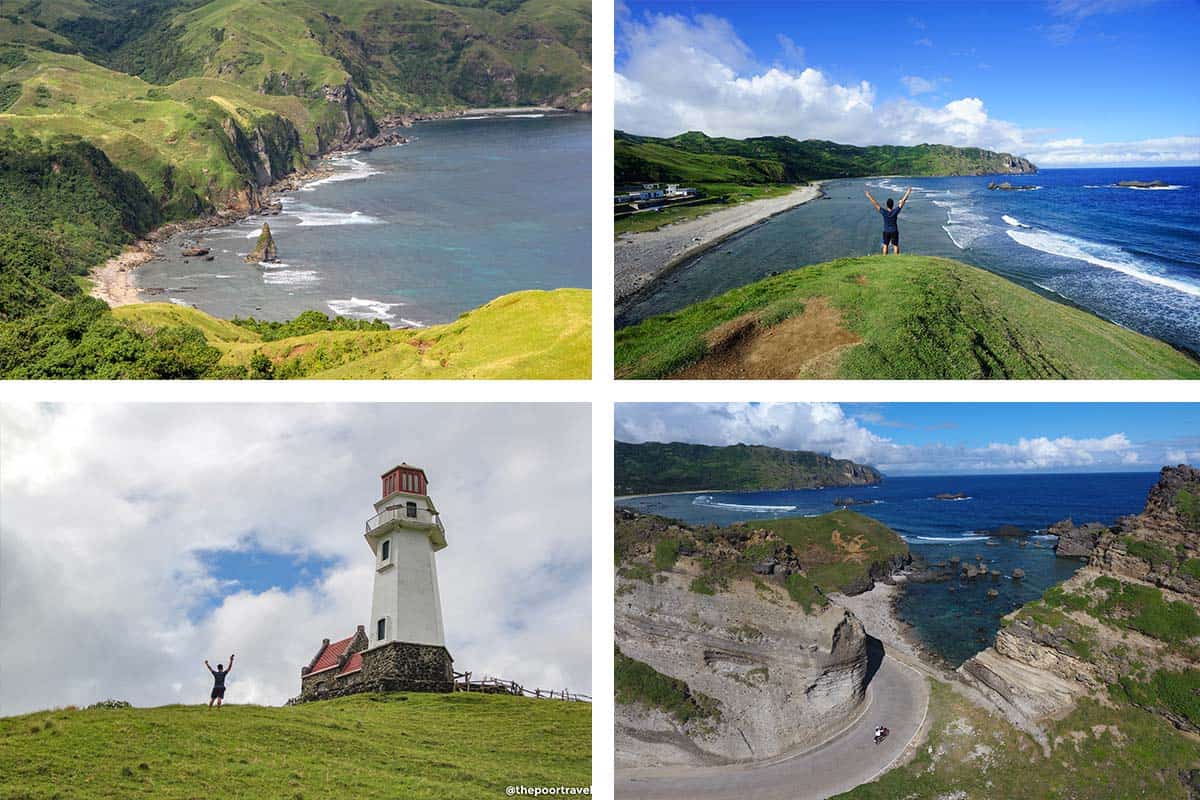 Chawa Viewdeck
Mahatao Boat Shelter
San Carlos Borromeo Church
Tayid Lighthouse
Racuh-a-Payaman (Marlboro Country)
Alapad Pass
Motchong Viewpoint
San Jose El Obrero Church
House of Dakay
Spanish Bridge
Honesty Coffee Shop
Songsong Ruins
Imnajbu Beach
Maydangeb White Beach
Homoron Blue Lagoon
The sheer number of stops makes this an exhausting tour, but you won't be complaining because this tour will leave you breathless. The first stop is usually Chawa Viewdeck. The picture-perfect Diura Beach is also on this side of the island, but most tours don't come close to it. However, you can have an unforgettable view of it from Racuh-a-Payaman.
There are two spots where you can swim — Homoron Blue Lagoon and Maydangeb White Beach — so make sure to bring a towel, swimming attire, and extra clothes.
---
Sabtang Island
If you want to see much of the island, we suggest that you stay overnight. But if you have just enough time for a day tour, that's fine too. Below are the common stops.
More information about what to expect from a Sabtang Island Tour at: 6 Awesome Places in Sabtang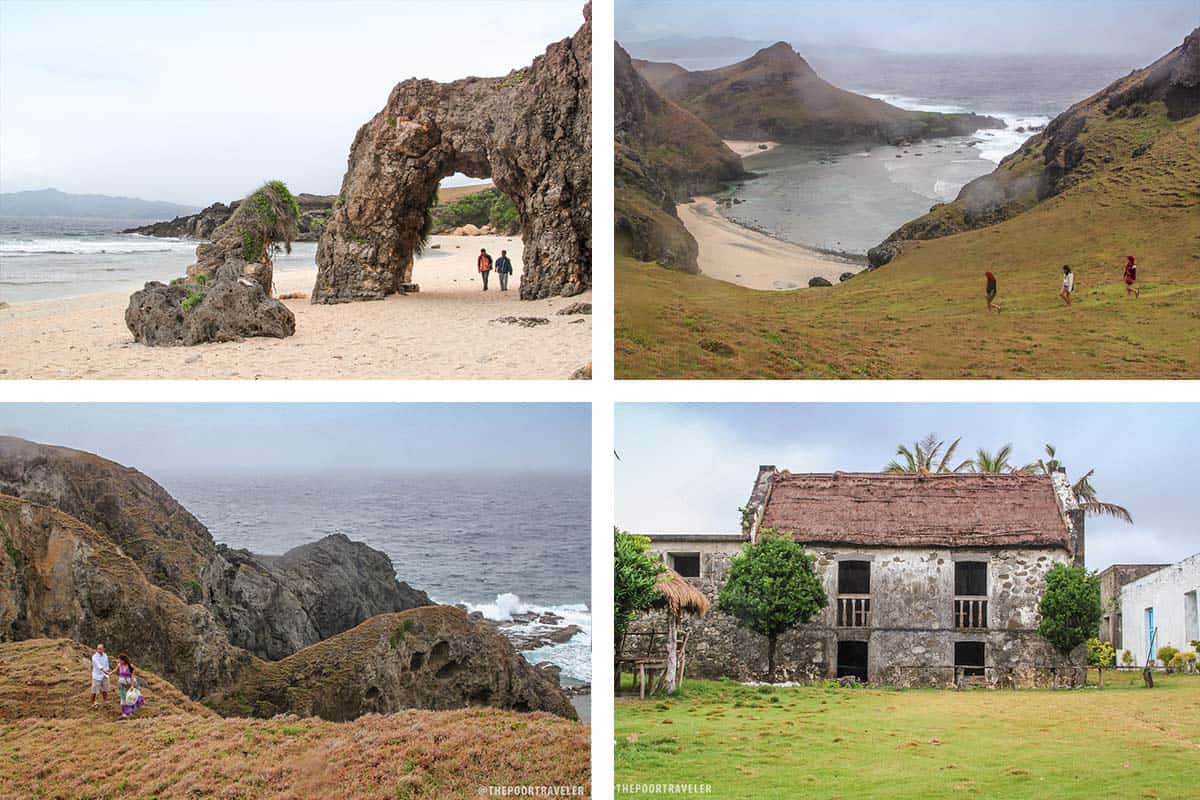 St. Thomas de Aquinas Chapel
Sinakan Village Stone Houses
Savidug Village Stone Houses
The Old Beaterio
Lime Kiln & Savidug Idjang
Chamantad-Tiñan Viewpoint
Sabtang Weavers Association
Chavayan Stone Houses
Morong Beach and Ahaw Arch Formation
Sabtang Lighthouse (P50)
If on a day trip, make sure you're back at the port between 1pm and 2pm. Better yet, before you leave Sabtang port ask the boatmen or tricycle driver what time the boat is leaving the island for Batan and be sure to return by then. There's only one trip per day so if you miss that boat, you'll be forced to spend the night in Sabtang.
---
Itbayat Island
For what to expect in Itbayat, check out: Itbayat Travel Guide
More information about the amazing places to visit in Batanes:
---
Other Attractions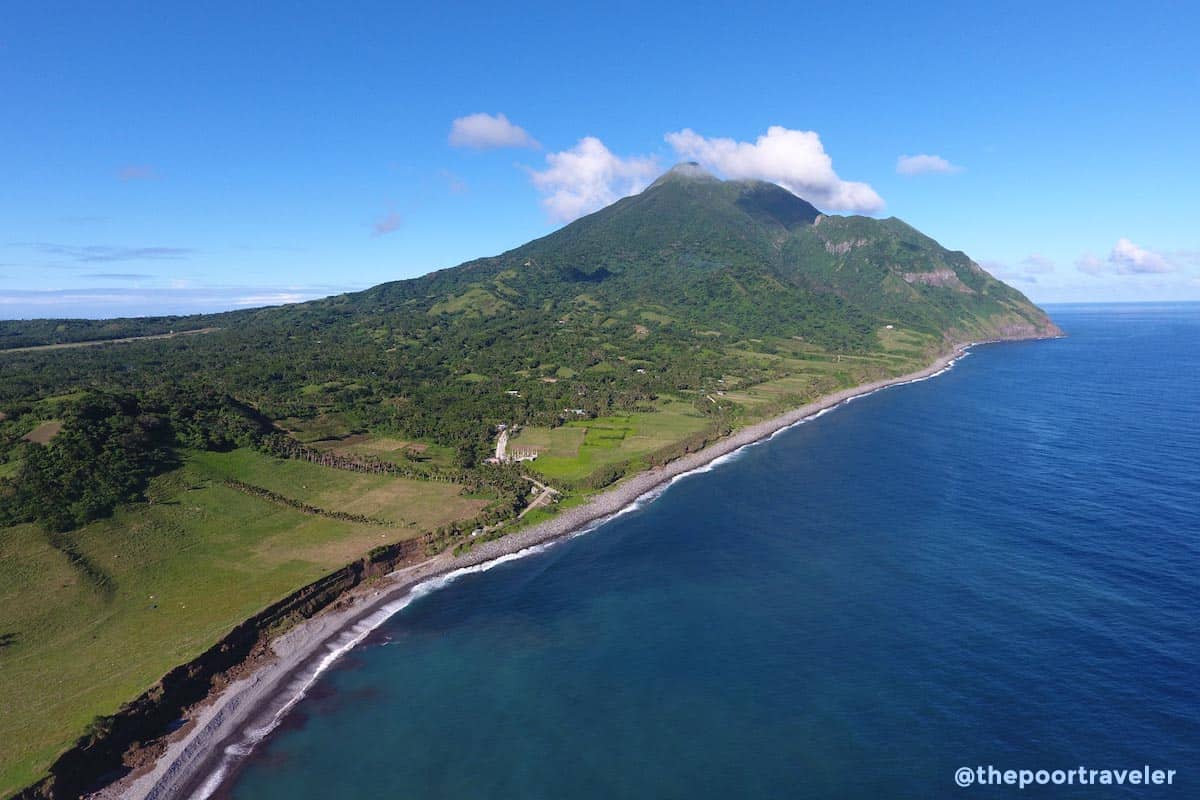 Mt. Iraya Climbing. Mountaineers can climb Mt. Iraya. If I remember correctly, only day trips are allowed and staying overnight is prohibited. Bisumi offers guided treks. Rates per person vary depending on the size of the group: P2500 (solo), P1699 (2-3 pax), P1299 (4-6 pax), P999 (7-9 pax).
Vuhus Island. Although inhabited, you can set foot on this island and see its off-the-beaten-track wonders. It's quite expensive though, so this might not be for budget traveler unless part of a big group. Bisumi's rates per person: P5000 (solo), P4000 (2-3 pax), P3300 (4-6 pax), P2500 (7-9 pax).
For these activities, contact Ryan Cardona, 0998 988 5898.
---
WHERE TO EAT IN BATANES
Batanes may not be famous as a food destination, but it would be a shame to not sample local cuisine on your visit. It is not for everyone though. The province's natural environment is relatively harsh, narrowing the variety of dishes and ingredients used.
Seafood is a staple, and yam (gabi) and turmeric (luyang dilaw) are widely used. A traditional meal is also often wrapped in a leaf of the antipolo tree. Here are some of the native dishes: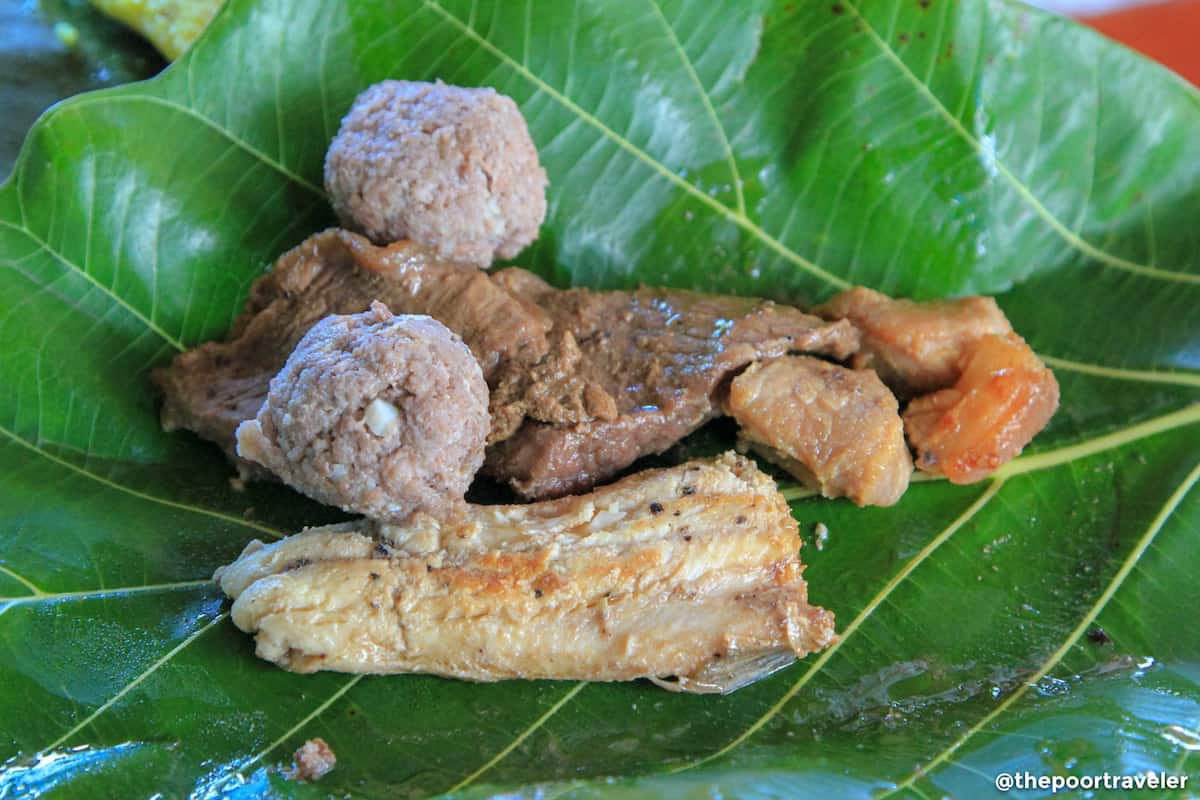 Uved. Ground banana corm with fish or meat, shaped into balls.
Venes/Vunes. Dried gabi stalk with fish or meat.
Luñis. Salted pork cooked in its own fat.
Dibang. Flying fish. Served fried, dried or in vinegar.
Lobsters, locally called payi, are ridiculously cheap in Batanes, so this is the place to stuff your face with it. (Watch the blood pressure, though.)
Coconut crabs, locally called tatus, are also available — we spotted them at restaurant menus — but please don't order them. They are already a THREATENED SPECIES. And according to the Bureau of Fisheries and Aquatic Resources, taking or catching them is ILLEGAL. Let's spare the poor crab.
The well-known restaurants like Vunong Dinette and Pension Ivatan in Basco all offer these authentic dishes. Prices usually range from P100-P300 per person.
If you're on a budget, you may try a carinderia where P50 can give you a good meal. In the town center, SDC Canteen is a popular choice although options are limited.
If you miss Western food, try Casa Napoli for pizzas and pasta dishes.
In Sabtang, Paypanapanayan Canteen is the usual lunch stop in Sabtang. They offer lobsters and other seafood, vegetables, and bukayo for P350 per head. There are few other places near the port. Our guide took us to a small carinderia where we had the best meal of our trip. Unfortunately, for the life of me, I can't remember the name of the place.
---
SAMPLE BATANES ITINERARY
If will be spending only three full days and nights in Batanes, below is an ideal, non-hectic itinerary. Note that this is tailored for a party of two, splitting the expenses. Just make the necessary adjustments to fit your condition.
The first version of the itinerary had the north tour scheduled in the morning, but after my recent trip, I have found that catching the sunset at Vayang Rolling Hills is a magical experience that I want you to enjoy too. So yeah, I moved it to the afternoon, which gives you free time in the morning of your arrival.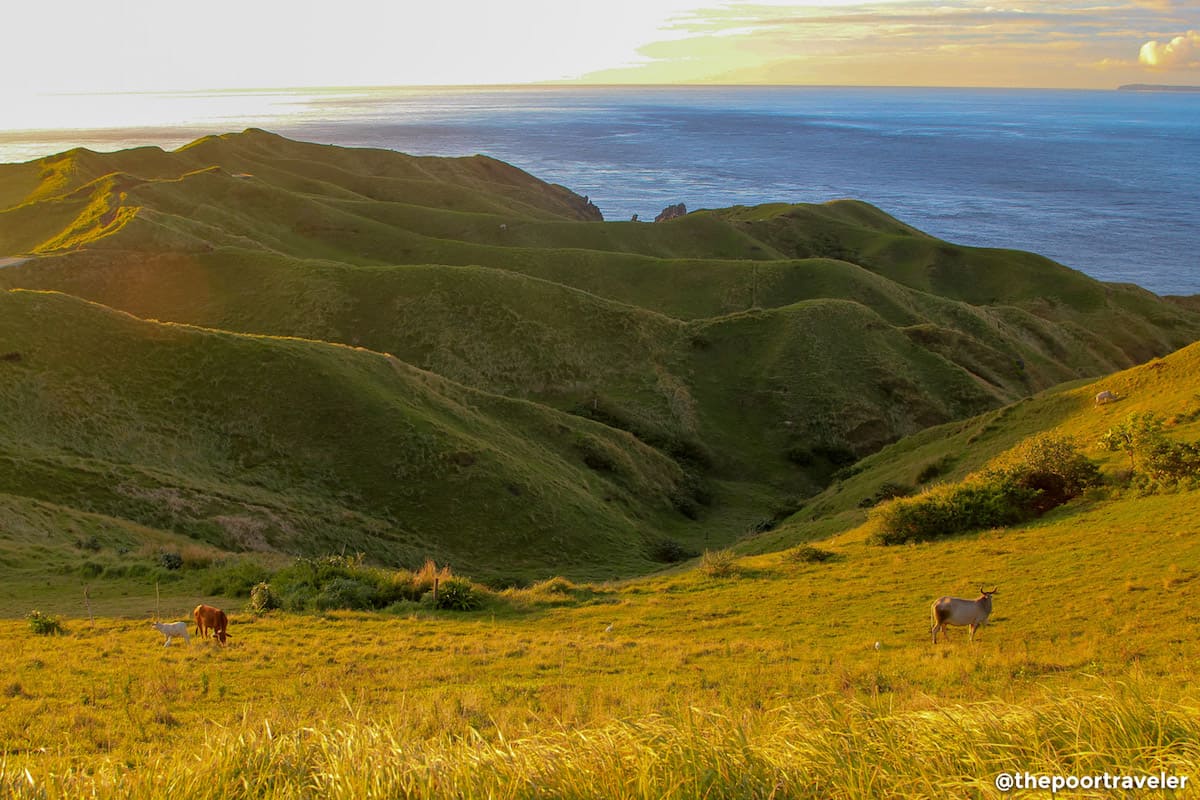 Also, since the Honesty Cafe stands just next to Ivana Port (where you will be taking the boat to Sabtang on Day 2), it would be best to check it out after your Sabtang Tour, before going back to Basco. Why? Remember, the South Tour itinerary is jam-packed. This way, you can remove it from your South Batan itinerary the next day and give you more time for other stops (like the White Beach).
DAY 1: BATAN NORTH TOUR
06:00 am – ETD NAIA Terminal 3
07:45 am – ETA Basco Airport
08:00 am – Pay Tourism Fee, P350
08:10 am – Walk to inn
08:30 am – Check in at lodge/inn
09:00 am – Walk around town
12:00 pm – Lunch, P200
02:00 pm – Start Batan NORTH Tour, P500 (P1000/2 pax)
05:20 pm – Sunset at Vayang Rolling Hills
07:00 pm – Dinner, P200
DAY 2: SABTANG ISLAND TOUR
05:30 am – Depart for Ivana Port, P125 (P250/2pax)
06:00 am – Arrive at Ivana Port
06:30 am – Boarding, P100
07:20 am – Arrive at San Vicente Port, Sabtang
07:30 am – Pay Environmental Fee, P200
08:00 am – Start SABTANG TOUR, P500 (P1000/2pax)
11:20 am – Lunch, P250
01:00 pm – Back at Sabtang Port
02:00 pm – Boarding, P75
02:40 pm – Arrive at Ivana Port
02:50 pm – Visit Honesty Shop and Ivana Church
03:10 pm – Leave for Basco, P110 (P220/2pax)
03:50 pm – Back at inn/lodge, rest
05:40 pm – Walk around town, watch sunset
07:00 pm – Dinner, P200
DAY 3: BATAN SOUTH TOUR
07:00 am – Wakeup call
08:00 am – Start Batan SOUTH Tour, P750 (P1500/2pax)
01:00 pm – Lunch, P200
02:00 pm – Continue tour
05:00 pm – End of tour, rest
07:00 pm – Dinner, P200
DAY 4: DEPARTURE
06:00 am – Wake up
06:30 am – Check out
07:00 am – Walk to Airport
08:10 am – ETD Basco Airport, Terminal Fee, P100
09:55 am – ETA NAIA Terminal 3
If you spend P300 per night per person on lodging (Marfel's rooms for 2 are only P600/night) and you follow the itinerary above, prepare to shell out around P4900 (excluding airfare and incidentals).
That's not bad at all considering that you have a P200-P300 budget per meal (restaurant). You can still bring the cost down if you're a bigger group and you'll be dining at cheaper eateries instead of restaurants. You'll also save a lot if you just bike.
If you're able to score promo fares from a PAL seat sale like we did the first time, you'll only be spending around P7000.
Is there a way to compress all these into a 3-day 2-night itinerary? YES. You can do it in two ways:
If you're arriving in Basco in the morning and flying out in the MORNING 2 days later, you can do the South Tour as soon as you arrive and just check in to your hotel after the tour. Then, you can squeeze both North Tour and Sabtang Tour in one day. On Day 2, do Sabtang Tour first and when you arrive in Ivana Port at 2-ish pm, begin your North Tour. Just make sure that you have made prior arrangements with a tricycle driver to come pick you up at Ivana Port and tour straight after.
If you're arriving in Basco in the morning and flying out in the AFTERNOON 2 days later (PAL also flies Basco-Clark in the afternoon), you can do South Tour on DAY 1, Sabtang Tour on DAY 2, and North Tour on DAY 3. Just make sure you start the North Tour early and finish at least an hour before your flight.
---
BATANES BUDGET BREAKDOWN (EXPENSES)
Just for easy reference, here's a summary of usual sightseeing expenses in Batanes.
TRANSPORTATION:
Tricycle fare within Basco: P30 per way
Tricycle fare from Basco to outskirts: P50 per way
Tricycle fare from Basco to Ivana Port: P220-250 per ride, one-way
Boat ride from Ivana to Sabtang Island: P100 per way
Boat ride from Basco to Itbayat: P450
Basco airport terminal fee: P100
ENVIRONMENTAL FEES:
Batan Island: P350
Sabtang Island: P200
Itbayat Island: P100
ACCOMMODATIONS:
Hotels: P2000-P5000 per twin room
Inns/Homestays: P500-P1000 per twin room
DIY TRICYCLE TOURS (per 2 pax):
Batan North: P1000
Batan South: P1500
Sabtang Island: P1000
GUIDED GROUP TOURS (per pax, inclusive of meals):
Batan North: P1000
Batan South: P2000
Sabtang Island: P2000 (inclusive of boat/land transfers)
That's about it!
---
OTHER TIPS FOR THE POOR TRAVELER
Walk when you can. Basco is a small town. Most key spots within the town proper are within walking distance. In fact, if your homestay or inn is in the town proper, you can travel on foot to and from the airport.
Check out Abad Street. Basco doesn't have a public market and Abad Street serves as a substitute. This narrow but important street in the town proper is flanked by fish, meat, and vegetable vendors during the day.
Go paluto. Some homestay hosts accept paluto (cooking) requests for a minimal fee. You can just buy your ingredients and have it cooked where you're staying. It's a great way to save money.
ATMs in Basco: 1 PNB and 2 Landbank machines. But it's good practice to make sure you have enough cash before your arriving.
Although this is a budget travel guide, we want to end with this: SPEND WHEN YOU CAN. If you can afford it, treat yourself and experience as much as you can. If there is something you really want to try and you have the budget, go ahead.
We always say: We're not in the business of promoting the cheapest ways to travel. We are on a journey to find and share what gives the best value for money. And only you can decide what's worth it. It's also a great way to help the local economy.
---
FREQUENTLY ASKED QUESTIONS ABOUT BATANES
Is Batanes safe?
Yes, absolutely. Batanes has virtually zero crime rate. It is very, very safe, even for solo travelers.
That said, while Ivatans are very trustworthy, bear in mind there are also a lot of tourists in Batanes today. It would still be best to not leave your valuables unattended when at touristy places.
When is the best time to visit Batanes?
As with many other destinations in the Philippines, your best bet is from December to May, which is generally considered dry season. January-February is my favorite period because I've always enjoyed a cooler atmosphere.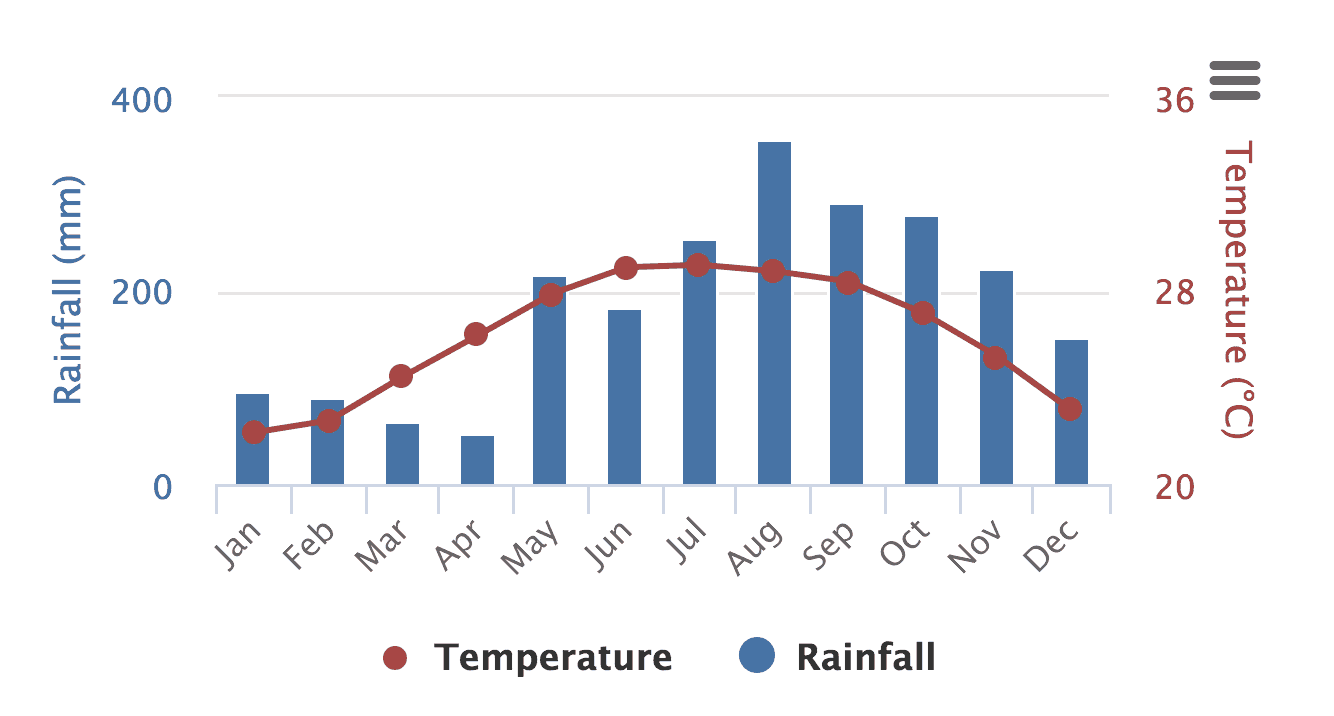 Completely surrounded by vast bodies of water including the mighty Pacific to its east, Batanes is notorious for its crazy weather. It's perfectly normal for the day to begin sunny, rain at around lunch time, and clear up in the afternoon.
Is it okay to book flights for a June-November travel? Of course. Although it is rainy season, it doesn't mean that every day is bad weather day. Just expect rain showers every now and then, but most of them will just pass quickly. However, it is important to note that the strongest typhoons that hit Batanes in recent memory all did in August-September. My most recent visit happened in November and although it rained for an hour on our first day, the rest of our time there was bright and sunny.
It takes more than drive to get to Batanes. She's distant and has one hell of a temper. But if you know your way around her, it can be quite easy to get on her good side.
What is the power socket/plug type used in Batanes?
Electricity Info: 220V, 60Hz. Socket Type A, mostly.

How is the internet data / phone signal in Batanes?
Both Globe and Smart have good cellular reception in main settlements like Basco. However, it is data connection that can be frustrating. Both Globe and Smart don't have LTE connection here. If you want decent internet, you may check in at Bernardo's Hotel and Amboy Hometel. The connection isn't fast but much better than mobile data. Anyway, like what Coco Martin said in the movie "You're My Boss," hindi ka naman magba-Batanes para mag-internet.
---
2️⃣0️⃣1️⃣9️⃣ • 6️⃣ • 1️⃣1️⃣