Welcome to our ALISHAN TRAVEL GUIDE! In this blog post you'll learn how to plan a trip to Alishan. We're also providing some useful travel tips including a sample ALISHAN ITINERARY and budget breakdown that you can use for your own trip.
It was supposed to be my birthday trip. Years ago, when I was planning a backpacking trip around Taiwan, I made sure that my birthday would coincide with the Alishan stop. As a guy who would totally trade a week on the beach even with just a day in the highlands, I'm always on the lookout for quaint mountain resort villages. Unfortunately, an injury cut that trip short, leaving Alishan an unticked box on my Asian bucket list.
When our team decided to cover Taiwan to create a series of travel guides this year, it came as no surprise to my teammates that I assigned myself the one place that has eluded me all these years — Alishan.
WHAT'S COVERED IN THIS GUIDE?
UNDERSTANDING ALISHAN
The name Alishan refers to a lot of things. If you look at the topographical map of Taiwan, you'll find a cluster of mountain ranges sprawling from north to south and occupying the central and eastern regions of the island. A section of this feature's western edge is the Alishan Mountain Range, much of which makes up the nature reserve called Alishan National Scenic Area.
The Alishan National Scenic Area is composed mainly of the northern half of Alishan Township along with a few other townships in Chiayi County including Zhuqi, Meishan, and Fanlu. Within the covered region of Alishan Township is a forest park called the Alishan National Forest Recreation Area, which is perhaps the most popular attraction within the scenic area.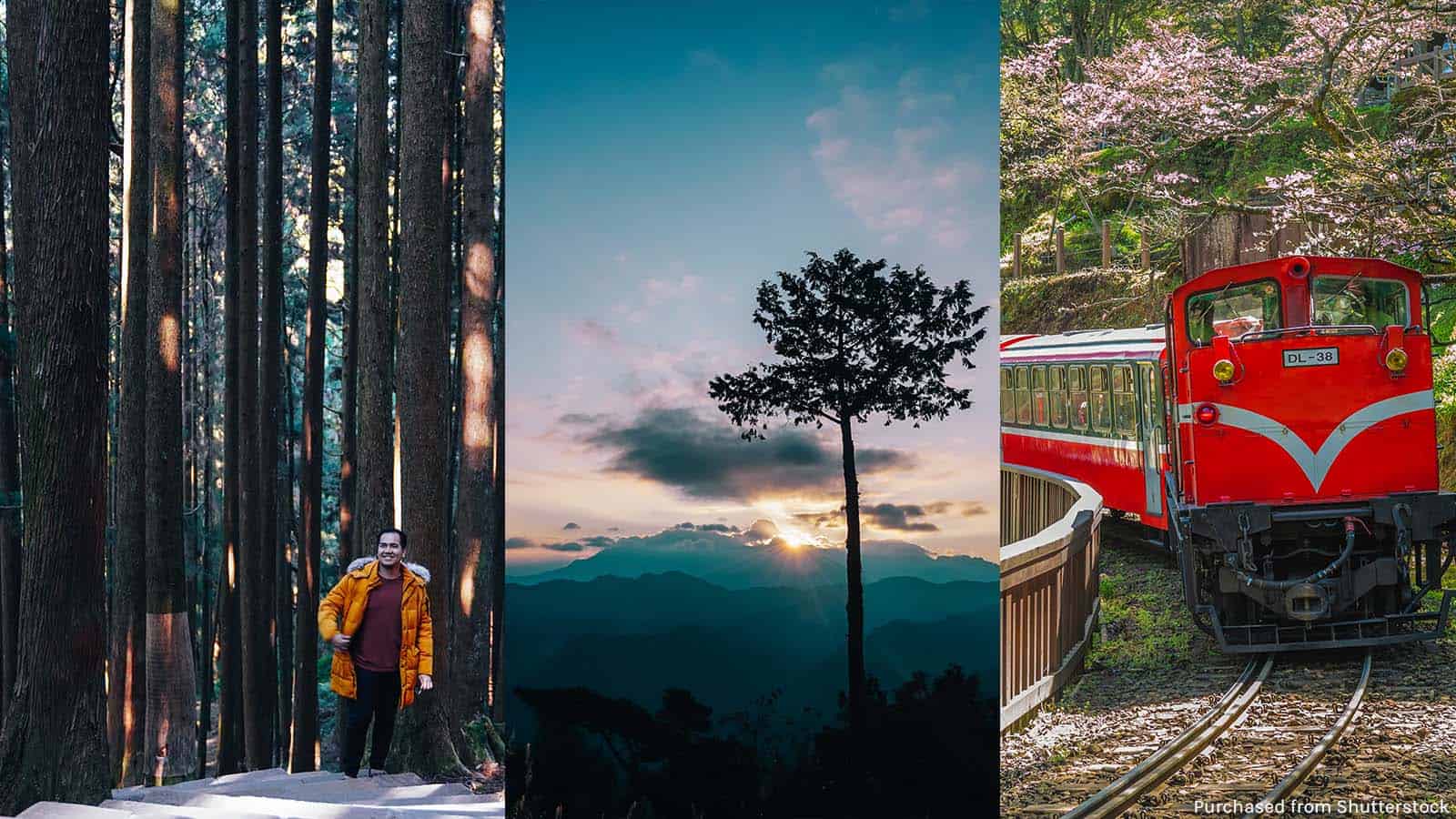 Confusing? Don't worry, in this post, when we say Alishan per se, we're referring only to the recreation area, unless otherwise stated.
The nearest major city is Chiayi City, which makes it the most usual jumpoff point to Alishan. Because of its elevation, Alishan enjoys a climate that is more temperate than tropical. It's a favorite getaway even among locals who wish to cool down and relax a little.
Essential Information:
Language: Mandarin Chinese, but Taiwanese Min-nan is also spoken. Many street signs are bilingual: written in Chinese characters with English translations.
Time Zone: UTC+8 (Taiwan National Standard Time). Taiwan is in the same time zone as the Philippines, Singapore, and Malaysia; an hour behind Japan; and an hour ahead of Jakarta.
Currency: New Taiwan Dollar (NT$, TWD). NT$ 100 is around USD 3.4, EUR 2.9, SGD 4.66, PHP 166.3 (as of August 2020).
Modes of Payment: Most establishments prefer cash payment, but many of them also accept credit card transactions.
---
WHERE TO STAY IN ALISHAN
Best Area to Stay in Alishan
The Alishan National Forest Recreation Area spans 1400 hectares, but the best place to stay is definitely the main tourist hub, the area in front of the forest railway station (near the gate). From here, restaurants, shops, convenience stores, the train station, the bus station and information center are all within touching distance.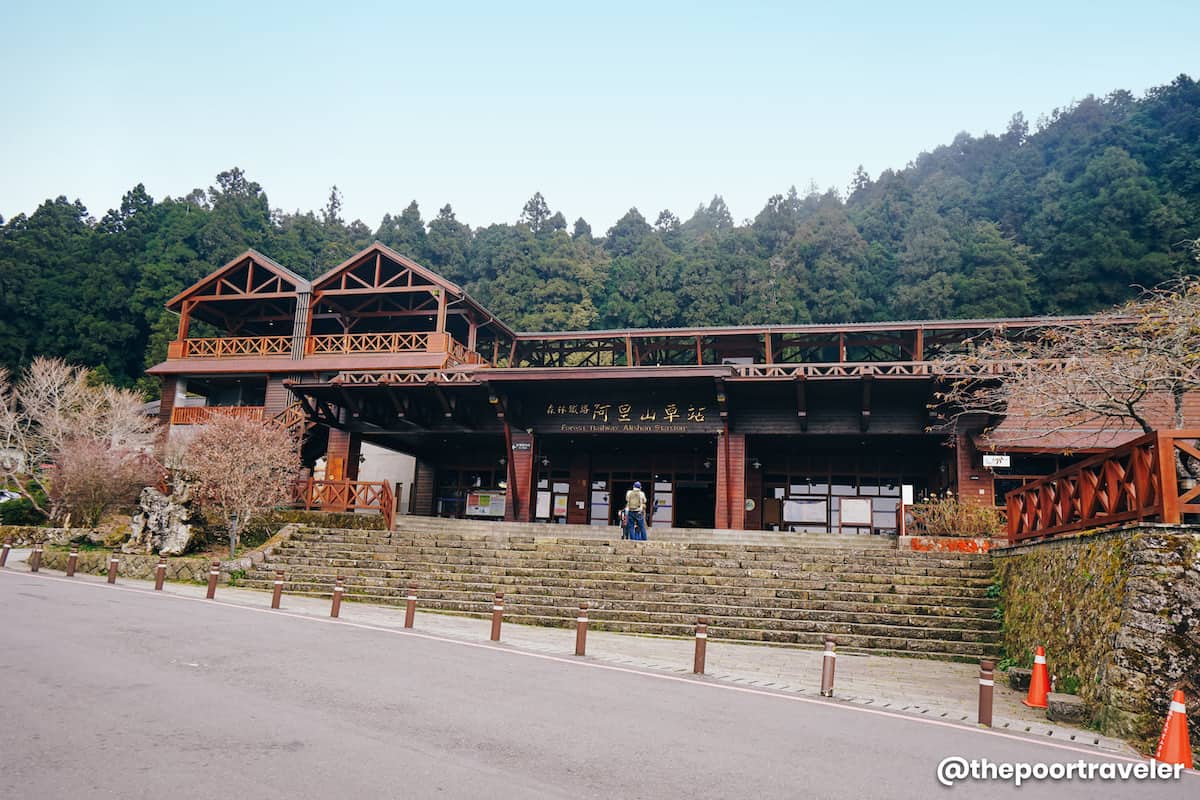 Lodging options in Alishan are quite limited. But down the hill is the Hotel Area, where you'll find the highest concentration of accommodations including the following hotels:
Alishan Shermuh Hotel
Yingshan Hotel
Wunsun Hotel
Kaofeng Hotel
Chingshan Villa
Gaushanching Hotel
Hofong Villa
Wankou Hotel
Dafong Hotel
Dengshan Hotel
Maria Hotel
Outside the main tourist area, you can also find other hotels. One of these is the Alishan House, perhaps the most well-known property in the area. If you're after a more luxurious experience or celebrating a special occasion, this is something to consider. It's a bit detached, but it offers transfers to and from the station.
---
Top Hotels in Alishan
Here are the top properties on Agoda, as scored by their customers.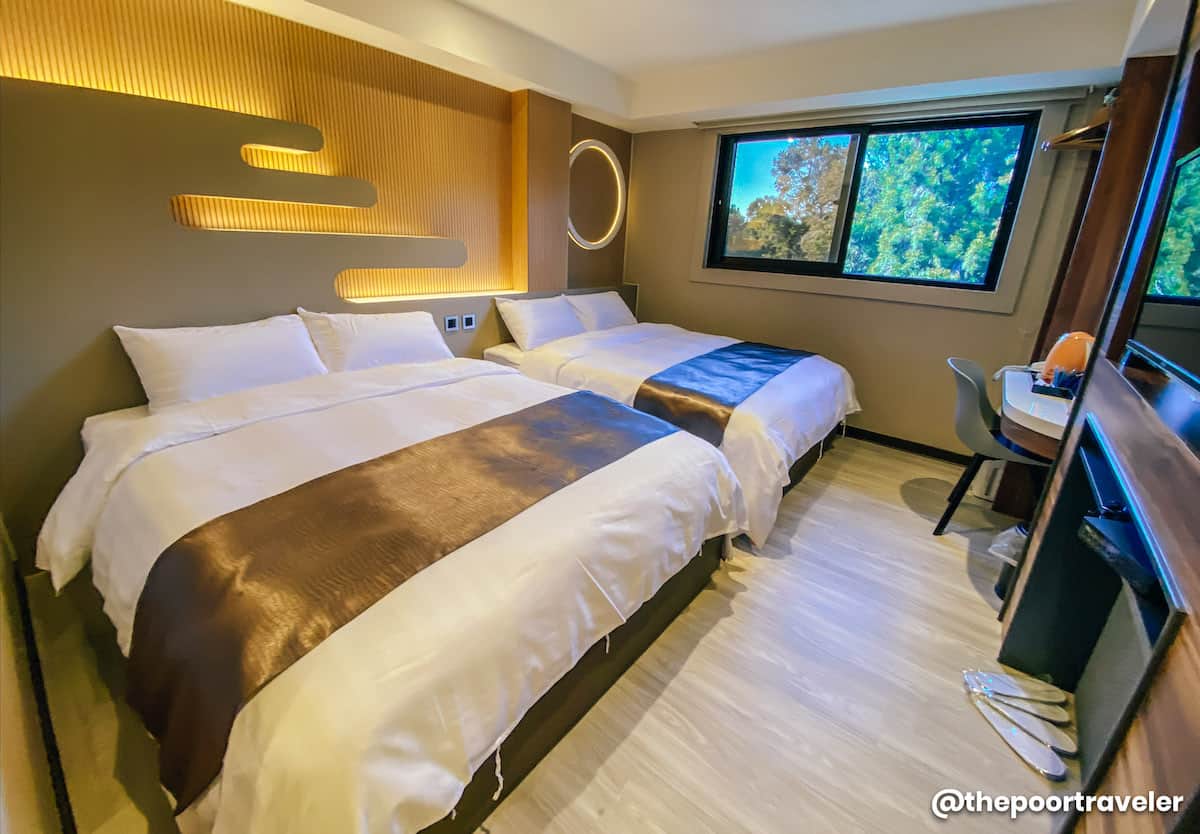 ---
Things to Consider Before Booking Hotels
Hotels in Alishan are generally much more expensive than in other parts of Taiwan most likely because of the limited options.
The Hotel Area (at the main tourist hub) is situated downhill from the train station, so climbing back up can be a challenge if you're not that fit. What we did: on our last day, we checked out early and deposited our bags in a locker at the train station before touring so we won't need to go down and up again just to check out.
Some hotels don't have elevators, so make sure you express your preference for a lower level.
Some hotels offer free transfers and sell sunrise tickets. Coordinate with hotel management before your trip.
Check in time is usually between 3pm and 4pm.
Most hotels offer free breakfast, served at a partner restaurant at the central area, a bit far from the actual hotel building. Breakfast time is usually between 7am to 9am.
---
POCKET WIFI RENTAL & LOCAL SIM
You can make your life easier during your trip by staying connected to the Internet. You have two options: rent a pocket wifi or purchase a local data SIM.

Pocket Wifi Rental is more convenient because you just need to connect to the device, which can accommodate up to 5 devices at once. Klook's wifi rental service also provides unlimited 4G data with no decelaration to 3G.
You can also buy a 4G SIM Card that will give you unlimited data without worrying about roaming costs. This SIM card is from Chunghwa Telecom, the biggest telco in Taiwan. Available in 3, 5, 7, 10, 15, or 30-day validity.
Available units are limited so it's best to reserve online. Whatever you choose, you can pick it up at Taiwan Taoyuan International Airport, Taipei Songshan Airport, Kaohsiung Airport or Taichung Airport when you arrive.
✅ RESERVE A POCKET WIFI HERE!
✅ RESERVE A 4G SIM CARD HERE
---
HOW TO GET TO ALISHAN
Because Taiwan is a small island with an efficient transportation network, it's easy to get to Alishan from any of the major airports — Taiwan Taoyuan International Airport, Kaohsiung International Airport, and Taichung International Airport.
You can search for cheap flights here!
From any of these airports, all you need to do is make your way to the nearest TRA or THSR Station to catch a train to Chiayi City.
If Alishan is just a side trip, you can also easily reach Alishan from Taipei, Taichung, or Kaohsiung. Just proceed to the a TRA or THSR Station and board a train to Chiayi City.
We'll create a separate, more detailed post about getting to Chiayi from other parts of Taiwan.
---
Chiayi to Alishan
The best way to reach Alishan is by taking the train from Chiayi City. It's not the fastest option, but this route will allow you to experience the Alishan Express, a vintage train widely regarded as one of the wonders of Alishan.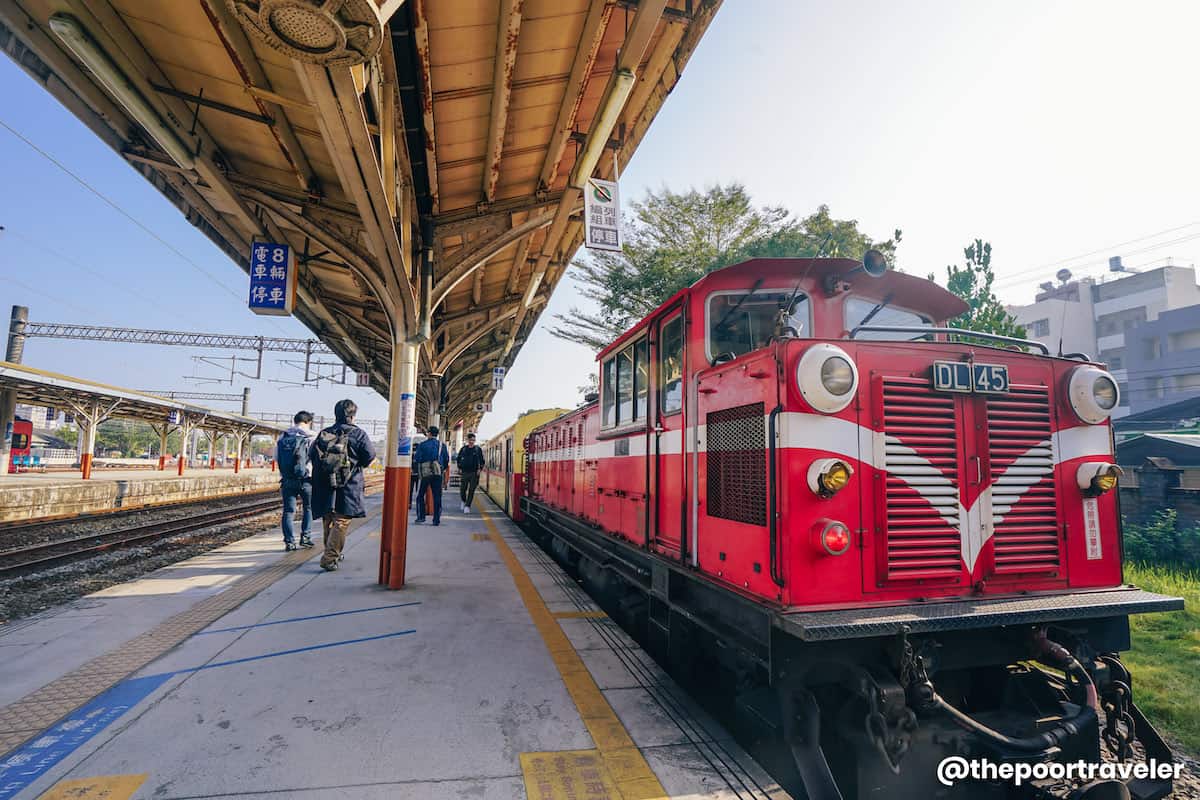 Alishan Express departs from Chiayi TRA Station (TRA, not THSR). If you're arriving at THSR, you can simply catch a shuttle bus from Chiayi THSR Station to TRA Station.
Note that, as of now, Alishan Express doesn't go directly to Alishan because the far end of the rails were damaged by typhoons and have yet to be repaired. Hence, you need to transfer to a bus when you reach Fenqihu Station.
Here's how to get to Alishan from Chiayi.
Book a train ticket to Fenqihu Station online. Fare: TWD 384, adult; TWD 192, child. Alishan Express makes only one trip on weekdays (scheduled at 9am) and two on weekends and holidays (9am and 9:30am), which means limited seats. It's best to reserve online. We have a step-by-step guide here: How to book Alishan train tickets online!
Claim your reserved tickets at Chiayi TRA Station. Note that it's TRA Station, NOT THSR. Find the Alishan Express ticket window in front of the station, present your reservation number and the passport you used to book, and get your train tickets.
Board the train. The platform is located at the far end of the first platform (if you're facing the rails), past the Police Station. Travel time: 2 hours, 21 minutes.
Alight at Fenqihu Station. You'll arrive at around 11:30am, in time for lunch. While waiting for the bus, you can try Fenqihu's well-known bento boxes. Several restaurants offer this meal, but the most popular is served by Fenchihu Hotel (Price: NT$ 160-180).
Catch the bus to Alishan. The bus stop is on the other side of the railway (not on the side of the station and old street). There are only three buses scheduled at 11:30am, 12:50pm, 2:00pm. Travel time: 1 hour. Fare: NT$ TWD 98 (adult), TWD 49 (concession, child).
Pay the entrance fee. At the Alishan Bus Terminal building, where you will be dropped off, find the ticket machines. Admission rate is NT$ 150.
Drop by Alishan Train Station. Once you have the ticket, enter the park through the massive gate. Around 200 meters from the gate is the Alishan Train Station, where you can purchase tickets for tomorrow's sunrise train journey.
If you're staying at the Hotel Area, you can simply walk. From the train station, cross the road and go down the staircase. Cross the parking lot and you'll find a small alley with another flight of stairs. Climb down and you'll reach the Hotel Area.
If your hotel offers free transfer, you may be picked up here at the train station.
If you need more information about how to Alishan, we have a step-by-step guide here: CHIAYI TO ALISHAN!
---
HOW TO GET AROUND ALISHAN
Before that, let me explain something quickly. Within the Alishan National Forest Recreation Area are four main areas:
Main tourist hub, the area surrounding Alishan Train Station and directly after the primary gate. This is where most hotels, restaurants and shops are located.
Chushan, also spelled Zhushan, where you can catch the famous Alishan sunrise.
Chaoping, also spelled Zhaoping, where you'll find the Zhaoping Park (Cherry Blossoms trail) and the Sister Pond.
Sacred Tree area, which is scribbled with walking trails that will lead you to the Shouzhen Temple, the Shun Bao Fu De Temple, the Three Generations Tree, the Big Tree, and of course, the Sacred Tree.
All these areas are connected by the scenic Alishan Forest Railway, with Alishan Station as the central point. You can simply ride the train to get from one station to another. Fare to and from Chaoping, Sacred Tree or Alishan Station is NT$ 100. Fare to or from Chushan is NT$ 150.
However, the more recommended option is by hiking. Every train stations is only 30 minutes to 1 hour on foot from the next station. The walking trails will take you to the points of interest in the area. It's an easy hike, if you have no issues physically.
This map is a simplified illustration of the journeys, whether by train or by foot.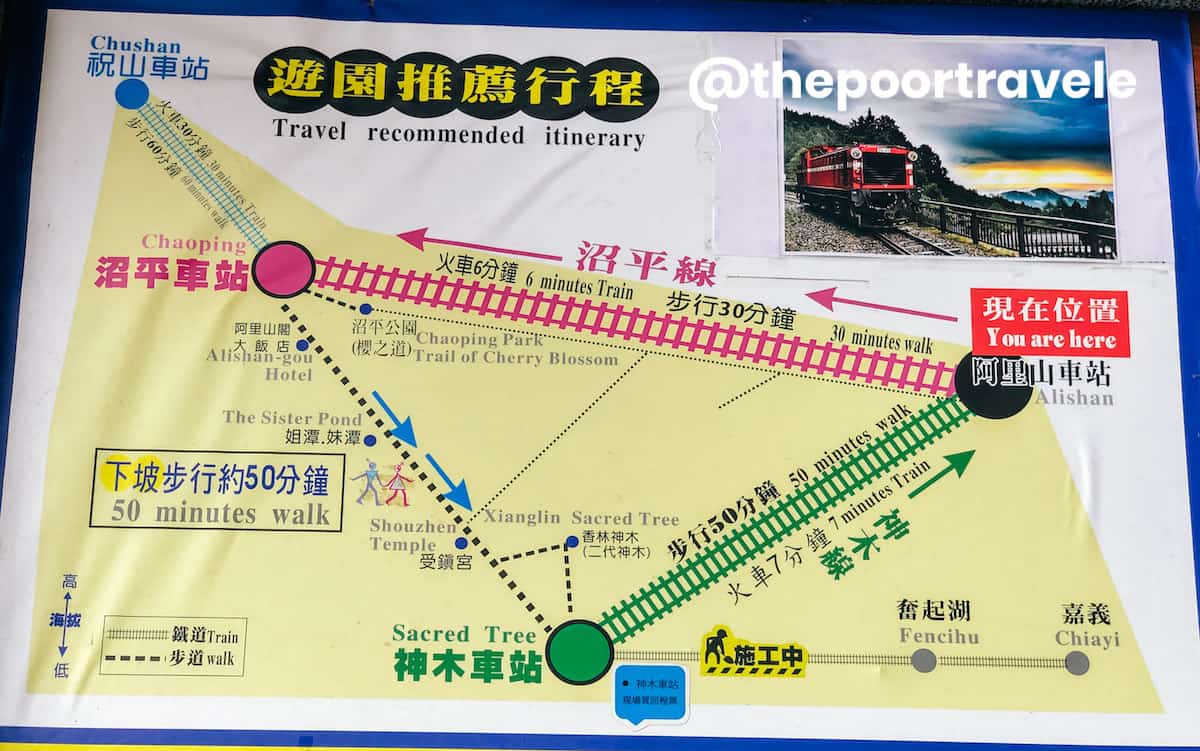 Our recommended route is this: First, take the train from Alishan to Chushan to catch the sunrise (since it may be too dark or too cold for an early morning walk). After dawn, they hop back into the train to Chaoping Station and walk all the way to Sacred Tree Station, stopping at key attractions along the way. Then, they catch another train back to Alishan.
---
THINGS TO DO IN ALISHAN
Chushan Sunrise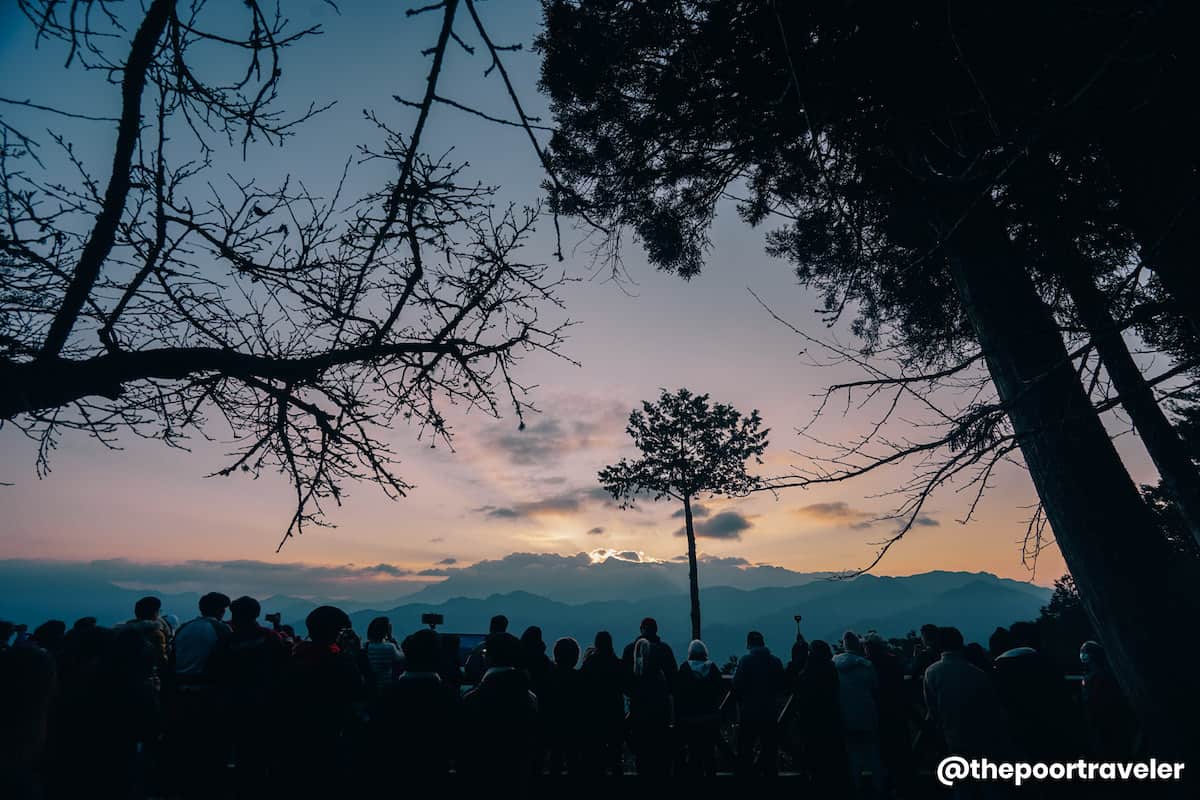 Perhaps the most popular attraction in Alishan. Hundreds of people watch the day break from a viewing platform in Chushan. It's easy to be mesmerized by the first light of day seeping through the mountains above a sea of clouds.
Skipping hotel breakfast? You can grab a quick bite from the lane of food stalls at the viewing area. Local favorites like tea eggs to western staples like French toast are available.
How to get to Chushan: At Alishan Station, take the train to Chushan Station. One-way fare: NT$ 150 (adult), NT$ 75 (concession).
IMPORTANT! Purchase a ticket the afternoon before (1pm to 4:30pm). Because the sunrise time varies every day, the departure time of the Chushan train changes with it too. The final schedule is posted at the station and is shared with hotel receptions in the late afternoon. You can simply ask your hotel's reception staff for the departure time and arrange a wakeup call for good measure.
On the day of sunrise viewing, wake up early and proceed to the Alishan Station. The train can get packed so to make sure you get seated, arrive at least 30 minutes ahead of time.
---
Chaoping Trails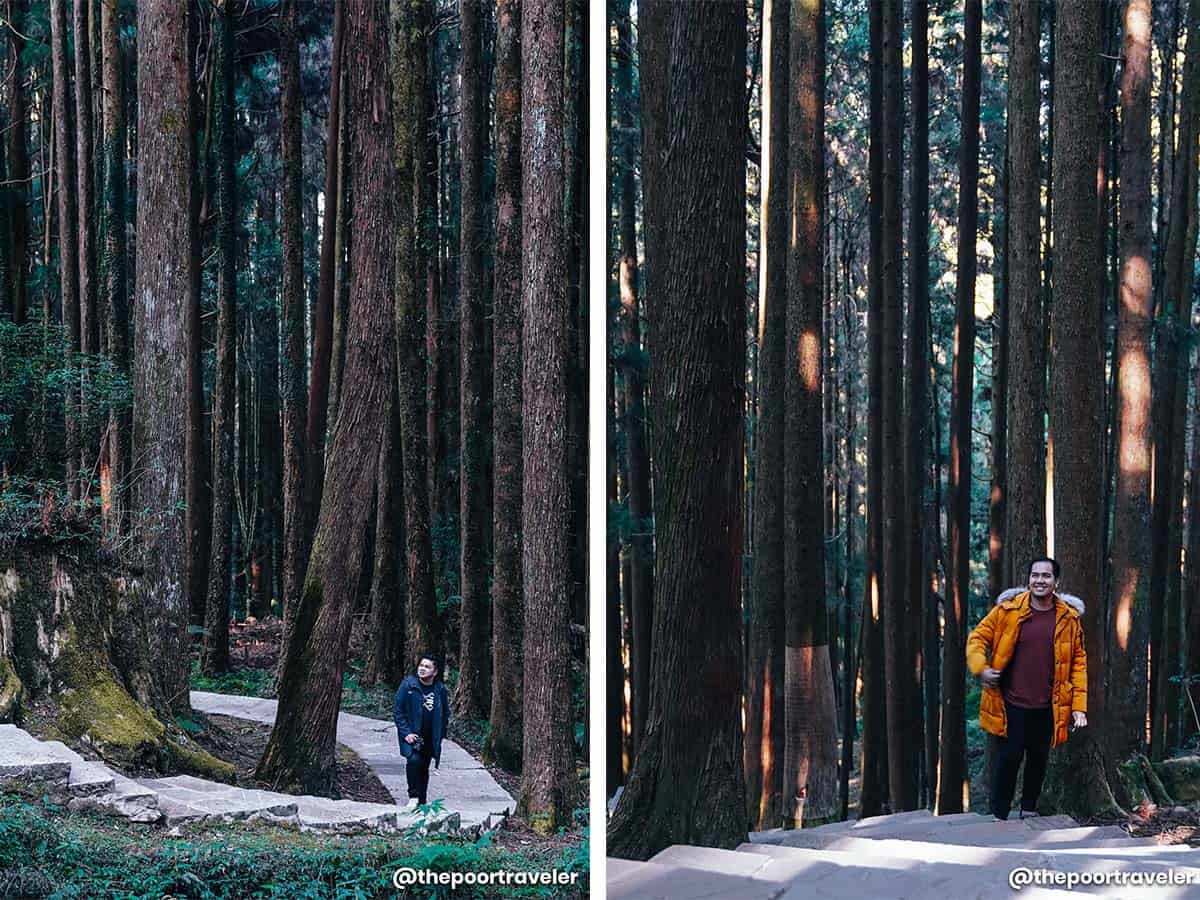 After sunrise viewing, head back to the station and catch the train to Chaoping. Upon exiting the station, you'll be greeted by the Chaoping Park, next to the plum garden. From here, you can take one of the many walking trails that cut across the area including the following:
Chaoping Skywalk Trail
Alishan Sakura Trail (cherry blossoms!), if your timing is right
Poetry Trail
But most visitors follow the main forest trail that leads to the Sacred Tree. Along the way, you'll be passing by the Sister Pond, the Magnolia Garden, the Alishan Shouzhen Temple, and other picturesque spots.
How to get to Chaoping: From Chushan Station or Alishan Station, take the train to Chaoping Station. Fare from Chushan is NT$ 150, from Alishan NT$100.
---
Sacred Tree Trails and Boardwalks
Another place that is perfect for a leisurely walk in the forest is the Sacred Tree area, named after a giant red cypress tree that has been revered by the Tsou people. At over 50 meters, it was the tallest tree in the area for the longest time. However, in 1998, a lighting strike burned it, pushing the Forestry Bureau to lay it on the ground.
In 2007, the authorities launched a voting campaign about which tree should be hailed the next sacred tree. The giant tree that received the most votes is now called Alishan Sianglin Sacred Tree.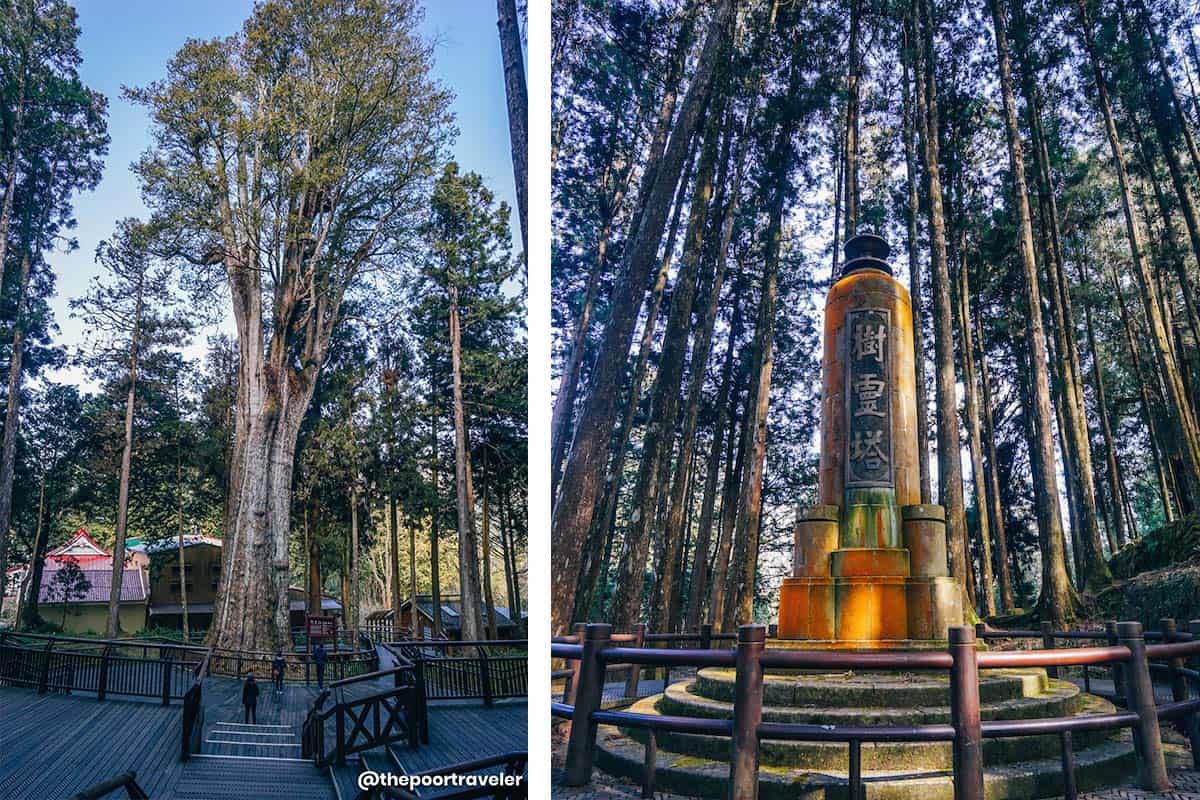 Aside from the Sacred Tree, several curious attractions are scattered along various hiking trails and boardwalks like the following:
Three-generation tree
Shun Bao Fu De Temple
Scented Wood Bridge
Elephant Trunk Tree
Pagoda of the Tree Spirit
Shenyi Bridge
How to get here to the Sacred Tree: The nearest station is Sacred Tree Station. From Alishan, fare is NT$ 100.
---
Other Places to Visit in Alishan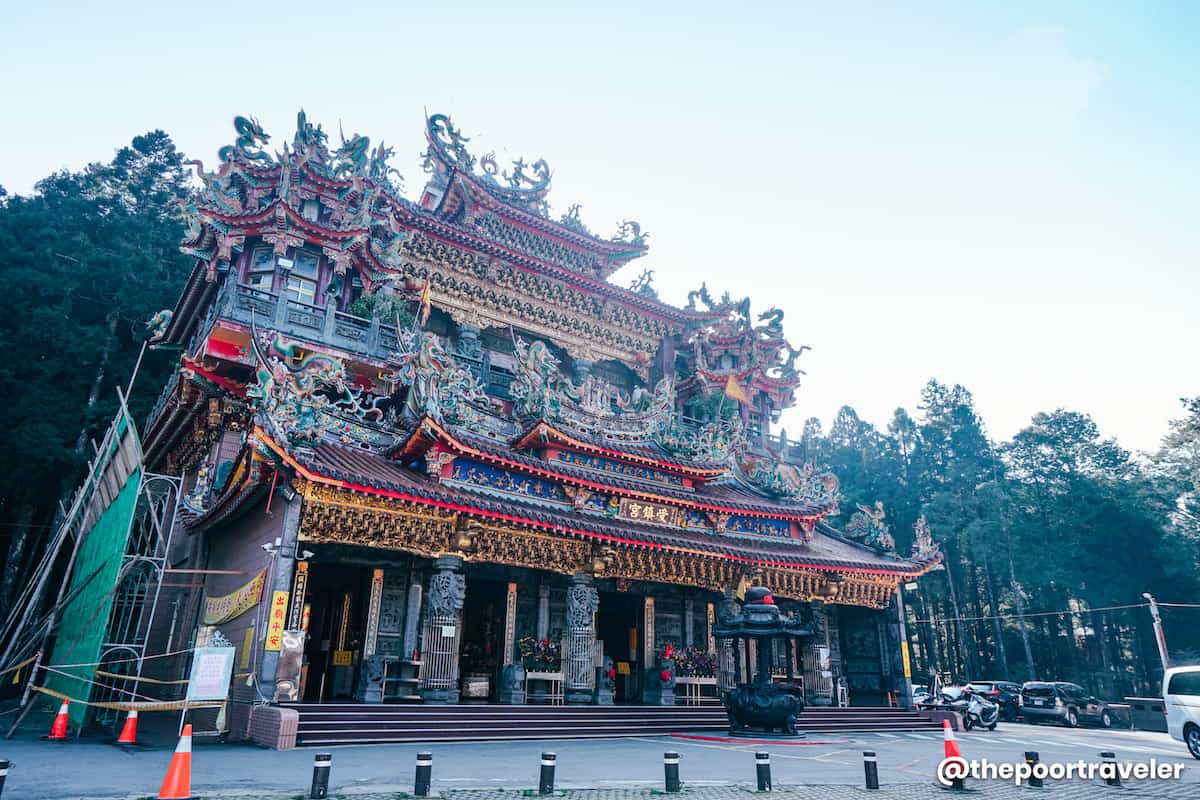 We'll create a more detailed post about this soon. In the meantime, here's a list of other attractions you might want to check out.
Alishan Shouzhen Temple, which stands in between Chaoping and Sacred Tree areas. At 2150 meters, it is the highest temple in Taiwan. It was built as protection for lumbermen from bad fortune in the forest.
Ciyun Temple, an ideal spot for watching sea of clouds and sunset. Close to Sacred Tree Station.
Alishan Museum, built in 1935 and renovated in 2007, it showcases the forests, culture, and history of Alishan.
For more details about the activities above and more options, visit this dedicated page: THINGS TO DO IN ALISHAN!
---
SAMPLE ALISHAN ITINERARY
Below is a sample overnight Alishan itinerary with budget breakdown. Because Alishan is often just a side trip for visitors touring other parts of Taiwan — Taipei, Taichung, Kaohsiung — I'll start this itinerary from the arrival at Chiayi TRA Train Station. How you get there is up to you, but make sure you reach Chiayi before 8:30 am in time for the 9am Alishan Express train.
This way, you can easily insert this side trip itinerary to your grander Taiwan itinerary.
Please note that the actual sunrise and sunset times vary according to the date of your visit. The itinerary below is just an example to serve as your guide. Feel free to make necessary adjustments to match the actual sunset and sunrise schedules when you visit, your bigger Taiwan plan, and your preferences.
Prices below are in New Taiwan dollars (NT$, TWD).
DAY 1 – ARRIVAL
08:00 am – Arrival at Chiayi TRA Station
08:15 am – Get Alishan Express tickets, $384
09:00 am – Board Alishan Express
11:21 am – Arrival at Fenqihu Station
11:40 am – Bento box lunch, $180
12:10 am – Walk around old street
12:50 am – Board bus to Alishan
02:00 pm – Buy Alishan entrance ticket, $150
02:30 pm – Buy Chushan train ticket, $150
02:40 pm – Walk to hotel
03:00 pm – Hotel checkin, freshen up
05:00 pm – Walk around, chill
06:00 pm – Watch sunset (time varies)
06:30 pm – Dinner, $200
08:00 pm – Back to hotel, sleep
DAY 2 – SUNRISE & FOREST TRAILS
04:00 am – Wake up call, early check out
04:30 am – Queue at train station
05:00 am – Train to Chushan
05:50 am – Chushan Sunrise (actual time varies)
07:00 am – Quick breakfast, $100
07:20 am – Train to Chaoping, $150
08:00 am – Start trek to Sacred Tree, explore
11:50 am – Sacred tree train to Alishan, $100
12:00 nn – Lunch, $200
01:40 pm – Direct bus to Chiayi, $240
03:40 pm – Arrival in Chiayi, catch train to your next city
If you follow the above itinerary, prepare to shell out at least NT$ 1900 (USD 64.6, EUR 55, SGD 88.8, PHP 3160) excluding accommodations.
To cover possible miscellaneous expenses, possible price movements, and other costs we might have missed, add plenty of allowance so you don't run short of cash while you're there.
---
MORE TIPS FOR THE POOR TRAVELER
Build your itinerary according to the sunrise time. The sunrise is the biggest and most popular Alishan wonder, so it would be a shame to miss it.
Consider skipping hotel breakfast. Hotels in Alishan offer free breakfast, served from 7am-9am. Many guests return to the tourist hub for breakfast after watching the sunrise and then head back to Chaoping or Sacred Tree to hike. Because I also treat time as currency, I decided to skip breakfast and go straight to the forest trails after sunrise. The forest feels more magical and less crowded in the early morning than towards noon. Also, I'm not a breakfast person so skipping it is natural for me. But if you are, you can grab a quick bite at one of the stalls at the sunrise viewing deck.
Tight food budget? Visit 7-Eleven for cheap meals. We spotted two 7-Eleven stores in the area and they have ready-to-eat and microwavable items that are affordable and filling. But if you're pretty loaded with cash, go ahead and dine at one of the restaurants!
Check the weather before the trip. Most of the attractions in Alishan are in the great outdoors. Best to be prepared for the rain or the cold.
---
FREQUENTLY ASKED QUESTIONS ABOUT ALISHAN
How to book Alishan Express train tickets?
We created a separate step-by-step guide right here: HOW TO BOOK TRAIN TO ALISHAN!
---
Are there lockers at Chiayi Station?
YES, you can find it next to the Family Mart convenience store. Rate is TWD 50 per 3 hours.
If you have heavy luggage but you're only staying overnight in Alishan, you might want to consider leaving your bags at the Baggage Room at the leftmost end of the terminal (if you're facing the rails). Fee is TWD 70 per bag per 24 hours.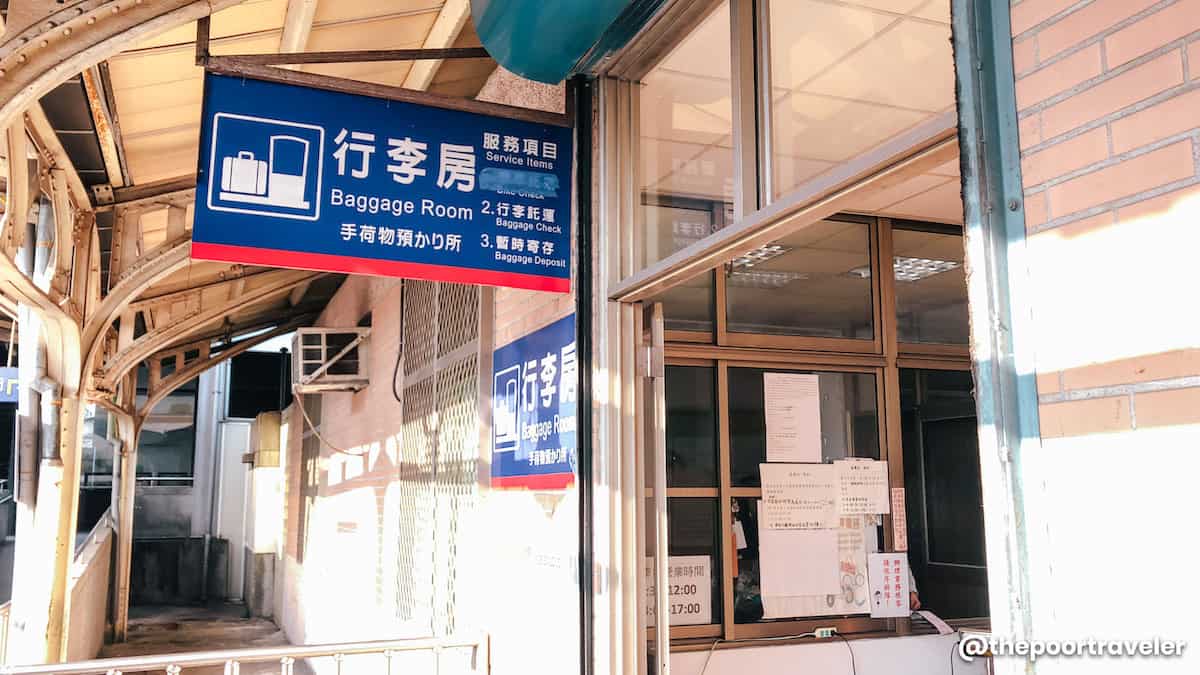 But make sure that it'll be open when it's time to claim your bags. Operating hours are from 8:30am-12pm, 1pm-5pm. Otherwise, you may use the more expensive lockers, tucked near Family Mart.
---
Are there lockers at Fenqihu Station?
YES. There are 48 lockers available at Fenqihu Station.
Rate is TWD 50 per 3 hours.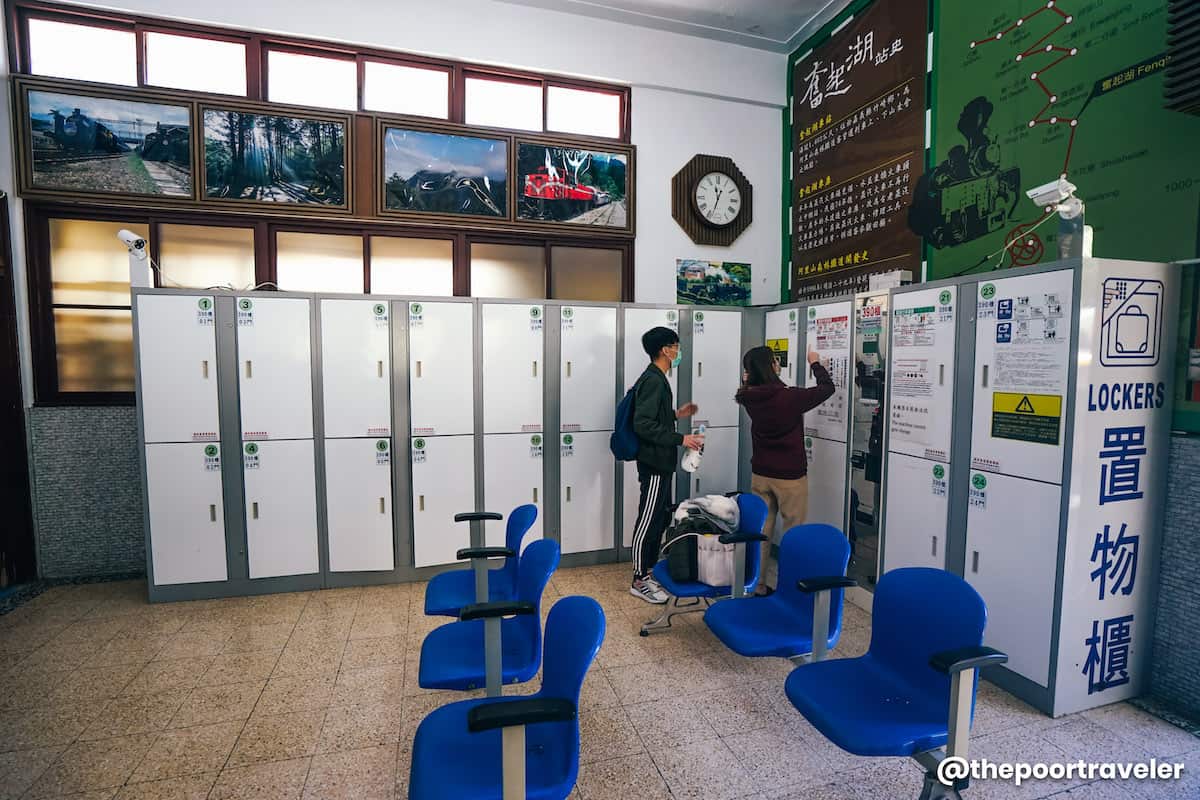 ---
Are there lockers at Alishan Station?
Yes, you'll find them on the upper floor facing the platforms.
Rate is TWD 50 per 3 hours. Make sure you have coins.
---
Should I tip in Taiwan?
Tipping is not expected in Alishan or Taiwan in general. Some restaurants add a 10% service charge to your bill.
---
Is Alishan safe for tourists?
Yes, it is generally safe in Alishan. But as in any other destination, be mindful of your surroundings and keep an eye on your belongings. Make sure you're prepared for the cold or the rain. And don't leave the designated walking trails!
Memorize these local service numbers in case of emergency:
Police: 110
Ambulance: 119
---
What power plug type is used in Alishan?
110V, 60Hz. Type A sockets are most common. Plugs have two flat pins.

---
2020 • 8 • 12