My Milanese friends are proud of their city, and they have every reason to. Milan is one of the greatest cities in Europe, with its intricate Duomo and an even more elaborate history. My other Italian friends, however, describe it as a little bit "un-Italian." I couldn't understand what that meant prior to our trip.
Upon arrival in Milan, however, we sensed it right away. Milan was our eighth destination in Italy, and it seemed inherently different from the other cities we set foot in. We couldn't put a finger on it at the time; it just felt different. But different is not a bad thing.
WHAT'S COVERED IN THIS GUIDE?
UNDERSTANDING MILAN
Milan is considered Italy's second city. But in various points of history, it was the capital of the Western Roman Empire (286–402), the Duchy of Milan (1395–1796), and the Kingdom of Lombardy Venetia (1815–1859). It has also been devastated several times: in 452, when Attila the Hun invaded; in 539, when the Goths recaptured the city after a long siege; and more recently, during World War II, when it was a target of many Allied bombings. The city was rebuilt and got back on its feet in the decades that followed.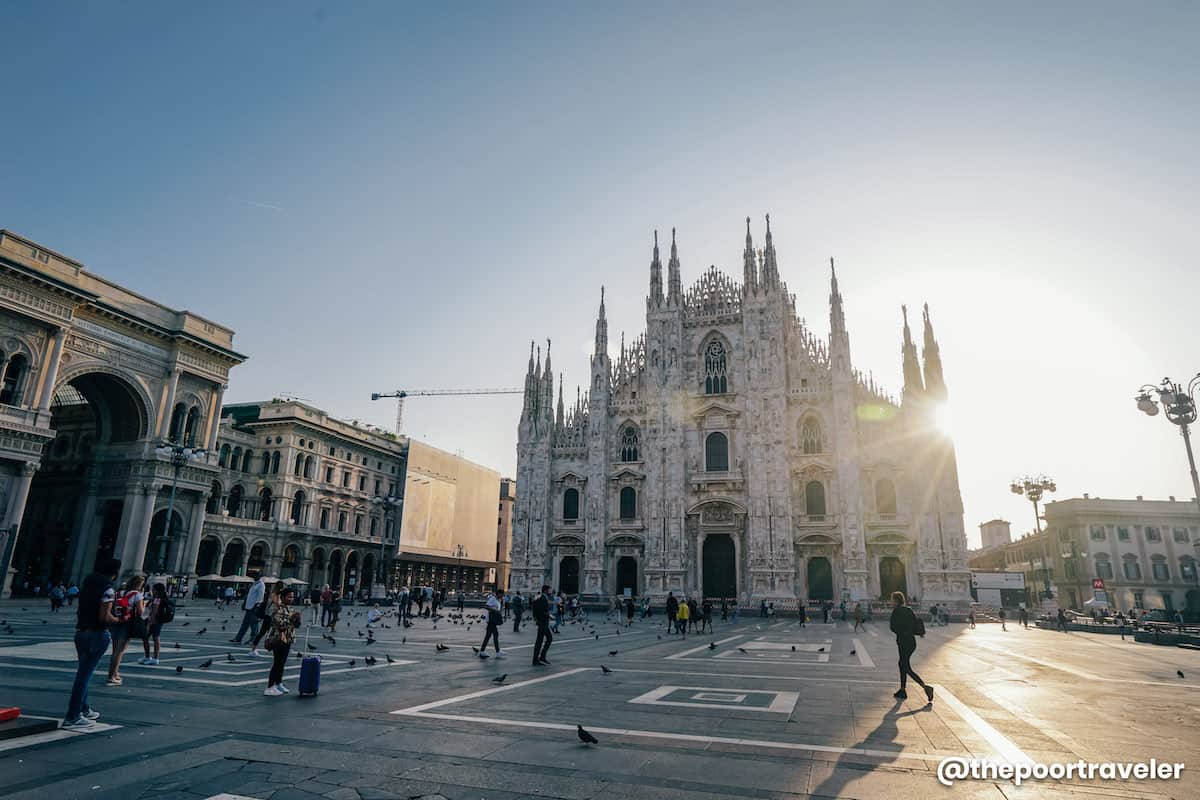 Today, while Rome remains the capital of modern-day Italy, Milan serves as the nation's financial, commercial, and industrial center. And oh, it's also one of the world's fashion capitals.
Perhaps this is why Milan feels divergent. It's easy to imagine the whole of Italy the way it is portrayed in Hollywood films — romantic, rustic, laid-back. It's where you could see yourself living la dolce vita. But that's not always the case. While the other Italian cities put their old towns, frayed buildings and bygone-era treasures front and center, Milan generally feels very contemporary. Sure, heritage sites abound in parts, but the atmosphere is relatively modern. Like most business hubs and global cities, Milan is a living, breathing, bustling metropolis, home to over 8.2 million (including the surrounding municipalities).
Here are other things you need to know:
Location: Milan is the capital of Italy's Lombardy region. Coordinates: 45°28′01″N 09°11′24″E.
Time Zone: UTC+1 (Central European Time). Rome is 7 hours behind the Philippines, Singapore or Malaysia; and 8 hours behind Japan. However, daylight saving time is in effect from the last Sunday of March until the last Sunday of October, which puts it at UTC+2, only 6 hours behind PH, SG, and MY.
Language: Italian. Most signs have English translations.
Currency: Euro (EUR, €). €1 is roughly USD 1.18, SGD 1.61, PHP 57.23 (as of August 2020)
Modes of Payment: Many establishments accept credit cards, but most still prefer cash.
---
WHERE TO STAY IN MILAN
BEST AREAS TO STAY IN MILAN
Milan is composed of nine boroughs, each made up of several districts (quartiere). As in any other major tourist destinations, the closer you are to the center of the city, the higher the costs.
I asked my friends living in Milan for the best areas for tourists to stay, and these are their recommendations depending on your budget.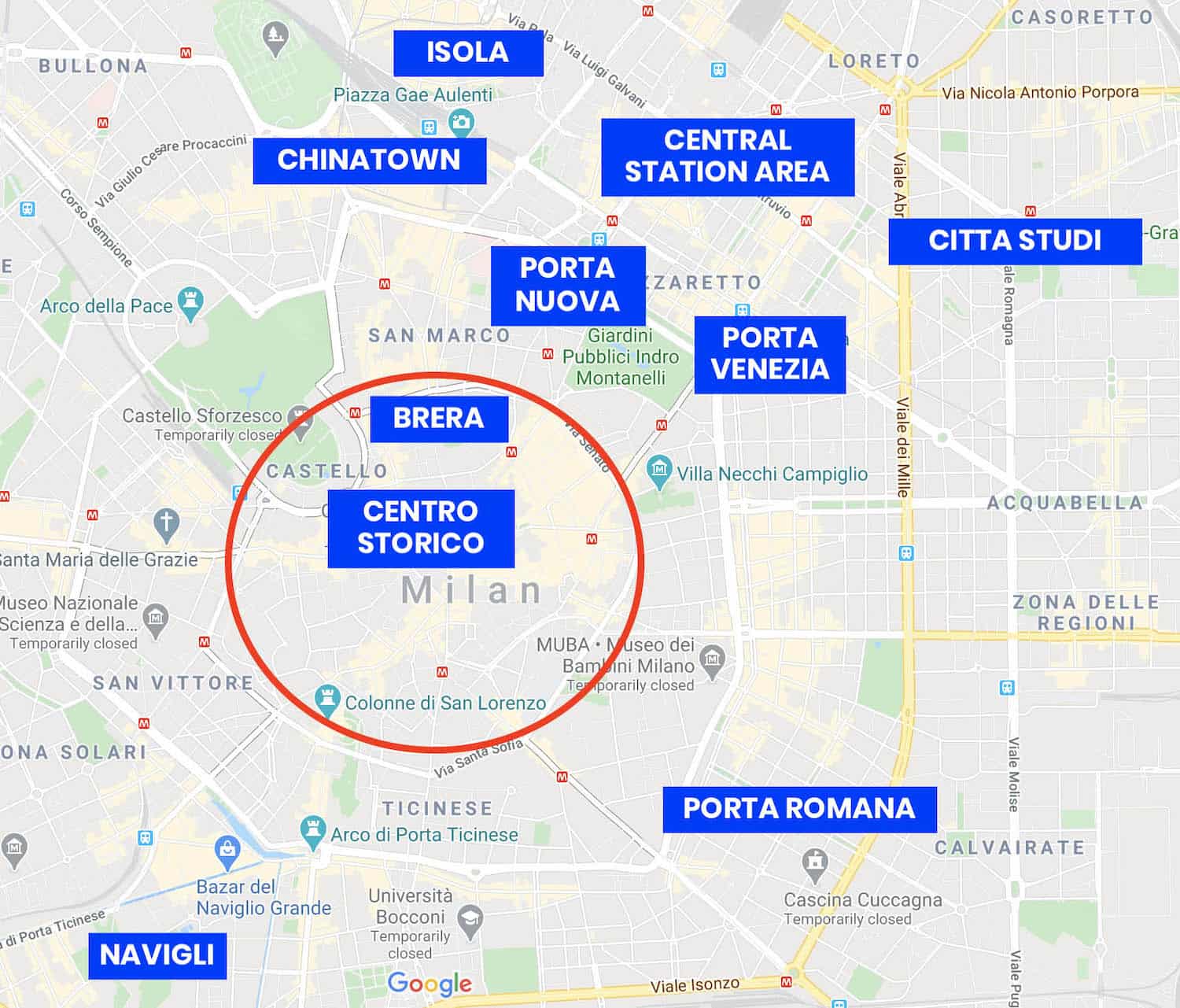 These districts are located near main points of interests so accommodation rates are generally expensive:
Centro Storico, the city's historic core. It covers the Duomo di Milano and the surrounding blocks. Expect big hordes of tourists.
Porta Nuova, the new Milan. It's a modern, fashionable district with lots of dining and shopping options.
Brera, dubbed artists' neighborhood. Close to both the Centro Storico and Porta Nuova. Close to Sforza Castle and Sempione Park.
Central Station Area, the blocks fronting Milano Centrale, best for those whose itinerary involves visits to other destinations in Italy.
On the other hand, the following districts may not be centrally located but very accessible. These are also relatively budget-friendly:
Chinatown, near Garibaldi Station, Sempione Park, and Porta Nuova. Lots of Italian and Asian restaurants and fast food.
Porta Venezia, best known for the 19th century gate, a long shopping street called Corso Buenos Aires, and diverse ethnic communities.
Citta Studi, the student quarter. Probably the most affordable part of the city because it caters mostly to students. Close to the central station but far from the historic center.
Of course, there are exceptions. If you're lucky, you can find relatively inexpensive apartments even in the city center.
Here are other options!
---
TOP MILAN HOSTELS
Here are the top hostels in Milan, as scored by Agoda customers.
We were able to snag the last room at New Generation Hostel Brera in an area between Brera and Porta Nuova, close to metro stations. From here, most of the stops on our itinerary were easily accessible on foot and by metro.
---
TOP BUDGET HOTELS & APARTMENTS
Here are the top apartments and budget hotels in Milan, as reviewed and ranked by Agoda guests.
---
---
HOW TO GET TO MILAN
By Plane
Milan is primarily served by two airports: Milan Malpensa Airport (MXP) and Milan Linate Airport (LIN).
Malpensa Airport (MXP), the largest airport in the region and the second busiest in Italy (next only to Rome Fiumicino Airport. It's 60-90 minutes away from the city center, depending on your mode of transportation.
Linate Airport (LIN), smaller airport in the Milan metropolitan area, serving mostly European airlines. Located east of the city center, it can be reached after a 45-minute bus ride.
However, two nearby airports may also used to conveniently reach Milan: Orio al Serio International Airport (BGY) in Bergamo and Parma Airport.
---
Malpensa Airport to Milan City Center
The Malpensa Airport has two passenger terminals that are far apart, so make sure you know which one your flight will be using. Aside from the taxi, you have two main public transportation modes to choose from:
By Train: Both terminals have a railway station. Both the Malpensa Express and Trenitalia (Regionale Trenord) can take you to the city center. Travel time: 54 minutes. Fare: 13€.
By Bus: An Autostradale bus leaves for Milan city center every 15-20 minutes from 6am until around midnight. Travel time is 50-60 minutes. Fare: 8€, one-way; 14€, roundtrip.
---
Linate Airport to Milan City Center
Unlike Malpensa, Linate Airport does not have its own train station. The best way to reach the city from here is by bus. Here are your options:
Air Bus: Bus bound for Milano Centrale (Piazza Luigi da Savoia) every 30 minutes from 6:30am-11:30pm. Travel time: 25 minutes. Fare: 5€.
Starfly: Runs from Linate Airport to Milano Centrale every 20-30 minutes from 6:10am-11:30pm (6:30am-10pm on weekends). Travel time: 25 minutes. Fare: 5€.
Bus 73 or X73: This is the cheapest but slowest option. These are public urban buses (ATM) that can take you to San Babila metro station (close to the Duomo). Buses are plenty; there's one every 10 minutes from 6:05am to 12:55am. But there isn't much space for luggage. You can purchase a ticket on the bus. Travel time: roughly 50 minutes. Fare: 2€.
---
By Train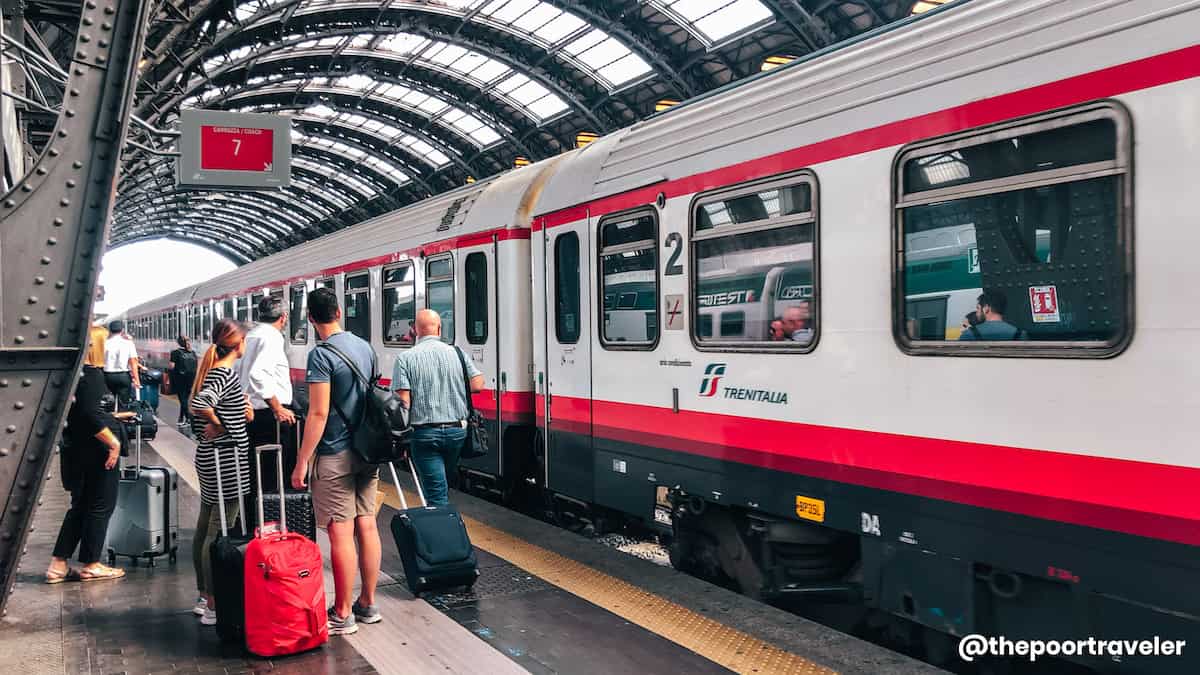 Milan has two main railway stations. Both located within the city center, these are not too far apart: only 5 minutes by metro or 20 minutes by foot. Regardless, it'll be best to know which station is closer to your hotel.
Milano Centrale, as the name suggests, is the central station. It lies northeast of the city center. It is Europe's largest railway station. (It's also the grandest of all the stations I have seen.) It is the primary gateway for international tourists because most trains crossing the border use this station.
Milano Porta Garibaldi, situated north of the city center, it is Milan's busiest station as far as commuter traffic is concerned. Trains operating here are mostly domestic.
From Other Italian Cities
If you're on a bigger tour around Italy, you can easily reach Milan from Florence, Venice, Rome, and other Italian cities by train. There are multiple trains a day.
There are two high-speed train companies in Italy: the state-owned Trenitalia and the privately owned Italo. Both use dynamic pricing (much like airlines). This means that fares are not fixed. They change over time. If you don't have fixed plans yet, you can book on the same day, but expect to pay more for your seat.
Usually, the fare is between €35 and €45. But you can find fares that are as low as €14.90 if you book way in advance.
From Other European Cities
If you're coming from other cities in Europe, the fast option is usually flying. But railway options are also available. There are day trains and overnight trains, depending on where you're coming from.
PARIS TO MILAN. You can take the high-speed train (TGV) to Milan. Travel time: 5h40; Full fare is 113€, but you can score cheap tickets if you book in advance.
NICE TO MILAN. You can board the TER/SNCF train, which entails a transfer in Ventimiglia at the French-Italian border. Travel time: 5 hours, 20 minutes. You can also catch a Thello train, which can take you directly to Milan. Travel time: 4 hours, 50 minutes. Fare: as low as 15€.
MONACO TO MILAN. From Monte Carlo, you can take the direct Thello train to Milano Centrale. Travel time: 4 hours, 30 minutes. Fare: as low as 15€. Another option is the TER/SNCF train, which makes a transfer in Ventimiglia.
ZURICH TO MILAN. Take a EuroCity train to Milan. Travel time: 3h26. Full fare can go as high as 80€ but advance reservation can go as low as 29€.
---
---
HOW TO GET AROUND MILAN
Milan is generally flat, so it's easy to get from Point A to Point B on foot. For short distances, we usually walked. We even tried it to get from Porta Nuova to the Duomo. It's also a great way to see the city and discover a local cafe or shop.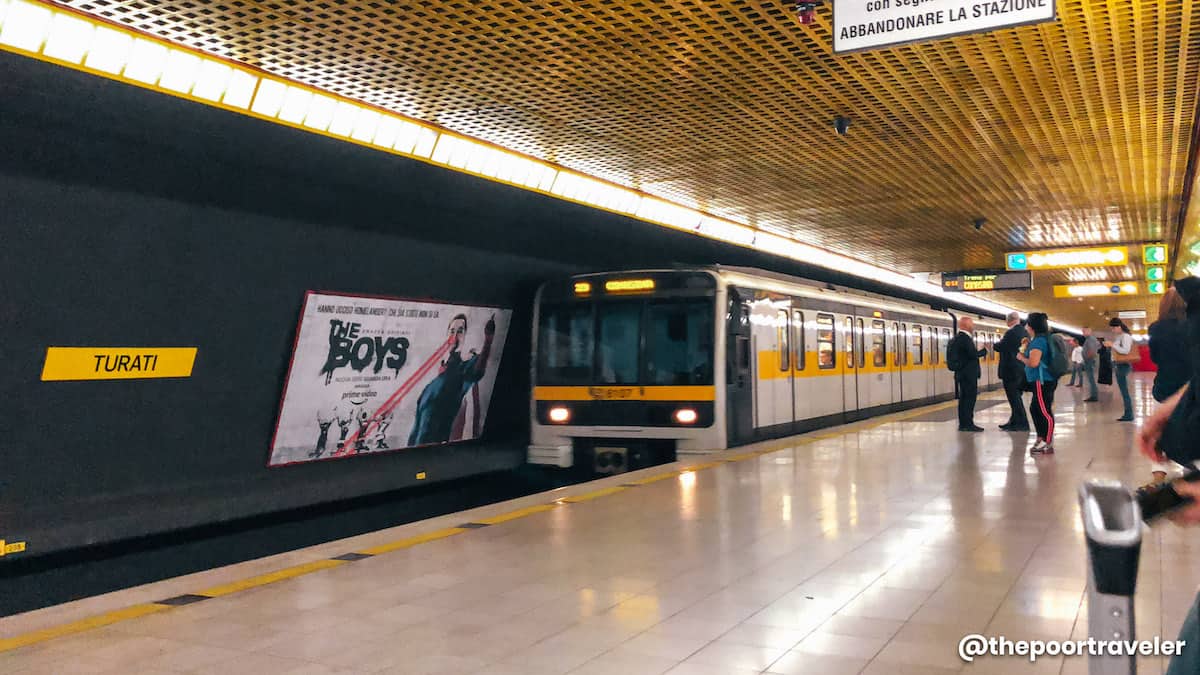 By Public Transportation
For medium and long distances, you can rely on Milan's public transportation system, which is run by an agency called ATM (Azienda Trasporti Milanesi). It operates a network of buses, trams, and metro.
To help you navigate, download the ATM Milano Official App (Apple iOs | Google Android). Then, on the journey planner, enter your destination and it will tell you what route to take to get there and how much to pay.
Milan's public transportation system is fully integrated, which means one ticket can be used on multiple transportation options. For example, you can use the bus and then the tram using the same ticket. How much to pay depends on how many zones you will be crossing. Milan's map is divided into nine fare zones. The city center is in a zone called Mi1-Mi3.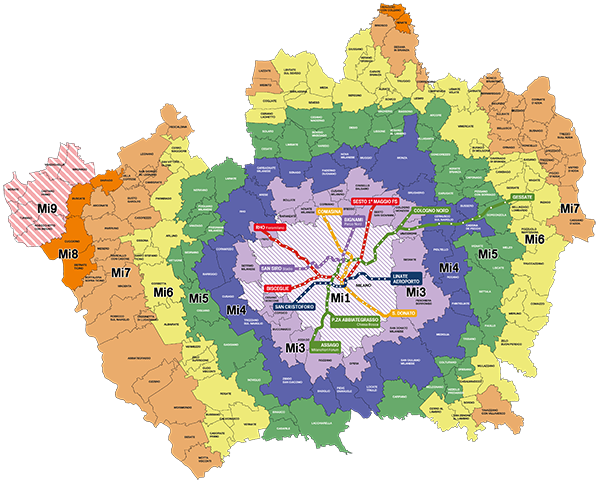 But don't worry; the city center, where most of the attractions are located, is within the same zone (Mi1-Mi3).
How much is the fare?
The minimum fare is 2€. Each fare zone you cross incurs an additional 0.40€.
Here are the types of ticket you can purchase:
Single ticket: 2€ (valid for 90 minutes)
24-hour ticket: 7€
3-day ticket: 12€
Carnet (booklet with 10 single tickets): 18€
A single ticket is valid for 1 metro ride, 1 suburban train ride (within the urban area only), and unlimited tram and bus rides within 90 minutes of your ticket's validation. To be clear, once you have used it to take the metro, you cannot use it again for another metro ride but you can still take as many bus or tram rides as you like within 90 minutes of your ticket's validation.
How to validate tickets?
The validity period of your ticket starts as soon as you validate your ticket. Here's how to validate:
Bus / Tram: Insert your ticket into the box (usually yellow or orange) which will stamp the date and time.
Metro: Validate it at turnstiles as you enter the station. Even if you've used the same ticket on a bus or tram before, you must still validate it on the metro.
You should keep your ticket throughout the duration of your journey. Do not lose or damage it. Spot checks are done sometimes. If you're caught without a validated ticket, you will be fined.
Where to buy tickets?
Single tickets are available at ticket machines at metro stations.
The other tickets and passes can be purchased at authorized tobacco shops (tabacchi, usually with a capital T sign), bars, and newspaper stands.
---
By Hop-on Hop-off Tourist Bus
If you like getting comfortable aboard a sightseeing bus, you can also do so in Milan. CitySightseeing Milano's HOHO bus has three lines scribbled around the city and can take you to key attractions like the Sforza Castle, Scala Theater, and the Basilica of Saint Ambrose.
As usual, there is free wi-fi access and a multilingual audio guide which will give you information about each stop. Available in 24-hour and 48-hour versions. You can book in advance with Klook!
---
MILAN TOURS
Free Milan Walking Tour
We booked with Walkabout Tours. For roughly 3 hours, a guide will take you around Milan's historic center, stopping at some interesting structures along the way. Because it's a guided tour, you'll have a better appreciation of each site. Note that it's a sightseeing tour, so you won't be stepping inside most of the stops (with a few exceptions). If you wish to enter, you may return to those after the tour.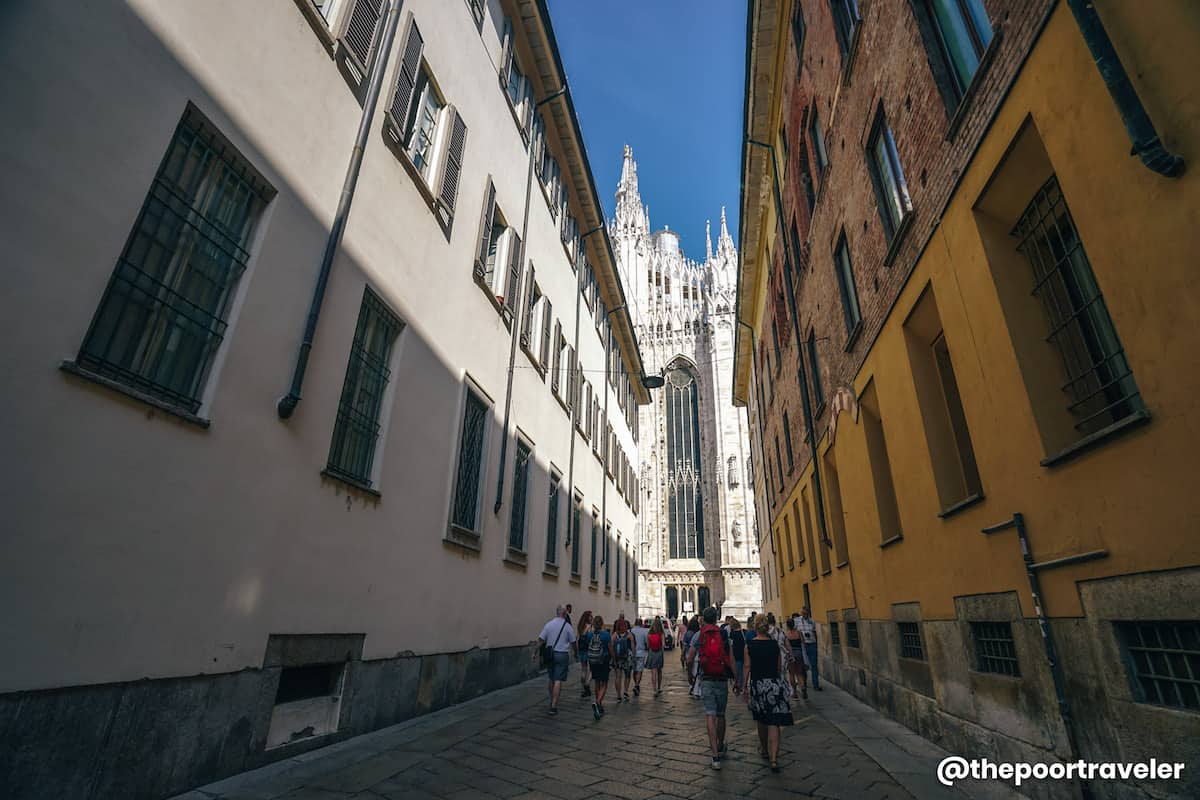 Here are a few of the key stops:
Duomo di Milano, the city's most iconic landmark. More info below.
Galleria Vittorio Emanuele II, a massive shopping arcade and the oldest shopping mall in Italy.
Church of San Nazaro in Brolo, constructed in 382 and houses some relics of the Apostles.
Santuario di San Bernardino alle Ossa, another ancient church best known for its walls filled with real human skulls from the medieval times.
Statale University (University of Milan), one of the largest in Europe and has a long, colorful history.
La Scala Theater, one of the world's most important ballet and opera venues.
Merchants Square, built in the 13th century. It was the center of Milanese life at the time.
Business Square (Piazza Affari), fronting the Palazzo Mezzanotte building, the headquarters of the Italian Stock Exchange.
It's FREE, in theory. But you are expected to tip the guide. How much you should tip depends on how much you liked the tour. I usually tip 5€ to 10€. But I add more if the tour is exceptional.
Although it is free, you are encouraged to register beforehand. You can do that here.
Operating days: Monday-Sunday
Meetup point: Duomo Square, in front of the 900 Museum. Look for a YELLOW umbrella.
Meetup times: 10:00 am Daily (Additional 3pm tour on Saturday)
Duration: 2 hours 45 minutes
---
Duomo di Milano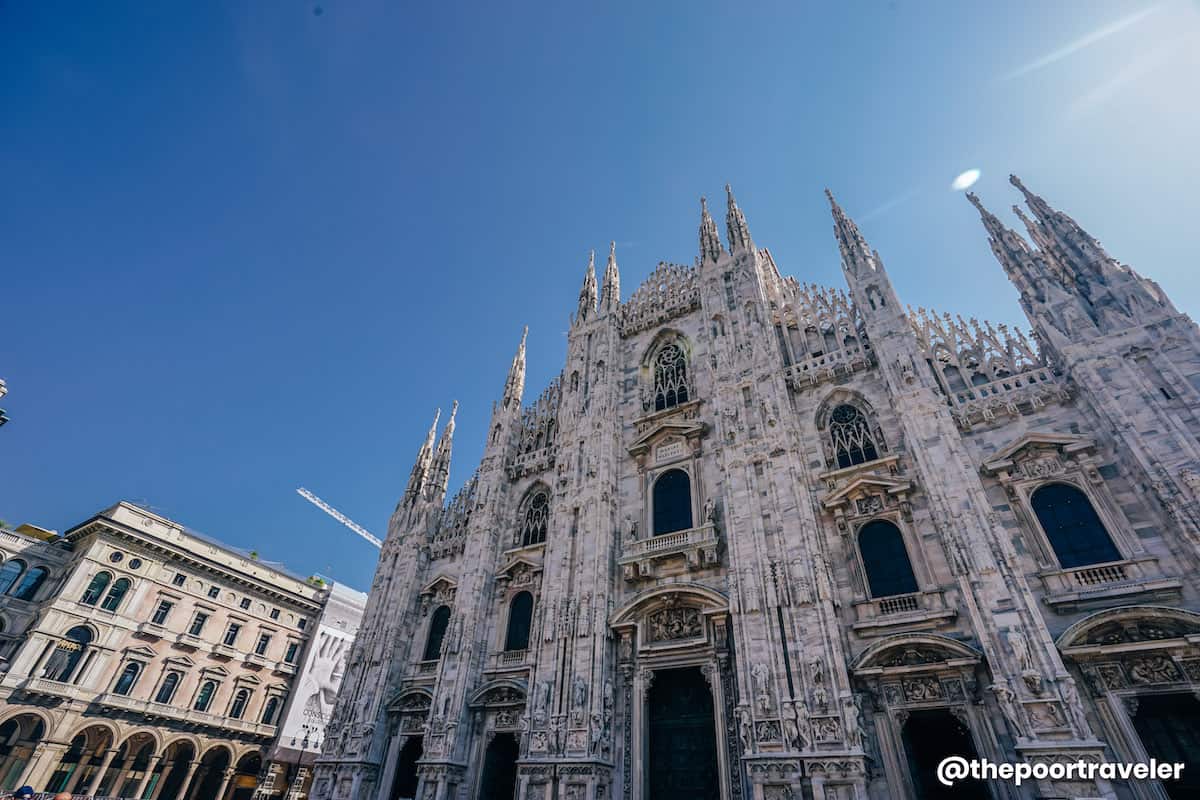 The Duomo di Milano (Milan Cathedral) took several centuries to finish construction and is the largest church in the country. Simply put, it is beautiful with its Italian Gothic style. Groundbreaking began in 1386 under the supervision of Archbishop Antonio da Saluzzo. You'll see the various influences and styles, and even personal vision of the many architects that took on the project of building the cathedral throughout the centuries.
Many parts of the cathedral are open to tourists. Inside you'll find baptisteries, crypts, an archaeological area, and a museum. The rooftops are also accessible by lift and by stairs. But entrance fees are collected for some of them:
Duomo (Cathedral)
Hours open: Daily, 8am-7pm
Entrance fee: 3€
Rooftops
Hours open: Daily 9am-7pm
Stairs access: 10€
Elevator access: 14€
Fast-track/skip-the-line elevator access: 23€
Crypt of St. Charles
Hours open: Monday-Friday 11am-5:30pm,
Saturday 11am-5pm, Sunday 1:30pm-3:30pm
FREE entry
Duomo Museum & Church of St. Gottardo in Corte
Hours open: Thursday-Tuesday, 10am-6pm
Closed: Wednesdays
Entrance fee: 3€
Archaeological Area (Baptistery of San Giovanni Alle Fonti)
Hours open: Daily 9am-7pm
Entry: Duomo Pass Lift Required
Archaeological Area (Baptistery of St. Stephen)
Hours open: Daily 9am-6pm
FREE Entry
You can save a bit by purchasing combination tickets.
Although it's possible to be mesmerized by it on your own, joining a tour will make you appreciate the details of this mammoth of a church, its history, and its architecture.
---
Milan Food Tour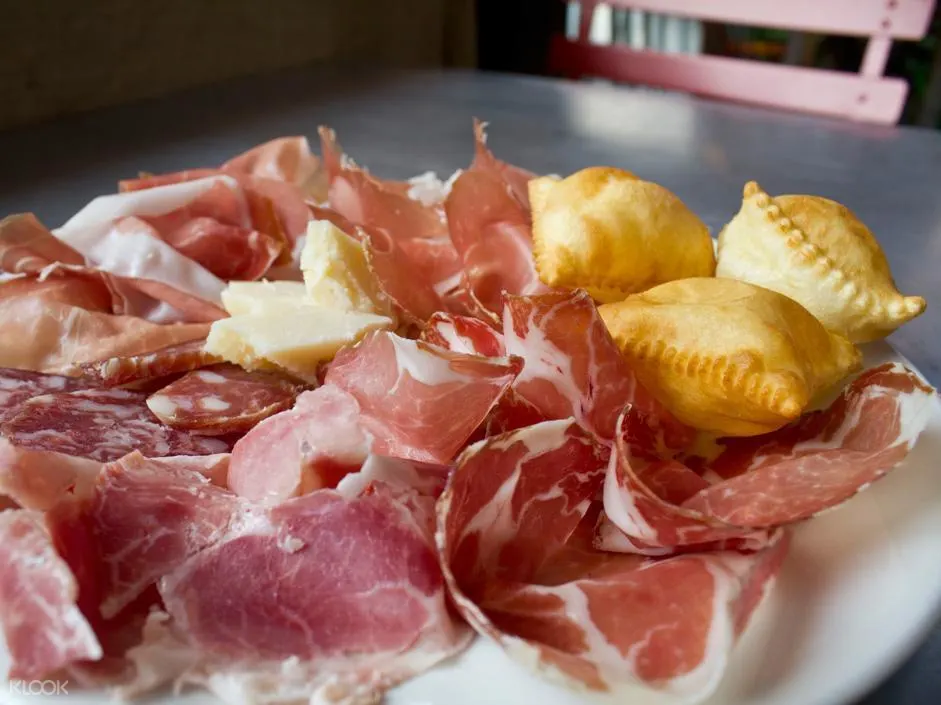 Italy isn't just about its beautiful architecture, art, and history, the country is also a foodie haven. And the same is true for Milan. Walk around the Brera District to eat some of the best food in the city. Your guide will interject tidbits and insights about the food you are eating. Some of the food you'll sample are risottos, cream rolls, and parmigiana.
---
Da Vinci Tour
If Bernini had Rome and Michelangelo had Florence, Leonardo Da Vinci had Milan. The renowned Renaissance man spent 17 of his most productive years in Milan. You can see some of his masterpieces throughout the city, including the following:
Sforza Castle – which houses Da Vinci's frescoed ceiling of Sala delle Asse.
Santa Maria delle Grazie – a church and convent, where you can find the Last Supper.
Pinacoteca Ambrosiana – which showcases various sketches Leonardo da Vinci.
You can do your own independent tour of these sites. For more info, check out the information about the individual attractions here.
But for a better understanding and more insights about Da Vinci's life in Milan and his masterpieces, consider joining a guided tour. If you book with Klook, you also get fast-track access to the Last Supper, one of the most famous artworks of Da Vinci.
---
Lake Como Tour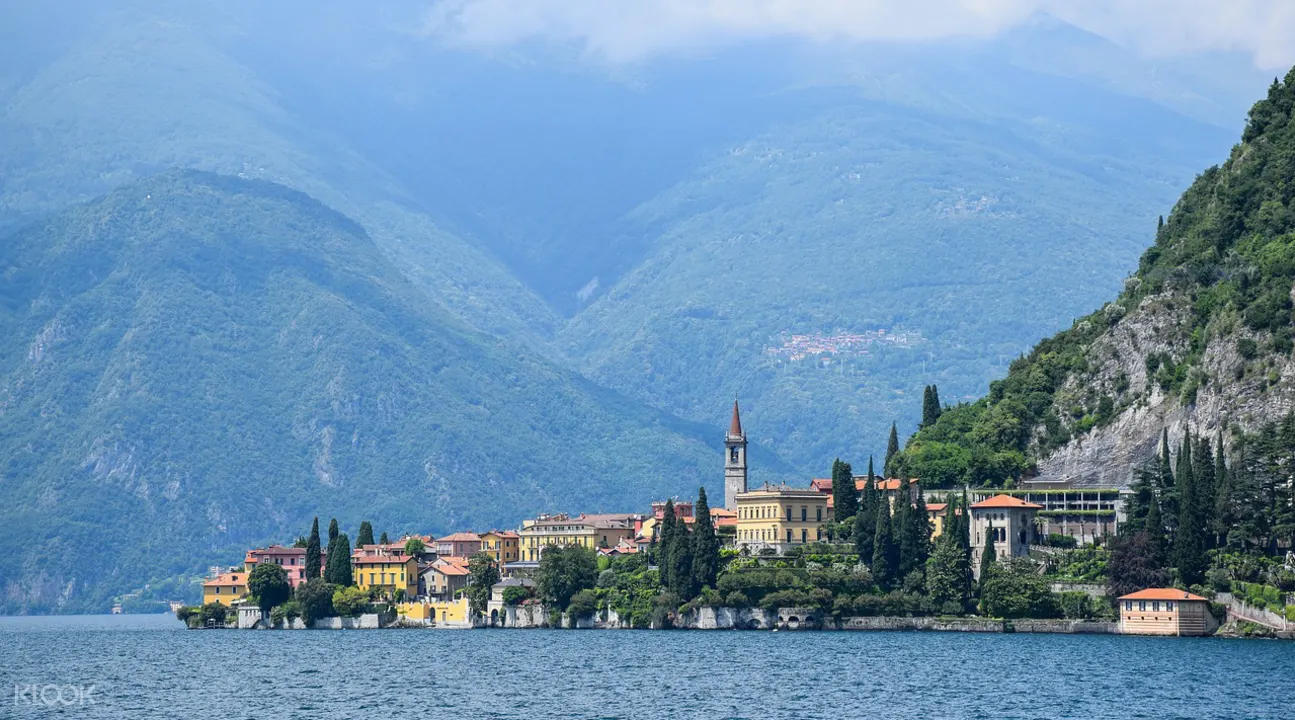 Lake Como is another destination in the Lombardy region. But because it's only 1.5 hours away, Milan is the usual jumpoff point for many visitors. If you're staying in Milan, you can visit Lake Como on a day trip.
In Lake Como, you'll see the stunning villas and gardens while cruising the lake. Get a glimpse of how the elite lived during your trip. If the views look familiar, then you might have seen it while watching Star Wars Episode II: Attack of the Clones. After the cruise, you'll visit the quaint town of Bellagio. This part of the tour will take you back in time as you walk on its cobblestone streets and old buildings.
It is possible to visit Como by public transportation. The most convenient way to reach the town is by train. You can catch one from Milano Centrale and alight at Como S. Giovanni Station. Alternatively, you can board a train departing from Milano Cadorna and get down at Como Nord Lago.
For convenience, you can also book a tour via Klook.
---
La Scala Theater Museum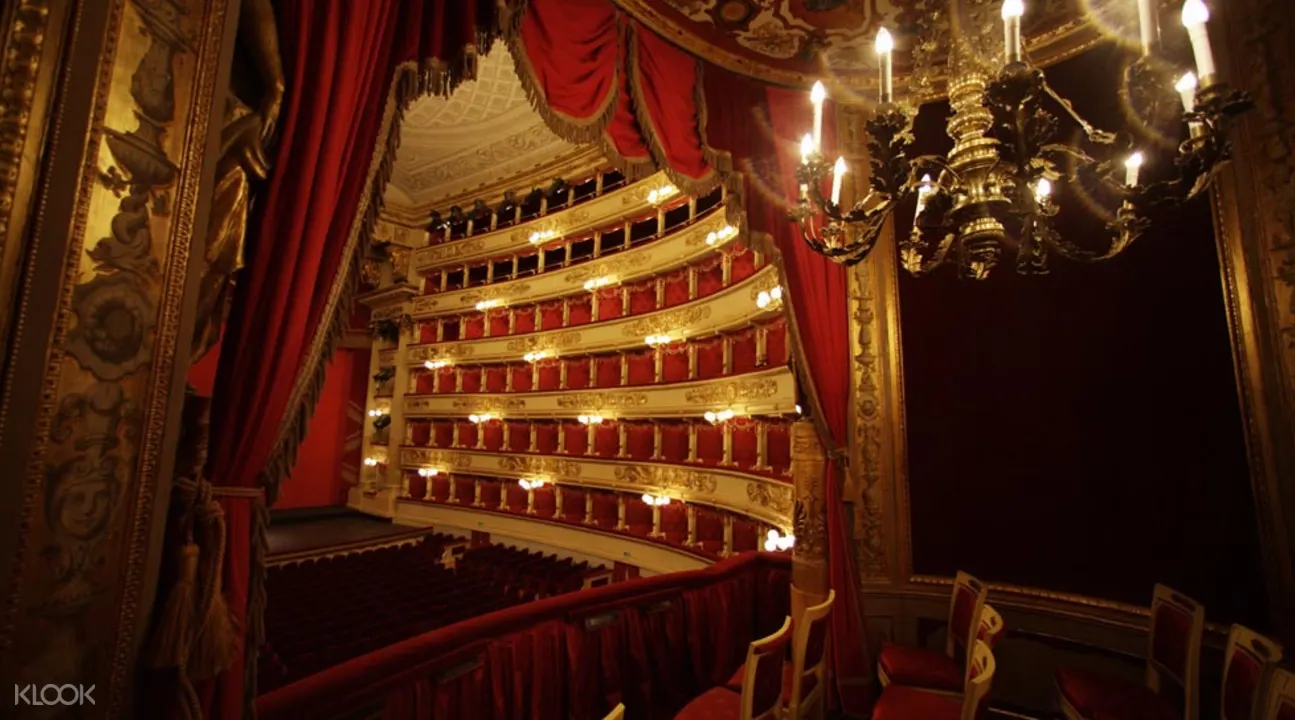 Opened in 1778, La Scala Theater is one of the most significant ballet and opera venues in the world. For operatic artists, being able to perform here is the ultimate goal. Housed in the same building is a museum that showcases the greatest artists and performances that graced the theater. You'll also see valuable memorabilia.
You can purchase a ticket to the theater museum in advance via Klook!
Navigli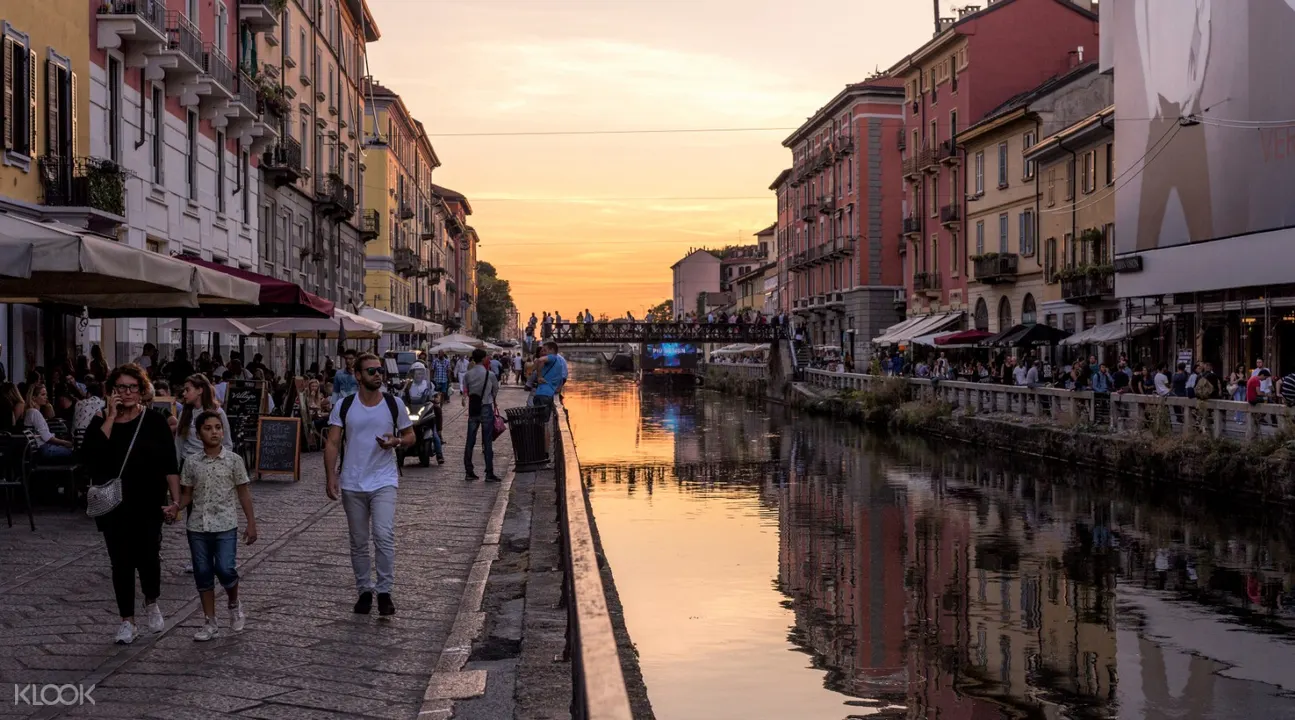 Navigli is a neighborhood south of the city center and was named after a network of interconnected canals. It also has a number of churches including two basilicas: Basilica di San Lorenzo and Basilica Sant Eustorgio.
But nowadays, the area is most popular as a nightlife destination with restaurants, bars, and clubs along the canal. A great way to experience the magic of this district is by joining a food and wine tour, which will introduce to you some regional wines and local appetizers and the stories behind them. It's a great way to spend the evening in Milan!
---
Other Milan Attractions
Here are other places to visit in Milan.
Sforza Castle (Castello Sforzesco) – a 15th-century citadel that has been transformed into a complex of museums and art galleries!
Sempione Park, a landscaped parkland next to the Sforza Castle with stop-worthy structures like the Arco della Pace (Arc of Peace).
Poldi Pezzoli Museum – This elegant mansion houses a private gallery that showcases beautiful pieces by Mantegna, Botticelli, and Guardi, among others.
Galleria d'Arte Moderna – If you are interested in art, this gallery has artworks from the 18th and 19th centuries by masters like Pablo Picasso, Vincent van Gogh, and Édouard Manet.
Cimitero Monumentale – This attraction has a history that dates back to 1866.
Santa Maria Presso San Satiro – This church near the Piazza del Duomo has beautiful interiors.
For more details and other options, visit this page: PLACES TO VISIT IN MILAN!
---
DAY TRIPS FROM MILAN
Aside from Lake Como, other destinations in Italy and neighboring countries can be easily accessed from Milan. If you have limited time to explore the country, you can visit any of these on a day tour.
We created a separate post for it here: DAY TOURS FROM MILAN!
---
SAMPLE MILAN ITINERARY
Here's a sample 4-day 3-night Milan itinerary that you can use to make your own. We indicated a cost breakdown and a total budget estimate at the end.
We didn't include the airfare in the total budget because the fare depends highly on where you're coming from. Also, many travelers visit Milan as part of a grander Euro trip. In that case, you can simply insert this into your bigger European or Italian itinerary.
DAY 1 – ARRIVAL & PORTA NUOVA
01:00 pm – Arrival at Milan Airport
01:30 pm – Lunch, 10€
02:30 pm – Bus to city center, 8€
03:30 pm – Buy 3-day pass, 12€
03:50 pm – Transfer to hotel
04:15 pm – Hotel check-in, freshen up
05:30 pm – Metro/tram to Porta Nuova
06:00 pm – Explore Porta Nuova
07:00 pm – Dinner, 15€
08:00 pm – Walk around
09:00 pm – Metro/tram to hotel
09:30 pm – Back to hotel
DAY 2 – DUOMO & NAVIGLI
09:00 am – Tram/metro to Duomo
09:20 am – Take exterior photos of Duomo
10:00 am – Free Walking Tour, tip: 5€
– Explore Galleria Vittorio Emanuele II
01:30 pm – Lunch, 10€
02:30 pm – Duomo Tour with Fast Track Lift Access, 25€
05:30 pm – Tram/metro to Navigli
06:00 pm – Walk around
07:00 pm – Dinner, 20€
09:00 pm – Tram/metro to hotel
09:30 pm – Back to hotel
DAY 3 – ALL ABOUT DA VINCI
07:00 am – Metro to Arco della Pace
07:30 am – Parco Sempione
09:00 am – Sforza Castle, 10€
11:00 am – Lunch, 10€
12:00 nn – Last Supper (Santa Maria delle Grazie), 15€
02:00 pm – Tram to Duomo
02:30 pm – Bibilioteca/Pinacoteca Ambrosiana, 15€
05:00 pm – FREE TIME, buy souvenirs
07:00 pm – Dinner, 15€
09:00 pm – Tram/metro to hotel
09:30 pm – Back to hotel
DAY 4 – DEPARTURE
08:30 am – Pack up
10:30 am – Early check out, leave bags
– Settle tourist tax, 12€
11:00 am – Early lunch, 10€
12:00 pm – Leave for airport/station, 2€
+ 8€ Bus fare if going to the airport
If you'll spend 35€ per night per person on accommodations, this itinerary will set you back around EUR 330 (USD 389, SGD 532, PHP 18,900) per person excluding airfare, travel taxes and shopping expenses, but including a bit of allowance to make up for possible incidental purchases and price movements.
If you really want to see LAKE COMO or any other Italian destination, you can replace DAY 3. If you have more days, you can simply add a day and squeeze it in.
Again, we didn't include airfare in the computation because it highly depends on where you're coming from. Many Milan visitors are also on a larger Euro trip and arrive from another European city.
---
MORE TIPS FOR THE POOR TRAVELER
Find a hostel that allows you to cook or heat your food. This way, you don't have to eat out for each meal! You can hit the grocery and shop for ingredients and prepare your own.
Avail of FREE entry to museums. Some museums allow free access on specific days and time. For example, although the Sforza Castle grounds are open to everyone at no cost, the museum requires an entrance fee. But if you show up at 2pm on the first and third Tuesday of the month (as of this writing), you can enter for free. Schedules may change though so please double check.
Join FREE Walking Tours. There are a number of FREE guided tours in Milan. Yes, it's FREE but the guides rely on tips so if you like their service, feel free to give them an amount that you think is fair.
Don't dine anywhere near touristy spots. These overpriced restaurants cater primarily to unsuspecting tourists. Walk for 10 minutes or so into the deeper alleys and you'll find small cheaper places where locals eat.
Tap and fountain water is potable. They're safe to drink. It's just a matter of taste for most people.
---
FREQUENTLY ASKED QUESTIONS ABOUT MILAN
Do I need a visa to visit Milan?
Italy is part of the Schengen agreement. If you're a Philippine passport holder, you will need a Schengen Visa to visit Milan. If Italy is the only country you are going to visit or if you're traveling to multiple countries but staying in Italy the longest, you will need to apply for a visa via the Italian Embassy.
For more information about how to get a visa from the Italian Embassy, READ: ITALIAN SCHENGEN VISA!
---
Is Milan safe?
Milan is generally safe.
But like any big cities, there are some areas where you should be extra careful. Petty crimes like pickpocketing and scams exist so keep an eye on your belongings and don't let your guard down.
---
What scams are common in Milan?
Like other major cities in Europe, scams are prevalent in Milan. Here are just a few of the most rampant:
String bracelet scam. A random person will approach you and give you a a bracelet and tie it around your wrist. They will claim it's a gift, but you'll find out soon enough that it comes with a steep price. Don't accept anything from strangers, especially at touristy spots!
Pickpocketing. Most common at touristy places and crowded public transportation. Make sure you keep your wallet in hard to reach parts of your body/clothes and always be vigilant.
Overcharging restaurants. In many Italian cities, it is normal to be served bread after taking a seat at a table and be charged for pane e coperto, which is totally legal. But some establishments will also serve appetizers or drinks that you didn't order that you might immediately assume complimentary, but will show up on your bill later. Hence, when picking a restaurant, check online reviews first.
Helpful stranger scam. This usually happens when you're using the ticket machines at the metro or train station. Because it can be a bit confusing to figure out how it works at first, it's easy to be overwhelmed by the ticket vendo. Sometimes, a random good samaritan will offer a helping hand, but they're usually after your money. If it happens, be wary, mind your valuables, and politely say no. If they insist, walk away.
---
When is the best time to visit Milan?
The shoulder months of April, May, and September are ideal periods to visit Milan because of the cool, pleasant temperatures, manageable crowds, and reasonable prices (at least compared to the summer months). In general, spring and fall seasons are great, but note that there is a higher chance of rain in October and November.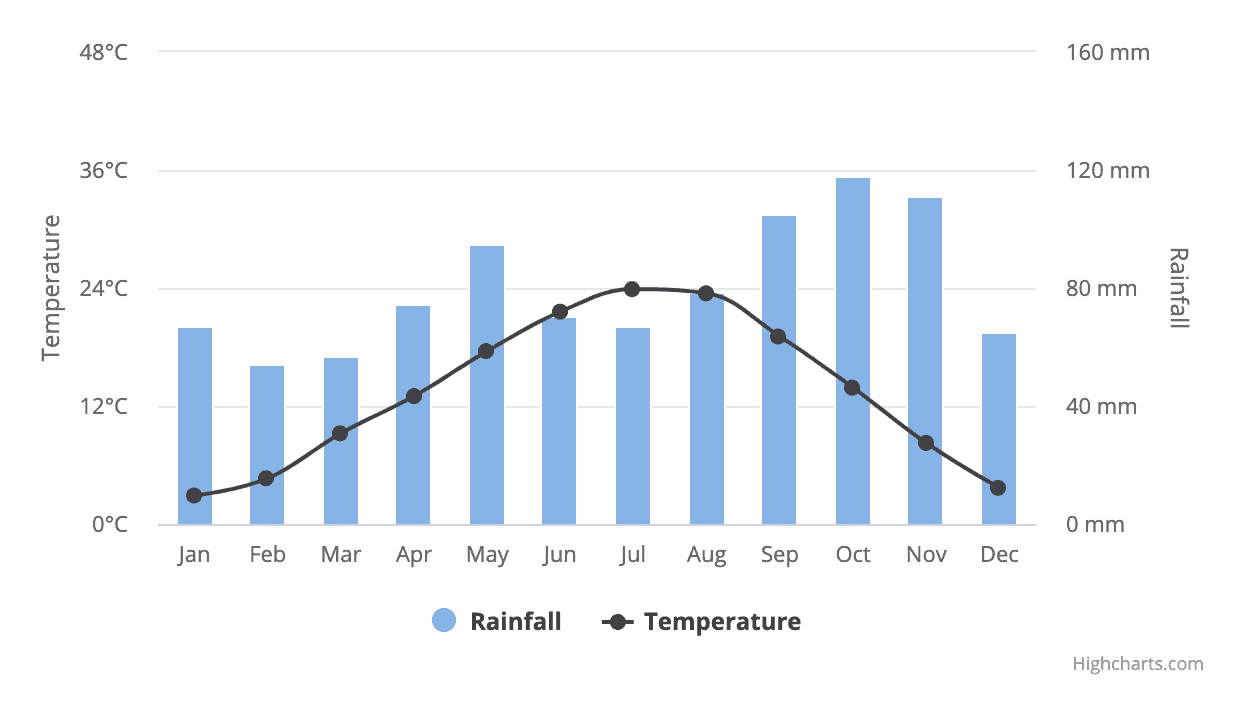 Like in other countries in Europe, high season is from the summer months of June to August. This is when the crowds are at their thickest and prices at their highest. If you want fewer people, this isn't the best time to visit.
---
How much is Milan tourist tax? Is it included in hotel bookings?
Milan collects city tax from tourists, usually between €3 and €5, depending on the star rating of the hotel.
It's often NOT included in the booking and has to be settled upon hotel check-in or check-out.
---
What is the tipping policy in Milan?
Tipping is not expected in Milan. It is appreciated but not really expected.
At restaurants, the "tip" usually takes the form of something else (service charge, bread, etc.) and is already included in the bill. No need to tip more unless you really enjoyed the service.
At hotels, you can tip €1 per bag for porters or €1 per day for hotel chambermaids.
In taxis, tips are not expected.
---
Is tap water in Milan safe to drink?
Yes, it's safe to drink. It's just a matter of taste.
---
What type of power plug / socket is used in Milan?
Electricity Info: 230 volts, 50 Hz. Common sockets are Type F, which also accept plugs that have two round pins (C and E).

---
2020 • 8 • 28