"We came here for the food," I told Vins when we stepped out of the train.
When an Italian friend found out I was bound for her homeland, she relentlessly tried to convince us to squeeze Bologna into our itinerary. "If you love Italian food, you should make a stop in the Emilia-Romagna region," she recommended. "And I'm Sardinian! That's saying something!"
And she wasn't alone. Many of the travel bloggers I idolize, who have roamed all over Italy, shower this region with praises, singling out the cuisine as enough reason to visit. So we did.
We came here for the food. But we got way more than we bargained for.
WHAT'S COVERED IN THIS GUIDE?
UNDERSTANDING BOLOGNA
The Emilia-Romagna region is one of the most underrated areas of Italy. It comprises nine provinces, whose maps are peppered with some UNESCO World Heritage sites and several postcard-worthy cities like Modena, Ferrara, Ravenna, and Parma. But the largest of them and the regional capital is the red city of Bologna.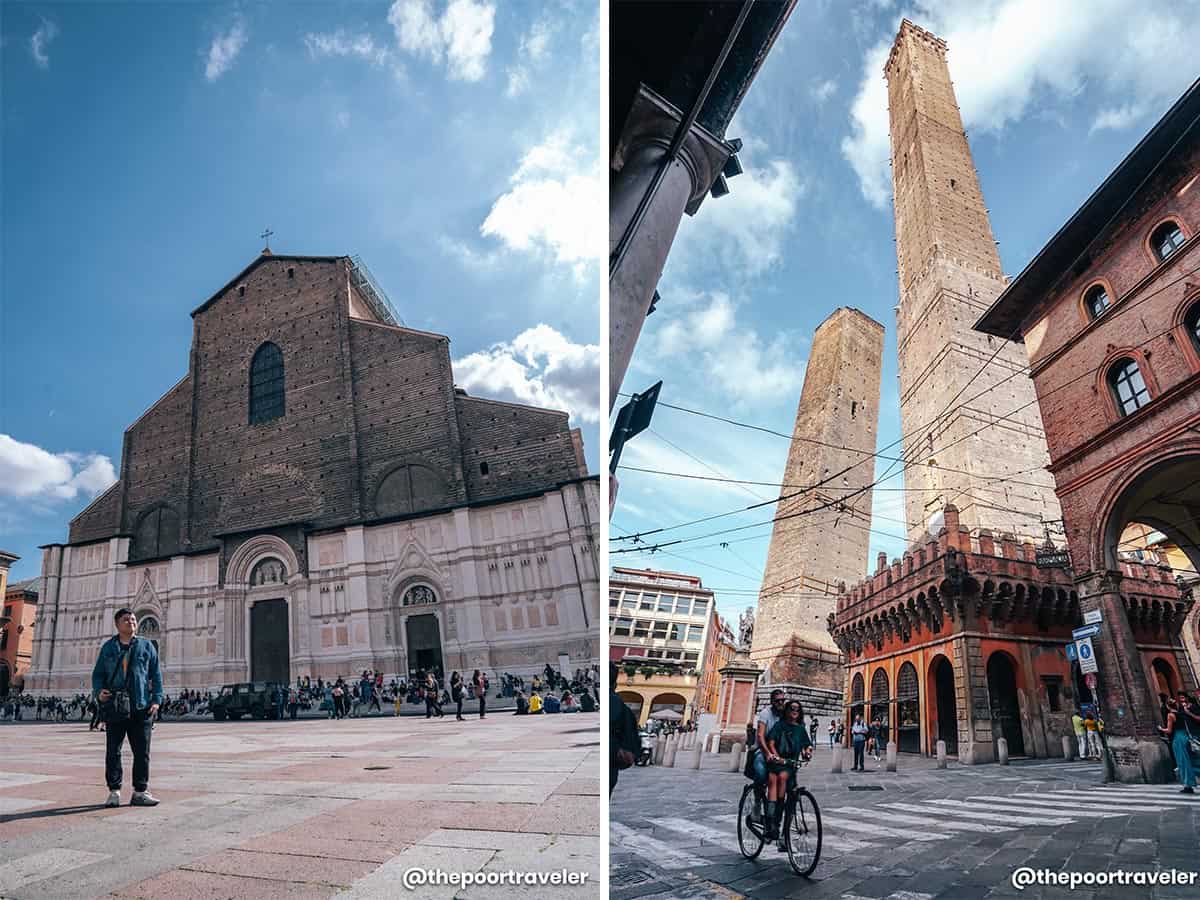 The city of Bologna is known by three nicknames: La Dotta, la Grassa, la Rossa. La Dotta, which means "the learned," for it cradles the oldest university in Europe. La Grassa, the Fat, because it is Italy's epicenter of gastronomy; and La Rossa, the Red, referring to the terra cotta rooftops and tawny walls of its medieval Old Town.
Bologna's history can be traced back all the way to 6th century BCE, when the Etruscans founded the city of Felsina. In 196 BCE, it fell under the rule of the Romans, who named it Bononia.
Today, Bologna is one of the most progressive cities in Italy, in terms of economy and overall quality of life. Most foreign tourists skip Bologna in favor of Florence, Venice, or Milan. But those who make the effort are rewarded with an enlightening, delicious, and rosy time in this underrated city.
Here are some things to know about Bologna:
Location: Bologna is the capital of Italy's Emilia-Romagna region.
Time Zone: UTC+1 (Central European Time). Bologna is 7 hours behind the Philippines, Singapore or Malaysia; and 8 hours behind Japan. However, daylight saving time is in effect from the last Sunday of March until the last Sunday of October, which puts it at UTC+2, only 6 hours behind PH, SG, and MY.
Language: Italian. Most signs have English translations.
Currency: Euro (EUR, €). €1 is roughly USD 1.18, SGD 1.62, PHP 57.53 (as of September 2020)
Modes of Payment: Many establishments accept credit cards, but most still prefer cash.
---
WHERE TO STAY IN BOLOGNA
BEST AREA TO STAY IN BOLOGNA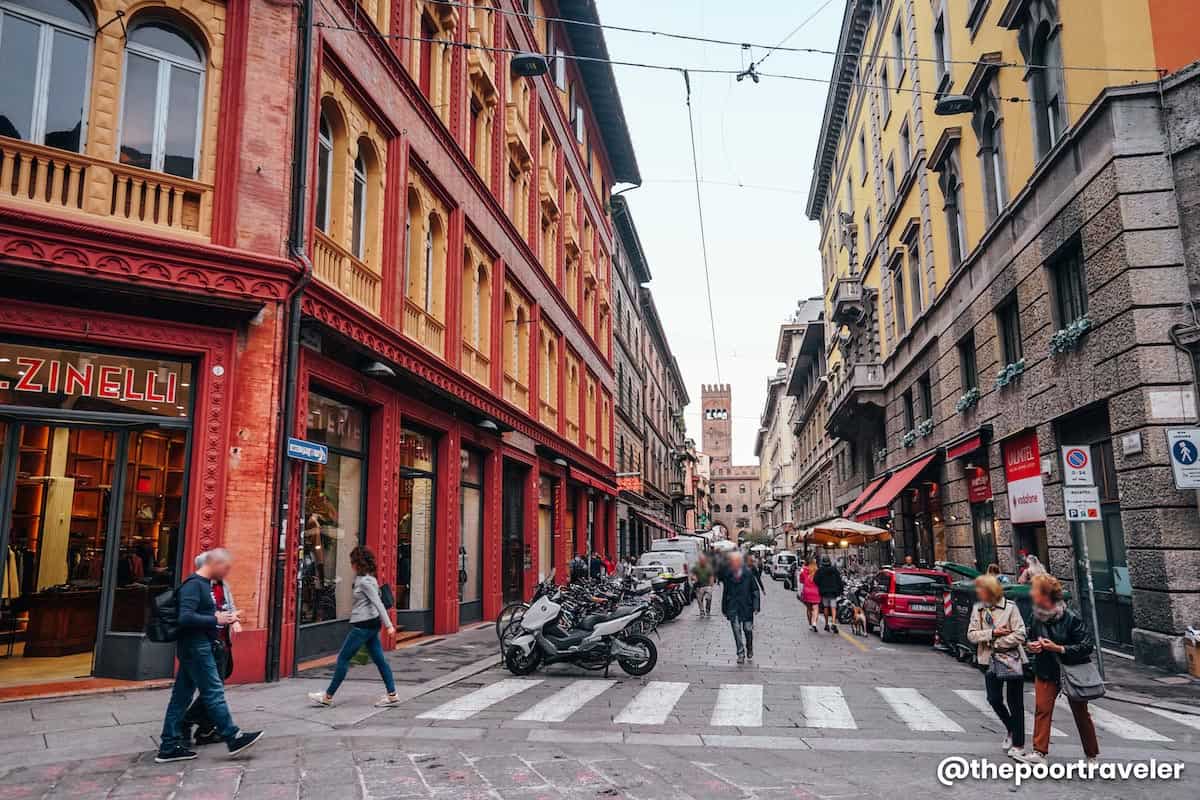 There are two main areas that are ideal places to stay for tourists:
HISTORIC CENTER. If you plan on staying long in Bologna or exploring the city over a few days, stay in the Old Town. The heart of the city is Piazza Maggiore. From here, every tourist attraction in the area is a short walk away. When booking a hotel, check how far it is from the Piazza.
NEAR BOLOGNA CENTRALE. The city's main train station is located just outside the Old Town. If you intend to visit other Italian cities and use Bologna as a base, it's better to pick accommodations near the railway station. The main bus station is also close by.
We stayed at Residence Railway, a rented apartment within spitting distance of Bologna Centrale in Quartiere Navile (Navile District), which is also called Bolognina (Little Bologna).
---
TOP APARTMENTS & GUESTHOUSES IN BOLOGNA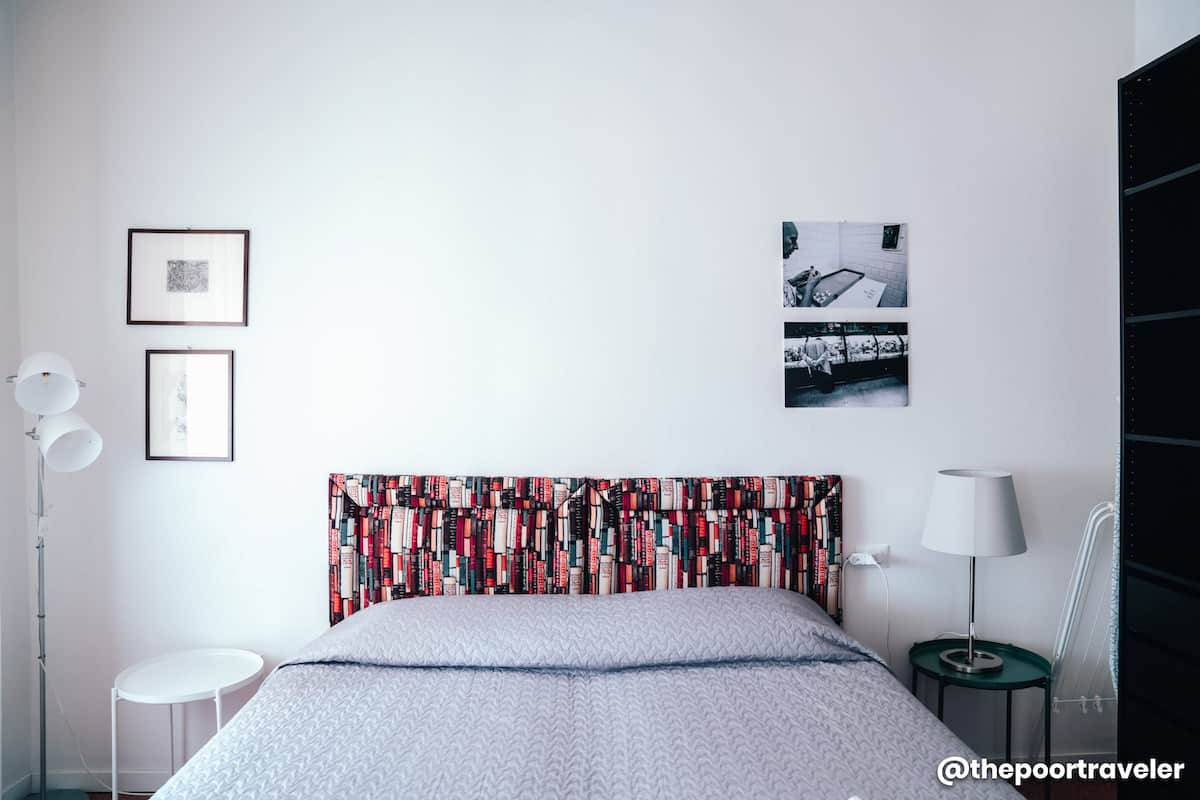 ---
TOP BOLOGNA HOSTELS
---
---
HOW TO GET TO BOLOGNA
By Plane
Bologna has its own international airport — the Bologna Guglielmo Marconi Airport (BLQ) — which connects the Emilia-Romagna region to mostly European destinations and a few cities in Africa and Western Asia (Middle East). Ryan Air, Neos, and Wizz Air operate the most flights to and from this gateway.
It is also possible to reach Bologna via airports in Parma, Florence, Milan, and Venice, but you will need to take the train after.
---
Bologna Airport to City Center
The Bologna Guglielmo Marconi Airport is located 6 km northwest of the city center, 15-20 minutes away by car. Right now, the easiest ways to get from the airport to the city are by taxi and by bus. A monorail train will also be opening soon, which I will also include below.
BY TRAIN. Soon to open, the Marconi Express will be the most convenient way to reach the city. This monorail train will cut the travel time to only 7 minutes. It was supposed to start operations in March 2020 but was pushed back probably due to COVID-19.
Schedule: When operations commence, you can expect a train every 7 minutes from 5:40 am to 12 midnight every day. For more info, visit the official website.
Fare: one-way 8.70€; roundtrip 16€.
Travel time: 7 minutes.
BY BUS. While the monorail train is still out of service, the bus is your best bet. The Aerobus is a shuttle service operated by the city's transport company (TPER). This can take you directly to Bologna Centrale (central railway station).
Schedule: There's an Aerobus every 11 minutes from 5:30am to 12:15am. Specific timetable here.
Fare: 6.00€ one-way. You must have a ticket prior to boarding the bus or you'll be fined. You can purchase a ticket on the official website or at the ticket vending machines at the airport.
Travel time: 22 minutes.
---
By Train
Bologna Centrale is the primary railway station, linking the city to the rest of Italy and Europe. It's located along the northern hem of the city center, between the Bologna Old Town (Centro Storico) and the Bolognina or "Little Bologna", which is a nickname for the Navile neighborhood.
From Bologna Centrale, you can reach the Piazza Maggiore on foot in 20 minutes. While it sounds like a long walk (because it is), it's pretty flat and straightforward. You'll also be walking under the canopy of Bologna's iconic portico (covered colonnaded walkways) for the most part, so the sun and the rain are not that big of a problem.
If you're coming from another Italian city, you can reach Bologna by train. The country's railways are ruled by two high-speed agencies: Trenitalia and Italo. Similar to airlines, both companies employ a system that makes fares flexible. The price of a ticket changes (usually increases) as the travel date draws near. Booking in advance is recommended. If your itinerary isn't final yet, you can also book on the spot, but expect to pay more.
On a regular day, the fare is somewhere between €35 and €50. But it's not unusual to score tickets for as low as €14.90.
---
HOW TO GET AROUND BOLOGNA
To get from Point A to Point B within the city center, locals simply either: take the bus or take a stroll.
BY FOOT. Generally flat, Bologna is walkable. Many heritage buildings are also outfitted with a portico (roofed columned walkways). And there are a lot of sights to entertain you as you amble across the city.
BY BUS. Although pedestrian-friendly, Bologna is relatively big. If your destination is not within walking distance or you just can't or don't want to walk, the bus is the next best choice. Buses within Bologna (including the AeroBus) are managed by TPER, the city's local transport company. Ticket machines can be found at main bus stops and inside the bus, but it's best to purchase before boarding.
Fare: 1.5€ at bus stops (2€ when purchased onboard), valid for the next 75 minutes.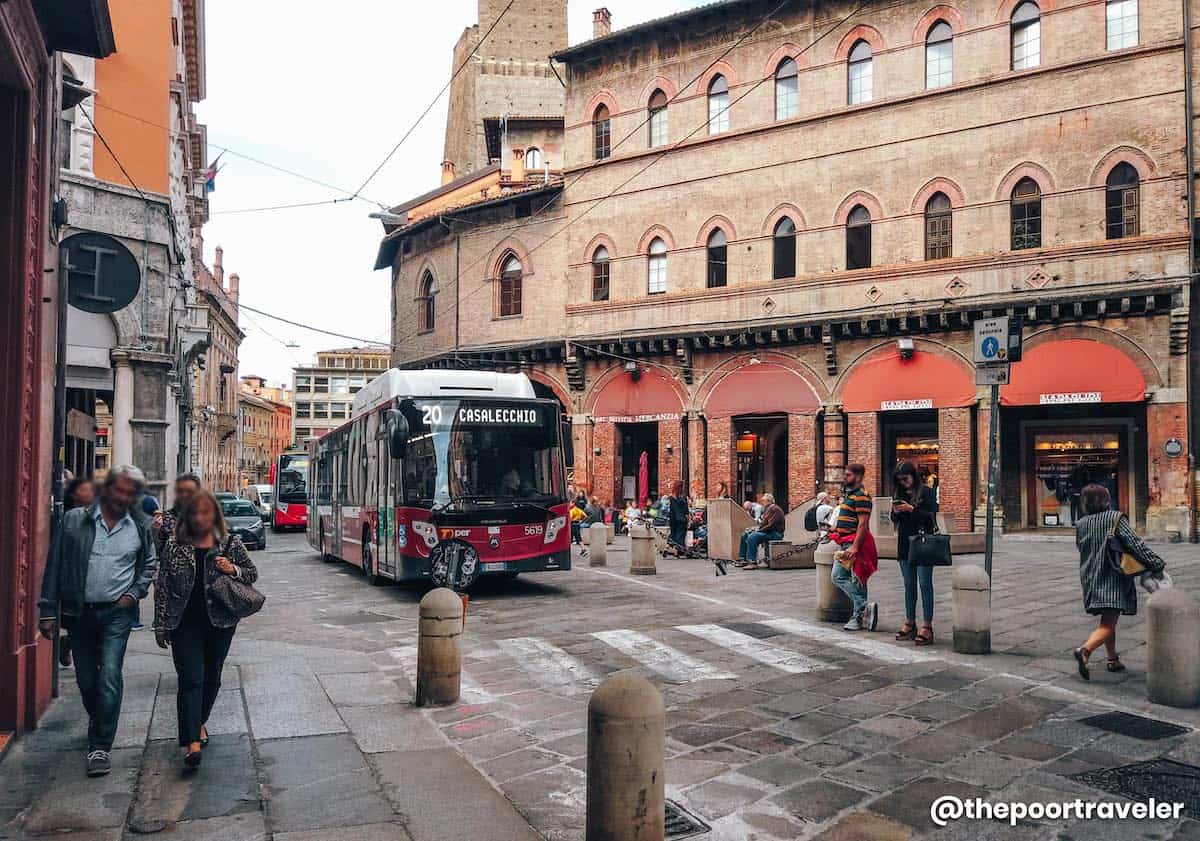 If you anticipate taking the bus multiple times, you might want to take advantage of either of these passes:
24-HOUR TICKET. Unlimited bus rides for 24 hours. Price: 6€.
CITY PASS. A ticket pack that allows up to 10 rides, each with validity of 75 minutes upon validation. Price: 14€.
You can purchase a 24-hour ticket or city pass at authorized tobacco shops (tabacchi, usually with a capital T sign) and news stands.
Important! Don't forget to validate your ticket upon boarding! You'll see the validating machine onboard.
---
THINGS TO DO IN BOLOGNA
Free Walking Tour (Bologna Old Town)
The historic core of Bologna is a living outdoor museum. It's a medieval city stuck in time, and every step takes you back to centuries ago.
If finances are a bit tight, you'll be glad to know that a FREE walking tour also operates here. The tour we joined was run by this company and will take you to the key spots around the Old Town including the following: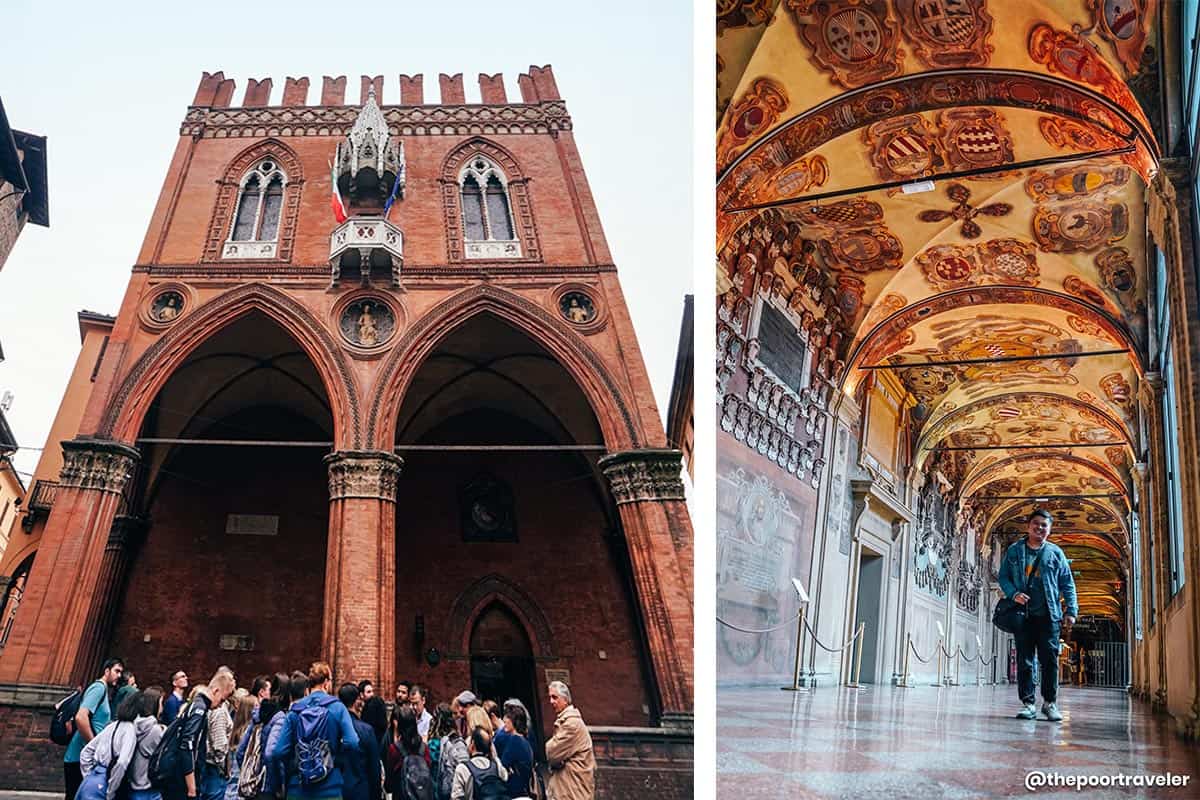 Two Towers
Piazza Maggiore
Basilica di San Petronio
Basilica Santo Stefano
Archiginnasio (Anatomical Theater and Library)
Jewish Ghetto
A tour guided will be with you the entire time, explaining the stops and giving insights along the way. Our experience wasn't the best because it was raining hard, but our guide was very generous with information and travel tips.
Speaking of tips, in case you're not aware: FREE walking tours aren't exactly free. It is, in theory, but you are expected to give a tip at the end, which is the only way the guides can make some money. It doesn't have to be a big tip. I notice that if it's a large group, most participants give 5€. But if the posse is smaller or you the guide is exceptional, feel free to add.
Schedule: Saturday/Sunday 11am
Meeting point: Piazza di Porta Ravegnana (at the base of Asinelli, one of the two towers)
Duration: 2 hours
---
Bologna Food Trip
As the capital of Italy's foodie region, Bologna is one of the best places to go on a food trip! Its ancient streets are flanked by countless stores and restaurants! While luxurious establishments exist, you can easily find options that are more affordable. Don't forget to walk around the old market in the Quadrilatero for some tasty finds.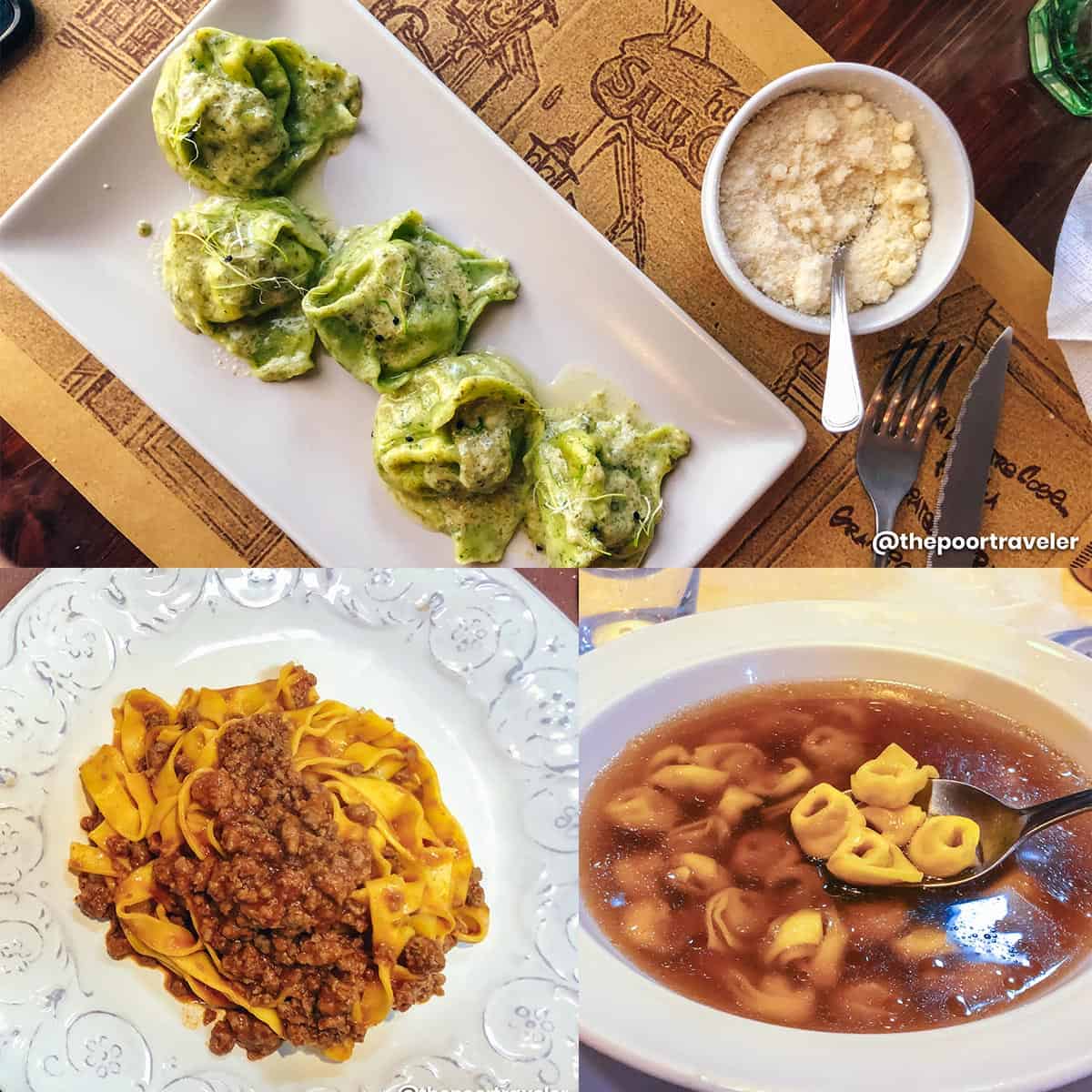 Some of the dishes you should try include:
Tagliatelle al ragu, flat-ribbon pasta topped with the city's signature meat sauce
Tortellini en brodo, stuffed navel-shaped pasta in clear, bright broth
Mortadella Bolognese, well-seasoned, finely-hashed luncheon meat / sausage
These are simple dishes that epitomize the heart and soul of the city's culinary traditions.
---
Piazza Maggiore & San Petronio Basilica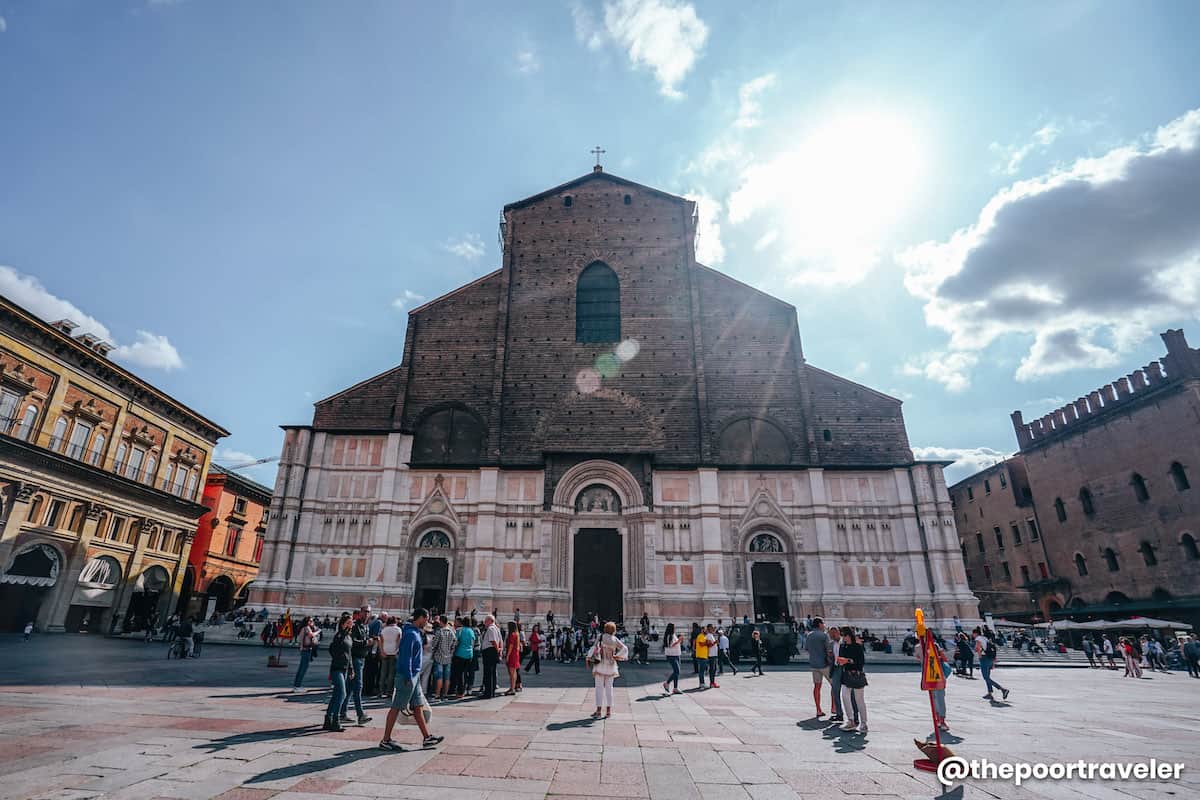 At the very center of the Old Town lies Piazza Maggiore, the central square. It's surrounded by several centuries-old structures like Palazzo d'Accursio, Palazzo dei Notai, and Palazzo Re Enzo. The square also extends to Piazza del Netunno, where a statue of Neptune stands over a grand fountain.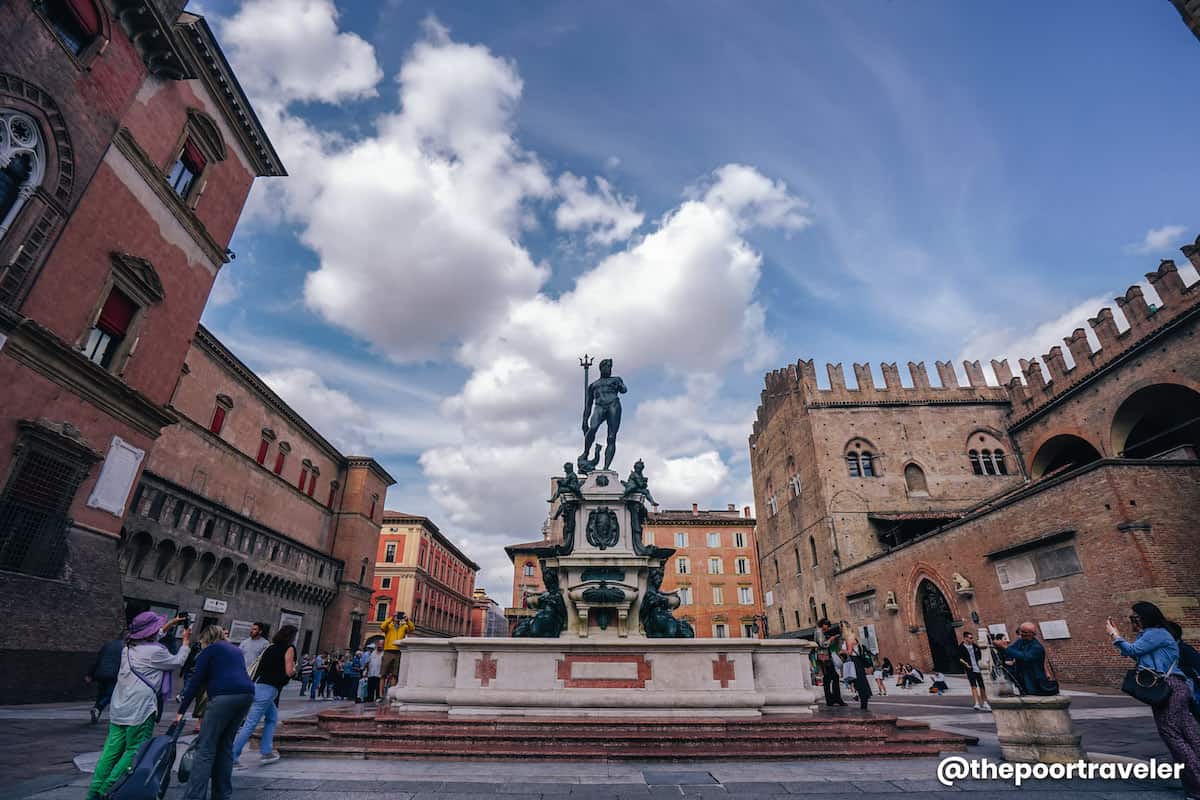 But the real eye-catcher here is the enormous Basilica di San Petronio, the construction of which started in 1390. Its facade remains undone, with only the bottom half with white and red marble finish while the upper part still bare-bricked. But this adds to the charisma of the church.
At the back of the church, you can climb to the San Petronio's Terrace (La Terrazza Panoramica), perched at over 50 meters, enabling a lovely view of the city.
San Petronio Basilica
Hours open: Daily 7:45am-2pm, 3pm-6pm.
Entrance fee: FREE. But if you're taking pics inside, a 2€ photography fee will be collected.
San Petronio's Terrace
Hours open: Monday-Thursday 11am-1pm, 3-6pm; Friday-Sunday 11am-1pm, 2:30pm-6pm
Entrance fee: 3€.
---
Two Towers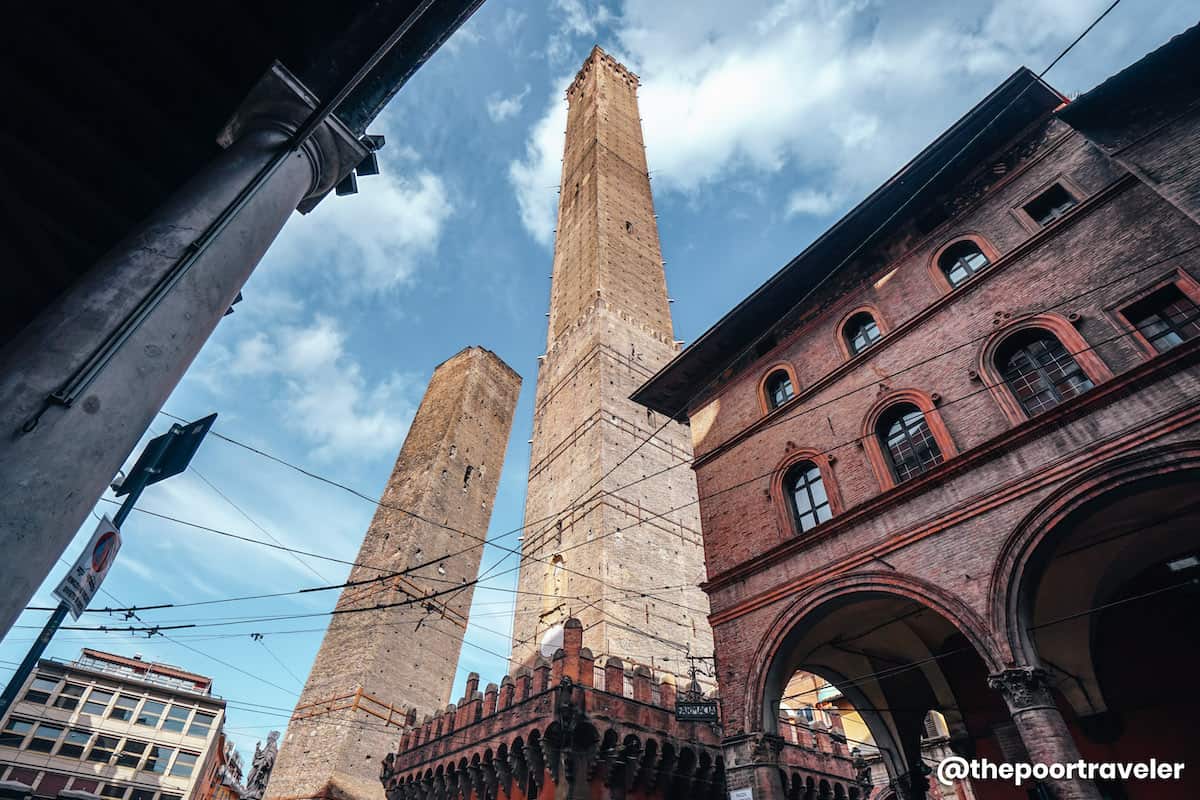 Nope, not talking about the Lord of the Rings! Bologna is known for its imposing medieval skyscrapers. No one knows for sure why the richest family in the city built their own towers. But at its peak in the 12th-23th century, the city is estimated to have as many as 180 towers.
Two of the tallest are called Asinelli and Garisenda, both named after the families that ordered and funded their construction, both built in the early 1100s, and both are leaning. They are collectively known as Le due torri (the Two Towers). They have become the most identifiable symbols that for a time, Bologna is best known as the "City of Two Towers".
Garisenda leans more on its side. But Asinelli is much taller. In fact, at 97 meters, it is the tallest leaning tower in Italy. (Yep, taller than the one in Pisa!) It is possible to climb to the top and admire the breathtaking view of the city!
Asinelli Tower
Hours open: Daily 10am-6pm. Entrance is scheduled twice per hour.
Entrance fee: Adult 5€; Reduced 3€.
---
Santuario di Madonna di San Luca & Portico di San Luca
Not too far from Bologna is a forested hill called Monte della Guardia. Seated on top of it is Santuario di Madonna di San Luca, an 18th-century basilica that shelters the icon of the Virgin Mary brought from Saint Sofia's Temple in Constantinople.
The church also has an observation deck under its dome, accessible via a winding staircase. It offers a breathtaking view of the sprawling Red City below. Entrance fee is 5€.
A road connects the city all the way to the church. You can catch the San Luca Express tourist train at Piazza Maggiore to the basilica and back (10€ roundtrip fare, timetable here). If you're up for an exercise, you can hike and climb to the church via the 3.8-kilometer Portico di San Luca, the longest covered arcade in the world.
Otherwise, the most sensible way to do it is to take the bus up and walk back down for a more relaxed experience!
Hours open: Monday-Saturday 7am-12:30pm, 2:30pm-6pm; Sunday 9am-6pm.
---
Archiginnasio of Bologna
As mentioned, Bologna is where you'll find the oldest university in Europe — the Alma Mater Studiorum – Università di Bologna, founded in 1088. The university is now housed in Palazzo Poggi, but for 240 years since 1563, its main building was the Palazzo dell'Archiginnasio or simply Archiginnasio.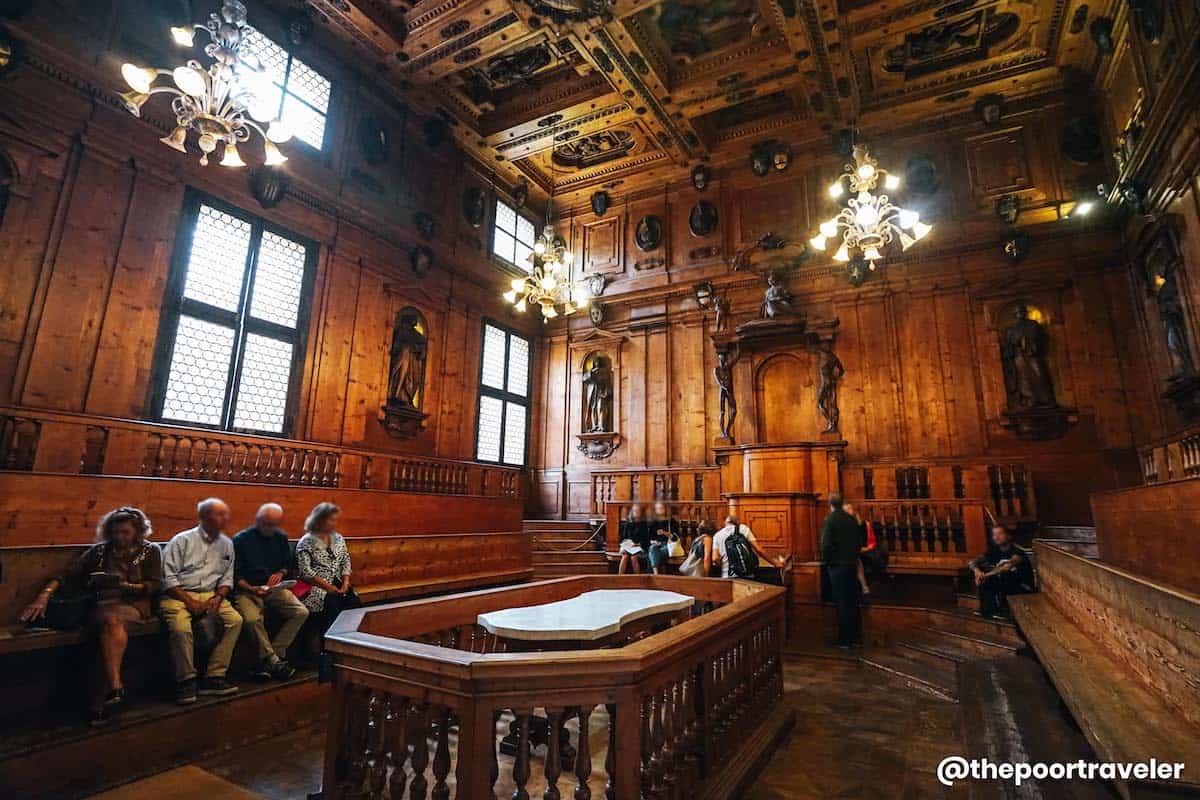 As you enter the Archiginnasio, you'll be greeted by a courtyard, surrounded by an ornate buildings with overlooking rooms and a colonnaded porch. One of the rooms upstairs is Teatro Anatomico, where public body dissections took place for academic purposes. Dominican Inquisition priests observed the proceedings at times. You'll find tiered wooden seats and a table with a marble top, surrounded by intricately designed walls and ceiling.
On the other side of the building are the Stabat Mater Lecture Hall and the Biblioteca comunale dell'Archiginnasio, the largest library in the region!
Hours open: Monday-Friday 10am-6pm, Saturday 10am-7pm, Sunday/Holidays 10am-2pm
Admission fee: Entrance to the building is FREE. But to access the Anatomical Theater and the Lecture Hall, a 3€ fee is collected.
---
Other Bologna Attractions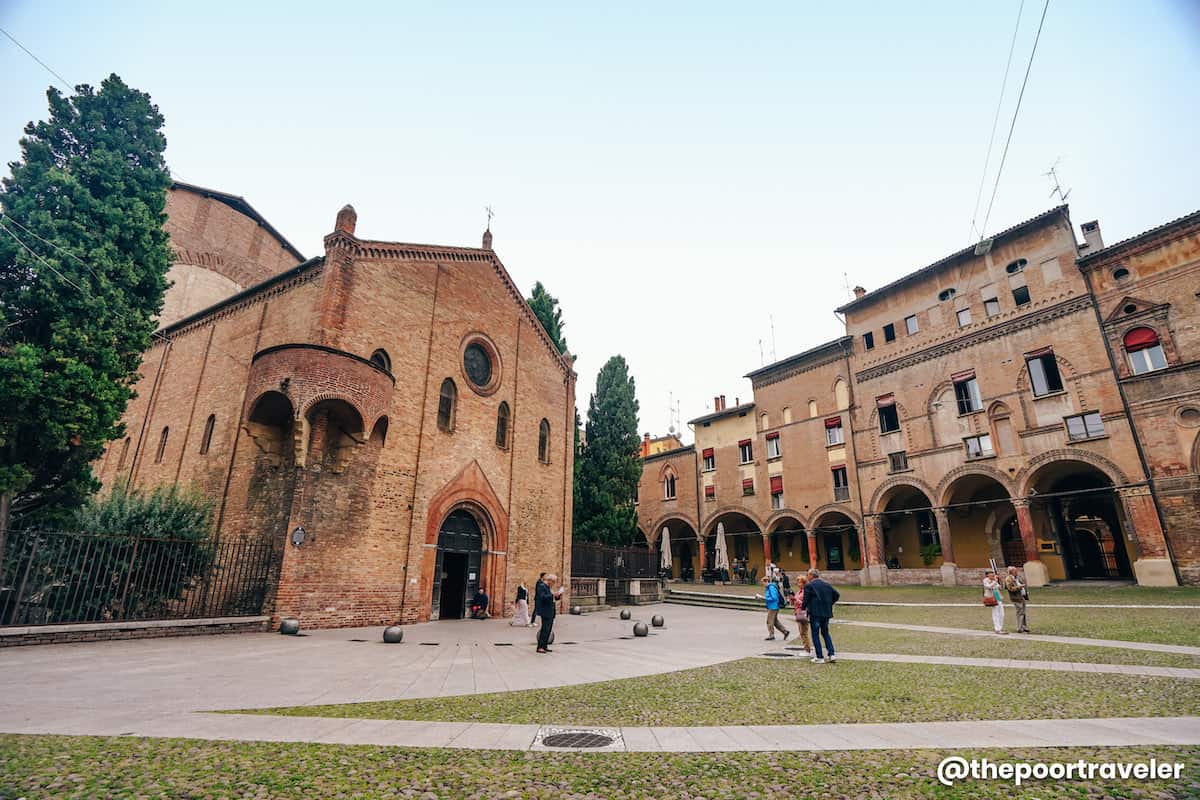 Piazza Santo Stefano
National Gallery
Archaeological Museum
Santa Maria della Vita Church (home to the "Oratory of Battuti")
Bologna's Museum of Modern Art (MAMbo)
Museum for the Memory of Ustica
For more information and more attractions, read this article instead: PLACES TO VISIT IN BOLOGNA!
---
DAY TRIPS FROM BOLOGNA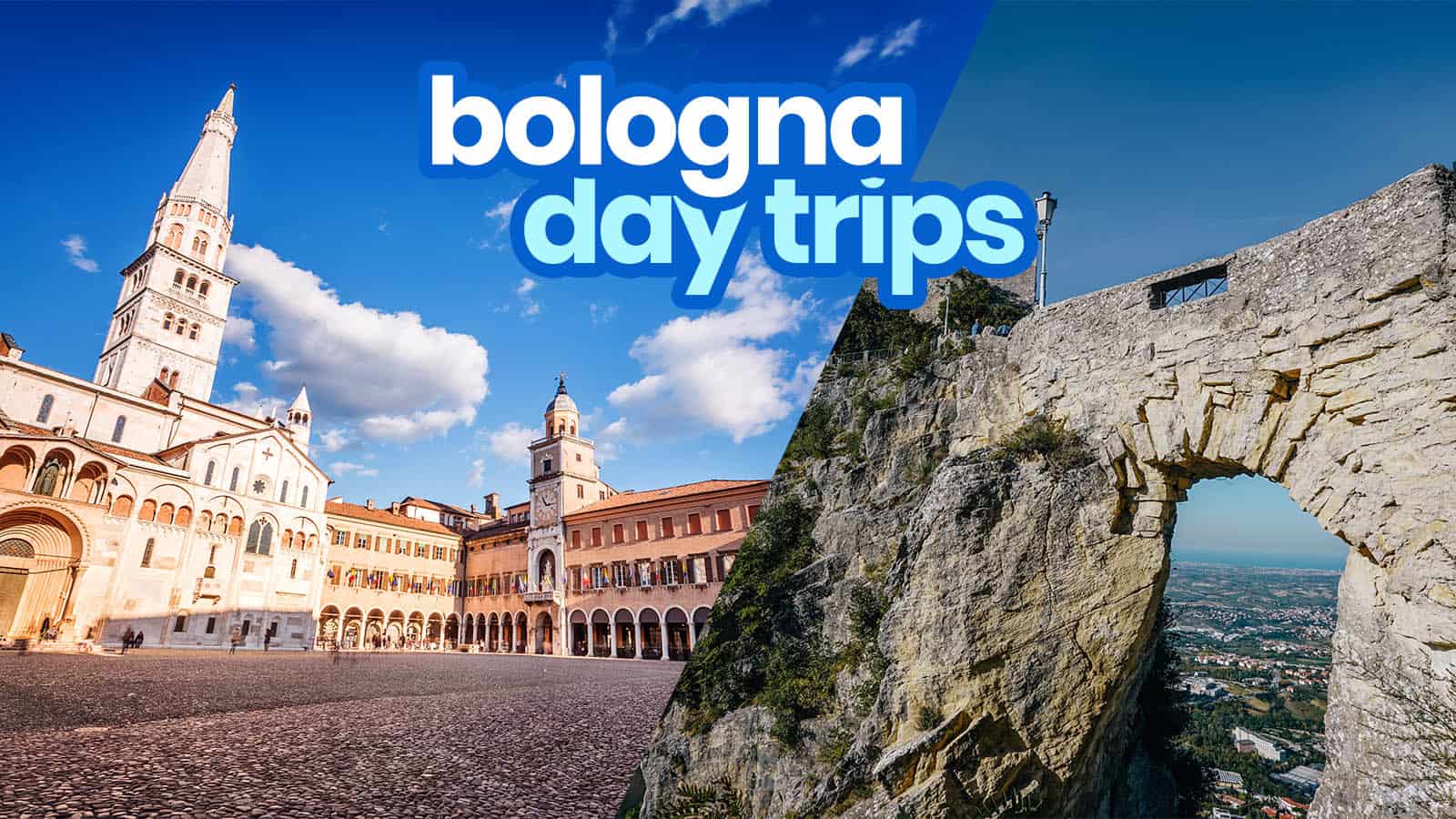 Bologna is at the very heart of the northern half of the Italian peninsula. If you pin Venice, Milan, Florence, Genoa, and San Marino on the map, you'll find Bologna in the center, which makes many other destinations easily accessible!
We created a separate post for it here: DAY TOURS FROM BOLOGNA!
---
SAMPLE BOLOGNA ITINERARY
Below is a sample 4-day 3-night Bologna itinerary with breakdown of expenses. I did not include the airfare in the computation because it's a variable that highly depends on where you're coming from.
Feel free to change anything to match your own preferences and plans.
DAY 1 – ARRIVAL & SAN LUCA
10:00 am – Arrival at Bologna Airport
11:00 am – Bus to city center, 6€
11:45 am – Drop bag at hotel
12:30 pm – Quick lunch, 10€
01:30 pm – San Petronio Basilica, 2€ photo fee
02:15 pm – Piazza Maggiore
02:45 pm – San Luca Express, 10€
03:35 pm – Basilica di Madonna di San Luca, 5€
04:45 pm – Walk via Portico di San Luca
06:30 pm – Buy food from supermarket, 20€
07:30 pm – Hotel check-in, freshen up
08:00 pm – Dinner at hotel
DAY 2 – BOLOGNA OLD TOWN
10:00 am – Brunch/early lunch at hotel
11:00 am – Free Walking Tour, tip: 5€
01:30 pm – Archiginnasio, 3€
03:00 pm – Grab snack, 7€
04:00 pm – Asinelli Tower, 5€
07:00 pm – Dinner, 20€
09:00 pm – Back to hotel
DAY 3 – SAN MARINO DAY TOUR
07:05 am – Regionale Train to Rimini, 12€
08:36 am – Arrival in Rimini
08:45 am – Buy roundtrip ticket to San Marino, 10€
09:30 am – Board bus to San Marino
10:30 am – San Marino Sightseeing, get stamp 5€
12:00 pm – Lunch, 10€
01:30 pm – Visit the three towers, 6.50€
05:30 pm – Board bus back to Rimini
06:30 pm – Arrival in Rimini, grab dinner 10€
07:20 pm – Regionale Train to Bologna, 12€
09:20 pm – Back to hotel
DAY 4 – DEPARTURE
08:30 am – Pack up
10:30 am – Early check out, leave bags
– Settle tourist tax, 12€
11:00 am – Early lunch, 10€
12:00 pm – Leave for airport/station, 6€
If you spend €40 per person per night on accommodations, the above itinerary will set you back at least EUR 330 (USD 390, SGD 533, PHP 19,000) per person excluding airfare, travel taxes and shopping expenses, but including a bit of allowance to make up for possible incidental purchases and price movements.
Note that in San Marino, you'll do mostly sightseeing and won't be entering museums due to time constraints. If you choose to enter, just adjust the time and add the corresponding entrance fees. More information about San Marino on our detailed guide here: SAN MARINO DAY TRIP ITINERARY!
You can drastically reduce the cost by replacing Day 3 with a day trip to a closer destination or an activity within Bologna.
Again, we didn't cover airfare in the calculation because it highly depends on your origin. If you're coming from another Italian or European city and you're entering Bologna by train instead, you can remove the airport transfer costs from the budget.
---
FREQUENTLY ASKED QUESTIONS ABOUT BOLOGNA
Do I need a visa to visit Bologna?
Italy is part of the Schengen agreement. If you're a Philippine passport holder, you will need a Schengen Visa to visit Bologna. If Italy is the only country you are going to visit or if you're traveling to multiple countries but staying in Italy the longest, you will need to apply for a visa via the Italian Embassy.
For more information about how to get a visa from the Italian Embassy, READ: ITALIAN SCHENGEN VISA!
---
Is Bologna safe?
Bologna is generally safe.
But like any big cities, there are some areas where you should be extra careful. Petty crimes like pickpocketing and scams exist so keep an eye on your belongings and don't let your guard down.
---
When is the best time to visit Bologna?
Spring is the most ideal. The shoulder months of April and May can give you cool, pleasant temperatures, manageable crowds, and relatively good prices. Fall is okay too, but note that there are bigger possibilities of rain in October and November.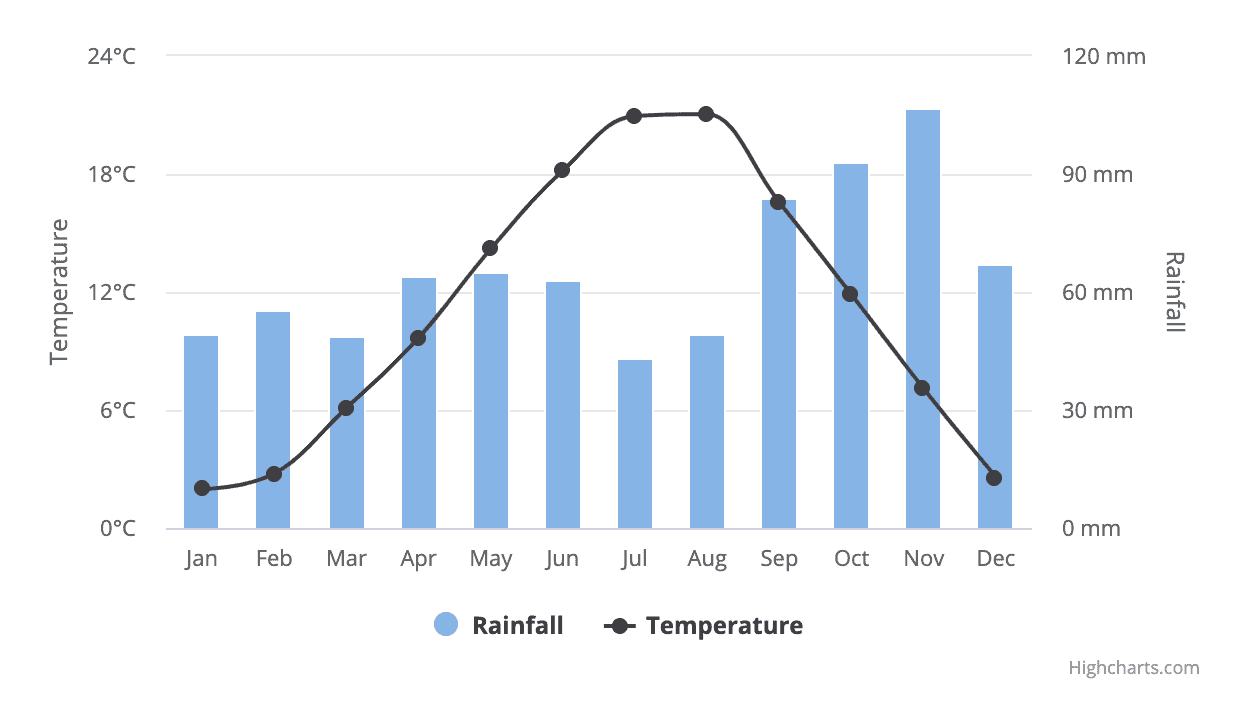 Like in other countries in Europe, high season is from June to early September. August, in particular, is the hottest and most crowded.
---
How much is Bologna's tourist tax? Is it included in hotel bookings?
Bologna collects city tax from tourists, usually between 3€ and 5€, depending on the per-night cost of the hotel. In the itinerary above, I pegged the cost at 4€.
It's often NOT included in the booking and has to be settled upon hotel check-in or check-out.
---
What is the tipping policy in Bologna?
Tipping is not expected in Bologna.
Restaurants charge every seated diner a coperto charge, which is usually between 1€ and 4€. No need to tip more unless you really enjoyed the service.
At hotels, you can tip €1 per bag for porters or €1 per day for hotel chambermaids.
In taxis, tips are not expected.
---
How to reduce food expenses in Bologna?
Find a hostel or apartment that allows you to cook or heat your food. If you're traveling on a shoestring, hit the supermarket for supplies on your first day. This should cover your daily breakfast and drinking water.
This way, you don't have to eat out for each meal! You can hit the grocery and shop for ingredients and prepare your own. Groceries and supermarkets also have cooked dishes and microwaveable products that are budget-friendly.
But we strongly encourage you to experience the restaurant scene at least once. There are options that are relatively inexpensive. Here are some of the restaurants that we tried while we were in Bologna and their best-sellers.
Hostaria San Carlino, Via San Carlo 16. Our best meal in Bologna. The server recommended tortelloni al parmigiano, balanzoni in salsa verde, cotoletta alla bolognese, and tagliata.
Trattoria da Pietro, Via De' Falegnami 18/A. Serving traditional Bolognese food. The server recommended mixed cut selection, tortellini en brodo, and caramelle.
A Balus, Via del Borgo di San Pietro 9/2A. The server recommended tagliatelle with Bolognese ragu, grilled scottona beef, tortelloni with ricotta and porcini mushrooms, and wild boar bresaola.
---
Is tap water in Bologna safe to drink?
Yes, tap water is safe and drinkable. It's just a matter of taste for most people.
---
What type of power plug / socket is used in Bologna?
Electricity Info: 230 volts, 50 Hz. Common sockets are Type F, which also accept plugs that have two round pins (C and E).

---
2020 • 9 • 7