One of the most difficult questions I usually get is: What's your favorite destination? It's tough to pick just one when a mere mention of the word "favorite" opens a floodgate of memories that include the surreal landscapes of Cappadocia, Turkey; camping journey across the Australian Outback; the sights and tastes in Florence, Italy; the out-of-this-world mountain parks of Zhangjiajie, China. I could go on.
But if you ask me where I would want to stay for good, well, that one's easy — TOKYO.
Over the past three years, I had set foot in Tokyo four times, each lasting as long as my visa allowed. That alone should tell you just how much I adore the Japanese capital. I'm not even sure why. You know how you grew up building on your mind a list of qualities you want your THE ONE to possess? Then you meet someone who doesn't meet any of those requirements, but for some strange reason, you know they're the one for you. To me, that's Tokyo.
Any attempt to search for reason leaves me nauseated. The things that I would normally hate in any other city are things I love about Tokyo. I dislike big urban capitals; Tokyo is a bigass urban capital. I abhor big crowds; Tokyo is overcrowded. I despise too many rules; Tokyo has many unwritten codes that locals and guests are expected to abide by. Yet, with each visit I find myself falling deeper and deeper even though she's confusing af. She's zen but wacky, chaotic but organized, minimalist but vibrant, traditional but futuristic, efficient but absolutely insane.
WHAT'S COVERED IN THIS GUIDE?
Understanding Tokyo
We often think of Tokyo as a single city, but it's actually a lot more complicated than that. It's a metropolitan prefecture. (Wait, what? Uhm, let me explain.) It's not a single city but not your usual Japanese prefecture either. It's something that is unique to Tokyo. Think of it as a cluster of cities, municipalities, and special wards. It's vast and dense. Together, it is the most populous metropolitan area in the world, with over 37 million residents.
But let's focus on one area in particular — the 23 special wards. What many refer to as Tokyo is actually what used to be Tokyo City, which is now broken down into 23 Special Wards, each operating as an individual city. (If you're familiar with Metro Manila, it's a similar concept. What we call Metro Manila is actually composed of separate, independent cities.) There's a big chance that most of the attractions you want to see are confined within the collective boundaries of these 23 special wards.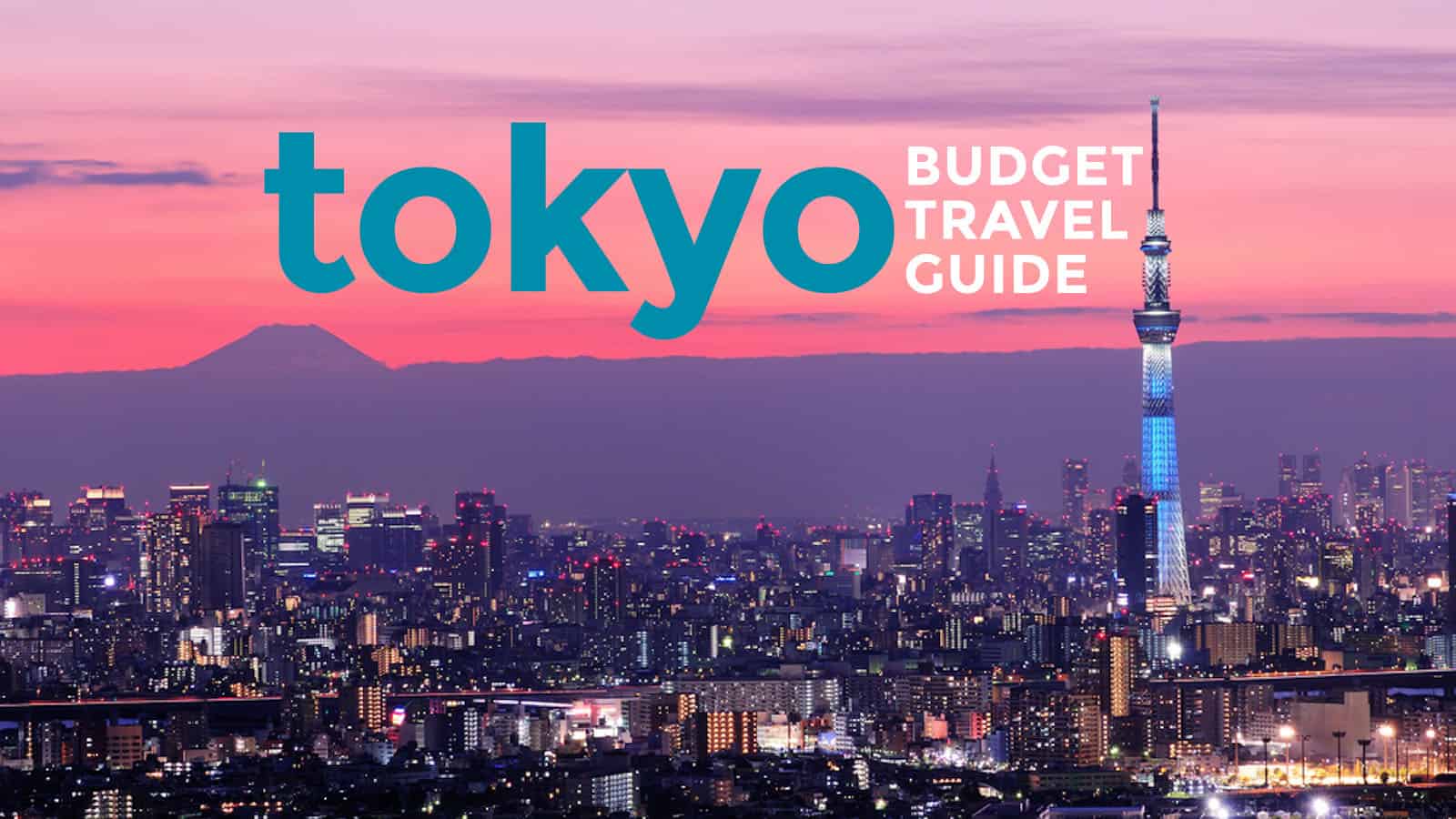 The good news is, if you're in Tokyo for only a short visit, you wouldn't even feel the division. All 23 special wards seem to function as one giant urban hub, connected by the most impressive transportation system I have ever seen in my life.
Here are a few more facts you need to know:
Language: Japanese (Nihongo). English isn't widely spoken. However, most signs have English translations.
Currency: Japanese Yen (JPY, ¥). JPY 1000 is roughly USD 8.5, EUR 8.12, PHP 424 (as of Dec 2016).
Modes of payment: Many establishments accept credit cards, but most still prefer cash.
Electricity Info: 100V. Plugs have two flat pins.
When to Visit Tokyo
I may be biased here because I've lived in the tropics all my life so I always want to visit Japan when it's a bit cooler. Summer in Japan can get too hot, even for an island guy like me.
Spring (March-May) is the best time to visit for two reasons: The weather is often pleasant and comfortable. And if your timing is right, CHERRY BLOSSOMS! In Tokyo, the first bloom usually happens in March Week 3-4, full bloom at the end of March, and the last fall within Week 1 of April. Emphasis on usually. These days, you can never be too sure. Make sure you check Cherry Blossoms forecast before you book your flight.
Fall (September-October) is great, too. Not too cold. I find the autumn colors to be a nice treat.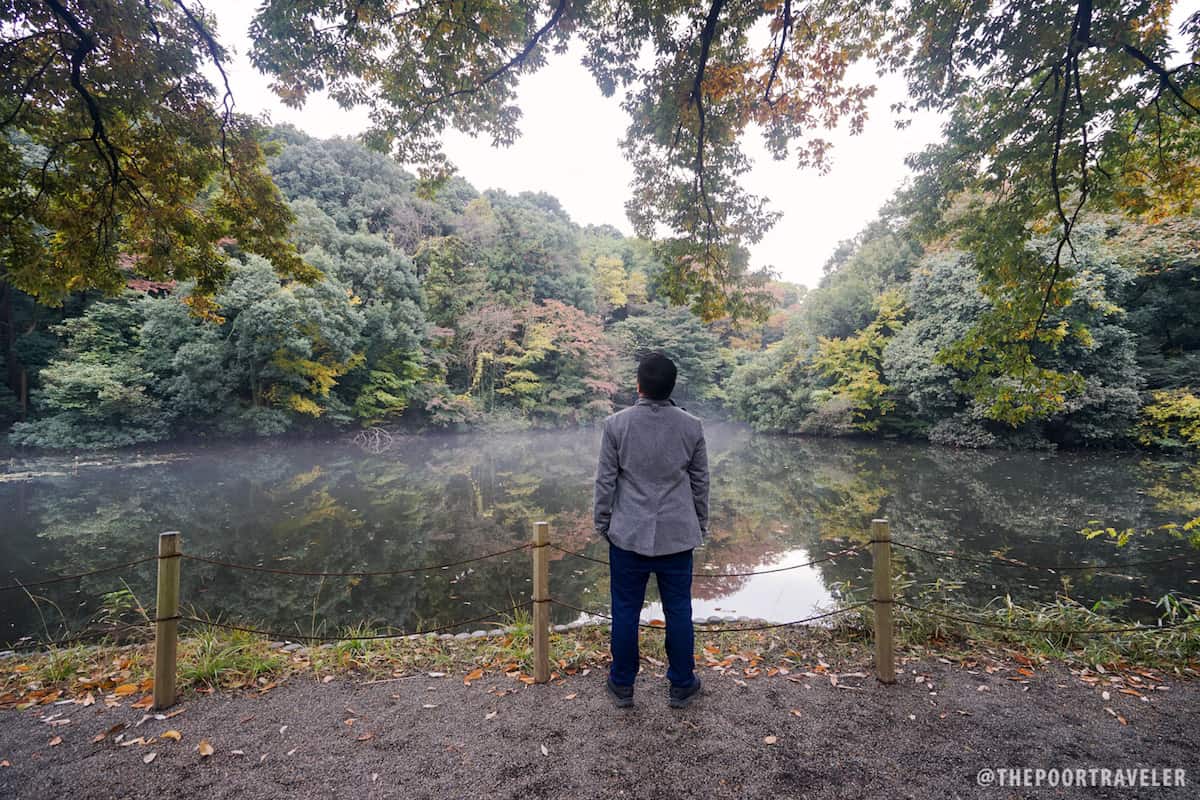 Winter isn't really a bad option. I love walking around in the cold as long as it doesn't snow. Snow is only cute in the first 5 minutes. The first snowfall of the season usually happens in January. (This year, however, it snowed in Tokyo in November for the first time in 50+ years. I was there when it happened!)
Tokyo winter has its market (me!), but it has its pros and cons.
PROS:
Flights and hotels are cheaper.
Most attractions are not as crowded.
Shopping districts go on NEW YEAR SALE (January Week 1), offering amazing deals.
The Emperor of Japan comes out to the balcony of the Imperial Palace and addresses the crowd only twice a year, and both dates are in winter: December 23 (his birthday) and January 2 (for the New Year greeting).
CONS:
Although it's super cold outside, it can get really warm hot inside the train. You might think it's petty, but shedding off layers and putting them on can be annoying if you do it again and again.
Days are shorter. If you love taking photos, it's something you need to consider. Daylight is gone as early as 4pm. Establishments close earlier, too.
Where to Stay in Tokyo
Where to stay? Hmmm, tough question. Haha. Before I answer that, let me first explain to you the JR Yamanote Line. (I'll answer this, I promise. Just bear with me.)
The JR Yamanote Line is a train loop that runs around Tokyo, connecting the city's key areas including Ueno, Shinjuku, Shibuya and Shinagawa. It also marks the boundary of Central Tokyo. The area within the loop is considered Central Tokyo.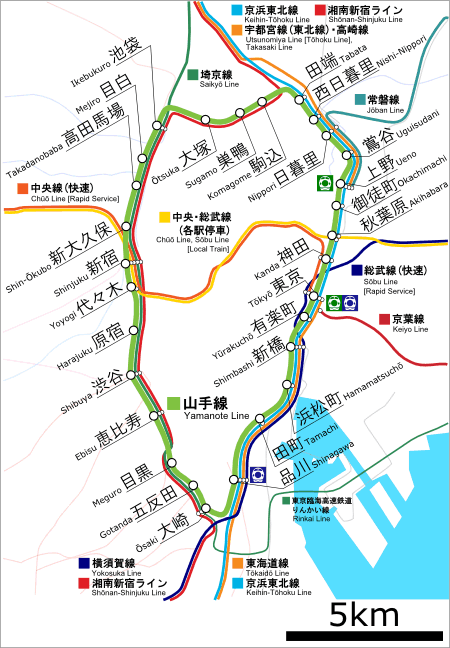 It is important to be familiar with this because most key attractions in Tokyo are situated along this line. This means that you must take this into consideration when choosing a place to stay.
Most online sources recommend three locations: Shinjuku, Shibuya, and the Tokyo Station area. I agree with these recommendations. They're all close to Yamanote Line and direct airport bus services. There are also numerous shops and restaurants around.
However, I prefer Ueno for a lot of personal reasons.
Ueno is only 40-70 minutes away from the airport by train (via Keisei as mentioned above). It is important to me because I dislike switching trains and walking long distances when I have 30 kilos of baggage on my shoulders.
Ueno is also closer to Akihabara than any of the three other locations. Akihabara is my absolute favorite place in Tokyo.
Ueno harbors a number of branches of Hotel Mystays, a budget hotel chain that I like.
Asakusa is something to consider too. It may not be along Yamanote Line and it's not a shopping district, but it has an Old Tokyo feel around it that you might appreciate. Staying here also means you're close to Senso-ji (Asakusa Kannon Temple).
Wherever you choose to stay, here are some budget accommodation types and usual off-peak rates:
Bed at Capsule Hotel: as low as USD 20
Bed at a Dormitory: as low as USD 28
Single Room: as low as USD 55
Twin/Double Room: as low as USD 78
Top Budget Hotels
According to TripAdvisor users as of Feb 2017.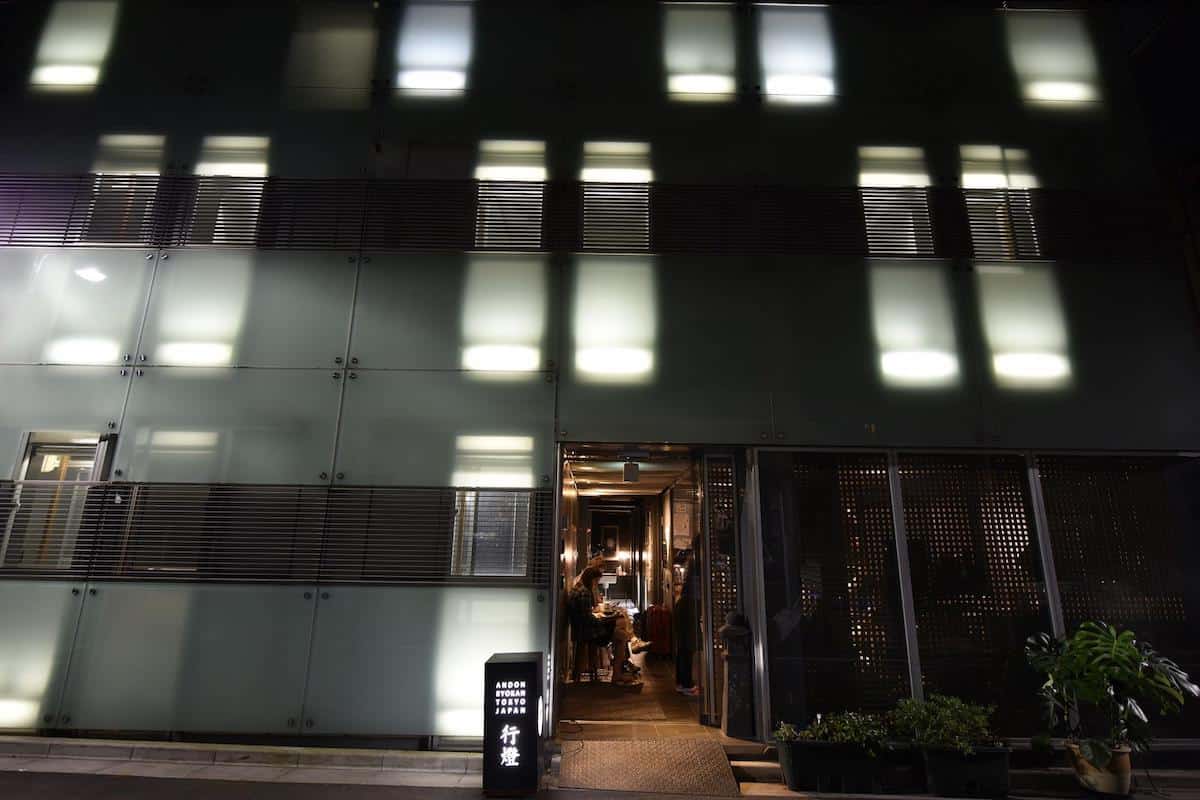 Top Hostels
According to TripAdvisor users as of Feb 2017.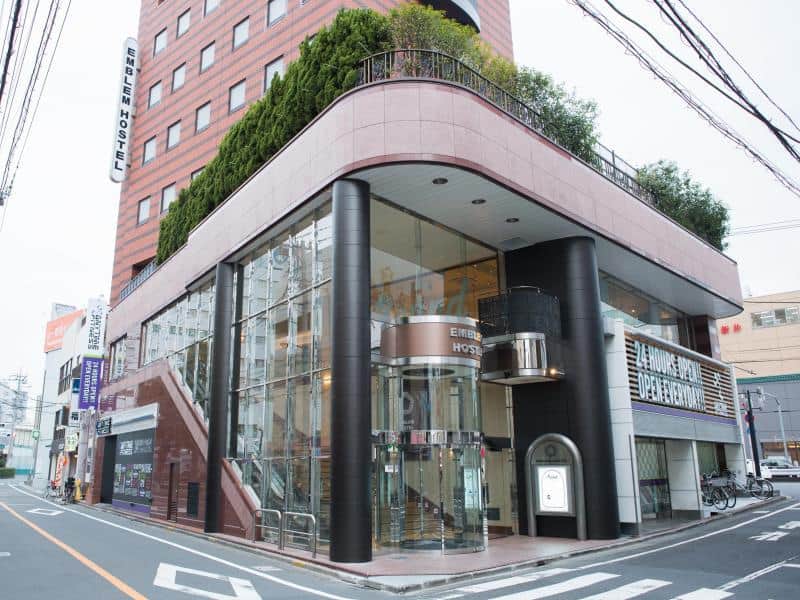 .
What to Prepare Before Your Tokyo Trip
Visa. Make sure you have the necessary documents to enter Japan. If you're holding a Philippine passport, you need a visa. Check out this post for the details: Japan Visa for Filipino Tourists
Appropriate clothes and skin products. If you're traveling to Tokyo in winter, make sure you're well-prepared for the cold. Gloves and scarves will make you comfortable. Don't forget to bring lip balm and moisturizer.
Access to Hyperdia website. Whenever I'm in Japan, this is my go-to site when I want to check train timetables and routes. All you need to do is enter your origin and destination and it will tell you options on how to get there including travel time, fares, and transfers involved. There is also an Android app version of this site, but it's not available in most countries.
Google Maps. You'll be amazed how incredibly reliable this is in Tokyo. While Hyperdia gets my train routes covered, Google Maps can show you walking trails and bus options. It's so detailed, they even have interior maps of major train stations indicating the shops inside the building PER FLOOR.
Google Translate App. You'll find a lot of signs (especially in non-touristy sites like local markets) that are completely in Japanese and without any translation. This can help a lot. I only use this when I'm in a hurry though. Asking questions is actually a great excuse for me to talk to a local, which I love doing.
Internet Connection in Tokyo
There are a lot of FREE wi-fi spots throughout Tokyo, but if you want to stay connected 24/7, you can rent a mobile wi-fi or get a local 4G SIM.
Pocket Wifi Rental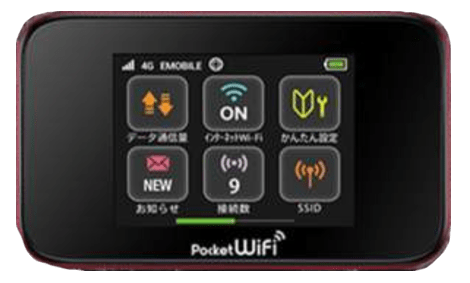 The cheapest way of getting connected to the Internet in Japan is renting a mobile wi-fi. It can accommodate multiple users so if you're a group, you just need one and split the cost. You'll find a lot of them around, even at the airport. However, based on experience, they are so in demand that every time I try to get one, there's always none left. Fortunately, with Klook, you can reserve one and just pick it up at the airport!
For 4G Wifi Rental: RESERVE HERE
Local 4G SIM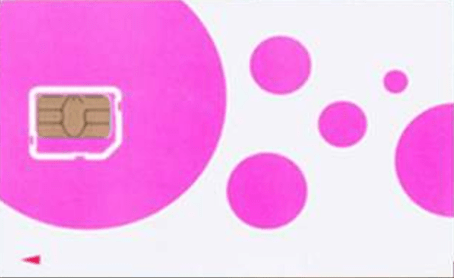 If you opt with a 4G Data SIM, you can choose between two packages: unlimited 4G data for 8 days (around P1500) and 3GB data for 8 days (around P1100). If you're a heavy data user, best to go with the Unlimited Plan. You can pick up the SIM card at Narita Airport.
For 4G SIM Card: RESERVE HERE
How to Get from Narita Airport to Tokyo City Center
Tokyo is one of the most visited cities in the world, so accessibility isn't an issue. In fact, it is served by two airports: Narita, for international flights, and Haneda, for domestic flights mostly.
Located 70km from the city center, Narita Airport is farther from the city than Haneda. Narita Airport has 3 terminals and has more transfer options. Here are your cheapest bets:
By bus.
Keisei Bus transfer passengers from Narita Airport to Tokyo Station. If your hotel is near Tokyo Station or any of its very few stops, good for you. If not, you might still need to take the train.
Here are the rates:
Regular Hours (5am-12mn)
Adult: ¥900 if you reserve in advance, ¥1000 if you book at the airport
Child: ¥500
Late Night/Early Morning (12mn-5am)
Adult: ¥900 if you reserve, ¥2000 if you book at the airport
Child: ¥500 if you reserve, ¥1000 if you book at the airpot
To book in advance, visit the Keisei Bus website and click on the ENGLISH tab in the upper right corner. On the next page, click on TOKYO SHUTTLE. Follow the steps detailed on the next page.
By train
Only Terminals 1 and 2 have their own train station. If you're landing at Terminal 3, you need to make your way on foot to Terminal 2. You just need to follow the signs. Plenty of 'em around.
The cheapest train option is the Keisei Main Line Limited Express. Depending on where your hotel is located, your route will change and you might need to make a few train switches. To check, visit the Hyperdia website and enter the train station closest to your hotel.
Assuming your hotel is in Ueno, this is how much this train will take you to Keisei-Ueno Station.
Fare: ¥1030 for adult (¥520, child)
Travel time: 70 minutes
Seat: Free seating
Do not confuse this with the Keisei SKYLINER, for which seats are paid and reservations are mandatory. The great thing about the Skyliner though is that it can take you to the city in almost half the time (but for double the price).
Fare: ¥1240
Reserved Seat: ¥1230 (additional fee)
Travel time: 40 minutes (to Ueno)
How to Get to Haneda Airport to Tokyo City Center — TO FOLLOW
How to Get Around Tokyo
Taxis are expensive, and buses can be confusing for first-timers. The train is the most efficient mode of transportation. Tokyo has an expansive railway system. Wherever it is you're going, there is most likely a train station very close to it.
Tokyo by train can be a bit overwhelming at first, but it's easy once you get the hang of it. First, bear in mind that the network is used by almost a dozen operators, including those serving the suburbs. However, in this article, let's focus on the three companies that serve Central Tokyo: JR East, Toei Subway, and Tokyo Metro Subway. Each of them operate multiple lines that get so entangled, it's amazing how the Japanese make it work.
JR East controls the all-important JR Yamanote Line. Expectedly, this line is used by a good fraction of the population (which is me saying that it's often crowded, hehe). Aside from Yamanote, JR also runs other lines including Chuo Main, Chuo-Sobu, and the Shinkansen (bullet train).
The subway lines are operated by Tokyo Metro and Toei. Although separate companies, these two are in great synergy. Often, you don't need to exit the gates and buy new tickets even if you switch from Toei to Metro lines. (There are cases when you do, though.) Subway lines are marked with an assigned letter in a color-coded circle. For example, Shinjuku Line's mark is an S in a leaf green circle. Mita Line's mark is a the letter I in a blue circle. Remember these marks and the companies' logos because this is how you'll find them.
Tokyo Metro Subway Lines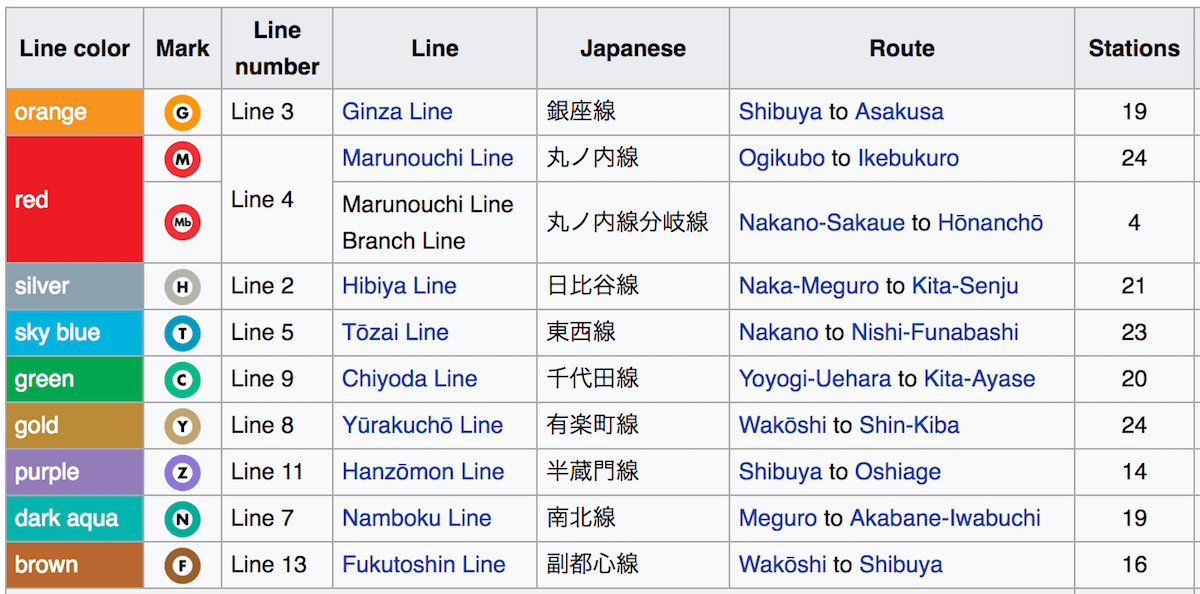 Toei Subway Lines

You might be thinking, "Oh cool. That looks easy." Wrong. It seems easy to understand now, but if you're a Tokyo newbie, it's a lot more difficult in practice. These lines are so entangled, and when they meet in major stations like Shinkuku or Tokyo, things get even more complicated. Even I, who have been to Tokyo four times, and my sister, who has been living in Tokyo for years, sometimes get awfully lost.
Aside from the lines, you also might need to know the different train types:
Local Trains are those that stop at every single station of the line. EVERY. SINGLE. STATION. If your stop is 20+ stations away, it can take a lot of time.
Rapid Trains are those that skip some stations. Same price as local trains. Same platforms, too.
Express Trains skip even more stations.
Limited Express stop only at major stations. Additional fee is usually required.
If it entails waiting only a few minutes on the platform, I would usually just choose a rapid or express train even when the a local train is already approaching. WARNING, though: Board the non-local trains only if you're sure it will make a stop at your station. You don't wanna skip your stop. True story. Hahaha.
How to Travel By Train using Single Tickets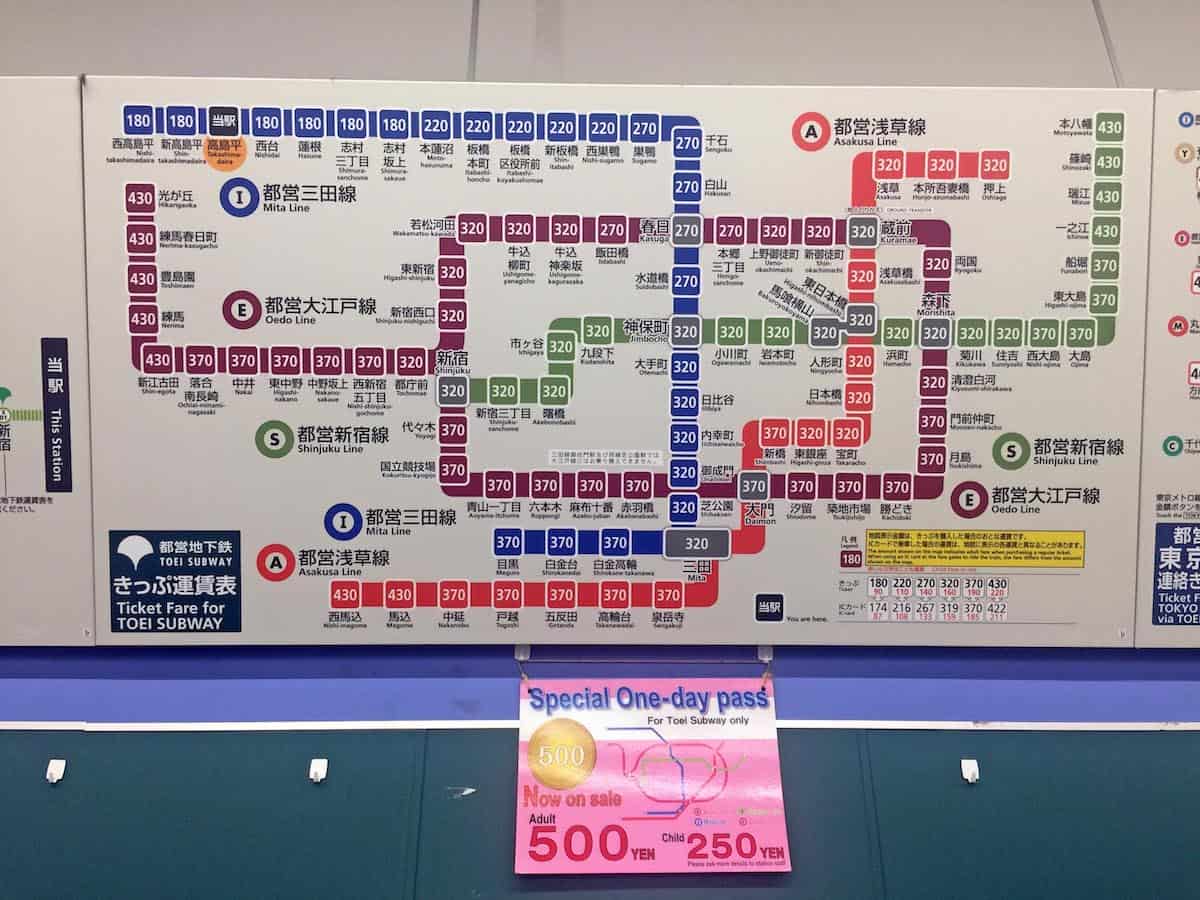 On your web browser, go to Hyperdia.com/en/. Enter your origin and the station where you're going. It will then display possible route options including how much the ride costs and transfers needed to get there. At the train station, you can double check the price. Just look at the route map, usually above the ticket machines. The map displays the price based on distance. Sometimes, the map is in Japanese characters only, which is why Hyperdia is useful.
Once you know how much you're gonna pay, approach the ticket machines. By default, these machines display everything in Japanese characters. But there is a button there that reads ENGLISH. Press that button and you will hear a voice saying "All train information will be displayed in English." (I said it out loud in the right intonation when I typed that. Totoo.)
Follow the steps onscreen. Usually, you will need to press the button (next to the screen) that displays how many passengers you are and then press the corresponding price on the screen. Yep, you should know how much you should be paying before using these machines, hence the first two steps. It will then ask you to confirm your booking.
Get the tickets that the machine will release. (If after getting the ticket you realize you made a mistake or you just change your mind, don't worry. Just use the same ticket. Fare adjustment machines are installed at every station. Make the adjustment at the destination.)
Feed your ticket to the ticket slots at the gate. It will emerge at the end of the gate. Pick it up again. The ticket is small so try your best not to lose it.
Go to the right platform. To check if you're in the right direction, check the list of stations usually displayed on a wall before the platforms. There is also a more detailed timetable in the middle of the platform.
Wait for the right train. The estimated time of arrival of the next few trains and the train type (Rapid, Local, etc) are displayed on electronic screens above the platform.
That's it! If you get lost or you encounter any problem, don't hesitate to approach the staff at the window. Every station has one.
Also, if you're an adult, don't even try getting a ticket meant for kids just to get a discount. Children's tickets make a distinct birdy sound when used at the gates to let the staff know that it's really being used by kids. Yep, birdy.
How to Buy and Use Suica or Pasmo Card
Prepaid IC Cards are also available. It seldom offers discounts, but the beauty of it is that you don't need to get a ticket each time you're using the train. You just need to quickly hover the card over the reader and you're through.
What's the difference between Suica and Pasmo? The companies offering it, mainly. Suica is sold by JR while Pasmo by Toei and Tokyo Metro. However, both cards work in any Tokyo Metro, Toei, or JR line. As far as the user experience is concerned, it's very similar.
To get one, you just need to approach one of the PASMO or SUICA machines at the station. There's no use for me to enumerate the steps here because it's so easy. Just choose ENGLISH on the welcome screen and follow the instructions.
These cards can also be used on buses. An increasing number of shops and other establishments are also accepting these cards as mode of payment. You can even use it to buy drinks or snacks from vending machines.
Should You Get One of Those One-Day Train Passes?
A lot of them are available but I find most of them impractical.
Tokyo Free Kippu (Tokyo Tour Ticket) allows you unlimited access to any JR, Toei, or Tokyo Metro line within Central Tokyo for one day. It costs ¥1590. It only makes sense if you'll be riding the train SEVERAL times in a day.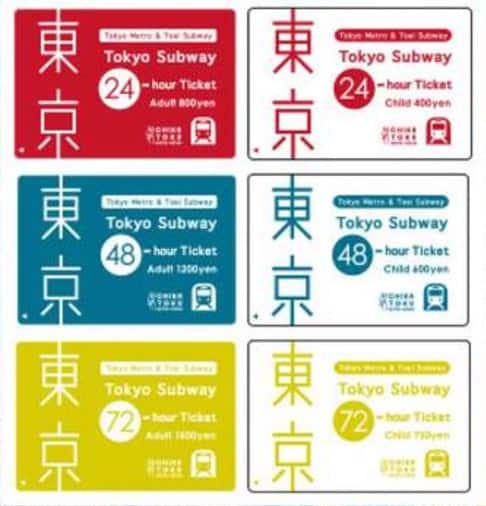 Tokyo Subway Ticket grants you unlimited access to all subway lines (Toei and Tokyo metro, NOT JR). Cost: ¥800 for 24 hours, ¥1200 for 48 hours, and ¥1500 for 72 hours. Available at Narita and Haneda airport. This is a good deal only if most of the attractions you're gonna visit are close to a subway station.
You can book a Tokyo Subway Ticket here:
BUY METRO TICKET HERE
There are many other variations, but the two above are the most common.
Should You Buy a JR Pass?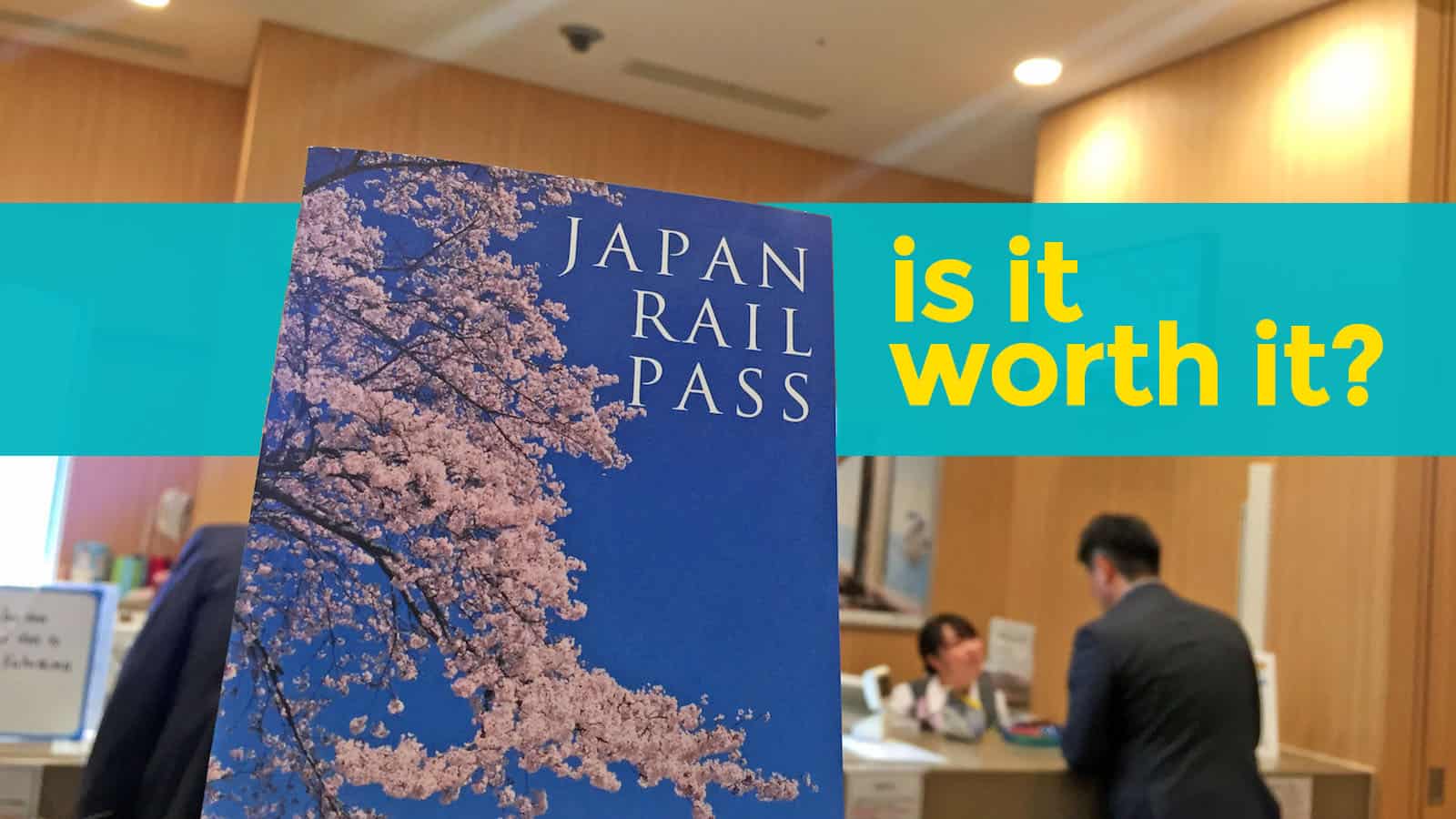 It depends on your itinerary. Before you purchase one, know that the JR Pass can only be used on JR line rides. You can't use it on Toei or Tokyo Metro rides. So if you will be staying in Tokyo the entire trip, a JR Pass isn't really worth it.
It only makes sense to get a JR Pass if you're on a multi-city journey around Japan. For example, if you will be visiting three cities in 7 days, it could be a great deal.
If your itinerary involves taking long-distance trains often and you're staying for 7 days, you can save money by getting a Train Pass.

CHECK JR PASS RATES HERE
Places to Visit in Tokyo
Here are some of Tokyo's notable tourist spots. I also indicated the nearest train station for your reference.
Tokyo Disney Resort
Nearest Station: JR Maihama Station (Keiyo Line)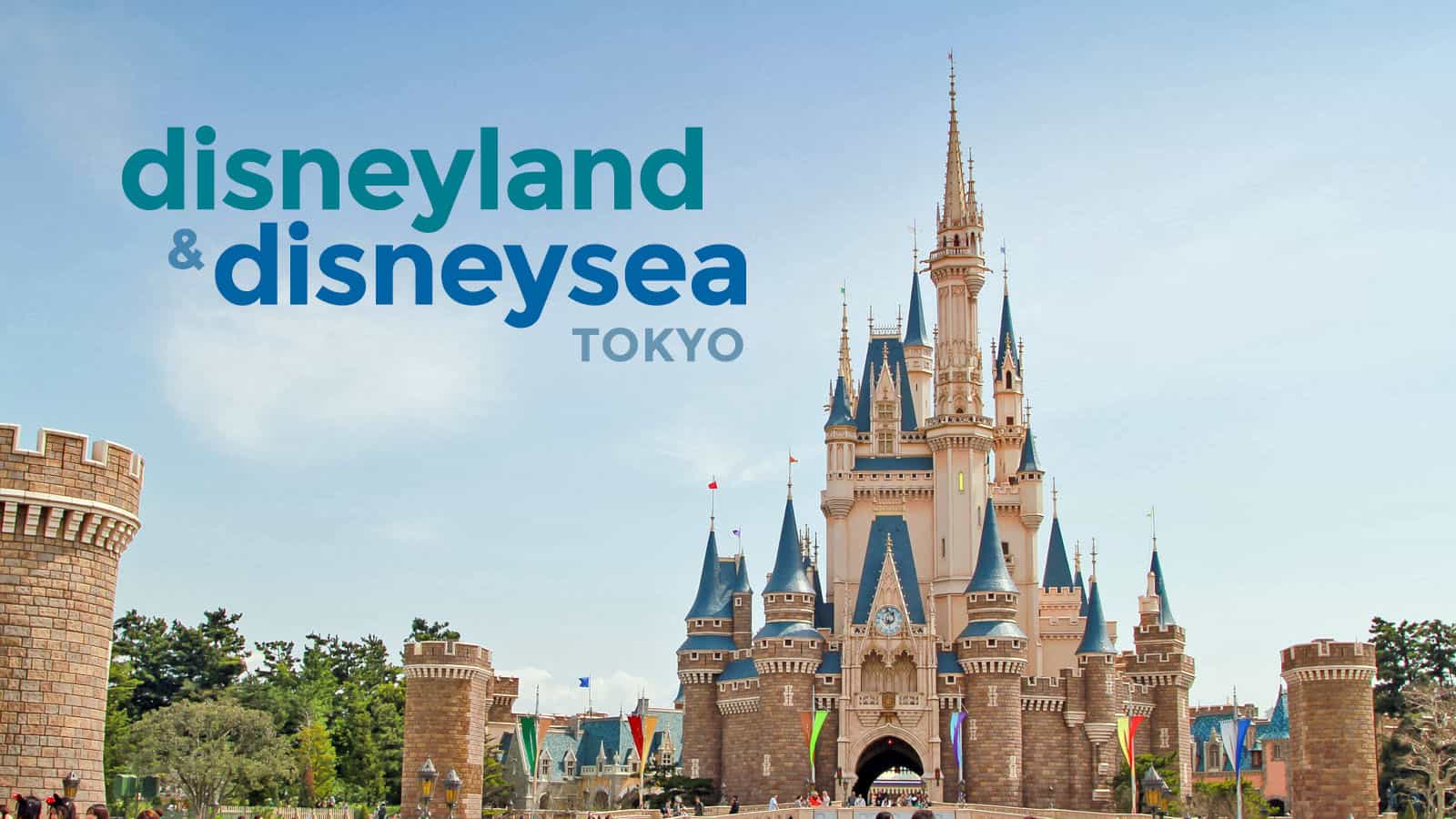 This resort complex comprises Tokyo Disneyland and Tokyo DisneySea. More info here: Tokyo Disney Resort Guide
You can skip the lines if you buy your ticket online! You can simply book, print it out, and then go straight to the gates!
BUY DISNEY 1-DAY PASS HERE
Tokyo SkyTree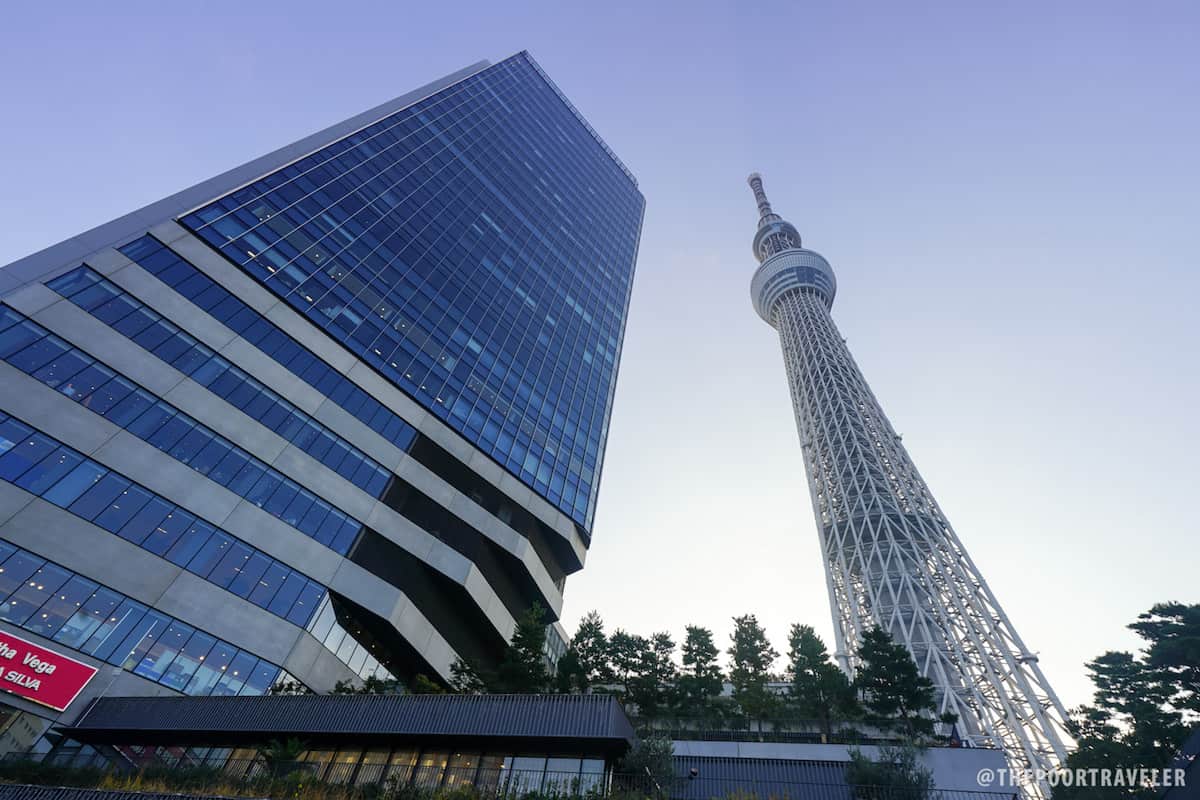 At 634 meters, this is Japan's tallest structure, offering a panoramic view of the megalopolis. The entrance to the tower is on the fourth level of SkyTree Town. The place is usually packed. If you didn't make advance reservations, approach the staff by the entrance and they will usually assign a time slot. Sometimes, you're in for a long wait. We went there at 3pm and was assigned a 5pm slot. Fast tickets are available but they're double the regular price.
Admission Fee: First observatory, 2060 yen; Second observatory: additional 1030 yen
Nearest Stations: Tokyo SkyTree Station, Oshiage
You can make an advance reservation online. Klook offers a SkyTree observatory + Sky Duck combo ticket!
BUY TICKETS HERE
Sensō-ji (aka Asakusa Temple)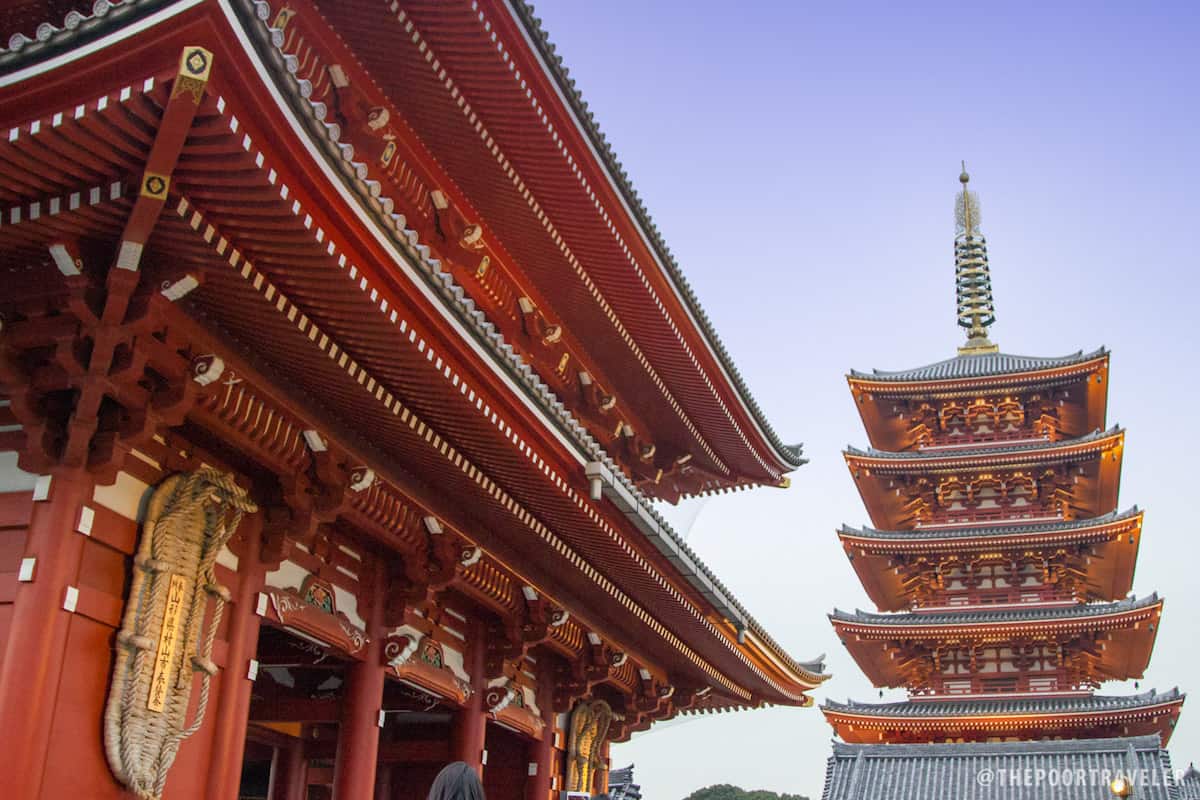 Tokyo's oldest temple, it was built in 645 as a tribute to Kannon, the goddess of mercy.
Admission: FREE

Nearest Station: Asakusa
Tsukiji Fish Market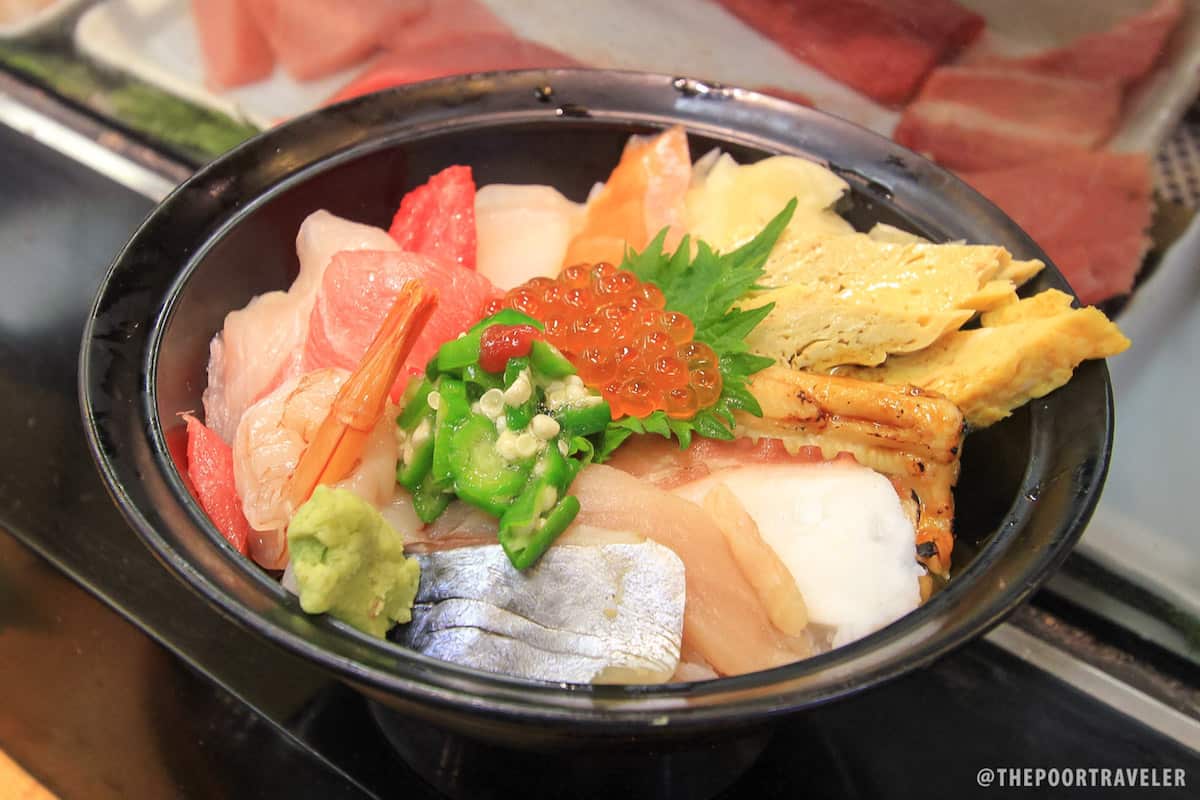 where you can witness a fish auction or have sushi or sashimi for breakfast. For the best experience, visit this in the early morning.
Admission Fee: FREE
Nearest Station: Tsukiji Shijo (Oedo Subway Line)
Harajuku's Takeshita-Dori (Takeshita Street)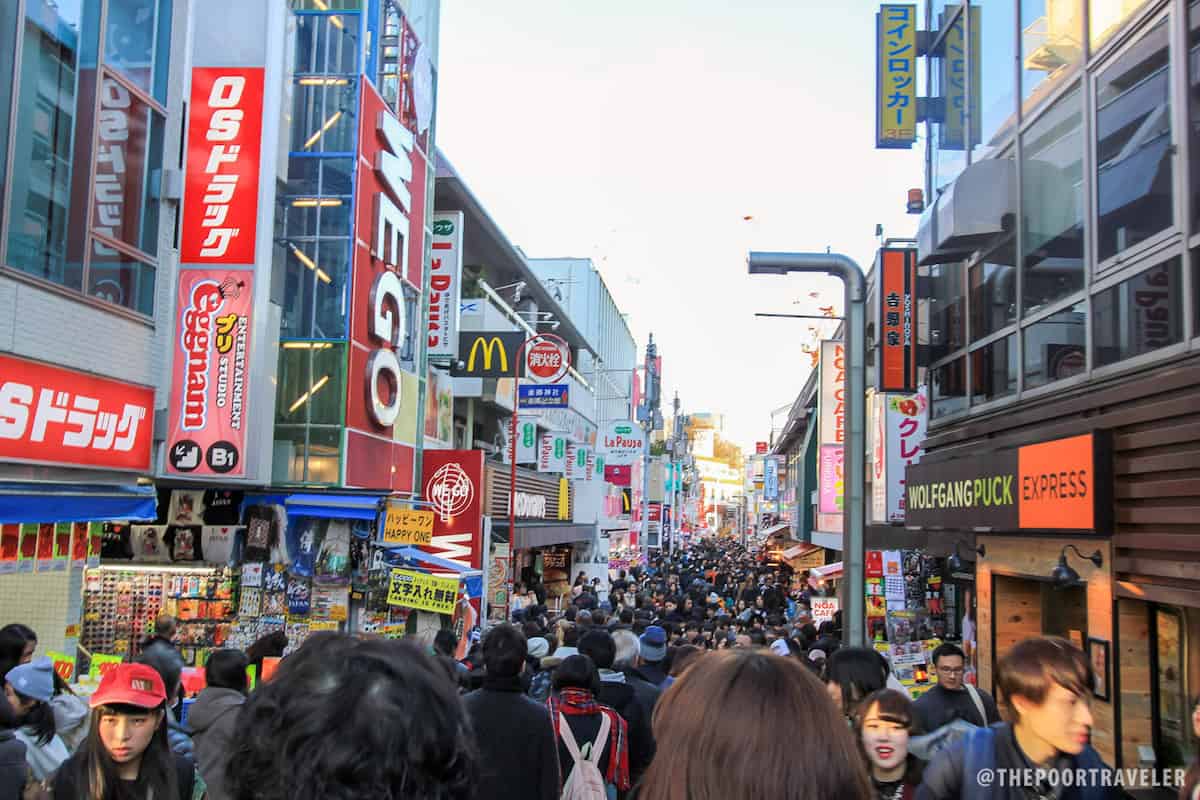 The epicenter of Tokyo's teenage culture and an extremely popular shopping street flanked with boutiques and restaurants.
Admission Fee: FREE
Nearest Station: Harajuku (JR Yamanote Line)
Meiji Shrine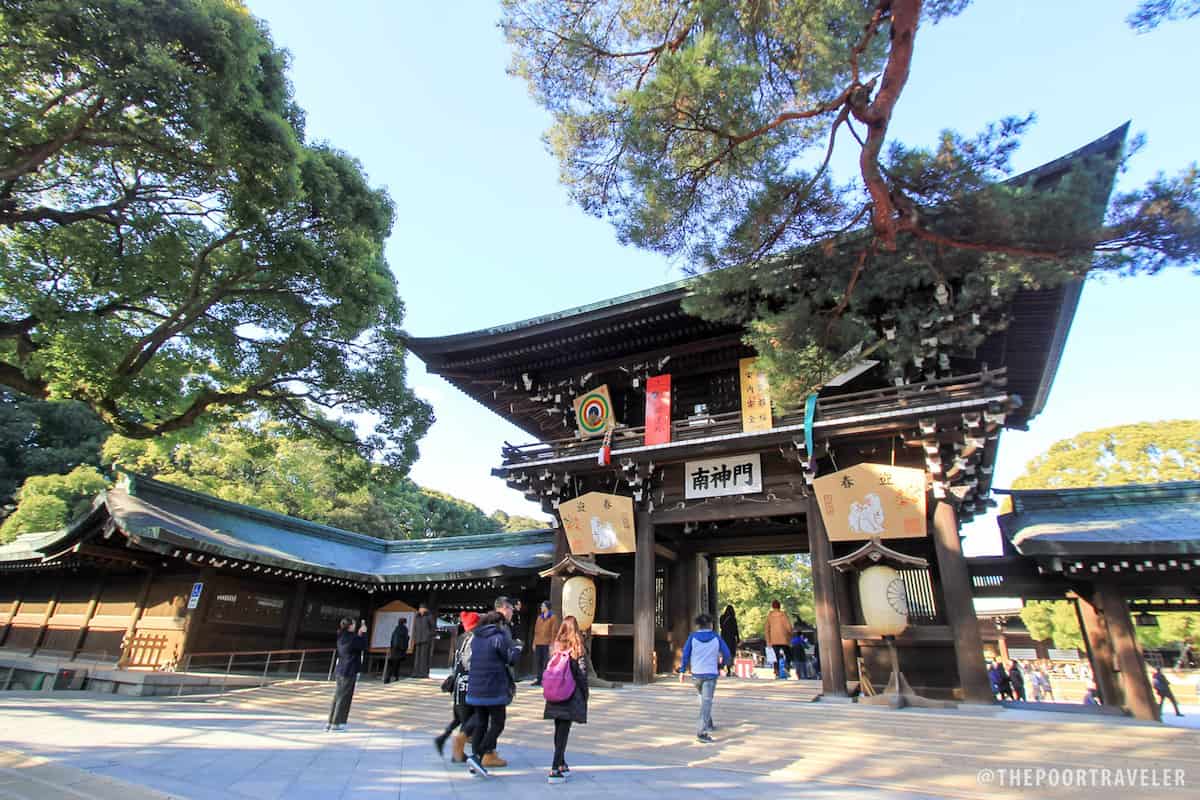 A Shinto shrine completed in 1921 in honor of Emperor Meiji and Empress Shōken
Admission Fee: FREE. However, the teahouse garden tucked next to it charges ¥500 per person.
Nearest Station: Harajuku (JR Yamanote Line)
Yoyogi Park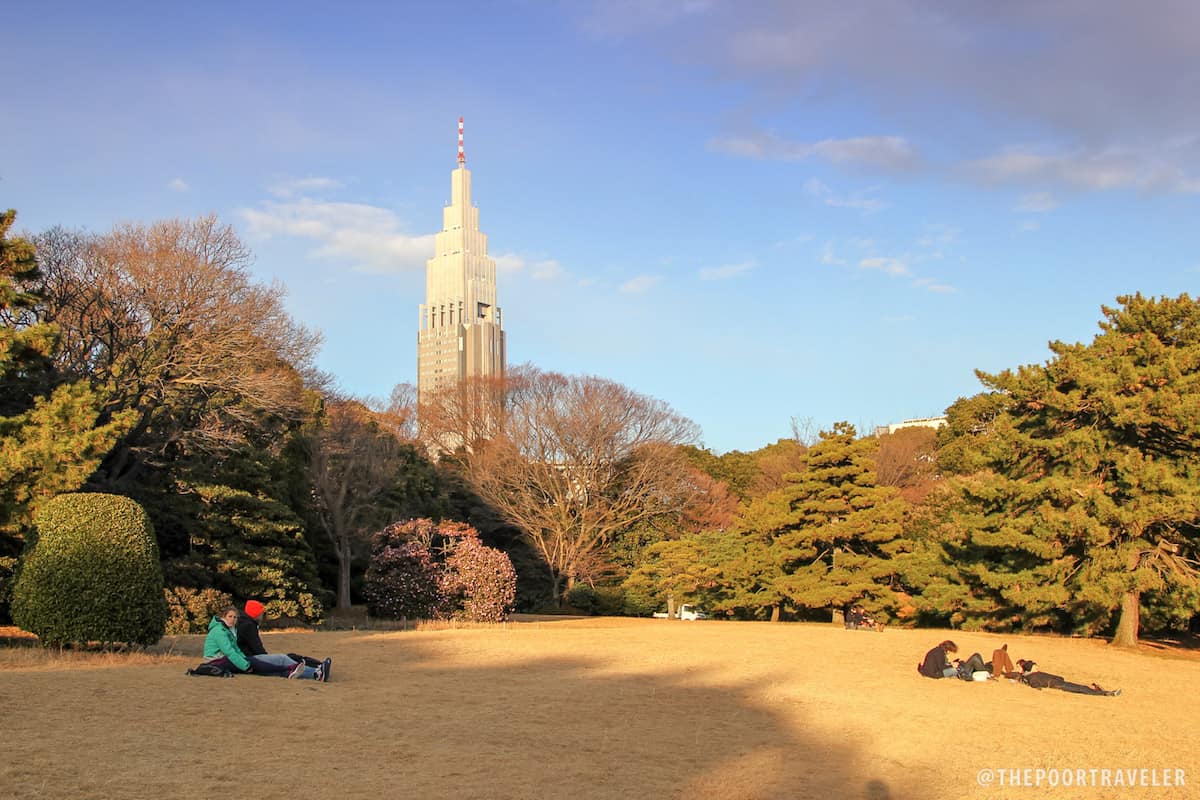 Where locals meet and socialize, play sports, dance or just hang. There are cherry blossoms here, too, but not as many as those in other parks.
Admission Fee: FREE
Nearest Station: Harajuku
Shibuya Crossing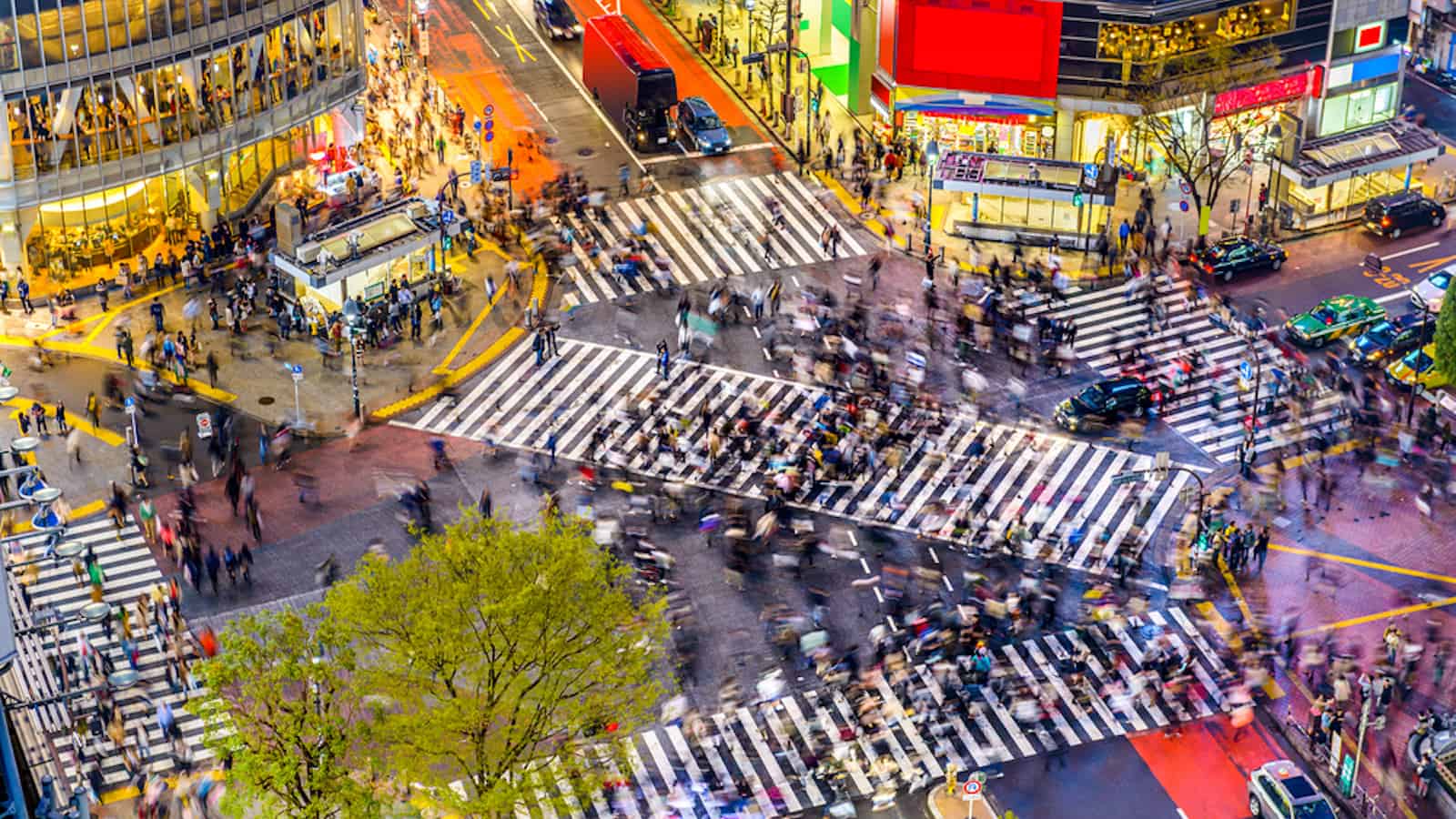 Many consider this the world's busiest intersection. It still baffles me how an intersection became a famous tourist spot, but hey whatever floats your boat. One thing I love doing here though is watch people. Get a seat at nearby Starbucks and go for it. And oh, the statue of Hachiko, the faithful dog, is just in front of Shibuya Station. You'll know you're there when you see a crowd building up for their turn to take a photo.
Admission Fee: FREE
Nearest Station: Shibuya
The Imperial Palace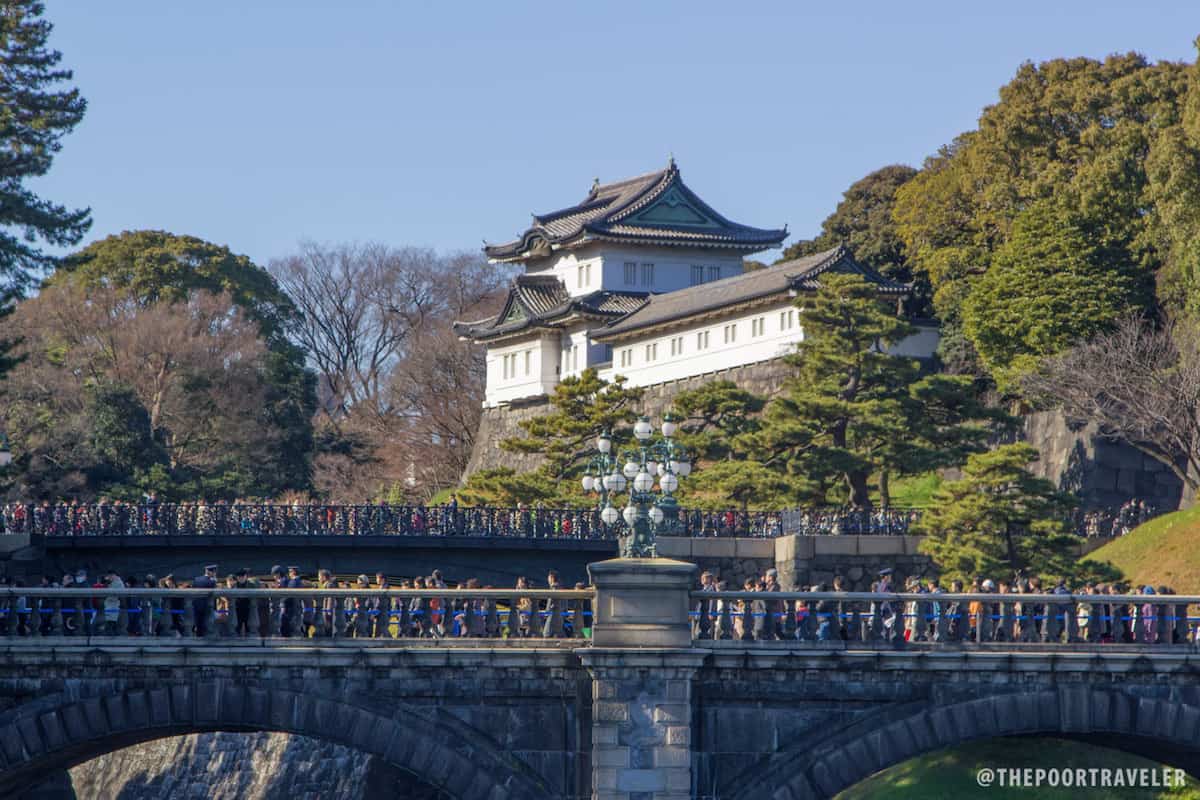 It remains the official residence of the Imperial Family. Located at the site where Edo Castle used to stand, the Imperial Palace sits at the center of a large park, scribbled with wide green moats and colossal stone dykes. On January 2 and December 23, the Emperor makes an appearance and greets the audience throughout the day.
Nearest Stations: Otemachi Station (Exit D2), Nijubashi-mae Station (Exit 6), or Tokyo Station (Marunouchi Central Exit).
Ueno Park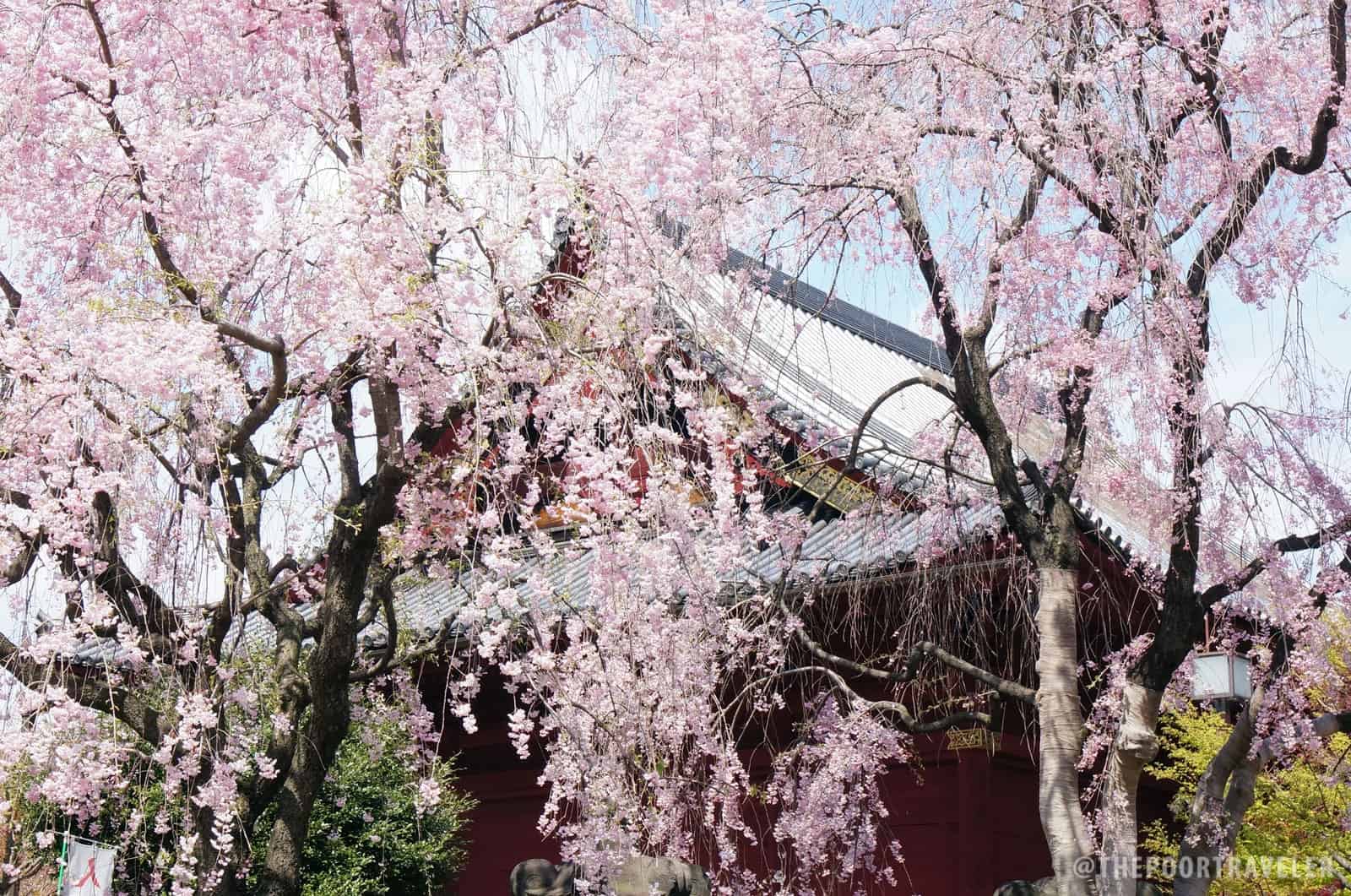 It is surrounded by several museums including the Tokyo National Museum, the Tokyo Metropolitan Art Museum, the National Science Museum, and the National Museum for Western Art, and temples including Kaneiji Temple and Kiyomizu Kannon Temple. But Ueno Park is most popular during sakura season! The park nurtures 1000 cherry trees flanking its main pathway.
Admission Fee: The park itself is FREE, but charges apply if you enter the museums.
Nearest Station: Ueno
Akihabara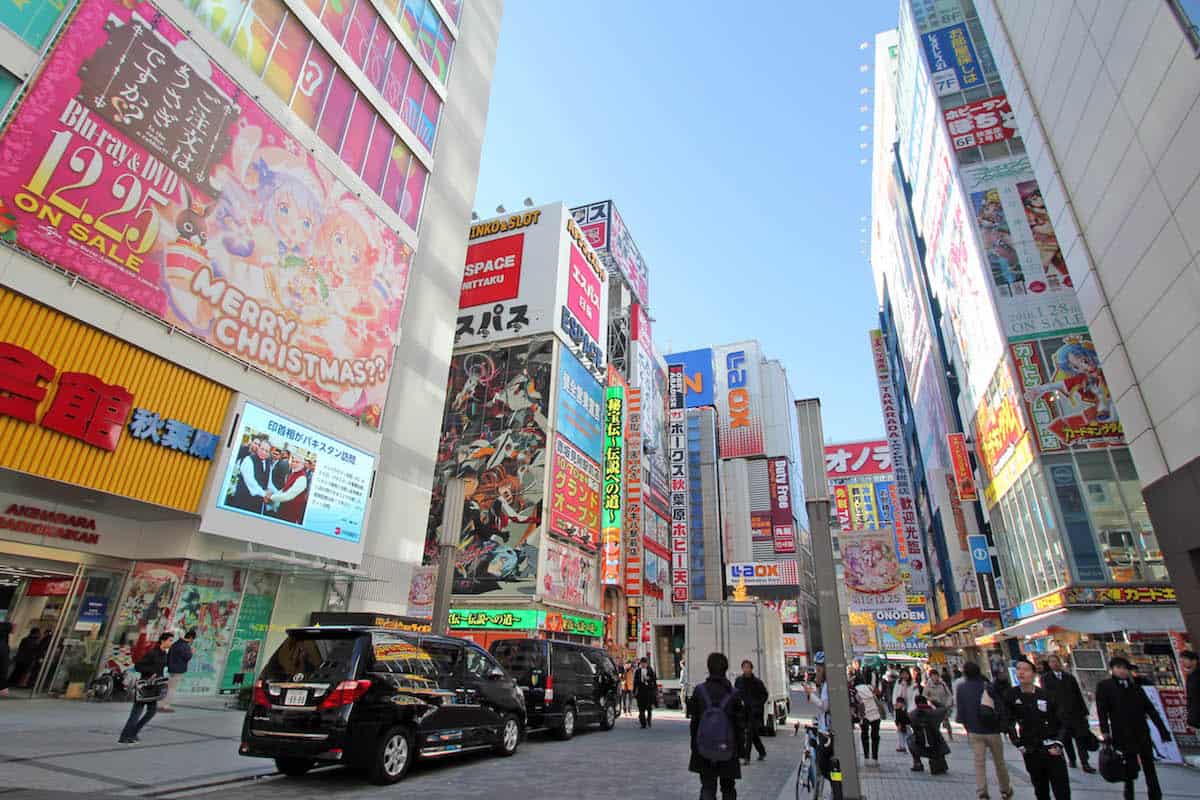 The otaku's ultimate mecca and Tokyo's quirkiest destination. Here you'll find several electronic stores, manga shops and cafes, maid cafes, Gundam Cafe, Tokyo Anime Center, and a 7-story sex shop.
Nearest Station: Akihabara
Odaiba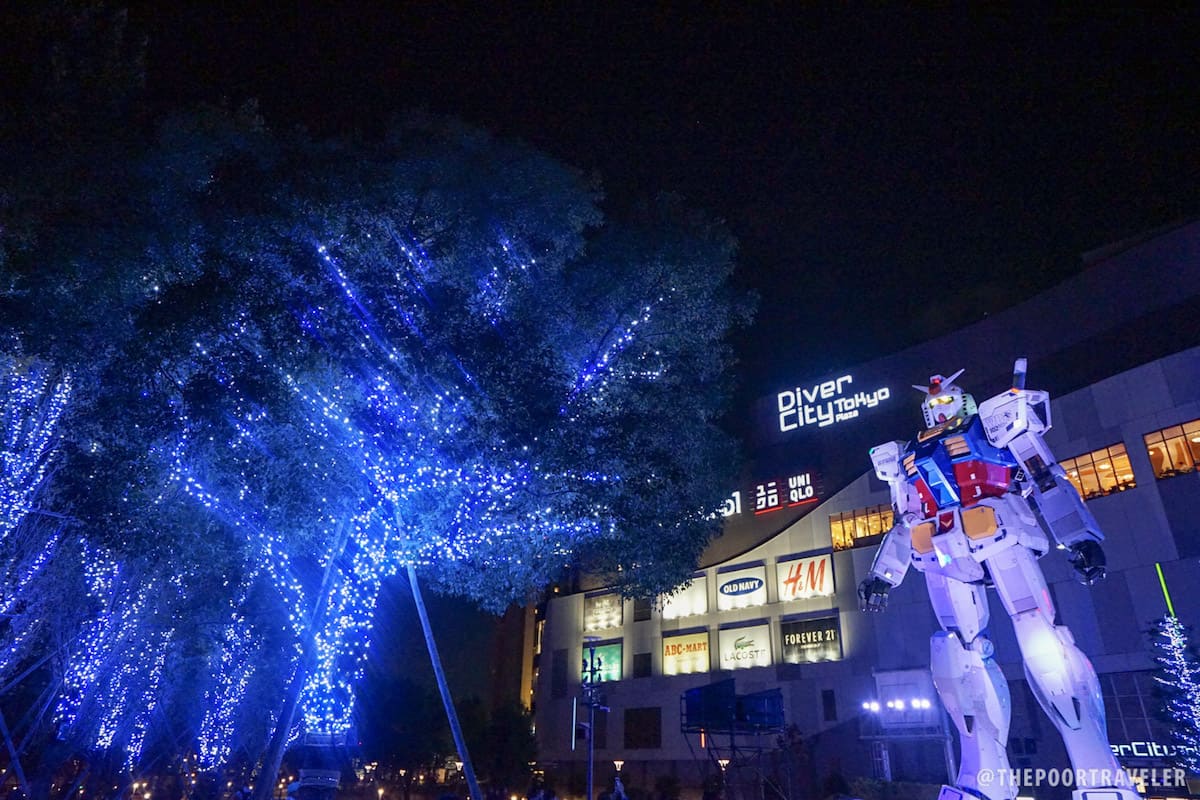 Composed of man-made islands off the coast of the city. Attractions here include a view of the iconic Rainbow Bridge, the giant Gundam statue, Fuji TV Building and Leisureland (with a giant arcade, haunted house, ninja illusion house, bowling alleys and more). It's also a shopping haven with malls like DiverCity Tokyo Plaza and AquaCity, which also houses a ramen theme park on its 5th floor (offering a taste of varieties of ramen from different parts of Japan).
Nearest Station: Daiba
Other Attractions
Ghibli Museum, which showcases the work of Studio Ghibli, the Japanese animation studio that produced unforgettable movies like Spirited Away and My Neighbor Totoro and was co-founded by Hayao Miyazaki. You need to book in advance as they don't sell tickets at the museum.
Book here: Lawson Ticket
Admission Fee: ¥1000 adult, ¥700 for ages 13-18, ¥400 for ages 7-12, ¥100 for ages 4-6, FREE for under 4yo
Nearest Station: Mitaka (JR Chuo Main Line)
Ryōgoku is the sumo neighborhood of Tokyo. Here stand the Kokugikan sumo stadium and Sumo Museum. The stadium is where the three Tokyo tournaments are held in January, May and September, each running for 15 days. Although limited number of same-day tickets are available, it is best too book in advance on their official website. General Admission Ticket costs: ¥2200. If there are no sumo tournament at the time of your visit, you may still check out the Sumo Museum. Open Monday to Friday, 10:00 to 16:30. Closed on weekends and national holidays.
Admission Fee: FREE
Nearest Station: Ryōgoku (JR and Toei)
Tokyo Metropolitan Goverment Building (aka Tokyo City Hall, Tōkyō Tochō) has FREE observation decks that provides one of the best vistas of the city. From you can see the Tokyo Tower and the SkyTree! This is the one I recommend because I believe that the best view of Tokyo isn't FROM the Tokyo Tower or SkyTree but has either of these structures in the frame. You can even see Mt. Fuji on a clear day! And did I mention it's FREE.
Nearest Station: Tocho-mae Station (Oedo Subway Line)
Unique Tokyo Tours
If you're after comfort and convenience, you may also choose a group tour and experience some of Tokyo's unique attractions.
Robot Restaurant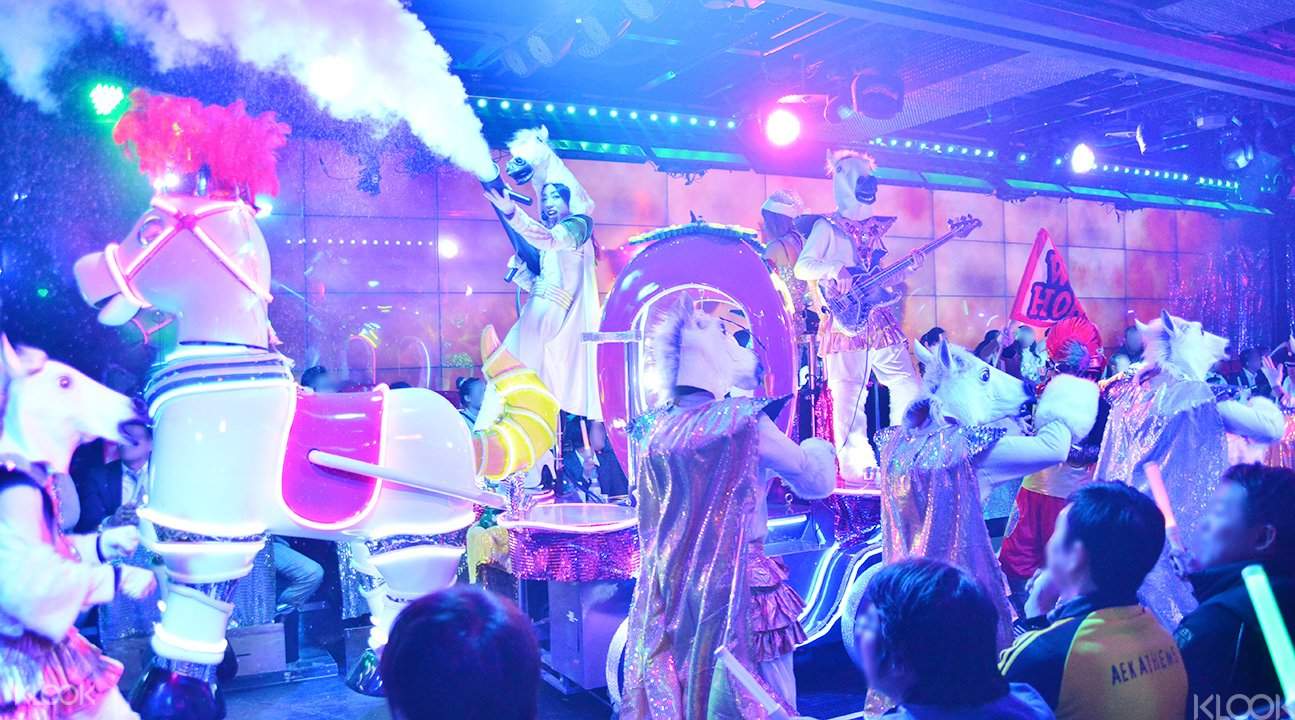 Be entertained by high-tech laser displays and high-energy robot shows! Food is not included in the rates, but if you book the first performance (4:00pm) on a Saturday or Sunday, you'll get a JPY500 drink coupon and photo op with the Robots for FREE!
BOOK THIS TOUR
Tokyo Dinner Cruise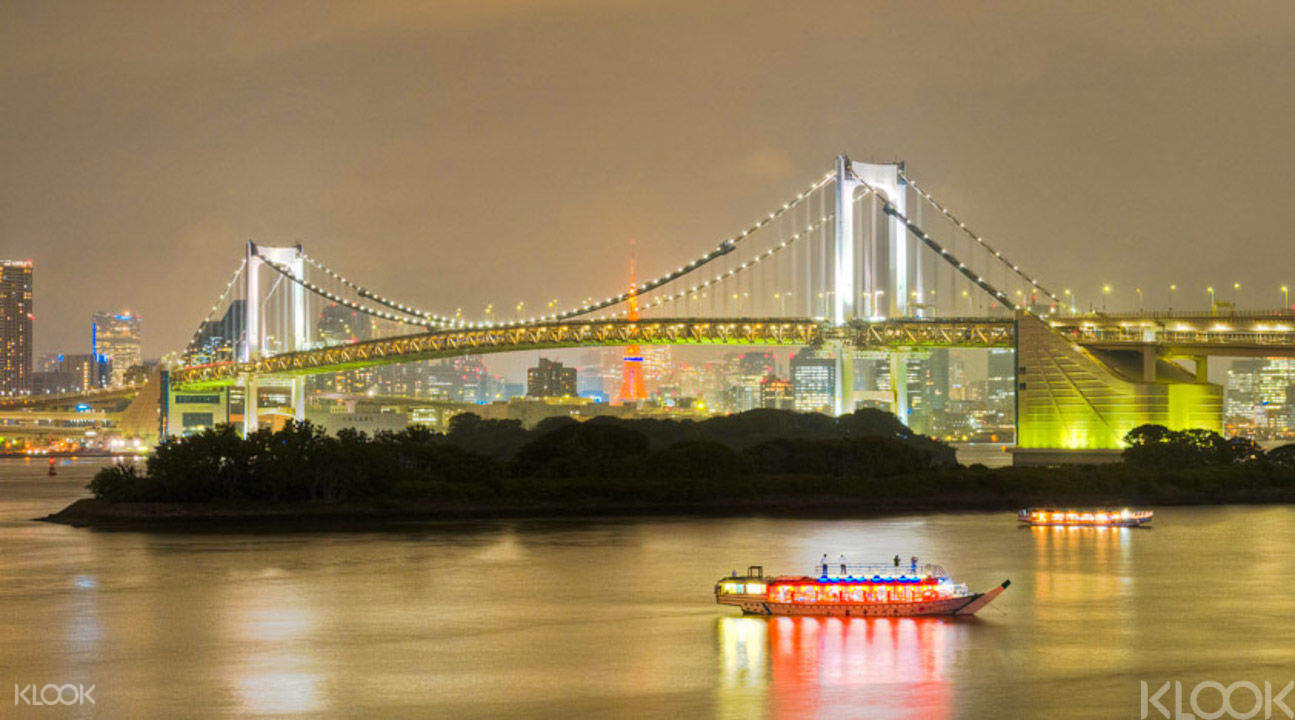 Perfect for couples celebrating a special occasions! This will treat you to a full-course meal as you admire Tokyo Bay's majestic city lights!
BOOK THIS TOUR
Tokyo Kimono Rental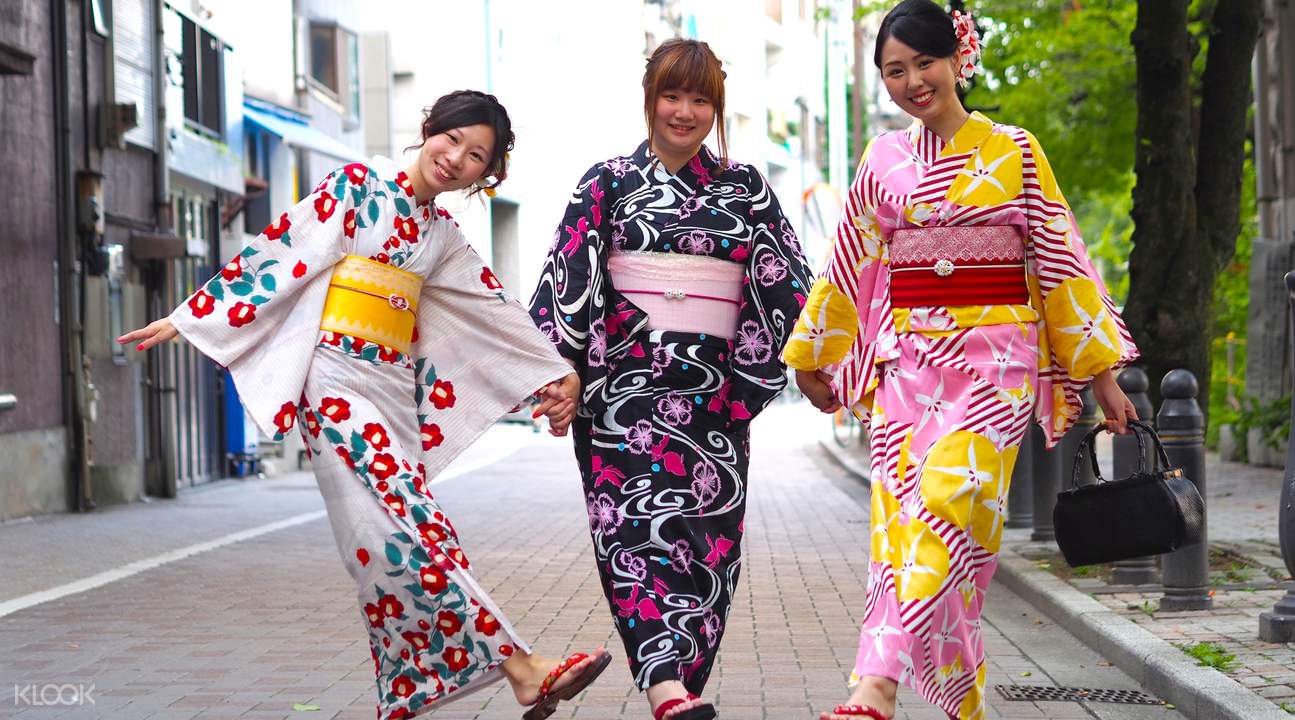 Wear an authentic kimono or yukata! They will also style your hair appropriately. Once you're all set, you can explore the streets of Asakusa and go selfie-crazy! Kimono units must be returned before 4:30pm, though.
RESERVE A KIMONO HERE
Sumo Practice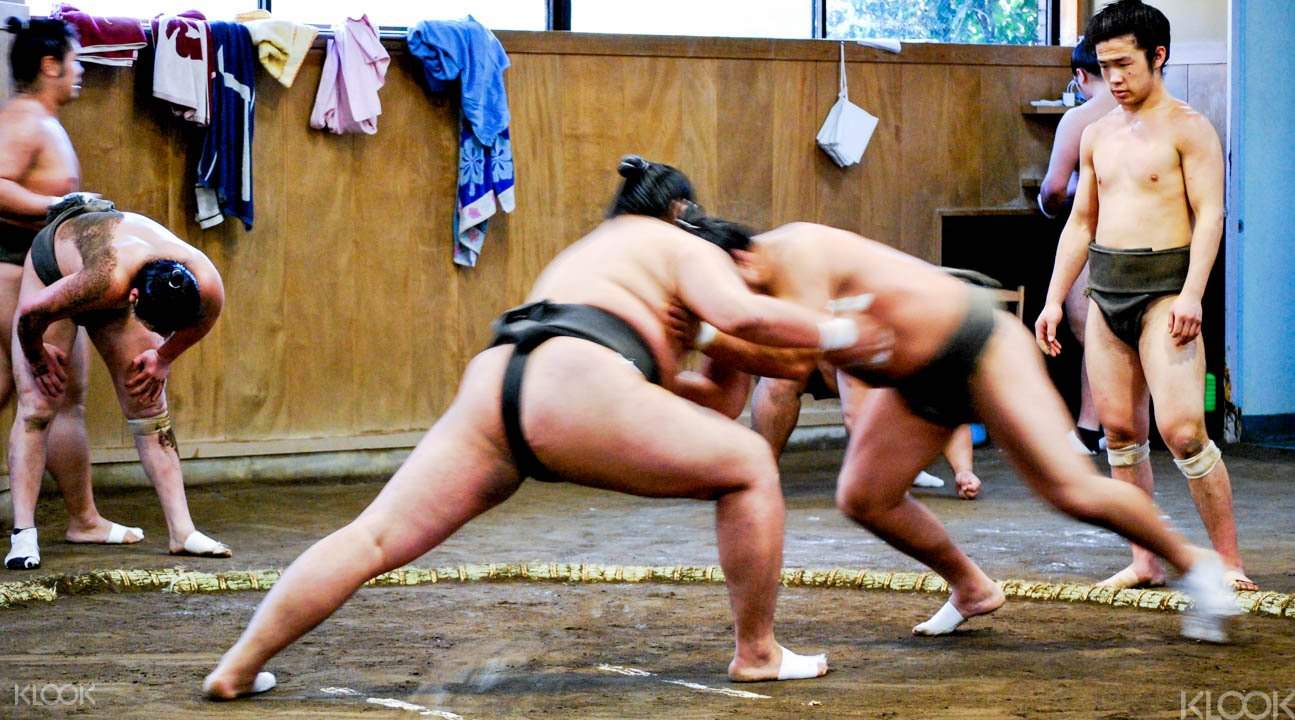 Get a closer look at the sumo wrestlers' morning practice for 2 hours while learning more about this Japanese sport! This small group tour is done in English for you to appreciate it better.
RESERVE A SLOT NOW
Day Tours Outside Tokyo
Outside of Tokyo but easily accessible are several destinations that may be worth your time, although a trip may set you back a few thousand yen. If you can't visit all of these, I highly recommend to pick the best at the time of your visit. For example, I went to Lake Kawaguchi in December because I also wanted to ski on the slopes of Mt. Fuji. If I visited during summer, it would have been closed.
Anyway, here are some suggestions. I'll be writing a separate article for each of these so I could discuss them in detail.
Hakone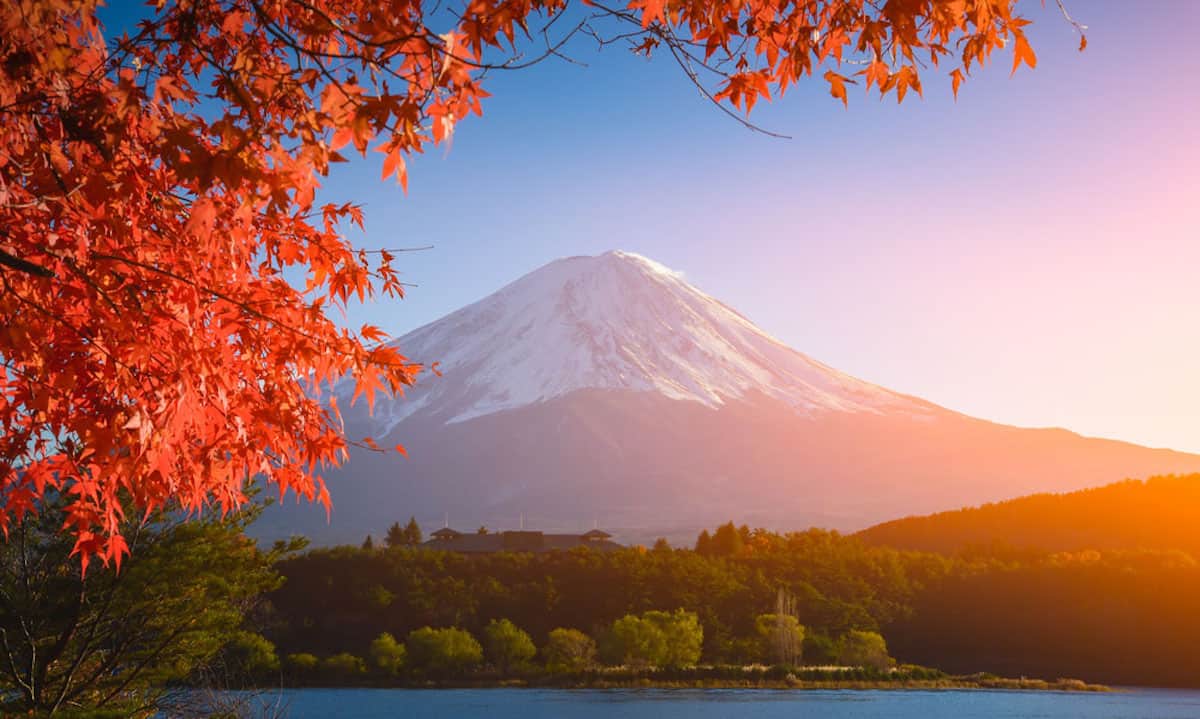 Hakone offers a closer look at Mt. Fuji. Located 100km from Tokyo, it is one of the favorite day tours among foreign tourists staying in Tokyo. It is part of the Fuji-Hakone-Izu National Park, whose map is shaded with hot springs!
How to get there: From Shinjuku Station, take the train to Hakone-Yumoto Station (2 hours, ¥1190). There are faster trains that could take you there for only 85 minutes but costs ¥1190.
You can also join a group tour! The tour comes with hotel pick up and FREE unlimited wifi! It will allow you to do the following:
Enjoy a fantastic view of Mt. Fuji
Cruise around Lake Ashi
Take a 50-minute ropeway up Mt. Komagatake
JOIN THIS TOUR
Kamakura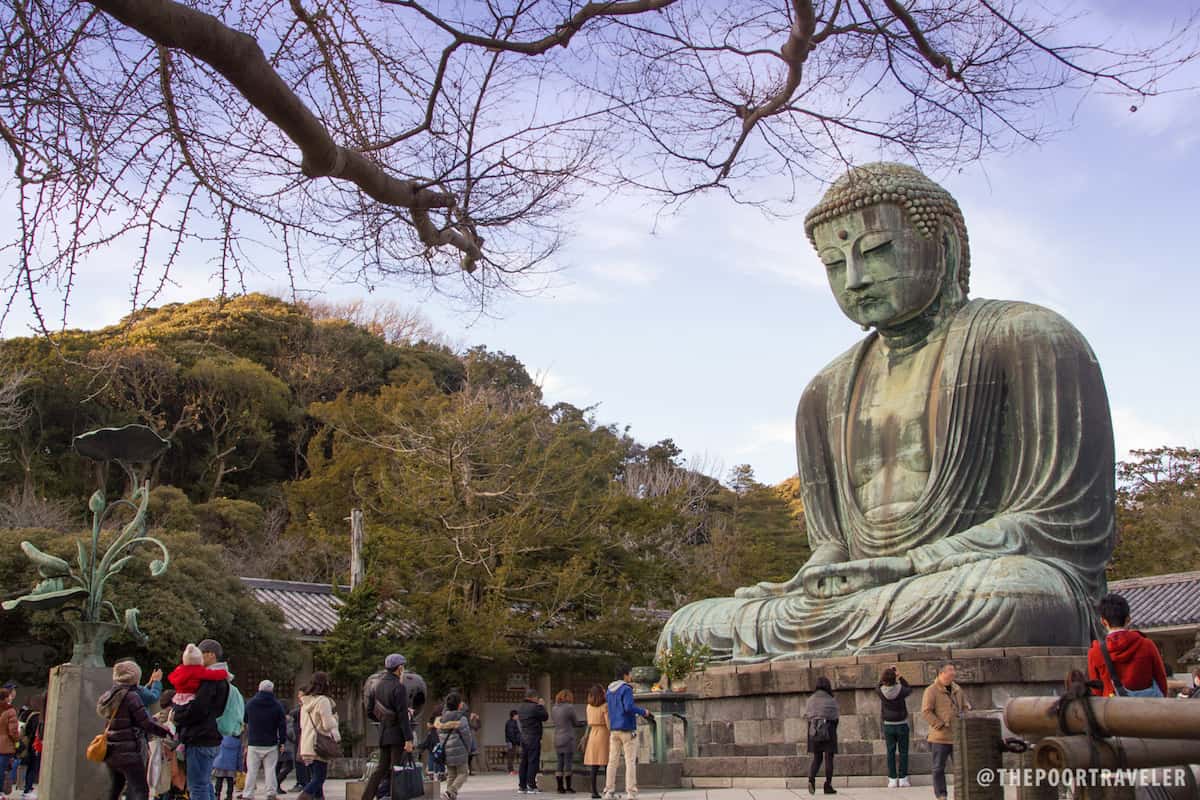 Kamakura is often called the Kyoto of Eastern Japan because of its countless shrines, temples, and monuments including a giant bronze statue of Buddha. I also did a bit of trekking in its mountains and had my first glimpse of Mt. Fuji along the way. Kamakura was also home to the greatest samurai swordsmith named Masamune, whose descendant Tsunahiro Yamamura (Masamune XXIV) has been carrying the 700-year sword-making tradition and showcasing it at Masamune Sword and Blade Workshop, which you can visit. You may also buy souvenirs at a 100-year-old sword shop here called Sankai-do.
How to get there: From Tokyo Station, travel by train to Kamakura Station (1 hour, ¥920)
Lake Kawaguchi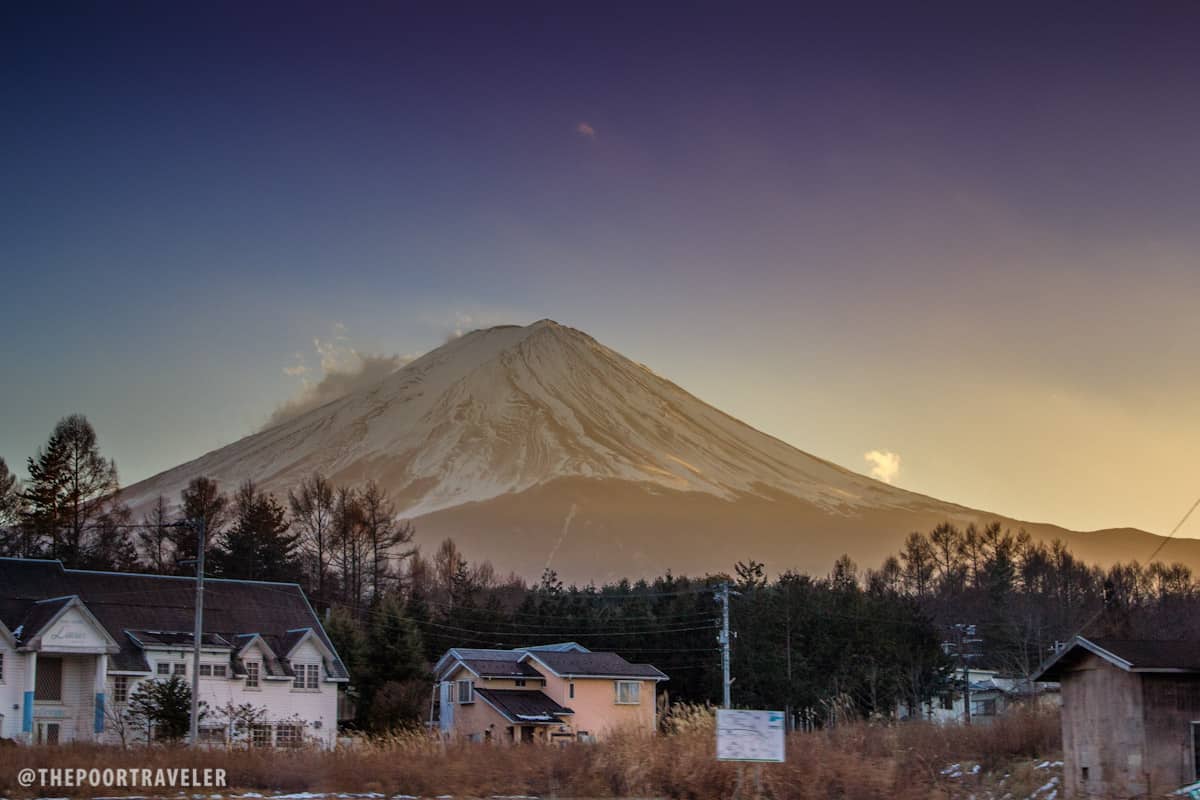 Kawaguchiko is the second largest, the most popular, the most developed, and the most easily accessible of the Fuji Five Lakes. Located in Yamanashi, it is one hour and 20 minutes away from Tokyo's Shinjuku Station by direct express train, and two hours by bus or local train. The town is part of the Fujisan Cultural Site, inscribed as a UNESCO World Heritage Site in 2013. From here, you can have a great view of Mt. Fuji. It is also a jump off point for Fujiten Ski Resort, one of the only two resorts on the slopes of Mt. Fuji itself.
How to get there: From Shinjuku Station, take the bus to Kawaguchiko (2 hours, ¥1700, one-way) and Tokyo Station (3 hours, ¥1700, one-way). Visit the Fujikyu Bus official website for the schedule and other details.
Hitachi Seaside Park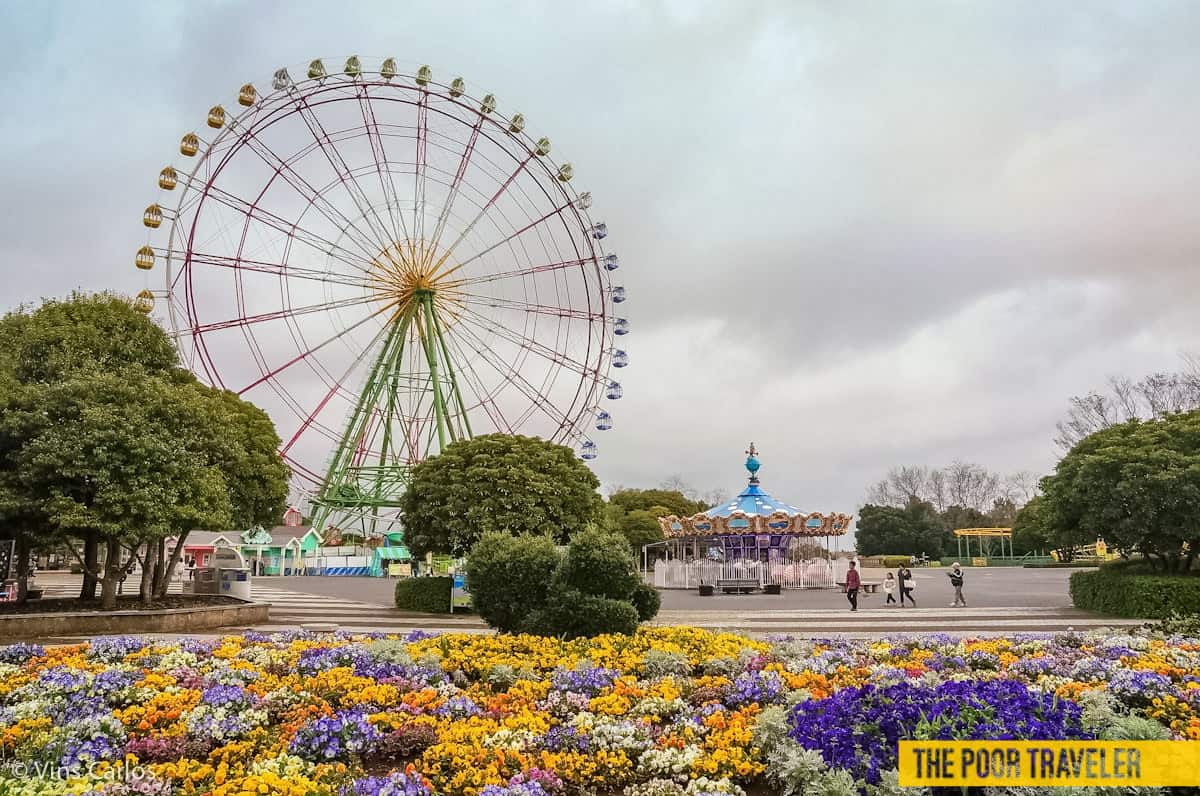 This is a 190-hectare garden with flowering plants, taking turns in painting colors to the landscape: nemophila, rose, and zinnia in summer; cosmos and kochia in autumn; narcissuses, tulips, and azaleas in spring. My blogging partner Vins visited in early spring so the flowers weren't in full bloom. Hahaha. Don't make that mistake. Check out their website to confirm the best times to visit.
How to get there: From Tokyo/Ueno, take the train to Katsuta Station (¥2270, 70-80 minutes). Take the Ibarakikotsu Bus to Hitachi Seaside Park (15-20 minutes).
Yokohama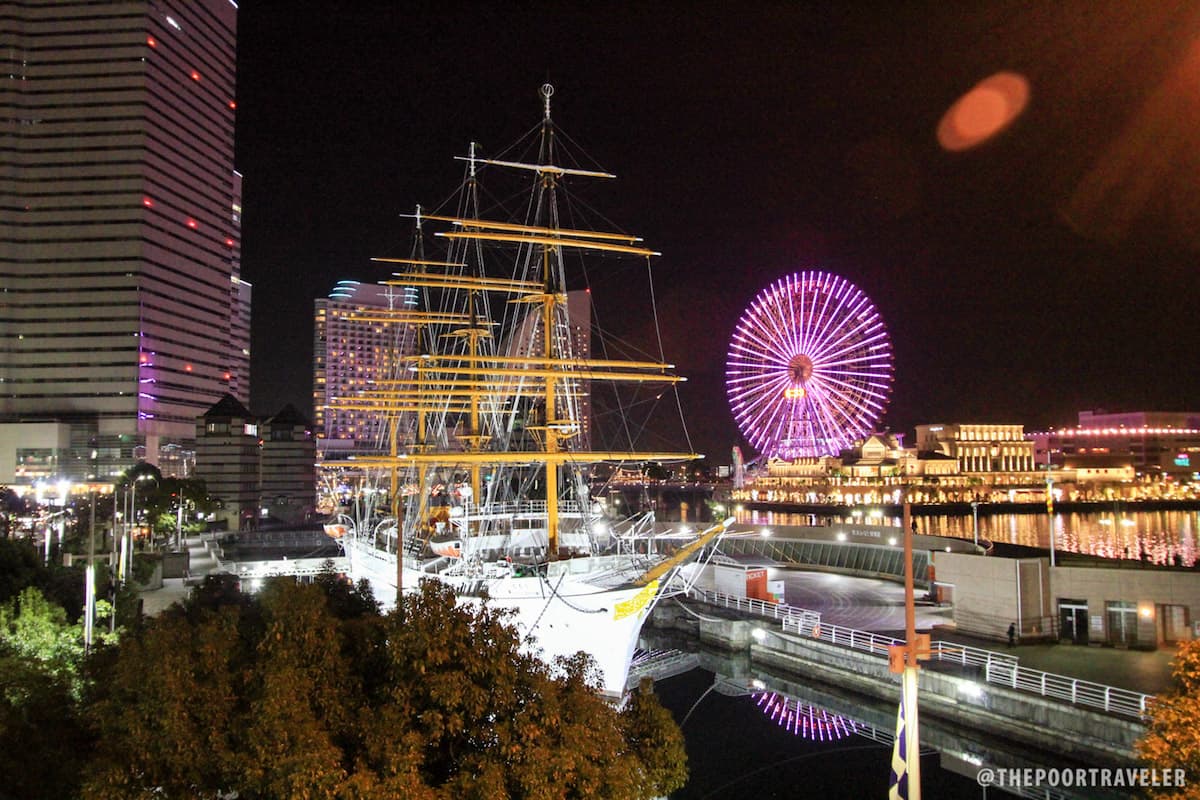 Yokohama is Japan's second largest city. It's also just half an hour from Tokyo. I've been to Yokohama twice now and I enjoyed both times, especially because (1) I love ramen and (2) I love arcade games. The Shin-Yokohama Ramen Museum and Cup Noodles Museum are both located here. I also adore walking around the Minato Mirai area, especially Cosmo World. The thing with arcades here is that it is easy to win prizes.
How to get there: Use the Tokyu Toyoko Line and board the Express or Limited Express train to Yokohama Station or Minato Mirai Station.
Where to Eat Cheap in Tokyo
It is impossible to talk about Tokyo without a mention of its food. The Japanese take their food very seriously. It has more Michelin-star restaurants than any other city in the world (although most of them are pricey and require reservations months in advance).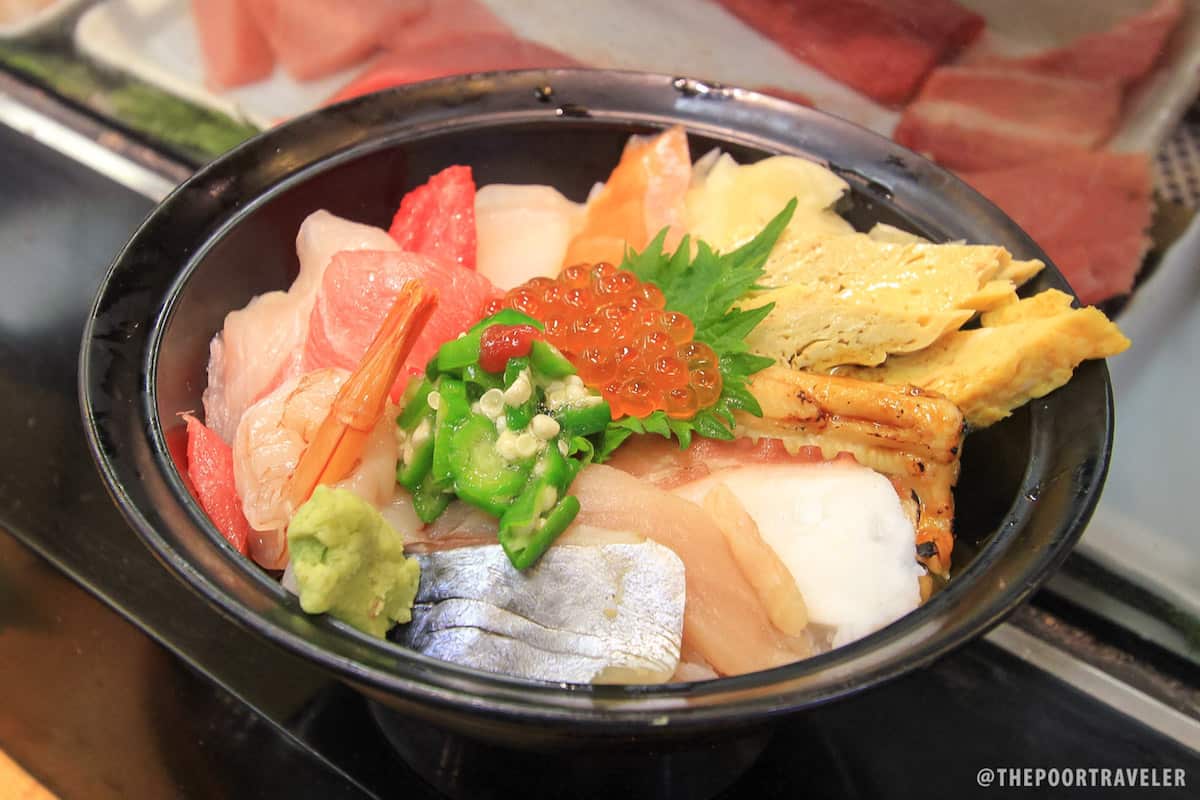 Unless you're cooking, the easiest way to save money on food is to hit the supermarket. Japanese supermarkets sell not just raw ingredients but also cooked ones that you can simply heat or eat right away. Convenience stores serve good meals, too.
But you probably didn't go to Tokyo just to raid their supermarkets and convenience stores (not that something's wrong with that, if that's your thing). Even if you're running on limited fuel (money!), you can still eat out! Here are some of the city's more-than-good but (relatively) affordable food places. I'll be writing a more detailed post about this, but here's a short summary.
Nonbei Yokocho (aka Drunkard's Alley), a lane of wooden shack bars and bistros tucked away from the main streets of Shibuya. The bars here are so small, some of them can accommodate only four people at once. The best way to go about this is to just find one with a free space, eat and drink your heart out, exit and move to the next door.
Address: 1-25-10 Shibuya, Shibuya-ku
Nearest Station: Shibuya
Ebisu Yokocho, also a foodie neighborhood in Shibuya, has a good collection of izakaya and small bars offering sashimi and grilled meat, among others. You can try the sashimi plate of Saiki or the shio ramen of Afuri.
Address: Ebisu Nishi, Shibuya-ku
Nearest Station: Ebisu
Tsukiji Fish Market isn't just a place to buy raw seafoods. It's surrounded by countless sushi bars, the most popular of which are Daiwa Sushi and Sushi Dai. Prepare to shell out a bit more because good sushi doesn't come cheap in Tokyo, especially if they're as fresh as the ones served here. A 7-piece serving of nigiri sushi costs ¥2500 and 10-piece omakase sushi from ¥4000. Some queue up before sunrise just to secure a seat. There are seafood kiosks, too! You can try seared scallops, grilled fish, or fresh oysters as you walk around.
Ichiran is a food chain specializing in tonkotsu ramen. They have several branches throughout Tokyo, and almost all of them have a long queue of hungry patrons during meal times. A Forbes article claims it's the best ramen in Tokyo. I don't agree, but it's really good. My first time was when my sister brought me to the Ichiran branch in Ueno. My second time was when I was walking around Shinjuku and found saw a long queue. I didn't know what they were falling in line for but when you see a queue in Tokyo, you join. Chances are, you're in for good food. Anyway, it turned out it was a queue for Ichiran. What makes eating here unique isn't just the food but the experience. Each diner is given their own space, guaranteeing some sort of privacy while you eat.

Ichiran Tonkotsu Ramen

Ippudo is another popular chain serving tonkotsu-based ramen. It's incredibly popular that it has branched out to other countries like Singapore, Korea, and the Philippines. Many claim it's better than Ichiran. No shade, but Ichiran is miles better for me. Still good, though.
Kaotan Ramen has been serving simple yet delicious shoyu ramen at their rundown, cozy shack for many decades now.
Menya Hanabi in Shinjuku is famous for their maze-soba (¥780), which is noodles with minced pork and beef, nori, spring onions, and topped with egg yolk.
Address: 2-8-16 Okubo (Cosmos Bldg., Shinjuku)
Nihon Saisei Sakaba's selection is for the more adventurous eater. They serve pig entrails for ¥150-200 per skewer.
Address: 3-1-1 Nishishinjuku (Beside KDDI Bldg, Shinjuku)
Tsukemen Michi (or Tsukemenmichi) in Kameari is not for those on a healthy diet. Their signature tsukemen is greasy and high in fat, but that doesn't stop people for queuing up just to get their lips around their noodles.
Address: 5-28-17 Kameari, Katsushika
Harajuku Gyoza Lou (aka Harajuku Gyoza-ro) has a very limited, straightforward menu: gyoza dumplings, bean sprouts with minced meat, cucumber with miso soup, cabbage. But of course, most people come here for the gyoza, which is either steamed or fried, original or with garlic and leeks. I always stop by this place and have two plates. A serving of gyoza has 6 pieces and costs ¥200. There's always a line here, too, so prepare to wait a bit.
Address: 6-2-4 Jingumae, Shibuya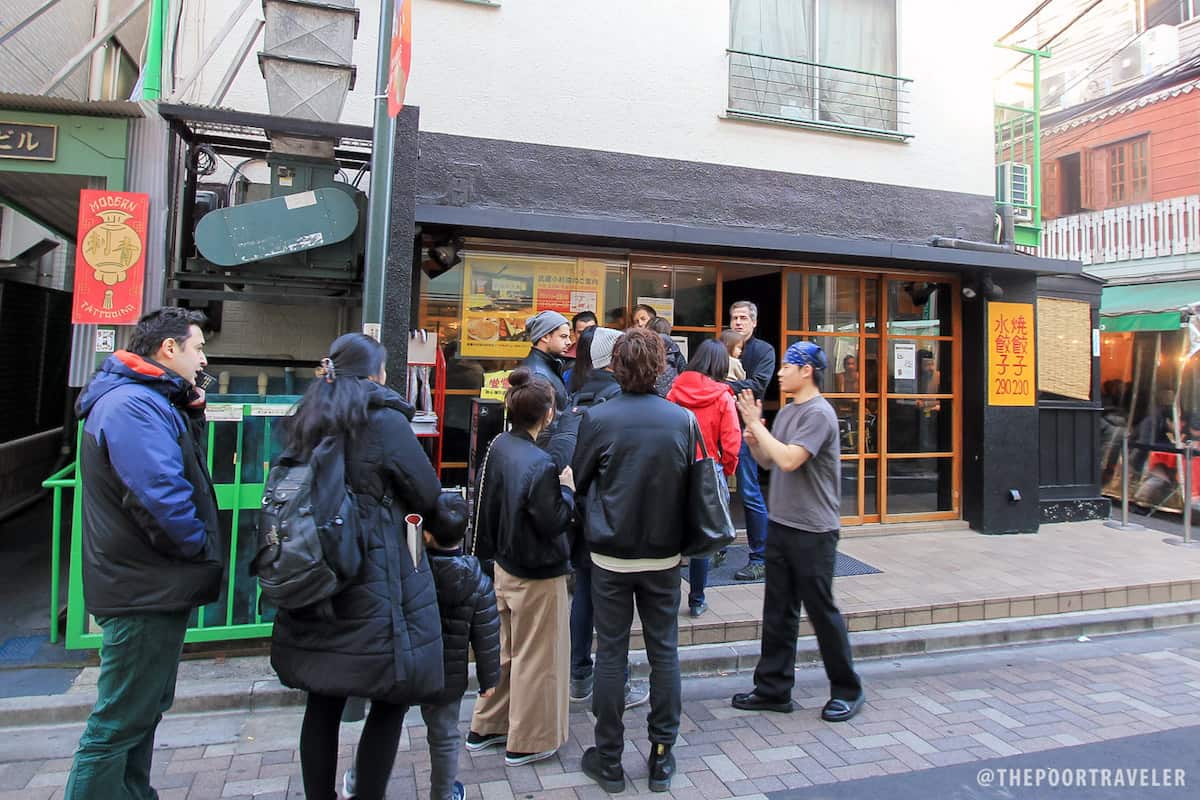 Also, if you want to try other food chains, go ahead. You might be in for a surprise. I was so reluctant to enter Yoshinoya because I'm just not a fan of the one we have here in the Philippines, but maaaaan, Yoshinoya in Japan tastes so different. Their unadon (unagi or eel on rice bowl) almost made us miss our flight, haha.
There are other cheap food places too. If you see something that catches your attention while you're walking around, don't be shy. A lot of these sort-of "nameless" restaurants can be a highlight of your trip. While in Itabashi, we found this small ramen place that serves amazing miso ramen at Y500. Didn't catch the name, though.
And like I said, if you see a line, join the fun. Locals don't mind spending minutes queueing if they know that what's at the end of the line is worth it.
Where to Shop in Tokyo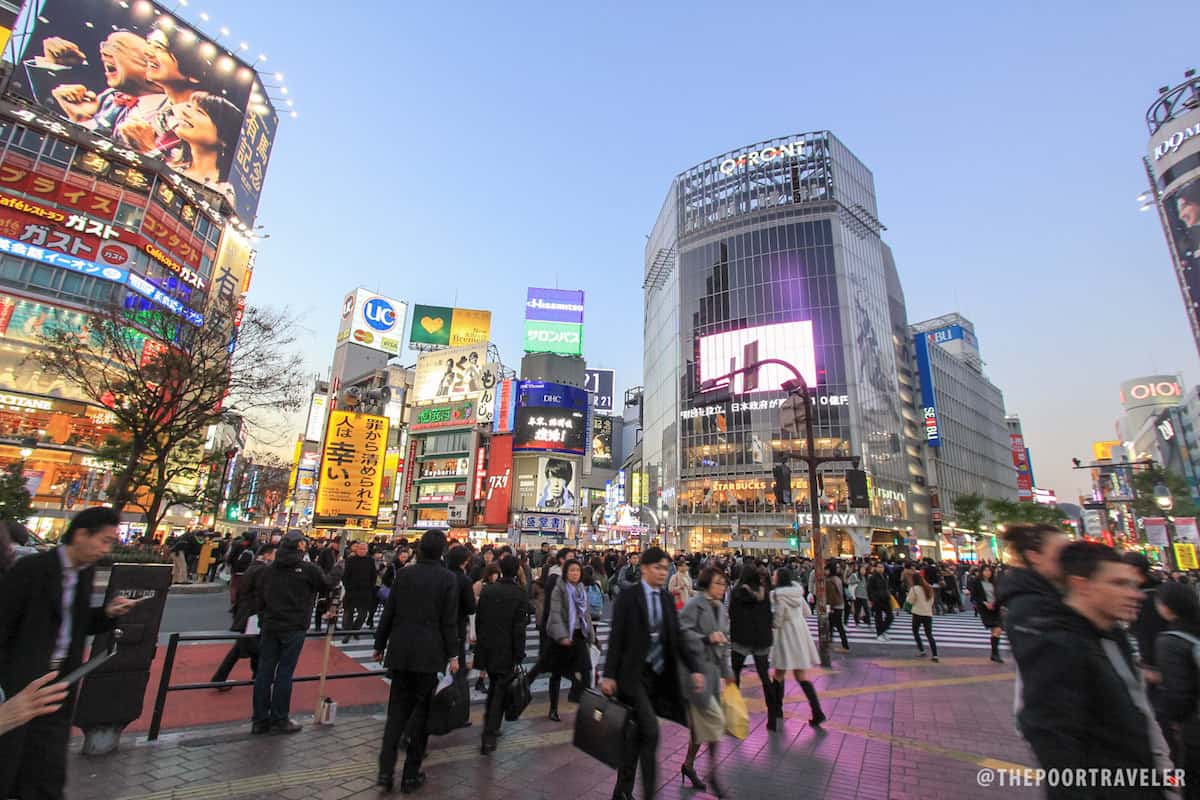 We created a separate post for this.
Read it here: 10 Places to Shop in Tokyo
Sample Tokyo Itinerary with Breakdown of Expenses
To save time, energy, and money, build your itinerary well. Visit attractions close to each other on the same day. For example, the Meiji Shrine, Harajuku, Yoyogi Park, and Shibuya Crossing area can all be explored on foot in one day.
Here are three sample 6D/5N itineraries. Note that the first two assume that you are a pair and will be splitting the cost, and that you will be staying in a double/twin room at Hotel Mystays Ueno East during the off-peak season. Option 3 assumes you'll be staying at a capsule hotel in Ueno.
I included a visit to the supermarket on the first day so you could buy food (bread, drinks, etc) that should be your breakfast for the next five days. It's something I have learned to do when I travel. I also allotted ¥1000 for every unspecified lunch or dinner. That's actually too much. You can find ramen places that offer ¥500-800 per bowl, but I just thought to give it some allowance (for drinks?). There are many other ways to keep the expenses low.
Options 1 includes a day trip to Kamakura. If you prefer another day tour destination, just replace that one day and adjust the cost accordingly. None of these include shopping budget and other miscellaneous expenses.
OPTION 1: TOKYO WITH DISNEYLAND + KAMAKURA + YOKOHAMA
Pre-trip Expenses
Hotel Booking – USD 210 (USD 84 x 5 nights, divided by 2pax) or ¥24,625
Day 1: ARRIVAL
10:30am – Airport to Tokyo – ¥1030
12:00nn – Check-in or drop baggage
01:00pm – Lunch at Ichiran – ¥980
02:30pm – Ueno Park + Tokyo National Museum – ¥620
08:00pm – Hit supermarket for breakfast provisions – ¥3000
09:00pm – Sleep! Early day tomorrow!
Day 2: TSUKIJI + SHINJUKU + AKIHABARA
05:00am – Ueno to Tsukiji-Shijo – ¥280
06:30am – Sushi Breakfast – ¥2500
08:00am – Walk around Tsukiji Market
11:00am – Travel to Shinjuku – ¥270
11:30am – Quick bite – ¥500 budget
12:00nn – Shinjuku Gyoen + Shinjuku Shopping
04:00pm – Shinjuku to Akihabara – ¥170
04:30pm – Explore Akihabara + Dinner – ¥1000 budget
08:00pm – Walk back to Ueno through Ameyoko
Day 3: SHIBUYA
08:00am – Ueno to Harajuku Station – ¥200
08:30am – Meiji Shrine & Yoyogi Park – FREE
11:30am – Takeshita Dori (Harajuku) – FREE
01:00pm – Light Lunch at Harajuku Gyoza Ro – ¥1000
03:00pm – Shibuya Crossing + Hachiko + shop around
07:00pm – Nonbei or Ebisu Yokocho – ¥2000
09:30pm – Back to Hotel
Day 4: KAMAKURA + YOKOHAMA
07:00am – Ueno to Kamakura – ¥920
08:30am – Hike
11:00am – Packed Lunch (Omusubi) – ¥500
12:00pm – Temple-hopping + Great Buddha – ¥800
03:30pm – Leave for Yokohama – ¥340
04:00pm – Ramen Museum – ¥310 entrance + ¥2000 budget
07:00pm – Minato Mirai (Yokohama)
09:30pm – Yokohama to Ueno – ¥550
Day 5: TOKYO DISNEYLAND OR DISNEYSEA
08:00am – Ueno to Maihama Station – ¥390
08:40am – Disney Resort Monorail – ¥260
09:00am – Disneyland/DisneySea* – ¥7400 + ¥2000 food budget
10:00pm – Monorail to Maihama – ¥260
10:20pm – Maihama to Ueno – ¥390
(Food is allowed into the park)
Day 6: DEPARTURE
10:00am – Check out
11:30am – Tokyo to Narita – ¥1030
This itinerary will cost you a total of ¥55,325 (USD472, PHP23,485).
But this is a jampacked itinerary. Use this only if you have the stamina (haha) and you really want to maximize your stay. I wouldn't do this, to be honest. I would probably just extend my trip to accommodate all these. But I just want to put this option out there just in case you're interested.
Here are more relaxed alternatives:
OPTION 2: TOKYO + DISNEYLAND
This itinerary removes the visit to Kamakura and Yokohama, breaks Option 1's Day 2 apart, and adds a visit to Sensoji Temple.
Pre-trip Expenses
Hotel Booking – USD 210 (USD 84 x 5 nights, divided by 2pax) or ¥24,625
Day 1: ARRIVAL
10:30am – Airport to Tokyo – ¥1030
12:00nn – Check-in or drop baggage
01:00pm – Lunch at Ichiran – ¥980
02:30pm – Ueno Park + Tokyo National Museum – ¥620
08:00pm – Hit supermarket for breakfast provisions – ¥3000
09:00pm – Sleep! Early day tomorrow!
Day 2: TSUKIJI + SHINJUKU
05:00am – Ueno to Tsukiji-Shijo – ¥280
06:30am – Sushi Breakfast – ¥2500
08:00am – Walk around Tsukiji Market
11:00am – Quick bite – ¥500 budget
12:00nn – Travel to Shinjuku – ¥270
01:00pm – Shinjuku Gyoen + Shinjuku Shopping
06:00pm – Shinjuku to Ueno – ¥170
07:00pm – Dinner – ¥1000
Day 3: SHIBUYA
08:00am – Ueno to Harajuku Station – ¥200
08:30am – Meiji Shrine & Yoyogi Park – FREE
11:30am – Takeshita Dori (Harajuku) – FREE
01:00pm – Light Lunch at Harajuku Gyoza Ro – ¥1000
03:00pm – Shibuya Crossing + Hachiko + shop around
07:00pm – Nonbei or Ebisu Yokocho – ¥2000
09:30pm – Back to Hotel
Day 4: SENSOJI + AKIHABARA
10:00am – Ueno to Sensoji (Asakusa) – ¥170
10:30am – Sensoji Temple
12:00nm – Lunch – ¥1000 budget
01:30pm – Asakusa to Akihabara – ¥170
02:00pm – Explore Akihabara + Dinner – ¥1000 budget
07:00pm – Walk back to Ueno through Ameyoko
Day 5: TOKYO DISNEYLAND OR DISNEYSEA
08:00am – Ueno to Maihama Station – ¥390
08:40am – Disney Resort Monorail – ¥260
09:00am – Disneyland/DisneySea* – ¥7400 + ¥2000 food budget
10:00pm – Monorail to Maihama – ¥260
10:20pm – Maihama to Ueno – ¥390
(Food is allowed into the park)
Day 6: DEPARTURE
10:00am – Check out
11:30am – Tokyo to Narita – ¥1030
TOTAL: ¥52,245 (USD445, PHP22,178).
OPTION 3: TOKYO + ODAIBA (CAPSULE HOTEL)
The BUDGET OPTION. This itinerary replaces the pricey Disneyland visit with a day trip in Odaiba and replaces double room with a bed at a capsule hotel.
Pre-trip Expenses
Capsule Hotel Booking – USD 125 (USD 25 x 5 nights) or ¥14,658
Day 1: ARRIVAL
10:30am – Airport to Tokyo – ¥1030
12:00nn – Check-in or drop baggage
01:00pm – Lunch at Ichiran – ¥980
02:30pm – Ueno Park + Tokyo National Museum – ¥620
08:00pm – Hit supermarket for breakfast provisions – ¥3000
09:00pm – Sleep! Early day tomorrow!
Day 2: TSUKIJI + SHINJUKU
05:00am – Ueno to Tsukiji-Shijo – ¥280
06:30am – Sushi Breakfast – ¥2500
08:00am – Walk around Tsukiji Market
11:00am – Quick bite – ¥500 budget
12:00nn – Travel to Shinjuku – ¥270
01:00pm – Shinjuku Gyoen + Shinjuku Shopping
06:00pm – Shinjuku to Ueno – ¥170
07:00pm – Dinner – ¥1000
Day 3: SHIBUYA
08:00am – Ueno to Harajuku Station – ¥200
08:30am – Meiji Shrine & Yoyogi Park – FREE
11:30am – Takeshita Dori (Harajuku) – FREE
01:00pm – Light Lunch at Harajuku Gyoza Ro – ¥1000
03:00pm – Shibuya Crossing + Hachiko + shop around
07:00pm – Nonbei or Ebisu Yokocho – ¥2000
09:30pm – Back to Hotel
Day 4: SENSOJI + AKIHABARA
10:00am – Ueno to Sensoji (Asakusa) – ¥170
10:30am – Sensoji Temple
12:00nm – Lunch – ¥1000 budget
01:30pm – Asakusa to Akihabara – ¥170
02:00pm – Explore Akihabara + Dinner – ¥1000 budget
07:00pm – Walk back to Ueno through Ameyoko
Day 5: ODAIBA
11:00am – Ueno to Daiba via Yorikamone – ¥480
12:00nn – Lunch – ¥1000
01:30pm – Explore Odaiba, shop around
06:00pm – Dinner – ¥1000
07:00pm – Back to hotel – ¥480
Day 6: DEPARTURE
10:00am – Check out
11:30am – Tokyo to Narita – ¥1030
TOTAL: ¥34,538 (USD295, PHP14,661)
Using ITINERARY #3, if you're from Manila and you are able to snag a P6500 roundtrip ticket (yep! Always watch out for JetStar SALE!) and have your visa processed for only P800 (Discovery Tour or Rajah Travel Corporation), you can enjoy 6 days in Tokyo for only P21,961.
See more itineraries here: SAMPLE JAPAN ITINERARIES
Other Useful Tips
Tipping is not common in Tokyo. To settle your bill, you are expected to approach the cashier on your way out. The cashier is usually stationed by the entrance/exit.
Some restaurants and eateries have a ticket machine by the entrance. The menu is displayed and you just need to press the buttons corresponding your order and enter payment, and it will dispense your tickets.
Many vending machines serve both cold and hot drinks. Most people are surprised to learn about the hot options. Really helpful when you're out in the cold.
Japanese bills look alike (same color). What varies is the size of the bill. The ¥1000 and ¥10,000 can be confusing so be careful. However, the Japanese are highly UNLIKELY to take advantage. They will even be the first to tell you.
When using the escalator, keep left if you're not moving.
Be quiet inside the train. It's seldom that you find people having loud conversations onboard. When it happens, they're usually tourists.
If you have a cold or cough, wear surgical masks in public. Locals wear those not because they don't want to get sick but because they don't want to pass on the illness to others.
Learn a few Japanese phrases. The most useful would be Sumimasen (Excuse me, sorry) and Arigatoo gozaimasu (Thank you).
Watch our Latest Video!
Important Reminders