Geographically Japan isn't too far from the Philippines, and a good number of airlines fly to its major cities from Manila. Most Filipinos, however, feel that this amazing East Asian country is far more distant than it actually is. One reason is the visa requirement.
Visas are always a major hurdle for many Filipino travelers. One look at the list of requirements and some already feel intimidated by it. Who can blame them? I felt exactly the same. This feeling had kept me from booking flights to Tokyo or Osaka, even during a PISO SALE and I spotted several promo fares. But the call of Japan was too much for me to ignore that I finally snagged one of them last year and hoped that I could make it through the visa process I dreaded.
To my surprise, it wasn't bad. Not bad at all.
Getting a Japanese visa is actually quite easy. Here's a quick step-by-step chronicling of how I got mine.
Important! This visa guide is for those applying for a JAPAN TOURIST VISA (with and without sponsor or guarantor), meaning you will be staying in a hotel and you're not visiting anyone in Japan. If you're traveling to visit a friend or relative in Japan, we have a separate post for that. Read: Japan Visa Requirements for Visiting Friends or Relatives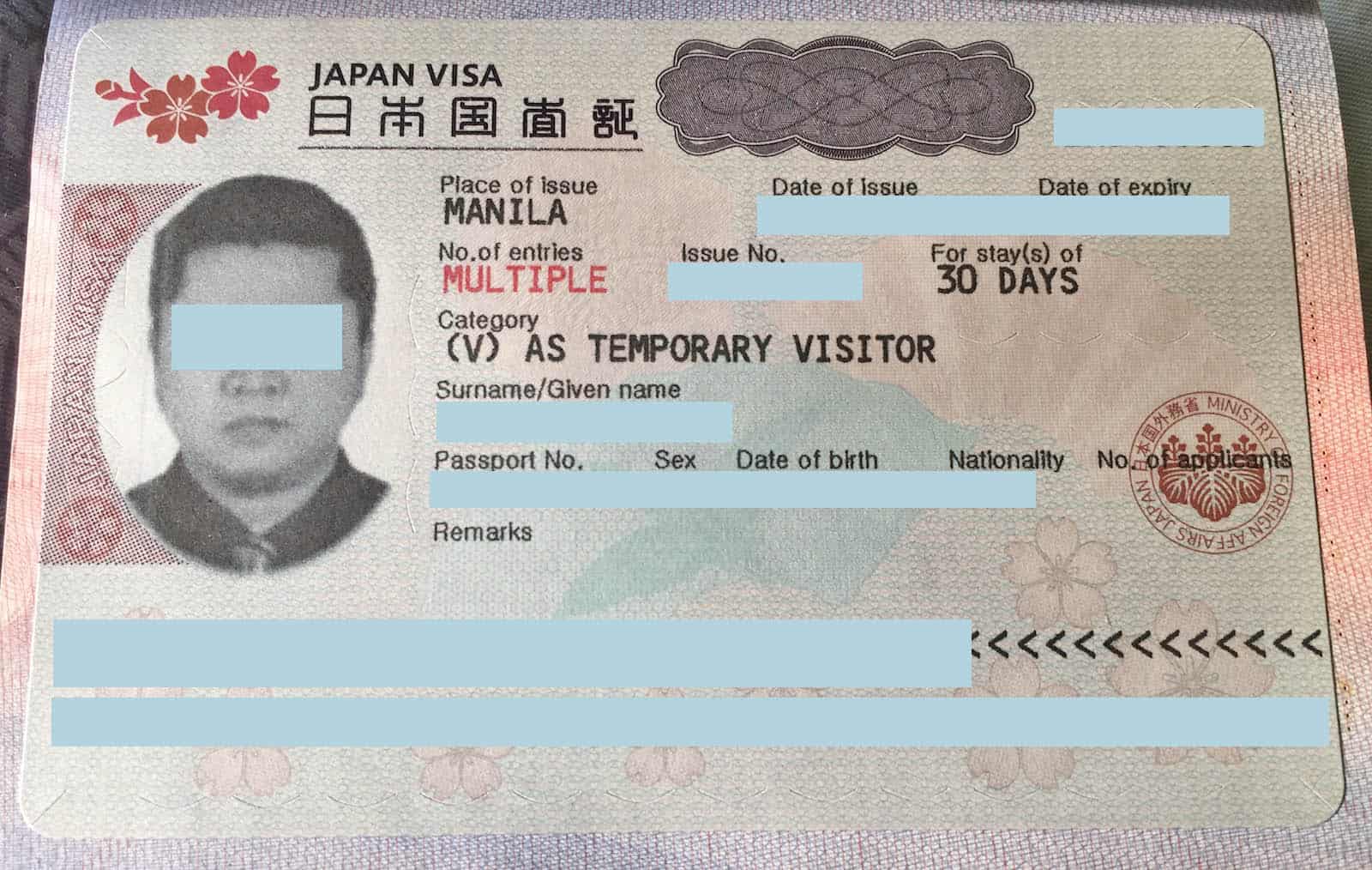 WHAT'S COVERED IN THIS GUIDE?
Japan Visa Requirements
Here's a checklist of the documents you need to secure before you begin your application. Pay attention to the notes and links that I added. They are very useful in helping you prepare. Note that documents that need to be printed out (e.g. application form, itinerary) must be done on an A4-size paper.
Philippine passport. Must have a signature and at least 2 blank pages. Broken passports are not accepted. Must have at least 6-month validity.
A duly accomplished visa application form. Don't leave any blank. Just put N/A if not applicable. You may download it from here.
ID picture. 4.5cm x 4.5 cm. Write your name and birthdate on the back side. Paste it on the application form.
Birth certificate from PSA. Must be issued within the past one year from PSA Main Office or Serbilis Outlet Center (Nationwide). If the birth certificate is marked LATE REGISTRATION, you must also submit Baptismal certificate, School Record (Form 137), and School Yearbook (if applicable). The address of the church or school must be indicated in the documents.
Marriage certificate from NSO. Only if you're married. If not, ignore this one. Must be issued within the past one year from PSA Main Office or Serbilis Outlet Center (Nationwide).
Daily schedule. Your itinerary in Japan. It doesn't have to be complicated. Download the format here. Here's what mine looked like: Sample Japan Itinerary
Without Guarantor
If you will shoulder part or all of your travel expenses, you must provide the following:
Income tax return (ITR Form 2316). They need a clear photocopy of it.
Bank certificate. Must be issued within the past 3 months. I'm not sure if they require a receipt, but I submitted the receipt too. To be safe, when you get your bank certificate, ask for a receipt too. There's no telling how big a fund is "enough" to get approved, but (in case you're wondering) my account had only a bit north of P100,000. I planned on staying for a week. I didn't encounter any problem.
Although a Certificate of Employment is no longer on the list of requirements, we still recommend that you provide one showing your start date, salary, and contact persons, especially if you have an irregular ITR (not covering the complete year or issued by your previous employer).
If for some reason, you can't provide a specific document, you may write a letter explaining why you can't and submit supporting documents instead. For example, if you don't have a current ITR because you're new at your job or you're working abroad, you can provide copies of invoice or payslip or other tax forms. That's what I did in one of my applications and they accepted it.
With Guarantor
If a guarantor will sponsor your trip, you will need to provide the following additional documents. Note that this only applies if the guarantor lives in the Philippines:
Guarantee Letter. Must explain your guarantor's relationship to you and their contact details.
Proof of relationship between applicant and guarantor. For example, if the guarantor is a parent or a close relative, submit their birth certificate too.
Bank Certificate (original) of the Guarantor
Photocopy of the Income Tax Return (ITR Form 2316) of the Guarantor
Again, documents to be printed out must be done on an A4-size paper. Other sizes will not be accepted.
All birth certificates must be issued within the past year by PSA Main Office or Serbilis Center.
---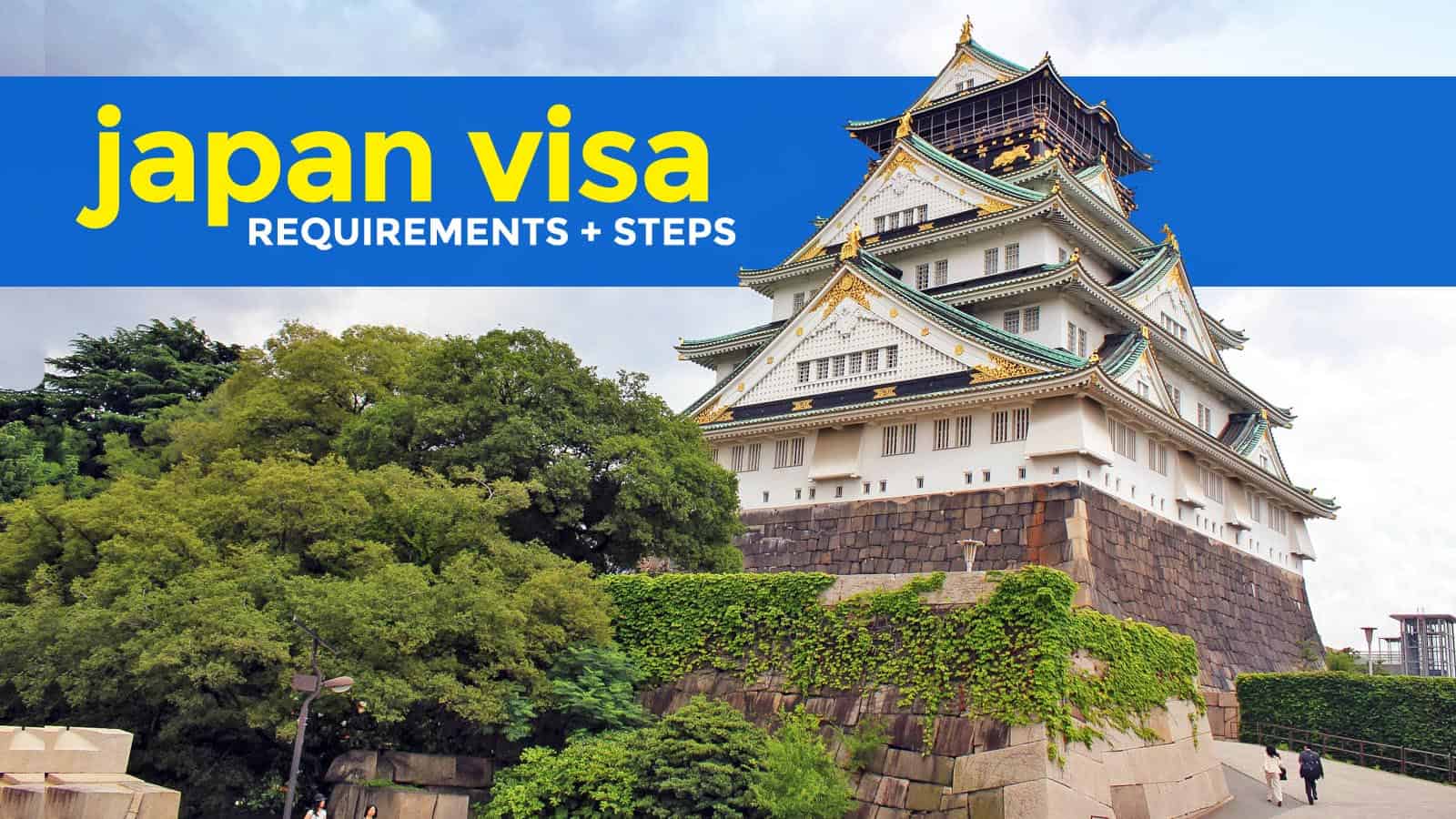 ---
How to Apply for a Japan Visa
Complete the requirements, as listed above.
Find an accredited travel agency. Except very special cases, the Japanese Embassy doesn't accept direct applications. They must be coursed through any of their accredited agencies. You will find their very limited list of accredited agencies right here.
Submit the documents. Go to your chosen travel agency in the morning or as early as you can. These days, Japan travel is so popular, queues can be so long it can sometimes eat up your entire day.
Pay the Processing Fee. In reality, the visa is FREE, but the agency will charge a processing fee. The rates vary, but it's usually between P800 – P1600 depending on the agency.
Wait for your visa. After you have submitted everything to the travel agency, there's nothing left to do but to wait and hope for the best. If they encounter any problem (e.g. additional requirements), they will let you know. Thus, you must apply not so close to your date of travel. Visa processing normally takes 3-5 days, but sometimes up to 7 days. The first time I applied, I received my visa 5 days later. The second time, it took them only 2 days.
Depending on your arrangement with the agency, your passport with the visa (if approved) either will be mailed to you or must be claimed at their office.
That's pretty much everything! Good luck and enjoy the Land of the Rising Sun!
---
How to Fill Out the Japan Visa Application Form for Tourists
We get a lot of questions about the various sections of the application form so we decided to make this guide to help you accomplish it without problem.
Before anything else, take note of these general guidelines:
THESE SAMPLES ARE FOR TOURISTS. This won't apply if you're visiting a relative or a friend. Check this out instead: Japan Visa for Visiting Friends/Relatives.
Print the application form on an A4 paper only. Other sizes are not accepted.
Fill out the form either digitally or by hand. Both computerized (typewritten) and handwritten are accepted. But for handwritten forms, make sure that you write in block letters and that they are readable.
Use a black pen. Do not use erasable pens or pencils! Likewise, if you fill it out digitally, use black font.
Don't use correction tape or liquid. Try to avoid any erasure. If something needs to be corrected, use double line (2 strikethroughs). If there are too many erasures, best to start all over with a fresh blank form.
Don't leave any field blank. If the item or question doesn't apply to you, write NA or N/A, which is short for Not Applicable.
Do not staple the form! The agency will most likely remove them too.
Now that we have those out of the way, let's take a closer look at the form. You'll see that the form is quite short and straightforward. It only has two pages.
For the purpose of this post, I'm accomplishing the form using big blue letters just to highlight my answers. But please use BLACK for your application to make it neater and more professional.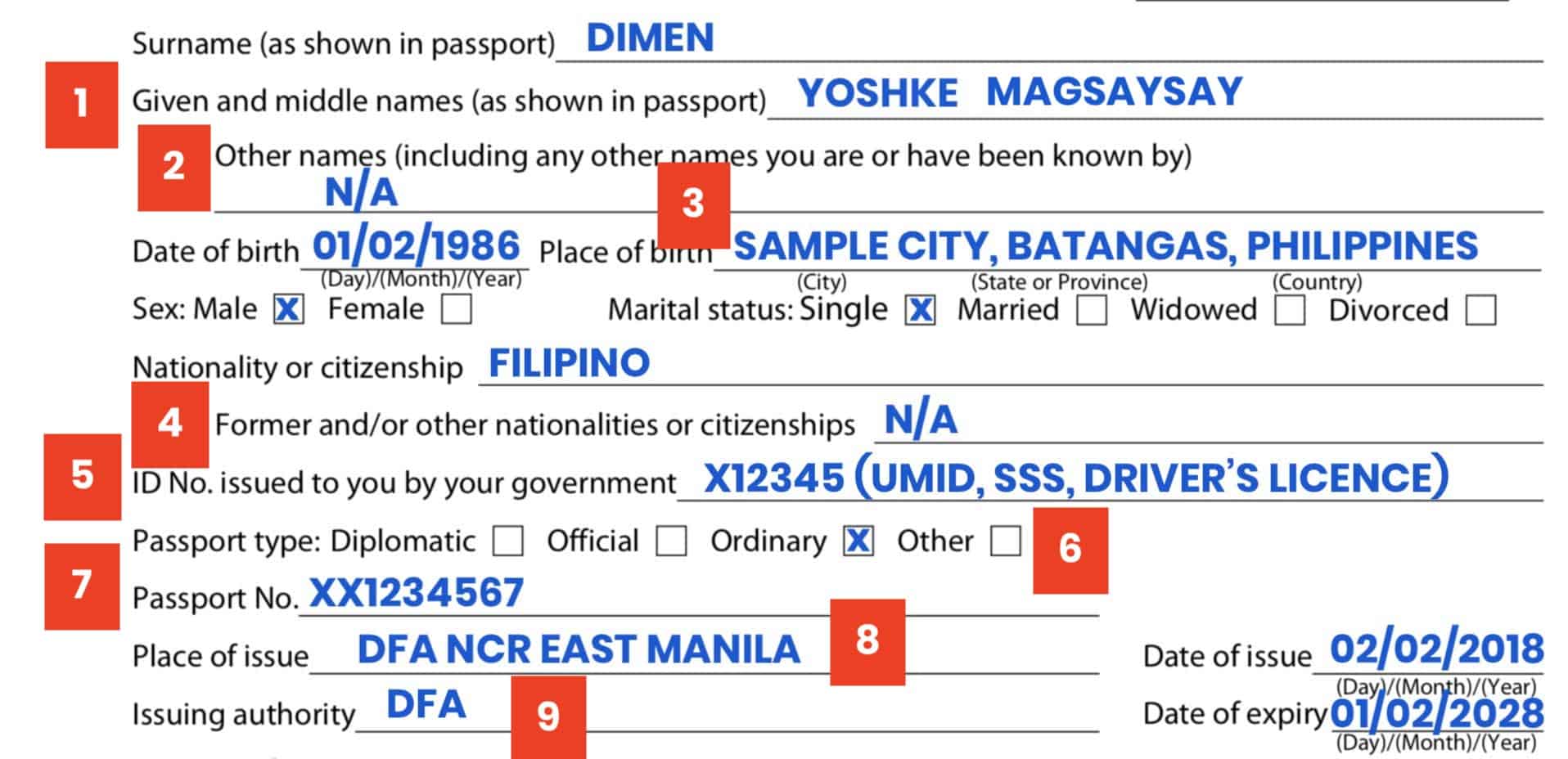 Given and middle names: Write both your given name AND your middle name (your mom's last name).
Other names: If you have a nickname, write it down. But I just write N/A all the time.
Place of birth: Most questions we get about this part are from those born in Metro Manila. They ask what to put if they have no province. If it's in Metro Manila, write Metro Manila. For example, if you were born in Mandaluyong, write: Mandaluyong, Metro Manila, Philippines.
Former and/or other nationalities or citizenships: Write N/A if it doesn't apply to you.
ID No. issued to you by your government: You can write down any government-issued ID here like Driver's License, SSS ID, or UMID. A few times, I wrote the passport number here too, I didn't have any problem.
Passport type: Ordinary
Passport number: Make sure it's correct.
Place of issue: You can write the city name. In the case of Manila, you can write MANILA. You can also be specific. I usually write DFA NCR EAST, because that's what's on my passport.
Issuing authority: DFA.

Purpose of visit to Japan: Tourism. (If you're visiting a friend or family, write VISIT FRIEND/FAMILY.)
Intended length of stay in Japan: Number of days including the day of arrival.
Port of entry into Japan: Name of the airport. It can be Kansai, Narita, Chitose, etc.
Name of ship or airline: Just the name of the airline or the ship. It doesn't matter if you're already booked or not.
Names and addresses of hotels or persons with whom applicant intends to stay: If you're traveling as a tourist, write down the name, address and telephone number of your hotel. If you don't know the exact address or telephone number of your hotel, Google it!
Dates and duration of previous stays in Japan. Write N/A if it's your first time in Japan. If you've been to Japan before write the inclusive dates of your previous visits and the number of days. If you've been to Japan many times and it won't fit, use a separate sheet and indicate it on the form.

Your current residential address: If you have more than one address, list them all on a separate sheet.
Telephone number: If you don't have a landline number, write N/A.
Current profession or occupation and position: Be truthful! If your current occupation or position doesn't match the ITR you're submitting (for example, you moved to another company), you can write a letter explaining it.
Partner's profession/occupation: If you're single and of legal age, write N/A. If you're married, write the profession of your partner. If for a minor, write the profession or occupation of parents.

Guarantor/Inviter Info: Since you're applying for a TOURIST VISA, just write N/A in all the fields.

If you answered "Yes" to any of the above questions, please provide relevant details: If you answered NO to all the questions, write N/A.
Signature: Sign it by hand. I'm not sure if digital signatures are accepted, but I doubt it. If the applicant is minor, a parent or legal guardian can sign, but the relationship must be indicated below the signature.
---
---
Frequently Asked Questions (with Answers)
I was issued a Japan visa before. I just want to renew. What's the process?
Still the same. The only difference is you don't need to submit a birth certificate and marriage certificate. But you will need to submit the passport with your old visas.
How to apply for a multiple-entry visa? What are the requirements?
We also have a dedicated post for that. You'll find that here: Multiple-Entry Japan Visa
Do I need a travel agency to apply?
Yes. Unless it's a special case, all visa applications must be coursed through any of their accredited travel agencies.
Here's the complete list of officially accredited travel agencies: Japan Visa Travel Agencies.
Do I need to book flights and hotel before applying?
No. It's not a requirement. However, on the application form, you will have to write down the specific FLIGHT NUMBER and HOTEL ADDRESS you wish to take.
How long does it take to process the application?
It varies. My first time, 5 working days. Second time, 2 days. Then on my third and fourth times, 7 days and 2 days respectively.
I know people who have waited weeks for theirs. Pretty hard to tell.
How long is the validity of the visa?
Single entry visas are usually valid for a stay no longer than 15 days, and the visa is valid for 90 days (3 months) upon issue. So for example, your visa is issued in January 1, you can enter Japan any time between January 1 and March 31, but once you enter, you can stay for only 15 days maximum.
Multiple-entry visas will allow you to stay for 15 or 30 days, depending on what is given to you. But it's usually valid for 5 years.
How much money should I have in the bank to get approved?
We answered that and more frequently asked questions here: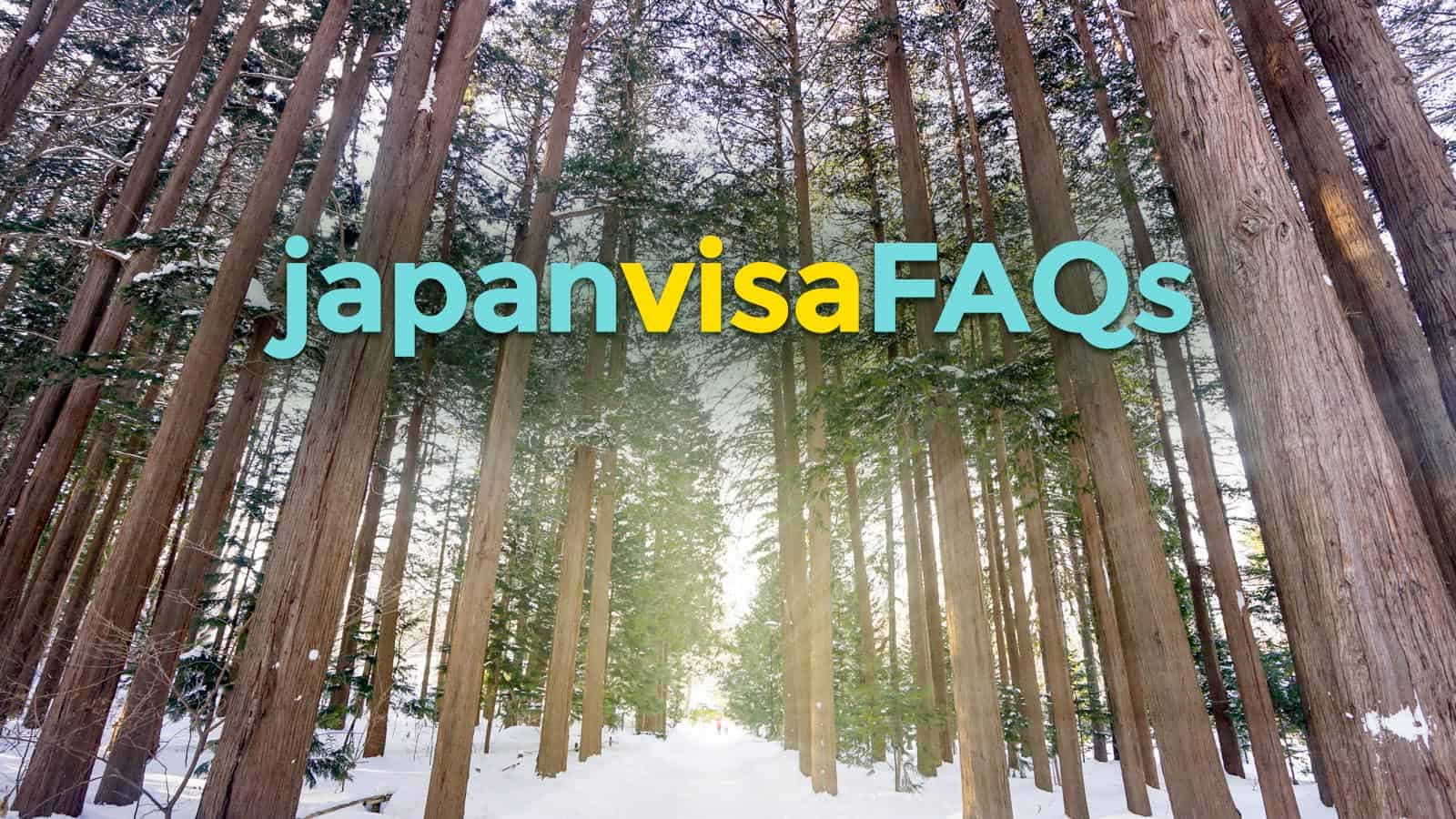 Although there is a big chance you won't need to pay a visit, here's the address of the Japanese Embassy in Manila. You will need this address for the bank certificate.

Embassy of Japan
2627 Roxas Boulevard, Pasay City, 1300
Contact No. +63-2-551-5710
Watch our Latest Video!
Important Reminders