A more updated version of this article can be found here:
New Boracay Travel Guide
It was the midweek of an off-peak season. Usually, times like this, I would expect to have the beach all to myself. But this was not an ordinary beach. This was Boracay. And in Boracay, even a slow day is roaring.
Boracay has always been the flagship beach destination of the Philippines. It has topped many lists of the greatest beaches in the world, compiled by international travel magazines. All this lovin' from local and foreign press and backpackers has been drawing swarms and swarms of tourists. What used to be an unspoiled sleepy village transformed into an overdeveloped party island. Even upscale hotels and restaurants have found their way to the island, attracting luxury travelers. Yet, it remains friendly to the budget-conscious.
How to Get to Boracay
Located off the northwestern coast of Aklan, Boracay Island is very accessible to the beach-going public. If you're coming from Manila, flying is the best option. All major airlines fly to either of them.
Two airports serve Boracay-bound passengers. Each airport has pros and cons.

Kalibo is farther, requiring around 2 hours of travel time, but fares are much cheaper.
Caticlan is closer, 15 minutes away, but fares are way more expensive.
Whatever you choose, you need to make your way to the Caticlan Jetty Port. Here's a brief step-by-step guide:
From Kalibo Airport, take the bus or van to Caticlan Jetty Port. Fare: P200.
If you're a big group, you may also consider arranging a private van transfer that will wait for you at the airport. I have tried this pre-arranged setup before when I was part of a group of 10. Cost was P3800 roundtrip (P1900 one-way, or P180 per person per way).
Upon arrival at the jetty port, proceed to the booths near the entrance to the building and settle the Terminal Fee (P100), Environmental Fee (P75), and Ferry Fare (P25).
Inside the port building, register, proceed to the Passenger Waiting Area, and wait for boarding announcement.
Board the boat or ferry to the island.
You will dock at either Cagban or Tambisaan Port. Either way, there are tricycles waiting here that can take you to your hotel. If your hotel is in the White Beach Area, cost is P100 per ride.
If you're coming from Caticlan airport, you can take a tricycle to the port. You can also walk; it should take around 10 minutes.
For more detailed instructions, check out this post: How to get to Boracay from Kalibo or Caticlan
Or check out this video by Adam John of Boracay TV!
Where to Stay in Boracay
While Boracay has some of the most expensive hotels in the country, you will also find the other end of the spectrum here. Hostels and guesthouses are not the obvious choice to the common tourist. But if you're not choosy and you're willing to let go of the aircon and other amenities, you'll be surprised by the number of options awaiting indiscriminate travelers.
Hostels. Fan rooms can be booked for around P500 during off-peak. A bed in a dorm costs as low as P300 per night. Agoda is a good place to start looking for affordable hostels.
I stayed once at Frendz Resort at Station 1 for P500 per night (Dorm room), and it was a pretty pleasant experience. Not beachfront but close enough. Just a bed and a fan, but the backpacker vibe made up for it. I always like places where I could meet other travelers and make friends.
Budget Hotels and Guesthouses. If hostels aren't your thing, budget hotels and guesthouses are also a good choice. Agoda have a rich selection of hotels.
I had a pleasure of staying at Dakong Amihan Home, and I had a wonderful time. Rates are P1,750 per room (off-peak, good for 2 pax). Again, not beachfront but close to many key attractions in the island. Read my full review here –> Dakong Amihan
Where to Eat in Boracay
Most beachfront restaurants are very costly. Even the P300-buffets along White Beach sound good, but they taste disappointing. There are mid-range restos farther from the beach that may be worth a try. But if you're really concerned about the prices, your best bet are the turo-turo carinderias along the main road and inner alleys. P60 should already buy you a decent rice meal.
One popular food place is D'Talipapa, where you can shop for fresh ingredients (seafood!) and have one of the surrounding eateries prepare them the way you like it for a fee. This is ideal for groups!
If the place you are staying in allows you to cook or prepare food yourself, pay a visit to Talipapa Bukid at Station 3 for the ingredients!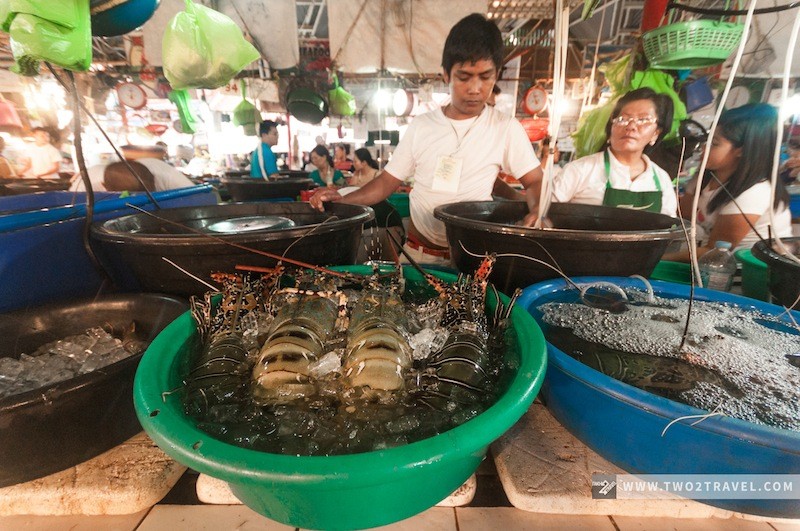 More food options here –> Where to Eat Happy in Boracay: 11 Restaurants to Try
What to Do in Boracay
Like I always say, the one thing that I love about Boracay and what I think makes it so popular is the diversity of activities. Boracay will keep you busy, and there's no running out of things to do. It has something for everyone.
Below are the attractions you might want to consider. I have written a separate entry with more information about these activities, including how to book and how much to spend –> 15 Things to Do in Boracay
| | |
| --- | --- |
| Island hopping | Paraw sailing |
| Mermaid Swimming | Standup Paddling and Skimboarding |
| Parasailing and Windsurfing | Flyfish and Banana boat |
| Zorbing and Ziplining | ATV Ride |
| Biking | Sunset watching |
| Partying | Food tripping! |
Sample Boracay Itinerary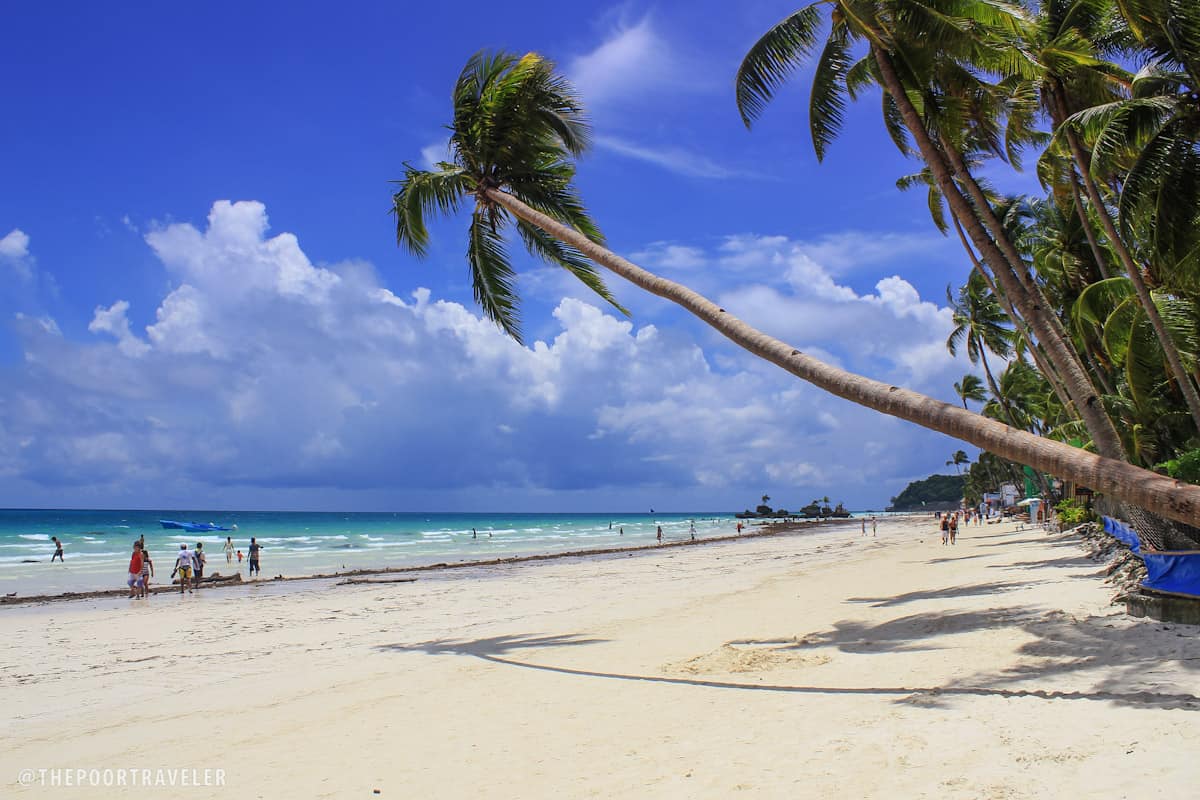 Here's a sample Boracay long-weekend (3D2N) itinerary. Note that this assumes that you will be taking an early morning flight to Kalibo and a late afternoon flight back.
Day 1: ARRIVAL, WHITE BEACH
07:30 am – Check-in NAIA Terminal 3
08:40 am – ETD NAIA Terminal 3 – Kalibo
09:30 am – ETA Kalibo International Airport
10:00 am – Board bus to Caticlan Jetty Port
12:00 pm – Arrival at Caticlan (Grab quick lunch)
01:00 pm – Board boat/ferry to Boracay
01:40 pm – Check-in at Hotel, freshen up
03:00 pm – Explore White Beach and Diniwid Beach, Willy's Rock
05:30 pm – Watch Sunset, Dinner
Day 2: ISLAND-HOPPING
07:00 am – Island Hopping + Lunch
01:00 pm – Swimming again, or rest.
03:00 pm – Flyfish
04:30 pm – Parasailing
06:00 pm – Freshen up
07:00 pm – Dinner
09:00 pm – Party party, dance dance, tugs tugs
Day 3: PASALUBONG SHOPPING, DEPARTURE
06:00 am – Wake up call
07:00 am – Breakfast
08:20 am – Buy Pasalubong at D'Talipapa or D'Mall
11:20 am – Check out
12:00 pm – Board ferry back to Caticlan
12:40 pm – Board bus to Kalibo
02:40 pm – Arrive at Kalibo, quick lunch
03:50 pm – Check in at airport
05:00 pm – ETD Kalibo Airport
06:10 pm – ETA Manila – NAIA 3
Just make the necessary adjustments to fit your plans, flight schedule, and activity preferences.
Budget Breakdown
If you're curious how much would you be spending if you follow the itinerary above, the breakdown below can shed a little light. This computation is based on one person staying at a fan room at a hostel and joining other travelers (to form a pair or a group) for the activities. Airfare, airport fees, pasalubong, and partying expenses are not included.
P400 – Van fare from Kalibo airport to Caticlan and back (P200/way)
P100 – Caticlan Jetty terminal fee
P20 – Tambisaan terminal fee
P75 – Environmental fee
P50 – Ferry roundtrip fare (P25/way)
P200 – Total tricycle fare
P1000 – Frendz Hostel Dorm Bed (P500/night, 2 nights)
P1000 – Parasailing (Diamond Watersports)
P600 – Flyfish (Diamond Watersports)
P500 – Island hopping
P200 – Some random miscellaneous incidentals whatever

P1250 – Total food Budget

P5,395 – TOTAL
As always, there are ways to even make this much lower. If you're not interested in parasailing or flyfish riding, you can replace them with much cheaper alternatives. That's already minus P1600. If you are part of a big group, you can still bring the cost of food down.
It is also important to note that things are much cheaper during off-peak season (June-October). The summer months may bring you more fun, but the cost of almost everything grows with the crowd.