Last updated: JUNE 6, 2019.
Aside from the stunning landscapes and seascapes, one thing that is going for Boracay is its accessibility. This tropical paradise may be in one distant nook in the Visayas, but it is relatively easy to reach. No long hours of land travel, no bumpy roads, and no uncomfortable rides. Thanks to the increasingly organized system of transportation both in Kalibo and Caticlan.
The past few years have also seen several additional flights especially via Kalibo. Some airlines now offer direct flights from China, Korea and Singapore, bypassing Manila. They paved more ways for more tourists to easily set foot on one of the best island destinations in the world.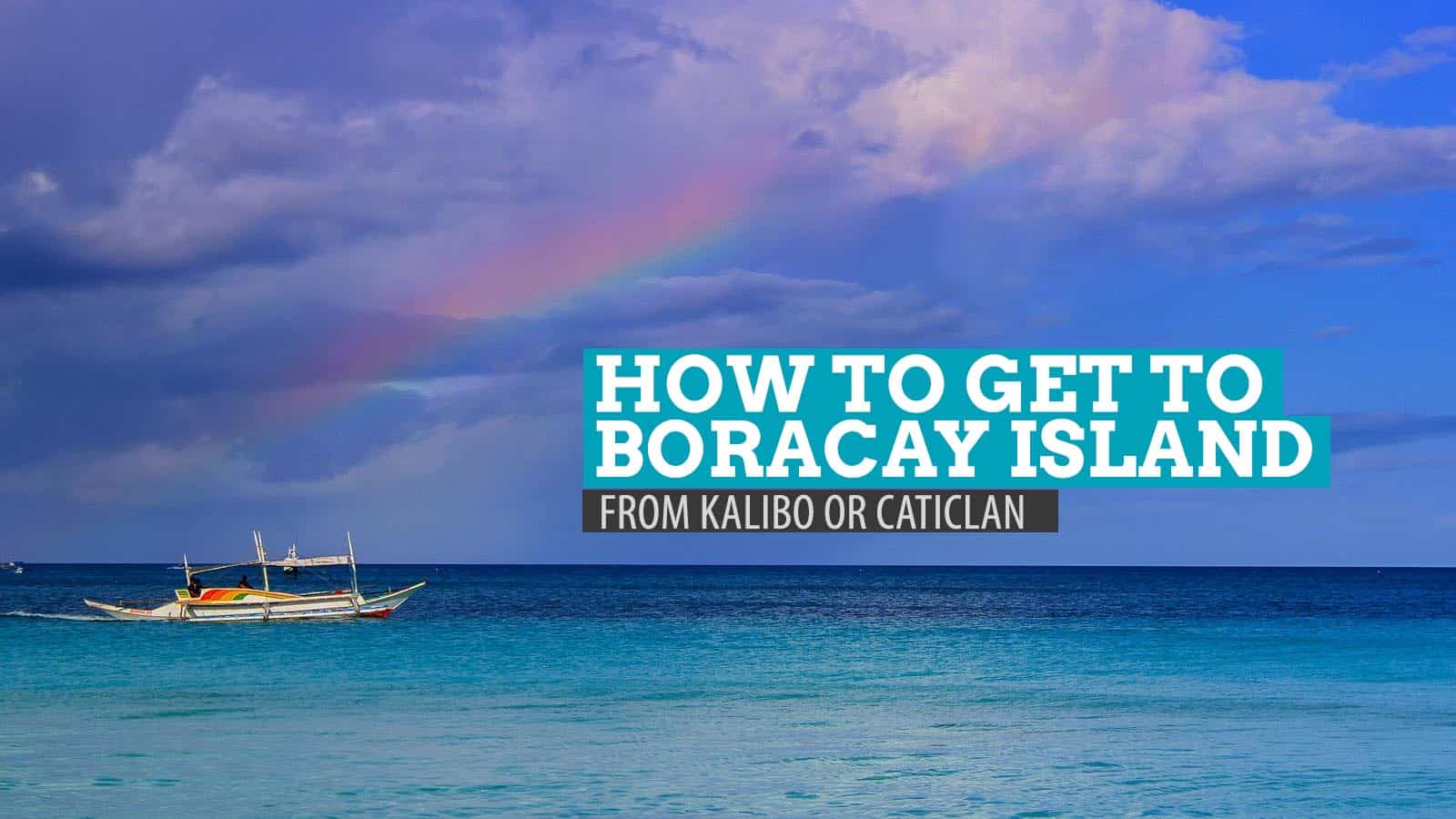 WHAT'S COVERED IN THIS GUIDE?
1. Make your way to Caticlan Jetty Port.
If you're coming from Kalibo Airport, you have plenty of options to reach Boracay. Kalibo Airport is situated just 2 hours from Boracay, which isn't that bad, considering that the drive is pretty smooth. Vans run faster, sometimes reaching Caticlan in less than 1.5 hours. Whatever you choose, the first step is always to get to Caticlan Jetty Port, which is the jump off point to the island.
Option A: By Local Bus
This is the cheapest option. Unlike the buses at the airport which caters to tourists, this bus is what the locals use to get to Caticlan. Hence, it is much cheaper.
At Kalibo Airport, ride a tricycle to the bus terminal in the Kalibo Town Proper.
At the terminal, board the Ceres bus bound for Caticlan. Travel time: 1.5-2 hours.
Bus Fare: P120.
---
Option B: By Direct Bus / Van
This is the easiest way to reach Caticlan. At Kalibo Airport, there are buses and vans that can take you directly to Caticlan Jetty Port.
Don't confuse these with the agency-organized transfers that are often packaged with the ferry or boat ticket and other fees, which are a bit on the expensive side. We'll discuss this in the next section.
Fare: P200
---
Option C: By Packaged Van / Bus Transfer

If, for whatever reason, you don't want to do the transfers on your own, a good option is to book a packaged transfer service. Aside from the comfortable transfer from Kalibo Airport to Caticlan, you will also be guided through the sometimes confusing process at the jetty port.
The price is a bit higher but it already includes the following:
Van or bus fare from Kalibo Airport to Caticlan Jetty Port
Hotel transfer
Boat ticket
Terminal Fee
Environmental Fee
Insurance provided by operator
This is great for those traveling to Boracay for the first time and traveling with kids or elderly.
You'll see plenty of options at the airport's arrival area, but you can book them on Klook too for only P490 (van) or P480 (bus).
✅ RESERVE BUS TRANSFER HERE!
✅ RESERVE VAN SERVICE HERE!
---
2. Board a boat or ferry to Boracay.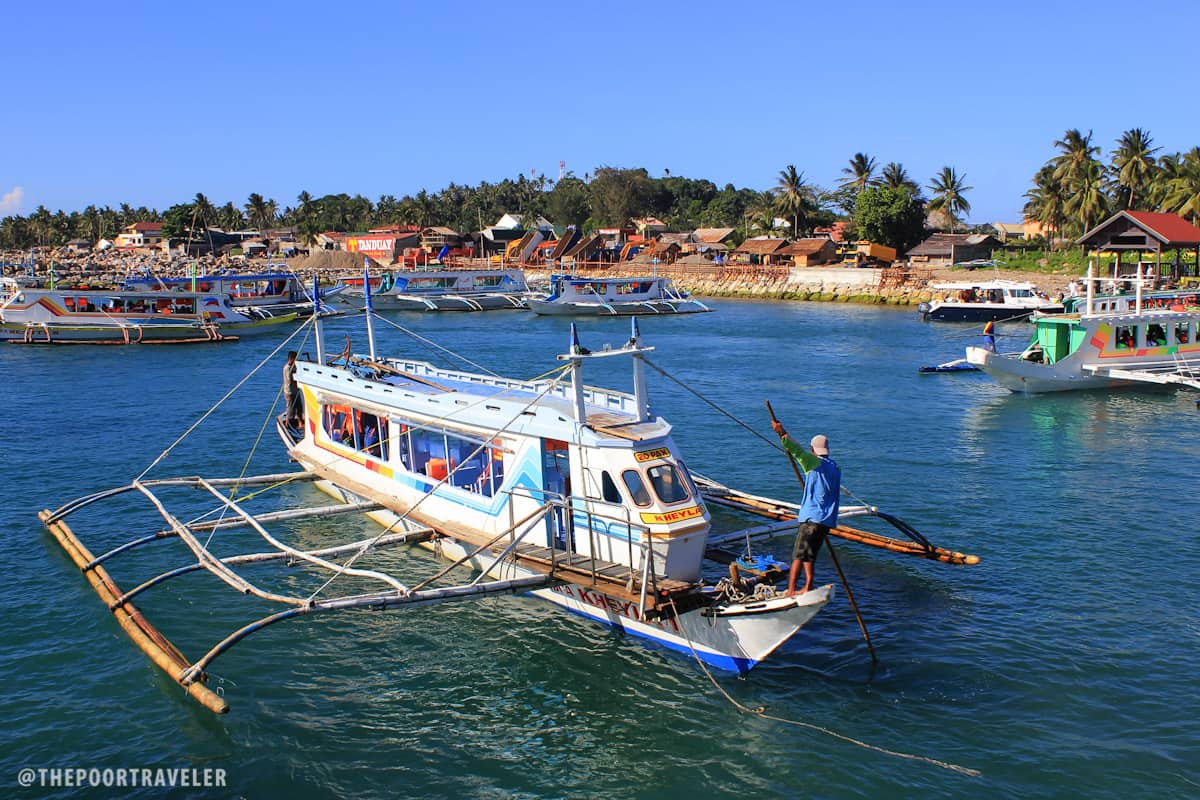 At Caticlan Jetty Port, you'll find tents set up outside the building. Here's what you need to do, step by step.
Look for the Registration Area and fall in line. You'll then be asked to write down your name on a logbook. This is used to monitor the number of tourists visiting Boracay.
Proceed to the Verification Area. Here, you'll need to present proof of accommodations or hotel booking. Remember, if you're spending at least one night in the island, hotel booking is REQUIRED.
Pay the fees. Proceed to the payment windows. Decide whether you want to take the cheaper pumpboat or the bigger but pricier Oyster Ferry, where you'll need to settle the following: terminal fee (P100), environmental fee (P75), and boat fare (your choice: pump boat P25-30 or oyster ferry P100). You'll settle all these at once but you'll be given separate receipts.
Enter the port building. You'll have to go through a security check. Proceed to the Passenger Waiting Area and wait for boarding.
When it's time for boarding, find your boat and queue up. Travel time is 10-15 minutes.
---
3. Take a tricycle or multicab to your hotel.
You will be taken to Cagban Port or Tambisaan port.
Either way, you will find tricycles waiting for passengers in the area. They can take you to your hotel or resort in White Beach for P120-P150 per ride.
You can also ride a multi-cab to the Station area for P40 per person.
ENJOY BORACAY!
---
For driving directions, this map is your guide!