2021 • 6 • 11
Starting 1 June 2021, Boracay has once again started welcoming tourists from Metro Manila, Bulacan, Cavite, Laguna and Rizal. These areas, collectively called the NCR+ bubble had been placed back under General Community Quarantine (GCQ) with restrictions.
The IATF-EID Resolution 118A officially allows visitors traveling from the NCR+ bubble to enter Boracay until June 15, 2021. Whether or not it will be extended depends on the community status of NCR+ from said date. If NCR+ remains under GCQ past June 15, then the resolution would still apply. However, if it is switched back to stricter ECQ (Enhanced Community Quarantine) or MECQ (Modified Enhanced Community Quarantine), the authorities may stop accepting visitors from said areas again.
Note that travelers from other GCQ or MGCQ areas in the Philippines remain welcome in Boracay.
Boracay is one of the first destinations to re-open to tourists since the COVID-19 pandemic brought the tourism industry to a standstill. However, health and safety protocols are still in place. The local government units (LGUs) strictly implement these policies and require tourists to submit necessary documents prior to their trip.
We were able to visit Boracay a couple of months ago and in this post, we're documenting the process that we went through before we reached the island. Here's a step by step guide on what you need to do before you visit. Note that these travel protocols may change, so make sure to check for updates with the local government for good measure.
WHAT'S COVERED IN THIS GUIDE?
1. Check the list of Boracay Travel Requirements.
Before we go to the specifics of each requirement, here's a quick overview of the travel requirements for non-Aklanon tourists visiting Boracay.
Take a good look at it so you know which ones you need to prioritize. In the pre-pandemic world, flights usually get taken care of first. But it may not always be the wisest way to go these days.
Negative RT-PCR test. Must be taken within 72 hours prior to departure. RT-PCR tests must be done in any of the accredited laboratories. You can find the list of accredited labs here.
Confirmed hotel or resort booking on the island. Make sure that you book a hotel with Certificate of Authority to Operate/Provisional Certificate of Authority to Operate from the Department of Tourism. You can check the list of hotels here: LIST OF OPERATIONAL HOTELS IN BORACAY.
Roundtrip transportation details. Boracay-bound tourists traveling by air must use the Caticlan Airport (aka Boracay Airport)
Valid ID (proof of identification)
Online Health Declaration Card (OHDC). You will be accomplishing this online at Tourist Boracay website.
Tourist QR Code and copy of your Health Declaration Card. These will be sent to your e-mail if the processing is successful. Print or keep a digital copy of your Tourist QR Code and keep it with you at all times when you are in the island.
The most critical part here is the negative RT-PCR test, which is valid only if done within the past 72 hours. If you don't have flights yet, it's best to wait until you're tested negative before booking. But if you already have tickets, then just get tested and hope for the best.
If you wish to avail of the DOT-TPB-sponsored 50% subsidy on the RT-PCR test, you must take care of the accommodations and transportation booking first because these are part of their requirements. More information about this program below.
---
2. Get a Negative RT-PCR Test Result.
Get tested for COVID-19. RT-PCR saliva, nasopharengeal or oropharengeal tests are accepted as long as they are done within 72 hours of your departure date.
RT-PCR tests must be done in any of the accredited laboratories. SEE: LIST OF ACCREDITED TESTING LABS IN THE PHILIPPINES!
RT-PCR usually costs within 3000 to 4000 range.
If that's too steep for you, consider availing of the 50% subsidy offered by the Department of Tourism (DOT) and the Tourism Promotions Board (TPB) Philippines. It's available at these testing sites: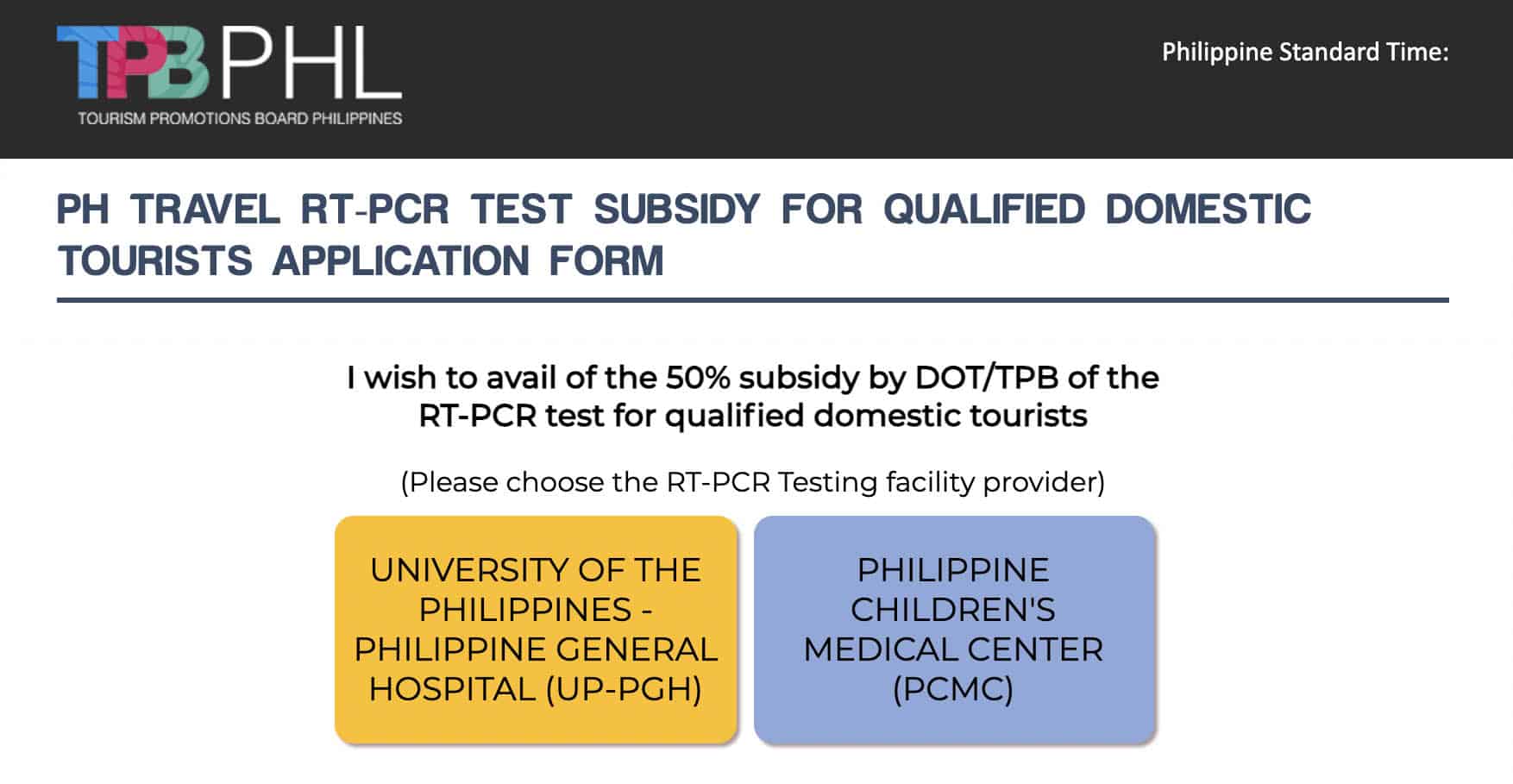 UP-PGH (University of the Philippines – Philippine General Hospital), Taft, Ermita, Manila
PCMC (Philippine Children's Medical Center), Quezon Avenue corner Agham Road, Quezon City
To check if you qualify for the 50% subsidy, here are the guidelines:
You must register online at www.tpb.gov.ph. Note that UP-PGH accommodates only 100 RT-PCR tests per day while the PCMC only up to 200 tests only. Walk-ins are not accepted.
Your application must be submitted not shorter than five days before your scheduled travel date.
Your travel date must be before 30 June 2021.
You must be able to submit a copy of 2 valid government-issued IDs, confirmed accommodations booking with a DOT-accredited property, and roundtrip transportation tickets.
We availed of this for our trip and the process was smooth. The test took only 30 minutes at the UP-PGH. After 24 hours, we received the result via email.
For more information about this program, visit either these TPB links: for UP-PGH applicants, for PCMC applicants.
---
3. Accomplish the Online Health Declaration Card (OHDC).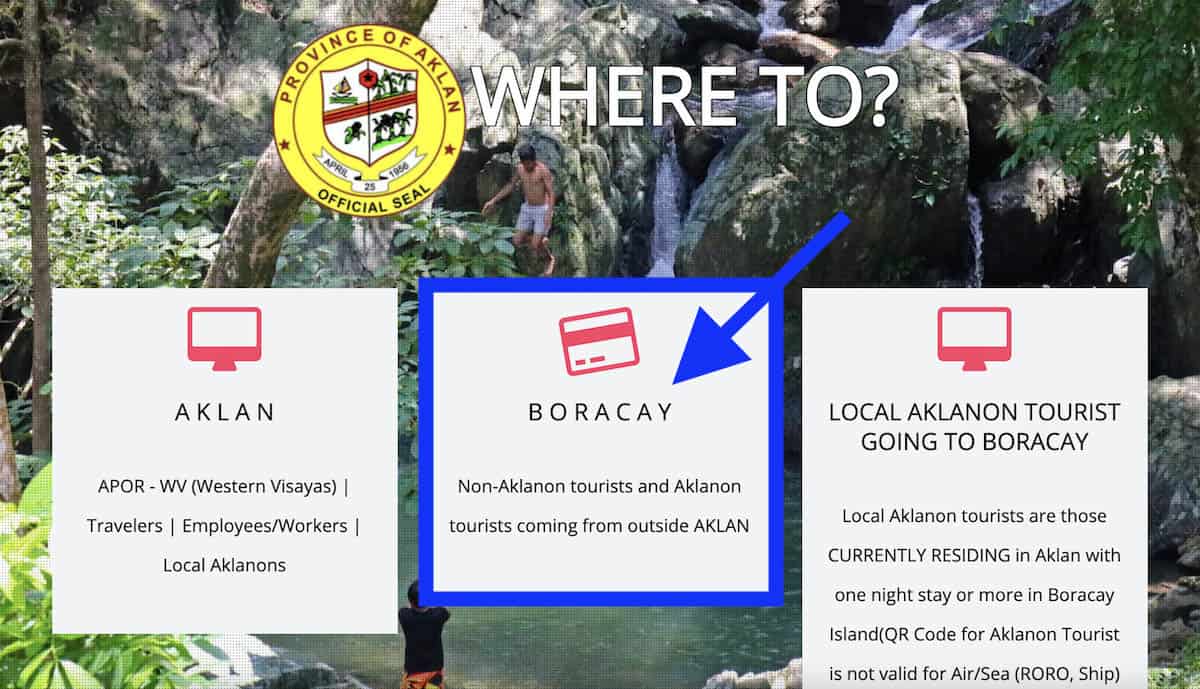 Go to www.touristboracay.com and click Boracay on the homepage.
Fill out the form with all the required details and click Submit.
Take a screenshot of the confirmation page. This is IMPORTANT! You will be submitting the screenshot later in the process.
---
4. Submit a copy of the requirements via email.
Email a copy of the required documents to touristboracay@gmail.com. Use the subject OHDC-Family Name, First Name. Follow this format:
Subject: OHDC-Family Name-First Name

For example: OHDC-CARLOS-VINS
Here are the documents you need to attach to the email:
Screenshot of the OHDC confirmation
Proof of identification with Philippine residency
Negative RT-PCR test result (saliva, nasopharengeal or oropharengeal) conducted within 72 hours to the travel date.
Confirmed booking slip from a hotel, resort or accommodation establishment with a Certificate of Authority to Operate (CAO) from the DOT. For the list of DOT-authorized accommodations with CAO, you may check this post.
Roundtrip transportation booking or travel details. If by air, it has to be via Caticlan Airport only.
S-Pass Travel Coordination Permit (TCP). To apply for a TCP, go to s-pass.ph or visit this S-Pass tutorial page for more info.
The S-Pass TCP is NOT a requirement when getting a Tourist QR Code but airports or airlines might ask for this so the provincial government of Aklan recommends securing one for easier, hassle-free journey.
If you're traveling with a group, you can send all your documents at the same time. Just make sure to include a list of all your travel companions in your email.
When we visited Boracay, we were a group. Here's the format we followed: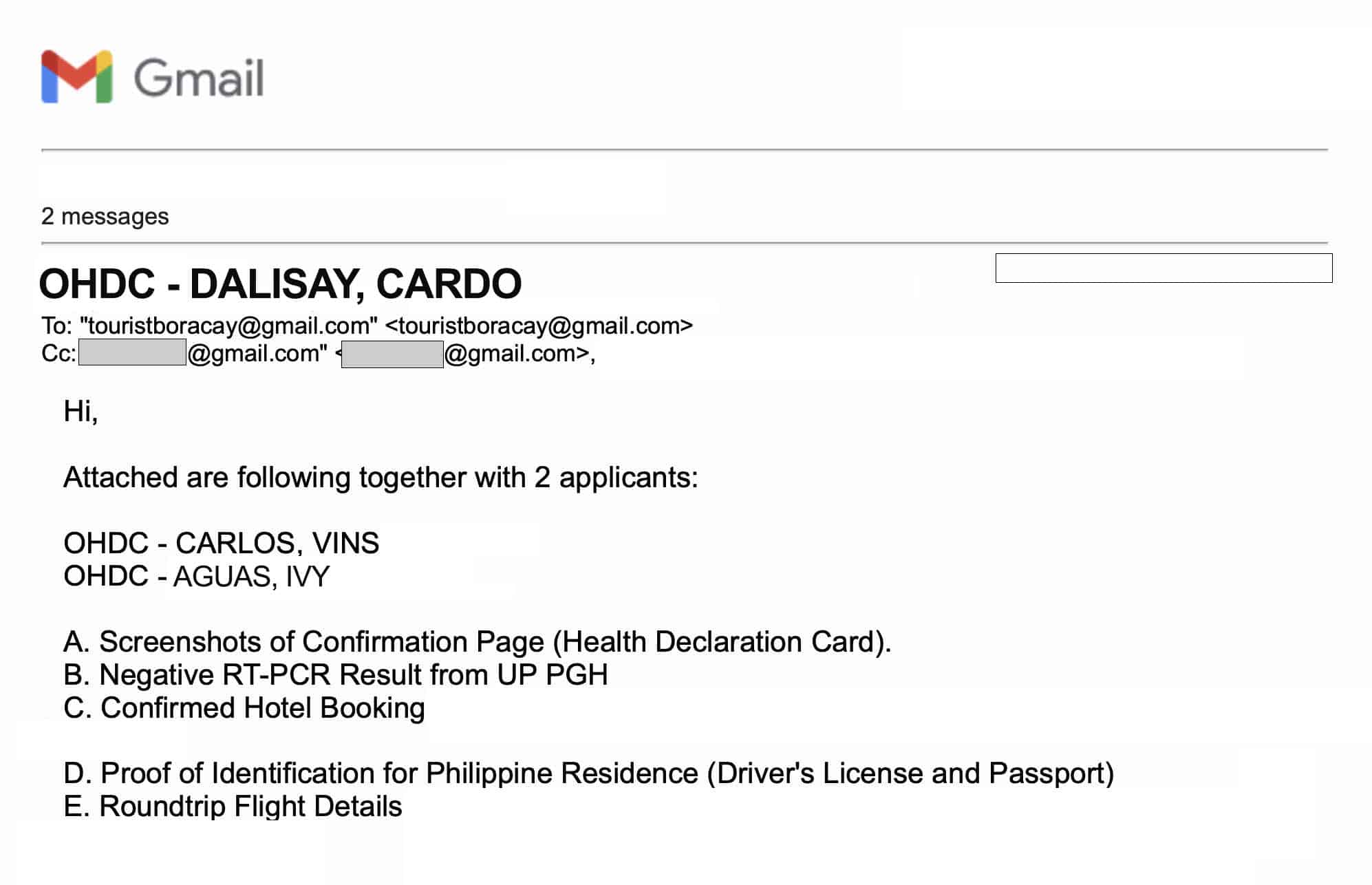 These documents must be submitted at least 12 hours before your flight to avoid delays. Make sure to send only valid documents. Keep in mind that falsification of documents is punishable by law.
---
5. Wait for an update from the final validator.
The email response usually takes an hour. If you haven't received any response within 2 hours, you may send a follow up email.
If processing is unsuccessful, you will be asked for additional requirements or clarification through email. Immediately comply to this to avoid delays with the release of the QR Code.
If processing is successful, you will receive a copy of Health Declaration Card (HDC) with your Tourist QR.
Print or save a copy of the Tourist QR on your mobile device and keep it with you at all times during your stay in Boracay. The QR Code will be used in the ports of entry/exit and in accessing services on the island.
In our experience, they check for the HDC and QR code as early as airport check in. They also asked for at the gate, upon boarding.
Note: Your Tourist QR Code will expire 12 hours from your accommodation checkout time. If you plan to extend your stay, send an email of a new booking slip to touristboracay@gmail.com. You must do this before your original checkout time.
---
DOT's List of Boracay Hotels & Resorts Allowed to Operate
The Department of Tourism (DOT) Region VI has a list of hotels and resorts with a Certificate of Authority to Operate (CAO) or a Provisional Certificate of Authority to Operate (PCAO). Here are just a few of the hotels on their list.
---
Additional words by: Mariah Cruz
Published: 11-06-21
More Tips on YouTube ⬇️⬇️⬇️