Last updated: 2022 • 2 • 3
Boracay is one of the first destinations to re-open to tourists since the COVID-19 pandemic brought the tourism industry to a standstill. However, health and safety protocols are still in place. The local government units (LGUs) strictly implement these policies and require tourists to submit necessary documents prior to their trip.
We were able to visit Boracay a few times since the pandemic started and in this post, we're documenting the process that we went through on our most recent visit. Here's a step by step guide on what you need to do before your trip. Note that these travel protocols may change, so make sure to check for updates with the local government for good measure.
If you need a more visual Boracay guide, watch this video:
WHAT'S COVERED IN THIS GUIDE?
1. Complete the Boracay Travel Requirements.
Before we go to the specifics of each requirement, here's a quick overview of the travel requirements for non-Aklanon TOURISTS visiting Boracay.
Take a good look at it so you know which ones you need to prioritize. In the pre-pandemic world, flights usually get taken care of first. But it may not always be the wisest way to go these days.
For Vaccinated Tourists: Proof of Vaccination. This can be any of the following:
– VaxcertPH certification
– locally-issued vaccination card with contact details of vaccination center
– International Certification of Vaccination and Prophylaxis (ICV) from WHO
– vaccination card or certificate issued abroad
For Unvaccinated or Partially Vaccinated Tourists: Negative RT-PCR test. Must be taken within 72 hours prior to departure. RT-PCR tests must be done by any of the accredited laboratories. You can find the list of accredited labs here.
For Children 12 years old or under: Certificate of Undertaking. Here's a template.
Confirmed hotel or resort booking on the island. Make sure that you book a hotel with Certificate of Authority to Operate/Provisional Certificate of Authority to Operate from the Department of Tourism. You can check the list of hotels here: LIST OF OPERATIONAL HOTELS IN BORACAY.
Roundtrip transportation details
Valid ID (for local tourists) or passport (for foreign tourists)
Online Health Declaration Card (OHDC). You will be accomplishing this online at Tourist Boracay website.
Tourist QR Code and copy of your Health Declaration Card. These will be sent to your e-mail if the processing is successful. Print or keep a digital copy of your Tourist QR Code and keep it with you at all times when you are in the island.
You might also want to get an S-Pass Travel Coordination Permit (TCP). It is NOT a requirement when getting a Tourist QR Code but airports or airlines might ask for this so the provincial government of Aklan recommends securing one for easier, hassle-free journey. To apply for a TCP, go to s-pass.ph or visit this S-Pass tutorial page for more info.
For tourists coming from Western Visayas: also submit the following:
If driving private vehicle, photo of the vehicle plate
If taking public transportation, accomplished Certificate of Undertaking. Template here.
---
2. Accomplish the Online Health Declaration Card (OHDC).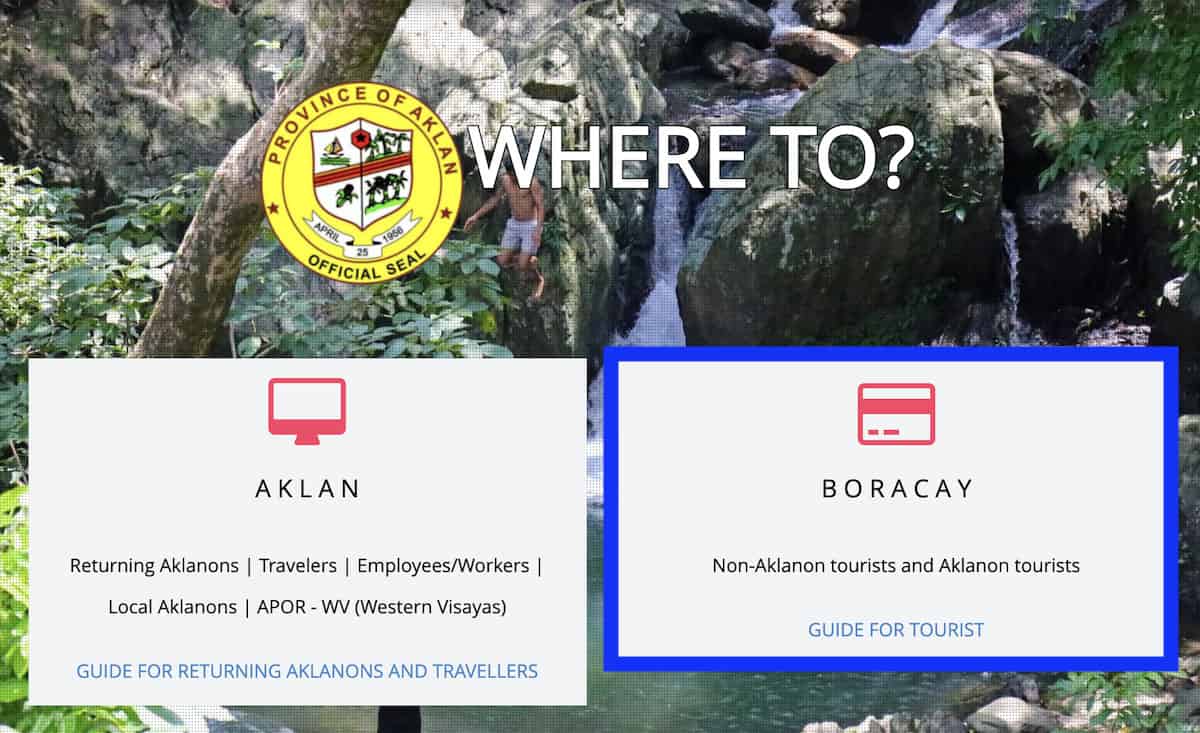 Go to www.touristboracay.com and click Boracay on the homepage.
Fill out the form with all the required details and click Submit.
The form will ask you for info on your health, accommodations, and itinerary.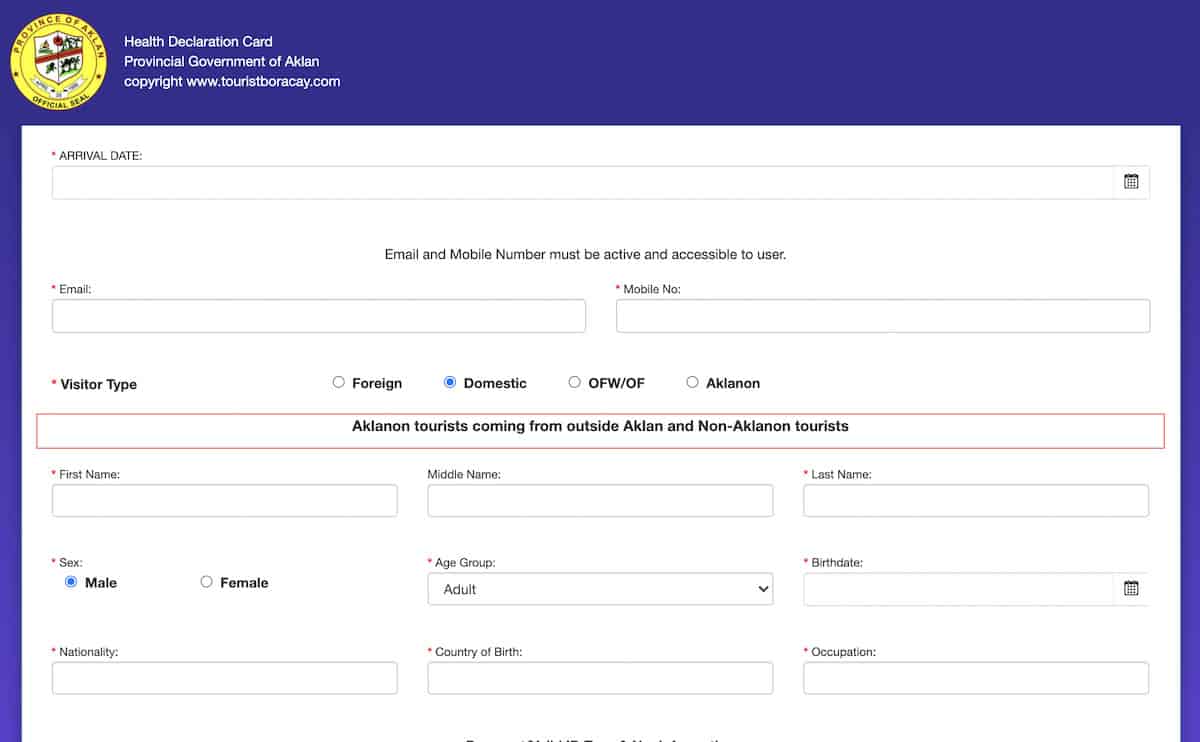 You'll also be asked to upload the requirements. More info in the next section.
---
3. Upload a copy of the requirements.
At the bottom of the same OHDC page, you'll find a section for uploading of the required documents.
(Previously, the submission of requirements was done via email. In our case, we had to email to touristboracay@gmail.com and use the subject OHDC-Family Name, First Name. For example: OHDC-CARLOS-VINS. But it has since been integrated in the OHDC form.)
Here are the documents you need to upload: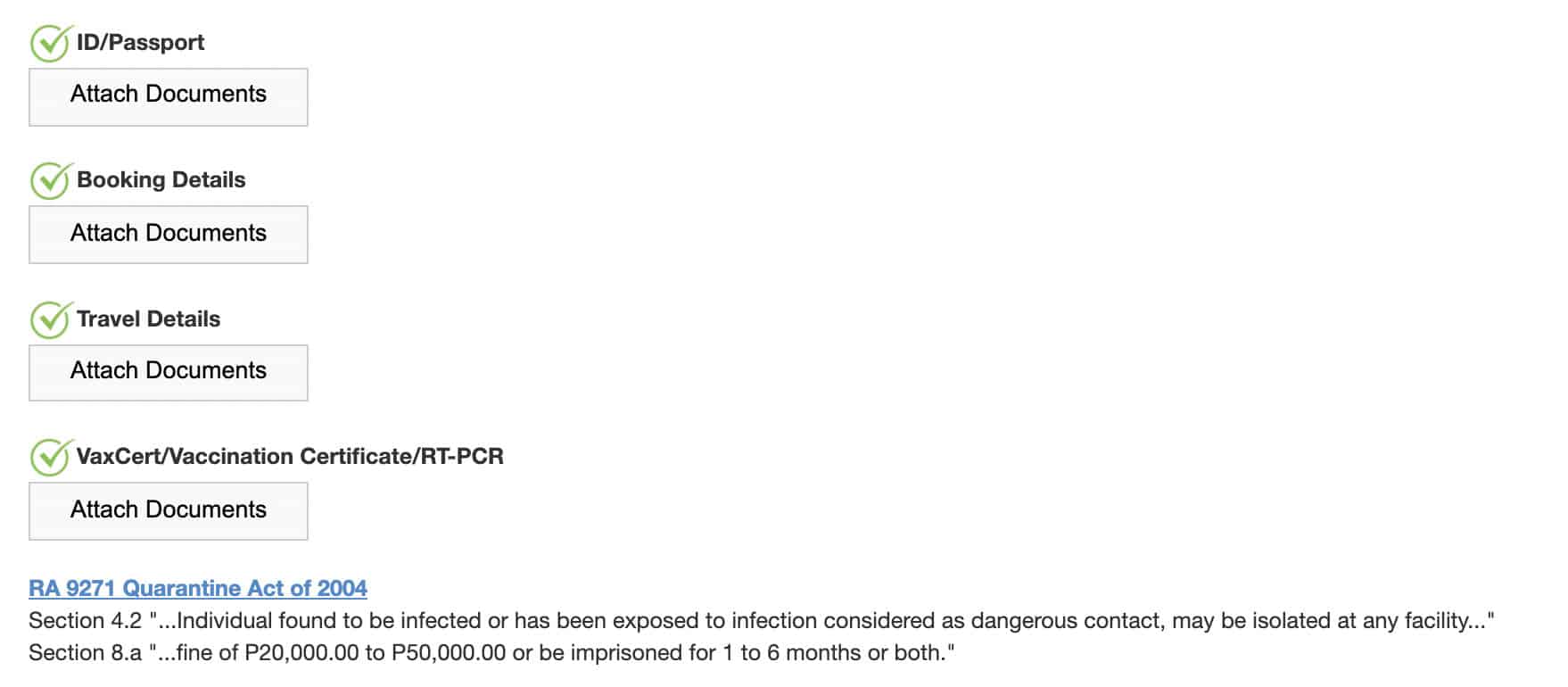 Only JPG, PNG and PDF files smaller than 2 MB are allowed. If your file is bigger, you need to resize it first.
Make sure to send only valid documents. Keep in mind that falsification of documents is punishable by law.
Enter the CAPTCHA code and click SUBMIT.
---
4. Save your QR Code.
After submission of the requirements, the next page will present your unique OHDC QR code.
You may click the PREVIEW AND DOWNLOAD button to keep a copy of your QR code. You may print or take a screenshot of it.
Keep this QR Code with you at all times when traveling to and around the island. You'll be presenting it at various points including the ports of entry and exit. In our experience, they check for the HDC and QR code as early as airport check in. They also asked for them at the gate, upon boarding.
If for whatever reason you didn't get an OHDC QR code or you failed to save it, you must start a new application.
5. Check for updates from the validators.
While the OHDC QR code is generated automatically, your documents will still go through a manual validation process to check if they are all authentic and complete. If the validators have any concern with your submission, they will try to reach you via phone call, SMS or email.
If you're asked to submit additional documents, you must comply by sending an email to touristboracay@gmail.com with the subject following this format: COMPLIANCE-LASTNAME,FIRSTNAME-DATEOFTRAVEL.
---
List of Accredited Boracay Hotels & Resorts
The Department of Tourism (DOT) Region VI has a list of hotels and resorts with a Certificate of Authority to Operate (CAO) or a Provisional Certificate of Authority to Operate (PCAO). Here are just a few of the hotels on their list.
SEE FULL LIST OF ACCREDITED BORACAY HOTELS AND RESORTS!
---
List of Accredited Testing Centers
If you're required to present a negative test result, here are just a few licensed testing laboratories that you may book online via Klook.
There are dozens more accredited COVID-19 testing laboratories throughout the country.
SEE FULL LIST OF ACCREDITED TESTING CENTERS!
---
Frequently Asked Questions (FAQs)
I plan on extending my stay in Boracay. What to do?
Your Tourist QR Code will expire 12 hours from your accommodation checkout time. If you plan to extend your stay, send an email with a new booking slip to touristboracay@gmail.com. You must do this before your original checkout time.
When uploading requirements, I get an error saying "Size Validation Failed". What to do?
This means your files are bigger than 2MB, so you need to resize them first. Here's how to resize files.
I get an error "Extension Validation Failed". What to do?
The system accepts JPG (JPEG), PNG and PDF files. If your file isn't any of those, you have to convert them first.
I didn't get a QR Code. What to do?
If after your submission, the system failed to generate a QR code or if you failed to save it, you should fill out the form again and start a new application.
I still have issues about the OHDC QR Code. How to contact them?
For any issues about OHDC, you may contact them through any of the following channels:
Email addresses:
travelinfo@aklan.gov.ph
touristboracay@gmail.com
Travel Info Aklan Assistance Center Mobile Numbers:
09398780715
09755809013
09958500585
---
Before we end, a word about our collaborator for this article:
Excited for Boracay? Make the most out of your trip by having enough funds to enjoy what the island has to offer. If you're the type who finds saving pretty challenging, then you could use a little help from LISTA app! (This is NOT a requirement by any means. We're just sharing something useful!)
LISTA is a mobile app that will help you watch your spending before and during the trip. One of our fave features is the SAVINGS CHALLENGE! With this, you can set when your next trip is, how much you need for that trip, and how often is comfortable for you to set aside a certain amount. This way, you can track your savings. It can even motivate you to save more and get more excited about your next trip!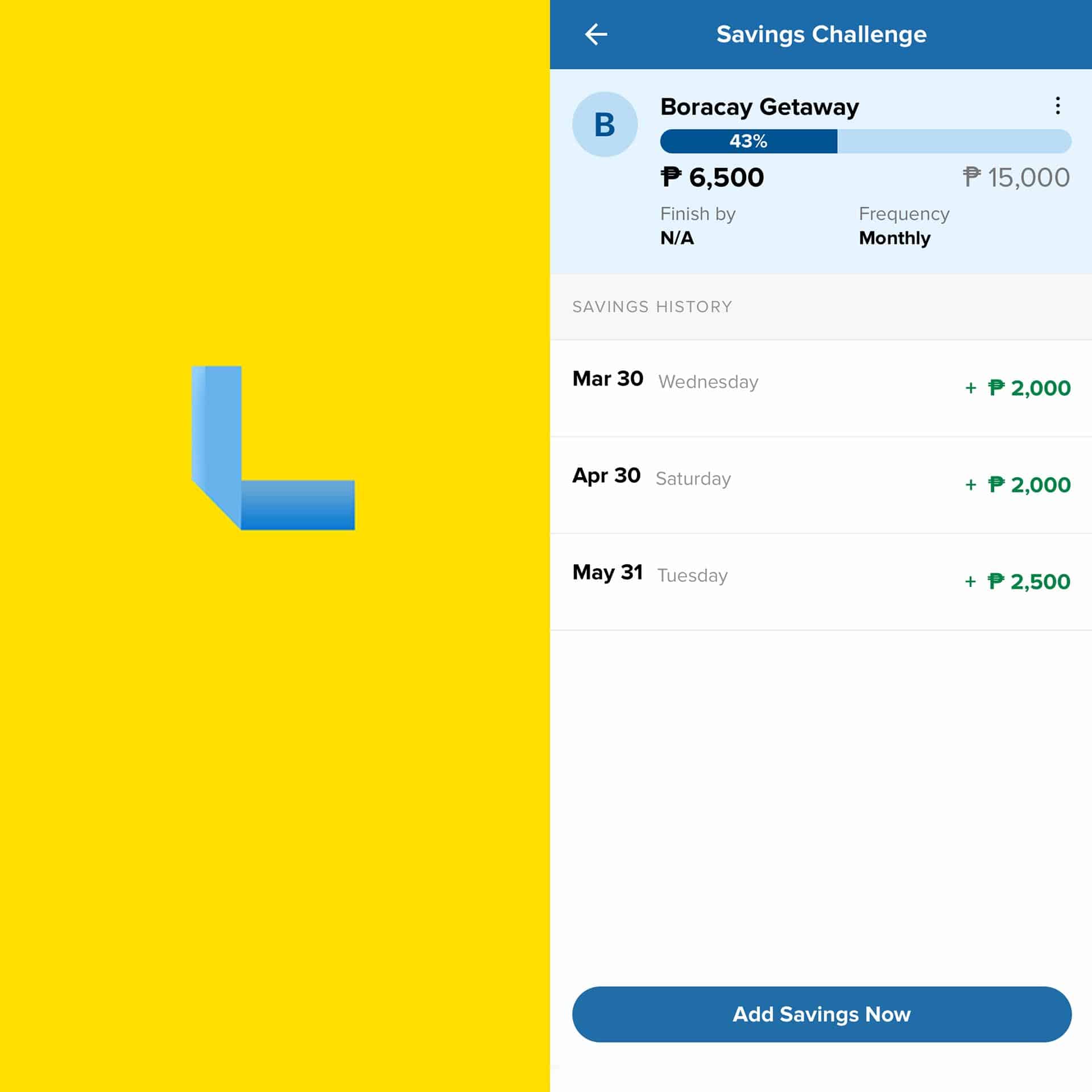 May next travel ka na ba? I-LISTA mo na!
---
Additional words by: Mariah Cruz