2021 • 6 • 18
Planning a trip to Batangas soon?
We recently traveled to Batangas to find out what has changed in the new normal. And here are some tips you should know before going!
REMINDER: We still recommend that you stay home because it's still safer until everything is under control. But if you can't help it and a change of environment is really one of your ways to cope with pandemic fatigue and stress, we've gathered some important info for your trip.
---
WHAT'S COVERED IN THIS GUIDE?
1. Day trips are still allowed at some resorts.
You don't always need to spend the night at the resort if you don't want to. Some public beaches like Matabungkay may be visited on a day tour.
Some private resorts also welcome day trippers but advance reservation may be required and a fee may be charged. In Calatagan, here are the day trip fees of major resorts:
Stilts Calatagan
– PhP 450 (January-February, July-November)
– PhP 550 (March-June, December, and holidays)
Aquaria Water Park:
– P400 (Off-peak weekdays)
– P600 (Off-peak weekends, peak weekdays & holidays)
– P800 (Peak weekends & holidays)
Acuaverde Beach Resort in Laiya also offers day trip packages. Here are the rates: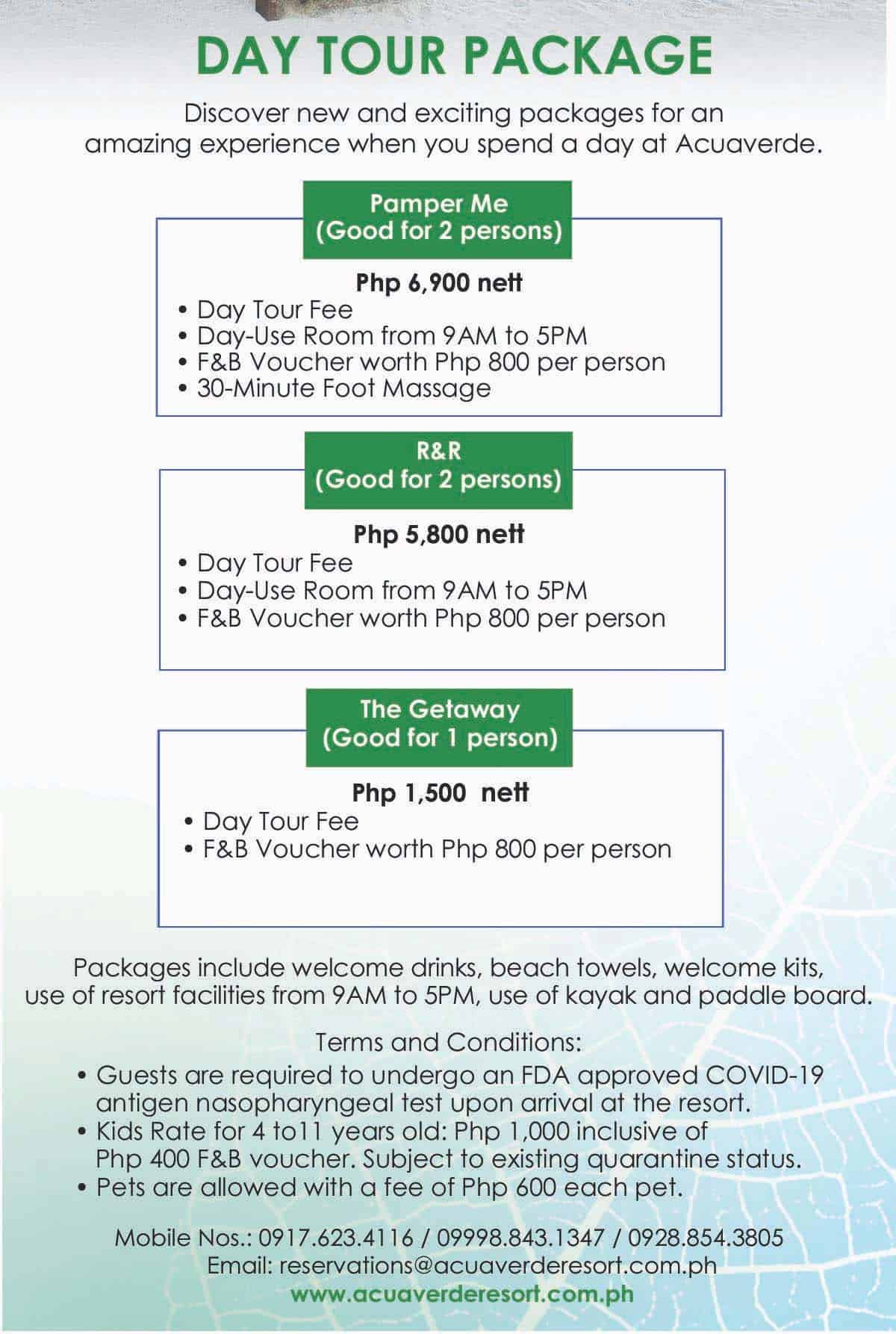 Out of these three, we've personally visited Stilts and Aquaria and both of them require advance booking.
---
2. Travel requirements vary depending on the destination.
Some municipalities only need a health clearance from a government physician or barangay. Some accept a medical certificate from private doctors. So it really depends on where you want to go. The policies change from time to time too.
For example, in Calatagan, there was a time when they would only accept medical certificates. But they have since accepted Barangay Health Certificate signed by the barangay captain and the BHERT stating that you're not on the list of probably suspects or confirmed COVID-19 cases in your area. Same with Laiya in San Juan.
As of June 2021, a negative test result is NOT required to enter Calatagan or Laiya (San Juan), as long as you can submit a medical certificate or barangay health certificate. But there are exceptions.
Some resorts DO require a negative COVID-19 test. For example, San Juan's Palm Beach, Acuatico, and Acuaverde resorts all require guests to undergo Rapid Antigen Test upon arrival. Acuaverde and Acuatico charges Php 1,700 per person.
On the other hand, Stilts Calatagan only require a negative test from senior guests.
To be safe, contact the LGU or the resort management directly for the latest updates. We have found that tourism offices and resorts are most responsive via call, text and FB message.
---
3. Some resorts allow kids and seniors.
While most of the resort towns in Batangas have eased some of the travel restrictions, there are still safety requirements and protocols that need to be followed. Generally, only guests 15-65 years old are allowed to travel, but some resorts have passed the qualifications set by the DOT and have been given authority to accommodate guests of all ages.
Here are some of the resorts in Laiya and Calatagan accepting kids and senior citizens:
LAIYA
Acuatico Beach Resort and Hotel Inc.
Laiya Aplaya, San Juan, Batangas
Check Rates & Photos!

Blue Coral Beach Resort
Laiya Aplaya, Hugom, San Juan, Batangas

Cala Laiya
Laiya Ibabao, San Juan, Batangas
Check Rates & Photos!
El Jardin de Zaida
Abung, San Juan, Batangas
La Luz Beach Resort & Spa
Hugom, San Juan, Batangas
Check Rates & Photos!
Palm Beach Resort
Hugom, San Juan, Batangas
Check Rates & Photos!

CALATAGAN

Stilts Calatagan Beach Resort
Aquaria Water Park (Crusoe Cabins)

NOTE: People with comorbidities and other health risks are still not permitted. Again, please contact the resort first because guidelines and rules change from time to time.

---

4. Contact the resort before booking.

On top of LGU requirements, resorts and hotels may implement additional protocols. For example, in Laiya, some resorts require guests to undergo a SAME-DAY rapid antigen test.

The resorts will also usually tell you what the whole process will be so it's best to contact them beforehand.

On our recent trip to Calatagan, the resort staff needed final confirmation at least a day before the travel date. Aside from paying the downpayment, we also need to accomplish forms and send them via e-mail at least one day before our trip to complete our reservation. They also ask for your car make and plate number so you could pass the checkpoint faster.

Speaking of checkpoints…

---

5. There may be checkpoints along the way.

It depends on where you want to go. Some destinations have checkpoints, some don't.

But if there's one along the way, don't try to avoid it and just comply. Remember, checkpoints are there to protect visitors and locals alike. Keep the documents handy. As much as possible, prepare hard copies of the required documents because they are usually collected at the checkpoint too. Save and secure the soft copies too, just in case.

CALATAGAN: Checkpoint is located at the entrance to the municipality, shortly after the welcome arc. Calatagan is a peninsula and there is only one access road so you will pass through the checkpoint. Here, they check your requirements and a resort representative will facilitate the entry process.
LIAN / MATABUNGKAY: If you're coming from Nasugbu, there is a checkpoint upon entry to the town proper of Lian, right after the bridge. But we didn't encounter any checkpoints going to Matabungkay when coming from Balayan.
LAIYA / SAN JUAN: I'm not sure if this is considered a checkpoint, but when going to Laiya or any San Juan destination, you need to drop by the Tourism Office, located in Brgy. Buhay na Sapa, to submit requirements and pay the ecological fee on your way to the resort.

This is the San Juan Tourism Office Area. Photo taken before the pandemic.

---

6. Pack smart.

Bring only what you need but make sure you have the essentials: face masks, face shield, alcohol/sanitizer, sunscreen, and other protection from the sun such as hat, umbrella, sunglasses, etc.

On our recent trip to Stilts, we brought one bag where we stuffed all our separately-packed change of clothes and toiletries. This way, our things are more organized, plus it saves space in the trunk and create more room inside the car.

Our World Traveller bag also has lots of pockets for many important items like extra masks and documents. This way, we won't need to touch or move around our other belongings when we only need to get an extra mask or keep other documents.

Use a lightweight bag so you can carry it yourself and further minimize contact. If you're not booking a room, make sure your bag is secure and protected, too. Keep an eye on your belongings.

Our open hut at Stilts Calatagan features a locker where we can keep our valuables.

---

7. Pick a beach or resort that isn't crowded.

Not surprisingly, public beaches tend to be visited by more people even in these times. If you can afford it, stay at a beach resort that offers more space to and has fewer guests. Usually, resorts are mandated to allow a certain number of guests per day (maximum capacity).

We stayed at Stilts Calatagan, which has three beaches, lots of space to move around, and plenty of facilities to use. Aside from the mandated number of guests per day, most resorts, if not all, are also required to leave one cottage/hut/table empty in between occupied ones. At least that's how it is for Stilts and Aquaria Water Park.

We had the beach to ourselves when we visited Stilts

We also visited Matabungkay and maaaan there were a lot of people at the time, and it was a weekday. We can only assume it gets more crowded on weekends.

Speaking of weekends….

---

8. Timing is everything.

Weekends and holidays tend to be more crowded, so avoid these if you can.

We went on a weekday and we had almost the entire Stilts Calatagan and Aquaria to ourselves. If you can't help going on a weekend, make sure you observe social distancing.

There was no one else in the pool!

Better if you can wait for the peak season to pass and go during the off-peak season like January, February, and the July to November period.

---

9. Public vs Private Transportation

During these times, public transportation options are still limited and quite unstable in terms of routes and schedules. It is much safer to travel via private vehicle.

If you don't have your own car, consider renting one. It's not the most budget-friendly option, but it's definitely safer. Before the pandemic, we are used to commuting, but its's different now. We are definitely more at ease traveling by private vehicle.

---

10. Follow the rules.

When outside, keep your mask on unless you're eating or swimming. The face mask should cover your nose and your mouth. Apart from wearing your mask properly, use the right mask. Make sure that it has multiple layers and it has proper filter.

Always wash your hands especially after using shared facilities. Use hand sanitizer or alcohol if there's no nearby hand-washing area. Don't forget to bring your own small refillable bottle of sanitizer and alcohol.

And of course, observe physical distancing. Please be mindful of and respect other people's space. Travel safely and responsibly!

---