Last updated: MARCH 1, 2020.
Here's a DIY BUDGET TRAVEL GUIDE BLOG to MANUEL UY BEACH RESORT, the newest camping destination in CALATAGAN, BATANGAS. In this post, you'll find sample MANUEL UY BEACH itineraries, summary of expenses, useful travel tips, and updated rates!
"Are we going to Horacio Uy Beach?" my friend Glenn asked in a tone and with a face that clearly suggested he was not kidding.
Realizing he made a mistake, he flashed an embarrassed smile that cut across his now redder face. All he could remember, he explained, was that the resort has an old Spanish first name and a Chinese last name. My only question is, Horacio, really? Where did that come from?
Horacio aside, it is not surprising at all that people have trouble retaining the name of the resort. Glenn certainly wasn't the first in my circle of friends. Outside Batangas, it is pretty much unheard of. And it's not every day that we hear about a beach that bears a person's full name. But you know what, some may remember it as Manuel Uy, Horacio Cheng or Teofilo Chua, but this little nook in Calatagan is the next big thing in Batangas tourism.
WHAT'S COVERED IN THIS GUIDE?
UNDERSTANDING MANUEL UY BEACH
According to the boatmen we talked to, the resort got its name from its owner, a Filipino who is currently based in the United States. It is located along the western coast of the Calatagan peninsula. It faces the Verde Island Passage, which is a busy channel so big ships are a common sight from here.
At first glance, it doesn't look like a resort at all, more like a camp site. With the exception of the shower and toilet rooms and a staff stations, there are no permanent concrete structures along the beach. But the site blew us away in many ways.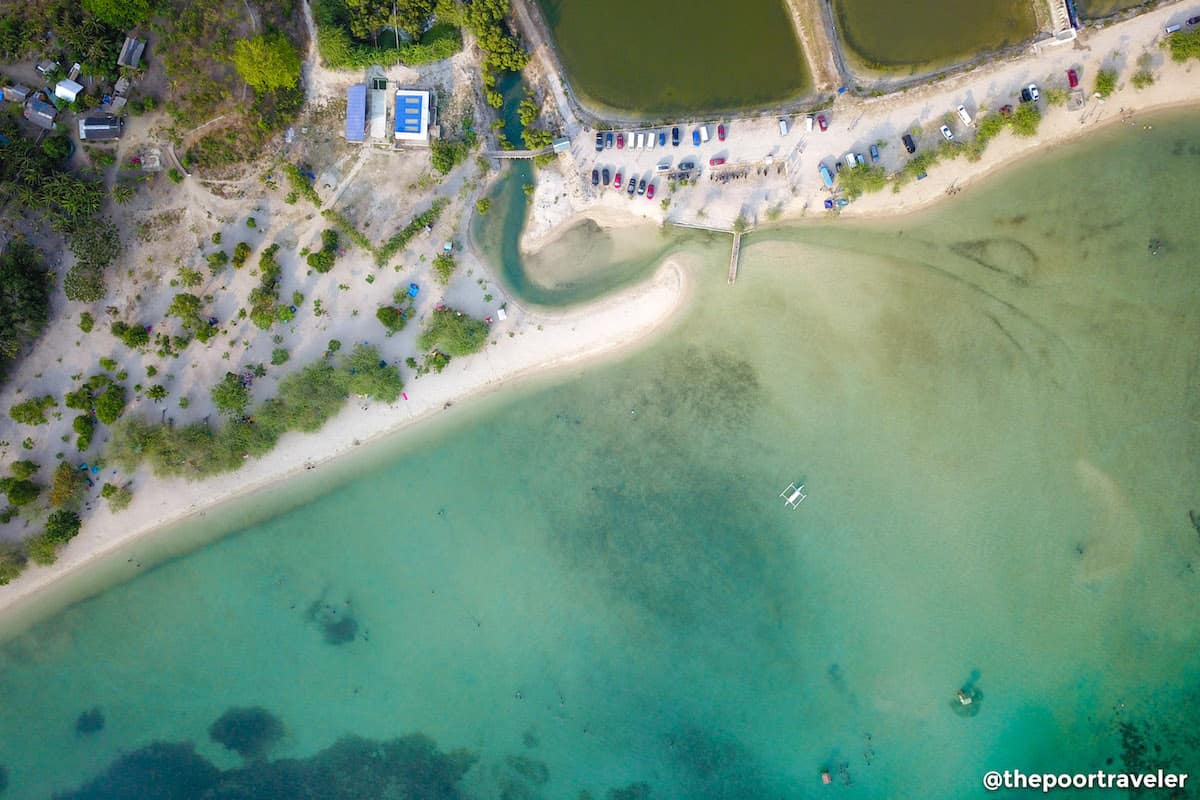 First, the beach itself is remarkable. It is a long, wide strip of cream-colored sand lapped gently by Calatagan's signature shallow waters. You can wade through the little waves for minutes and the water will barely reach your waist or chest. It's also bookmarked by small rocks that jut out to the sea, adding some texture to the already picturesque cove. it is surrounded by sandbars and snorkeling sites that are easily accessible from the beach.
Second, on one end of the cove is an inlet that divides the place into two parts: Beach 1 and Beach 2. Occupying the southern half is Beach 1, the part immediately after the entrance on the other side of Aquaria Water Park. This is the quieter side. Beach 2 is the northern half, just next to Stilts Calatagan. This is where the restrooms stand and the island hopping boats are stationed.
Third, it is adequately staffed. A lifeguard is stationed at the beach. He also calls out anyone who might be doing something dangerous in the water. A maintenance crew is also assigned in many areas throughout the site. You can approach them if you need anything, like if you need to find a boat for island hopping. They remind day trippers when their time is up and what time the bus bound for Manila is leaving. They also keep the site clean and trash-free.
---
HOW TO GET TO MANUEL UY BEACH FROM MANILA
Manuel Uy Beach Resort is only three to four hours away from Manila, depending on traffic conditions. Here's how to reach it by public transportation.
Travel to MRT Taft Station along EDSA, where you can catch buses bound for Calatagan (4am-4pm). You can also take a van at the basement parking of Metropoint Mall on the other side of EDSA. I haven't really tried the bus, but I had taken the van to Calatagan a few times before. Travel time: 3 hours. Van fare is P180.
Alight near Calatagan Public Market or anywhere in the town proper.
Charter a tricycle to Manuel Uy Beach. Travel time: 20 minutes. Fare: P200 (good for up to 4 pax).
You might want to take the number of your tricycle driver or arrange to be picked up because in this area, it's hard to find one to take you back to the town proper.
---
---
DAY TOUR vs OVERNIGHT STAY
It is possible to arrive in and leave Manuel Uy Beach on the same day and still have a great time, even if you're coming from Manila. The place isn't that big and the island hopping takes only a couple of hours. However, to maximize your stay, leave Manila as early as you can. If you leave at 6am, you'll arrive at around 9am, go on a boat tour, have lunch, and leave at 3pm, just in time to catch the 4pm return bus.
If you want a more relaxed stay, you can camp out and spend the night here. It also gives you time to see the Punta de Santiago Lighthouse or do a day trip to Stilts Calatagan.
There is a time limit:
Day trip: 5am to 5pm only.
Overnight stay:5am to 12 noon the next day only.
---
MANUEL UY BEACH RESORT RATES
Below are the updated rates. This used to be a lot cheaper, but the management implemented an increase in the fees starting April 1, 2019.
ENTRANCE FEES
DAY TOUR
Adult: P150
Senior Citizen: P105
Children (6 years old and below): FREE
OVERNIGHT FEE
Adult: P250
Senior Citizen: P175
Children (6 years old and below): FREE
RENTAL FEES
Same price for day tour and overnight.
Table and chairs: P250 for 1 table and 2 long benches
Tent Rental (up to 3pax): P500
Grill Station: FREE
Shower and Restroom: FREE
Power bank for rent: P50
Electric stove for rent: P50
Rice cooker for rent: P50
Parking Fees
Same price for day tour and overnight.
Motorcycle: P20
Car: P100
Van: P100
Bus: P300
PHOTOSHOOT FEES
Good for up to 5 people + 1 parking space:
Day Tour: P3000
Overnight: P6000
---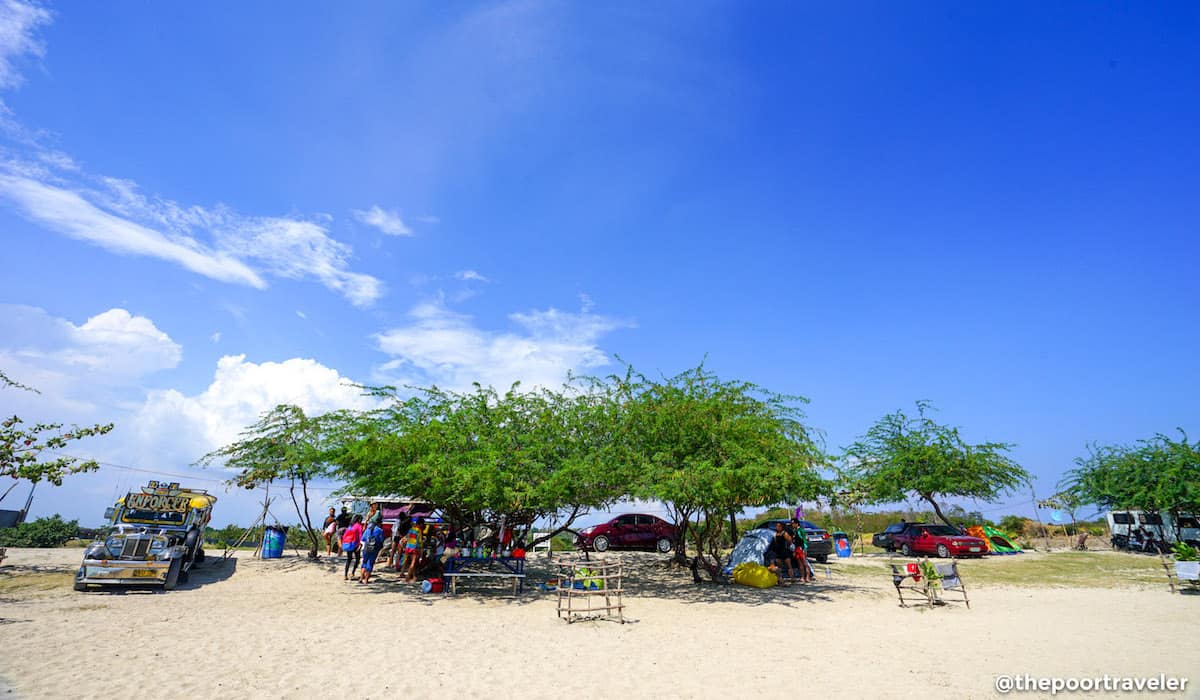 ---
WHERE TO STAY
Camping Fees
Camping is the name of the game at Manuel Uy Beach Resort. Just set up a tent and you're good to go. There are no rooms that you can rent.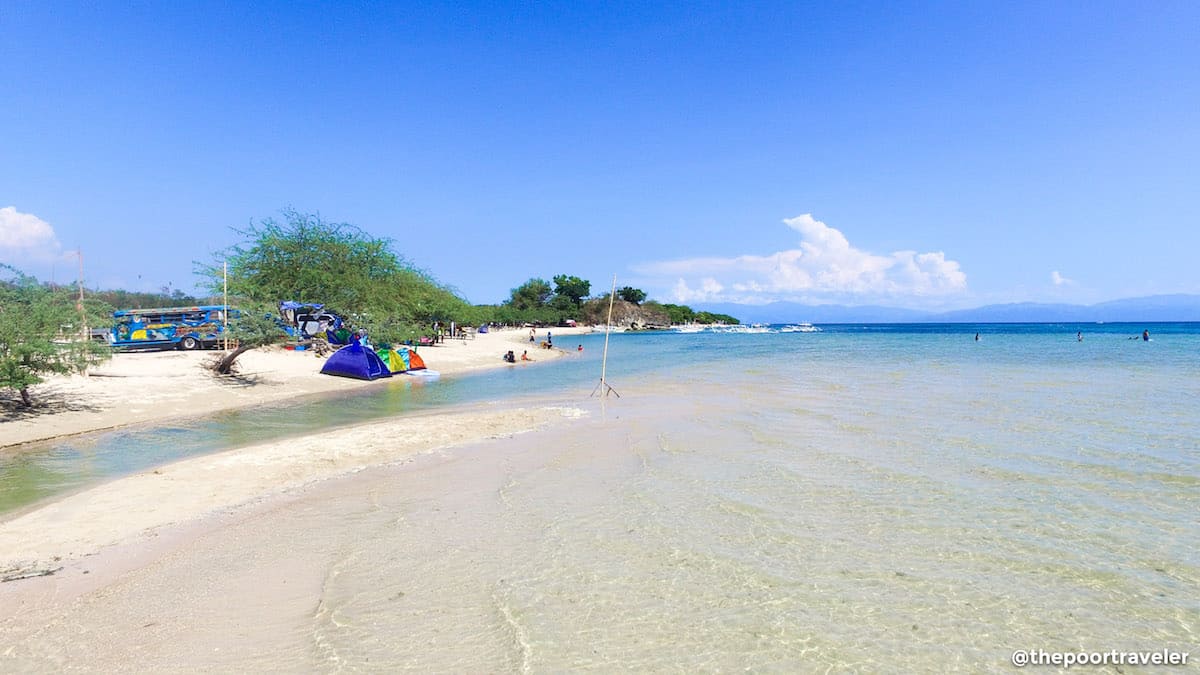 If you bring your own tent, you'll need to pay the campsite fee. The rates vary according to the size of the tent (or the number of occupants).
This applies if you bring your own tent. Rates depend on tent size. Same price for day tour and overnight.
1-4 pax (195 x 195 x127 cm): P200
5-10 pax (230 x 230 x 165 cm): P300
11-15 pax (275 x 275 x 178 cm): P700
16-20 pax (305 x 305 x 203 cm): P900
20+ pax: contact the management
If you don't have a tent, you can rent one at the resort. It costs P500 (good for up to 3 pax).
---
Calatagan Beach Resorts
But if you really want to stay in an air-conditioned room, there are other better furnished resorts in Calatagan. Here are some of them.
---
THINGS TO DO AT MANUEL UY BEACH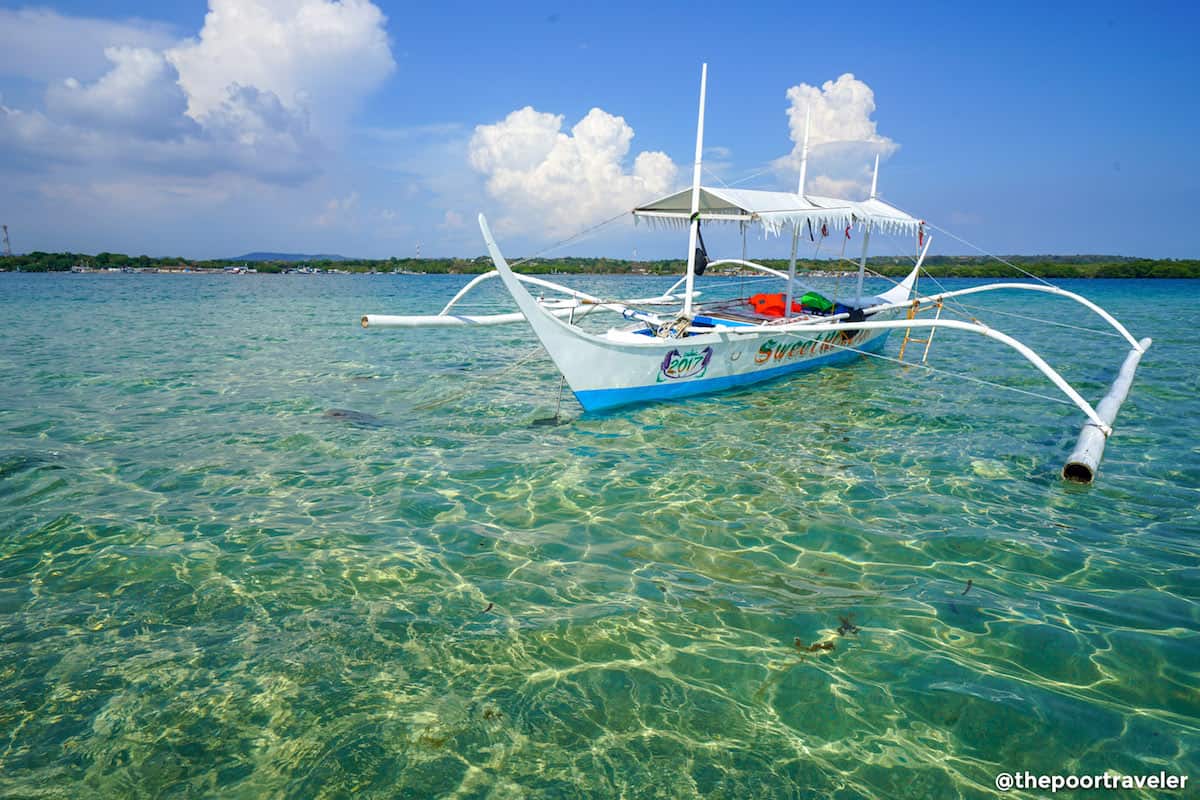 Island Hopping. From the resort, you can join a group tour. There are usually 2 stops: Starfish Island and Sand Bar. The rates are P1000 per hour or P1500 for 2 hours. The boat can accommodate up to 5 passengers.
Go swimming or snorkeling. Calatagan's shallow waters make it safe for kids (but please watch them still and don't let them go too far from the shore). You can take dip or just have fun in the water. You can also rent a goggle for only P50.
Watch the sunset. The resort faces west so expect a spectacular sunset!
Stargazing. If you choose to spend the night here, download a stargazing app. The one I use is GoSkyWatch, which can identify the stars, planets and constellations.
Stilts Calatagan Day Tour. Just next to Manuel Uy Beach is Stilts Calatagan, a pricey resort with three beaches. But you can visit on a day tour for a much lower rate, at P385 per head. Doing so will allow you to enjoy not just their beach but also some of the resort's amenities like the pool. However, the rooms on stilts are off limits to day trippers.
Calatagan Lighthouse. At the very end of the cape where Manuel Uy Beach is located stands Punta de Santiago Lighthouse (also known as Cape Santiago Lighthouse, Calatagan Lighthouse, or simply Parola). You can drop by on your way back to the town proper. Just add P50 to the fare.
---
SAMPLE MANUEL UY BEACH ITINERARIES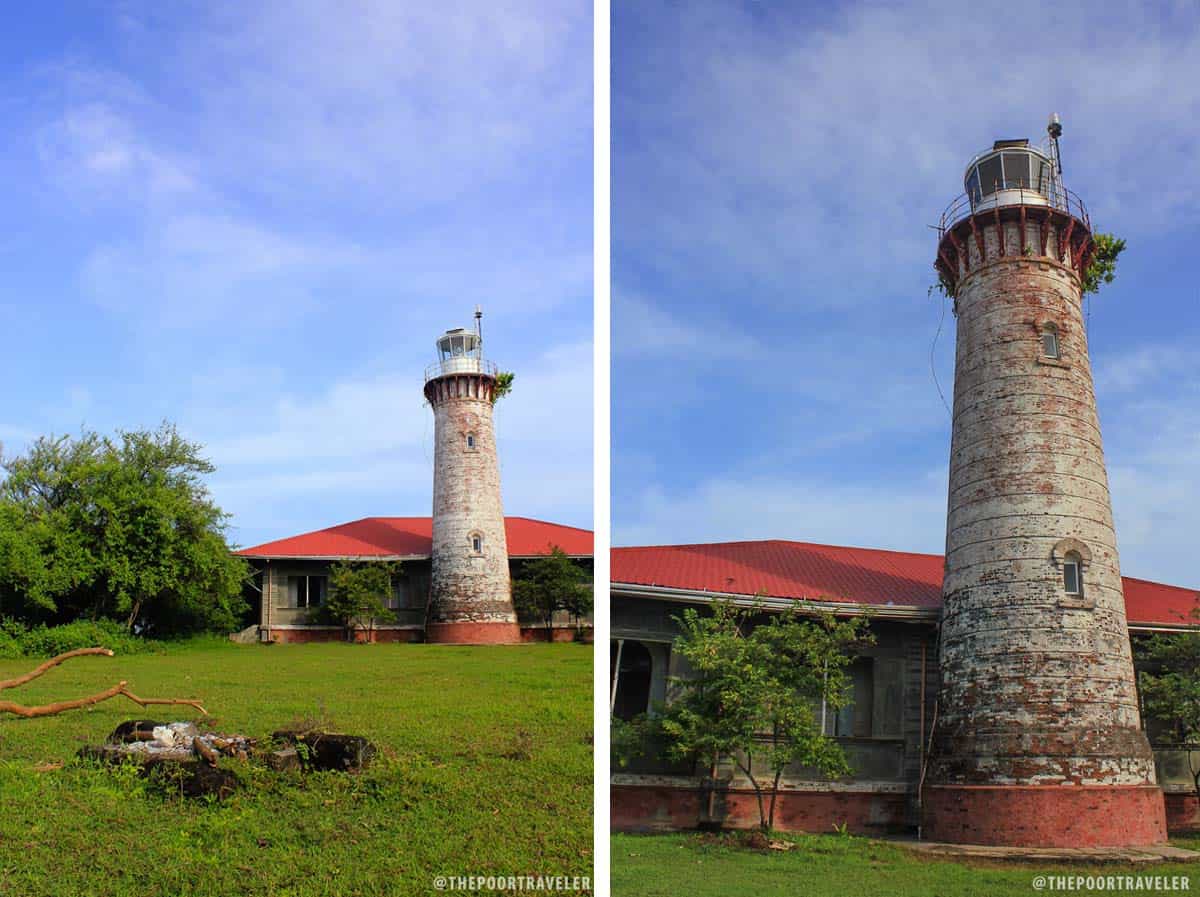 Below are two sample itineraries with breakdown of expenses. The first is for a day tour, and the other for an overnight stay. Please note that both itineraries assume you're a group of 4 people, splitting the costs of some items and bringing your own food.
Day Tour Itinerary
The itinerary below is just a sample. Feel free to make the necessary adjustments if you have other needs and preferences.
06:00 am – Bus to Calatagan, P180
09:30 am – Buy food at Calatagan Public Market, P100
10:00 am – Tricycle to Manuel Uy Beach, P50 (P200/4pax)
10:30 am – Pay Calatagan Environmental Fee, P30
10:35 am – Arrival at Manuel Uy Beach, Entrance: P150
11:00 am – Island hopping: P375 (P1500/4pax)
12:30 nn – Lunch
01:30 pm – Swim
03:00 pm – Pack up, trike to town proper, P50 (P200/4pax)
04:00 pm – Travel back to Manila, P180
If you follow this itinerary, prepare to shell out at least P1200 (USD23, EUR20, SGD31).
Overnight Itinerary
This itinerary will give you more time to enjoy the beach. Bring your own water and snacks.
DAY 1
06:00 am – Bus to Calatagan, P180
09:30 am – Buy food at Calatagan Public Market, P150
10:00 am – Tricycle to Manuel Uy Beach, P50 (P200/4pax)
10:30 am – Pay Calatagan Environmental Fee, P30
10:35 am – Arrival at Manuel Uy Beach, Entrance: P250
10:50 am – Pitch tent, Camp Fee: P50 (P200/4pax)
11:00 am – Lunch
01:30 pm – Island hopping: P375
03:30 pm – Rest
05:30 pm – Watch sunset
07:00 pm – Dinner
09:00 pm – Sleep
DAY 2
06:30 am – Morning swim
08:00 am – Freshen up, pack up
09:00 am – Tricycle to Lighthouse, P12.5 (P50/4pax)
09:30 am – Tricycle to town proper, P50 (P200/4pax)
10:00 am – Travel back to Manila, P180
This itinerary will set you back P1400 (USD26, EUR23, SGD36) excluding other possible miscellaneous expenses like snacks.
If you have your own ride and you have more time, considering trying one of the popular restaurants in Nasugbu like Kainan sa Dalampasigan or El Cocinero by Chef Arnaldo on your way back to Manila. You can also make a stop in Tagaytay.
You can further bring down the cost of either itinerary if you form a bigger group.
---
MORE TIPS FOR THE POOR TRAVELER
Bring aqua shoes. Or at least, bring sturdy flip-flops. Although the exposed part of the beach is sandy, the bed beneath the waves is a bit rocky! It can get difficult to walk barefoot.
Leave no trace. Don't leave trash on the beach. Whatever you bring to the place, take them with you when you leave. Leave nothing but footprints!
Use coral-friendly sunscreen. A study conducted by Archives of Environmental Contamination and Toxicology revealed that many sunblock products contain chemicals like oxybenzone, benzophenone, and parabens that are harmful to marine life. Choose brands that do not contain these chemicals.
Swimming is allowed only between 6:30am and 5:30pm. You can't swim at night. If it's high tide when you arrive, take advantage of it and swim. When the low tide kicks in, the water can get so shallow. At low tide, the water level is only knee-deep at the far end of the swimming area.
Drop by Calatagan Public Market to buy food and just prepare them on the beach. Use of the resort's grilling station is free of charge.
Bring a hat, light scarf/wrap or anything that can protect you from the sun. Island hopping boats don't have a tarp cover so you're pretty exposed to the sun.
Pay the P30 tourism/environmental fee that is collected before entering the resort.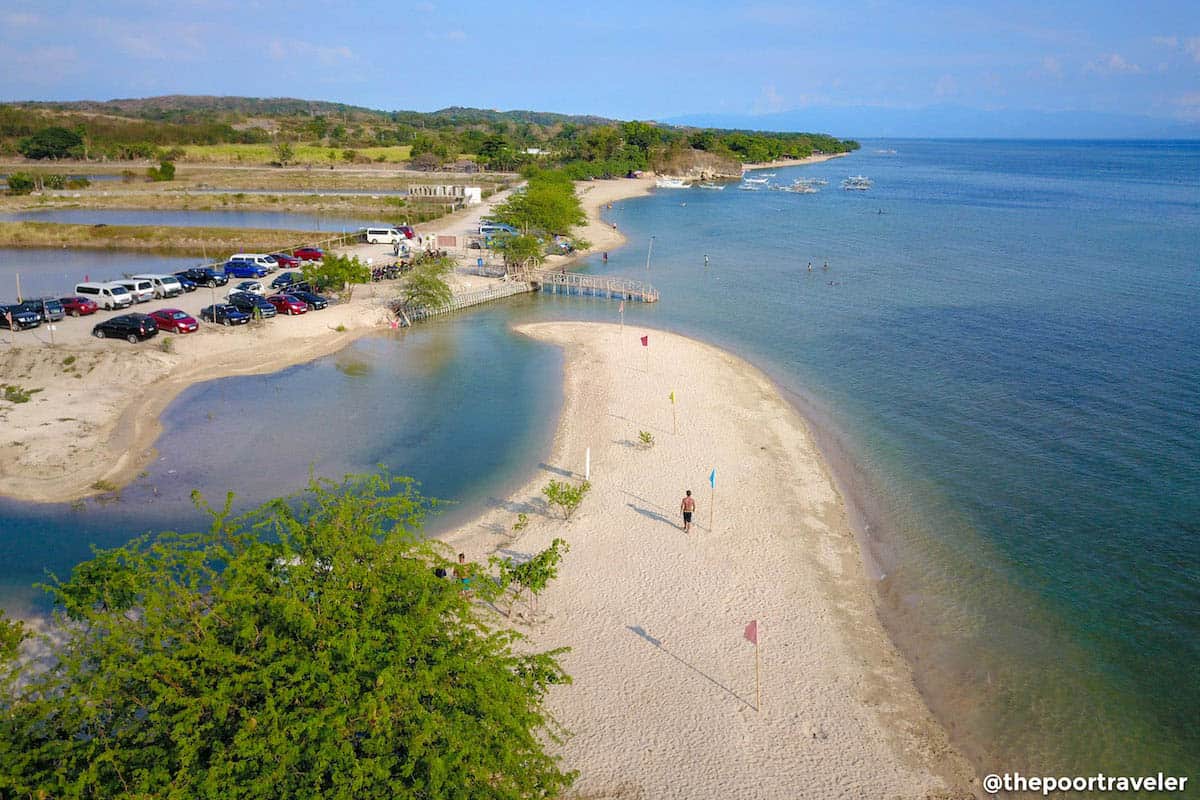 ---
FREQUENTLY ASKED QUESTIONS
When is the best time to visit Manuel Uy Beach?
November to March, if you want to avoid the crowd. It's popular among local (Batangas) tourists too, so it can get crowded on weekends.
When it gets too crowded, the management stops accepting guests. If you want to avoid this, avoid the weekend and arrive early.
If you can't help going on weekend, have a Plan B just in case you're refused entry. You can try other coves in Calatagan, but unfortunately I haven't tried anything else other than neighboring Stilts Resort (entrance fee: P350 for day tour + corkage fee).
Are there shower rooms and restrooms in Manuel Uy Beach Resort?
YES. They're located on Beach 2 and another one is being constructed on Beach 1.
The Beach 2 restrooms have several cubicles inside a concrete building. There are also dozens of showers outside that you can use. In order to avoid long queues, you're encouraged to use the showers outside and then change inside.
Are there places to eat nearby?
The best way is to bring your own food. U didn't see any carinderia or eatery anywhere near the resort.
Can we bring in food from outside?
YES. You're encouraged to do that because aside from a small sari-sari store, there is no other source of food on site.
Can we bring in alcoholic beverages (liquor) from outside?
YES. You can. Just drink in moderation and don't make a scene.
Can we cook inside Manuel Uy Beach Resort?
YES. There is a designated grilling area with a dozen grill stations next to two lanes of sinks, where you can wash dishes or clean some of your ingredients.
You're also allowed to bring in portable butane stove.
Are bonfires allowed at Manuel Uy Beach Resort?
NO, bonfires are prohibited. You cannot cook directly on the beach. Use the designated grill stations if you need to cook something or bring a portable butane stove.
Are drones allowed at Manuel Uy Beach?
NO, not anymore. When we first visited, it was still allowed. The staff were with us when we flew our drone. However, when we returned in September 2018, drones are no longer allowed. Not sure why, but it is prohibited. You'll be given a slip with all the rules.
Anything else we should bring?
Sunscreen and insect repellant lotion. I have to say, the very first time I contracted Dengue fever was here in Calatagan. That was eons ago, but I still highly encourage you to protect yourself from mosquitoes.
Bring water shoes or sturdy slippers because some parts underwater are rocky.
What time is the last trip back to Manila?
Some say the last trip bound for Manila is at 4pm, others say it's at 6pm. I'm not sure which one's right. I forgot to confirm at the terminal. 😞
Photos by Vins Carlos