When it comes to beaches in Batangas, Calatagan is always among our top choices. It has fair sand and shallow waters, and it's not as crowded as other beach destinations in the province. We recently returned to Calatagan to find out what has changed since the pandemic and what to expect in the new normal. In this article, we'll focus on one of its most iconic attractions — Stilts Calatagan Beach Resort!
Accommodations in Calatagan range from undeveloped coves to more upscale resorts, from rugged camping sites to luxurious villas and water parks. The Stilts Calatagan is on the higher end of the spectrum. It is a well-known venue for team buildings and special occasions like birthdays, debuts, and most especially, weddings. The most distinct feature of the resort is the cluster of overwater bungalows, linked by wooden boardwalks, reminiscent of the water villas in the Maldives. These villas and other overnight cottages/rooms might be too expensive for budget travelers, but sun chasers and beach lovers can make do with a workaround — day tour and beach camping.
But whether you're spending a night or just visiting on a day trip, new normal policies apply. Every visitor must present a few travel requirements and follow additional measures to ensure the safety of everyone. So, if you are visiting Stilts Calatagn soon, here are some things you need to know.
---
WHAT'S COVERED IN THIS GUIDE?
Stilts Calatagan Travel Requirements
Here are the requirements when traveling to Stilts Calatagan Beach Resort:
Advance Booking Form or Guest Confirmation Voucher, to be provided to you by Stilts management upon booking confirmation.
Health Declaration Form. The Stilts management will forward the soft copy of this form to you after your booking confirmation. One form per guest.
ANY of the following:

– Vaccination card, for fully vaccinated guests;
– Negative test results dated 1 to 3 days before check in date, as per Stilts. According to Calatagan Tourism, it can be a negative RT-PCR test result issued within 48 hours or rapid antigen or saliva test issued within 24 hours.
– Medical Certificate OR Barangay Health Certificate. Medical certificate must be issued by a government or private physician and should state that you're not on the list of probable suspects or confirmed COVID-19 cases in your area.
❗️ IMPORTANT NOTES:
While Stilts Calatagan lists medical certificates as an option, the Calatagan Tourism Office's October announcement includes only negative test results and a vaccination cards. Please double check with the LGU or with Stilts when you book.
The certificates and the duly accomplished health declaration forms must be dated as close as possible to your scheduled visit and must be submitted via e-mail at least one day before your trip.
Kids and senior citizens are allowed. Stilts is one of the few resorts in Calatagan authorized to accept guests of all ages. Just secure all the necessary documents required by the resort. Pregnant women and persons with comorbidities are not allowed. This is in accordance with the guidelines of Administrative Order No. 2020-006-C.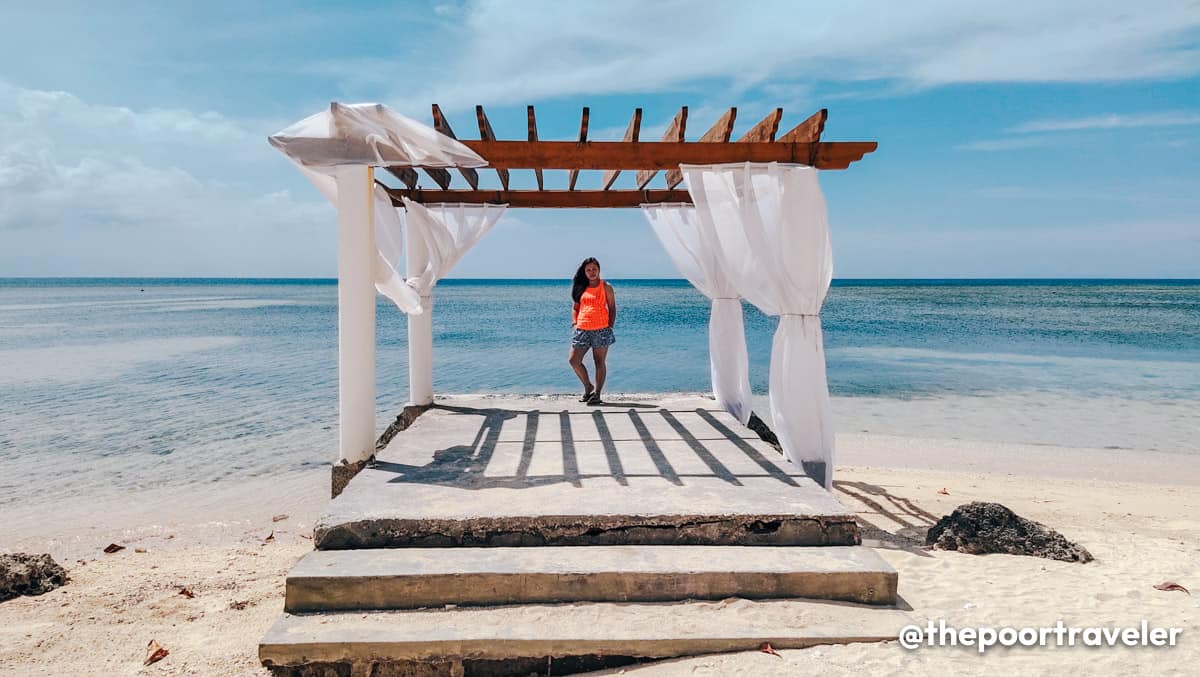 ---
New Normal Booking Process
As of writing, resorts in Calatagan DO NOT ACCEPT WALK-INS. You need to make a prior reservation before your trip. Stilts Calatagan Beach Resort accepts both day tour and overnight guests. We visited as day tour guests only. Here's how we secured our slots:
Contact Stilts Calatagan. We sent an e-mail to the management inquiring about the day tour rates. Here are the contact details:

– E-mail Address: stilts.sales@gmail.com

– Landline:(+632) 967-0820

– Mobile Numbers: 0917 5863343 / 0917 5807653 / 0917 5237777 / 0908 8662254

Provide the info needed for the formal quotation. Stilts management will ask for details such as the total headcount, your choice lodging, and the date of your visit. Then, they will send you the quotation, bank details, requirements, and other reminders.
Complete the necessary requirements and pay the 50% downpayment. Your reservation is tentative until you send a copy of your deposit slip to the given e-mail address. Make sure to pay on or before the applicable Payment Option Date. Stilts Calatagan reserves the right to cancel your booking if no deposit is made.
Accomplish and submit the necessary forms. After sending a copy of your deposit slip (50% downpayment), the management will forward the following:

– Guest Confirmation Voucher, which contains the cost breakdown, your visit details, and the inclusions.
– Guest Registration Form, which is a list of all the names of the guests and the waiver.
– Health Declaration Form
– List of rules and regulations
One Registration Form per group, but each guest must submit a Health Declaration Form. You must send via e-mail at least one day before your scheduled visit or check-in date

If traveling via private vehicle, provide the license plate of your vehicle. This will be forwarded to and coordinated with the checkpoint staff.
On the day of your visit, have all the requirements ready for checking. There's a representative per resort at the checkpoint. They will check your documents and your name on the resort's guest list. Prepare a hard copy of the documents just to be sure.
---
How to Get to Stilts Calatagan from Manila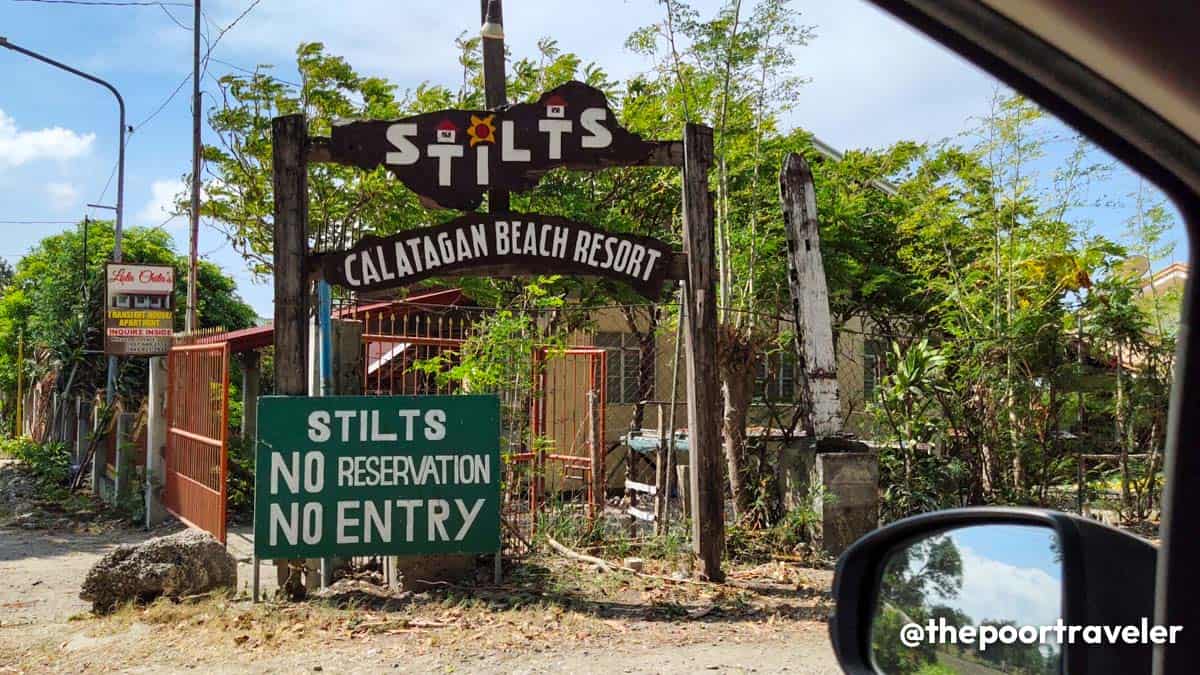 Stilts Calatagan Beach Resort is located in Barangay Sta. Ana on the western coast of the municipality. Coming from Manila, the travel time is three to four hours, depending on traffic conditions.
By Private Car
Going on a road trip has become the choice weekend activity in the time of COVID-19. It's the most convenient and safest way to travel nowadays. Going to Calatagan from Manila, the South Luzon Expressway (SLEX) is the fastest route. Another route is via Aguinaldo Highway. Whichever route you choose, road tripping is now easier when you consult Waze or Google Maps for direction. But if you are curious about how to do it old school, read on.
From SLEX, you can either take Santa Rosa Exit or Mamplasan Exit. The latter is now the fastest route with the launching of the Cavite-Laguna Expressway (CALAX). Ready your Autosweep and EasyTrip (if taking CALAX).
Either route, you will be driving along Santa Rosa-Tagaytay Road. Continue driving until you reach Tagaytay Rotonda.
Continue driving along Tagaytay-Nasugbu Road. You will reach the Batangas-Cavite boundary. Drive past the arc with a "Welcome to Nasugbu" greeting.
Take a right turn when you reach the Palico Rotonda or junction. The landmarks are Jollibee and Caltex. You will pass by Central Azucarera Don Pedro.
Continue driving along Palico-Nasugbu Highway until you reach the Lian-Nasugbu Intersection/Rotonda. Your landmarks are Shakey's and Shell gasoline station.
Drive around the rotonda to the Calatagan-Lian Highway. You will pass through Lian town proper. Last time we passed through here, there was a checkpoint upon entry to the town center. If there still is one, just tell them you're just passing through to Calatagan and show your documents when asked. Continue driving until you reach the boundary of Calatagan and Lian.
Clear Calatagan checkpoint. This is located just after the Calatagan welcome arch. Someone will approach you to ask which resort you're booked with. Then, a representative from that resort will verify. Have your Guest Confirmation Voucher and Medical Certificate ready just in case they ask for proof.
When you are already cleared, continue driving through Calatagan town proper. You will pass by Lago de Oro and Calatagan Golf Course.
Continue driving and follow the road signs. There is a part where the national road becomes one-way and you have to turn right. Continue driving until you see the sign to Stilts Calatagan Beach Resort to your right.
Turn right and continue driving until you reach the resort's main gate.
Alternative Route: In case there's a major traffic build up in Tagaytay, another route from SLEX is to continue driving to STAR Tollway then take Batangas City Exit. Then drive through the towns of Bauan, Lemery, Calaca, and Balayan to reach Calatagan.
By Public Transportation
Make your way to DLTBCo Buendia Bus Terminal, located just next to the LRT Gil Puyat Station.
Board the bus bound for Calatagan. P180-200. Get off at Calatagan Town Proper.
Hail a tricycle to Stilts. Fare: P200-250.
Pre-pandemic, there was a Calatagan Van Terminal in Pasay City. It's located along P. Zamora Street between Kabayan Hotel and Metropoint Mall. This is the point where MRT trains terminate at Taft Station along EDSA. But we're not sure if this van service remains operational.
By Tour Package
Not yet confident taking public transportation during the pandemic, but you don't have a car? You can try booking day tour packages from reputable and DOT-accredited travel agencies or through your trusted online booking platforms like Klook!
If you are booking via Klook, the Stilts Calatagan Day Tour package usually includes the following:
Roundtrip land transfers from Metro Manila
Local English speaking tour coordinator
Entrance fee
Fuel and toll fees
Travel insurance
Notes:
Check the package you are booking and the corresponding inclusions before confirming. One package covers the entrance fee, while another one does not.
Meals are not included.
The usual pick-up spot is at SM Mall of Asia.
✅ CHECK RATES & AVAILABILITY HERE!
---
Stilts Calatagan New Normal Admission Protocol
Upon reaching the resort's main gate, the guard will ask for info such as the number of guests, the names (or at least the one who booked the reservation), and/or duration of stay (day tour or overnight).
Continue driving to the parking lot. The resort has four parking areas: the main parking lot, the small parking lot near the Main Frontdesk, the parking lot near Serenity Beach and the Tree Houses, and the parking lot near Destiny Beach and Infinity Area. Go to the lot that was assigned to you by the guard.
Ensure that you are wearing your face mask and face shield.
Proceed to the footbath, sanitation, and thermal scanning area (Serenity Frontdesk).
You will be directed to the Main Frontdesk area to check-in and register. Your group will be given a map of the entire resort. There are some areas that are off-limits. These will be marked on the map.
Each guest will be given a waterproof wristband. And then you may proceed to the Sweet Spot Restaurant for the welcome drinks.
You can either walk to your designated spot (cottage, table, or villa) or you can avail of the resort's service vehicle.
Settle down and enjoy!
---
Operating Days and Hours
Office Hours
9:00 AM – 6:00 PM
Monday – Saturday
Resort Hours
7:00 AM – 10:00 PM
Daily
Note: For guests on a day tour, the main gates open at 7 AM and close at 10 PM.
---
Day Tour vs Overnight Stay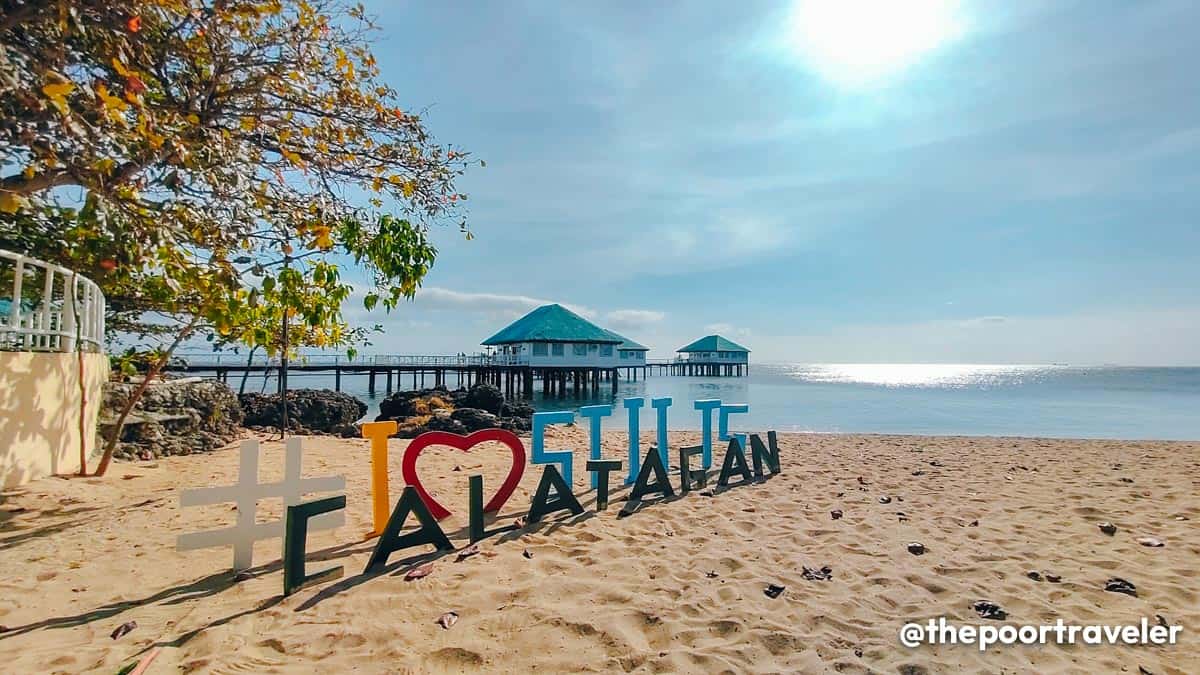 It depends on your budget and the things you want to do at the resort.
Day Tour is cheaper, but you have limited time to enjoy the resort and the beach. If you want to maximize your time, you need to be there early. If you just want to visit on a day trip, it's more convenient and faster if you will go there via private car.
Overnight stay is expensive, but you have more time enjoying the amenities and other activities at Stilts. You can split the cost if your group is big and you are traveling with friends. Or you can camp out. If this is your long-awaited family outing and you have the money to spend, then, by all means, opt to stay overnight.
Day Tour Rates
Entrance Fee
P450/person: Off-Peak Season (January, February, and from July to November)
P500/person: Peak Season (March to June, December, and holidays)
Notes:
The Calatagan Municipality has mandated the collection of P30 per person for the Tourism Ecological Fee. This is normally paid at the resort either upon check in or check out. You only need to pay this once. If you're visiting multiple resorts, you only need to settle this at your first resort.
The entrance for children six (6) years old and below are FREE.
The day tour rates are inclusive of welcome drinks, free use of the swimming pools, and access to the beach areas.
The day tour rates also include access to the shower rooms, souvenir shops, and other amenities like the restaurant.
You can avail of the water activity packages and tours, but these are on top of the entrance fee. These have separate rates.
Hut/Table Rentals
HARMONY BEACH AREA
Cozy Nooks (Wooden Tables and Benches)
Capacity: 5-10 pax
Peak Rate: P600
Off-peak Rate: P500
Open Huts
Capacity: 15 pax
Peak Rate: P1,250
Off-peak Rate: P1,100
Small Pavilion
Capacity: 20 pax
Peak Rate: P1,500
Off-peak Rate: P1,300
Big Pavilion
Capacity: 50 pax
Peak Rate: P3,000
Off-peak Rate: P2,500
SERENITY BEACH AREA
Cozy Nooks (Wooden Tables and Benches)
Capacity: 20 pax
Peak Rate: P600
Off-peak Rate: P500
Open Huts
Capacity: 20 pax
Peak Rate: P1,250
Off-peak Rate: P1,100
Small Cabana
Capacity: 10 pax
Peak Rate: P1,500
Off-peak Rate: P1,300
Big Cabana
Capacity: 20 pax
Peak Rate: P1,500
Off-peak Rate: P1,300
Pavilion
Capacity: 60 pax
Peak Rate: P3,000
Off-peak Rate: P2,500
DESTINY BEACH AREA
Cabana
Capacity: 15 pax
Peak Rate: P1,500
Off-peak Rate: P1,300
Pavilion
Capacity: 30 pax
Peak Rate: P2,000
Off-peak Rate: P1,500
INFINITY POOL AREA
Open Huts
Capacity: 15 pax
Peak Rate: P1,250
Off-peak Rate: P1,100
Garden Cabanas
Capacity: 15 pax
Peak Rate: P1,250
Off-peak Rate: P1,100
Pavilion
Capacity: 40 pax
Peak Rate: P3,000
Off-peak Rate: P2,500
---
Overnight Rates
If you are planning to stay overnight at the resort, you have lots of accommodation options — beach cottages, villas, bungalows, tree houses, and the iconic floating cottages. The rates are on the pricey side, so prepare to splurge for an overnight stay. You may check the rates here.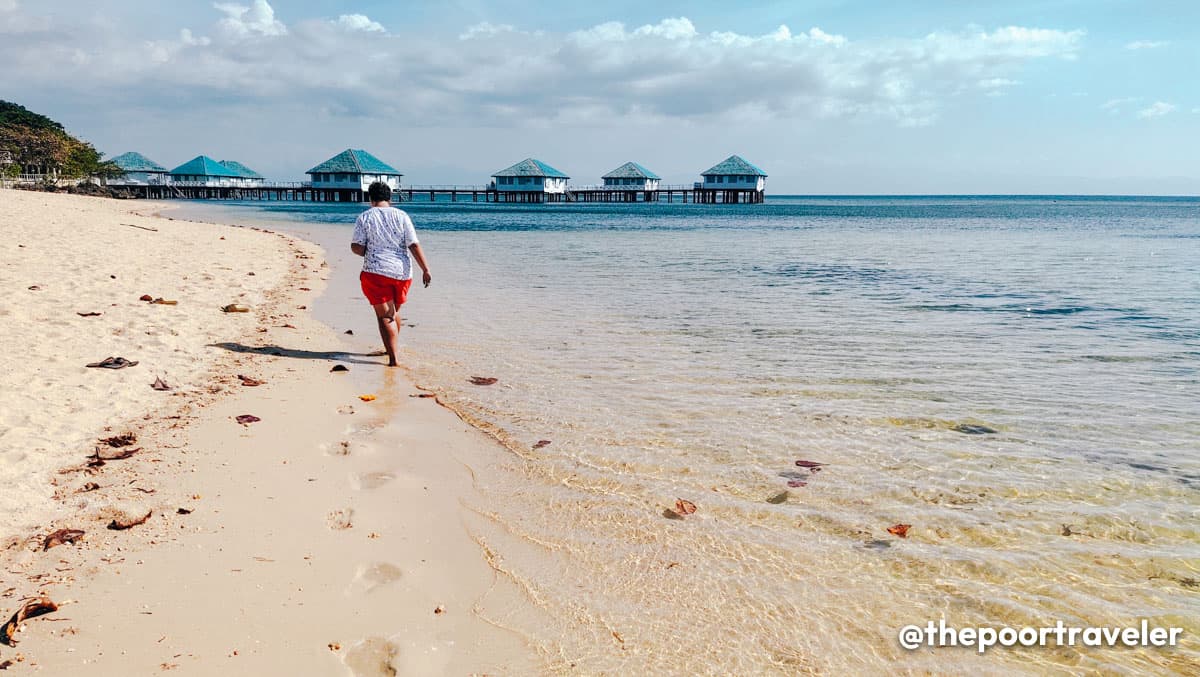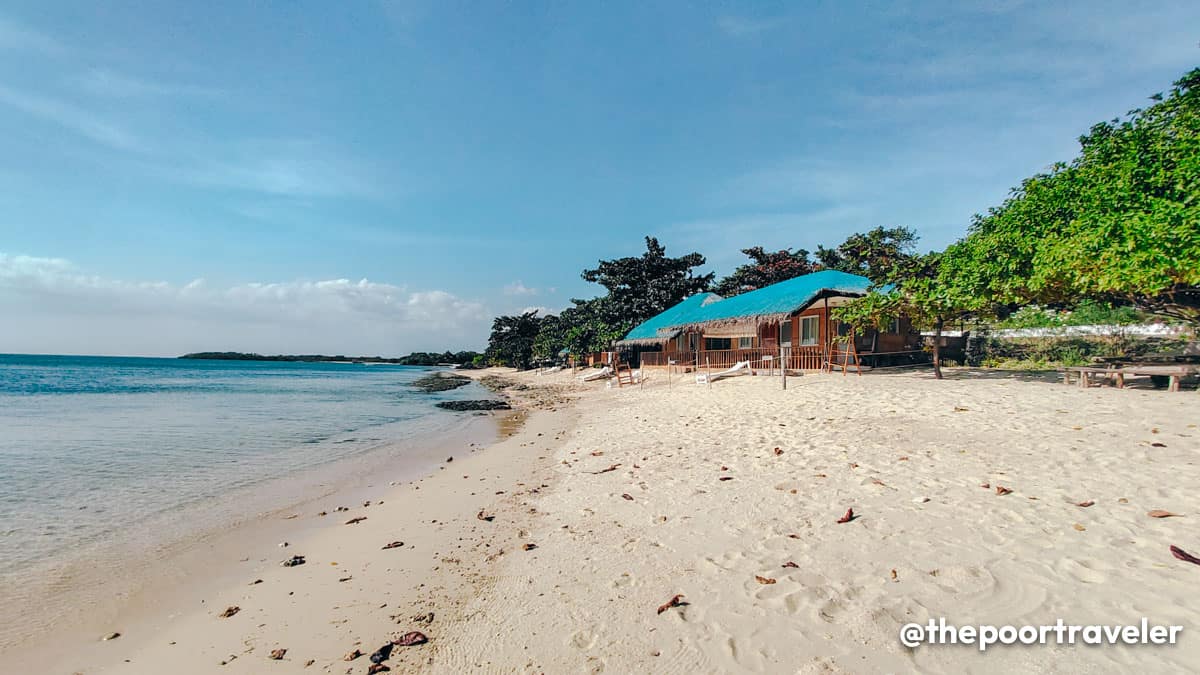 Note that check-in time is at 2:00 PM, while check-out time is at 12:00 PM.
If you are on a budget and don't have a problem staying in a tent, you can opt to go camping or glamping! Commune with nature as you pitch your tent at the designated campsites. You may bring your own tent or you may rent tents from the resort.
Camping Fee
P900/person: Off-Peak Season
P1,000/person: Peak Season
Notes:
The peak season is from March to June (summer), December, and holidays. The off-peak season is January, February, and from July to November.
The Calatagan Municipality has mandated the collection of P30 per person for the Tourism Ecological Fee. This is normally paid at the resort either upon check in or check out.
The rates cover welcome drinks and access to the Stilts campsite area.
If you are bringing your own tent, you just need to pay the camping fee per person.
If you are renting from Stilts, you still need to pay the camping fee per person. The tent rental fee covers the mattress and linen set up, the use of fans, lights, tables, and benches at the designated campsite area.
Tent Rentals
Small Tent
Capacity: 2-3 pax
Rate: P1,500/tent
Medium Tent
Capacity: 4-6 pax
Rate: P2,500/tent
Large Tent
Capacity: 7-8 pax
Rate: P3,500/tent
Extra Large Tent
Capacity: 8-10 pax
Rate: P4,500/tent
Folding Bed
Rate: P300 (24 hours)
---
Things to Do at Stilts Calatagan
Three Beaches
THE BEACHES! Stilts boasts three beaches:
Serenity Beach
Harmony Beach
Destiny Beach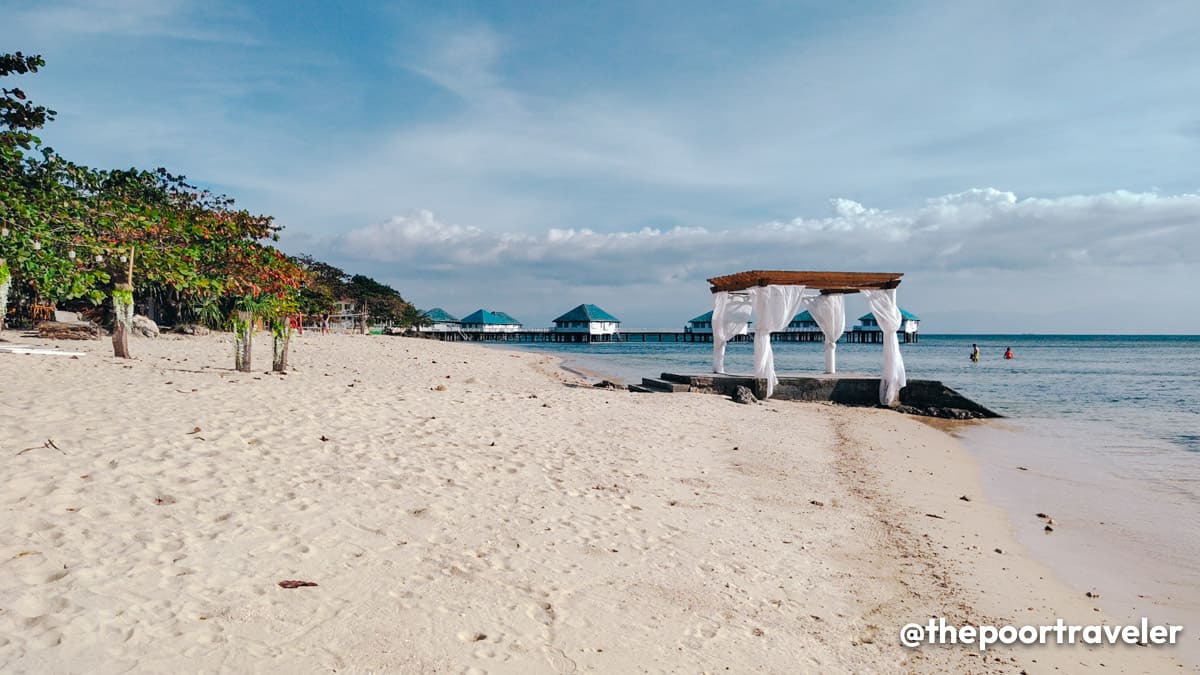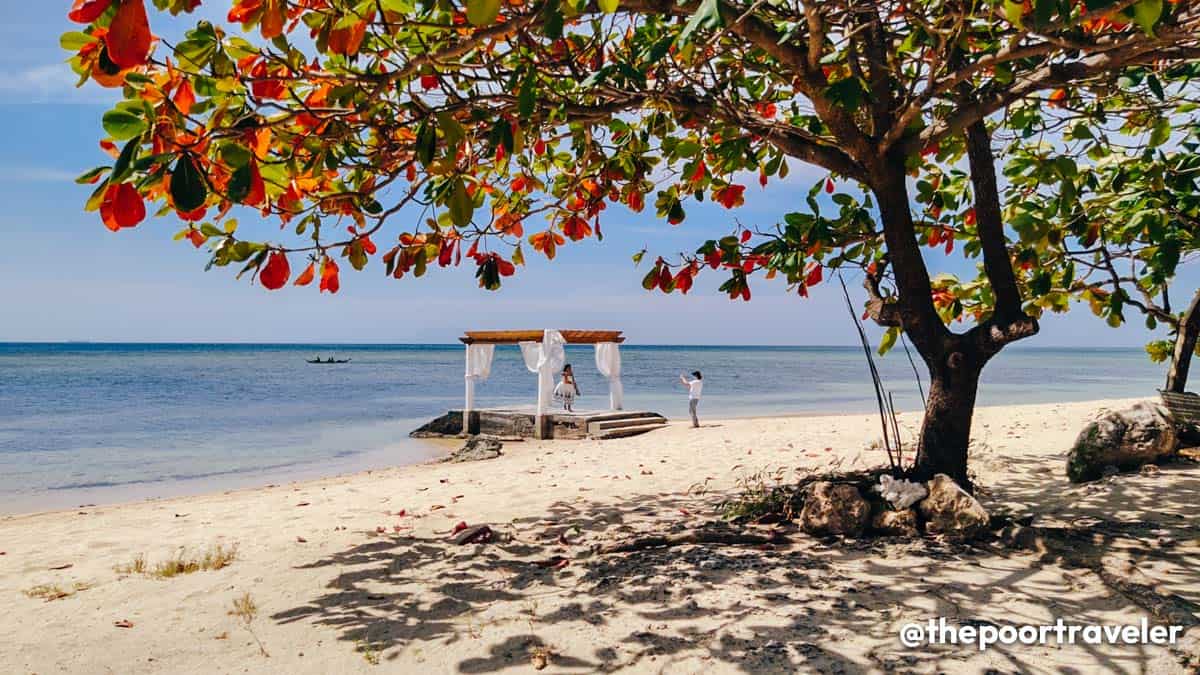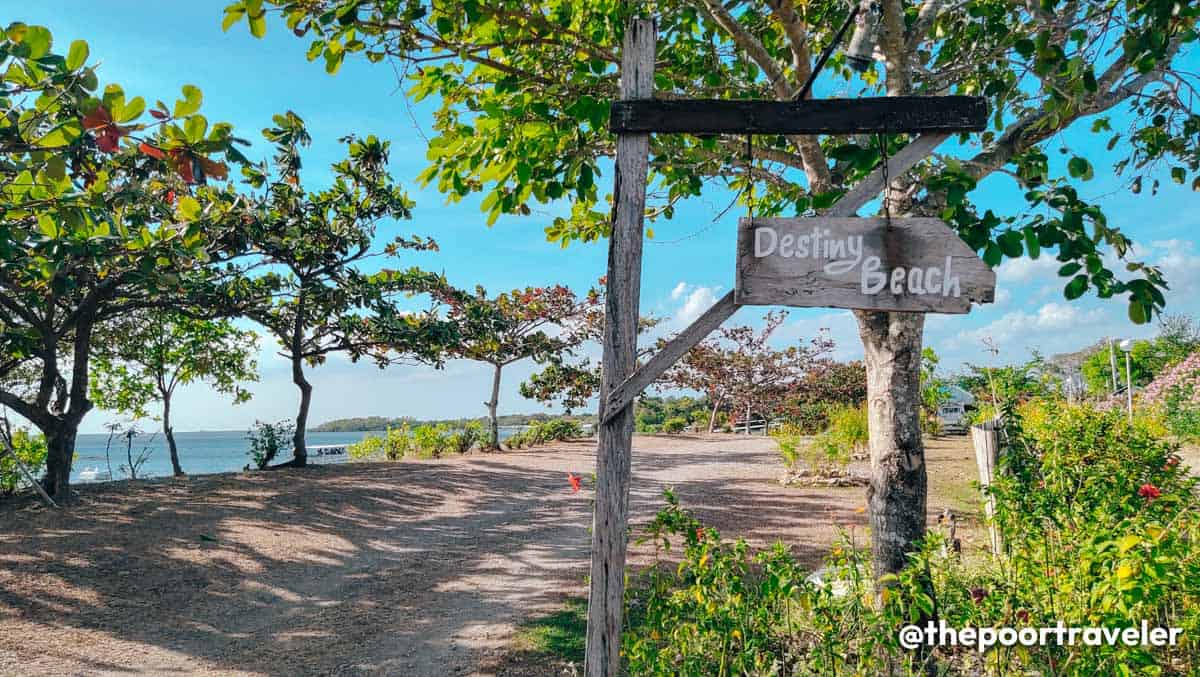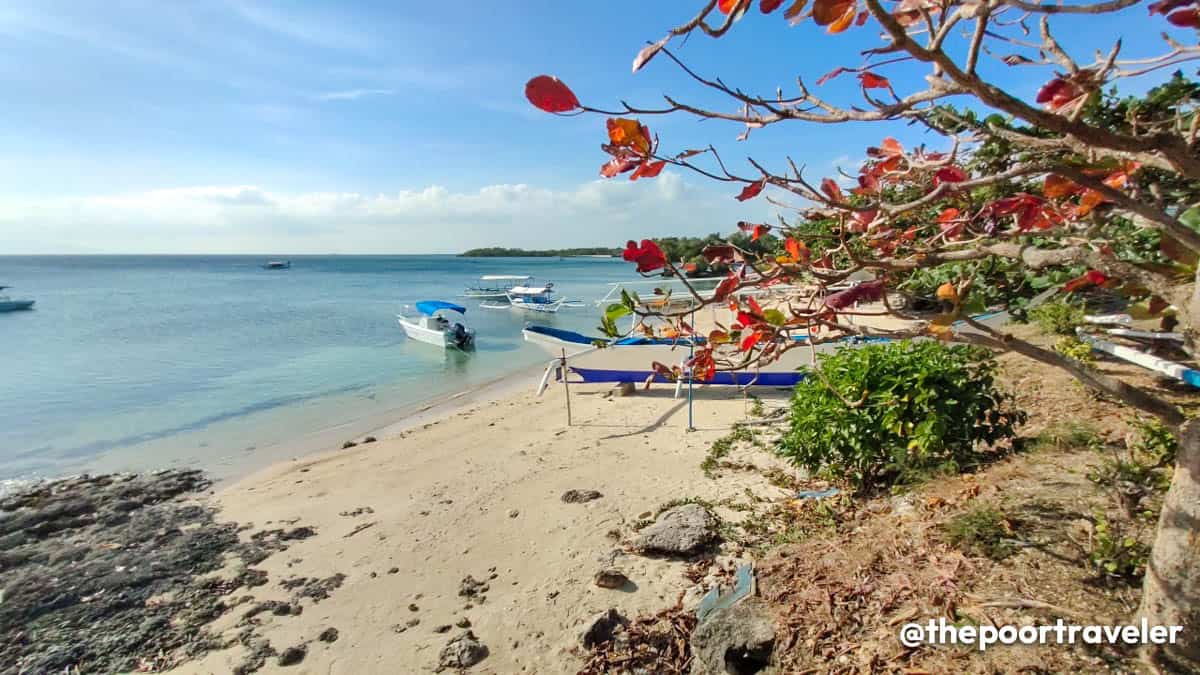 It also has two sets of swimming pools with kiddie pools. The swimming pools are open from 6 AM to 10 PM only.
Main Pool Area. This is located near the restaurant and the main front desk.
Infinity Pool Area. This is located along Harmony Beach. Pre-pandemic, the day tour entrance is situated in this area.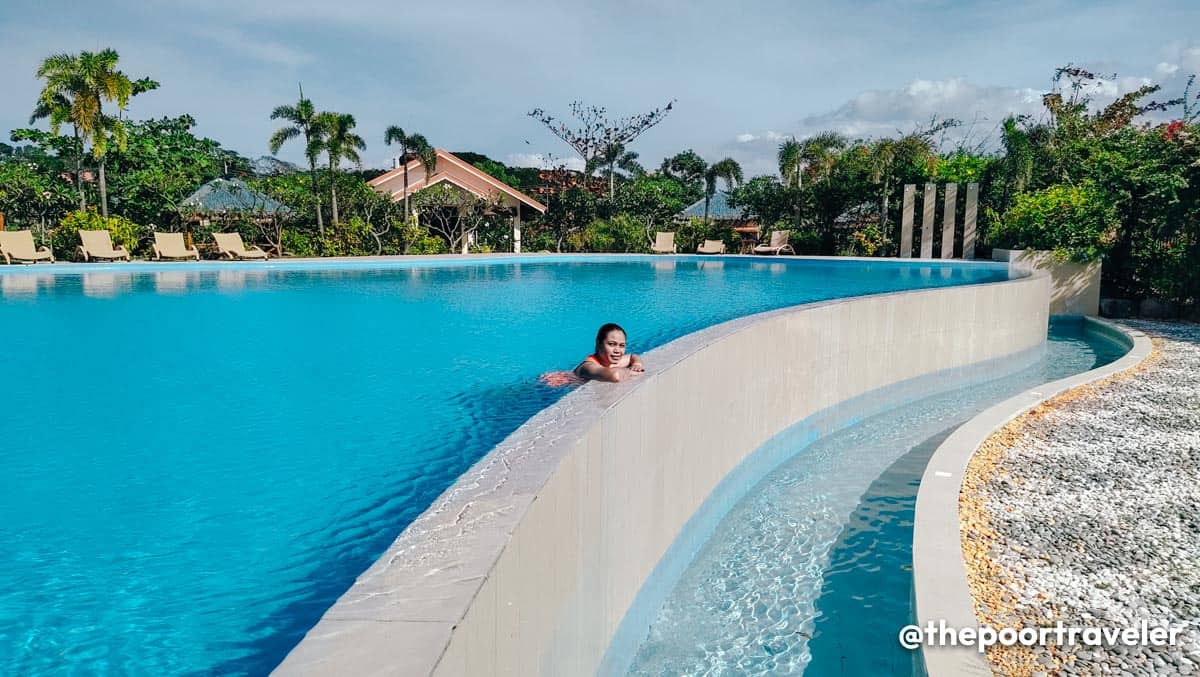 BUT THERE'S MORE! Aside from swimming and lazing on the beach, Stilts offers other fun activities that will fill the day's itinerary of both day-trip visitors and overnight guests. Here are activity packages and their corresponding rates. For activity reservation and inquiry, you need to contact this number: 0955-4390857.
Aqua Sports & Outdoor Activities
Stand-Up Paddle: P350/hour
Single Kayak: P350/hour
Tandem Kayak: P450/hour
Floating Island Platform: P350/hour (up to 4 pax per platform)
Banana Boat: P475/person per session (minimum of 6 pax, maximum of 10 pax)
Beach Volleyball: P100/hour
Biking: P250/hour
AQUA SPORTS EQUIPMENT RENTAL
Floater: P200/hour
Snorkel Sets: P175/2 hours
Fins: P250/hour
Booties: P100/hour; P200/day
Scuba Diving
Intro Dive A
Participants: 1-2pax
Duration: 1 hour, 45 mins to 2 hours
Rate: P3,750/pax
Intro Dive B
Participants: Minimum of 3 pax
Duration: 1 hour, 45 mins to 2 hours
Rate: P3,250/pax
Fun Dive (Certified Divers)
Rates: P2,000/pax (Minimum of 3 pax); P2,500/pax (2 pax); P4,500/pax (1 pax)
DIVE GEAR RENTAL
Tanks: P350/tank
Buoyancy Compensator (BCD): P350/day
Weights Belt: P20/kilo per day
Regulator Set: P350/day
Dive Computer: P300/day
Shorty: P200/day
Full Suit: P300/day
Notes:
Intro dive covers briefing, traveling to the dive site, gearing up, practicing underwater dive.
Fun dive covers boat rental, tanks, weights, and a dive master.
Intro dives are non-certification courses.
If you are planning to avail of the intro dive package, it is recommended to give the resort a heads up at least one week before your trip. This activity is subject to the availability of a dive professional.
Boat Adventure Tour
Medium Banca (Local Outrigger)
Duration: 1.5 hours
Capacity: Maximum of 6 pax
Rate: P2,400
Extra: P400/head (additional guests, up to 10 pax only)
Large Banca (Local Outrigger) A
Duration: 1.5 hours
Capacity: Maximum of 8 pax
Rate: P3,200
Extra: P400/head (additional guests, up to 15 pax only)
Large Banca (Local Outrigger) B
Duration: 1.5 hours
Capacity: Maximum of 10 pax
Rate: P4,000
Extra: P400/head (additional guests, up to 18 pax only)
115HP Speed Boat
Capacity: Maximum of 5 pax
Rate: P6,000/hour
ATV Adventure Tour
Basic Course
Duration: 45 minutes
Trail Length: 5 kilometers
Rate: P975/pax
Complete Course
Duration: 1 hour, 30 minutes
Trail Length: 11 kilometers
Rate: P1,375/pax
Notes:
Both Basic and Complete courses are inclusive of the briefing, a practice run on the training course, and the guided tour along the covered ATV trails.
Due to safety protocols and minimum public health standards, back riding is not permitted.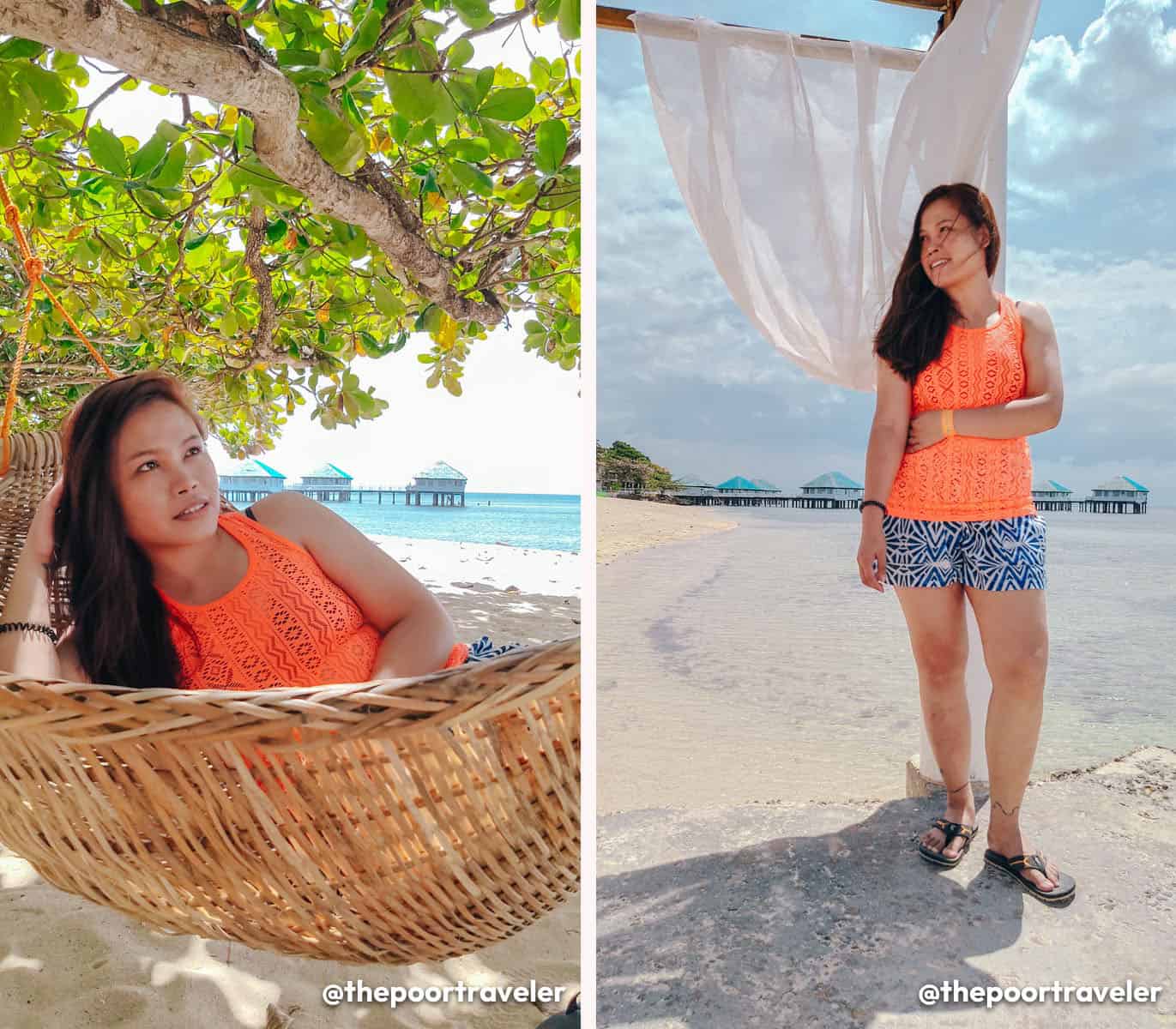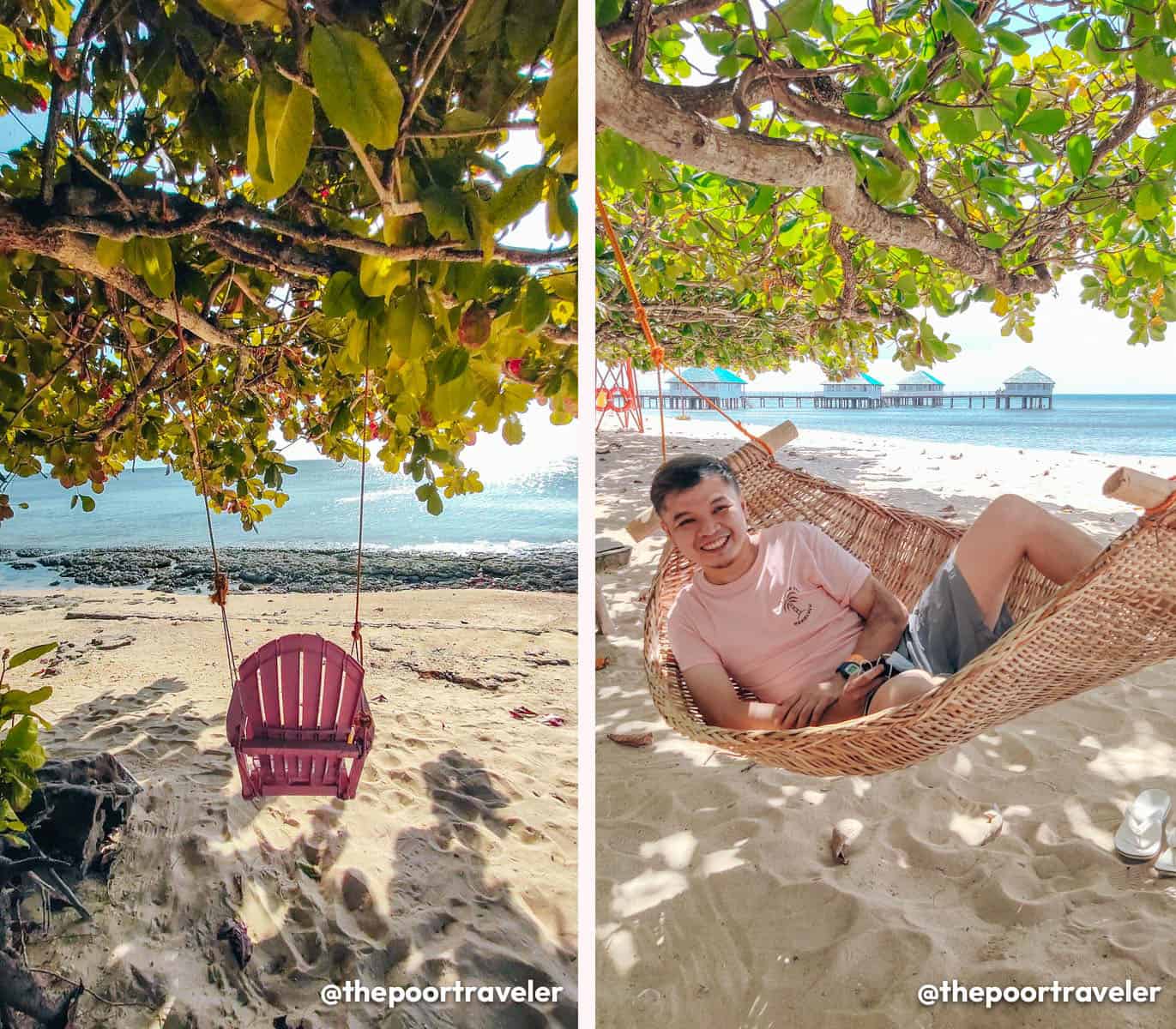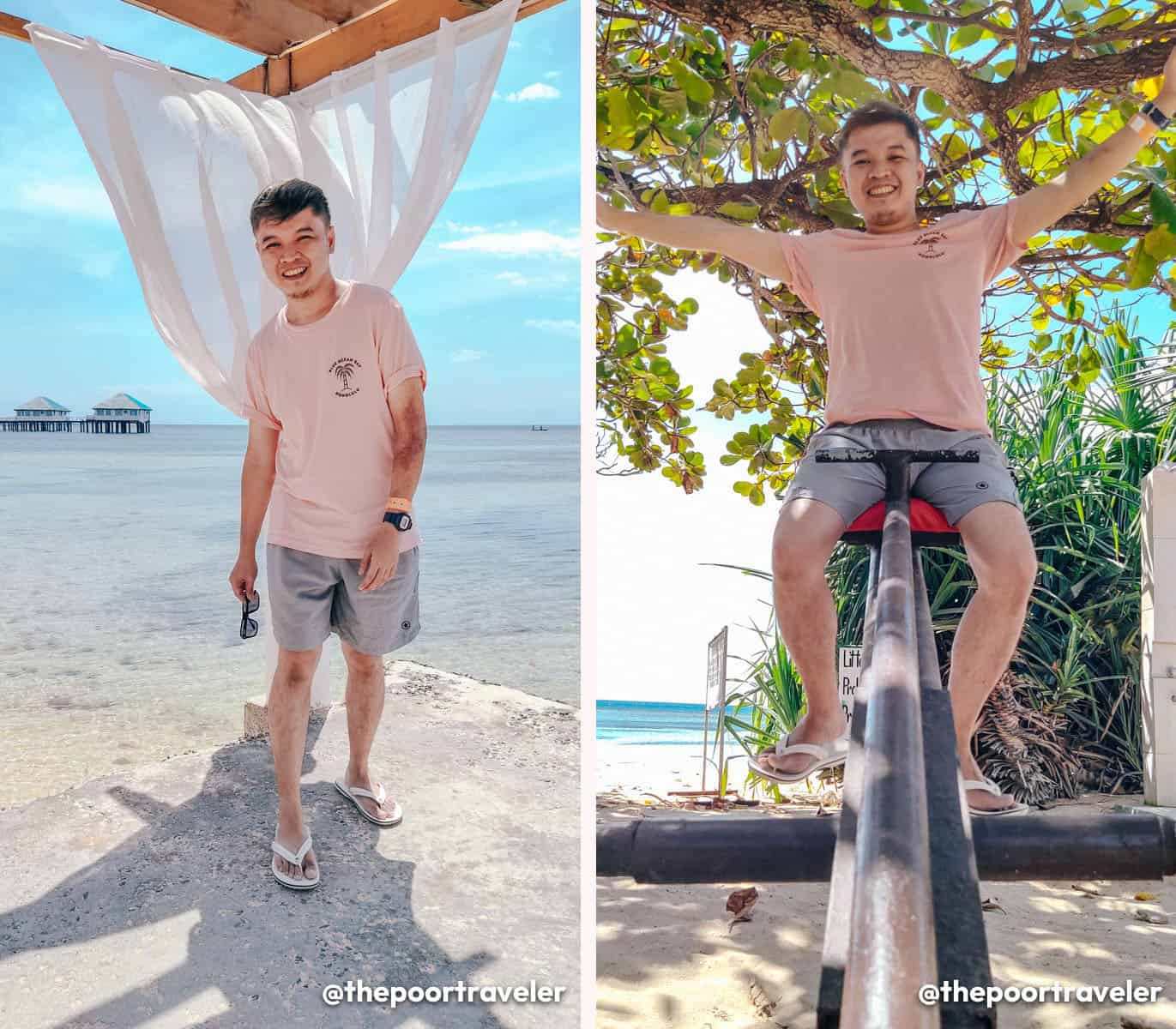 ---
Stilts Calatagan Rules and Regulations
Wear proper swimming attire. There are posters at the pool area showing what to wear and not to wear when using the pool. For women, wear swimsuits or other swimwear like board shorts and dri-fit sando (sleeveless top). For men, wear swimming trunks or board shorts. Rash guards are also allowed.
Again, the swimming pool areas are open from 6:00 AM to 10:00 PM only.
Refrain from any unruly and violent behavior. Guests engaging in fights or under the influence of illegal drugs will be asked to leave the premises. The resort reserves the right to evict such guests.
Be mindful of others. Make sure that the volume of your music player is not too loud to avoid disturbing other guests.
Corkage fees apply to outside food (heavy meals/cooked food) and drinks. You can order at the restaurant and eat there or have the food served at designated areas along the beach.
No cooking inside the cottages (enclosed lodgings). You can avail yourself of the resort's cooking service for a fee. You may also use the grilling station along the beach.
Please check out on time to give the staff enough time to clean and sanitize the rooms for the next guests. You may ask the management to assist you with your stuff and luggage.
Children must be accompanied by their parents or guardians and must be supervised at all times. There are lifeguards stationed at the beach areas and the swimming pool areas; however, the resort will not be held liable should anything happen to the children while unsupervised/unaccompanied.
Do not litter. Please dispose of your garbage properly. There are trash bins provided per cottage/hut and all around the resort. The trash bins are labeled for segregation purposes. Kindly practice proper segregation.
Do not take anything from the sea, beach, or water — corals, sand, shells, starfish, and other sea creatures. Respect ocean life and wildlife.
Take care of your belongings and valuables. Secure your wallets, cellphones, jewelry, gadgets, and other valuables. Make sure there is always someone looking after your stuff. Don't leave your things unattended. Lock your cottage doors. For those staying in open huts, there are shelves and a locker/storage cabinet per hut. Keep the key with you at all times.
For guests staying overnight, you will be charged for any damaged or lost resort items inside your room/cottage/villa.
---
Where to Eat
Stilts has its own in-house restaurant called "Sweet Spot", located just beside the Infinity reception area. They can also deliver the food to your assigned hut or table.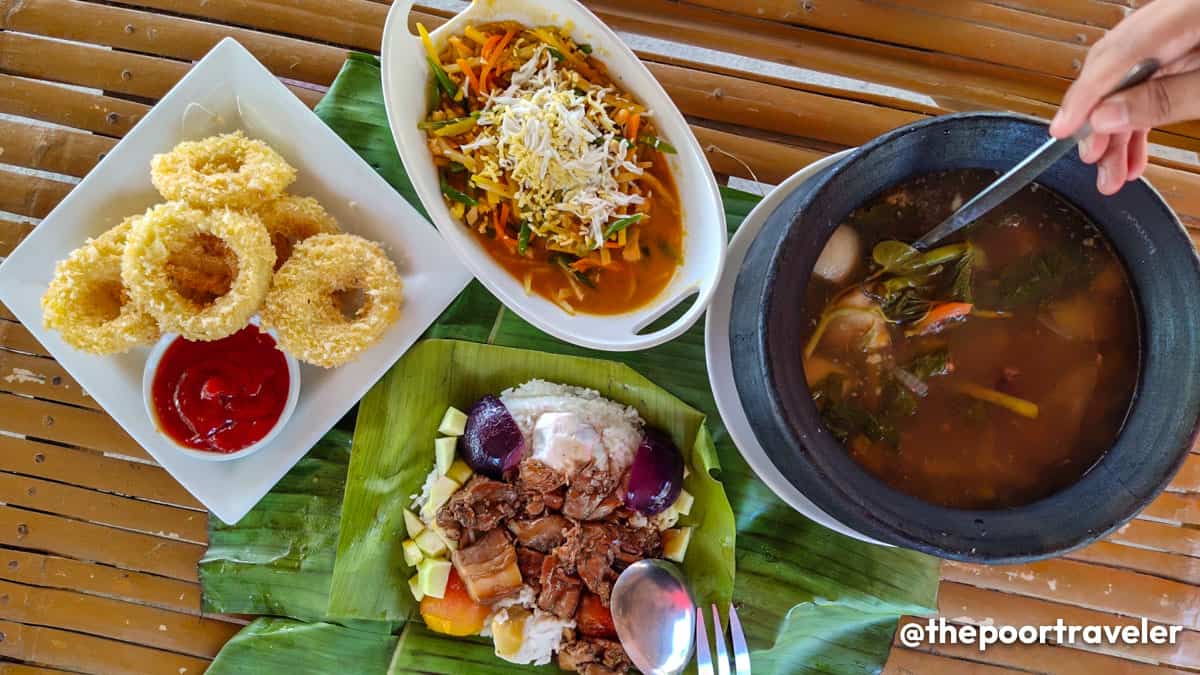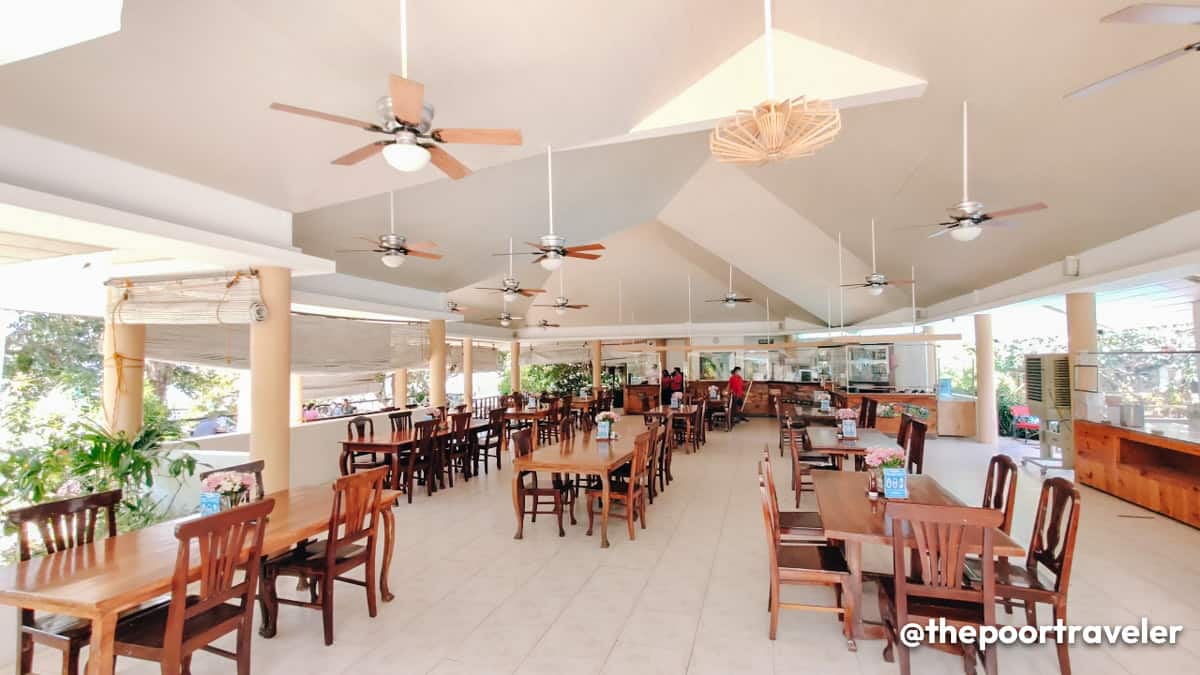 As in most beach resorts, prices are a bit steep but the servings are big. On our last visit, we were able to try the following:
Pork sinigang, P500
Chicken and pork adobo – binalot sa dahon, P350
Lumpiang hubad, P300
Onion rings, P250
Saba con hielo, P120
Mais con hielo, P120
Here are the prices of other popular items on the menu (that we did not order):
Pizza (margherita, pepperoni, vegetarian, four-cheese, deluxe), P400-P520
Pancit (bihon, canton, mami, bam-i), P195-P380
Calamares, P360
Dynamite Shanghai, P270
Bulalong Batangas, P700
Tinolang manok, P350
Bicol Express (binalot), P380
Pork Belly binagoongan (binalot), P350
Grilled liempo, P260
Pork sisig, P300
Pasta Bolognese, P280
Pinoy spaghetti, P285
Halo-halo, P210
Chocolate cake, P120
Can I bring outside food?
Yes, but outside food are subject to corkage fees. Please see next section for the corkage fees.
Corkage Fees and Other Service Fees
Heavy meals/cooked food: P200/head
Local hard drinks: P200/bottle
Imported hard drinks: P500/bottle
Soft drinks: P300/case
Beer or other alcoholic beverages: P500/case
Basic Cooking Fee: P150/kilo (steaming, frying, grilling, boiling, etc.)
Specialty Cooking Fee: P300/kilo (caldereta, sinigang, teriyaki, menudo, etc.)
---
Other Tips for the Poor Traveler
Explore the three beaches. Each has its own charm. Harmony is a long and wide stretch of fine almost-white-sand beach. Serenity Beach is characterized by trees and grassy areas, giving off a rustic, secluded vibe. Destiny Beach has a unique shore that is marked with interesting rock formations with a small wooden bridge leading to the Lovers' Point.
Don't forget to drop by the reception or the main front desk upon exit. A gate pass will be handed to you. You will have to present this when you exit the main gate.
Protect your skin from the harmful rays of the sun. Bring sun protection like hats, sunglasses, and sunscreen.
Speaking of sunscreen, please use coral-friendly brands. A study conducted by the Archives of Environmental Contamination and Toxicology revealed that many sunblock products contain chemicals like oxybenzone, benzophenone, and parabens that are harmful to marine life. Choose the ones that do not contain these chemicals.
Wear comfortable footwear or aqua shoes. The sand can be too hot when the sun is high, especially at noon.
Always observe social distancing and follow the resort's safety protocols and procedures.
---
Frequently Asked Questions
Are kids and senior citizens allowed at Stilts?
Yes! However, as of 13 June 2021, senior visitors are required to undergo testing. Kids are exempted from the test requirement.
In addition, be sure to secure each of your kid and elderly companion a medical certificate, a health declaration form, and other necessary requirements by the resort.
Are pets allowed at Stilts?
Yes! Be responsible pet owners. Make sure to clean up after your pets and keep them on leashes. If staying overnight, please bring your pet's enclosure or bed because they are not allowed on the beds or on other furniture inside the cottages/rooms.
Can I use the restroom or shower if I'm on a day tour?
Yes, of course. What we love about Stilts is that it has more than enough restrooms with numerous shower and toilet cubicles. Each cubicle is spacious too!
Can I take photos at the stilts area where the overwater villas are?
No. The water villas are exclusive to those who booked them. You may take photos of them from the designated viewing deck/platform. You can also take photos of the water villas from the Sweet Spot Restaurant.
Can I fly a drone?
No, not anymore.
A couple of years ago, we were allowed to fly one as long as it won't go above the overwater villas. But as far as we know, drones are no longer allowed today.
---
Updated: 2022 • 02 • 26