Planning to go on a cruise from Hong Kong aboard Resorts World One? In this comprehensive cruising guide, we'll help you find affordable sailings, book your cruise, plan your trip, and maximize your time on board! We'll also include prices, so you have an idea on how much budget to prepare for your next cruise!
Have you ever wondered what it feels like to go on a cruise?
No other travel style can match the comfort and pampering one could enjoy aboard a cruise ship. While most cruises are indeed expensive and luxurious, some are definitely more affordable, making them the perfect entry point for those who wish to try it for the first time. Thankfully, there's one one super accessible cruise experience that awaits you not too far away — Resorts World One in Hong Kong.
We recently joined a familiarization trip of Resorts World One, and we loved it so much that as soon as we got home, we booked again, this time with our family. In this article, I'm sharing with you every info that I have gathered from our past sailing and while preparing for our next one.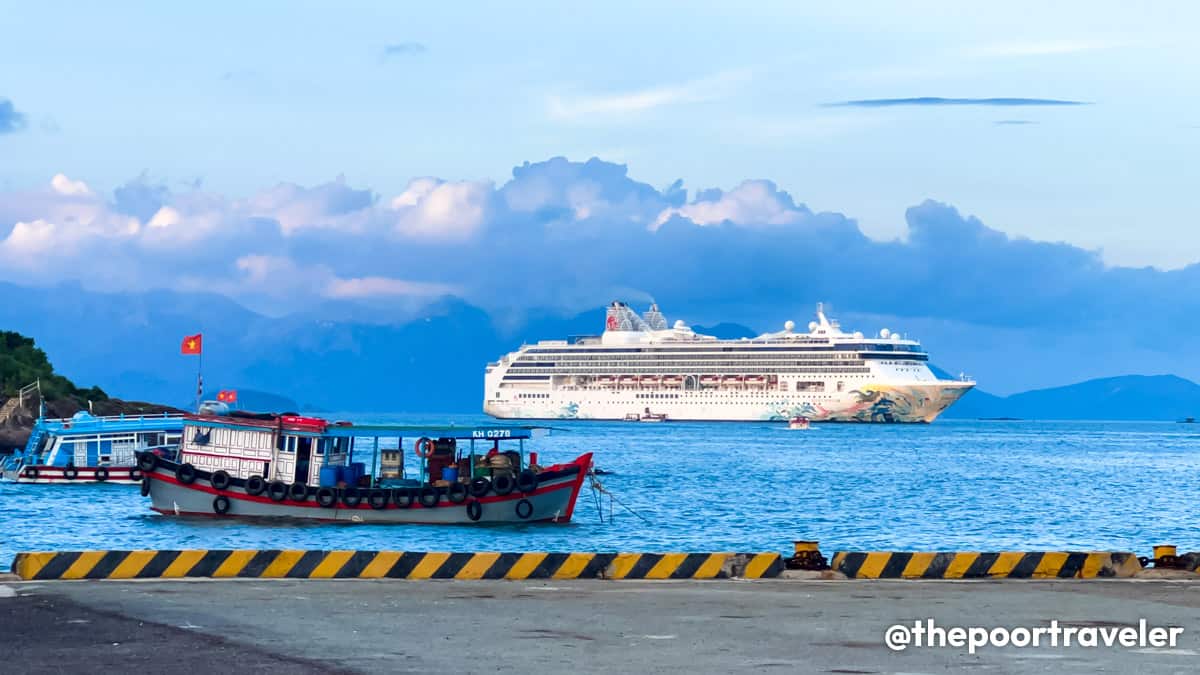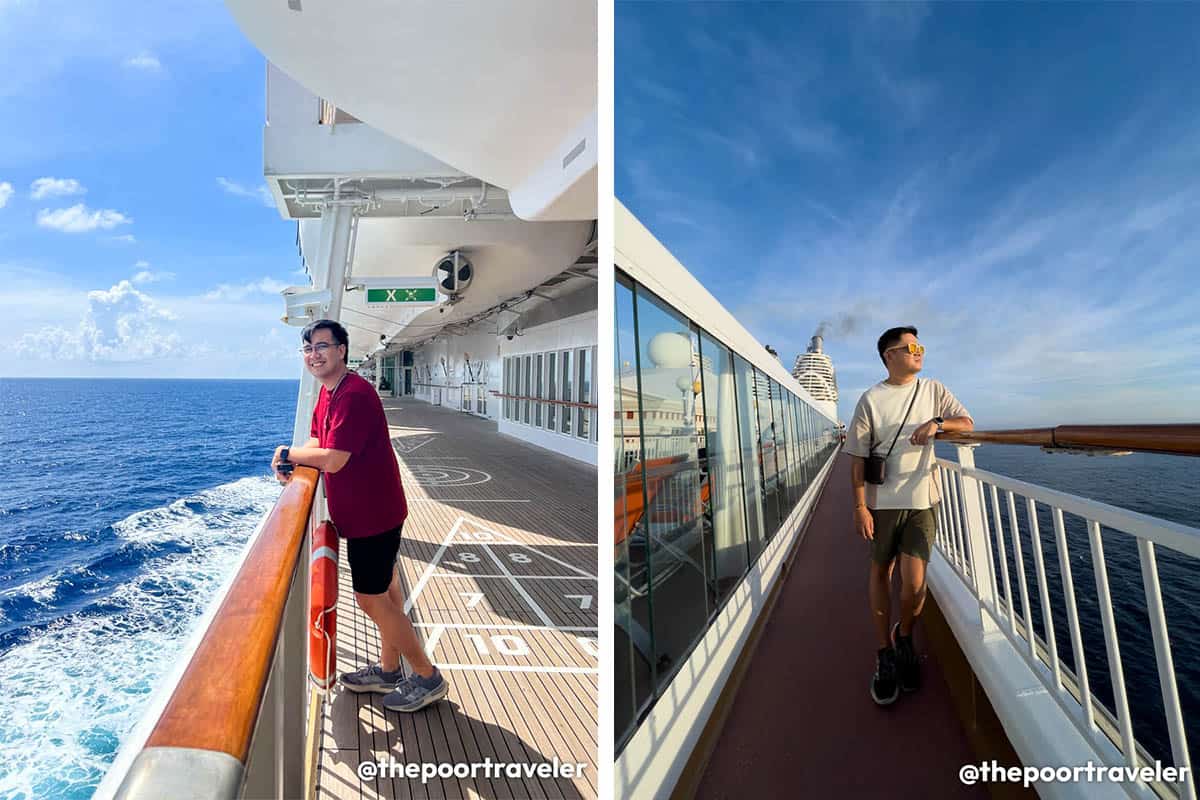 Save these Essential Links!

Before I begin getting down to the nitty gritty of joining a Resorts World One cruise, here's a list of links that you might want to save for easy reference in the future.
Tempted to join a cruise aboard Resorts World One? Here's a quick rundown of what you need to know.
---
WHAT'S COVERED IN THIS GUIDE?
BOOKING A CRUISE
Resorts World One's home port is Hong Kong. This means that each sailing starts and ends here, which is excellent because not only is Hong Kong accessible, it's also a fantastic destination packed with family-friendly attractions. This means you could also have a grand time before or after the cruise. It's also quite easy to find budget-friendly flights to Hong Kong.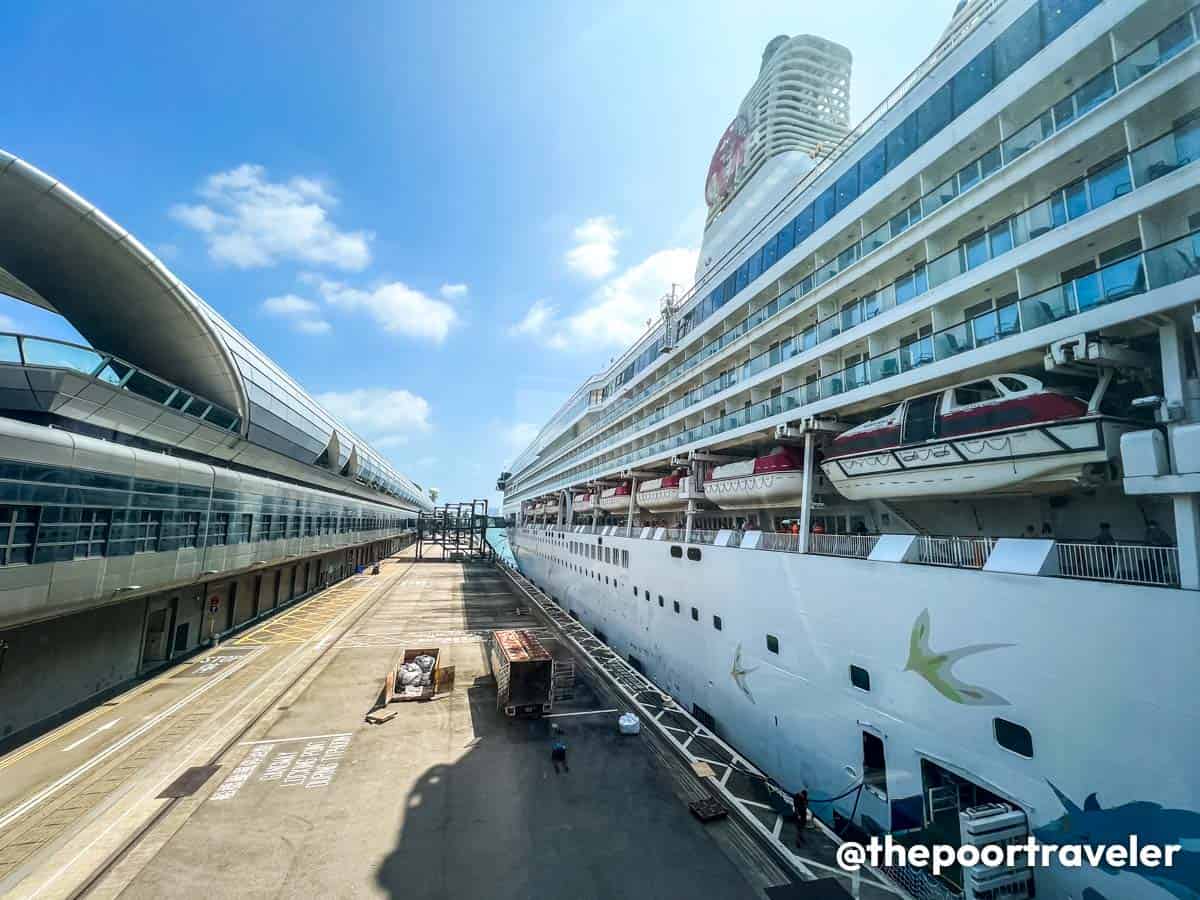 From Hong Kong, the ship will sail to another destination (in most cases). Depending on what route you choose, you could also explore a completely different destination in another country like Vietnam, China, or Japan.
How to book a Hong Kong cruise?
You can book a Resorts World One cruise on Klook. Not only is the Klook website so easy to use especially if you already have a Klook account, you could also get a discount if you use our Klook promo code: THEPOORTRAVELER.
Just visit the Klook website or app.
---
What are the available routes?
Resorts World One currently plies multiple routes, starting in Hong Kong and making stops (ports of call) in these destinations:
Okinawa, Japan (5 nights)
Nha Trang and Da Nang, Vietnam (5 nights)
Manila and Boracay, Philippines (5 nights)
Sanya, China (2 nights or 3 nights)
If you're more interested in the ship rather than another destination, you could also go on a 2-night weekend getaway aboard Resorts World One. The ship will be in high seas the entire time and won't be making any stop elsewhere. It will just sail back to Hong Kong after. This is also the most budget-friendly option, making it ideal for those who just want to try cruising.
On our most recent sailing, our ports of call were Nha Trang and Da Nang in Vietnam, which was fantastic because I had never been there before. This wasn't our first sailing with this particular cruise ship. We have been onboard twice before, back when it was still Superstar Virgo, which was designed with the Asian market in mind. In 2019, after a major refit, it was reintroduced as Explorer Dream. Most recently, after Resorts World Cruises took over operations, it is now known as Resorts World One, with Hong Kong as its homeport for now.
I didn't realize it at first. The makeover gave it a new, fresher, cleaner look. But its heart and soul remain the same. Resorts World One's workforce is 80% Filipinos, which are undoubtedly the best workers both in seafaring and hospitality industries. This also makes it an ideal first-time cruise experience for Pinoys. While the majority of the market is from Hong Kong and mainland China, being surrounded by Pinoy staff will make you feel right at home.
---
How much is a Resorts World One cruise?
You could go on a cruise for as low as HKD 1250 (USD 159.75, PHP 9080) per person, as of this writing.
This rate is for one person who is part of a group of four (4), staying in an Interior Room, on a 2-night Hong Kong-Sanya sailing. The price of the Interior room including port charges for 4 pax is HKD 5000 (USD 639, PHP 36,320). Divide that by four, and you'll get the price above.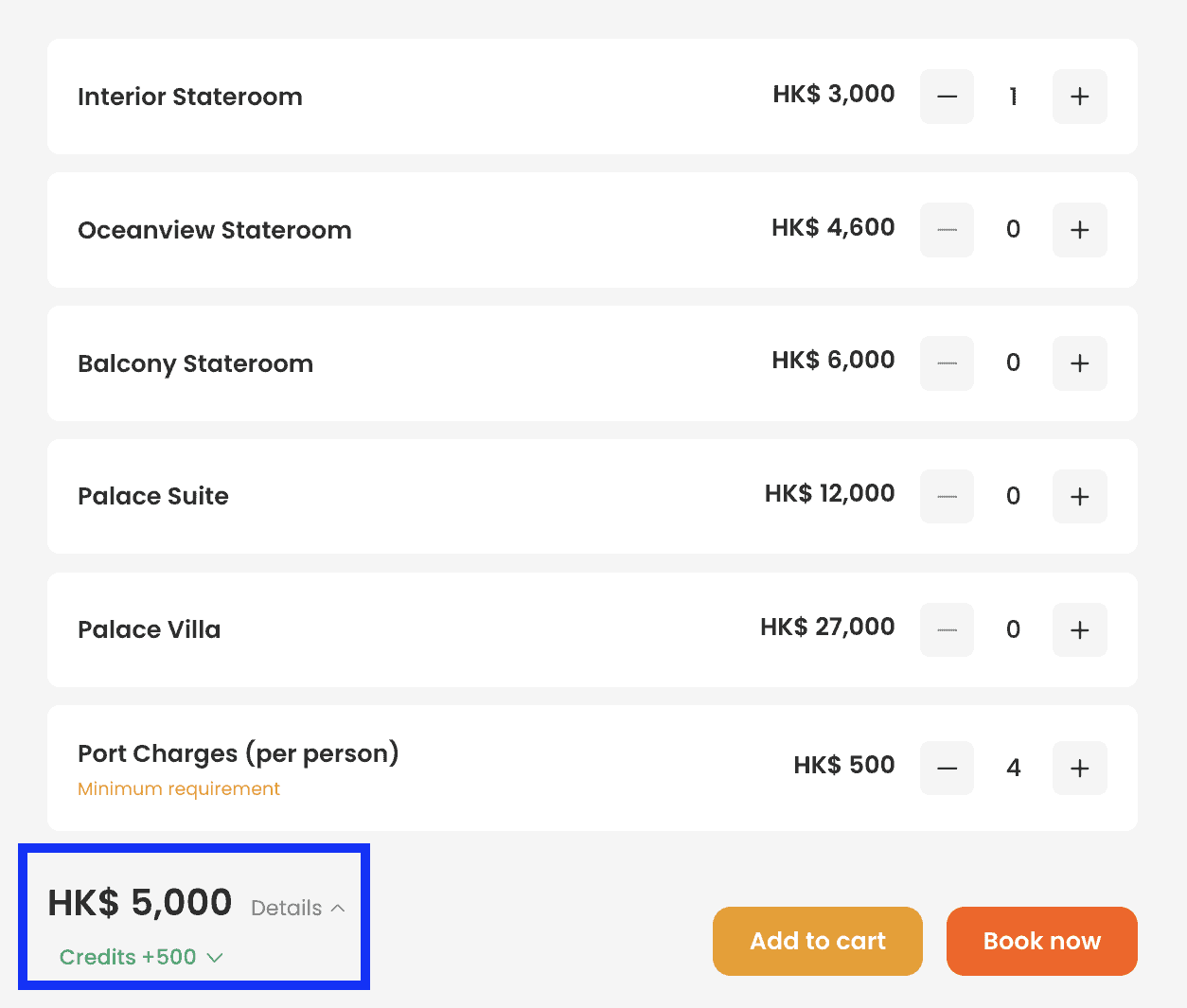 If you're a couple or a group of two (2), the cheapest I found is an interior room also on a Hong Kong-Sanya sailing at HKD 3400 per room (USD 434.52, PHP 24,690). Per person, that's HKD 1700 (USD 217.26, PHP 12,345).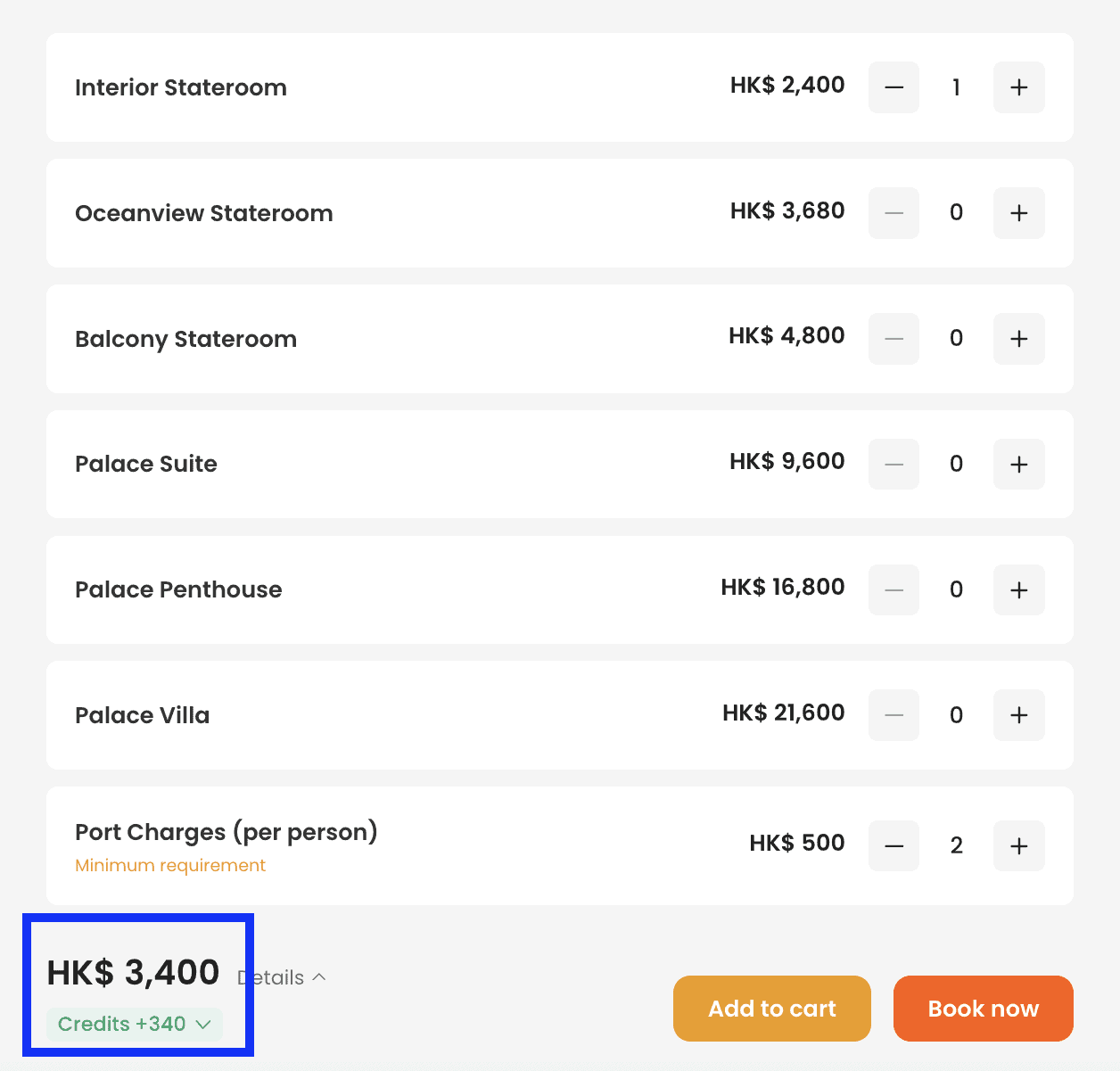 Here's a summary:
Hong Kong-Sanya 2N Cruise
Interior Room
If good for 4: HKD 5000 per room (HKD 1250 per person)
If good for 2: HKD 3400 per room (HKD 1700 per person)
These are the cheapest rates I found at the moment. But note that the price of the cruise depends on four factors: the booking date, the travel date, the route, and the stateroom you choose.
Let's talk about booking dates first. Much like flights, pricing is dynamic. Cruise companies, especially Resorts World Cruises, like giving away discounts and other freebies. For example, right now, there is an Early Bird promo wherein you could have a third or fourth guest join for free. This is how I'm able to afford to cruise with family!
Different travel dates have different prices, too. Expect the dates surrounding Christmas and Chinese New Year to cost significantly higher than others.
The route matters as well. In general, longer routes cost more.
Finally, the stateroom you select determines the price of your booking.
For the latest rates, do a mock booking using the Klook website or app.
---
What is the best room to book?
There are four main types of accommodations aboard Resorts World One:
Interior Stateroom: smallest, no window
Oceanview Stateroom: with a window allowing a view of the sea
Balcony Stateroom: with a balcony
The Palace suites: the most luxurious options
We've seen all these types, but we've only tried sleeping in two of them: Oceanview and Balcony staterooms.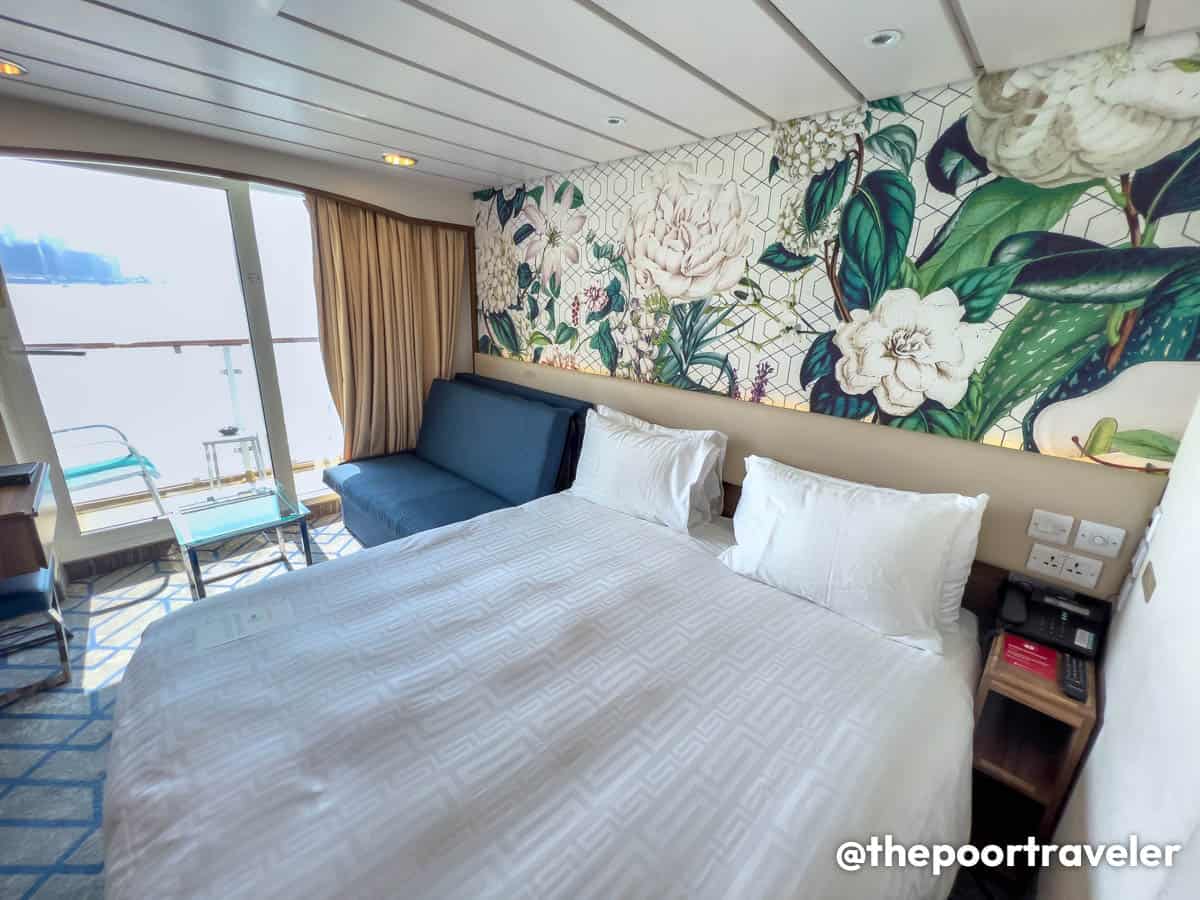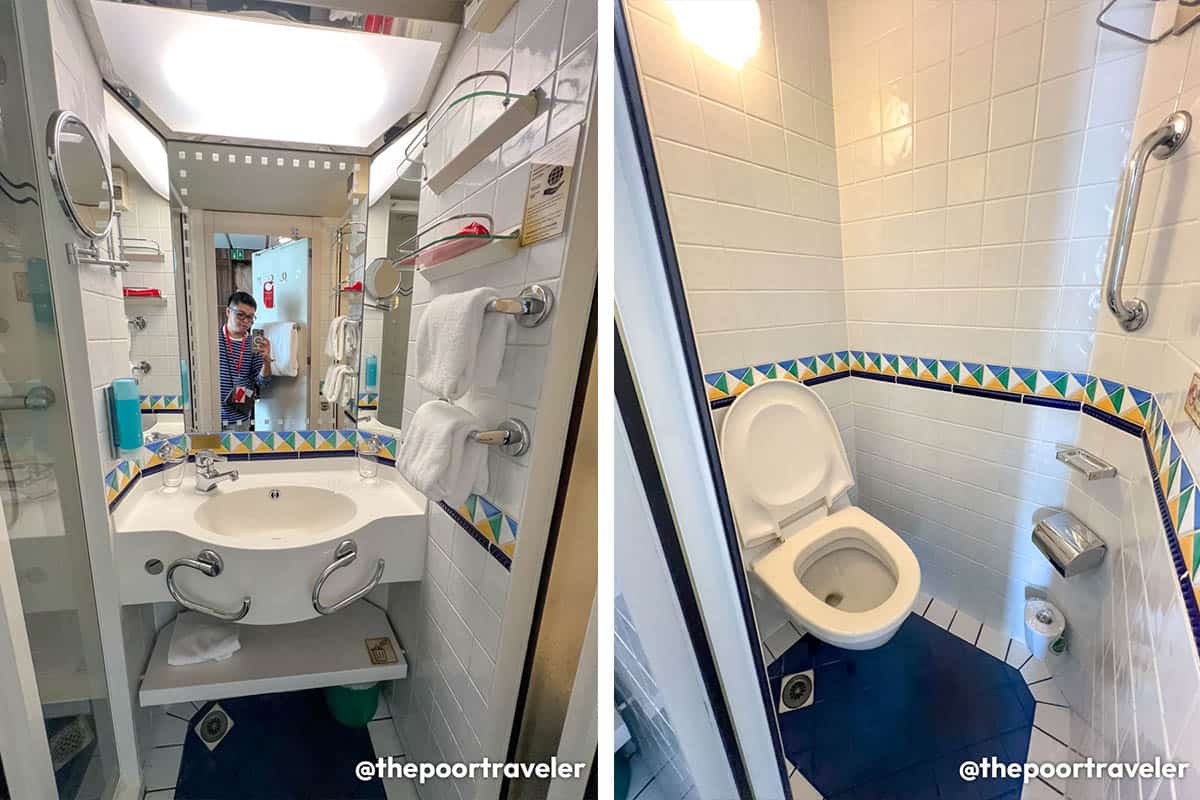 The Balcony Stateroom gives the best value for money. It's not too big or too small. The balcony adds more space to move around. The Oceanview Room is good, too.
But if you have just enough budget for an Interior Room, go for it. Don't drop the idea of cruising altogether just because you can't afford the best rooms. In my experience, we spent most of our time outside the room — going on shore excursions, pigging out at the restaurants, and exploring other amenities.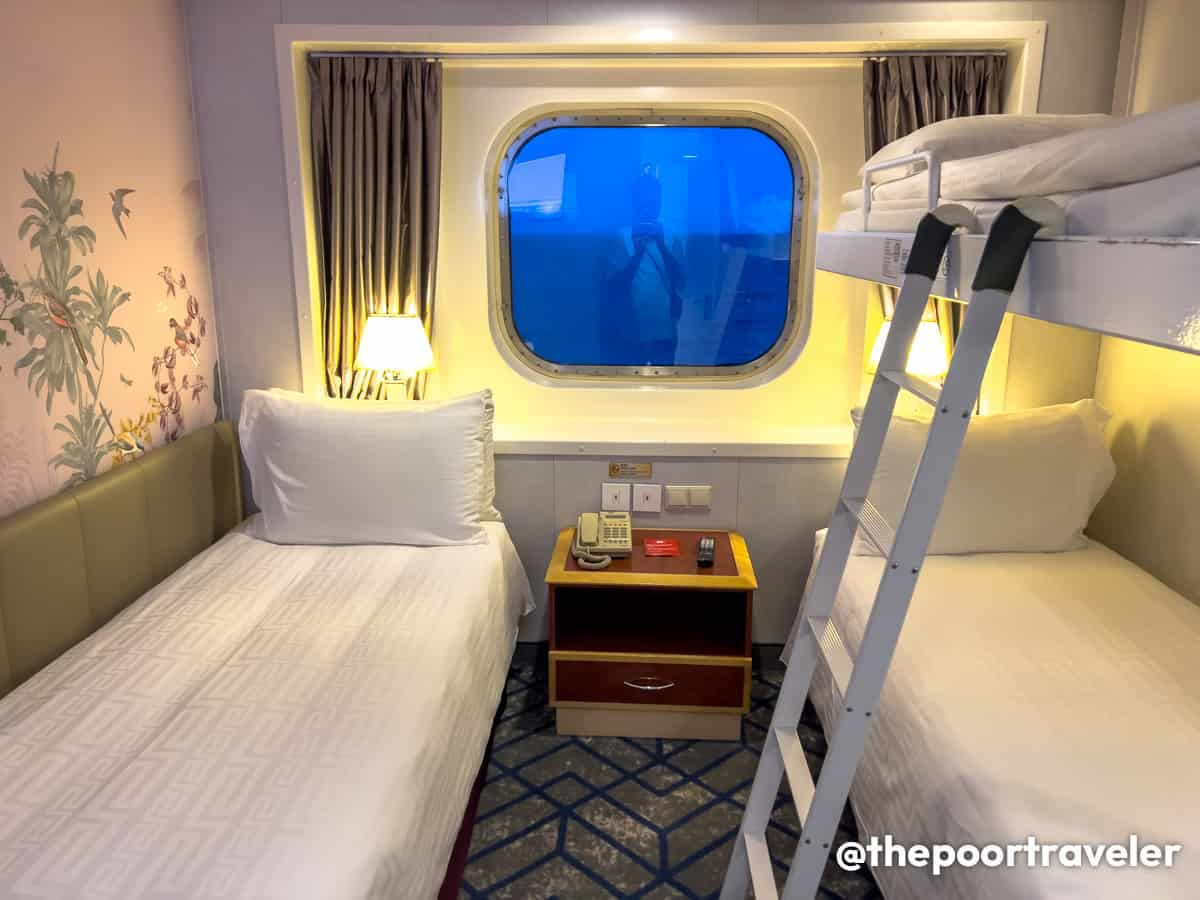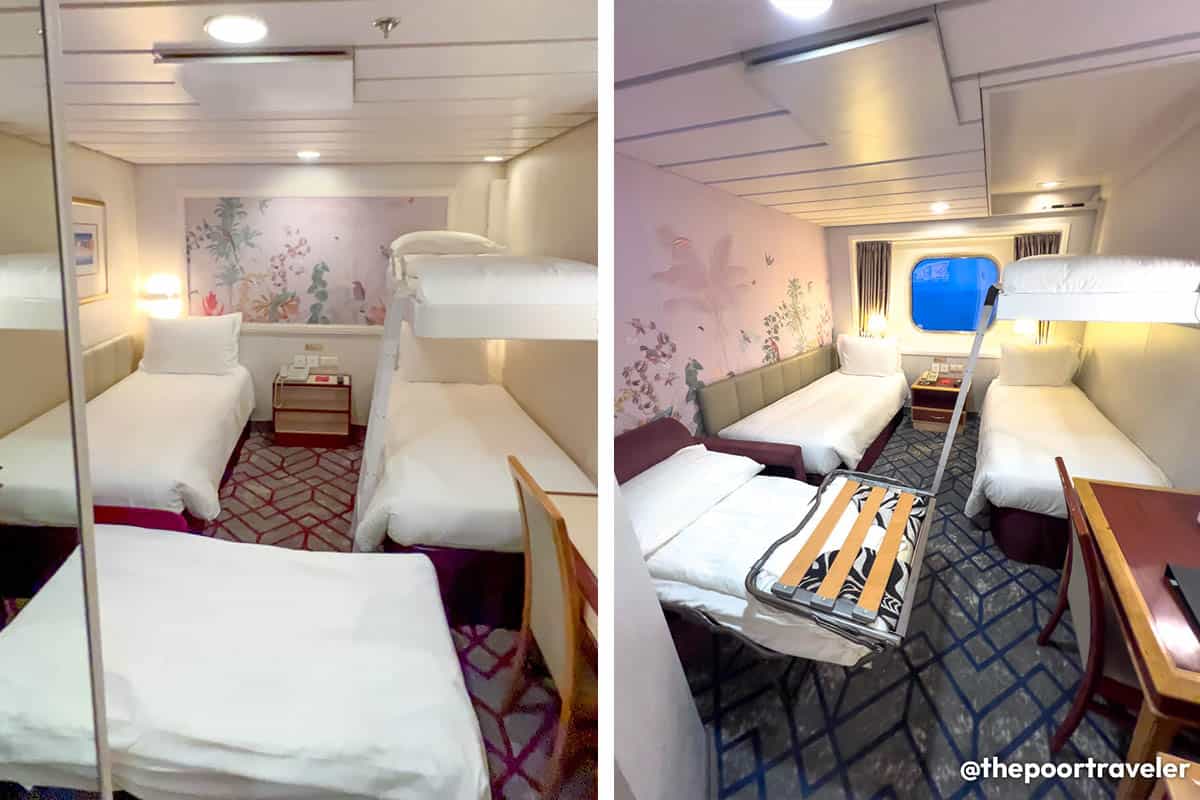 Whatever stateroom you choose, even though you could book any of these for up to 4 guests, I highly recommend that you limit the number of guests to only 3 per room. I feel like four is "too cozy". The fourth person's bed is positioned awkwardly, blocking the way to the door and the restroom, which can restrict your movement. Trust me, I've tried the 4-pax room sharing before.
Each room is equipped with slip-on sandals, bath robes, and toiletries. If you're not married to particular shampoo, soap or toothpaste brands, you may use what's provided.
---
What's included in the booking?
When you book a Resorts World One cruise, you already pay for the following:
accommodations
port charges (charged per person)
access to amenities like pool, gym, lounges
nightly entertainment including shows at the Zodiac Theatre
ALL meals at the 3 inclusive restaurants onboard
Yes, ALL MEALS — breakfast, lunch, dinner — provided that you dine at any of the three complimentary restaurants, which are The Lido (buffet), The Pavilion (Chinese), and Dream Dining (Western and Chinese menus). Technically, it's unlimited, even at the non-buffet places. I'll explain it in more detail in the Dining section below.
---
What's NOT included in the booking?
Airfare to Hong Kong
Mandatory gratuities at HKD 150 per night per person
For Okinawa sailings ONLY: International tourist tax, HKD 55 (JPY 1000) per person
Meals at specialty restaurants
And of course, other purchases onboard like massage and shopping.
---
How to book flights to Hong Kong for your cruise?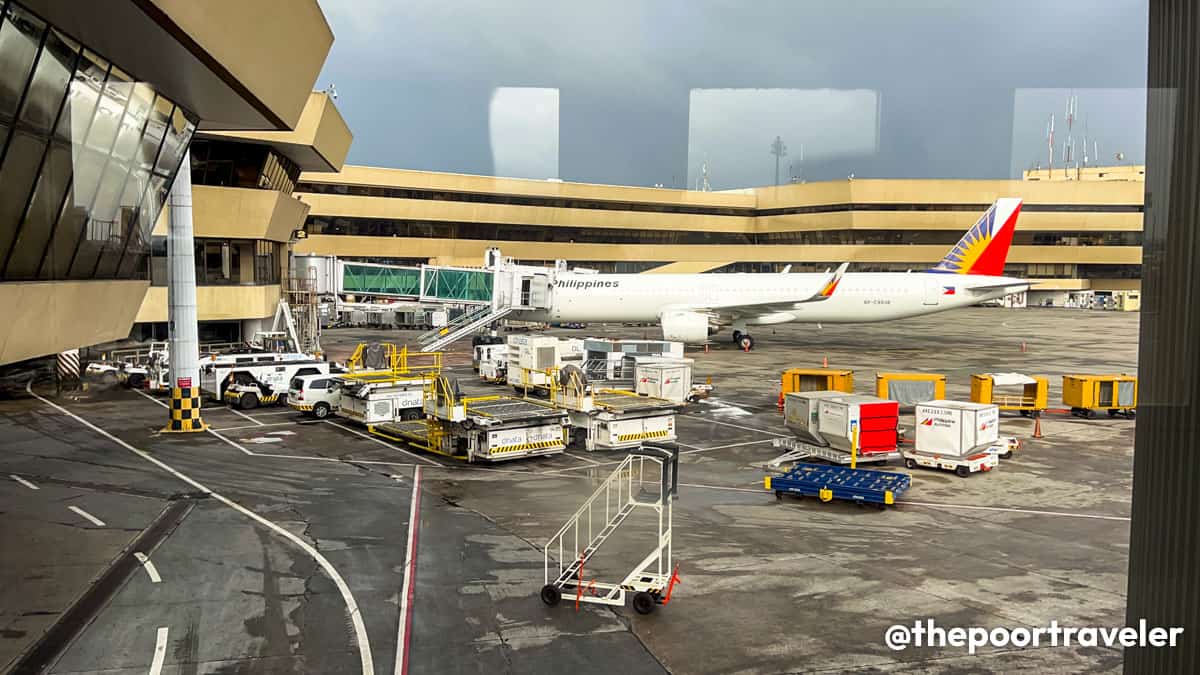 Several airlines fly from the Philippines to Hong Kong, making it one of the most accessible destinations for Pinoys. For those joining a cruise, Philippine Airlines offers some of the most ideal flights. The timings are great, with morning HK-bound flights that arrive just in time for cruise boarding (usually done in the afternoon) and evening return flights to the Philippines.
If you decide to fly on the same day of ship embarkation and disembarkation, these flights will give you plenty of allowance. As of this writing, here's PAL's Hong Kong schedule:
Manila to Hong Kong (ETD-ETA)
7:50 – 10:15 — most ideal
10:10 – 12:25
15:15 – 17:40
19:00 – 21:25
Hong Kong to Manila (ETD-ETA)
11:30 – 13:40
13:25 – 15:35
19:20 – 21:25
22:45 – 00:55 (+1 day) — most ideal
Because different routes may have different timetables and changes to the schedule may happen, always double check the cruise ship's latest boarding/disembarkation times before you book your flight.
We flew with Philippine Airlines on our most recent Hong Kong-Vietnam cruise this year and also on our Singapore-Malaysia cruise last year. One thing I really appreciate is the generous baggage allowance that automatically comes with each booking. For Hong Kong flights, check-in baggage can weigh 35 kg maximum for Economy passengers (30 kg for Economy Saver). That should cover all your cruise #OOTDs and pasalubong.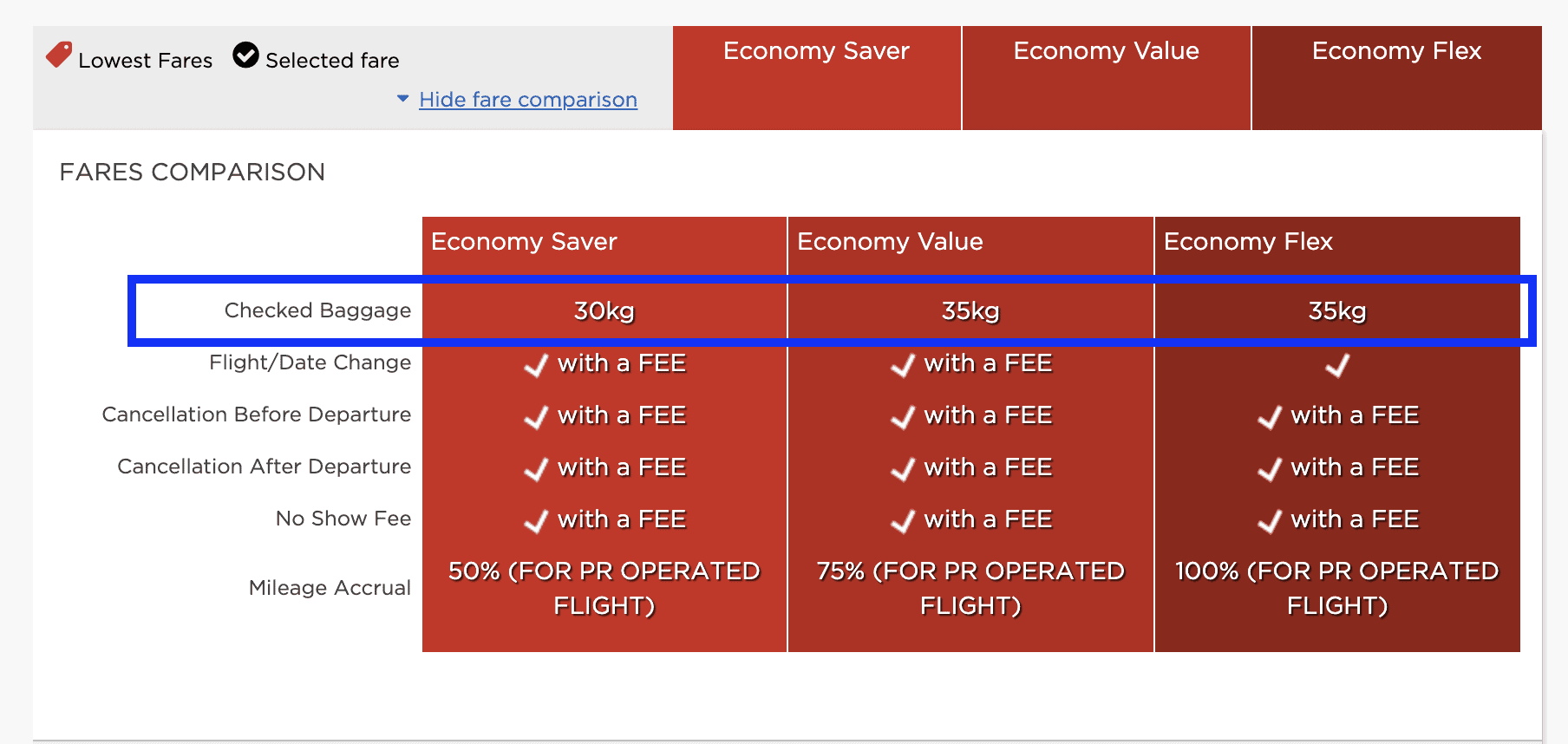 You also get a 7-kg carry-on baggage allowance on top of it.
Often, although some flights with low-cost carriers really do appear cheap, when you start adding baggage allowance, the total cost gets close (sometimes even exceeding) PAL's prices.
Another reason we prefer PAL is its four-star service that matches the pampering and comfort that cruises are known for. We can always rely on PAL to serve delicious inflight meals and unlimited drinks on board, already included in the booking. On our last trip, the chicken sausages and chicken rice were yum yum!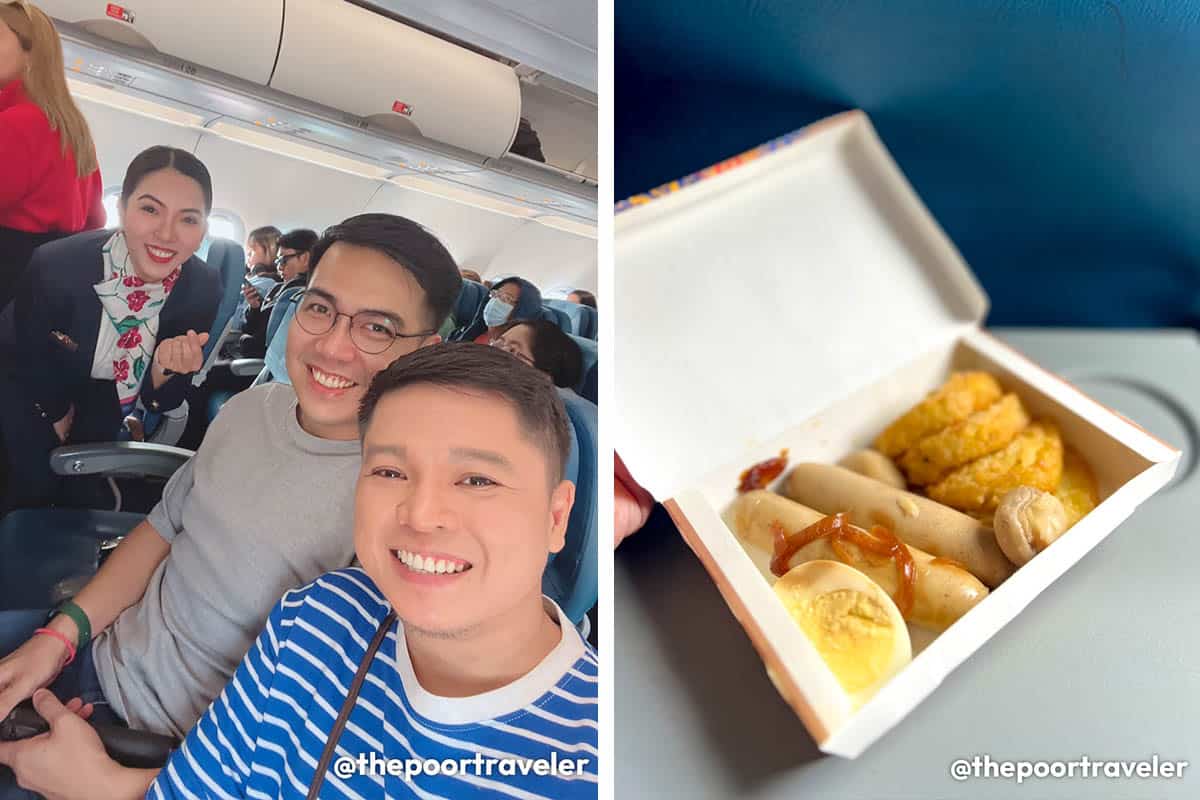 That said, it's always good practice to book a flight scheduled at least a day ahead of the sailing date. For example, if your cruise starts on a Monday, fly to Hong Kong on Sunday or earlier for your peace of mind. But if you choose to go that route, you'll also need to book a hotel in Hong Kong. Speaking of hotels…
---
Top Hotels Near Kai Tak Cruise Terminal
If you prefer to fly to Hong Kong at least a day before your actual sailing, you can make things more convenient by staying at a hotel close to the Kai Tak Cruise Terminal. Here are some of the nearby hotel options.
---
Top Hotels Near Hong Kong Airport
You could also consider booking a hotel near the airport. This is ideal if your flight to Hong Kong is arriving at night or you plan to stay longer in the city after your cruise to visit key attractions like Disneyland and Ngong Ping 360. The hotels listed below are located close to Hong Kong International Airport and have easy access to Sunny Bay and Tung Chung stations, which are the jumping-off points to said attractions.
---
BEFORE YOUR CRUISE
What are the requirements when boarding Resorts World One?
Before your trip, make sure you have the following documents:
Valid passport
2 photocopies of your passport's bio page (same size, not enlarged)
Cruise booking confirmation (printed or digital)
HKD, USD, or credit card: The default currency onboard is HKD, but USD is accepted, too.
That's it. No need to download any app or print cruise luggage tags.
---
Is a visa needed for Okinawa and Sanya when arriving by cruise ship?
For Philippine-passport holders, no need to apply for a visa, even for Okinawa (Japan) and Sanya (China). The policy applies to tourists arriving and departing via the same cruise ship.
However, you must settle the international tourist tax (JPY 1000/pax) for Okinawa and the admin fee (RMB 10/pax) for Sanya.
These policies might change, so double check with the authorities first before your trip.
---
What to pack for your cruise
Each passenger can bring onboard a maximum of two (2) pieces of luggage, up to 25 kg each. Each bag must fit inside the cabin comfortably.
Bring clothes that will cover all your days and nights onboard. Personally, when I go on a cruise, I typically pack two sets of outfit per day: one casual set for exploring during the day, and another smart casual set for night time activities.
Each room also has sets of robes and indoor slippers. I wear these robes when I sleep, so I don't bring additional clothes to sleep in. While each room is provided toiletries, I like using my own skincare, bath, and dental products.
Most ports of call are in the tropical zone, so the climate is pretty consistent. But Hong Kong experiences four distinct seasons. Bring light clothes from May to October, and warmer clothes from November to April.
---
What NOT to bring onboard?
weapons, firearms, ammunition, explosives, and incendiary devices
inflammable and dangerous items of any kind
extension cord
live animals of any kind
any alcoholic drink, intoxicating liquor or beverage
---
Is there a dress code?
Casual. Unlike some cruises that require semi-formal or at least smart casual in certain areas of the ship, Resorts World One is pretty casual all over.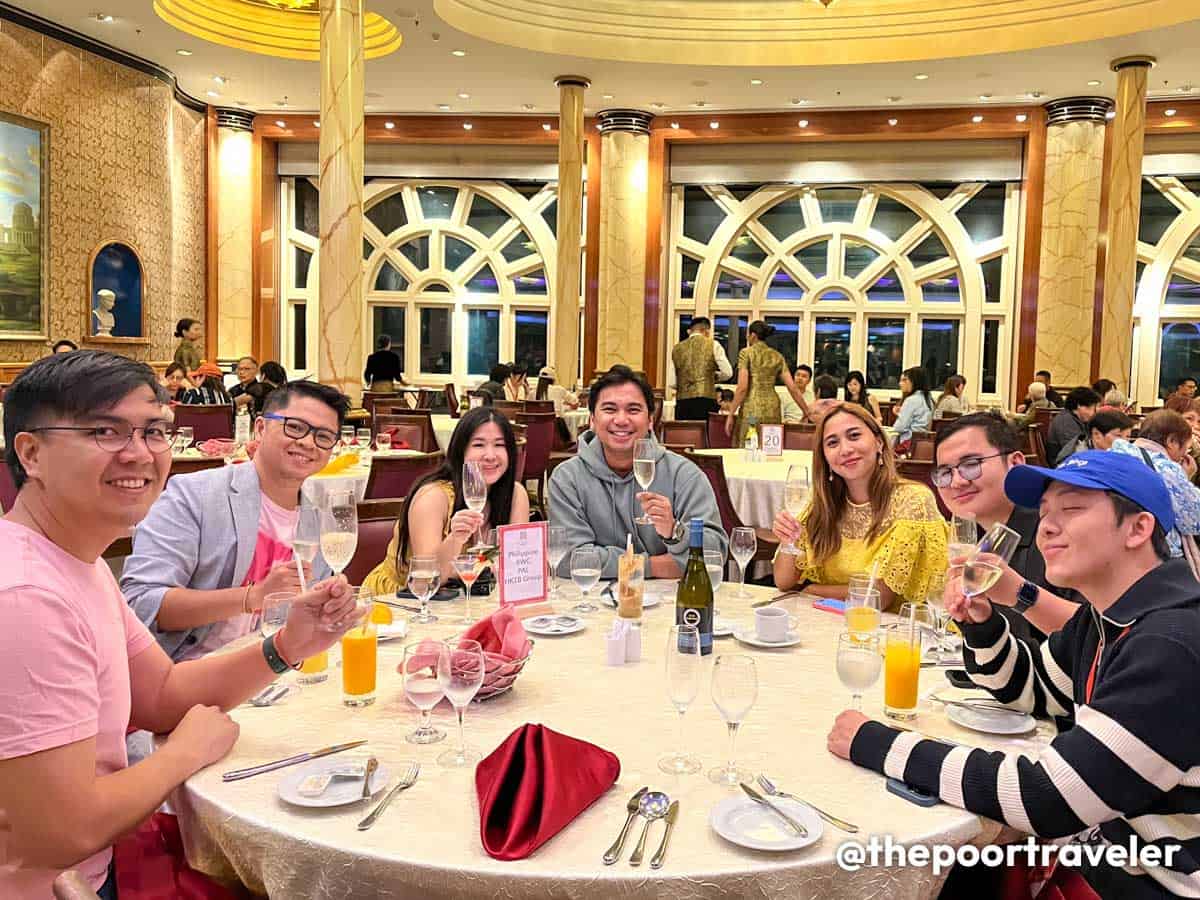 T-shirt and shorts are generally accepted everywhere. A few restrictions are implemented at some restaurants and establishments, mostly prohibiting slippers or flip-flops and swim suits.
That said, it wouldn't hurt to dress up and achieve your #OOTD goals. We packed at least 2 sets of garments a day: one set of light clothes for touring, and another for the evening shows.
---
ON BOARDING DAY
Where is the Resorts World One cruise terminal in Hong Kong?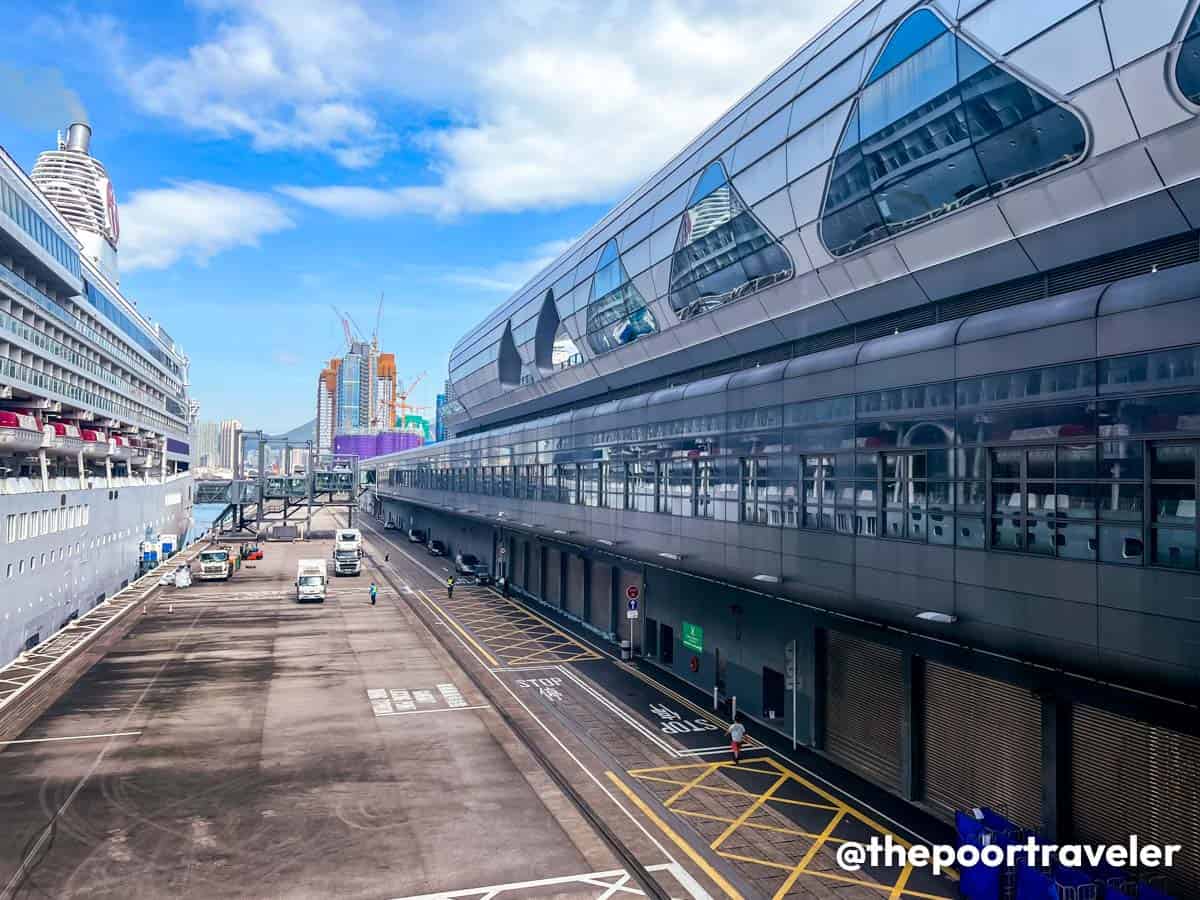 Resorts World One uses the Kai Tak Cruise Terminal in Hong Kong. Here's the full address with contact numbers:
Kai Tak Cruise Terminal
33 Shing Fung Road, Kowloon, Hong Kong
+852 3465 6888 (Monday-Friday: 09:30-12:30, 13:30-18:00)
---
How to Get to Kai Tak Cruise Terminal
Here's how to get from the Hong Kong International Airport to Kai Tak Cruise Terminal:
At the Airport Ground Transportation Center, board Bus A29, bound for Tseung Kwan O (Po Lam). Travel time: roughly 1 hour. Fare: HKD 44.
Alight at Ngau Tau Kok Station (Kwun Tong Road).
Transfer to Bus 5R, bound for Kai Tak Cruise Terminal. Travel time: 25 minutes. Fare: HKD 7.7.
Get off at Kai Tak Cruise Terminal stop.
Yes, the bus is the easiest mode of transportation because Bus 5R stops right in front of the cruise terminal building.
There are a few more bus routes that you could take to reach the cruise terminal, but the A29 and 5R combination is the most convenient and entails the easiest transfer.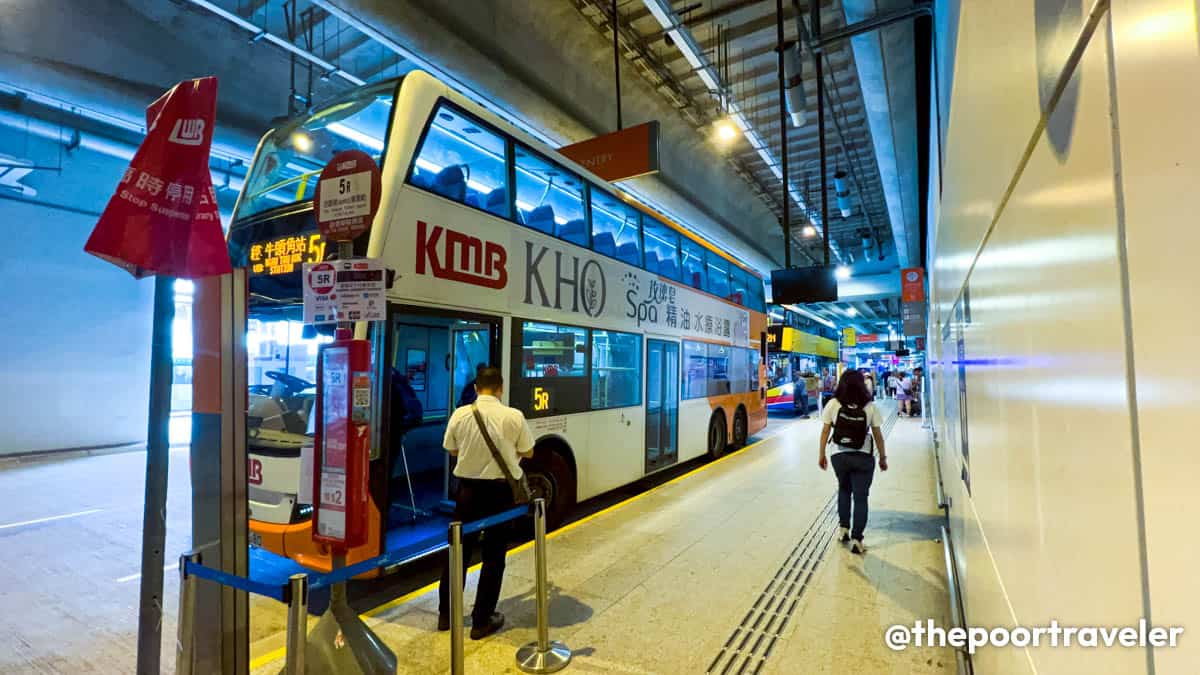 Taking the MTR will involve multiple transfers and you'll still end up taking the bus or taxi. The nearest MTR stop is Kai Tak MTR Station, which is a 45-minute walk away from the terminal building.
If you prefer taking a cab, taxi fare is around HKD 310 plus baggage surcharges.
---
How to check in and board the ship?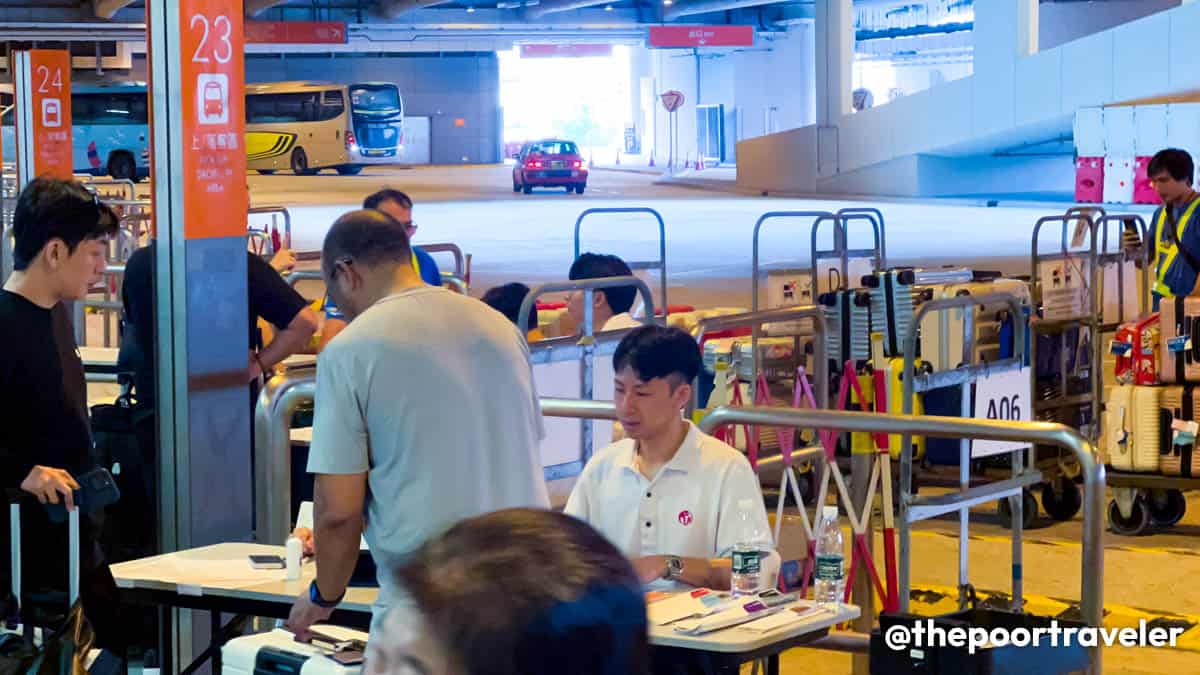 Check in your bags. Upon arrival at the Kai Tak Cruise Terminal's dropoff area, walk farther into the parking area and you'll find the baggage check-in queue. Present your passport and they will collect your bags and tag them accordingly. You'll also be given a claim stub with your last name. The staff will take the bags straight to your room.
Enter the terminal building and follow the signs pointing to the check-in area. It's located on the upper level. Find the check-in counters and fall in line.
Check in. Present your cruise booking confirmation and passport. You'll be handed the following:
– room card, indicating your deck number and stateroom number. DO NOT LOSE THIS CARD. It serves as your room key and your credit card. If you need to access some of the facilities or purchase anything on board, you'll be using this card.
– an assembly slip, indicating your assembly station number.
– landing card, only if applicable to your route
Should there be changes to the itinerary, you will be informed here.
Clear Immigration check. Once you're checked in, follow the signs to the Immigration counters. You'll need to present your passport and the departure card (the other page of the form you accomplished upon arrival in Hong Kong).
Board the vessel. Take the escalators down and queue for boarding. Present your mag card. The staff will also collect your passport, which will be returned to you at the end of the cruise.
Find your assembly station. Your assigned station number is indicated on the slip handed to you upon check in. Just follow the directions of the staff along the way.
Wait for your room to be ready. It may take a couple of hours, so have lunch at one of the three complimentary restaurants in the meantime. After a few hours, proceed to your stateroom. You should see your suitcase/bags right outside your door.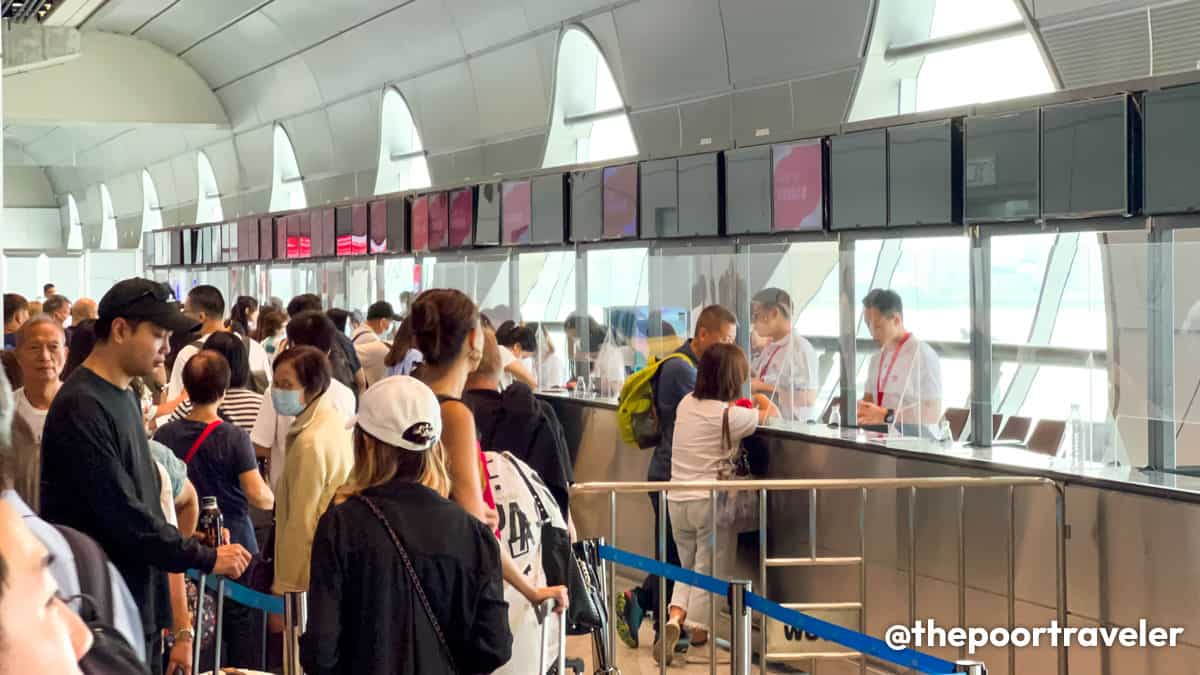 Don't forget to attend drill or watch the safety demo.
That's it. Enjoy your room and explore the rest of the ship!
---
DURING SAILING
What are the restaurants and other dining options on Resorts World One?
Resorts World One has three (3) inclusive restaurants. You could dine at any of these complimentary restaurants without additional charge. All these serve breakfast, lunch, and dinner.
The Lido Buffet. The most popular, located on Deck 12, just behind the Parthenon Pool. No reservations needed.
Dream Dining. Western and Chinese cuisines.
The Pavilion Room. Family-style Chinese restaurant.
Both Dream Dining and the Pavilion offer full-course meals (appetizer, soup, main course, dessert) with limited selection of drinks, usually coffee and tea. Other drinks will be charged to your room.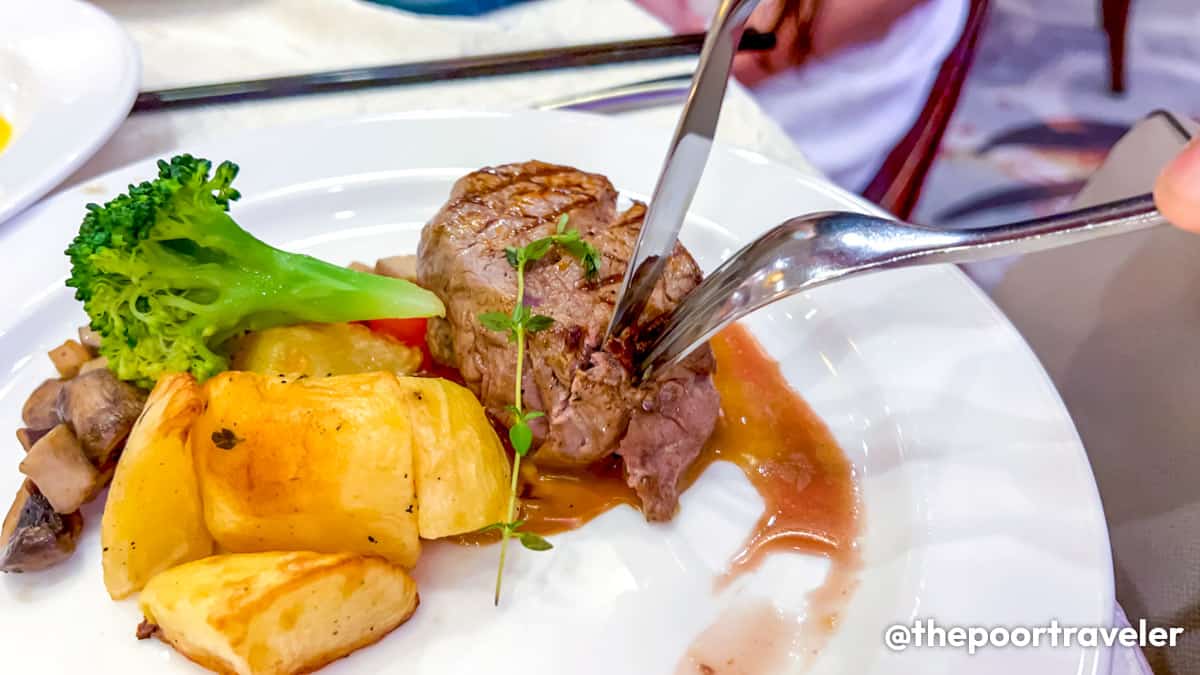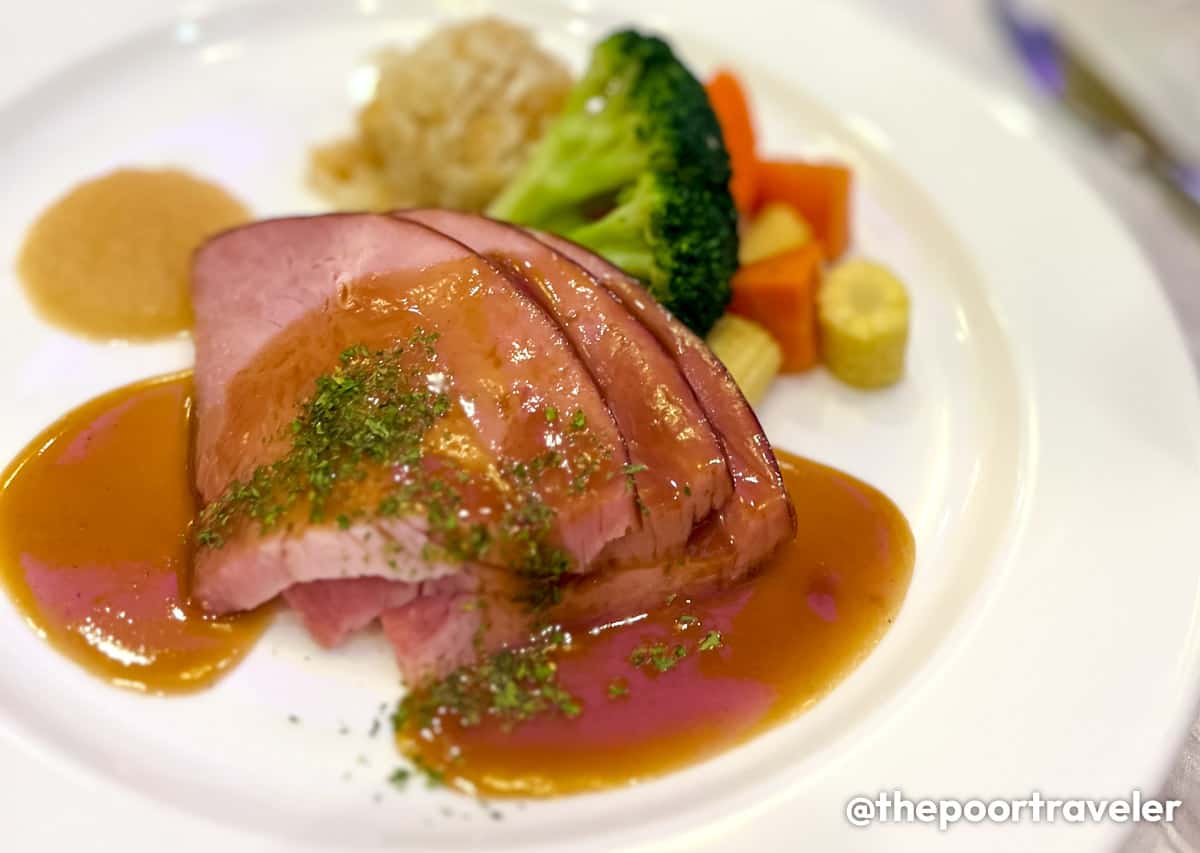 Aside from inclusive restos, there are also specialty dining options. At these restaurants, any order will be charged to your room.
We were able to try the following: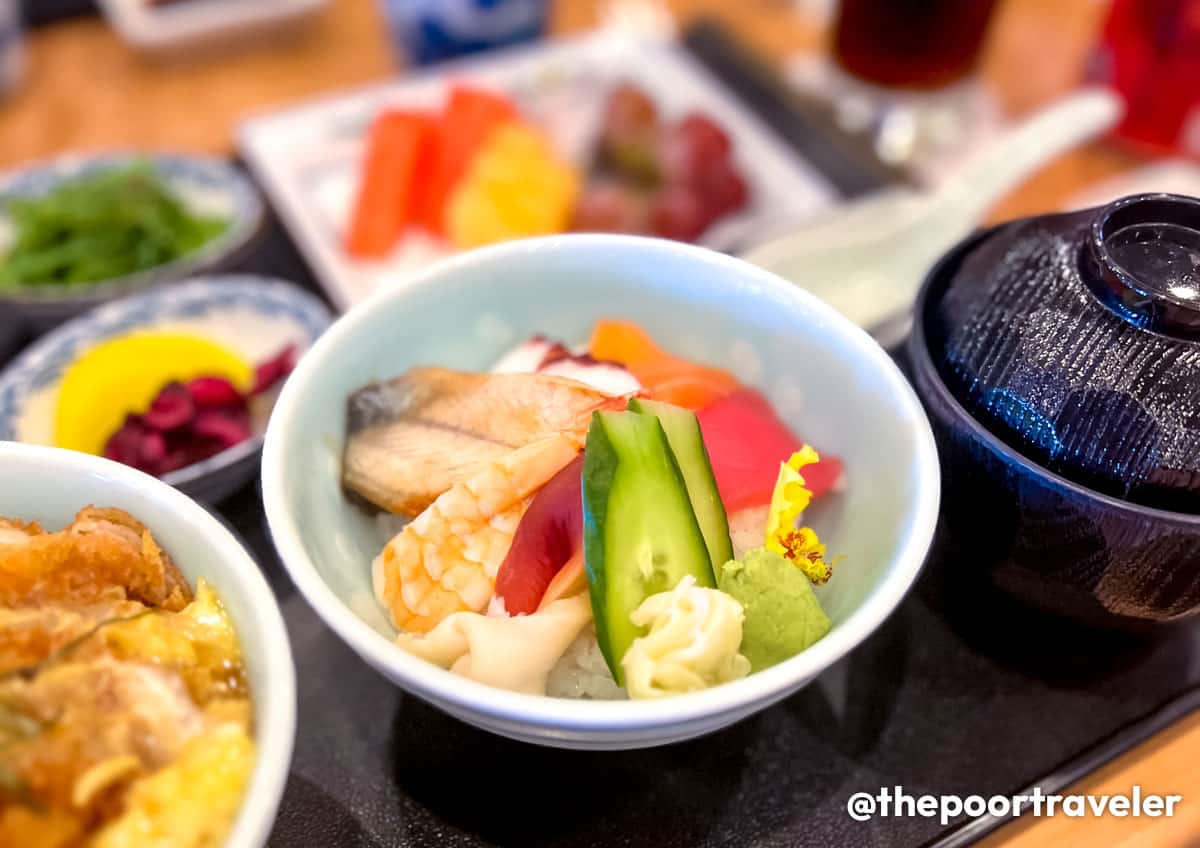 Umi Uma
Japanese (donburi and sushi)
Deck 8 Mid
– We ordered donburi delights. Each order is composed of two main dishes and sides. I had chirashi don and tori katsu don.
Blue Lagoon
Asian dishes
Deck 7 Mid, just beside the main lobby
– We didn't get to sample much of the menu because we would go here for the drinks. We got to try the salted egg fish skin, which we couldn't get enough of!
Matcha Ice
Matcha-flavored drinks and desserts
Deck 7 Mid, just beside Blue Lagoon
– I had the matcha caramel latte (HKD 35). The matcha flavor was a bit more subtle than I expected. I also got to try the matcha brownie.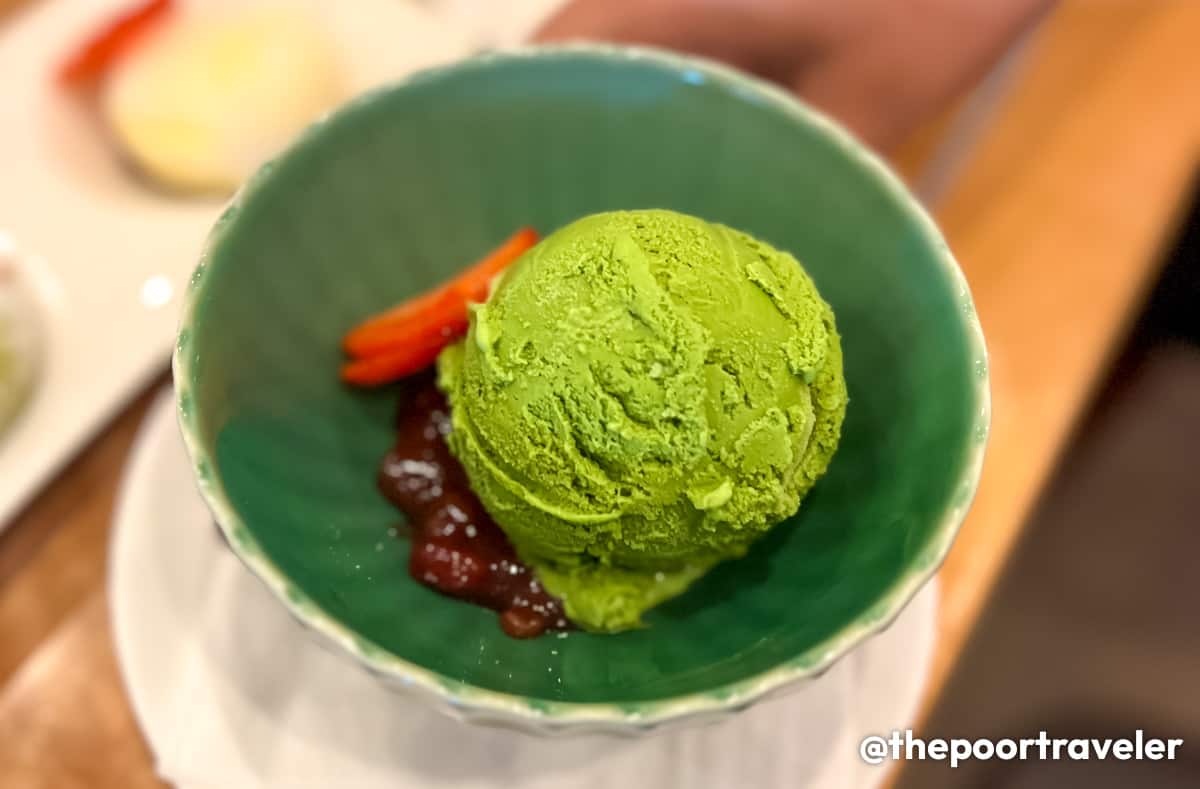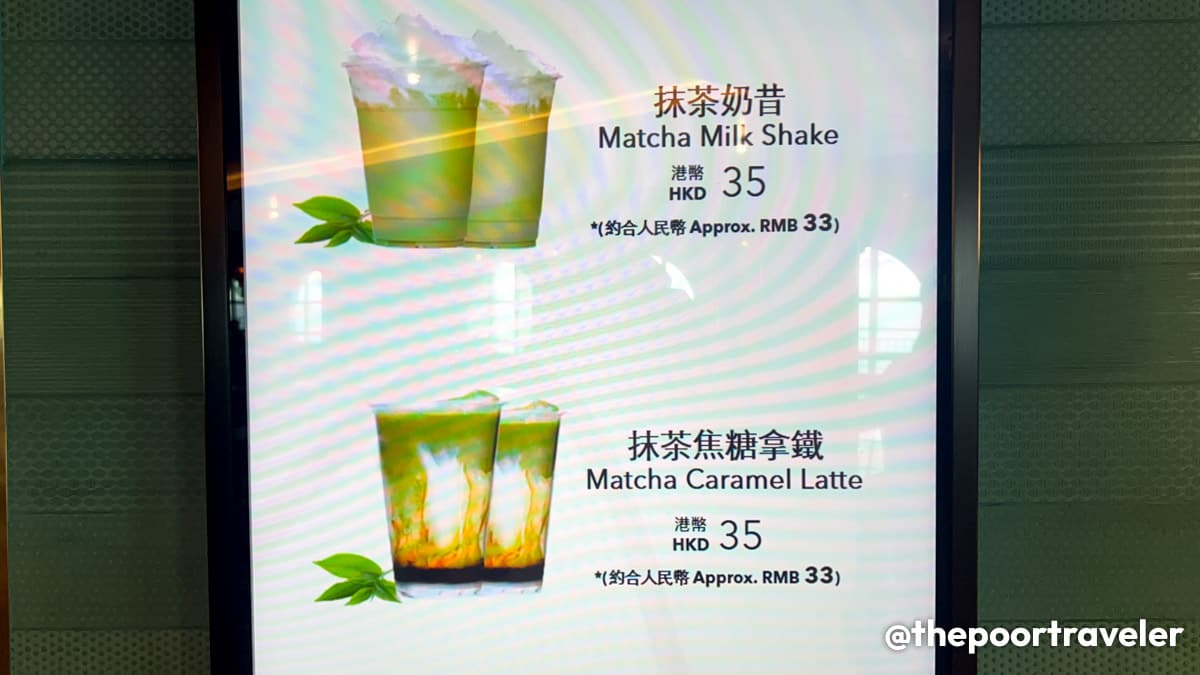 Other food establishments that are available but we didn't get to try include:
Mozarella Ristorante and Pizza
Italian pizza bar
Deck 7 Mid
Silk Road
Chinese food, fine dining
Deck 7 Mid
Palm Court
Lounge with view and access to the Captain's Bridge observation room
Served drinks and a few snacks
Deck 12 Fwd
Seafood Grill
Mostly drinks, with live music at night
Deck 13 Fwd, above the Parthenon Pool
Some sailings also do a BBQ Night, where the parthenon pool area on Deck 12 turns into a giant barbeque party. It's buffet-style with no extra charge, too.
---
What are the attractions and activities on board?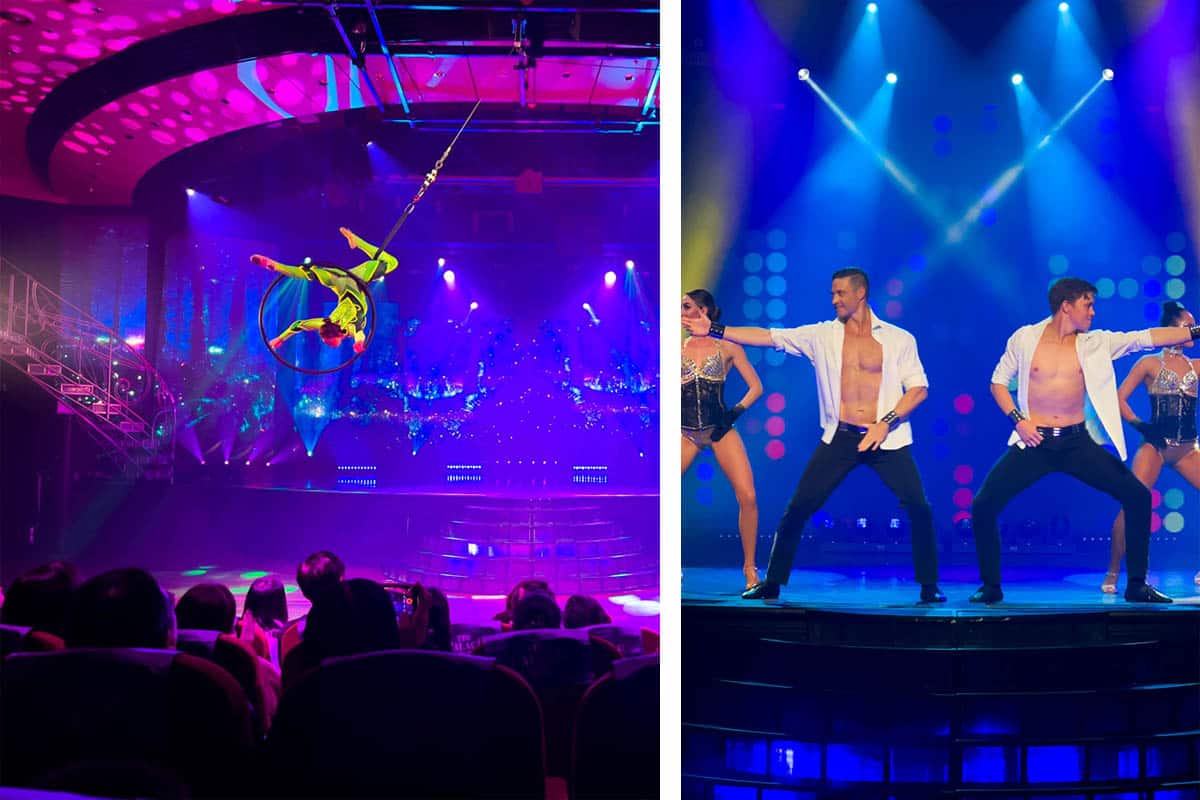 Zodiac Theatre, one of the best assets of Resorts World One is its nightly shows, mostly a variety of graceful dances and daring exhibitions. They're incredibly entertaining, especially the Rhythm and Balance show on the first night. Some performances showcase the talents of the ship's crew. It has 800 seats so you may simply walk in without a reservation. But we still recommend arriving early to get the best middle seats. Deck 7 Aft.
Parthenon Pool, the centerpiece of the main pool deck. Its Greek theme is a remnant of its Superstar Virgo days, but the entire area is painted white almost all over, giving it a cleaner, classier look. It's open to everyone. Located on Deck 12.

Parthenon Pool

Caesar's Slide, a loooong, swirling slide with some transparent parts, making it more exciting. It's located next to the Parthenon pool. Deck 12.
The Boutiques, lanes of duty-free shops on Decks 7 and 8, selling mostly fashion accessories and jewelry.

The Boutiques

ESC Experience Lab. The ship's arcade. Enjoy your favorite games and virtual reality thrills.
The Zone. If you'd rather play board games and console games instead.

RW@Sea. If you're interested in the other type of "gaming", if you know what I mean. Deck 7 and 12.
Gym. We packed gym clothes but we failed to use them because we would already average 15,000 steps per day just by joining the shore excursions.
Captain's Observation Lounge, a mini-museum below Palm Court, where you could learn more about the ship and see the captain and his officers at work on the Captain's bridge.

Captain's Observation Lounge

Grand Piazza. This is the ship's main lobby. Some times, it hosts bingo games; other times, a karaoke music night venue. It also transforms into an open cinema on some days. And on the last day of sailing, it's where the ship's grand sale happens where up to 80% discounts are up for grabs.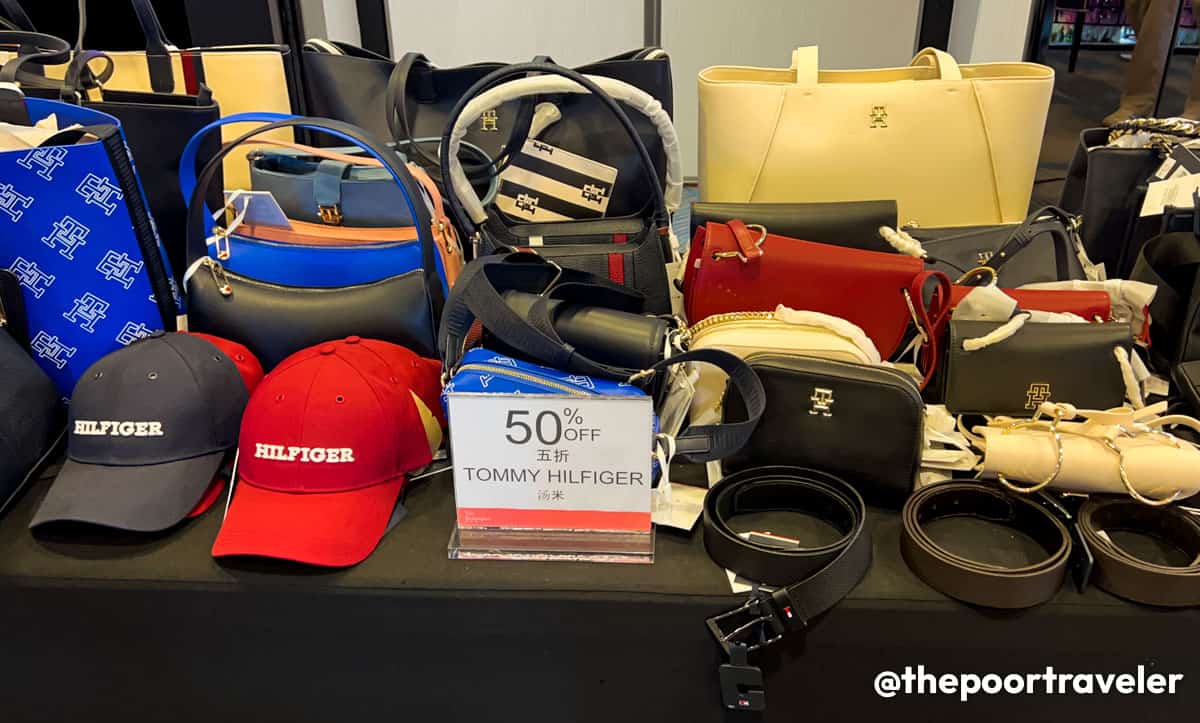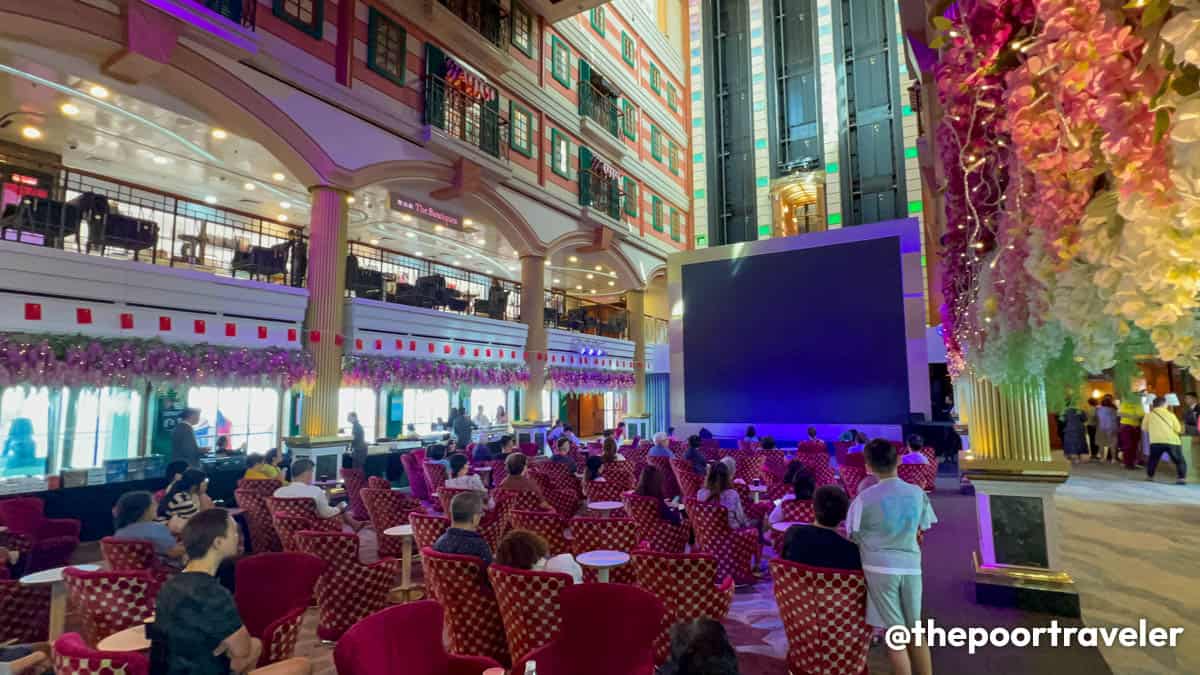 ---
What are shore excursions?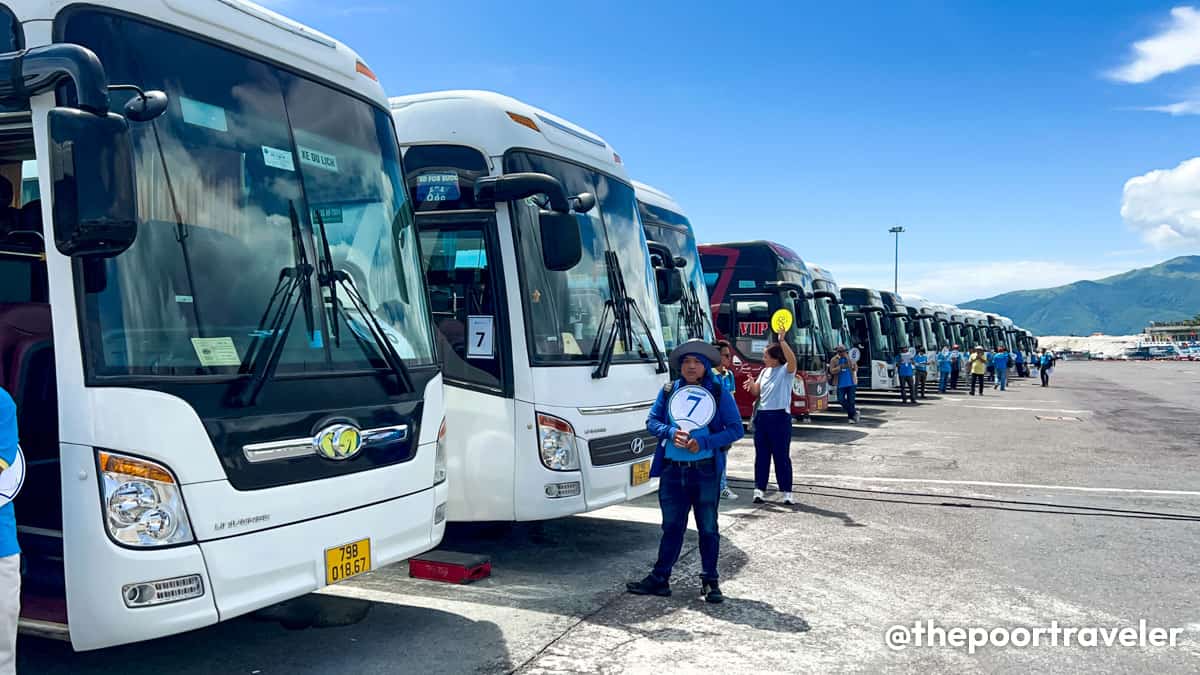 This is the part where you can get off the ship and explore the ports of call (city where it is docked).
Depending on your route, Resorts World One may stop at the following:
Nha Trang and Da Nang in Vietnam
Sanya in Hainan, China
Manila and Boracay in the Philippines
Naha and Miyakojima in Okinawa, Japan
Note: The 2N Hong Kong Weekend Getaway sailing does not make any port of call.
At every stop, Resorts World One offers various pre-arranged tours called Shorex (shore excursions). But you're not required to book with them. You could also pull a DIY (do it yourself). It's completely up to you.
If you book a shorex, you will be joining the rest of the cruise passengers who booked that tour. The great thing about it is that you have everything taken care of for you. You will have a tour guide and a few members of the crew will join the group. They will make sure you're back at the port in time for sailing. Meals are also often included.
If you pull a DIY, you have complete control of your time and it's going to be cheaper. However, make sure you're back by the prescribed time because the ship will NOT wait for you.
---
What to remember when getting off the ship for an excursion?
Whether you're exploring independently or joining a shore excursion, take note of the cut-off time. It's also displayed on the screens all over the ship. It changes per stop. READ IT, UNDERSTAND IT, REMEMBER IT. Bear in mind that the time zone may also change, so keep the ship's time in mind. You have to be back on board before that cut-off time.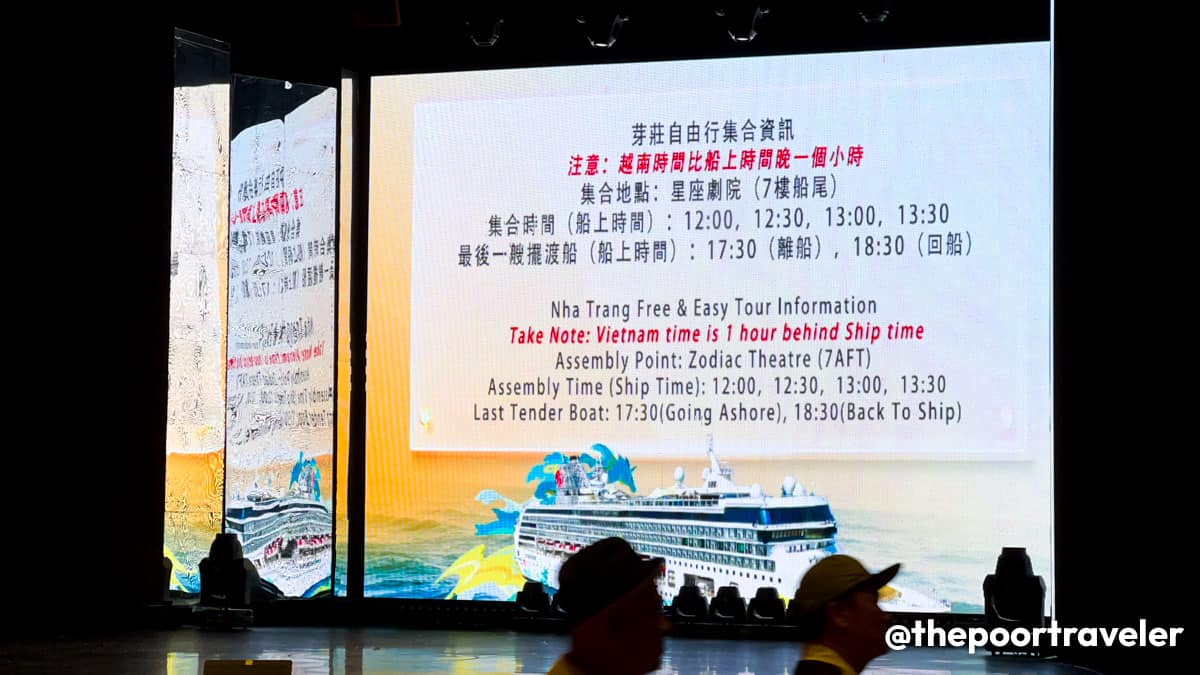 You won't have your passport with you when you get off the ship, so make sure you have the following with you:
stateroom card
a photocopy of your passport
landing card (if applicable)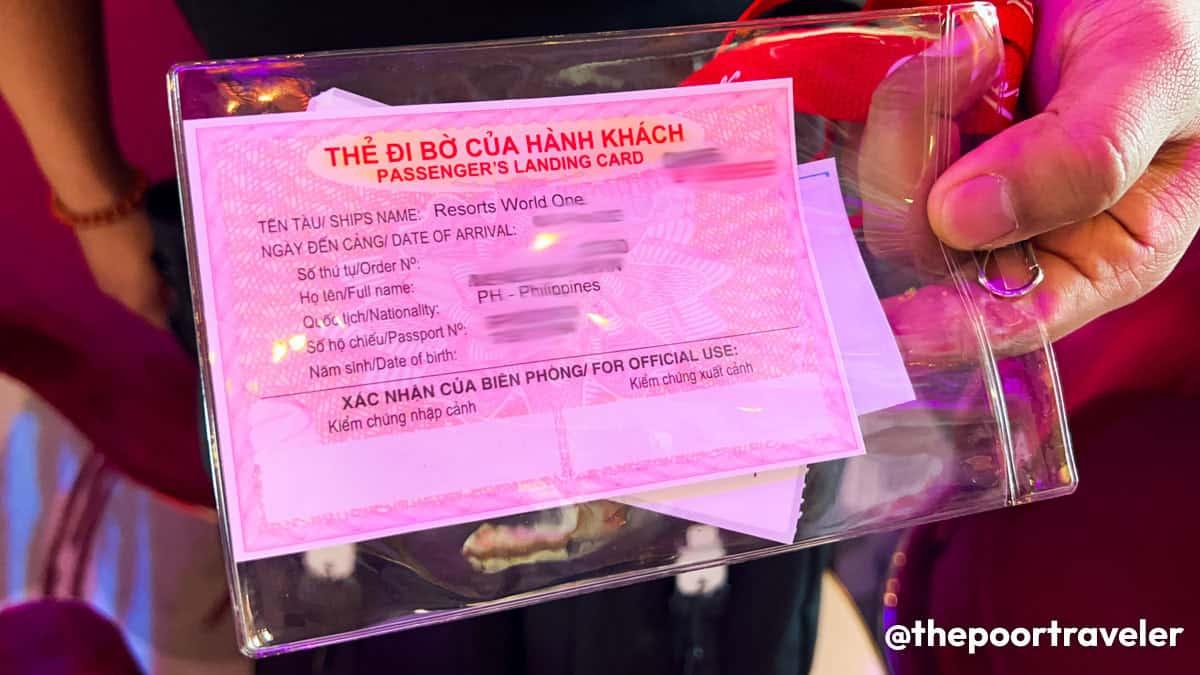 You'll also need your stateroom card when boarding the ship again, so don't forget it.
---
CHECKING OUT & DISEMBARKATION
What to do before the end of the cruise?
Most of the time (but not all the time), disembarkation is done in the morning you arrive in Hong Kong. But for a smoother disembarkation experience, there are some things you're advised to do the day before.
Claim your passport. The day before you arrive in Hong Kong, you can claim your passport at the elevator lobby of your deck.
Pack your bags. Your check-in bags will be collected on your last night, up to 22:00 (10 pm). Leave it outside your door and the staff will pick it up. I usually pack all my things except the clothes I'd be wearing the next day and some toiletries.
Settle your bill. You'll have to pay the mandatory gratuities or tips and othe purchases you made on board before you disembark. If you feel like you won't be buying anything else, you could already settle your account the night before to avoid the long queues in the morning.
---
How to disembark
On the last day, you could still have breakfast while waiting to get off the ship. And when it's time to disembark, here's how:
Go to Deck 7 and follow the instructions of the staff to the gangway. Upon exiting, a staff member will scan your stateroom card or your passport.
Undergo immigration check for arrival clearance. You'll be re-entering Hong Kong, so you'll be facing another Immigration Officer.
Once cleared, make your way to the luggage claim area and pick up your bags. The bags are sorted by deck. Most bags look alike, so double check if you have the right one.
---
FREQUENTLY ASKED QUESTIONS
Is there wifi onboard? What are the rates?
Yes, you could avail of the ship's wifi packages on board. Here are the rates:
STANDARD (Basic Speed)
Good for e-mail, chat, social media
Full cruise, 1 device: HKD 295
Full cruise, 2 devices: HKD 545
Full cruise, 3 devices: HKD 730
Full cruise, 4 devices: HKD 895
PREMIUM (Full Speed)
Good for media/video streaming + email, chat, social media
Full cruise, 1 device: HKD 395
Full cruise, 2 devices: HKD 745
Full cruise, 3 devices: HKD 980
Full cruise, 4 devices: HKD 1,195
24 hours, 1 device: HKD 148
---
Is tipping required?
Yes. At the end of the cruise, you will have to pay the mandatory gratuities (tips), which cost HKD 150 per night per person.
Because of this, you're not required to give any more tips to the staff. That said, if the service of the waiter at a restaurant or your room attendant has been more than satisfactory, feel free to tip. I'm sure it would be appreciated by the staff.
---
What type of electrical sockets are used on board Resorts World One?
The ship is equipped with universal 220V outlets that can accommodate most types of plugs. It looks like this: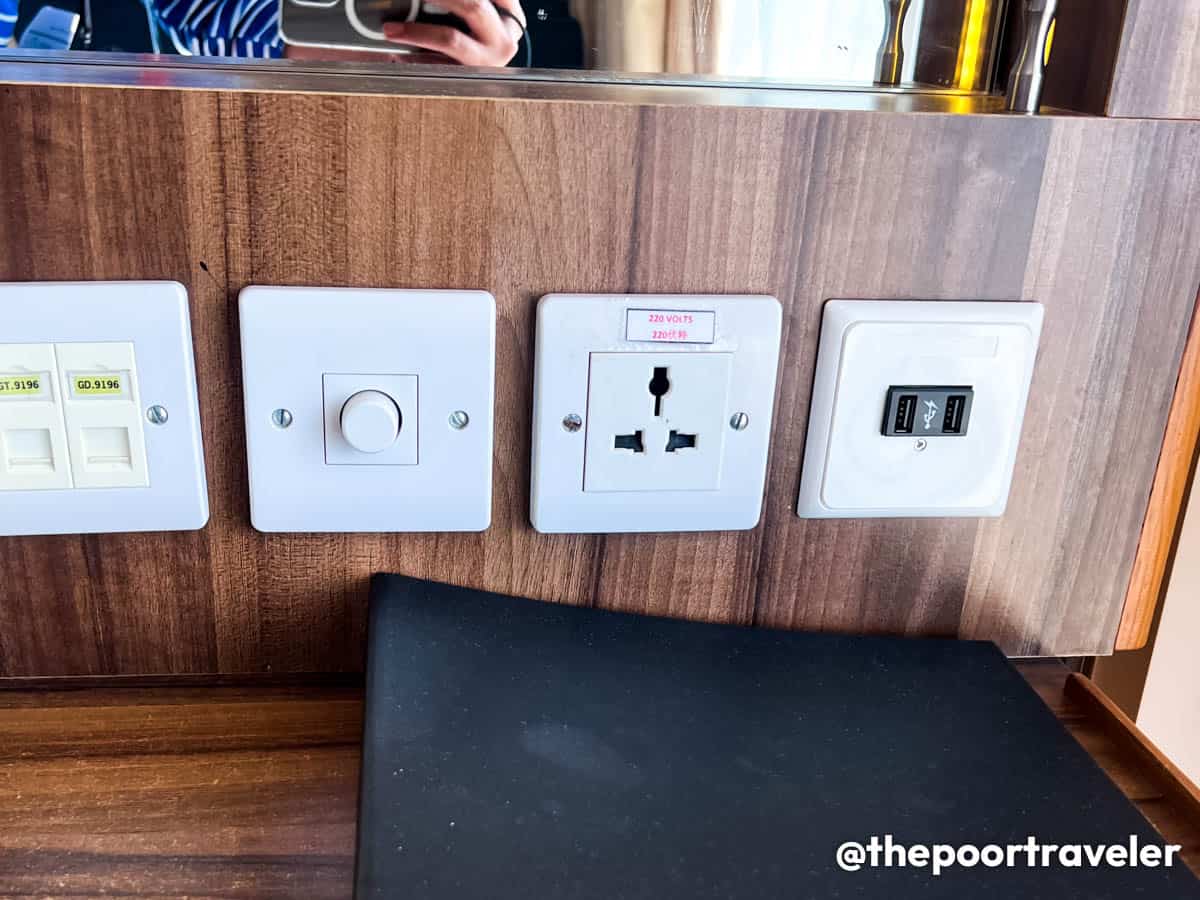 USB ports are also available.
---
How to get back to airport from the cruise terminal?
Here's the easiest way to get from the Kai Tak Cruise Terminal to Hong Kong International Airport:
Board Bus 5R bound for APM Millennium City 5 (D1). Travel time: 15 minutes.
Walk to Tsun Yip Lane; Kwun Tong Road Bus Stop. It should take around 2 minutes.
Ride Bus A29 bound for the airport. Travel time: roughly 1 hours. Fare: HKD 44.
Get off at the airport.
---
What are the attractions near the cruise terminal?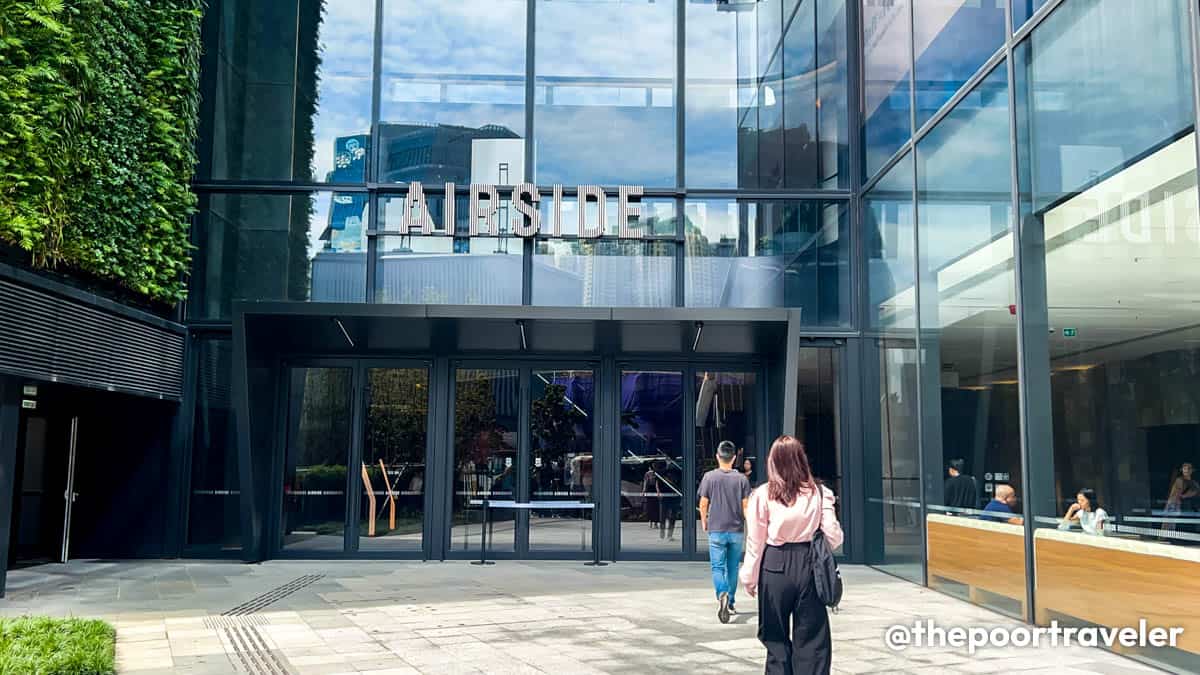 Airside, a brand new 47-story commercial complex including a massive shopping mall housing countless shops, restaurants, and cafes. It also features an immersive exhibition that showcases the history of the district, from its time as Hong Kong's main airport. It's a great shopping stop after your cruise and before you hit the airport.

Kai Tak Sky Garden, an aviation-themed garden featuring over 8- species of plants, mostly trees and shrubs scattered across three zones: the Garden Plaza, the Fountain Plaza, and the Lawn Plaza. It occupies what used to be the Kai Tak Airport's runway.
Kwun Tong Promenade, a scenic 1-km waterfront in New Kowloon, not too far away from the cruise terminal. Here you'll find an amphitheater, a children's playground, viewing pavilions and a musical fountain.
Nan Lian Garden, a beautiful oasis in the middle of the vast urban jungle that is Hong Kong. It's a classical Tang-Dynasty-style garden just next to Chi Lin Nunnery. It's adorned with manicured trees surrounding a tranquil pond straddled by a vermillion bridge that leads to a small pagoda. You'll also find various galleries inside its buildings. The garden is open from 07:00 to 21:00, but the exhibits are open from 10:00 to 17:00. Entrance is FREE.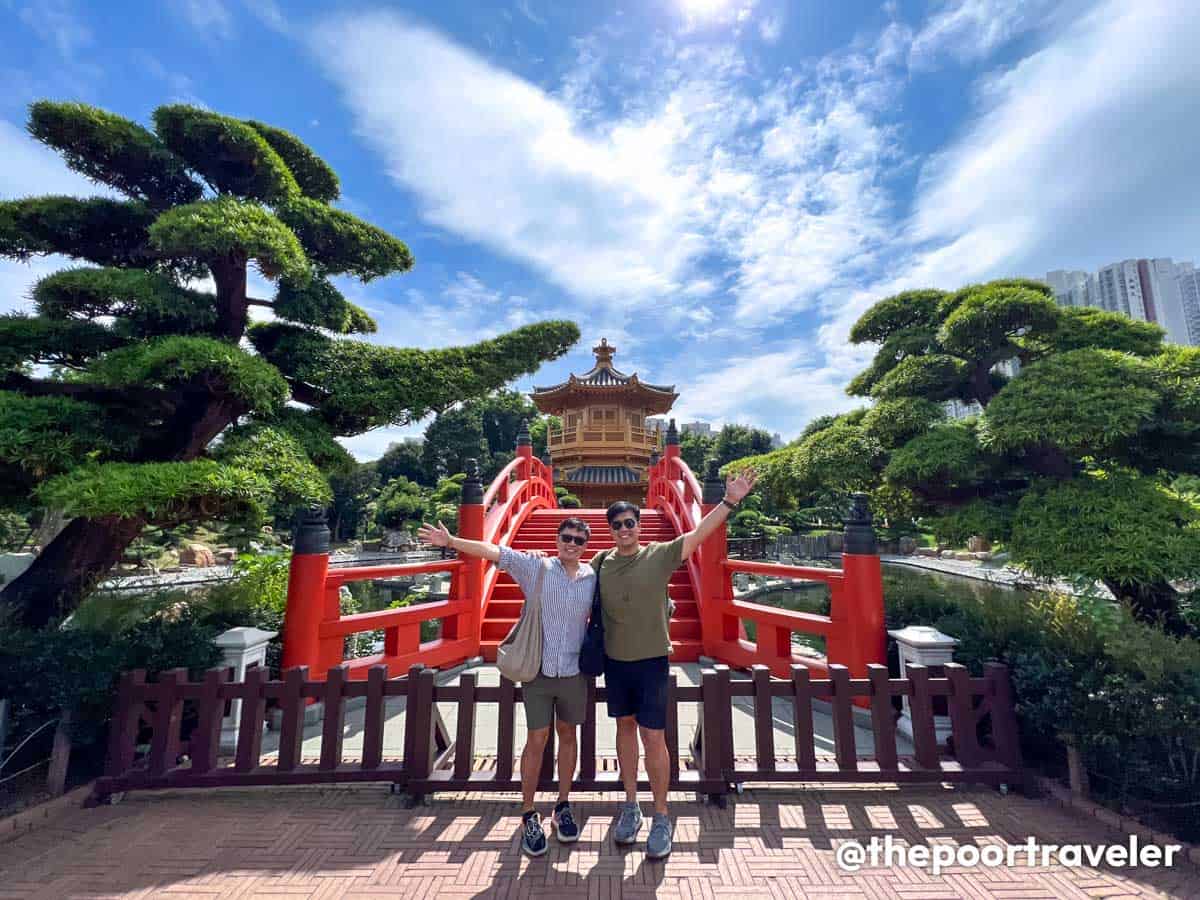 ---