Like royalty neatly ensconced on her berth, the Spectrum of the Seas looked intimidating as our van approached the port building at Shanghai Wusongkou International Cruise Terminal (or Baoshan Cruise Terminal), one of the three international cruise terminals of Shanghai Cruise Port. She reminded me of her sister, the Ovation of the Seas, which I had the opportunity to experience before. They almost look the same. Almost.
Although it's not my first time cruising with Royal Caribbean, it was still overwhelming for me. Careful planning is key, especially for first-timers, so you won't faint when your senses are bombarded with all the goodness a cruise can offer. Here's a quick guide to help you plan your cruise getaway with Royal Caribbean's Spectrum of the Seas.
Note: These apply as of this writing. But please double check with Royal Caribbean or your travel agent to be sure.
WHAT'S COVERED IN THIS GUIDE?
MORE ABOUT SPECTRUM OF THE SEAS
The Spectrum of the Seas is the newest addition to Royal Caribbean's fleet. It is also the largest cruise ship in Asia. It is the first of the Quantum Ultra class, an upgraded version of the Quantum class sisters Quantum of the Seas, Anthem of the Seas, and Ovation of the Seas. The design was the brainchild of both the US and China teams, having in mind the tastes and preferences of its consumers in the Asia Pacific region.
It has a lot in common with its sister ships from the Quantum-class fleet in terms of size, design, and most features. But since Spectrum is a Quantum Ultra class, it has some features that the Quantum-class ships don't. Here are some of them: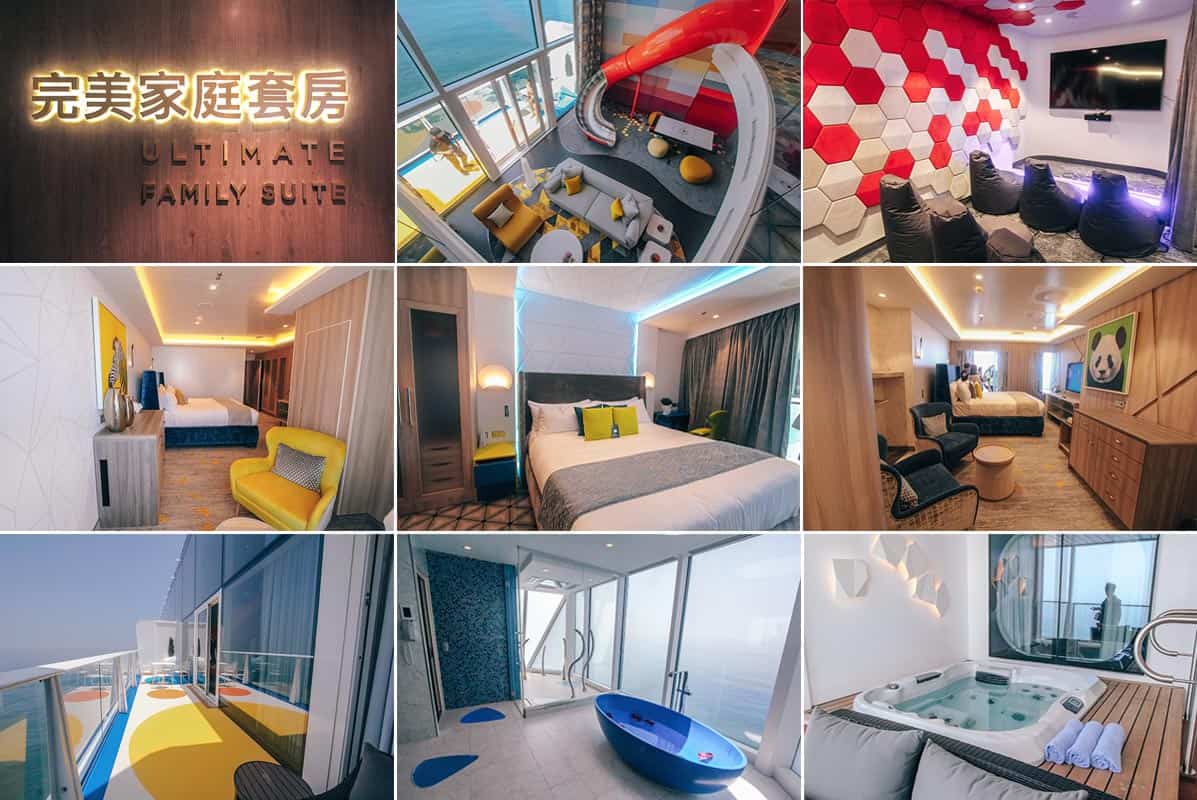 Ultimate Family Suite
(First launched in Symphony of the Seas. A two-level suite that has an indoor slide, an entertainment room, and three bedrooms. Good for 11 pax.)
Private suite enclave (for guests staying in Silver and Gold Suites)
The Skypad
Star Moment (Royal's first-ever karaoke lounge)
Seaplex's offerings (archery, fencing, and laser tag)
Different Main Dining Room Design
Some of the specialty restaurants are unique to Spectrum of the Seas only like the Sichuan Red and the Leaf & Bean Café.
---
WHAT TO PREPARE BEFORE THE CRUISE
The Spectrum of the Seas takes over the Asian itinerary programs, which was previously covered by its sister Ovation of the Seas. It will serve the Asian cruises and will have its home ports in Shanghai and Hong Kong. Here are the things and documents you need to prepare before the cruise.
Passport. Ensure that your passport is valid for at least six (6) months. You will need to surrender your passport to the staff upon embarkation. You will have your passport back a day before you disembark.
Photocopies of passport. Secure a photocopy of your passport as the original one won't be with you. Aside from your sea pass, you will need the photocopy every time you leave the ship (shore excursions).
Visa (only if applicable). For Philippine passport holder, you DO NOT need a visa if you are embarking in Hong Kong. Even if your itinerary involves Japan, for example, HK-Japan-HK, no visa needed. If you are embarking in Shanghai, you just need to secure a visa for China; no need for a Japan visa for Shanghai-Japan-Shanghai That's as of this writing. But please double check with Royal Caribbean or your travel agent to be sure.
Credit card. Or just prepare a US$120 deposit if you don't have one. The amount will be collected upon check-in.
SetSail Pass. Just like with flights, getting on a ship requires a boarding pass/ticket — the SetSail Pass. To save time and avoid the hassle of filling out forms upon check-in, you may do it online and print the set sail pass at least three (3) days ahead of the sailing date. You can also download the Royal Caribbean mobile app and use the app's mobile SetSail Pass to board the ship.
---
HOW TO GET A SETSAIL PASS?
You should accomplish this three (3) days prior to your departure/sailing date.
Go to Royal Caribbean official website.
Click "Already Booked" from the Main Menu, then choose "Online Check-in".
Log-in to online check-in by providing these details: last Name/surname, reservation number, date of departure, and ship name. Click SUBMIT.
Accomplish the online form. Note that you need to provide your credit card details (if you have one), travel plans before and after your cruise, emergency contact name and number, etc. You might also be required to upload your photo.
Review the details and print out the pass. There will be a barcode at the bottom or side of the page. Make sure the print out is clear, so the barcode scanner can read it. Based on personal experience, ours had to be reprinted by the check-in counter personnel because the barcodes weren't clear.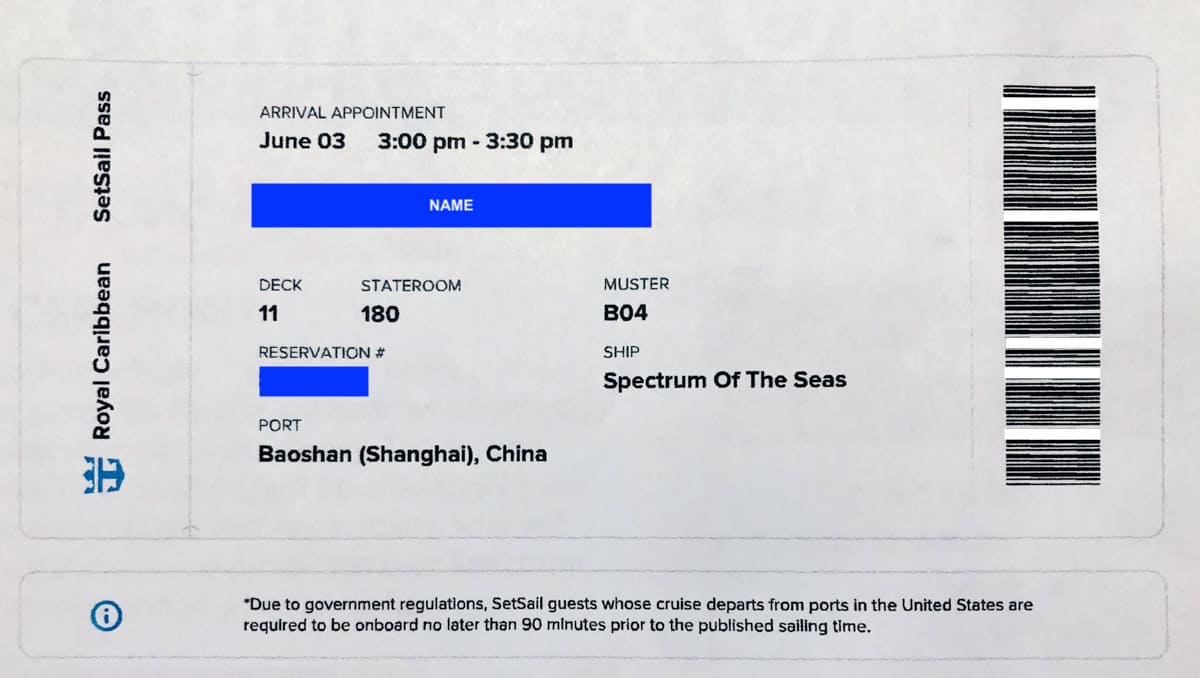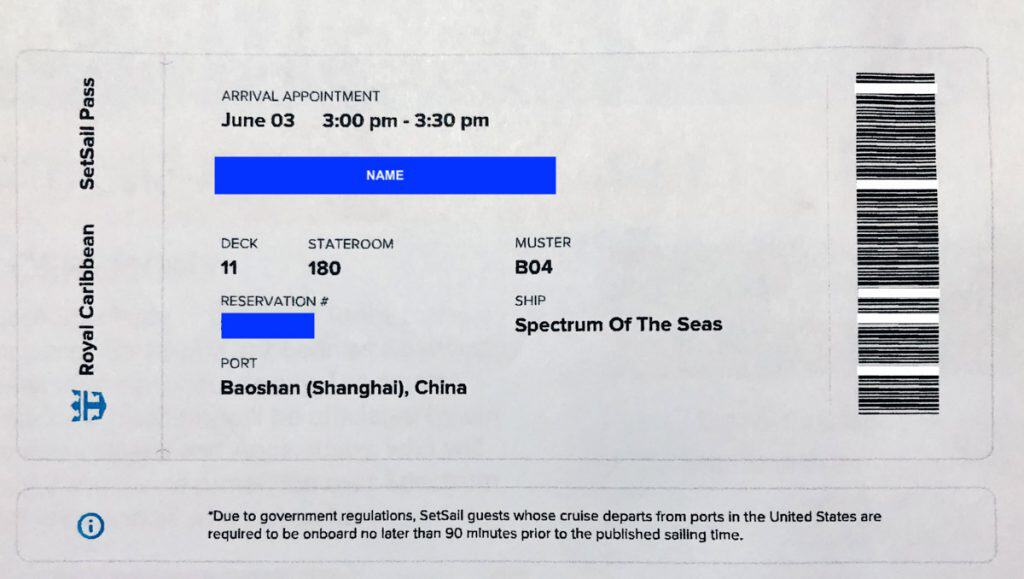 ---
HOW DOES THE NEW ROYAL CARIBBEAN MOBILE APP WORK?
It is best to download the app before your sailing date. It's FREE and all guests can use the app onboard without the need to purchase the Wi-Fi package. Here are just some of the app's features. (Note: These vary from ship to ship)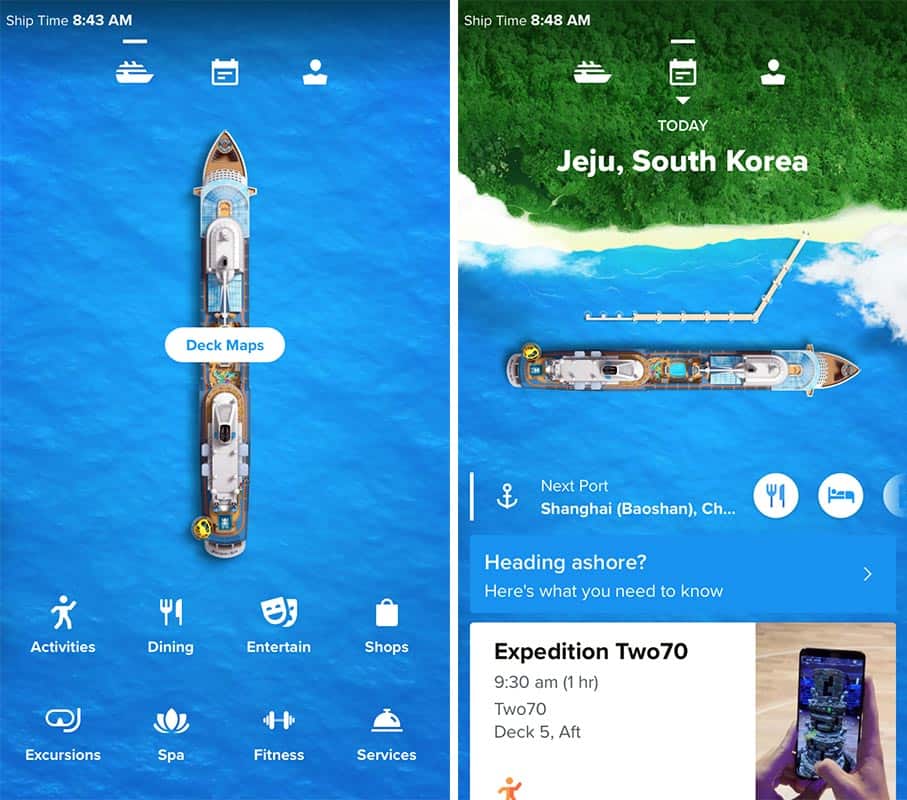 The app will help you plan your activities by showing you everything that happens on the ship daily. You can just add the activities that you want to do for that day to your calendar.
You can also make reservations for onboard activities, shore excursions, shows, and specialty dining/restaurants.
Through this app, keeping track of your expenses while on the ship is made convenient by letting you access your Onboard Expense Account.
It provides complete deck plans, giving you an overview of each deck. I personally found this feature helpful because I could easily get disoriented inside the ship. :P By looking at the map, I would know where exactly is the Main Dining Room, which deck is the Royal Theater located, where to find the ATM, etc.
View other RC ships' sailing dates and onboard activities. This serves those who are still planning and deciding on which date to sail and what itinerary package to take.
Note: As of writing, the app is only available on fifteen ships, including the Spectrum of the Seas. Covering the entire RC fleet is in the works. Here is the list of ships supported by the app: Adventure of the Seas, Allure of the Seas, Brilliance of the Seas, Enchantment of the Seas, Harmony of the Seas, Independence of the Seas, Liberty of the Seas, Majesty of the Seas, Mariner of the Seas, Navigator of the Seas, Oasis of the Seas, Serenade of the Seas, Symphony of the Seas, and Vision of the Seas.
---
WHAT TO PACK?
Personally, I pack two sets of clothes per day — one for the day activities and another for the evening affairs. I am an active kind of girl, so activities that require a lot of physical exertion are always on my list. Come evening, I will dress for dinner and then watch shows or outdoor movies or check the bars.
Some night events call for wearing formal or business attire, but you can choose to skip them if you are not up for it. To be safe, just pack a blazer or outerwear that can pass for both casual and formal attire. If you feel like attending these formal events, you may pack a cocktail dress or a suit and tie. Don't stress yourself too much about the outfit though; they don't really mind.
Aside from the day and night clothes, I also bring with me swimwear, gym/workout clothes, and sleepwear. For footwear, just bring comfortable shoes and sandals. Bring formal shoes to match your outfit if you plan to attend a formal event or dinner.
---
WHAT NOT TO PACK?
Of course: don't bring in anything illegal! Here are things that are not permitted on board. If found, these items will be confiscated immediately.
illegal drugs and substances
firearms and ammunition (including replicas)
flammable liquids and explosives
sharp object (shaving razors and scissors with less than 4 inches blade length are allowed)
items that produce heat and an open flame like candles, incense, coffee maker, hot plates, clothes iron, etc. (curling iron and hair straighteners are allowed)
extension cords
hoverboards
alcoholic beverages (Note: On boarding day, guests may bring up to two 750 ml bottles of wine or champagne and must only be consumed inside their respective staterooms.)
Here are the things you can bring but cannot be used on board. These items must be stored in your stateroom.
bicycles, skateboards, and surfboards
golf clubs, baseball bats, cricket bats, and hockey sticks
---
LUGGAGE CHECK-IN/BAG DROP
When I travel, I always have one hand-carried bag with me in addition to my large luggage. I put all my valuables, travel documents, personal hygiene kit, medication (for my hyperacidity), and an extra set of clothes in my hand-carried (carry-on) bag, then check in my other big luggage.
If you choose to check in your luggage, you need to put the Luggage Tag around the handle. Make sure to follow the instructions on how to fold the tag. You will find the tag in the Guest Ticket Booklet that you will receive upon booking. This is like the airline luggage tag. Its purpose is to ensure that your luggage won't get lost during transfer. Checked-in bags and luggage are collected on Deck 2 for delivery.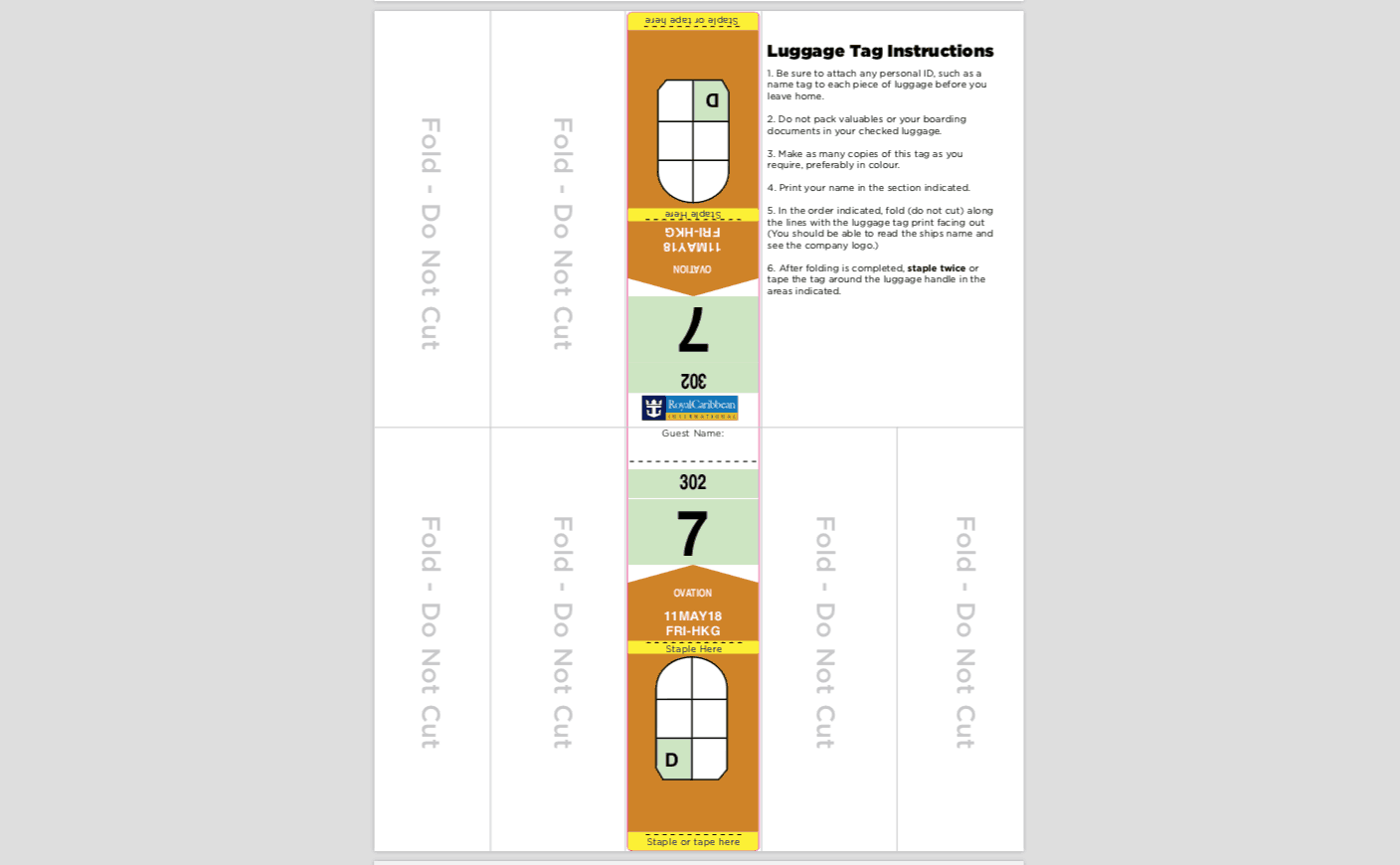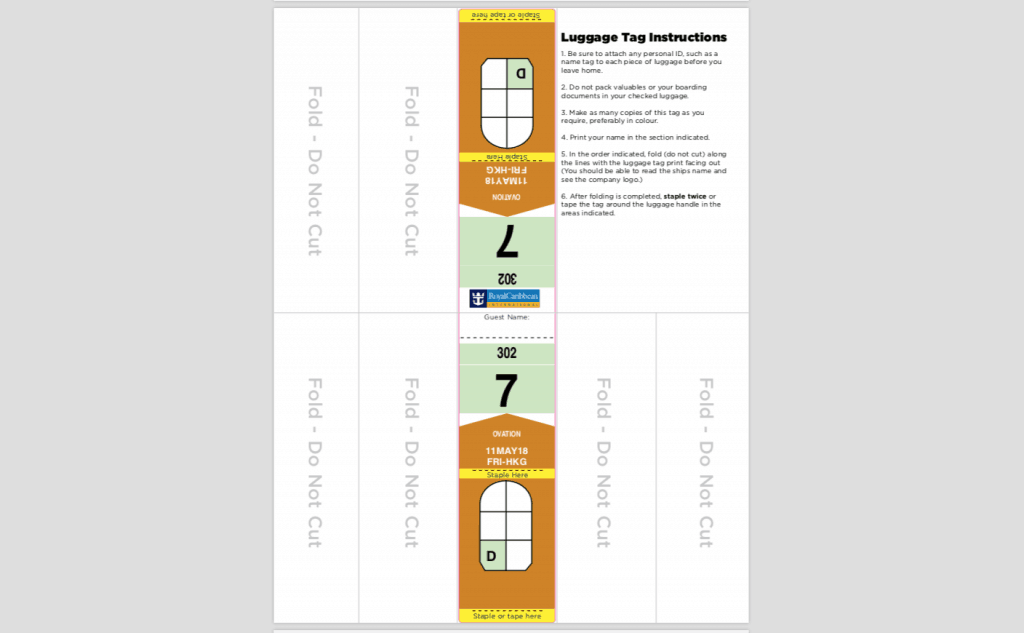 If you don't want to wait for your luggage to be delivered to your stateroom (which can last until 6 PM), you can bring it with you all throughout the embarkation process. You don't need a luggage tag if you choose not to check in your bag.
Note: Only luggage with TSA-approved locks are allowed.
---
HOW TO CHECK IN?
Our port of embarkation was in Shanghai, so I can only share the checking-in process from this home port. Also, starting June 2019, the Spectrum of the Seas will be homeporting in Shanghai at one of the three international cruise terminals, the Shanghai Wusongkou International Cruise Terminal (or Baoshan Cruise Terminal), which can accommodate two cruise ships at the same time: one berth for 100k tons and the other one for 200k tons.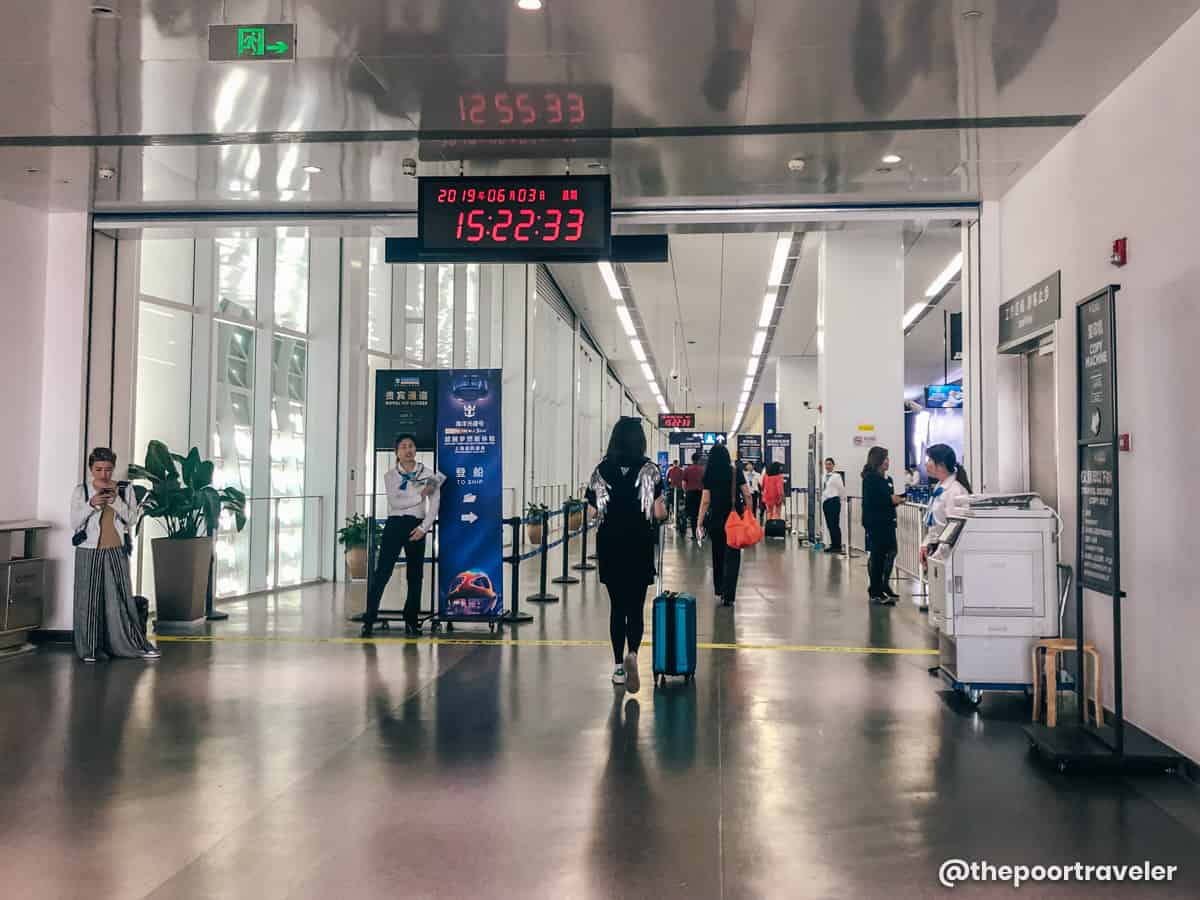 Wusongkou Cruise Terminal Contact Information

Address: No.01 Baoyang Road, Baoshan District, Shanghai
Landline: 400-858-0655
Office Hour 9:00-17:00
Email: service@wskcruise.com
Website: www.wskcruise.com
Check-in time is between 11AM and 3PM. BUT make sure to arrive at the port at least 60 minutes earlier than the published sail time.
Proceed to the luggage drop off area if you will check in your bags. Make sure you got your travel documents with you: passport, SetSail Pass, visa (if any), and other necessary documents for boarding. If you are not checking in your bags, just follow the signs leading to the long corridor. Aside from the directional signs, staff members will also tell or motion you which way to go.
Continue walking until you enter the terminal for Customs and security check.
When you pass the security check, you will be directed to the check-in hall located on the third (3rd) floor of the terminal building.
Present your travel documents at the counters. Wait for the check-in counter personnel to validate the documents, including the SetSail Pass. If you were not able to check-in online, you will need to fill out the check-in forms. Then you will reserve your printed SetSail. When you completed everything and they validated all your documents, they will take a photo of you.

Note: You need to present a credit card or deposit at least US$150 during check-in for your onboard expenses.

Proceed to the boarding area. Wait for the announcement.
When boarding starts, go to the immigration hall for departure clearance.
Go to the second floor and continue walking towards the ship's entrance gates. The staff will collect your passport before you board the ship. You will get your passport back a day before you disembark. Note: Keep your SetSail Pass. You will need to present it upon collection.
Welcome aboard!
---
WHAT IS A SEAPASS CARD?
Your SeaPass card is your ticket to everything on board, so don't ever lose it! You will receive it right before you enter the ship. It serves as your I.D., your stateroom key, and your wallet/credit card as purchases can only be made via this card. Keep it with you at all times. This is also the only way for you to get on and off the ship. The SeaPass card looks like this: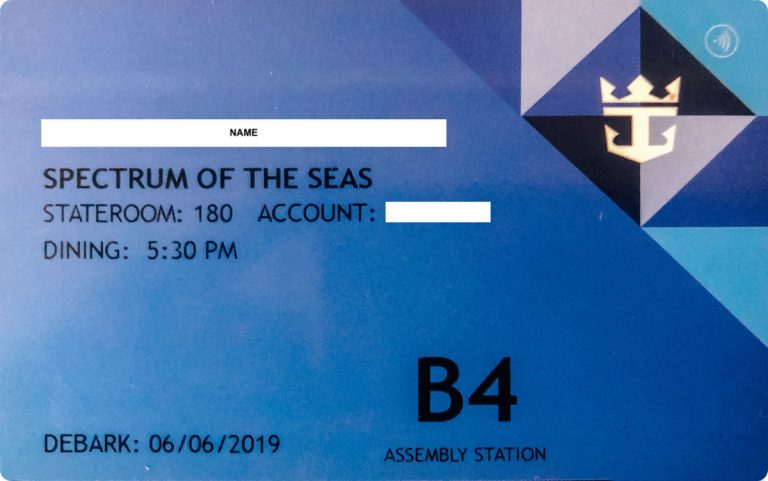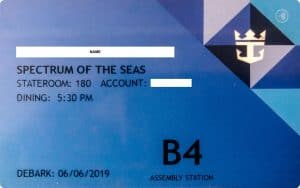 ---
WHAT TO DO AFTER BOARDING?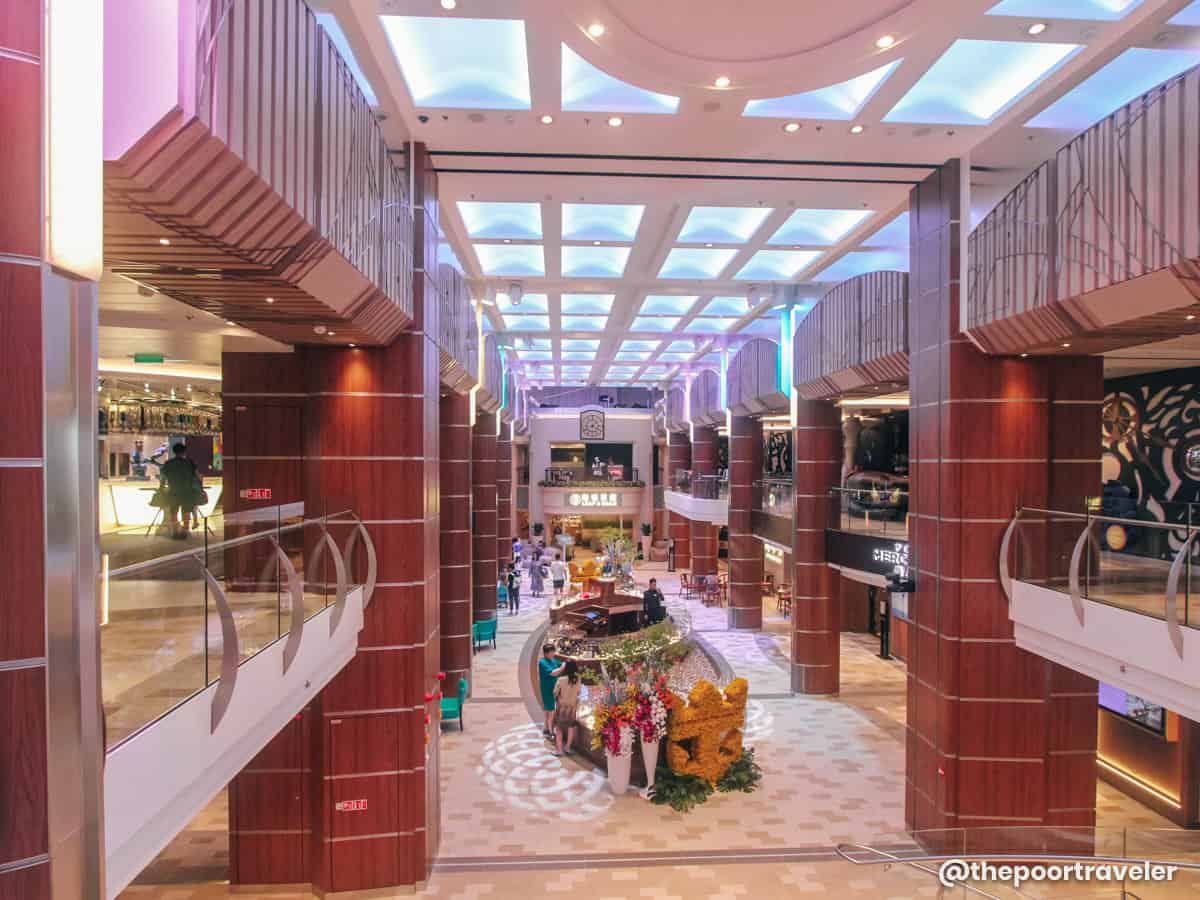 So, you are finally onboard Spectrum of the Seas! Yay! If you board earlier than 2PM, you can feast on the wide array of gastronomic delights at Windjammer Marketplace located on Deck 14.
When you are finally settled in your stateroom, rest for a bit before heading to your designated Muster Station for the mandatory safety drill that ALL guests must attend. This is a standard operating procedure before leaving the port. Apart from this, the back of your stateroom door provides information pertinent to real emergency situations such as the location of your Muster Station and the proper use of a life jacket. Your stateroom television also has the onboard safety video.
---
VOOM: GETTING CONNECTED ON BOARD
The internet service provider of the Spectrum of the Seas is VOOM SURF, said to be the fastest internet at sea. Rates vary per ship and per internet package, but you will have a 30% discount when you purchase before the cruise. Here are the two internet package options:
Surf (Limited to surfing the web and accessing/receiving/sending emails)
Surf + Stream (Allows surfing the web, checking emails, doing video calls, social media platforms, and streaming)
You can go to the Internet Help Desk on Deck 4 or Dial 0 on your stateroom phone if you have any inquiries regarding your connection or how to get one.
---
WHERE TO EAT ON BOARD?
These are the seven (7) complimentary dining places on board. Dining at these food places incurs nothing as you already paid for it when you booked your ticket. Indulge. Eat all you can!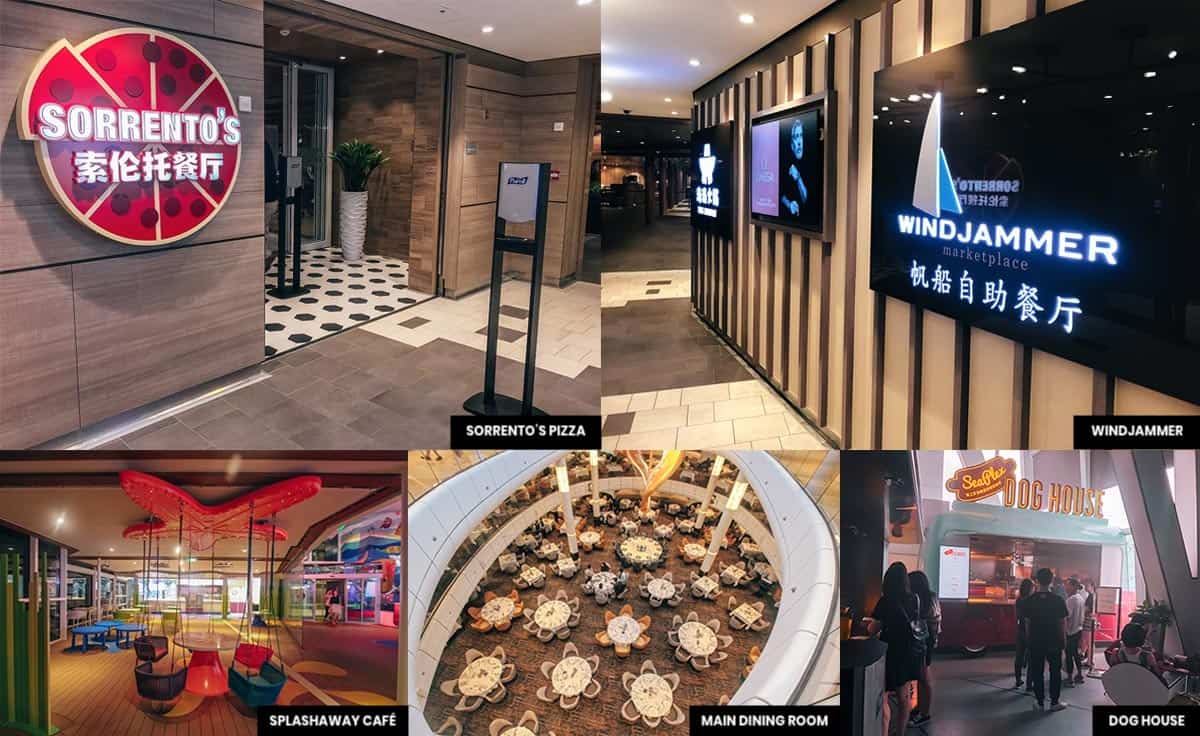 Grand Windjammer Marketplace
(International cuisine; buffet style; open for breakfast, lunch, and dinner; Deck 14, Aft)
Main Dining Room
(International cuisine; multi-level dining place; open for breakfast, lunch, and dinner; Deck 3-4, Aft)
Noodle Bar
(Asian noodles; open for breakfast, lunch, and dinner; located inside Windjammer Marketplace)
Splashaway Café
(Kiddie meals; open for breakfast and lunch;located near the kid's pool area; Deck 14, Mid)
Sorrento's Pizza
(Italian; Freshly-baked pizza; open for lunch and dinner; Deck 14, Aft)
The Cafe @ Two70
(Continental food; serves mostly salads, sandwiches, and soups; open for breakfast and lunch; Deck 5, Aft section)
Seaplex Dog House
(Hotdog snacks and bites; located inside Seaplex; open for lunch and dinner, until 7PM only; Deck 15, Aft)
Other food options are the specialty restaurants; HOWEVER, these will charge you. Ready your SeaPass card. But if you are curious about the food they serve, by all means, try those that caught your interest. These are the 10 specialty restaurants on board.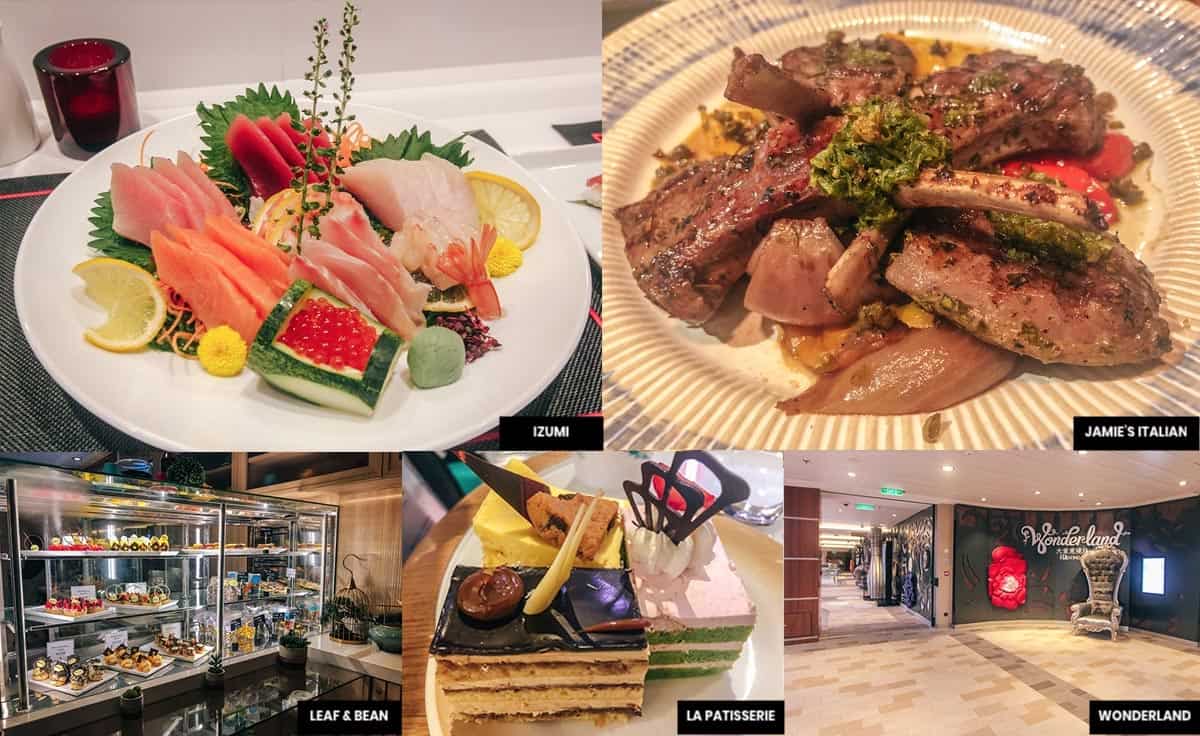 Jamie's Italian by Jamie Oliver
(Italian cuisine; popular on the menu are meat plank and pasta; open for lunch and dinner; Deck 5, Aft)
Izumi Japanese Cuisine
(Japanese cuisine; popular on the menu are the sushi and sashimi options; open for lunch and dinner; Deck 5, Midship)
Wonderland by Dadong
(Chinese cuisine; imaginative dining; open for dinner; Deck 5, Midship)
Sichuan Red
(Chinese cuisine; specially designed for Spectrum of the Seas; open for lunch and dinner; reservation and purchase via Royal mobile app or cruise planner; Deck 4, Midship)
Teppanyaki
(Japanese cuisine; teppanyaki-style cooking; open for lunch and dinner; reservation and purchase via Royal mobile app or cruise planner; Deck 14, Mid)
Chops Grille
(Steakhouse; prime meat and Maine lobster; open for lunch (on sea days only) and dinner; Deck 5, Midship)
Chef's Table
(Continental food; five-course meal and wine tasting; open for dinner; Deck 5, Midship)
The Hot Pot
(Chinese cuisine; hot pot style cooking; located inside Windjammer Marketplace, Aft)
Leaf & Bean
(Coffee & Tea shop; a wide selection of hot and cold drinks with pastry offerings; Deck 4, Midship)
La Patisserie
(Café; pastries, ice cream, and coffee; Deck 4, Midship)
Reminder: ALWAYS wash and sanitize your hand BEFORE and AFTER you eat. There's a hand-washing or hand-sanitizing station at every restaurant's entrance/exit.
---
THINGS TO DO ON BOARD SPECTRUM OF THE SEA
Like its name, there's a wide spectrum of things to do and try on board the Spectrum of the Seas. I guarantee that you will be swamped. The amenities and services cover all types of guests with different needs and interests. From physical to intellectual, from rowdy to chill, from buffet feast to fine dining, from oldies to kiddies, from tea and coffee to wine tasting, and so on. I had a grand time doing the things that appeal to me. Same with my friends. Here are some of the things to try while on a cruise.
SKYPAD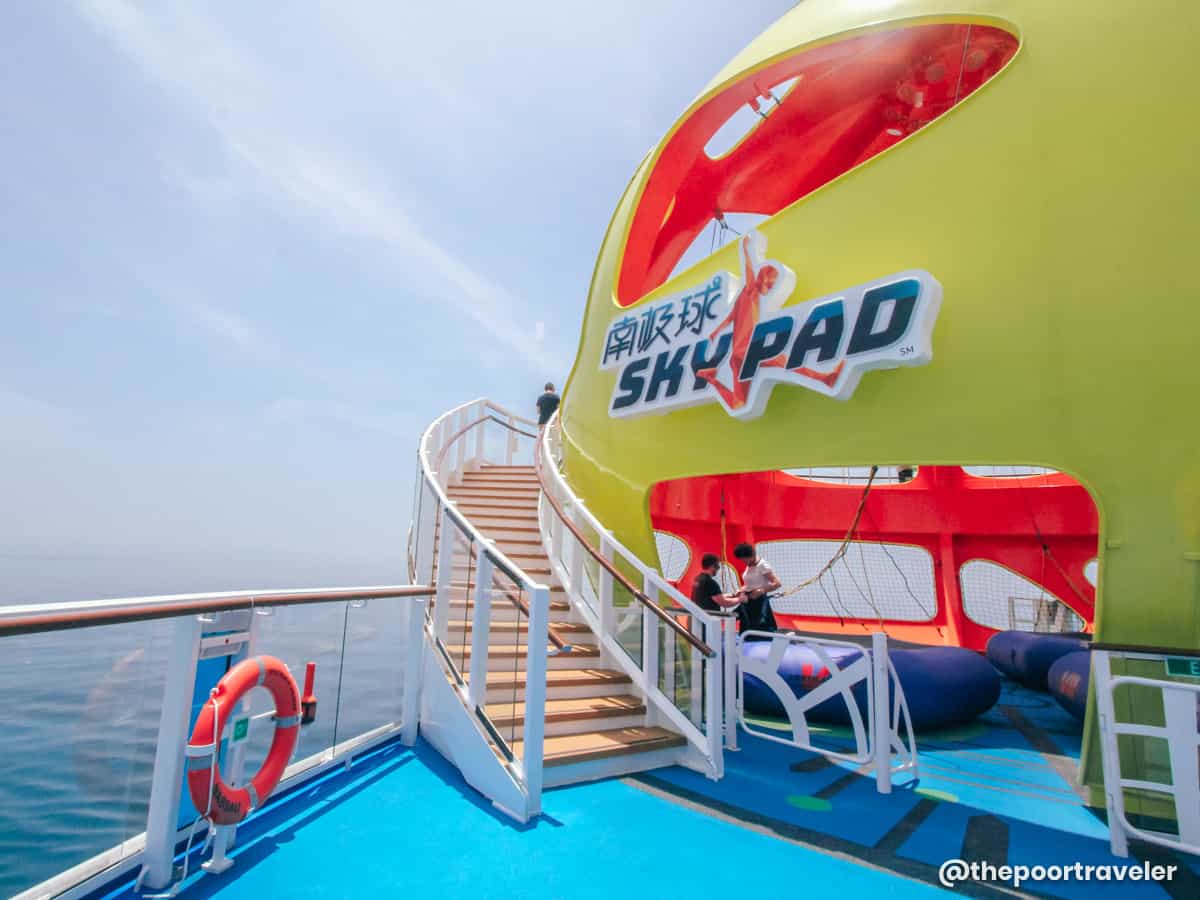 One feature peculiar to the first Quantum Ultra class ship is the Skypad — a bungee trampoline with a virtual reality headset innovation. For some guests who want to try this but can't put on the headset (visually-challenged and other possible reasons), they have the option to not wear it and just enjoy the trampoline part. The Mariner of the Seas of the Voyager class fleet and the Independence of the Seas of the Freedom class fleet have this feature too, but this feature was originally designed for the Spectrum of the Seas.
LOCATION: Deck 15, Aft Section
Notes:

Age Restriction: 5 y/o to jump; 7 y/o to jump with VR headset
Weight Restriction: 20-240 lb
Reservation: Cruise Planner or registration counter
---
RIPCORD BY iFLY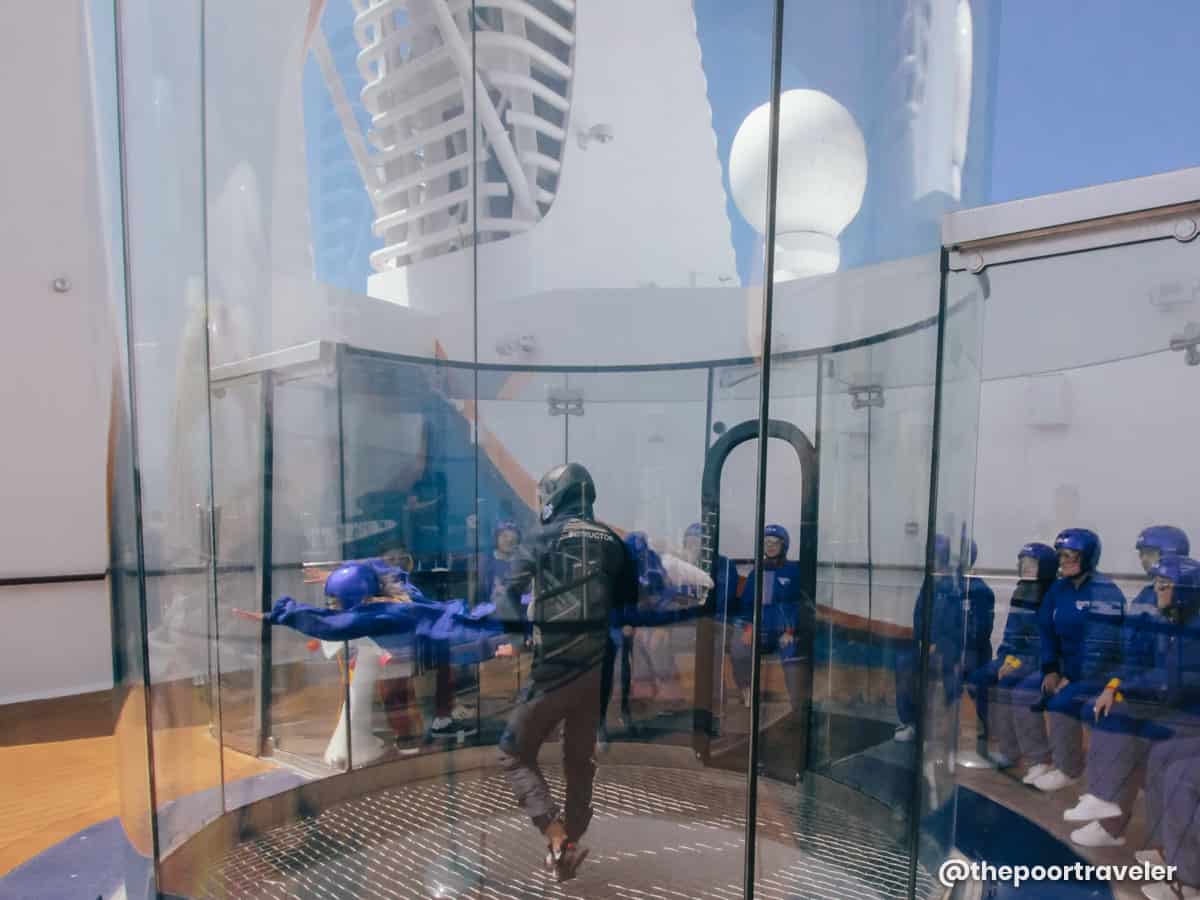 If you are into the extreme and have been longing to try skydiving, experience how it's like through this onboard skydiving simulator. A must try! An instructor will accompany you all throughout, so you can just let go and relax. These professionals got your back (literally). Check the daily Cruise Compass or the Royal app for the schedule. You will go batch by batch every 30 minutes. Do the briefing and orientation, suit up, and fly!
LOCATION: Deck 16, Aft Section
Notes:

Fee: Depends on the season. In some seasons, it's FREE (complimentary) but you need a prior reservation as the slots get sold out fast. In other seasons, like China sailings, fees apply. Prices vary. Reserve via Cruise Planner or at the registration counter.
Wear socks and avoid wearing open-toe footwear.
Guests as young as 3 years old can try this.
---
NORTH STAR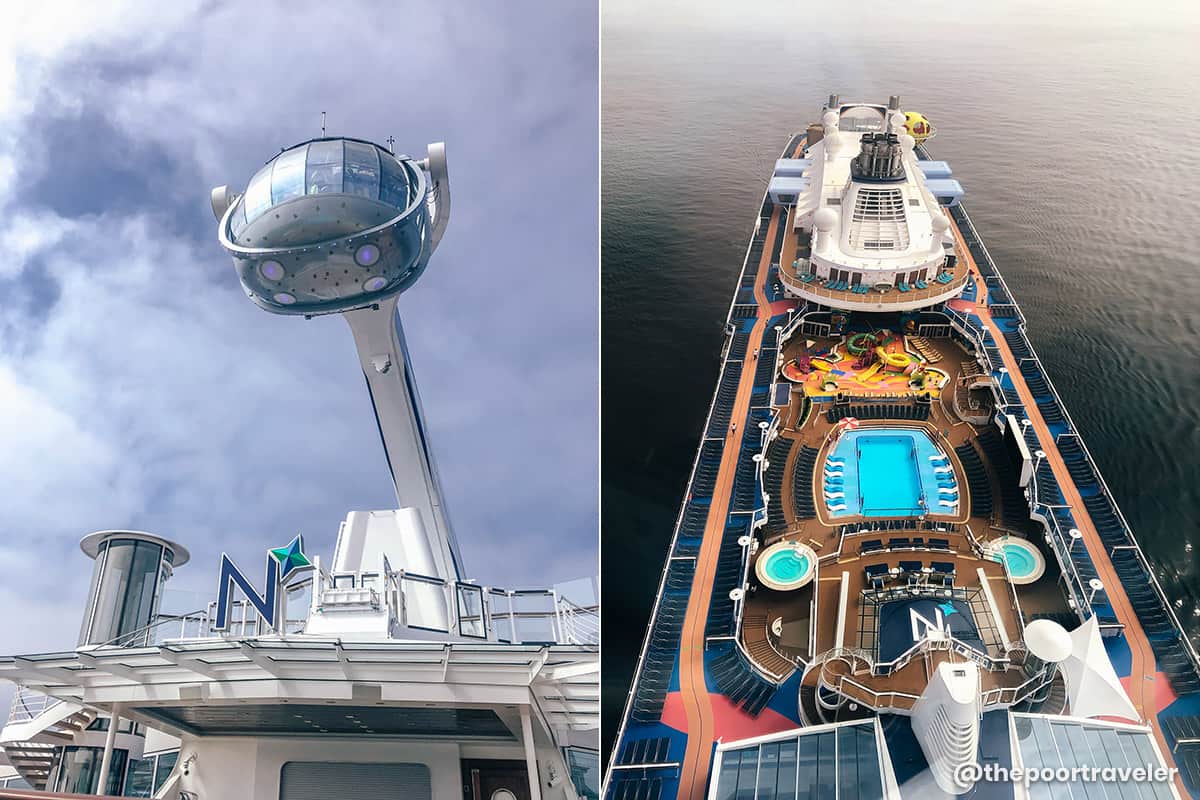 This is the signature Quantum-class feature that offers a 360-degree view of the ship, the ocean, and the destinations at an altitude of over 300 feet above sea level. This is absolutely one of the best ways to get stunning views on board (if you are not afraid of heights). Check the daily Cruise Compass or the Royal app for the operation hours. There's no need to reserve. Just fall in line and wait for your turn. But if you want to secure your slot, you may reserve via Cruise Planner.
LOCATION: Deck 16, Midship Section
Notes:

Fee: Depends on the season. In some seasons, it's FREE (complimentary). In other seasons, like China sailings, fees apply. Prices vary.
Kids must be at least four years old for them to ride the North Star (42 inches with companion, 48 inches without companion).
Not be suitable for guests with health conditions such as vertigo and claustrophobia.
---
FLOWRIDER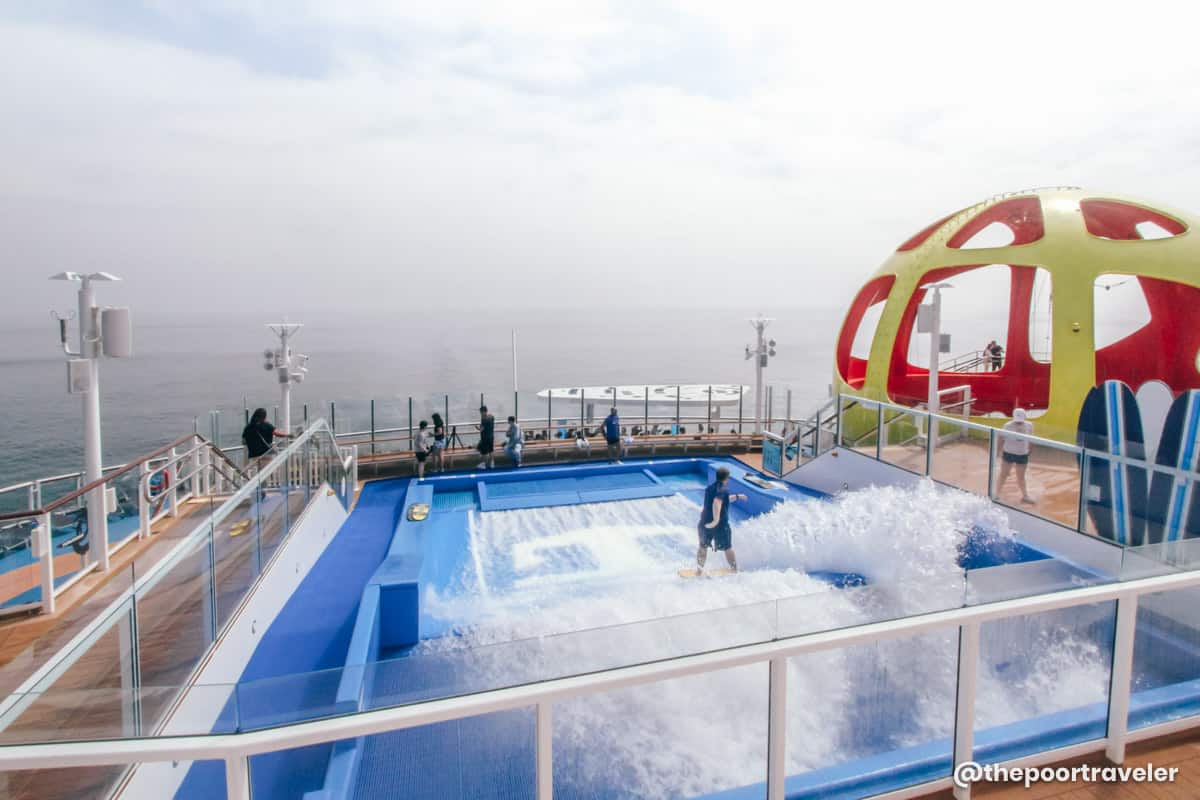 Surf's up! What a treat for surfers on board and for those who like to challenge themselves. FlowRider is a surf simulator that will satisfy thrill-seekers' need for adrenaline "rush". Do it standing up or get on a boogie board. If time allows, why not do both?! Check the daily Cruise Compass for the schedule. Register before you queue. You can reserve your slot via Cruise Planner.
LOCATION: Deck 16, Aft Section
Notes:

Fee: FREE (complimentary) but the queueing cut off is 30 minutes to one hour prior to the reflected closing time on the daily Cruise Compass. If you want to avail of the private sessions, here are the rates: US$69, US$345 and US$552.
Height Restrictions: at least 58 inches for stand-up surfing; at least 52 inches for boogie boarding
---
ROCK-CLIMBING WALL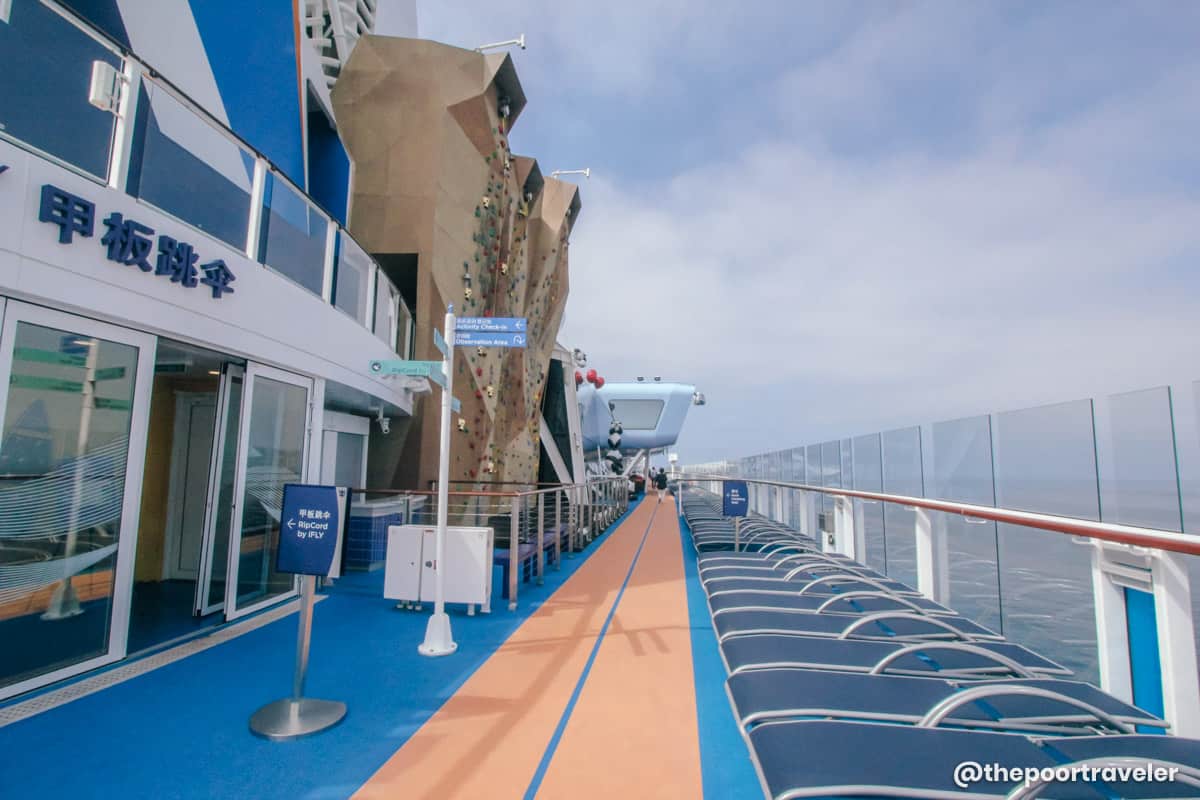 If you are into outdoor activities, another treat for you is the rock-climbing wall. This will surely give you the natural "high". Strap in and scale the 40-ft high wall. The whole expanse caters to both beginners and pro climbers.
LOCATION: Deck 15, Aft Section
Notes:

Fee: FREE (complimentary)
Age Restriction: 6y/o and above
No reservation needed
Please wear proper attire and footwear.
---
STAR MOMENT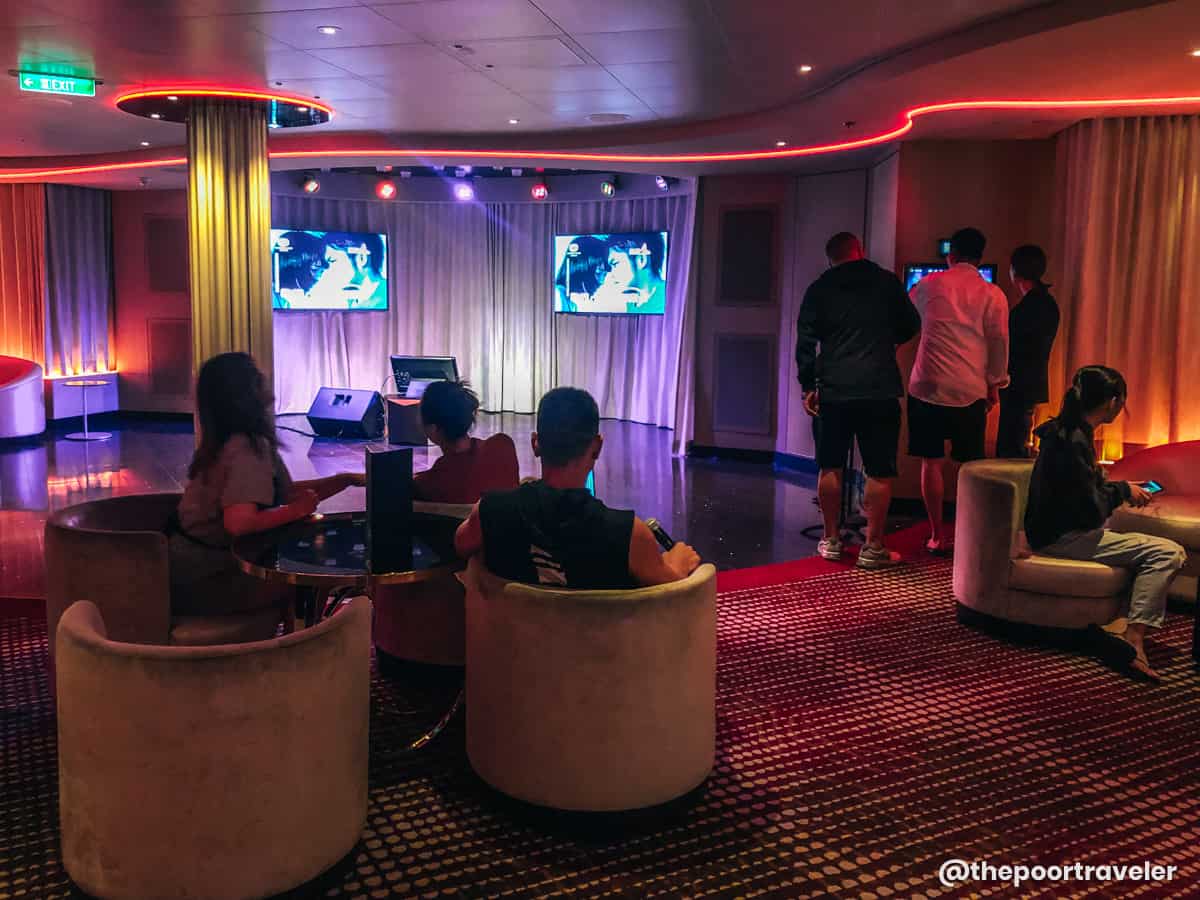 This is Royal Caribbean's first-ever karaoke lounge. For Filipinos, we are no stranger to karaoke/videoke bars. Heck, we breathe karaoke, or should I say sing? We don't say "Hold my mic" but rather "That's my song. Pass the mic!" Star Moment is a great venue to sing your heart out and just enjoy the time with friends and family. (Enter "Cruisin'" intro) Hey, that's my song! Catch you later, guys! :p
LOCATION: Deck 4, Midship Section
---
SEAPLEX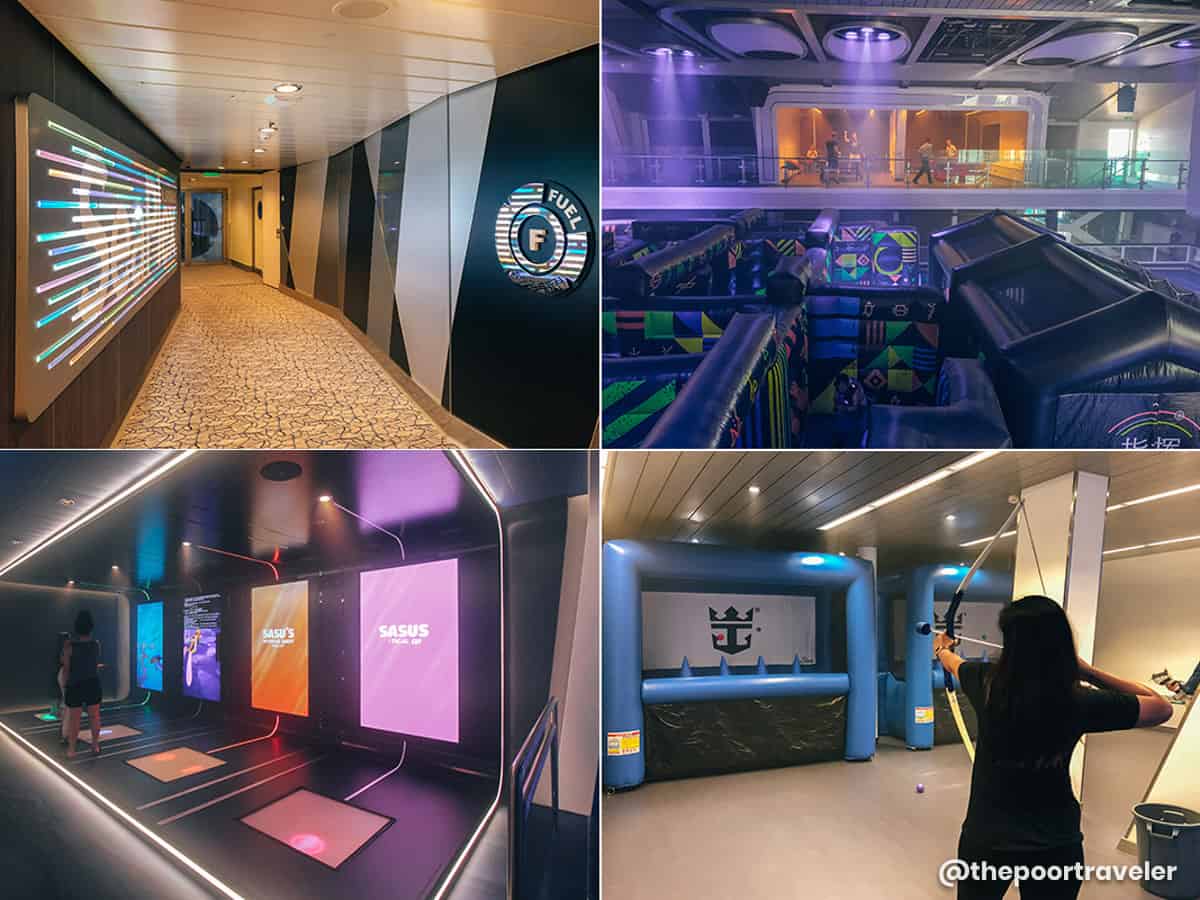 As the largest indoor sports and entertainment complex at sea, Seaplex will surely have something for all age group. It has pods on the second level featuring sports like table tennis, fencing, archery, and interactive games with augmented reality walls and floors. The full-size basketball court can also be transformed into a laser tag field, bumper cars enclosure, and roller skating rink. And don't forget that the onboard hotdog food truck, Dog House, is located inside Seaplex.
Wanna try your luck at the claw machine? Challenger's Arcade is connected to it, so you can ease into the arcade world quickly. You need your SeaPass card to play. Charge varies per game. Minimal fee.
LOCATION: Deck 15-16, Aft Section
Notes:

Seaplex activities are complimentary. You just need to register/sign up for the activity of your choice.
For bumper cars, guests must be above five years old. Parents or guardians must accompany kids 5-8 years old. Kids must be eight years old to ride alone.
For roller skating, guests six years old and below must be accompanied by parents or guardians. All participants must wear socks.
For laser tag, guest must not be below five years old. Closed-toe shoes are required.
Overall, parent/guardian supervision is required for kids 13 years old and below.
---
SWIMMING POOLS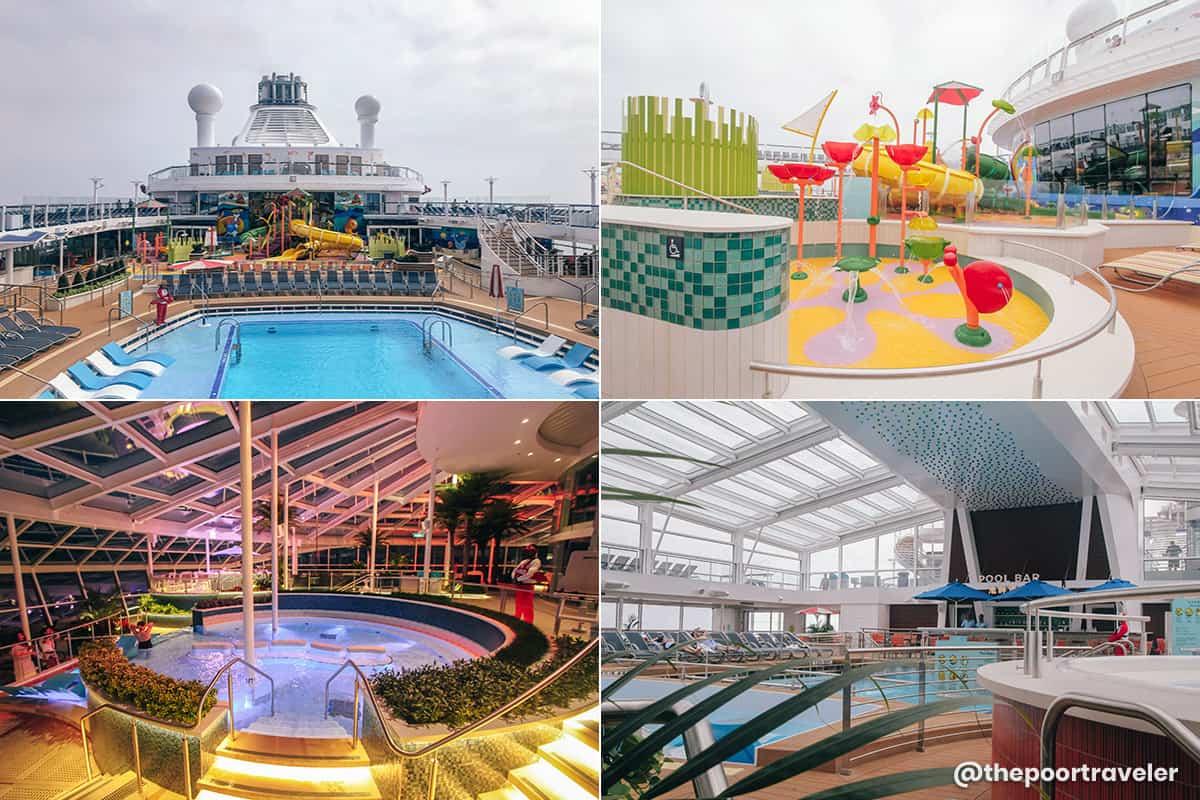 Need I say more? The ship has three (3) pools, five (5) whirlpools, and one (1) kiddie pool. The Solarium houses one pool and one whirlpool. One pool and two whirlpools are located indoor. The outdoor pool and (two) whirlpools can be found at the midship section, near the kiddie pool named Splashaway Bay.
LOCATION: Deck 14, Midship Section; Solarium is located at the Forward section, same deck.
Notes:

Get towels from designated towel station (pool deck area) by presenting your SeaPass card.
Shower areas are strategically placed near the pools and whirlpools. Shower first before you dip into the pool.
For public health reason, infants who are wearing diapers and are not toilet-trained are not allowed in the pool.
For China sailings, access to the Solarium is exclusive for Silver Suite guests and above.
---
OUTDOOR MOVIE SCREEN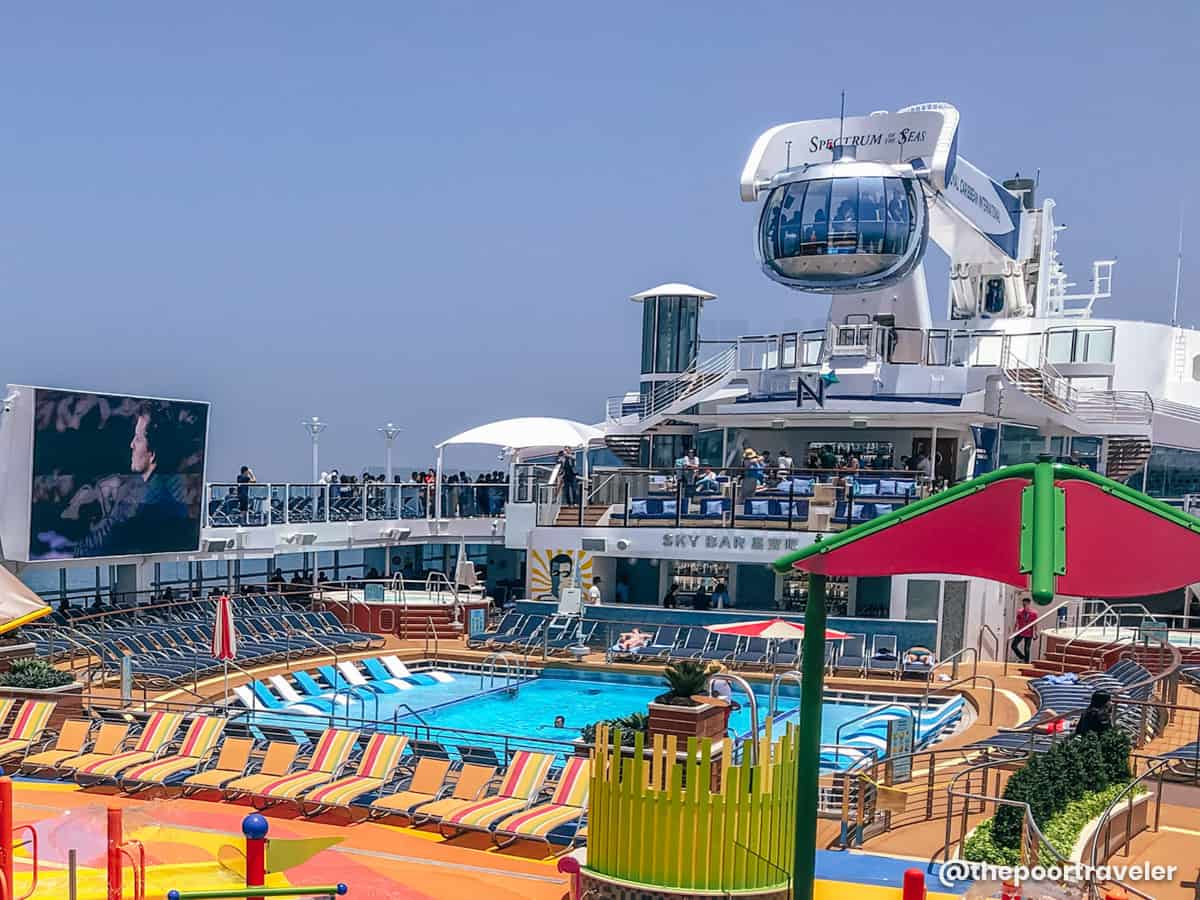 Whether you are a cinephile or you just simply want to pass the time watching a movie, this is one of the cool things to try on board, especially at night. The pool deck also serves as the venue for outdoor movies. Choose your spot and enjoy the movie!
LOCATION: Deck 14-15, Midship Section
---
EVENING SHOWS
The evenings are equally exciting. Royal Caribbean's original productions and guest performances enliven the night. The colorful and tech-centered show, The Silk Road, showcases different cultures of this famous trade route, accompanied by music, dance, and state-of-the-art technology — Vistarama and Roboscreens. Catch the show at Two70. Check the schedule on the daily Cruise Compass or the Royal mobile app.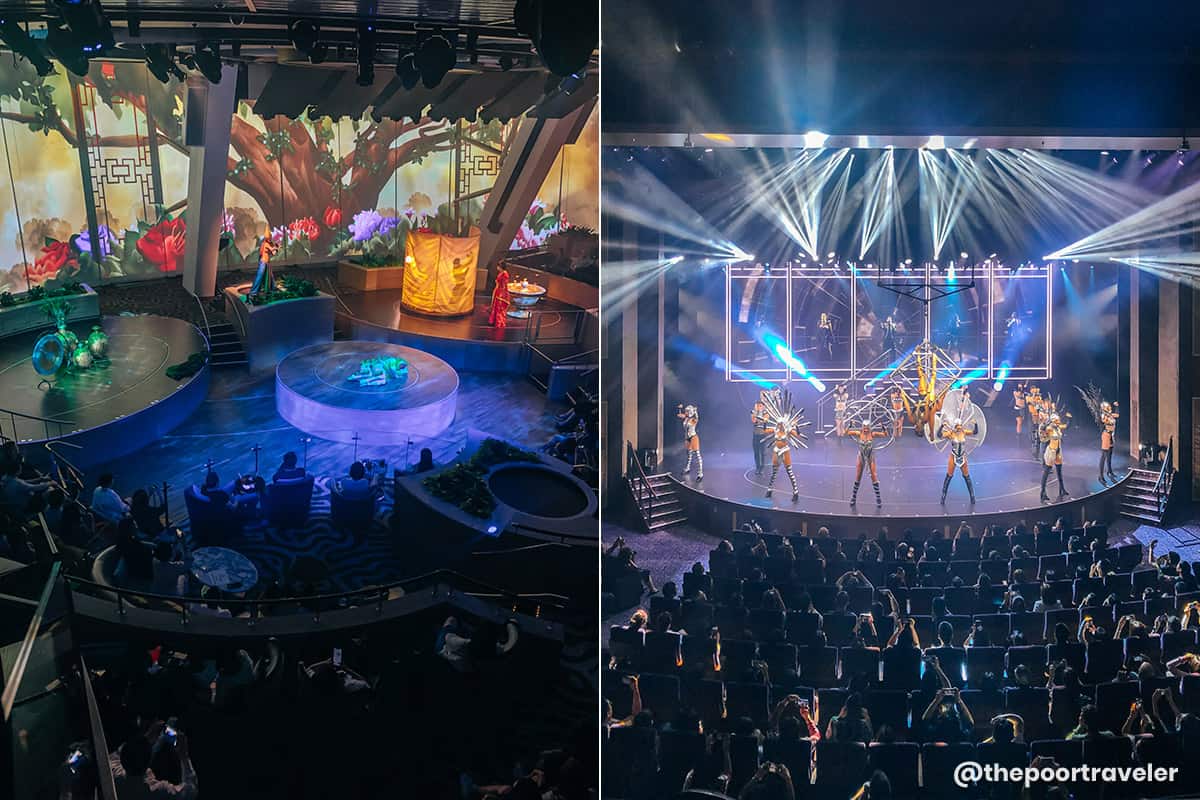 The Royal Theater features two new production shows: "The Effectors" and "Showgirl! Past. Present. Future." Be amazed at the tiny drones flying above you when you watch The Effectors, while Showgirls' flashy and glamorous costumes will fix your eyes on the stage. For schedule, Cruise Compass or Royal mobile app is key!
LOCATION: Two70 (Deck 5, Aft Section) / The Royal Theater (Deck 5, Forward Section)
---
LOUNGE & INTERACT
Make new friends as you join other activities like dance classes, language classes, guest lectures, pool parties, Adventure Ocean (for kids), arts and crafts activities, game shows, sports competition, and more. For shopaholics out there, the Royal Esplanade is the place to be! Watch out for promos and discounts. The friendly sales associates are ready to assist you. For night owls, you can attend themed parties, watch live bands, and drink the night away. Here's a list of the onboard bars and lounges: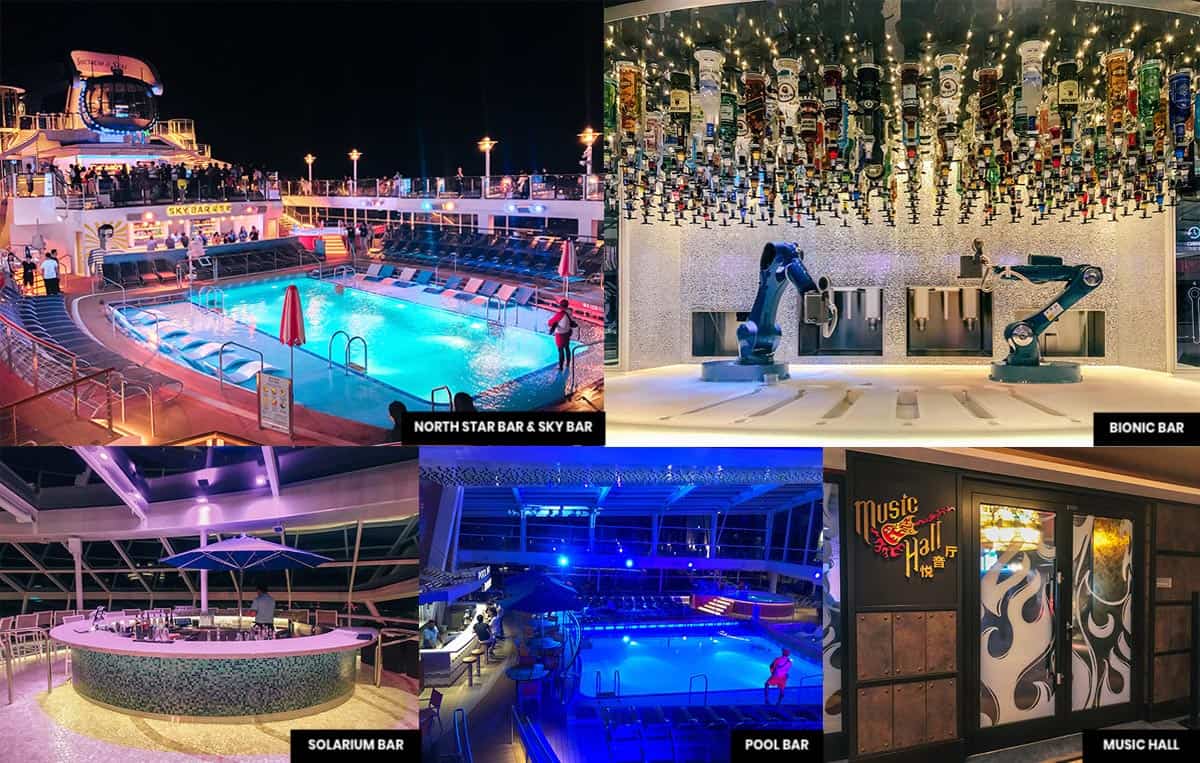 Bionic Bar
(Robotic arm bartenders; Deck 5, Midship)
Schooner Bar
(Nautical-themed bar; Deck 5, Midship)
Vintages
(Wine and tapas; Deck 5, Aft)
Music Hall
(Live music venue; Deck 3-4, Midship)
Two70 Bar
(Two70 transforming into a late-night bar; Deck 5-6, Aft)
North Star Bar
(Deck 15, Midship)
Sky Bar
(Deck 14, Midship)
Pool Bar
(Deck 14, Midship)
Sunshine Bar
(Bar inside the Solarium (Deck 14, Forward). For China sailings, access is limited to Junior Suite guests and above.)
Charges apply, so make sure you have your SeaPass card with you or you can purchase via Beverage Package. Age restriction applies (18+ on sailings from some regions, while 21+ on sailings from other regions).
---
SHORE EXCUSRIONS
Explore beyond the ship's domain during ports of call. Visit the Shore Excursion Kiosks on Deck 5 (Midship) to know more about the different tour packages before the day of docking. You may also see the details like the rates (for kids and adults), the duration of the tour, type of clothes to wear, tour description, and reminders on the Royal mobile app.
You can also do a DIY, but you have to be back ON TIME or the ship will leave you. They won't wait for you. Promise. Whether joining an arranged group tour or doing a DIY, don't forget your SeaPass Card and a photocopy of your passport.
---
OTHER AMENITIES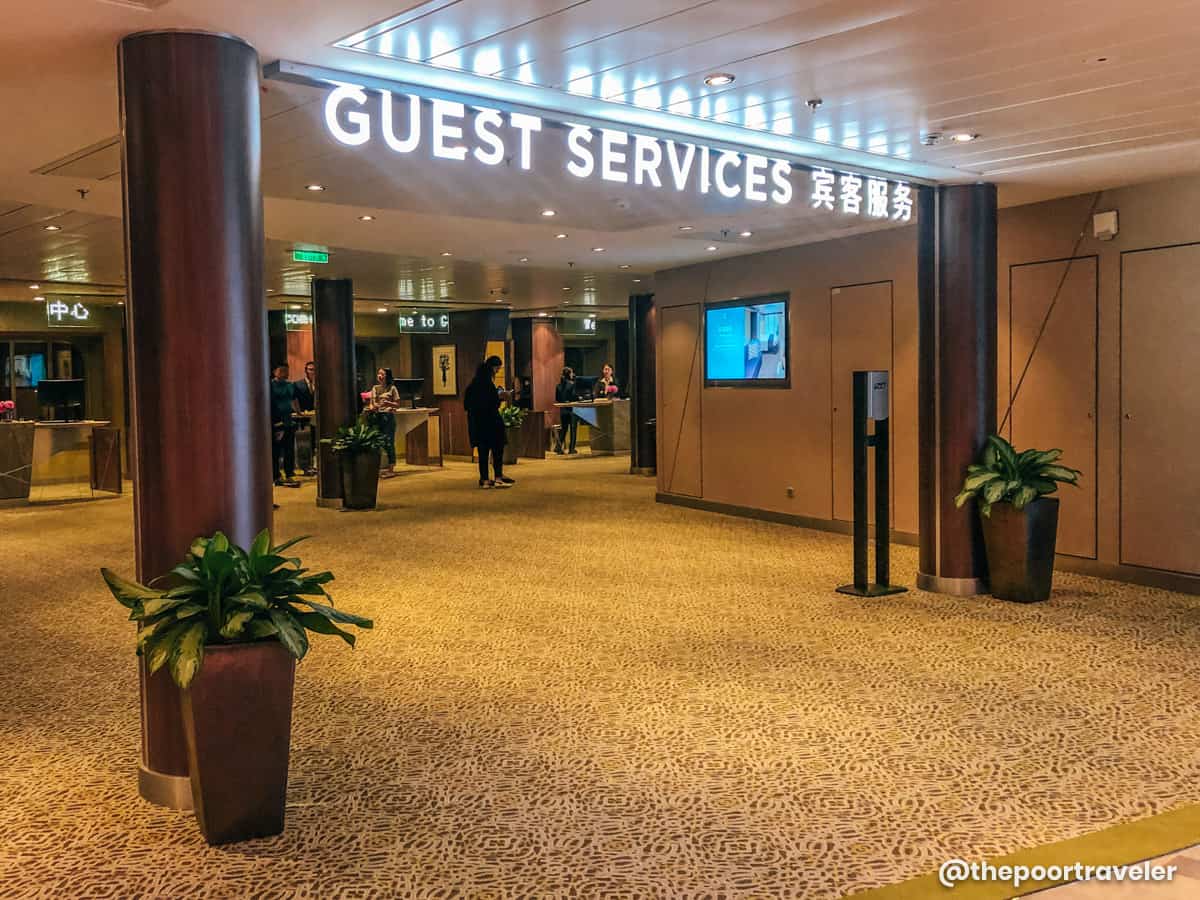 Body and Mind Spa (Deck 13, Forward)
Fitness Center (Deck 13, Forward)
Sundeck (Deck 16, Midship)
Fuel Teen Disco (Deck 15, Aft)
Adventure Ocean (Deck 11-12, Forward)
Royal Babies & Tots Nursery (Deck 11, Forward)
The Library (Deck 6, Aft)
The Boardroom (Deck 6, Aft)
Overseas Pharmacy (Deck 4, Midship)
Medical Center (Deck 2, Midship)
Photo Gallery (Deck 5, Forward)
Casino Royale (Deck 3, Midship)
Internet Assistance (Deck 4, Midship)
---
CHECKING OUT
You have two departure options: Express and Regular. If you choose to go for Express Departure, you have to carry your own luggage and leave between 7:30am and 8:00am. The advantage of this option is avoiding the lines and the crowd. If you opt to do the Regular Departure, departure time starts at around 8:00am and normally ends at around 9:30am.
The night before your departure, pack your things. Leave your luggage outside your door by 10:00pm. Don't forget to put your luggage tag around the handle. Set aside your clothes for the next day and all your valuables and travel documents. You have your original passport with you by this time.
Settle your bill the night before departure if paying in cash. If paying through credit card, the bill with be automatically charged to your card. Gratuity is mandatory, so you will be charged, more or less, US$14.5 PER NIGHT. The collected amount will be shared by the service staff.
You can still have your breakfast the morning on the day of your departure. Breakfast is served as early as 6:00am. Here are the food places that normally serve breakfast: Windjammer Marketplace (Deck 14), Café @ Two70 (Deck 5), and Main Dining Room (Deck 3).
Proceed to your departure lounge and then the gangway on Deck 5. Before exiting, the staff member will ask for your SeaPass card (or your passport). Get off the ship.
You will go through the immigration process for arrival clearance.
Once cleared, collect your luggage at the baggage claim area. Check your luggage tag number.
---
WHAT'S NEXT FOR ROYAL CARIBBEAN'S SPECTRUM OF THE SEAS (UPDATED)
Starting June 2019, Shanghai will be Spectrum of the Seas' home port. The plan is that it will stay in Shanghai until the winter season, where it will transfer its home port to Hong Kong. BUT for this year (2019), the ship will be homeporting year round in Shanghai for the East Asian season. It won't be sailing to Southeast Asia for now.
For those who still want to take the Southeast Asian itinerary package, Spectrum's sister ship, Quantum of the Seas, is covering this itinerary for six (6) months, starting this November out from Singapore. The Quantum ship is undergoing refurbishment in time for this.
Here are the roundtrip itinerary programs offered by Royal Caribbean for Spectrum of the Seas according to the official website.
Shanghai-Homeport Season
These are the sail dates of Spectrum of the Seas departing from Shanghai(Baoshan), China.
4-Night Best of Fukuoka: January 31, 2020 / March 17, 2020 / April 28, 2020 / October 7, 2020 / November 4 & 19, 2020 / February 3, 15 & 24, 2021 / March 21, 2021 / April 30, 2021 / May 26, 2021
4-Night Best of Kagoshima: February 25, 2020 / August 28, 2020 / March 17, 2021
4-Night Best of Nagasaki: February 4, 2020 / March 13, 2020 / July 1 & 17, 2020 / September 27, 2020 / October 31, 2020
4-Night Best of Japan: July 21, 2020 / August 10, 2020 / October 11, 2020 / October 20, 2020 / November 15, 2020 / February 7, 2021 / March 30, 2021
4-Night Best of Okinawa: November 23, 2020
5-Night Nagasaki & Kagoshima: February 20, 2020 / June 21, 2020 / January 29, 2021 / February 19, 2021 / March 7, 2021 / June 11, 2021
5-Night Fukuoka & Sasaebo: February 8, 2020
5-Night Fukuoka & Kumamoto: February 29, 2020 / August 23, 2020 / March 12, 2021 / April 13, 2021 / May 16, 2021
5-Night Okinawa & Nagasaki: April 14, 2020
If you are from the Philippines, you can check and book your cruise with ARPAN AIR, Inc., Royal Caribbean's International Representative for the Philippines. You may reach them through their landline number 8892-2701 to 03 or send an email to reservations@arpanair.com.ph. You may also ask your trusted travel agent for details and packages.
For more info about the sailing dates of the Spectrum of the Seas, especially those departing from Hong Kong, we will be having a separate article for that. The link will be posted here soon!
---
Other Cruise Tips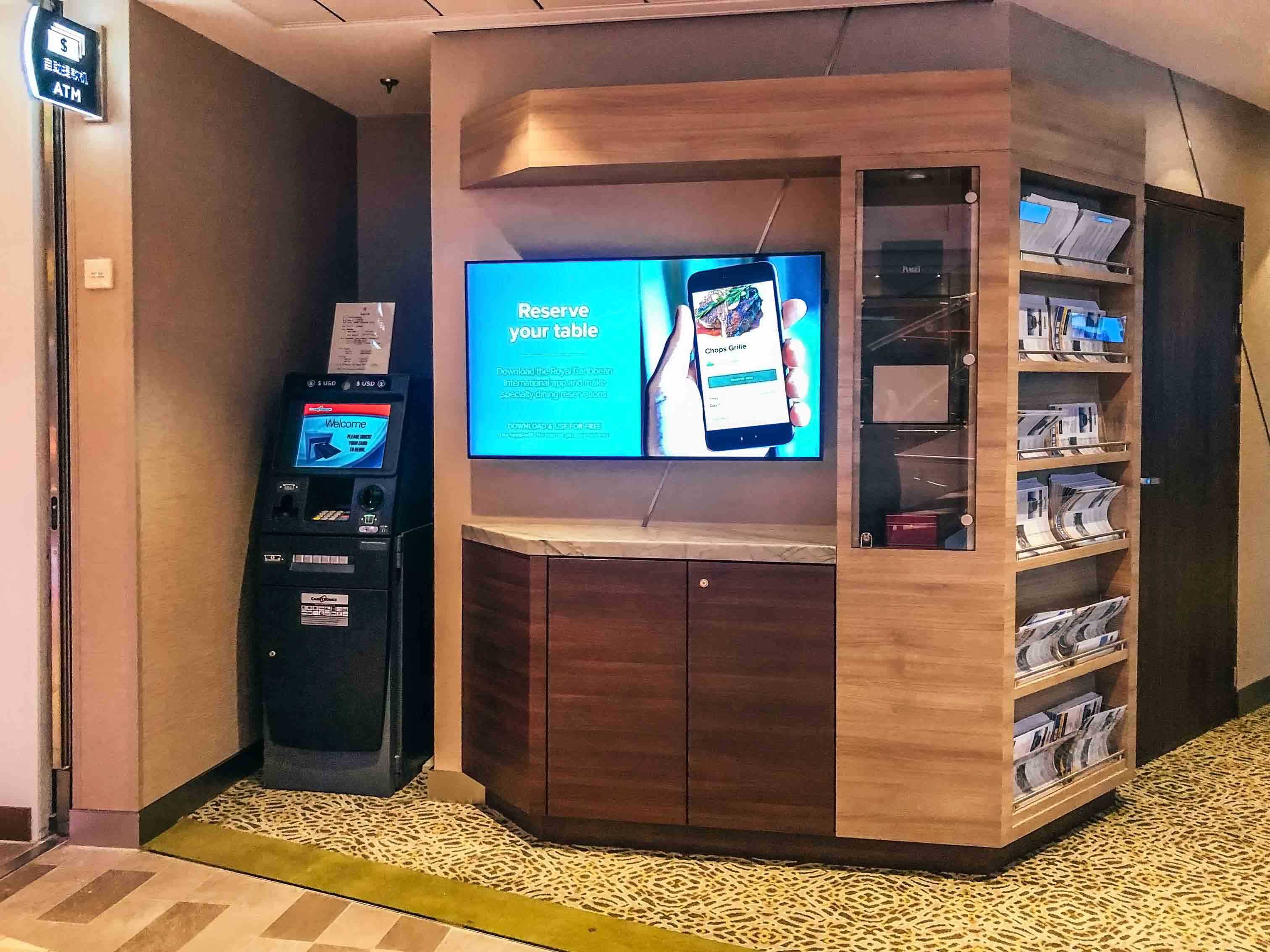 US Dollar is the official currency on board.
An ATM is located on Deck 4, near Guest Services. Service charge per transaction applies.
Keep yourself updated with Cruise Compass where you can find great deals for the day and important announcements. You can get both the Cruise Compass and Daily Planner at the Guest Service Area on Deck 4.
Each deck has a directory to help you navigate around the cruise ship.
You can get big discounts when you plan and book your next cruise on board. Just set an appointment and head to the NextCruise Office on Deck 5.
---


Royal Caribbean International is an award-winning global cruise brand. Its many achievements include the "Best Cruise Line Overall" for 15 consecutive years (TTG Travel Awards) and the "Best Cruise Line" since 2015 (Travel Weekly Asia's Reader's Choice Awards. It boasts 26 of the world's most innovative cruise ships to famous destinations such as Bermuda and the Caribbean, Europe, Canada and New England, Alaska, South America, Asia, and Australia and New Zealand.
---
2️⃣0️⃣1️⃣9️⃣ • 6️⃣ • 1️⃣8️⃣