Melbourne is one of Australia's most popular tourist destination, so it is not surprising that Melbourne Airport is also one of the busiest airports in the continent. From 2016 to 2017 alone, the airport served over 25 million domestic and 10 million international passengers.
The Melbourne Airport is sometimes called Tullamarine Airport because it is located in the suburb called Tullamarine, around 20 km northeast of the city's central business district (CBD). It takes 20-45 minutes to travel between the airport and the CBD, depending on the traffic situation.
There are plenty of options to reach the city center. Taxi and Uber are obviously the most convenient modes of transportation. But in this article, we'll focus on the more economical option — the bus. You have two choices: the SkyBus and the public bus.
WHAT'S COVERED IN THIS GUIDE?
BY SKYBUS: The Fast, Easy Way
The most convenient way to travel between the airport and the city center is by taking the SkyBus Express Airport Transfers, which is a double-decker bus that runs for 24 hours (varying frequencies throughout the day). The journey lasts 30-45 minutes, depending on traffic.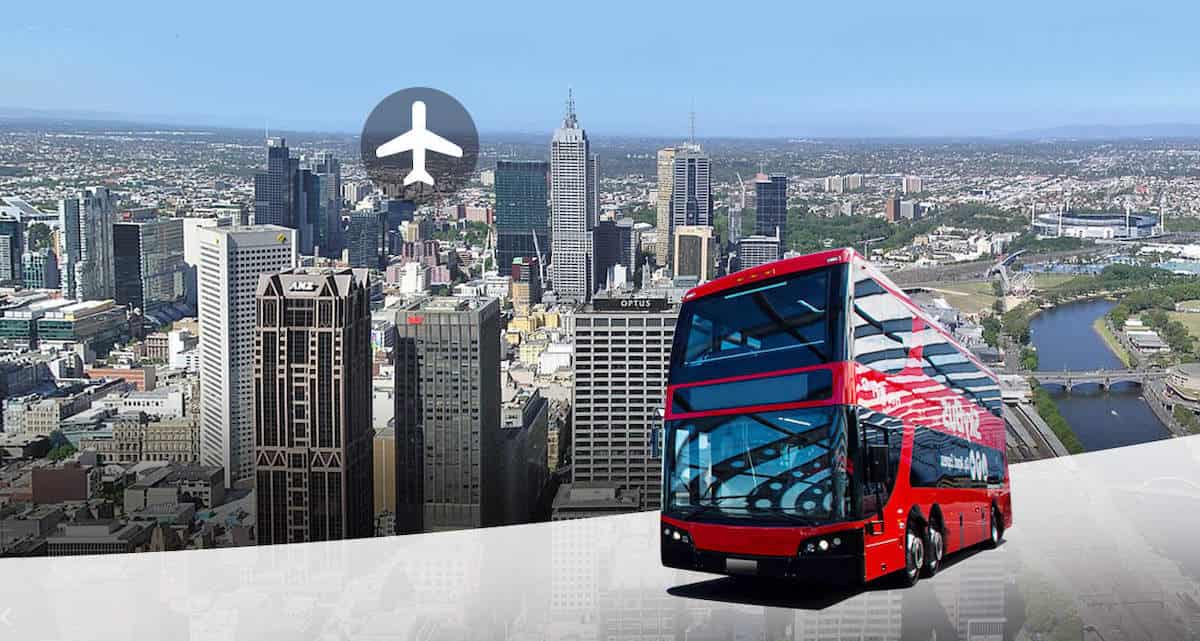 You can book a SkyBus ticket via the electronic ticket machines at the SkyBus stop at the airport or online. The machines don't accept cash but accepts credit cards. Fare: AUD 19.75, one-way; AUD 38, roundtrip.
You can score a slight discount if you book online ahead of time.
✅ GET DISCOUNTED TICKETS HERE!
Here's how to get to Melbourne CBD via Skybus.
After emerging from the Immigration and Customs inspection area, head to the terminal exit to your right.
Exit the terminal building until you see the SkyBus stop outside. The place is screaming with red Skybus signs; it's impossible to miss it. You'll know you're at the right place when you see the electronic ticket kiosks and a ticket booth.
Purchase a ticket if you don't have one yet. You can also purchase one online.
Fall in line and wait for your bus. Make sure you're boarding the MELBOURNE CITY EXPRESS if your hotel is in the CBD. Note that there are separate buses for St. Kilda and Southbank/Docklands.
Board the bus. It's a double decker. There are spots where you can store your suitcases on the lower deck. Travel time: 30-45 minutes.
Get off at Southern Cross Station.
Make your way to the hotel.
The SkyBus bound for Melbourne CBD terminates at Southern Cross Station on the edge of the district. If your hotel is nearby, you can just walk from the station. This is just one of the reasons why the Southern Cross area is the best place to stay in the city.
If your hotel is closer to Central Station, here are your options.
FREE SkyBus Link Hotel Transfer. If you're arriving between 6:30am and 7:30pm, you can avail of the complimentary transfer from Southern Cross Station to a stop near your hotel. This is FREE-OF-CHARGE for those who took the SkyBus. It operates 7 days a week, 06:30 to 19:30. You can find the stop closest to your hotel here.
Tram. Tram is FREE within CBD. But since it's your first day in the city, you might find the tram system to be a little confusing. It's also not ideal if you have luggage in tow because most routes involve some walking too. I tried it on my first day and got lost. Haha.
Uber. Cheaper than taxi. I have tried this once and I paid AUD 8.60 for the ride from my hotel near Central to Southern Cross.
Taxi. I was able to try this too. I paid AUD 10.6 from Southern Cross to Central.
Train. The train runs from 5am-12mn, Monday to Thursday, and all night Fridays and weekends. Fare: AUD 4.40 (2-hour minimum fare).
---
BY PUBLIC BUS: The Cheap, Long Way
Not a lot of people know about this, but yes, it is possible to reach Melbourne CBD by taking public transportation. It is also very cheap; the fare is only A$4.40. The catch is, it takes double or triple the amount of time that the SkyBus takes to get there.
If you're interested on taking this route, the first thing you should do is purchase a myki, an electronic reloadable smart card that is used in all public transportation services in Melbourne. Cash isn't accepted. But don't worry, you'll be able to use that card again when you explore the city. The card itself costs A$6, but you will need to top it up with more credits. On top of the card fee, the fare to CBD is A$4.40.
Once you have a myki card, follow these directions:
Head to the terminal exit to your right after emerging from the Immigration and Customs inspection area, .
Exit the terminal building and walk until you reach Terminal 4 (Budget Terminal), where the public bus stop is located.
Wait for Bus 901. Aside from 901, the sign on the bus also reads "Frankston". This is NOT a 24-hour service. The first bus of the day leaves at around 6:30am. See updated schedule by checking out PTV's Journey Planner.
Board Bus 901. Don't forget to touch on your myki card by hovering it in front of the sensor.
Alight at Broadmeadows Station. Travel time is around 15 minutes. Touch off your myki.
Walk to Broadmeadows Station. This should take around 5 minutes. Enter the station, touch on your myki card, and wait for your train.
Take the train to Southern Cross Station. Travel time is 30 minutes, excluding the waiting time. If your hotel is near Southern Cross, touch off, exit the station and walk to your hotel. If your hotel is near Melbourne Central Station, you will need to switch to another platform and transfer to another train. Then get off at Central Station.
The total travel time including the waits can last 1.5 hours. If you're arriving in the evening, it's best to avoid this route because the buses will be few and far between. If arriving in the wee hours, skip this and just take the SkyBus instead.
---
How to Get to Melbourne
From Manila, fly to Melbourne with Philippine Airlines. Travel time is only around 8 hours.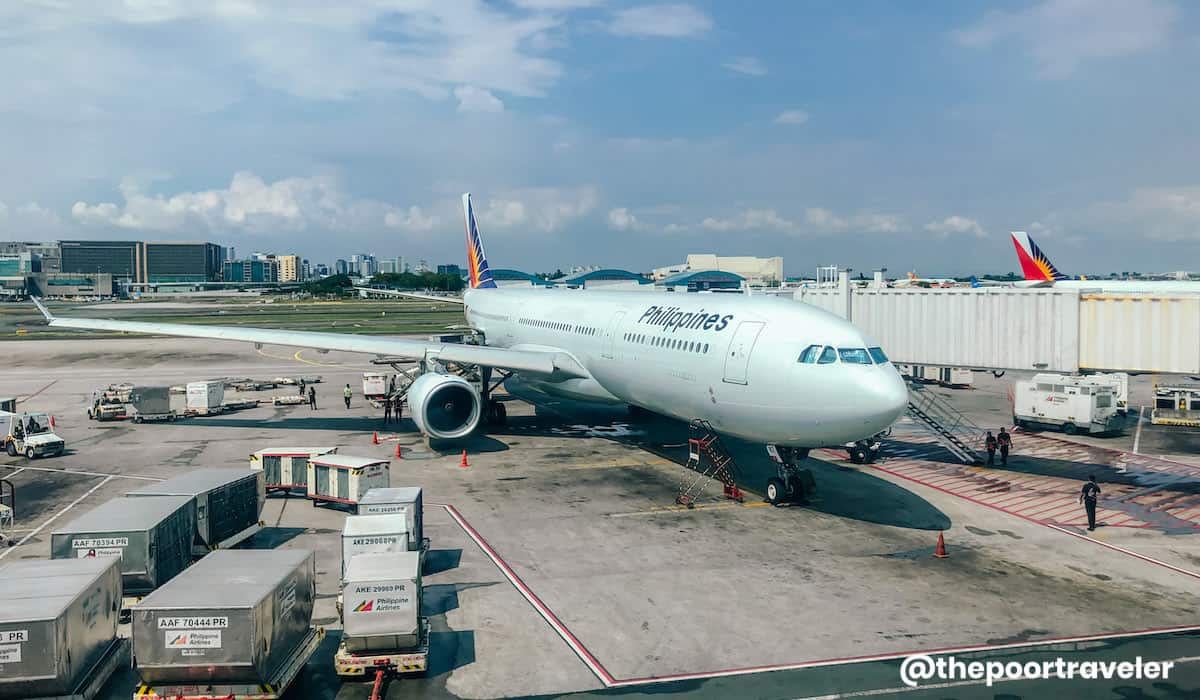 Regular fares can go as low as USD233 one-way, which can still go lower when there's a promo. All bookings come with FREE 25kg baggage allowance and a hot meal, a snack, and complimentary alcoholic and non-alcoholic drinks.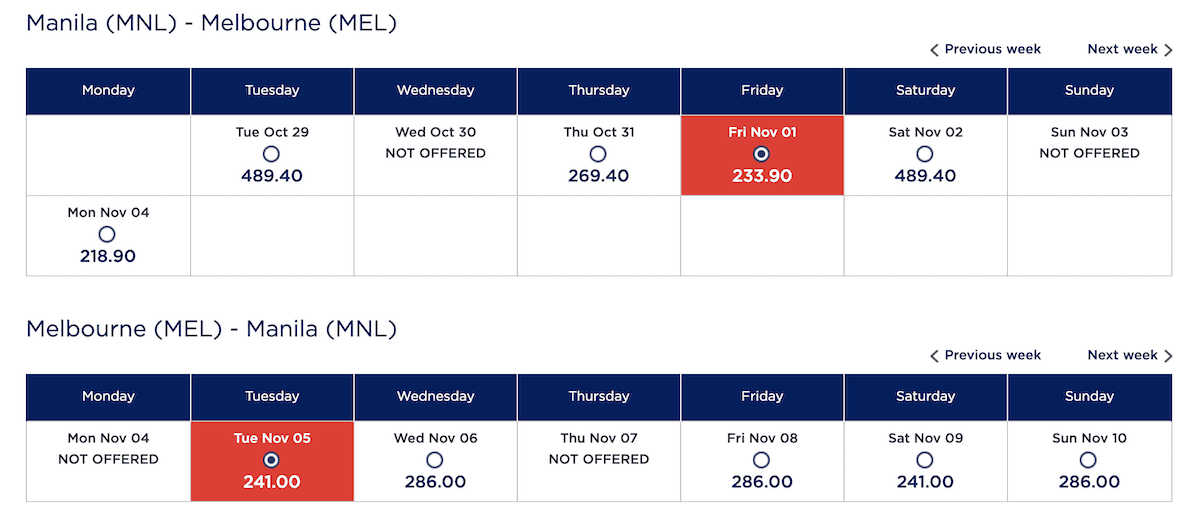 PAL, the country's four-star flag-carrier, uses a 309-seater Airbus A330-300.
---
2️⃣0️⃣1️⃣9️⃣ • 6️⃣ • 3️⃣0️⃣