Melbourne is widely regarded as the city with the best transportation system in Australia. With its impressive and expansive network of tram, train, and bus lines, Melbourne should be quite easy to explore. And it was. I found myself enjoying the journey from one attraction to another. However, it wasn't always like that.
On my first couple of days in Melbourne, I was extremely overwhelmed by its public transportation services. The route network itself is easy to digest. It was the pricing and the whole myki system that I found too confusing. Thankfully, it was only in the beginning. Once I got the hang of it, everything went smoothly.
In this post, I'll try to explain how the myki card works and how to use Melbourne's public transportation as simply as I can.
WHAT'S COVERED IN THIS GUIDE?
Melbourne's Transport Zones
First, it'll be helpful to understand Melbourne's transport zones. The metropolitan area of Melbourne is divided into three zones: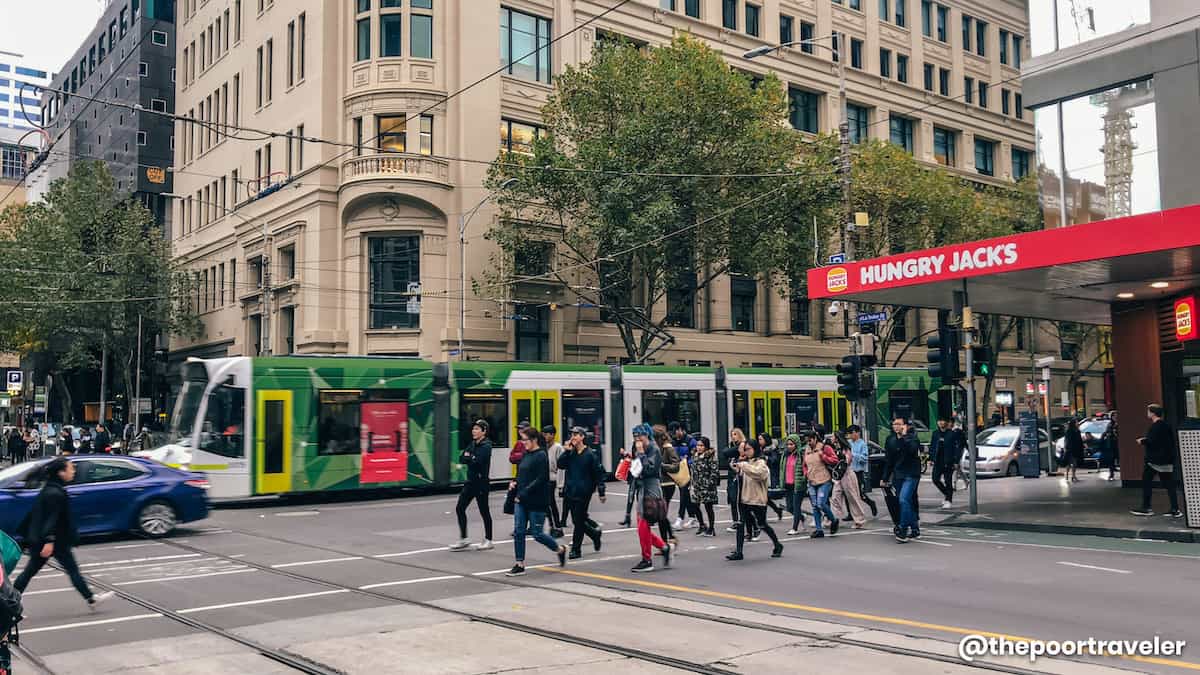 Free Tram Zone spans much of the Melbourne CBD. When traveling by TRAM within the zone, you don't need to pay for anything. For tourists, this is very useful because several tourist attractions are located within this zone. The Free Tram Zone is part of Zone 1. I'll discuss it further in the next section.
Zone 1 covers the city center and some suburbs in the outskirts of the city.
Zone 2 covers the suburbs farther away from the city center including Werribee and Frankston.
The rail map below illustrates this better. Stations along yellow lines are within Zone 1, while those in blue are within Zone 2.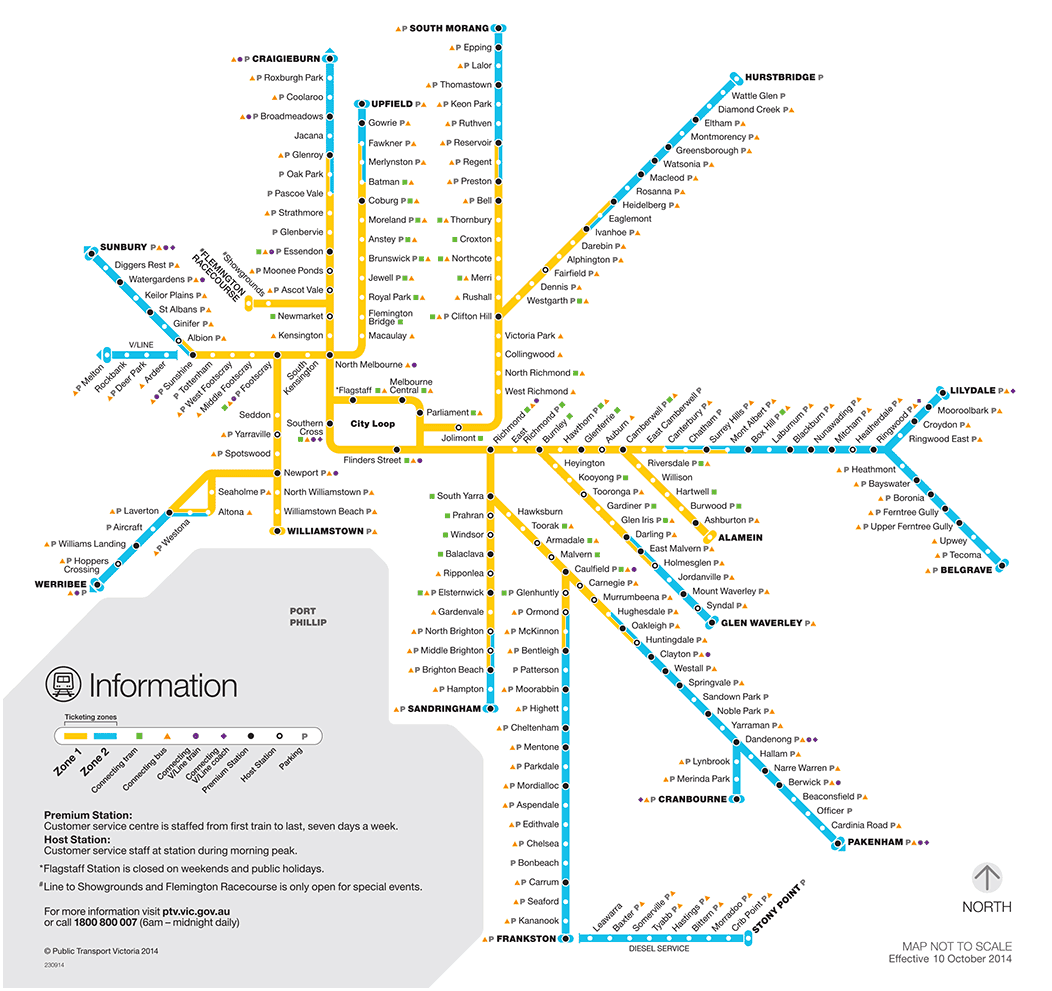 These zones dictate the fare. A different fare applies when you're traveling within Zone 1 and traveling within Zone 2. But when you're traveling BETWEEN Zones 1 and 2, the fare is the same as traveling within Zone 1. Here's a quick summary of these fares.

I'll explain these fares further below.
But if you're traveling within the FREE Tram Zone, you don't need to pay anything because it's, well, free.
---
FREE Tram Zone
For visitors, one of the best things about Melbourne is its iconic FREE TRAM. You don't need to get any sort of pass or ticket to avail of this; just hop into the tram. It's FREE as long as you're traveling WITHIN the FREE TRAM ZONE.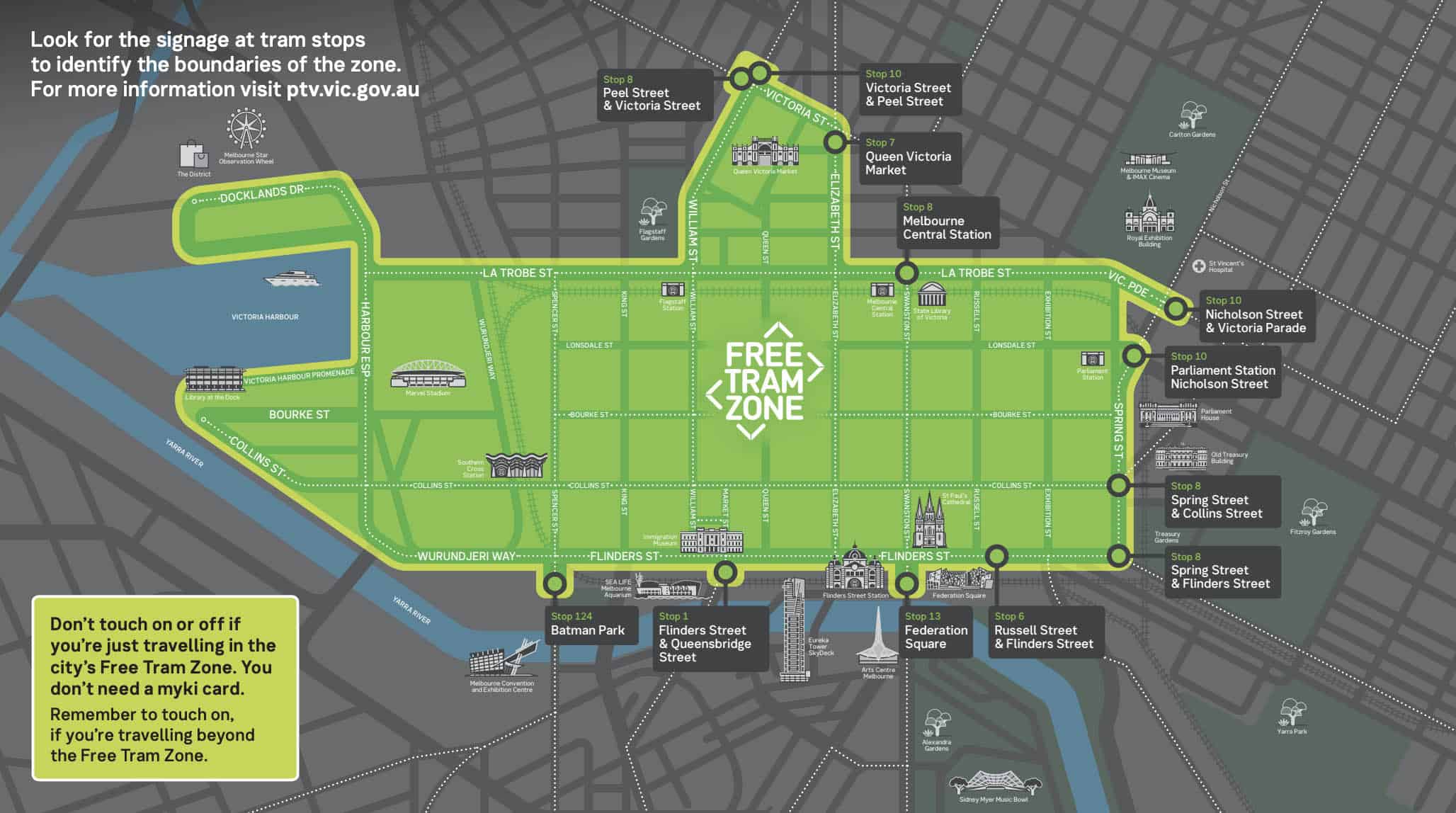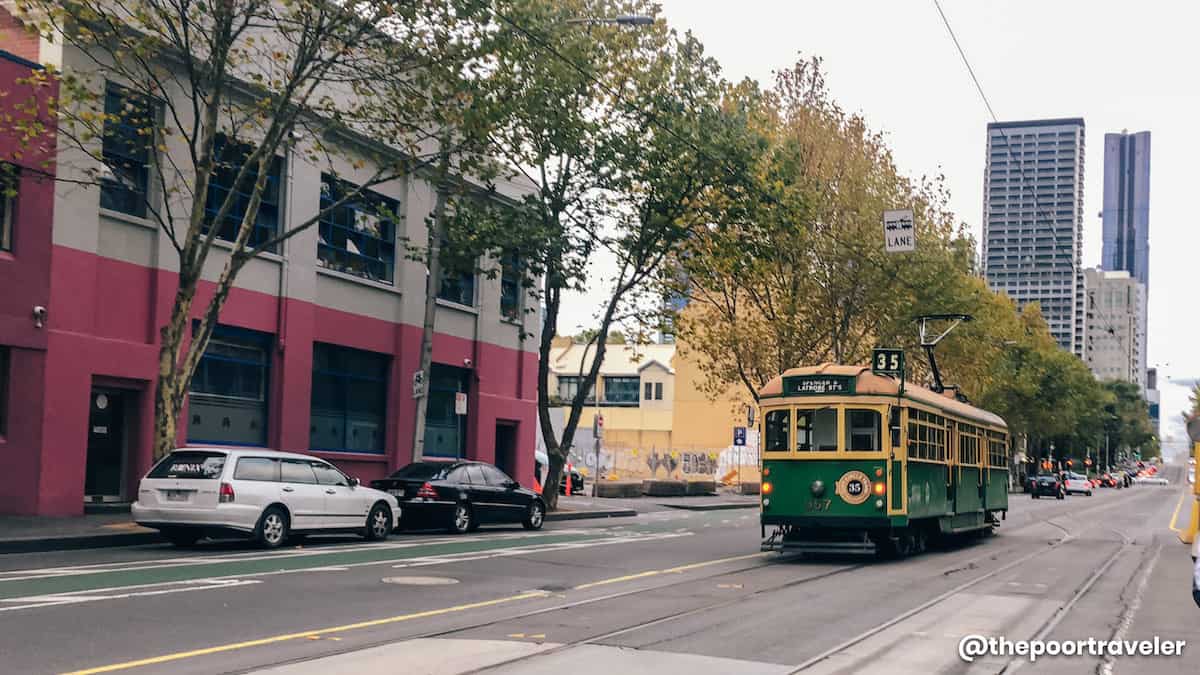 If your starting or ending point is outside the zone, the A$4.40 rate will apply.
Outside the free tram zone, you have plenty of options. But wait, before that, let me introduce to you the myki.
---
How Does the myki Card Work?
The myki is an electronic stored-value reloadable smart card that is used in all public transportation services in Melbourne — bus, tram, train. With this card, you can easily get around the city and even the surrounding suburbs. Cash isn't accepted anymore. Even if you're a tourist staying in Melbourne for a few days, you will need to get a myki card if you want to use the public transportation system. And that's a problem because the myki system is just so confusing especially for tourists.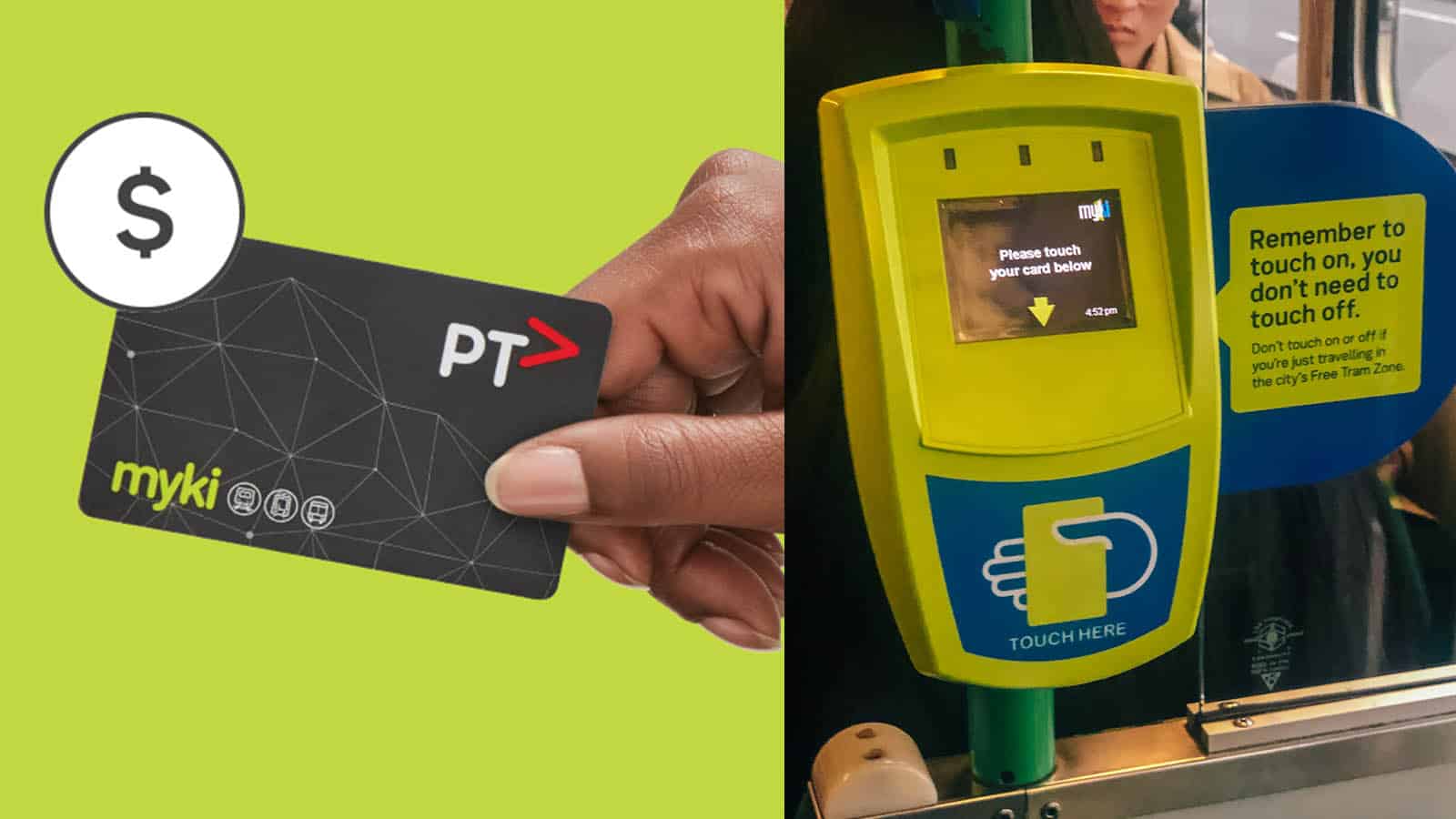 So how does it work? Well, it works just like Hong Kong's Octopus card or Tokyo's SUICA/PASMO card. You "touch on" the card — hover the card above the reader — before entering the train station or boarding the bus/tram and "touch off" when you reach your destination. But it's a lot more complicated.
Here are some important points.
The card costs AUD 6. That's just for the card itself. You will need to top it up after.
The standard fare is AUD 4.40, which is good for 2 hours — that is 2 hours from the moment you first use or touch on the card. However, if you touch on after 6pm, the 2-hour fare is valid until 3am the next day.
The daily fare is AUD 8.80. This is the maximum you can spend per day as long as you're traveling within Melbourne City (Zone 1) and suburbs (Zone 2). Meaning, if you use the card once, you're gonna get charged A$4.40 for the first 2 hours. If you use it again after 2 hours, you'll be charged A$8.80, valid for another 2 hours. But if after 2 hours, you decide to use it again, you will no longer be charged because the A$8.80 daily cap is already reached. Same with succeeding uses on that day. It sort of automatically becomes an unlimited pass.
On weekends, the daily cap is only AUD 6.40. Same reduced rate applies to public holidays.
A 7-Day myki Pass is available for only AUD 44. This is a good deal if you're exploring Melbourne for 7 days. Note that these are consecutive days.
Passengers 5-18 years old can avail of the 50% concession discount. The card price becomes only A$3, weekday fare A$2.20 for 2 hours, daily rate A$4.40, weekend daily cap A$3.2, and 7-day pass cost A$22. Passengers younger than 5yo can travel for FREE.
You don't need a myki when traveling by tram within the FREE Tram Zone. If you have a myki, you DO NOT need to touch on your card if within the Free Tram Zone. But if your starting or ending point is outside the zone, the A$4.40 2-hour rate will apply.
Here's a quick summary of the fares (as of 2019).
A lower fare applies if you're traveling within Zone 2 (farther suburbs), but as a tourist, you're probably gonna be coming from Zone 1 so I decided not to break it down in the table above to avoid making this a lot more complicated.
---
How to Use Melbourne's Trams, Trains & Buses
Having a lot of available transportation modes is both great and confusing. How do you know which is the best option for your desired destination?
If you own a smartphone, you can download the PTV app. PTV stands for Public Transport Victoria, the agency that governs and runs the tram, train, and bus systems in this part of Australia. You can download here: iOS, Android.
On the app, enter your origin and destination. If you've allowed the app to use your location, it can show you the station nearest you. It will then present a selection of routes that you may take. Pick one based on your schedule and preferences.
Then follow these:
Train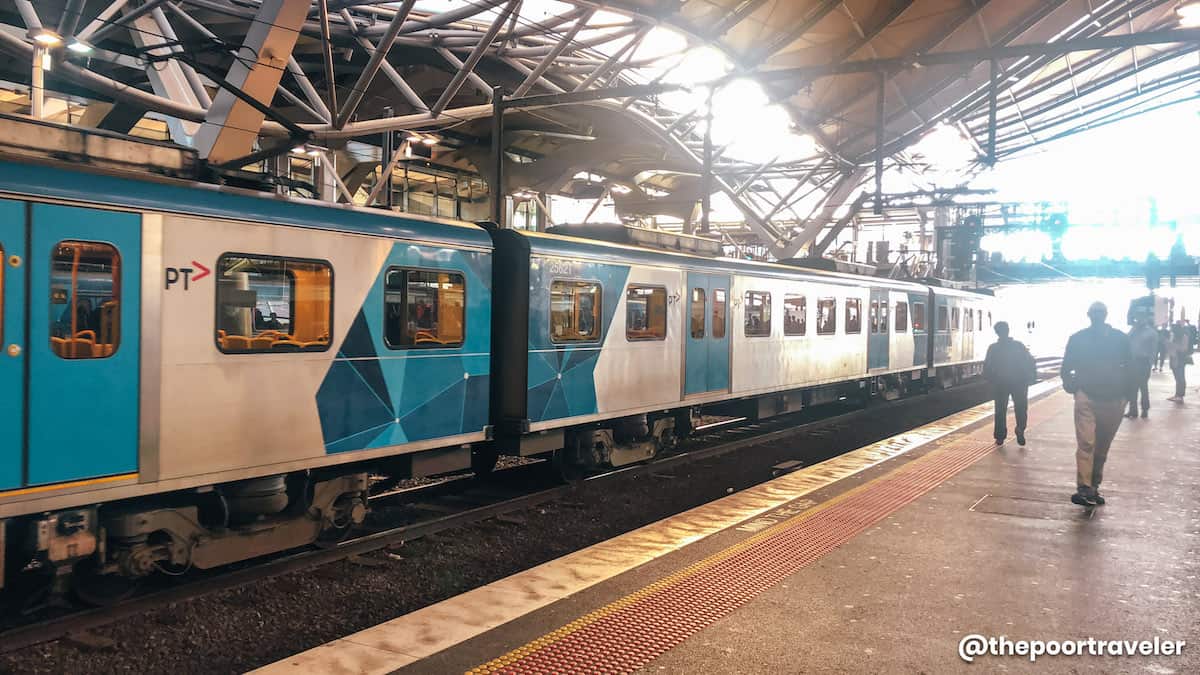 Touch on your myki card as you enter the station. You will find myki card readers at the entrance gates.
Head to the designated platform. You'll see the platform number on the PTV app. Also look for signs to double check. You'll find the train timetable at the platform. Check out the signs on the train or at the platform to make sure you're boarding the right train.
If you're making a transfer, no need to touch off the card UNLESS there are barrier gates in between.
Touch off your myki card as you exit the station.
Bus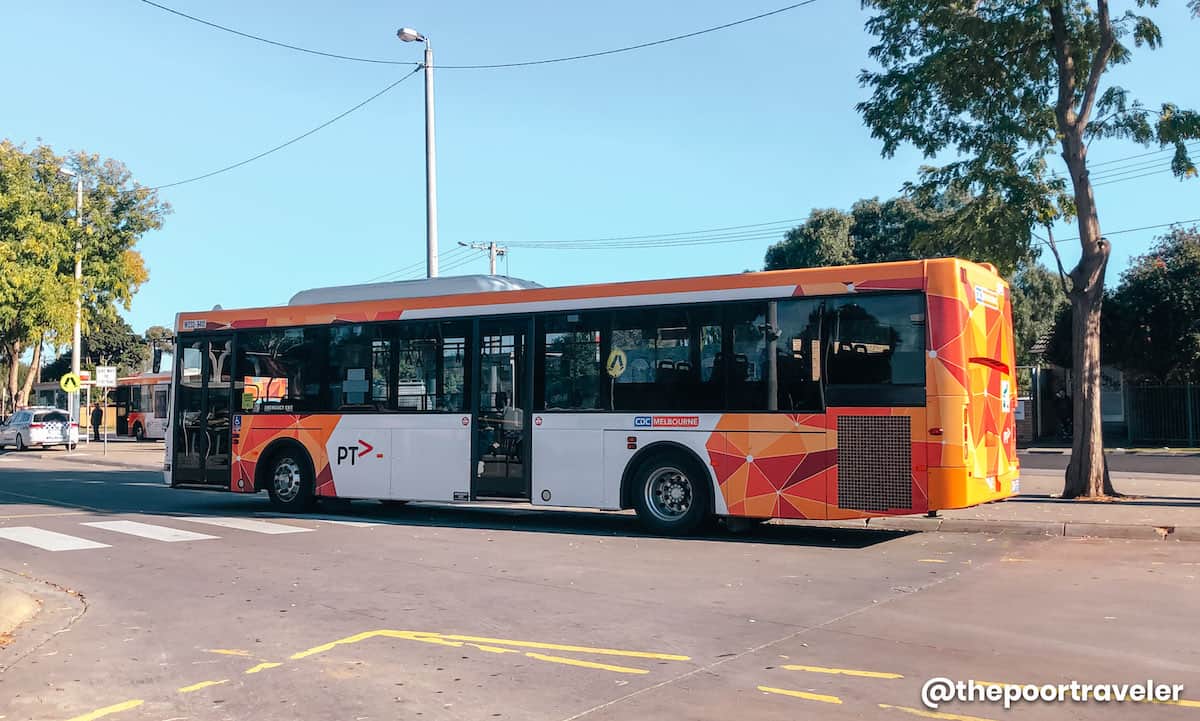 Make your way to the bus stop. There usually is a timetable displayed at each stop.
When your bus arrives, hop in.
Touch on your card as you enter. You'll find the myki readers onboard the vehicle.
When you reach your destination, don't forget to TOUCH OFF before alighting the bus.
Tram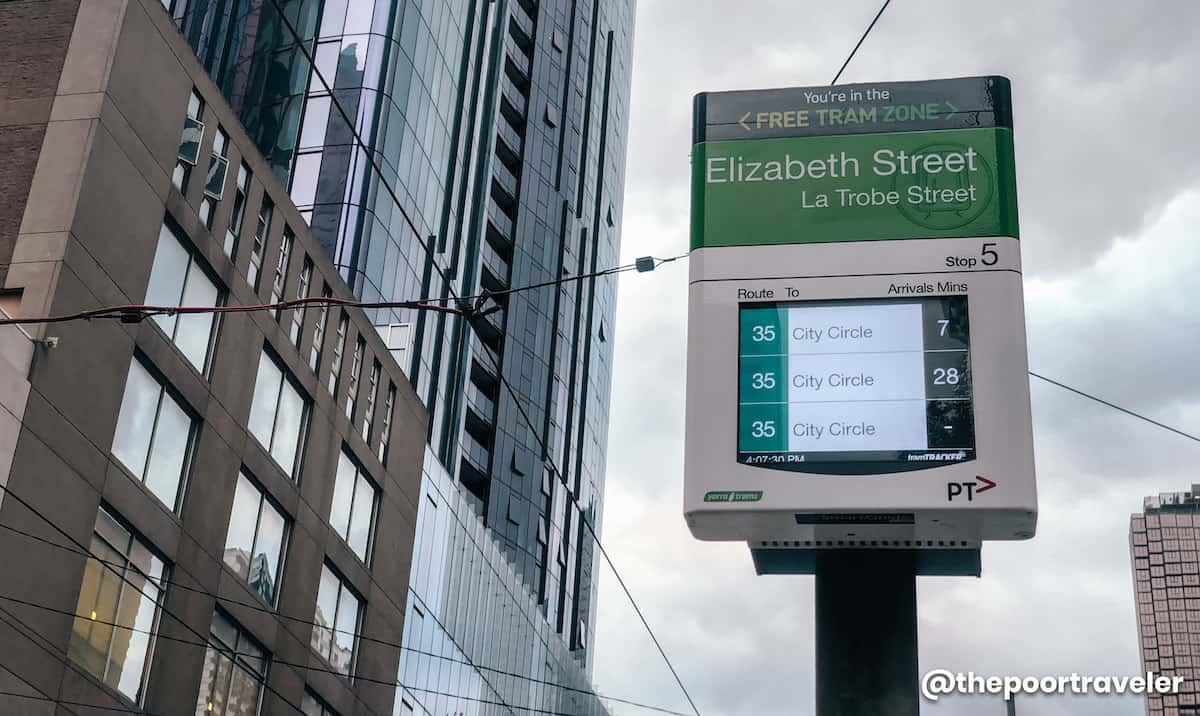 Make your way to the tram station. There usually are timetables posted at each stop. Often, there's also a digital screen announcing what trains are coming next and at what time. You can refer to this to make sure you're boarding the right tram.
When your tram arrives, hop in. If you're traveling within the FREE tram zone, NO NEED TO TOUCH ON. If you're traveling Zone 1+2, you must touch on. but you don't need to touch off.
When you reach your destination, NO NEED TO TOUCH OFF if you're traveling Zone 1+2 or if within FREE Tram Zone. Touch off only if you're traveling within Zone 2.
IMPORTANT! When traveling outside the free tram zone, don't forget to touch on your myki. It's actually easy to game the system and deliberately skip touching on to save dollars, but please DON'T do it. It's also easy to forget to touch on. But bear in mind that sometimes, ticket officers show up and inspect random passengers' cards. If you're caught not paying the right fare, you may be fined around A$250! I've seen this first-hand at Werribee Station. Several ticket inspectors checked the myki of alighting bus passengers.
---
Other Transportation Options
Of course, the public transportation system isn't perfect. Delays happen and some stations are sometimes temporarily closed for various reasons. One time, the tram that I was on had technical issues and all the passengers were asked to step out and wait for the next tram (which took forever to arrive). They don't happen all the time, but if you're in a hurry and you can afford it, you may take the taxi or Uber.
Uber is generally cheaper than taxi. I once tried taking a cab from Southern Cross to Central Station and I was charged A$ 10.60 for the ride. Another day, I used Uber on the same route and paid only A$ 8.60.
If traveling within CBD, I prefer walking. Melbourne is a very pretty city, with a distinct European vibe that other Australian cities don't possess. You'll also stumble upon delightful surprises like artful graffiti and food kiosks.
---
How to Get to Melbourne
From Manila, fly to Melbourne with Philippine Airlines. Travel time is only around 8 hours.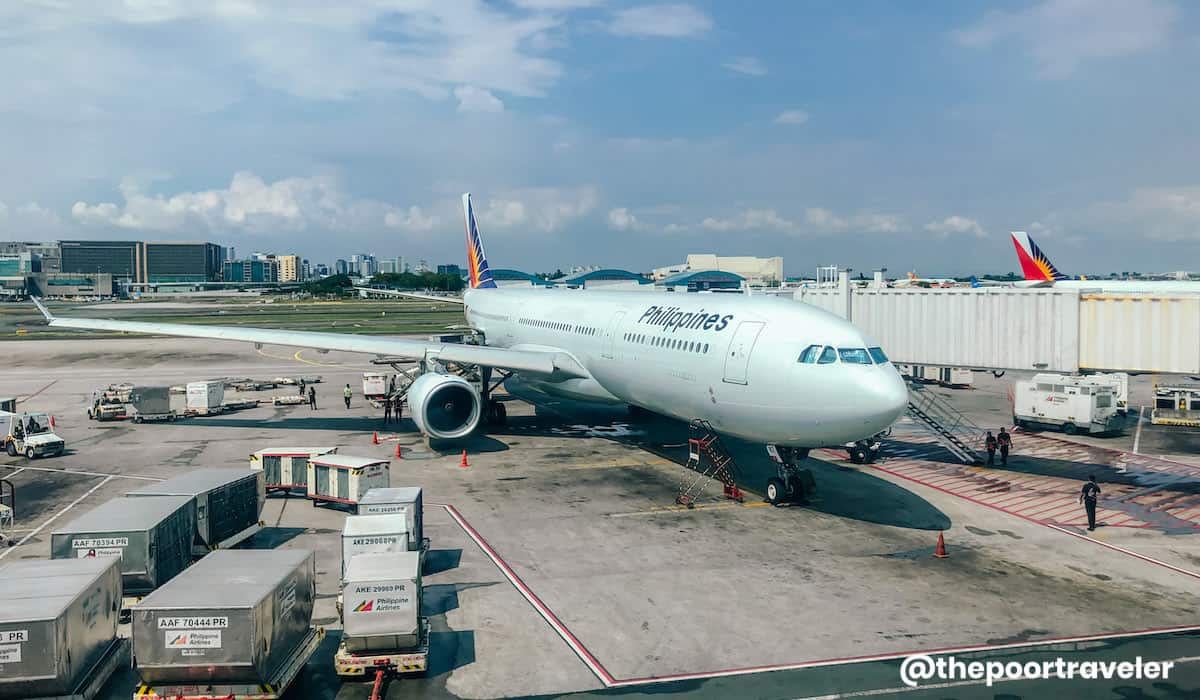 Regular fares can go as low as USD233 one-way, which can still go lower when there's a promo. All bookings come with FREE 25kg baggage allowance and a hot meal, a snack, and complimentary alcoholic and non-alcoholic drinks.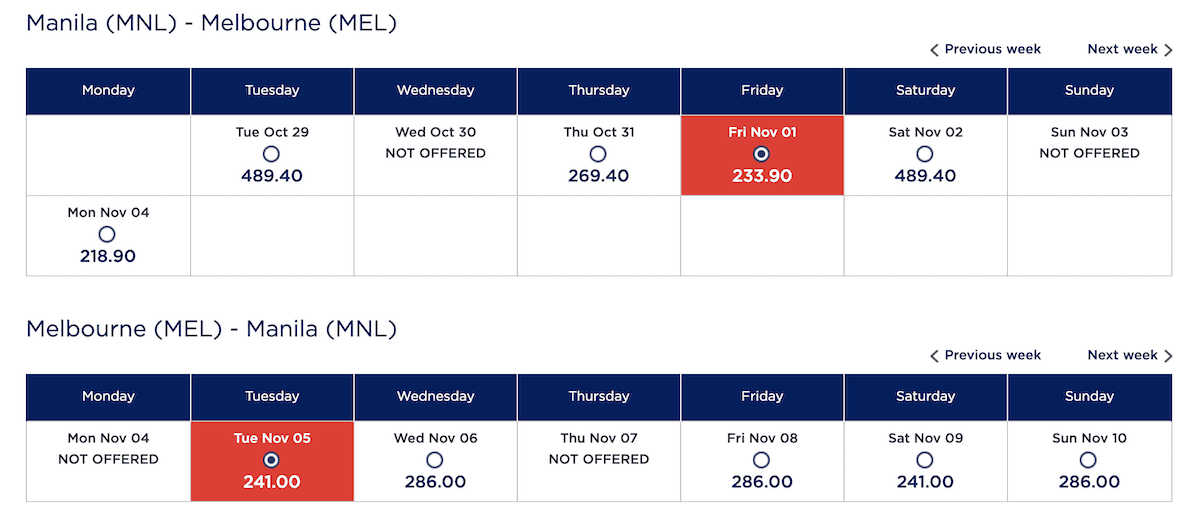 PAL, the country's four-star flag-carrier, uses a 309-seater Airbus A330-300.
---
2️⃣0️⃣1️⃣9️⃣ • 6️⃣ • 3️⃣0️⃣