Road tripping is probably the most convenient and safest way to travel especially now that the pandemic is not yet over. It will allow you to travel at your own pace and make stops whenever you need or want to. If you're coming from Manila, one of the most popular road trip destinations is Subic.
In most conversations, Subic refers to the Subic Bay Freeport Zone (SBFZ), which comprises parts of the municipality of Subic and Olongapo City in Zambales and Morong and Hermosa in Bataan. The former U.S. Navy Base is best known among tourists for its beaches, dive sites, waterparks, and other family-friendly attractions. There are also historic spots along the way. It has also made a name for itself as a shopping hotspot, thanks to the various outlet shops and duty free shopping stores around the area.
If you're planning to go on a road trip to Subic with family, here are some of the attractions you can visit during an overnight trip. We got to visit these during the recent Subic leg of the NLEX Lakbay Norte. Keep reading to know more details about these attractions that you can include in your Subic itinerary.
WHAT'S COVERED IN THIS GUIDE?
DAY 1
Holy Land Subic Sanctuary
For your first stop, spend a couple of hours at the Holy Land Sanctuary, a biblical theme park and a retreat and pilgrimage site for Catholics. It's situated somewhere detached from most other attractions, so it's a good idea to visit this first just to get it out of the way.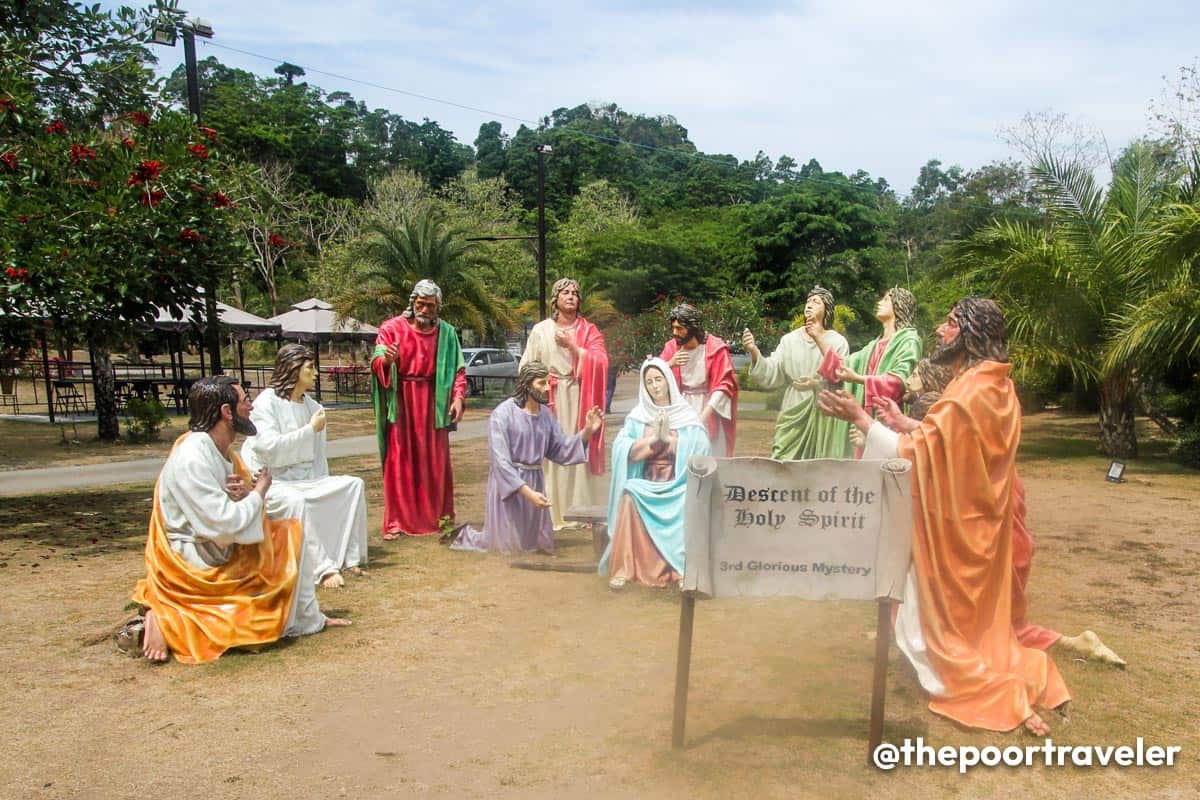 Spanning a 15-hectare land along Tipo Expressway and adjacent to the Subic Freeport Sentry Gate, the property is an ancestral land of the Aetas that was leased and developed into Holy Land Sanctuary. In turn, the Aetas are receiving a percentage gross revenue sharing through SBMA (Subic Bay Metropolitan Authority) and they are also provided with jobs in the sanctuary.
Inside Holy Land Sanctuary are over 200 life-sized religious statues depicting the life of Jesus, local devotions, and international apparitions of Mary. The Stations of the Cross draw pilgrims here especially during Holy Week. You will also find a chapel called Chapel of Cana, a prayer wall, a coffee shop, and a souvenir shop here. There are also overnight accommodations at the retreat village if you wish to stay the night or have a guided retreat.
If you'll visit here to do the way of the cross, don't worry about getting lost because they will provide a map of the whole place so you'll be guided where you need to go. If you can't do a lot of walking or if you're going with seniors, there are also shuttles that could take you around.
Opening Hours: 8:00 AM – 5:00 PM
Location: Adjacent to Subic Freeport Tipo Main Entrance Gate, Tipo Expressway
Entrance Fee: P350 – Regular, P280 – Students & Senior Citizens

Room Rates: P4000/ room (up to 4pax)
Breakfast: P300/head
Lunch & Dinner: P350/head

For reservation and inquiries, you may contact them at 09189380979 or 09064641945.
If you're not a Roman Catholic or you'd rather visit somewhere else, you'll find eco-trails like Pamulaklakin Forest Trail and El Kabayo Trail (and El Kabayo Waterfall) around the area. I'm just not sure if they're open these days so please double check before you go. There are also wildlife observation spots around the area.
---
Tree Points Bistro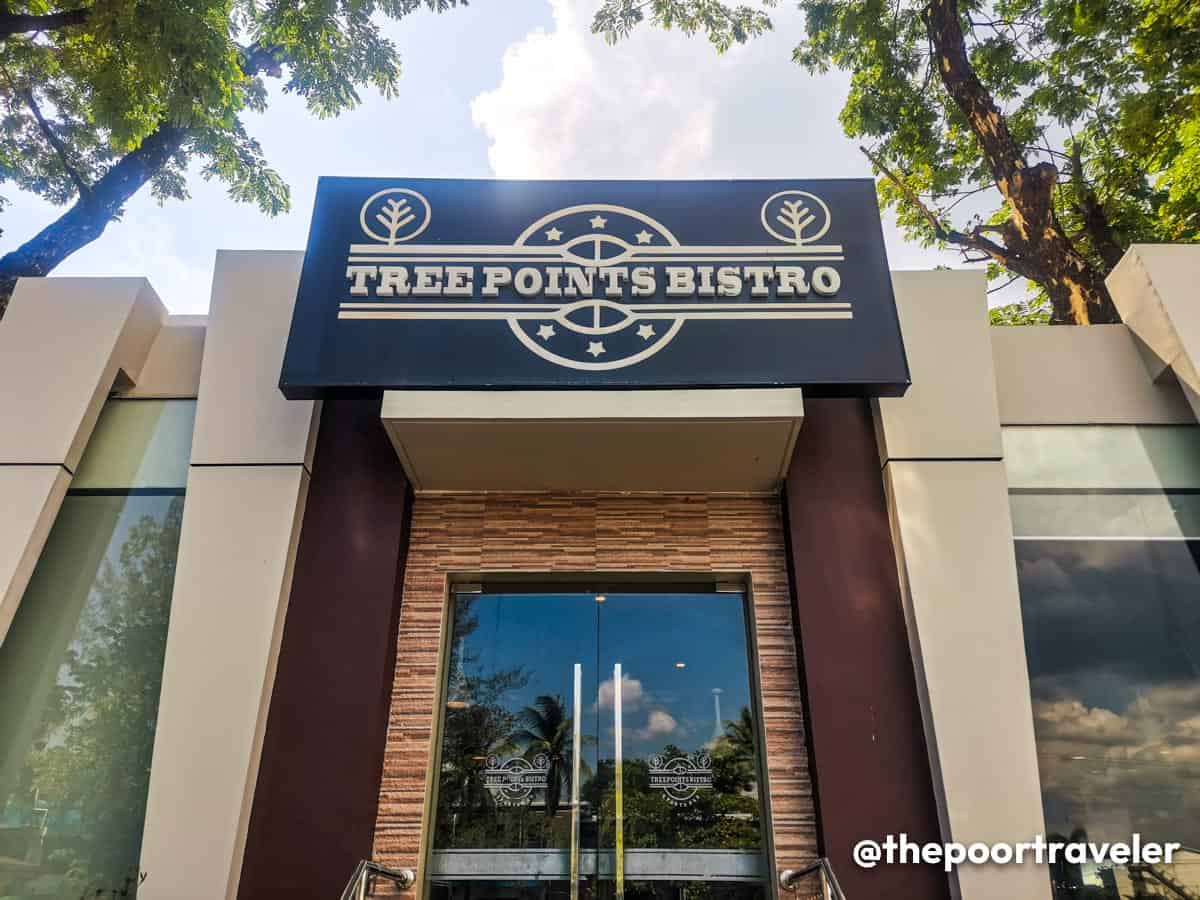 Yes, tree not three. This restaurant and sports bar was named such because of the trees inside the restaurant. Instead of cutting them down, the owner decided to keep and incorporate the huge trees in the design of the place.
Tree Points Bistro serves a variety of dishes from Western fare like steaks, pizza, pasta, and burgers to Filipino dishes like lomi, beef mami, and champorado. They also offer coffee, smoothies, wine, and beer.
We got to try their pizza with a really thin crust and lots of cheese, which I loved. I also had one of their "Belly Buster" meals—the Tom Brady's BBQ Belly, which is pork belly slathered with barbecue sauce and served with garlic rice. Their smoothies are perfect if you're going for a meal on a hot summer day like we did.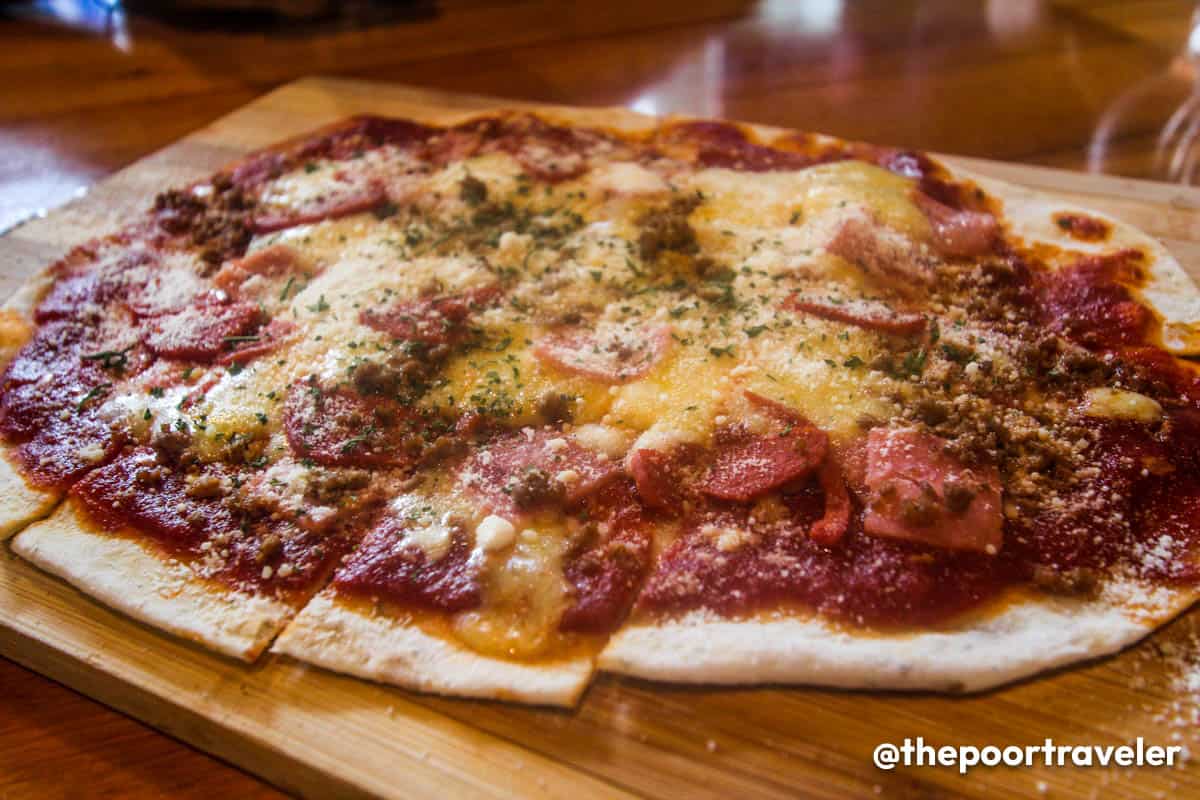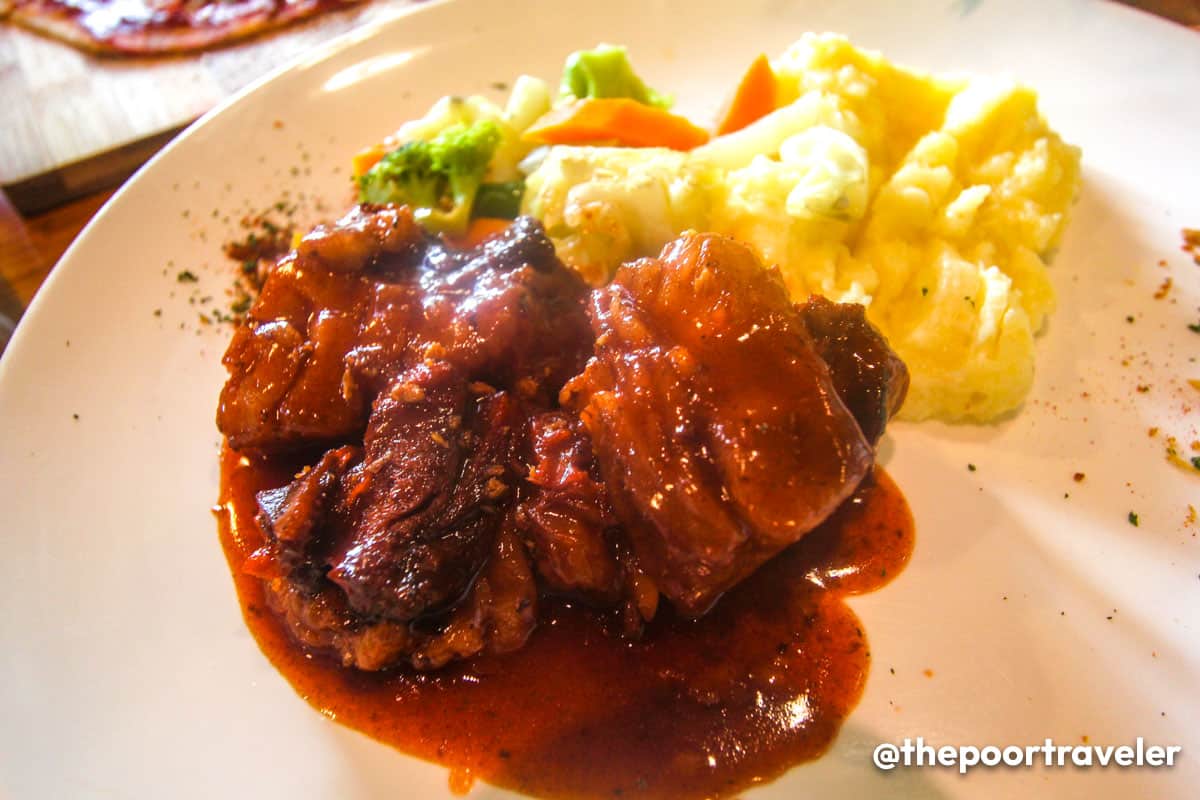 The restaurant is very spacious and has a lot of tables so even if you're with a group, you don't have to worry about the place feeling too crowded.
Opening Hours: 6:00 AM – 11:00 PM
Location: Aguinaldo corner Raymundo St., Subic Bay Freeport Zone
---
Hotel Check-in
After a hearty lunch, it's time to check in!
As a well-developed tourism hotspot, Subic harbors lots of accommodation options. As part of this edition of Lakbay Norte, we stayed at Subic Grand Harbour, which is a beach front hotel and resort. This is perfect for you if you want to stay close to the beach or if you're interested in trying out water activities. You'll find a water sports station just down the beach. It is also within the Central Business District so restaurants, cafes, and convenience stores are plenty.
If you're looking for other options, search for more SUBIC RESORTS!
---
Subic Rolling Tour
The Subic Rolling Tour will take you around the Freeport zone. The tour usually starts at the Subic Bay Exhibition and Convention Center (SBECC) and will take you to the following sites:
Spanish Gate
Inang Laya Monument
Bat Kingdom
Duty Free shops
If you book this tour, a tour guide will lead you, as they share information about the different stops. However, note that the tour guide would have to ride with you in your vehicle during the rolling tour.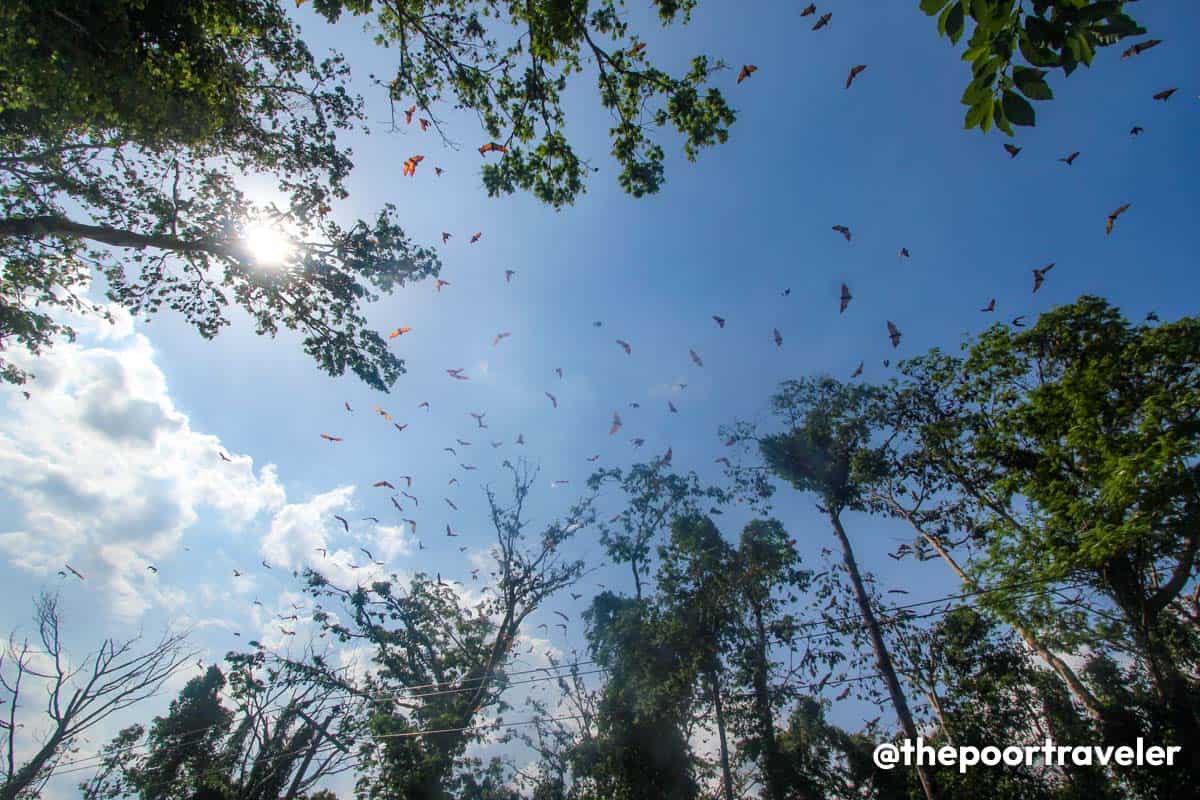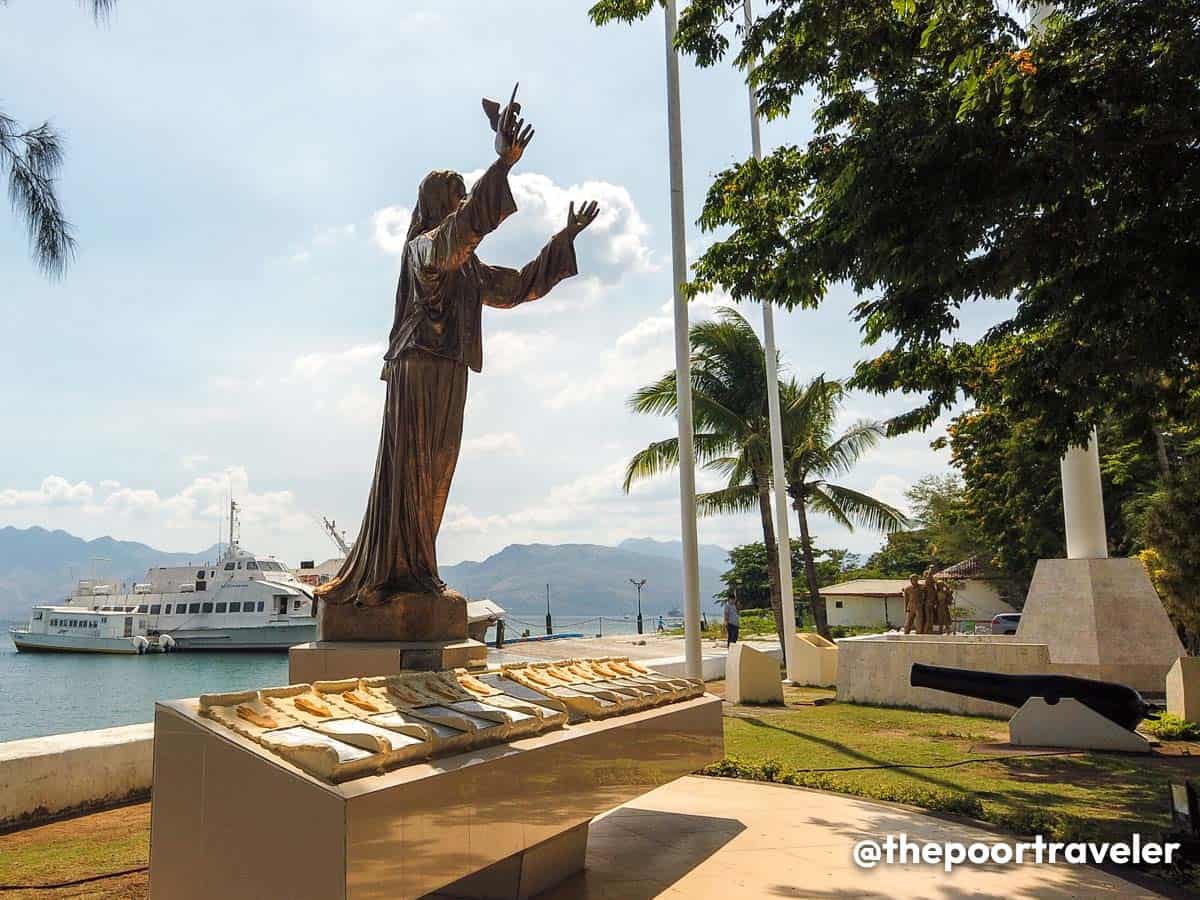 To book a rolling tour, you can send an email to tours@sbma.com. In your email, indicate the date of your trip, name of the point person for your group, and mobile number.
Rates:
P250 – Private Vehicle
P500 – Coaster or Bus

Note: There's no fee for the tour guide, but you are encouraged to give your guide a tip.

If you have inquiries, you may contact (047) 252 4049.
---
Subic Bay Yacht Cruise (Splurge Option)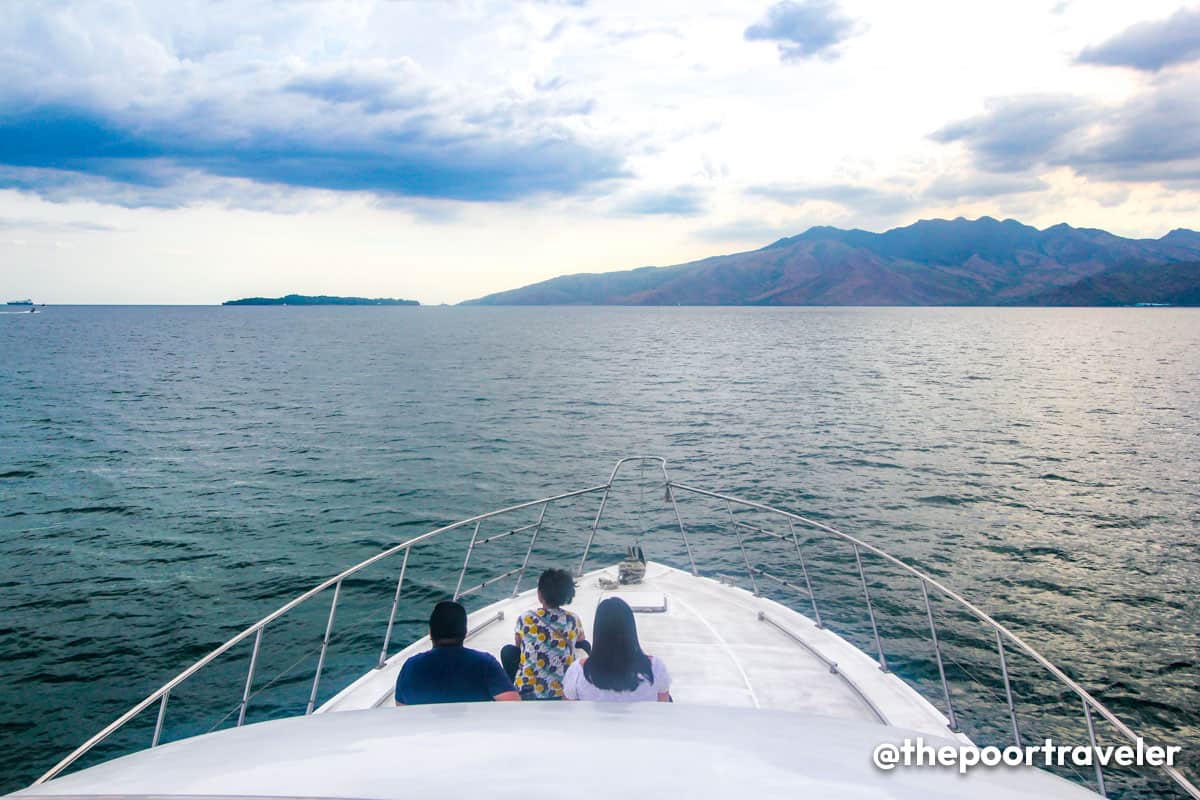 You're probably thinking: This is an expensive activity for a road trip, and… you're right. It is pricey. But if you're celebrating a special occasion or you're with a big group and could split the cost, this could be worth it!
The yacht cruise would take you around the bay and treat you to the gorgeous view of the Subic horizon for 2 hours. You can also bring food and drinks on board, so you could have a party while on the cruise if you want.
They also offer a dinner cruise where you can enjoy steak and seafood while on the yacht. This is a great date idea if you're going with your significant other.
Rates:
Private Yacht Rental- P6000/hour (Minimum of 2 hours, up to 20 pax)
Steak and Seafood Meal – P999/person (Optional)
Dinner Cruise
P1950 (Steak & Seafood + 2 hour cruise)
P1750 (Mixed Grill + 2 hour cruise)
Location:
Subic Bay Yacht Club
Rizal Highway Corner Burgos St., Subic Bay Freeport Zone

For booking and inquiries, you may call La Banca Cruises at 0917 548 3218
---
Subic Bay Weekend Eco Market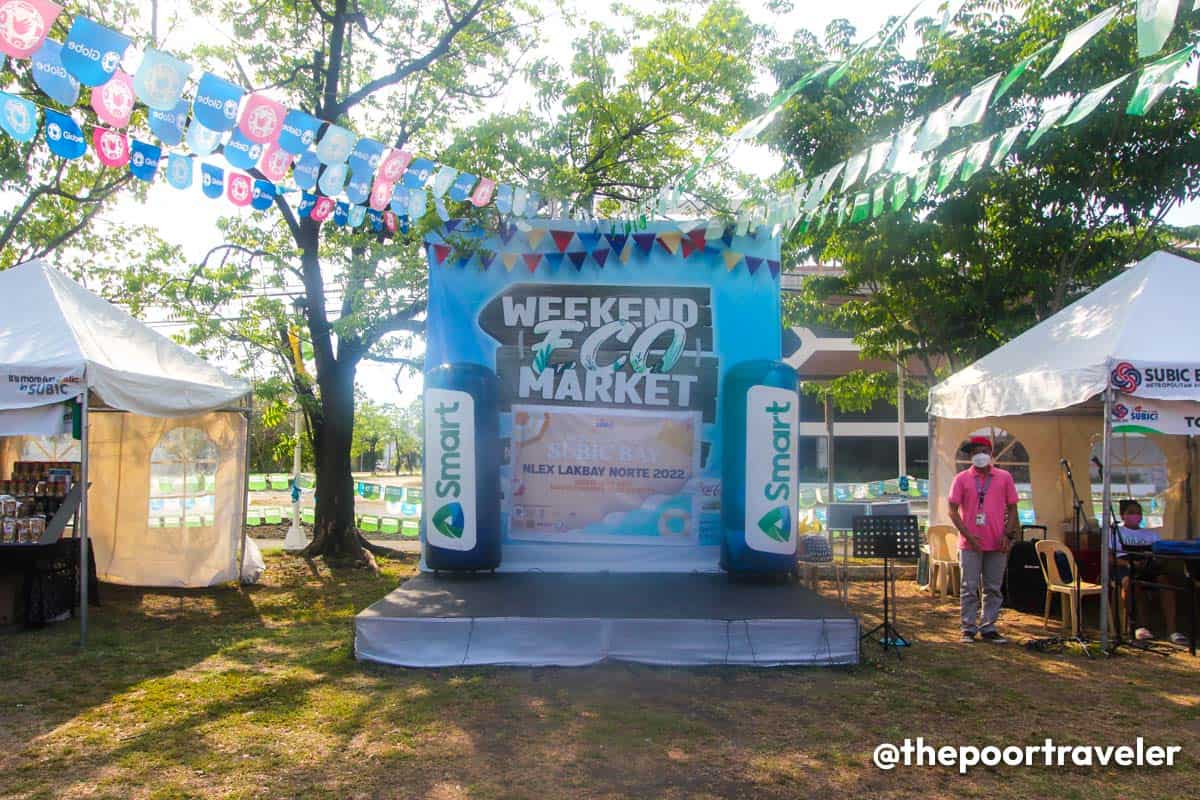 If a yacht cruise dinner is too over-the-top for you and you'd rather stay grounded, how about a visit to an eco market?
If you're visiting Subic on a weekend, drop by the Subic Bay Weekend Eco Market, composed of various booths selling local products. You'll also find stalls serving food.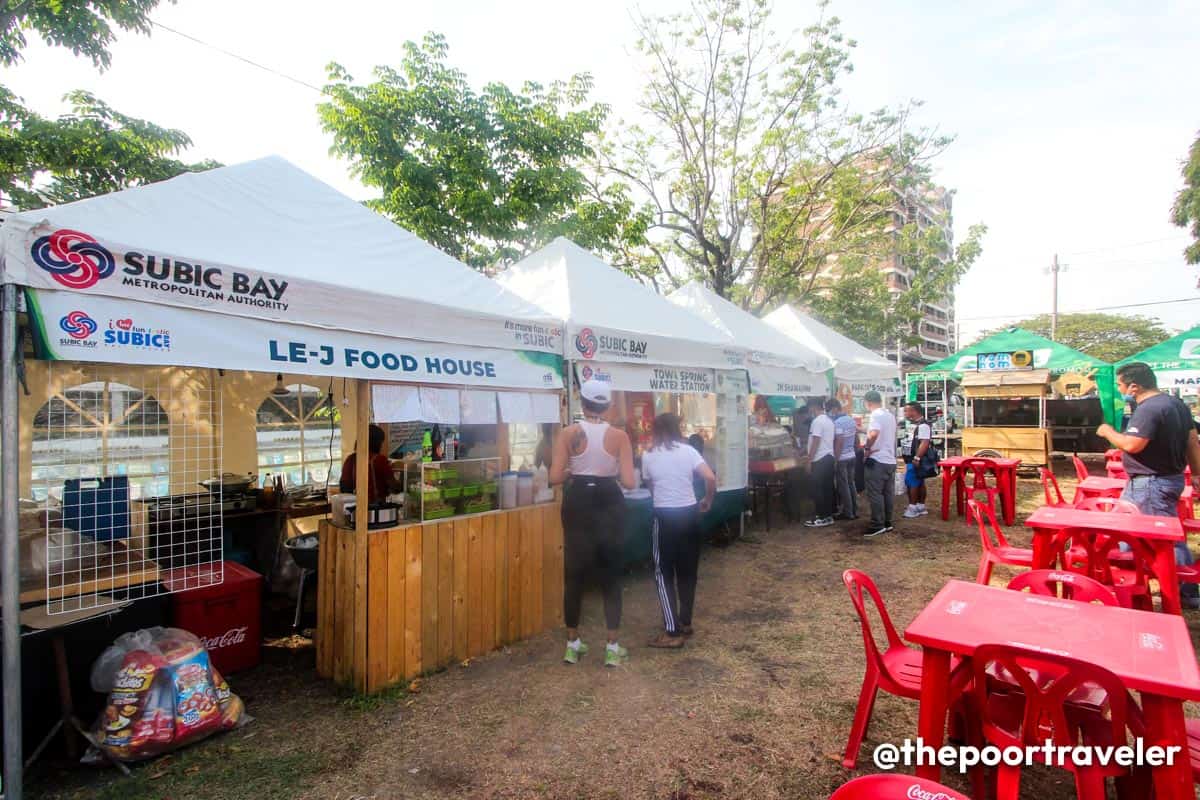 When we visited, there were booths selling handmade products like bags, baskets, and banigs (traditional mats) and food products like mushroom chips, yogurt and other dairy products, and fruit wines too!
Opening Hours: Weekends, 3:00 PM – 8:00 PM
Location: Dewey Ave, Subic Bay Freeport Zone
After foraging through the weekend market, time to head back to the hotel for a well-deserved good night's sleep!
---
DAY 2
Inflatable Island
For maximum fun time, gallop to the premier inflatable playground in the Philippines! Dubbed the biggest in Asia, the Inflatable Island in Subic features slides, bridges, towers, swings, human launchers, and more!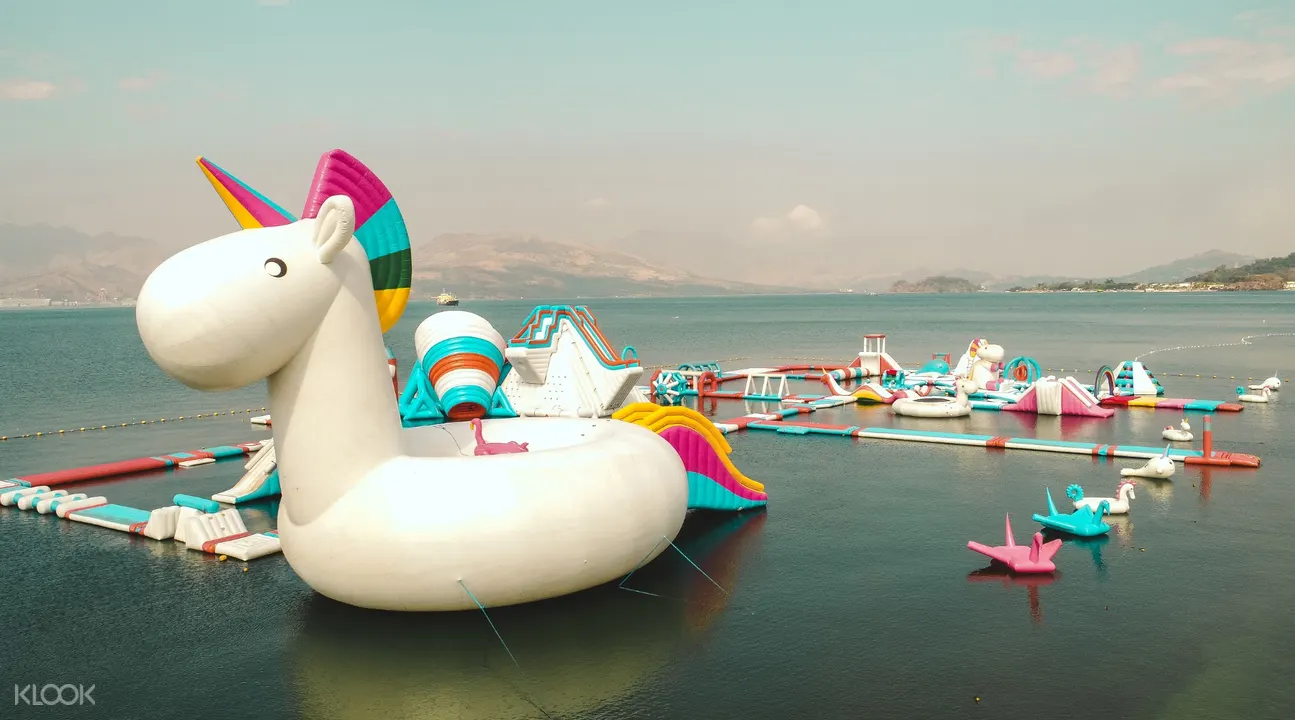 This beachside floating island spans about 4,200 square meters and also includes other features such as Floating Zoo, Bali Lounge, Unicorn Island, and Samba Beach. The waterpark will get your adrenaline pumping now more than ever with its newly launched rides — the Unicornzilla and Vortex.
Actually, this isn't part of our recent Lakbay Norte trip. But since there is a gap in our itinerary, we decided to fill it in with this. Besides, as one adage goes, one does not leave Subic without hitting the beach!
You can check Klook's discounted rates for three packages: half-day pass, all-day pass, an all-day pass with lunch.
✅ CHECK RATES or RESERVE TICKET HERE!
---
Meat Plus Cafe
For today's lunch, how about we steak to the classic?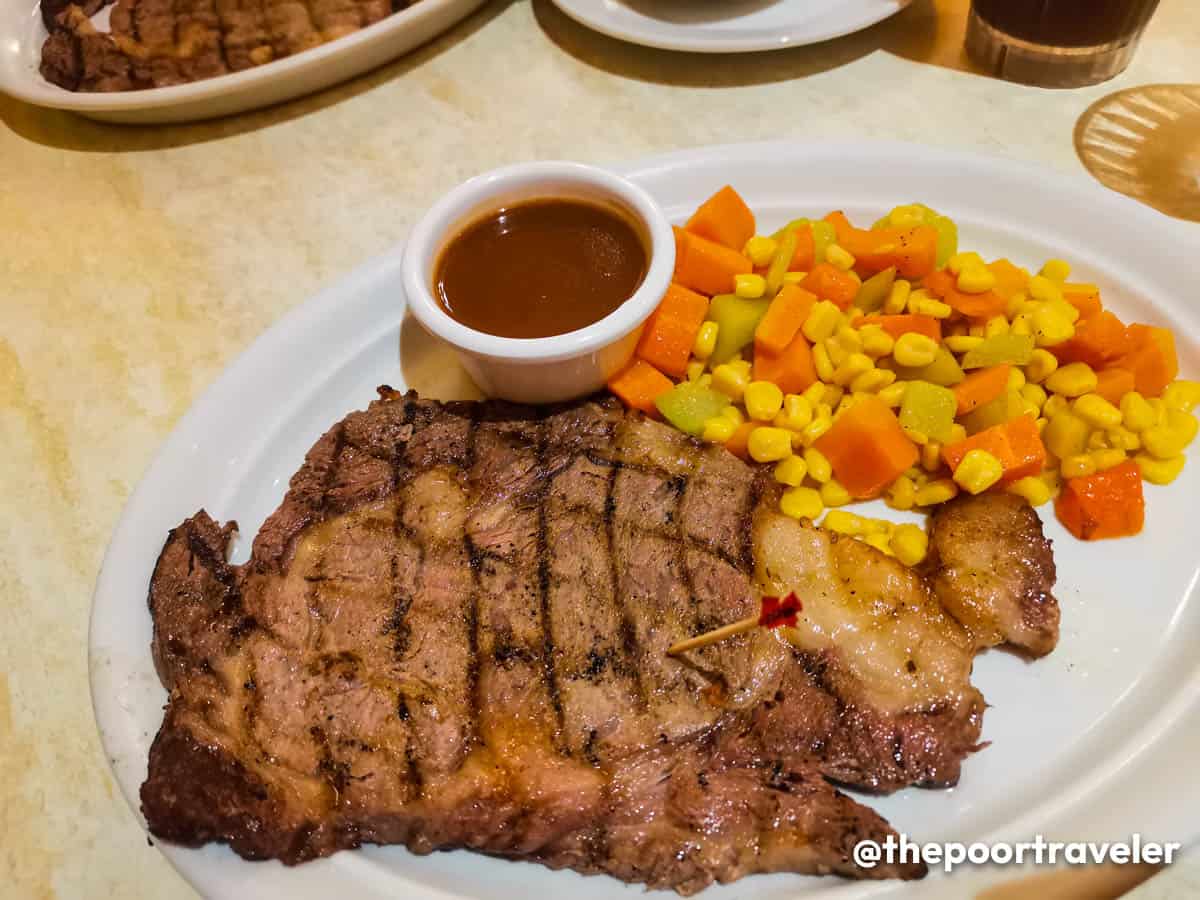 Serving mostly steaks, Meat Plus Cafe started out as a store selling raw meat. But due to its wide popularity among the people in Subic, they eventually turned it into a restaurant. Their setup here is a bit different compared to other steak restaurants. The order process is similar to a fast food restaurant where you would line up at the counter, order your food, pay, and then find a table and wait for your order to be served. They also have a freezer where you can choose your own steak and have it cooked for a fee.
Aside from steaks, they also have ribs, burgers, chicken, salmon, and pasta on their menu. Salads, soups, sides, and dessert options are also available. We were told that one of the popular items on their menu is the potato skins, which we tried while waiting for our steaks. It was very crunchy and comes with a sour cream and a cheese dip.
For the main course, I had their ribeye steak and it was very tender. Their steak meals come with rice and vegetables, but you can also opt to just have either of the two. You can also order your steak according to your preferred doneness.
Opening Hours: Mondays-Thursdays, 10:00 AM – 8:00 PM; Fridays-Sundays, 10:00 AM – 9:00 PM.
Location: Sampson Rd, Subic Bay Freeport Zone
---
Royal Duty Free
You've probably made a stop here as part of the Rolling Tour, but if you ran out of time, there's no shame in returning for good deals!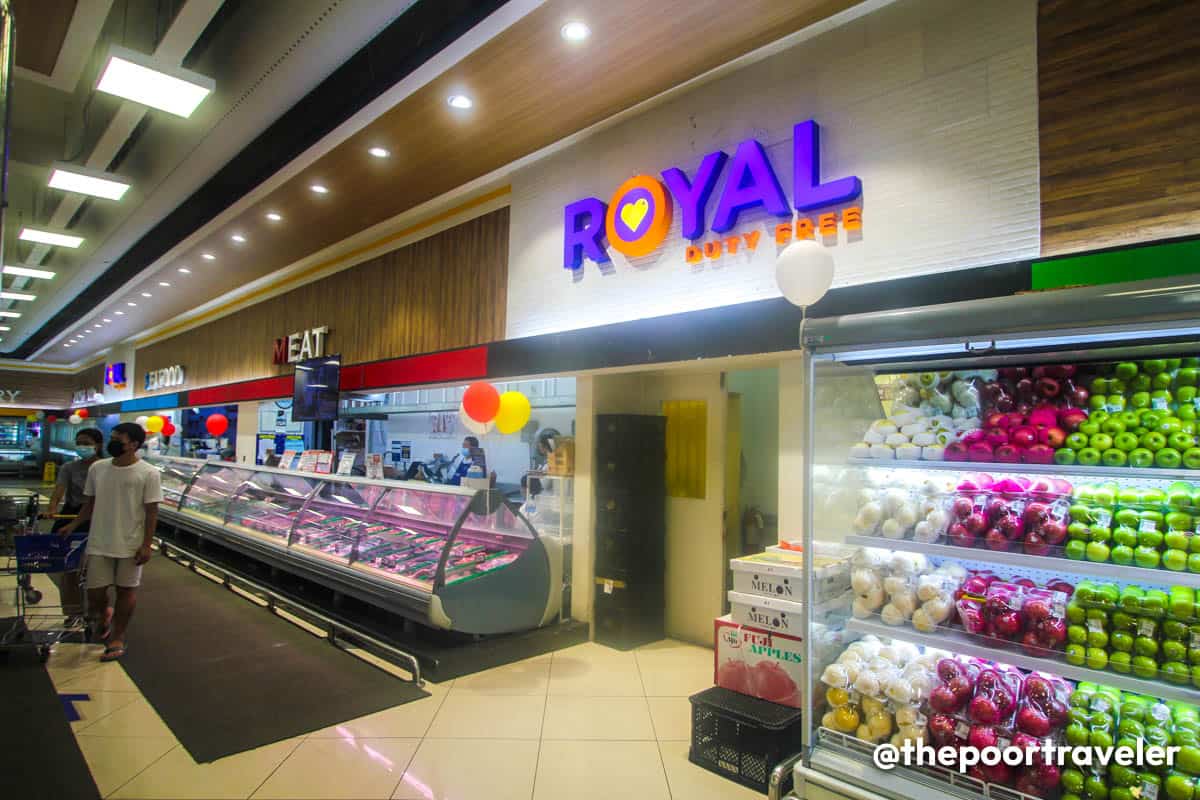 One of the most popular things to do in Subic is shopping. There are a lot of outlet shops and duty free stores here. If you're looking for pasalubong or just shopping for yourself, head over to Royal Duty Free, where you can find both local and foreign products from food, clothes, toys, and more.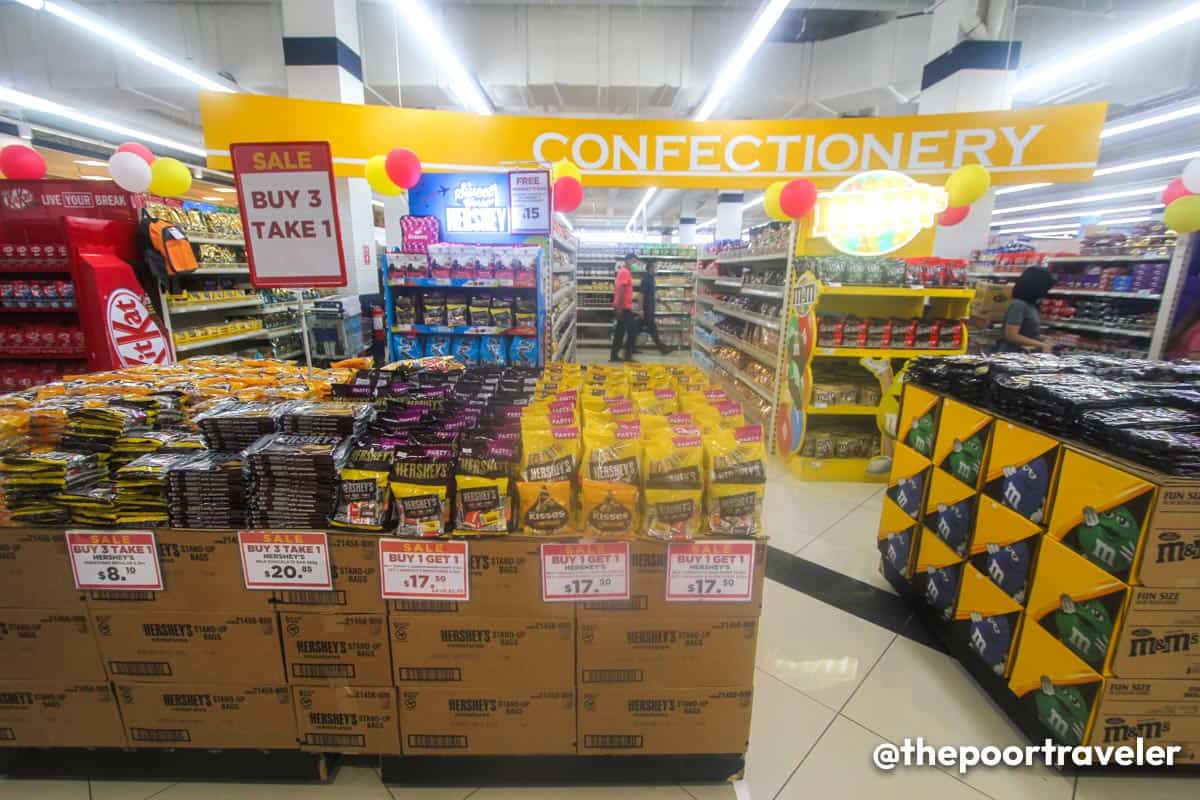 If you're planning to shop here, keep in mind that the prices of products are in USD, but once you checkout, you can pay in peso. They accept cash, card, GCash, and PayMaya payments.
Opening Hours: 9:00 AM – 7:00 PM

Locations:
Palm Street, Subic Bay Freeport Zone
Manila Avenue, cor. Canal Road, Subic Bay Freeport Zone
---
Sample SUBIC Itinerary
Here's the summary of the overnight itinerary above.
DAY 1
6:00 AM – Departure from Manila
9:00 AM – Holy Land Sanctuary
11:30 AM – Lunch at Tree Points Bistro
1:00 PM – Hotel check-in
2:30 PM – Subic Rolling Tour
4:30 PM – Free Time or Yacht Cruise
7:00 PM – Subic Bay Weekend Eco Market
09:00 PM – Back to hotel
DAY 2
7:00 AM – Breakfast, Hotel checkout
8:00 AM – Inflatable Island or another activity
11:00 AM – Lunch at Meat Plus
01:00 PM – Shopping
04:00 PM – Departure
---
How to Get to Subic
Manila to Subic by Car
Driving from Manila to Subic takes 2.5 to 4 hours depending on the traffic conditions. The journey is very convenient because the North Luzon Expressway (NLEX) and Subic-Clark-Tarlac Expressway (SCTEX) connect Metro Manila to Subic.
Navigating should not be a problem. From Manila, enter NLEX and drive along the expressway until you reach the exit to SCTEX. Take the SCTEX Exit and continue driving to SBMA.
Nearest Airport
If you're flying in from outside the country or other destinations in the Philippines, the nearest airport from Subic is the Clark International Airport (CRK) located in Clark Freeport Zone in Pampanga.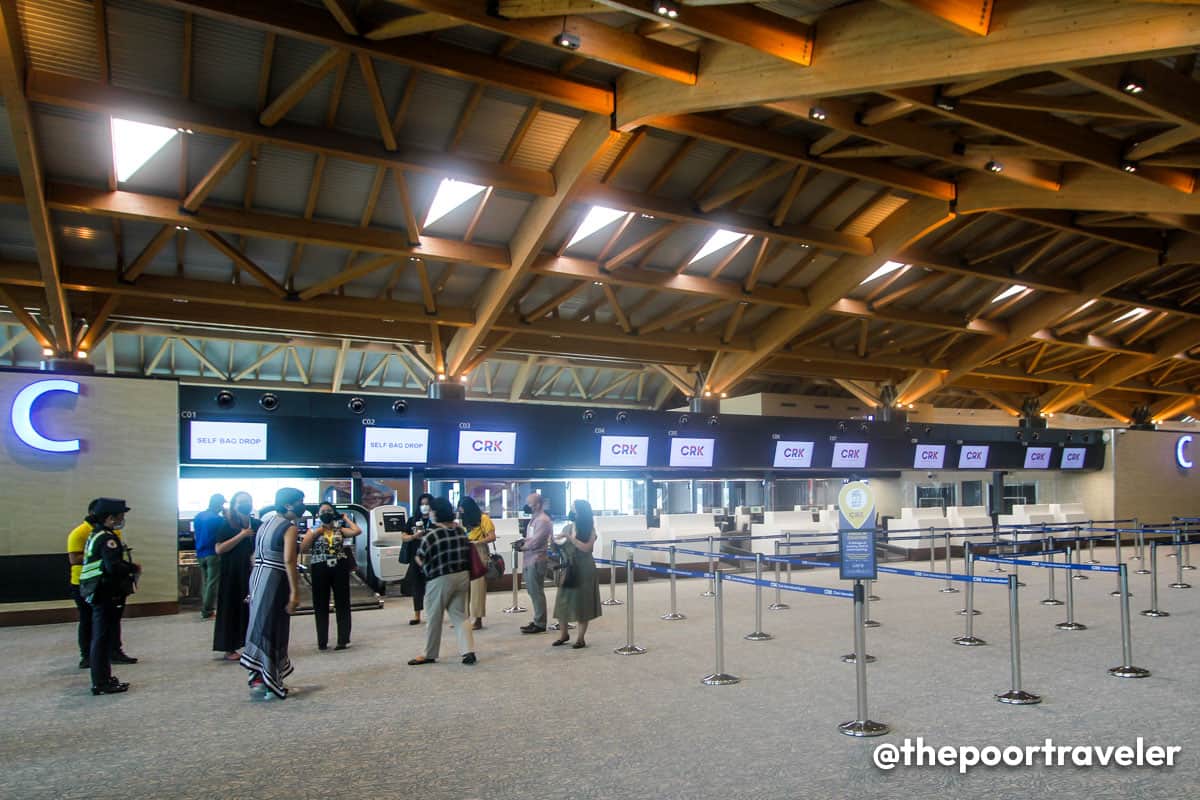 Clark International Airport has opened its New Terminal Building last May 2 and all flights will now depart and arrive in this terminal. The new terminal has modern designs and technologically advanced features that are very suitable in the current times. The airport's interior is very modern and bright with a wood ceiling and floor to ceiling windows that will treat passengers to a view of Mount Arayat.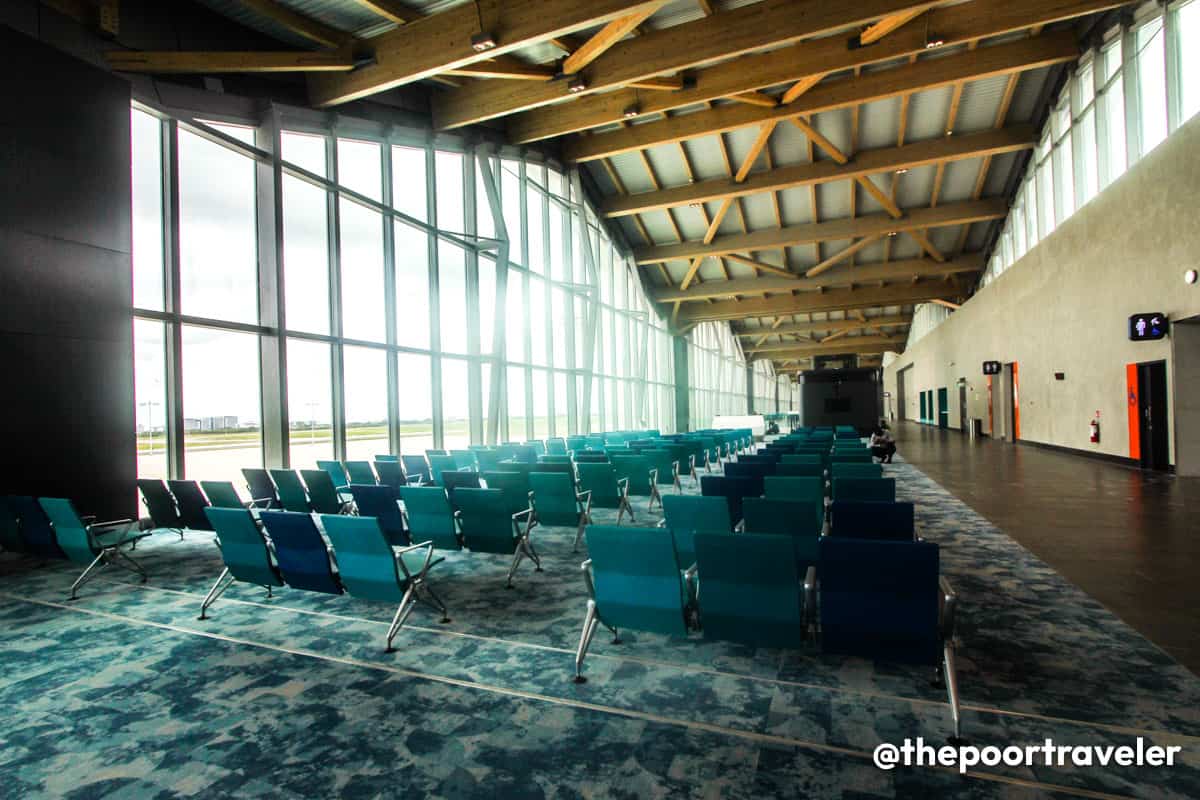 One of the key features are the contactless airport procedures including their self check-in counters and self bag drop. Although this is not new to airports in general, this is an upgrade from the old terminal. For their self check-in counters, you also have the option to access it through your mobile device by scanning a QR code if you're cautious about touching the screen.
Clark to Subic by Car
If you're driving from Clark, take SCTEX and follow the road signs leading to SBMA/Subic Bay Freeport Zone. Travel time is around 45 minutes, depending on the traffic situation.
---
2️⃣0️⃣2️⃣2️⃣•5️⃣•1️⃣4️⃣