The Poor Traveler's past couple of years had been all about international travel. We had been busy hopping from one country to another, collecting passport stamps, and creating travel guides for mostly European and Asian cities. But as soon as 2017 stepped in, we knew it was time to "come back home," so to speak. This year, we agreed to shift the focus back to the Philippines, visit local islands that we've been missing out on, and revisit those that have been familiar. For us, 2017 is all about the Philippines.
One of the projects we had been working on over the past few months is a video series called "The Beach List," in which we feature one Philippine island per episode. The concept of the show is simple. We always hear that the Philippines is composed of over 7000 islands (7641, last count). One day, we thought, if we feature one island per week, it's going to take us almost 150 years to finish. Normally, the idea of not being able to see the project until the very end would dishearten us, but we realized we could probably pass the project on to our sons and daughters in the future. And the earlier we begin, the sooner we complete it. There was nothing else left to do but to start counting!
So it began. We created a short list of the first destinations we wish to feature. The islands of Batanes were a shoo-in. Zamboanga's Pink Beach seemed mighty interesting! And Biri Island was definitely "unskippable."
We were on the final stages of planning when this happened: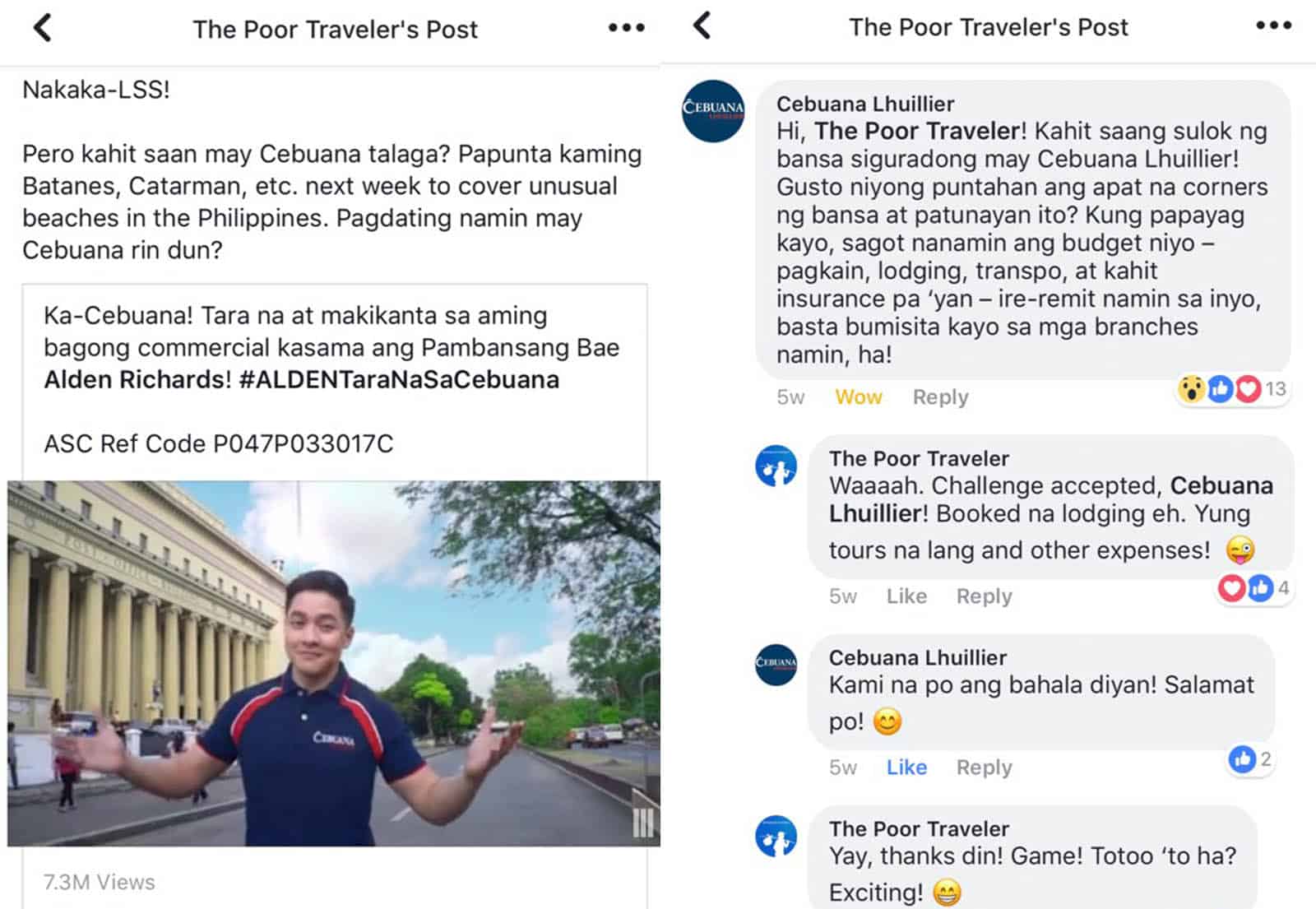 At that moment, we felt as though the stars had aligned. We were on a mission to find the most fascinating and unique islands, and Cebuana Lhuillier is determined to prove that they are present in four corners of the Philippines! It's an opportunity that was too good to pass up. We are going to do this, even if it meant we would have to drop by a Cebuana branch to pick up our funds. It's pretty advantageous for us too because this means we would know where to go in case we need to send or receive cash, pay internet bills, or purchase insurance.
WHAT'S COVERED IN THIS GUIDE?
1. Batan Island, Batanes
The main island of dreamy Batanes, Batan Island may be small but it's packed with natural wonders. Hold your jaws in place because each key attraction will make them drop at first sight. Four of the province's six municipalities are located here: Mahatao, Ivana, Uyugan, and the capital Basco. The island's tourist spots are grouped into two tours: North and South. Both tours will bombard you with breathtaking views such as of the Vayang Rolling Hills, the Tayid Lighthouse, Marlboro Country, and Mt Iraya. But the most compelling for me are the boulder beaches.
In 400 AD, Mt. Iraya erupted and scattered andesite rocks around Basco, from the fiery guts of the earth. The mighty wind from the Pacific pushed the waves to lap the rough rocks, polishing it in the process. The result: boulder beach that we now call Valugan (East) and Chadpidan (West).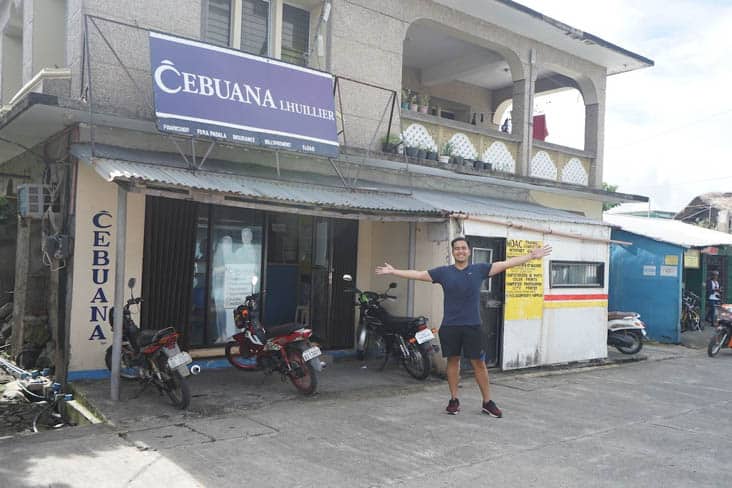 Nearest Cebuana Lhuillier Branch:
Abad Street Branch in Basco.
We picked up our funds for this leg on Day 1. Located along Abad Street, which is widely considered the center of the town and its market street. Strategic! If your inn or homestay is in Basco town center (and the huge majority of them is here), then it's easily accessible for you.
2. Sta. Cruz Islands, Zamboanga City
From Batanes, we flew via Manila to Zamboanga City. Our target: Pink Beach!
Yes, pink! Well, just to manage your expectations, it is not bright pink. From afar, it looks like your ordinary white beach but the pink glow becomes more obvious as you come closer. Fringing an edge of Sta. Cruz Grande Island (Great Sta. Cruz Island), the pink particles are pulverized red organ-pipe corals (Tubipora musica) swept to the shore. And yes, you'll also see these bright red corals in the vibrant reef nearby.
But Sta. Cruz Grande Island is more than just its pastel shore. It also cradles a lagoon that is bursting with biodiversity. You can ride a boat and take a guided tour around the lagoon and meet the many wonderful creatures that call it home, such as the (stingless!) upside down jellyfish! You can also row a vinta!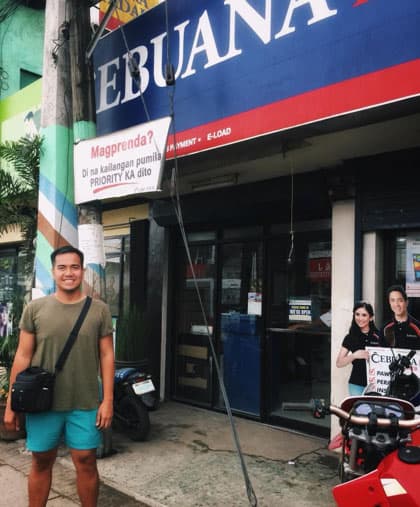 When you get to the city, get to know its history, written on the many monuments scattered around. Don't forget to have a taste of the city's irresistible cuisine — Try the curacha! — and shop for local, Indonesian, and Malaysian goods at the barter market!
Nearest Cebuana Lhuillier branch: Oh, we can't pick just one. There are several around the city center alone! Many of them within walking distance of each other! There's even one just outside our hotel.
3. San Antonio, Zambales
From Zamboanga to Zambales real quick!
You might be thinking, what's so remote about Zambales? True, it may be just a few hours away from Manila, but it's concealing some pretty isolated coves and islands that are not that easy to access. No resorts, no internet connection, no cellular signal!
And these beaches are out of the ordinary! They're strewn not with the usual white sand, but volcanic ash spewed out by the mighty Mt. Pinatubo when it was awakened from its long-time sleep in 1991. Anawangin's and Nagsasa's coasts used to be rocky but was transformed into an ashen beach since. What's more interesting is that agoho trees — sea pine trees (Casuarina equisetifolia) — have risen from it, dominating the landscape. The result: a tropical paradise that fosters a Boracay-meets-Baguio vibe.
Because these coves are secluded, don't forget to drop by San Antonio Town Proper to shop for ingredients for lunch!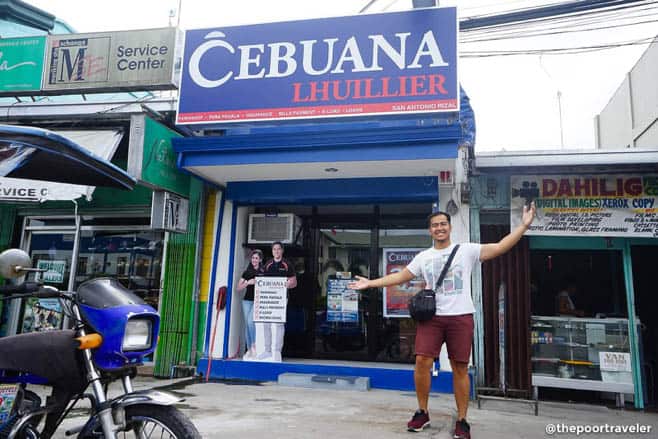 Nearest Cebuana Lhuillier Branch:
San Antonio-Rizal Branch
There are two Cebuana branches in San Antonio and they're not too far apart. Here, we noticed that they're also selling insurance for as low as P40! And since we were dropping by to get our budget for this leg, we purchased insurance too while we were at it.
We also spotted several Cebuana branches along the way. There's one in Subic, San Marcelino, and Castillejos!
4. Biri Island, Northern Samar
Biri Island is where the seas go to wage war. This is where the San Bernardino Strait combats the mighty. The winds sometimes cheer, sometimes howl as they watch from above. The waves, in their desperate attempt to flee, lap up the edges of the shore. And the land, Biri Island, referees the constant clash. Every punching wave is a stroke of art and every gusty storm is a painful dash of necessary sacrifice — the torture in art, the beauty in chaos. The result, staggering rock formations that intimidate not just with their immensity but, more importantly, their splendor.
Of all our stops, Biri Island is the most breathtaking. And we really felt like we saved the best for last! And we can't think of a better ending for this crazy journey around the archipelago!
To get to Biri, you will need to fly to Catarman and take a jeepney or van to Lavezares Port, where boats to Biri are docked.

Nearest Cebuana Lhuillier Branch:
Lavezares!
It's just right by the entrance to the port! And because by this time we had been traveling for 12 days straight, we didn't realize that our mobile phone/internet bills were already due. Thankfully, we can do that via Cebuana too!
—
I have to say: Visiting all 4 destinations in only 2 weeks is one of the most exhausting things we've done so far. But man was it worth it! Most of our flights were scheduled in the early morning so were pretty sleepless on the first day of every leg, but none of it mattered when we finally caught a glimpse of the beach!
We have a lot to be thankful for! The weather cooperated all the way through: from our Day 1 in Batanes until the very last in Biri Island, so we thank the travel gods for that! We also made new friends: from Let who allowed us to peek into Ivatan culture, to Errold who took good care of us in Zamboanga, to our tour guide Kuya Boy, who took us on a ride around Biri. Kuya Boy, your motorcycle may be old and dusty, but your cheerful and friendly spirit will take you places!
And thanks also to Cebuana Lhuillier for the challenge. When we agreed to do this — picking up our travel budget at their branch every leg — we were worried our itinerary would be ruined. But guess what. It wasn't. To be honest, it did not really feel like a challenge at all because, yep, from Batanes down to Tawi-tawi, there's always a Cebuana Lhuillier nearby anyway!
In 2018, we plan to continue doing this video series, and we can't wait to start the next set of episodes! We have a beautiful country, and we can't wait to search the four corners of it for more wonders!
2️⃣0️⃣1️⃣7️⃣ • 1️⃣2️⃣ • 1️⃣7️⃣