A lot of things that could go wrong during our Slovenia trip did go wrong. Rain poured for most of our stay. Our flight out of the country was canceled a day before, ruining our route and itinerary.
Yet, when we look back and think about our time in Slovenia, we can't help but smile. Of all the countries we visited on our most recent Euro trip, we could say definitively that this surprised us the most. There were things that didn't go as planned, but none of them mattered. None of them overpowered Slovenia's sheer beauty.
WHAT'S COVERED IN THIS GUIDE?
UNDERSTANDING SLOVENIA
Slovenia is a mountainous and forested country where Slavic, Romance, and Germanic cultures meet: surrounded by Italy, Austria, Hungary, Croatia and the Adriatic Sea.
In the 1st century BC, the area where modern-day Slovenia lies was conquered by the Romans. At its heart was the city of Emona. It then became a territory of several empires: the Byzantine, Carolingian, and the Austro-Hungarian, to name a few. In 1918, it became a part of Yugoslavia, which eventually collapsed. Slovenia was the first to break away in 1991. The city of Ljubljana, which stands at the site of ancient Emona, became the capital.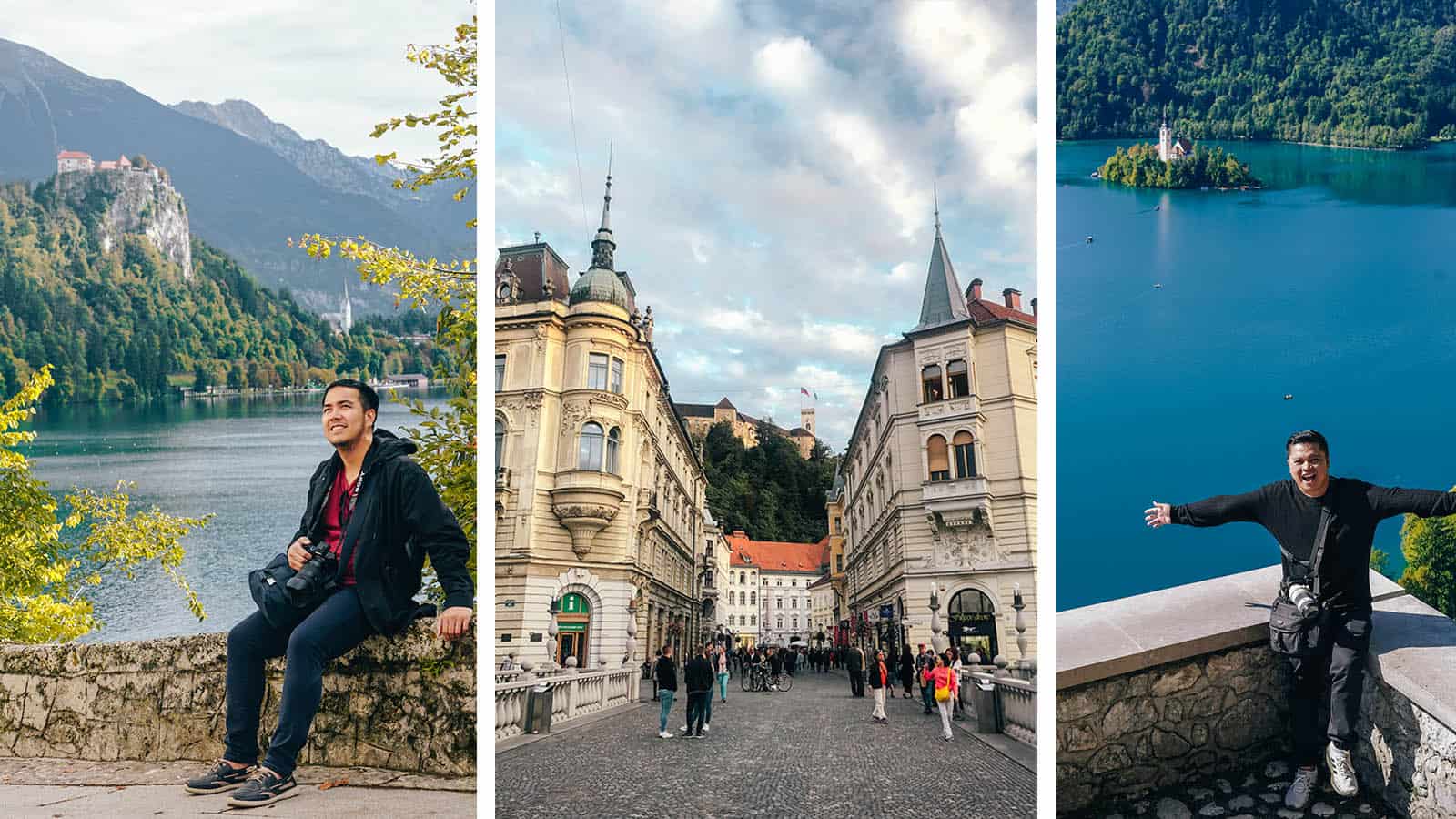 Ljubljana is probably not the first to come to mind when we think about European cities. Home to fewer than 300,000 residents, it is one of the smallest capitals on the continent. But that's what makes this picturesque city such a charming destination. It may not have a globally recognizable landmark like the Eiffel Tower or Colosseum, but you'll hardly find massive crowds and tourist traps either. Ljubljana offers a more laid-back, easygoing experience.
Here are more bits you might want to know about Ljubljana:
Location: Ljubljana is in Slovenia. Coordinates: 46°03′20″N 14°30′30″E.
Time Zone: UTC+1 (Central European Time). Ljubljana is 7 hours behind the Philippines, Singapore or Malaysia; and 8 hours behind Japan. However, daylight saving time is in effect from the last Sunday of March until the last Sunday of October, which puts it at UTC+2, only 6 hours behind PH, SG, and MY.
Language: Slovene (Slovenian) is the official language. But most can understand or speak English.
Currency: Euro (EUR, €). €1 is roughly USD 1.18, SGD 1.6, PHP 57.25 (as of September 2020)
Modes of Payment: Many establishments accept credit cards, but most still prefer cash.
---
WHERE TO STAY IN SLOVENIA
If it's your first time in Slovenia and you only have a few days, it's best to stay in Ljubljana, the capital. Slovenia is small — one of the smallest European states — so it's easy to get from one end to another in a day.
Ljubljana is strategically and conveniently located at the center so most travelers use it as their base. It's also where you'll find the most transportation and tour options to explore other parts of the country.
BEST AREA TO STAY IN LJUBLJANA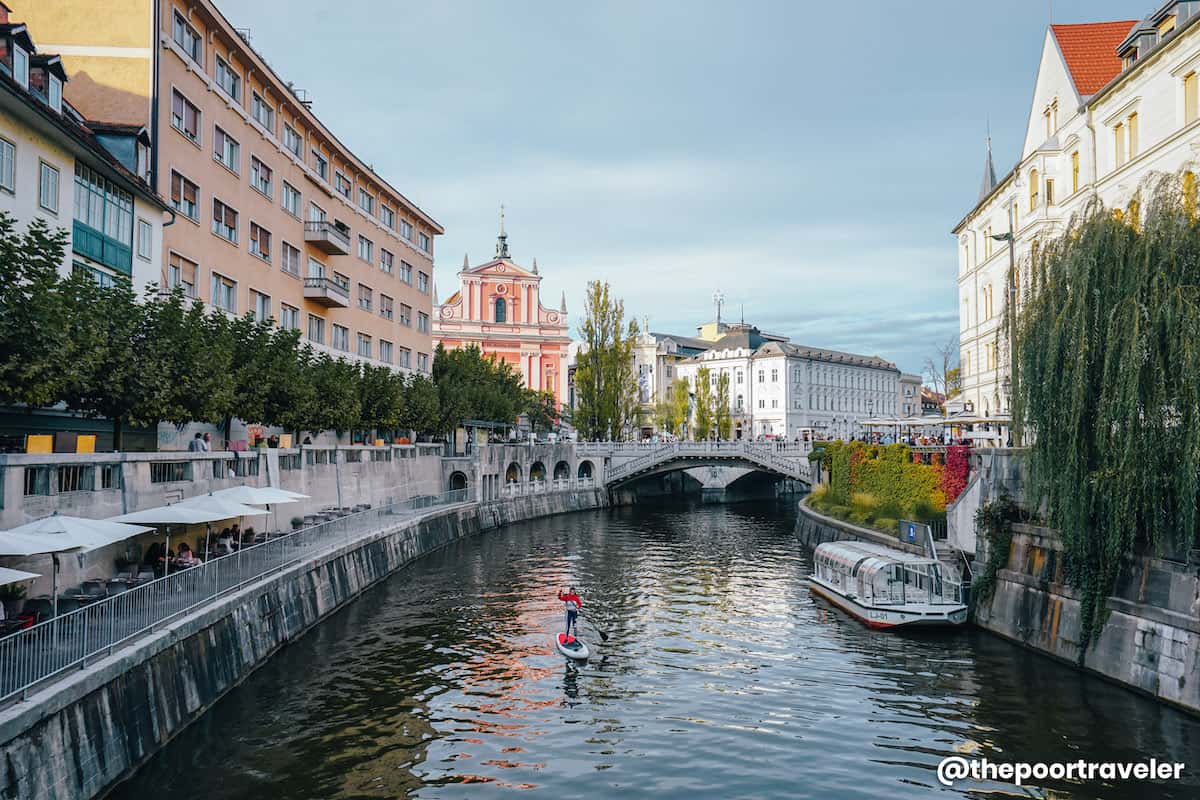 Ljubljana is divided into 17 districts. For tourists, however, the most important is the Center District, where you'll find most of the key points of interest including the main train and bus stations.
The Ljubljanica River cuts across the Center District. If you look at the map, you'll find that the river makes a bend in the middle. This is the tourism and historical core of the city. As a tourist, you'll probably spend most of your time here.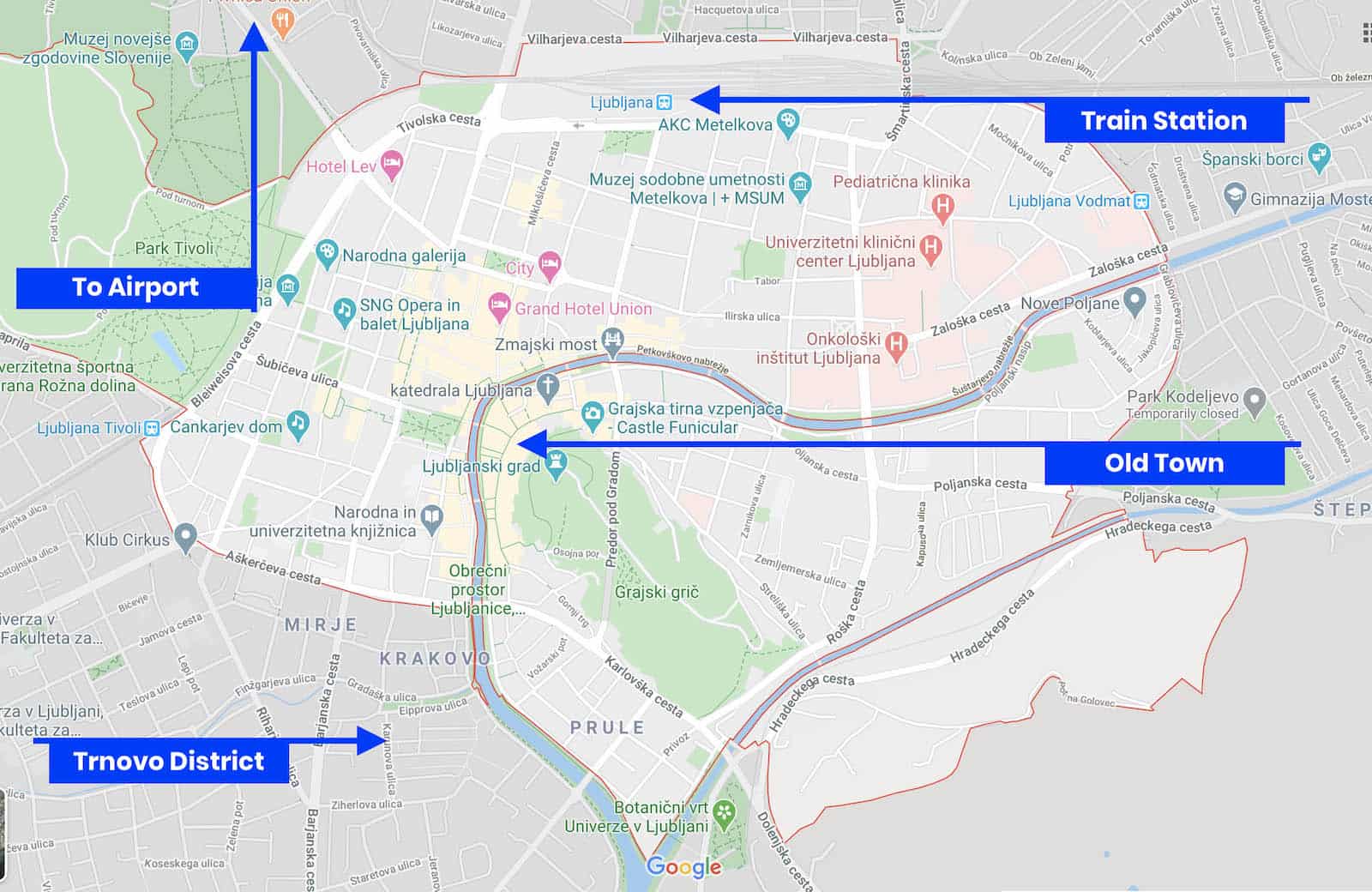 Many publications refer to the area surrounding the bend in general as the Old Town. But some sources further split this area into two: Old Town and City Center.
Old Town – the area south and east of the river, in the shadow of the Ljubljana Castle, which stands proudly on a hill.
City Center – north and west of the river, where most hotels, hostels, restaurants, and bars are located.
Although there are a lot of budget accommodations in other districts (like Trnovo), these two areas, in my opinion, are the most ideal base when exploring Ljubljana.
Which is better? Both the Old Town and the City Center have plenty of dining and lodging options. Both are accessible from each other via the many bridges that straddle the river. To be honest, you wouldn't really feel the distinction between these two areas.
But if I have to choose, I'd go for the City Center. It has slightly more accommodations. And tour companies usually pick up or meet up with guests on this side of the river.
---
TOP LJUBLJANA HOSTELS
---
TOP APARTMENTS & HOTELS IN LJUBLJANA
---
---
HOW TO GET TO LJUBLJANA
By Plane
The Ljubljana Joze Pucnik Airport (LJU) is the city's international airport. It's often referred to simply as Ljubljana Airport and sometimes Brnik Airport, which is its previous name.
Even though it's Slovenia's largest airport, the flight options here are limited. It used to be the hub of Adria Airways, which was the country's flag carrier until 2019, when it filed for bankruptcy. Today, airlines that operate here include EasyJet, Air France, Air Serbia, Lufthansa, Transavia, and Wizz Air, connecting Slovenia to mostly European cities.
However, according to some of the locals we met, when they need to fly to destinations not linked to Ljubljana Airport, they head for the Venice Marco Polo Airport (VCE) in Italy, which is easily accessible from Ljubljana. So yes, you can also fly to Venice Airport to reach Slovenia.
Whether you prefer Ljubljana Airport or Venice Airport, you may find flights via Skyscanner below.
---
---
Ljubljana Airport to City Center
Ljubljana Airport is located around 30 km north of the city center, 30 minutes by car or 45 minutes by bus. Here are your options:
BY PUBLIC BUS
The cheapest option. Take Public Bus #28 at the airport to Ljubljana's main bus station.
Schedule: Monday-Friday, one bus at the top of every hour from 5am to 8pm; Saturday, Sunday and holidays, at 7am and every two hours from 10am to 8pm.
Fare: 4.10 €. You can buy tickets from the driver.
Travel time: 45 minutes
BY SHUTTLE
Two shuttle companies can take you to the city center from the airport: GoOpti and Nomago. The former gives your the option to book board a shared vehicle or a private service.
Schedule: GoOpti, Nomago
GoOpti Fare: shared, 17€ per person; private, 29€.
Nomago Fare: 10€ per person
Travel time: 30-45 minutes
There are also taxis available for those in a hurry or have extra to spend.
Visitors can also take buses and shuttles to other cities in Slovenia.
---
Venice Airport to Ljubljana
Ljubljana can also easily be reached from Venice Marco Polo Airport (VCE), which is 230 km away! It's much more connected than Ljubljana Airport, serving more flights to and from more cities around the world.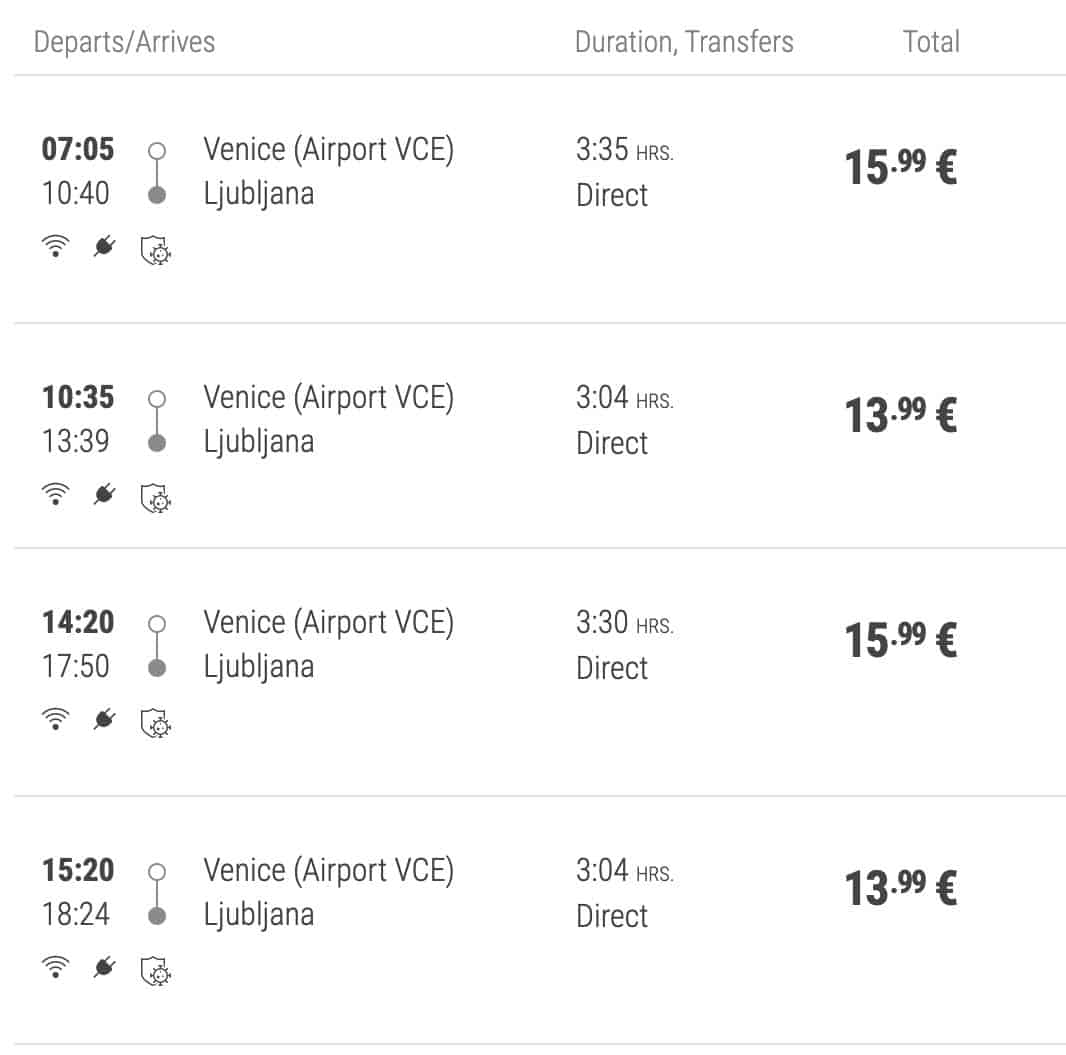 FlixBus has direct buses from Venice Airport to Ljubljana Bus Station at the city center. Travel time is around 3.5 hours. Fare is from 13€ to 36€, depending on how early you book.
✅ CHECK UPDATED SCHEDULE & RATES HERE!
---
By Bus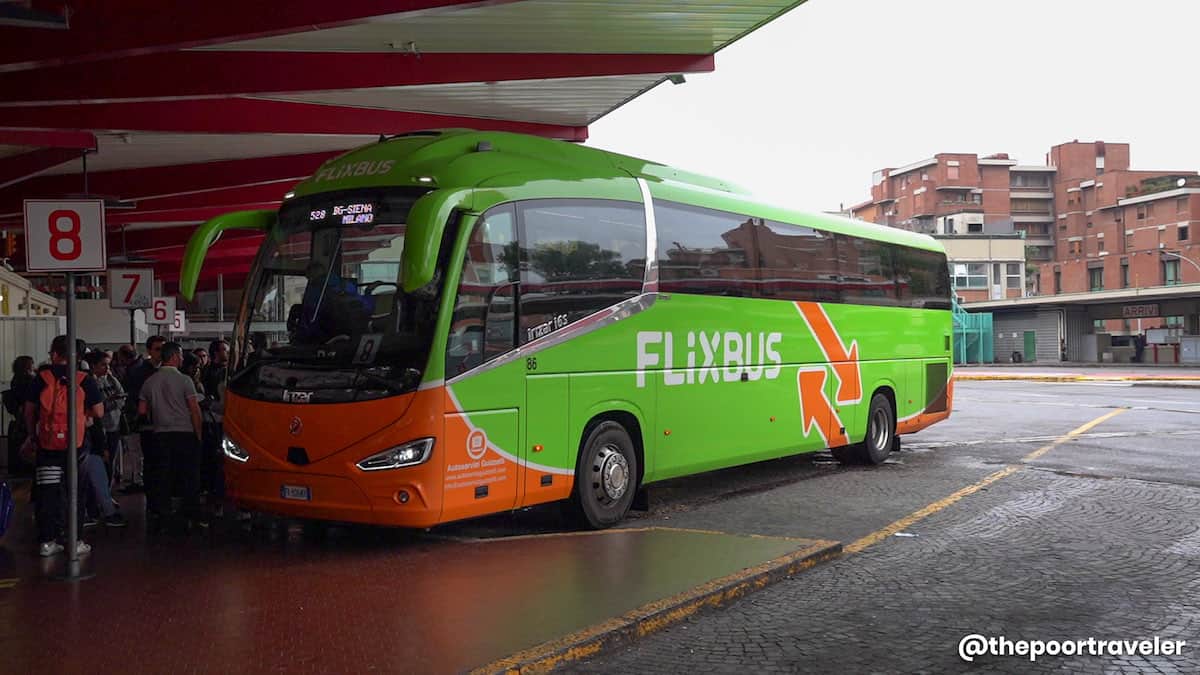 FlixBus also connects Ljubljana to other European cities. Whether you're coming from Austria, Germany, Italy, Hungary, Switzerland or Croatia, you can book a direct trip to Ljubljana. We have experienced traveling from Bologna straight to Ljubljana and it was a pleasant experience!
Here are the usual Flixbus fare and travel time estimates per route.
Venice to Ljubljana. Direct. Travel time: 4 hours. Fare: 13.99€ to 29.99€.
Bologna to Ljubljana. Direct trips available but most involve transfer in Venice. Travel time: 6 hours, direct; up to 10 hours, with transfer. Fare: 19.99€ to 50€.
Vienna to Ljubljana. Direct. Travel time: 5 to 5.5 hours. Fare: 29.99€ to 39.99€.
Salzburg to Ljubljana. Direct. Travel time: 3.5 to 4 hours. Fare: 17.99€ to 49.99€.
Munich to Ljubljana. Direct. Travel time: 5 to 6.5 hours. Fare: 18.99€ to 35.99€.
Zurich to Ljubljana. Direct available. But most buses entail a Munich transfer. Travel time: 10 hours, direct; up to 12 hours, with transfer. Fare: 29.99€ to 79.99€.
Budapest to Ljubljana. Direct. Travel time: 6 to 6.5 hours. Fare: 25.99€ to 39.99€.
Zagreb to Ljubljana. Direct. Travel time: 2.5 hours. Fare: 8.99€ to 25.99€.
Split to Ljubljana. Direct. Travel time: 8 to 11 hours. Fare: 19.99€ to 59.99€.
✅ CHECK FLIXBUS SCHEDULE & RATES HERE!
---
By Train
Ljubljana is also linked to other cities in Slovenia and neighboring countries by railway. The main train station is located on the northern edge of the Center District, just beside the Bus Station.
Some of the major cities that are directly connected by train to Ljubljana are: Zagreb, Croatia; Salzburg and Vienna, Austria; Munich and Frankfurt, Germany; Belgrade, Serbia; and Zurich, Switzerland.
There are no direct connections from Italy. If you're coming from Italy, the most common way of reaching Slovenia is by taking the train to Venice or Trieste, and then making a bus transfer to Ljubljana.
---
---
HOW TO GET AROUND LJUBLJANA
I don't think I've ever been to any European capital that is more walkable than Ljubljana. Not only is the city generally small and safe, much of it is also a pedestrian-only zone, covering the Old Town and surrounding areas. This is in line with the local government's bid to becoming the greenest city in the world. It makes the city perfect for pleasant, relaxing strolls!
If your itinerary focuses on the city center, it is definitely possible to cover everything on foot and not take any form of transportation at all. But here are some other options: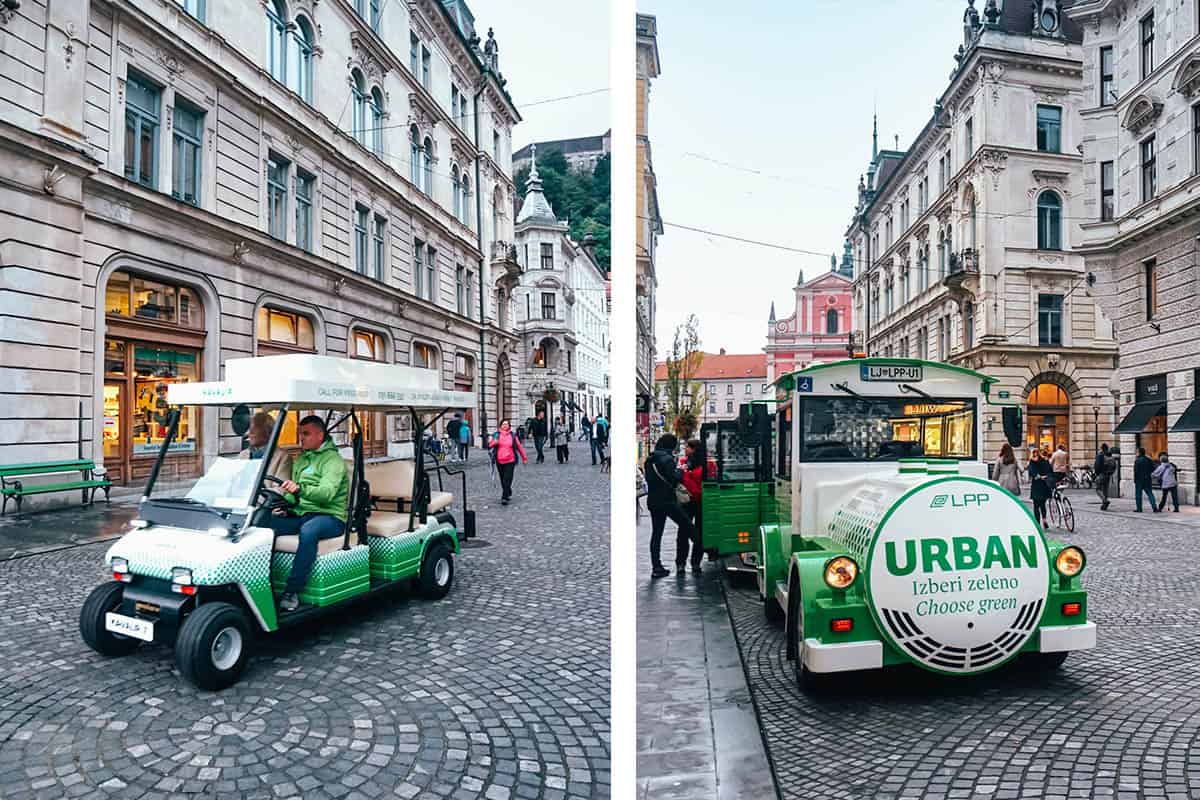 By Bicycle. Bikes are allowed within the Pedestrian Zone. You can rent one from the Slovenian Tourist Information Center or from one of the hostels or hotels offering a rental service. Rate is usually 5€ per day.
By Electric Car (Kavalir). Within the Pedestrian Zone run electric-powered cars called "kavalir". This is a FREE service primarily for the elderly and those with reduced mobility, regardless of whether they're locals or tourists. Each vehicle can accommodate up to 5 passengers. If you have health or mobility issues, you can hail one on the streets. Available daily from 6am to 10pm.
By Electric Train (Urban). Aside from kavalir, another electric-powered vehicle roaming the historical core is the "Urban", a train that can take you to the key tourist spots in the city from the City Hall and Ljubljana Castle to Krakovo and back to Old Town. A roundtrip takes 1 hour and 15 minutes. Day ticket costs 8€ for adults.
By City Bus. Ljubljana has 26 bus lines, most of which run between 5am and 10:30pm. But there are also a few night buses. To use the bus system, you need to purchase an Urbana card from key bus stops or newspaper agents. The card costs 2€ but you should top up if you're gonna use it multiple times. Upon boarding, scan the card on the reader. Fare is 1.30€, valid for unlimited rides within 90 minutes from the first scan.
---
Ljubljana Card (Pass)
If you have a jam-packed itinerary, you might want to consider getting a Ljubljana Card, which will allow you unlimited access to the city buses, FREE airport bus transfer, and FREE admission to over 20 attractions in the city, among others.

Here are some of the perks of having this card:
FREE entrance to 20+ attractions including Plečnik House, Snovik Thermal Spa, Ljubljana Zoo, National Museum of Slovenia, National Gallery, and several other museums.
FREE funicular ride to Ljubljana Castle
FREE guided city tour
FREE airport bus transfer
FREE travel on public transport
FREE tourist boat cruise on Ljubljanica river
FREE 4-hour bicycle hire
FREE wifi for 24 hours
The card comes in three variants. Here are the regular prices:
24-hour card: 31€
48-hour card: 39€
72-hour card: 45€
You can get a slight discount if you purchase this card from Klook!
---
THINGS TO DO IN LJUBLJANA
Old Town Walking Tour
Ljubljana's historical center is dotted with several interesting structures! Here you'll find beautiful buildings from a bygone era. Of course, you can also pull a DIY (do-it-yourself). But the great thing about joining a guided tour is you get to learn more about the storied past of not just Ljubljana but also Slovenia as you walk down the alleys and across the squares.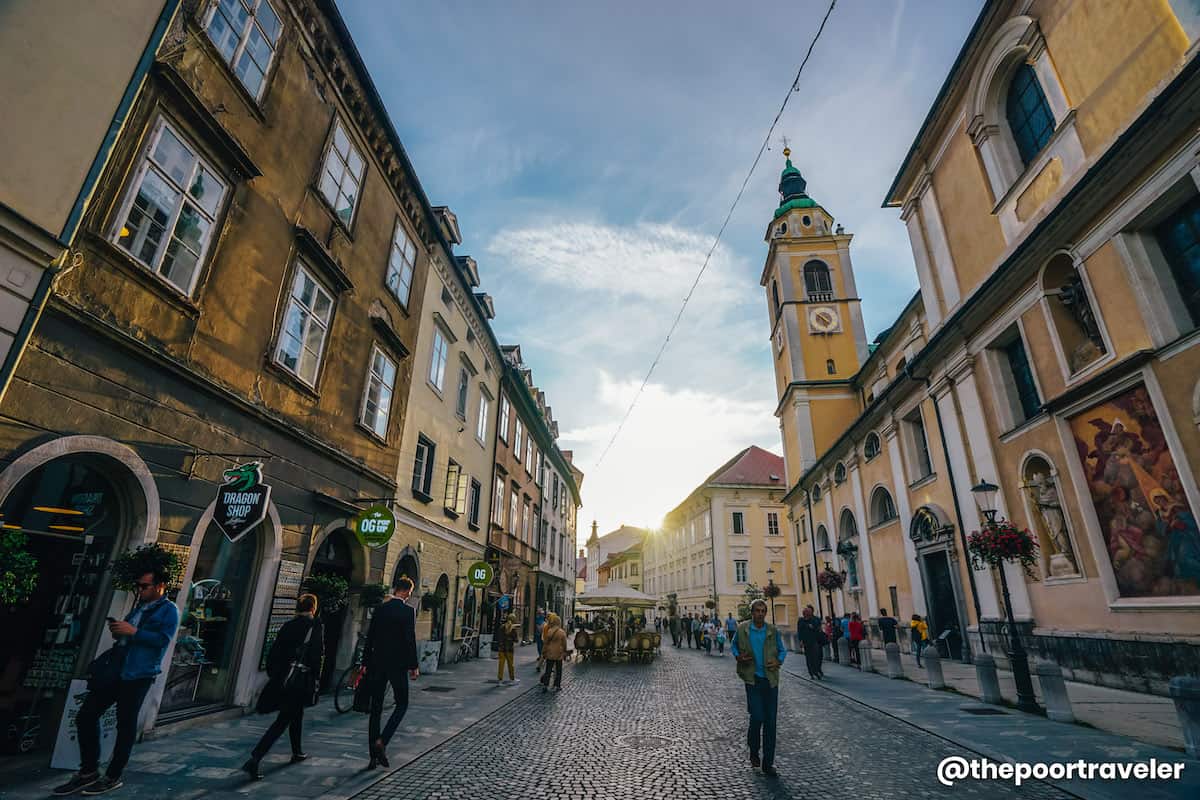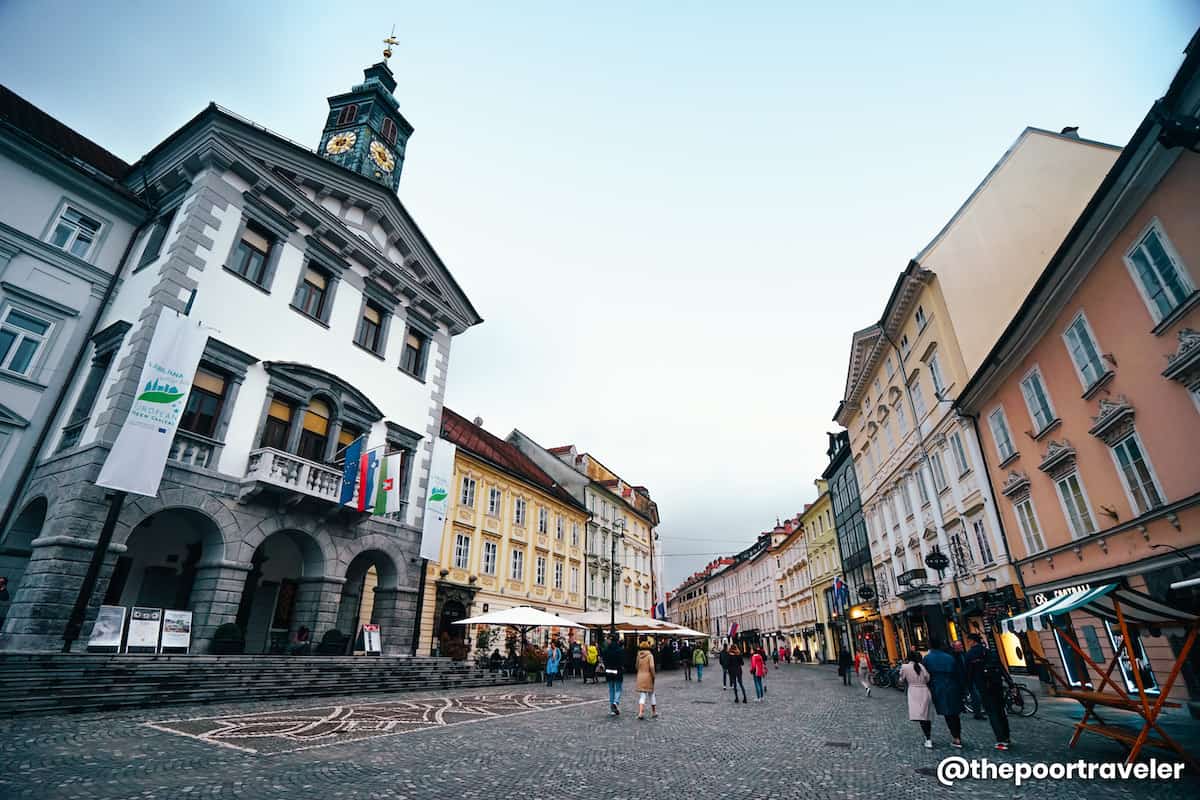 Some of the common stops include:
Ljubljana Cathedral
Town Hall (Mestna hiša )
Triple Bridge
Preseren Square
Congress and Republic Squares
Dragon Bridge
Central Market
You can join a FREE walking tour or a paid one. In case you're not familiar, free walking tours are free only in theory. In practice, you are expected to give a tip at the end, which is the only way the guides can make some money. The tip doesn't need to be big; most usually give 5€ each. But if the guide did an exceptional job, we always add more.
We joined the classic tour organized by Ljubljana Free Tour.
Schedule: Daily 11am. In some months, additional tours are added in the afternoon.
Meetup point: Prešeren Square
We enjoyed the tour. The only comment we had is that the group was big so it was hard to hear sometimes.
If you want a tour with a smaller group, you can join a paid tour instead. The tour offered by Klook has an additional stop at Ljubljana Castle, including roundtrip funicular rides.
---
Ljubljana Castle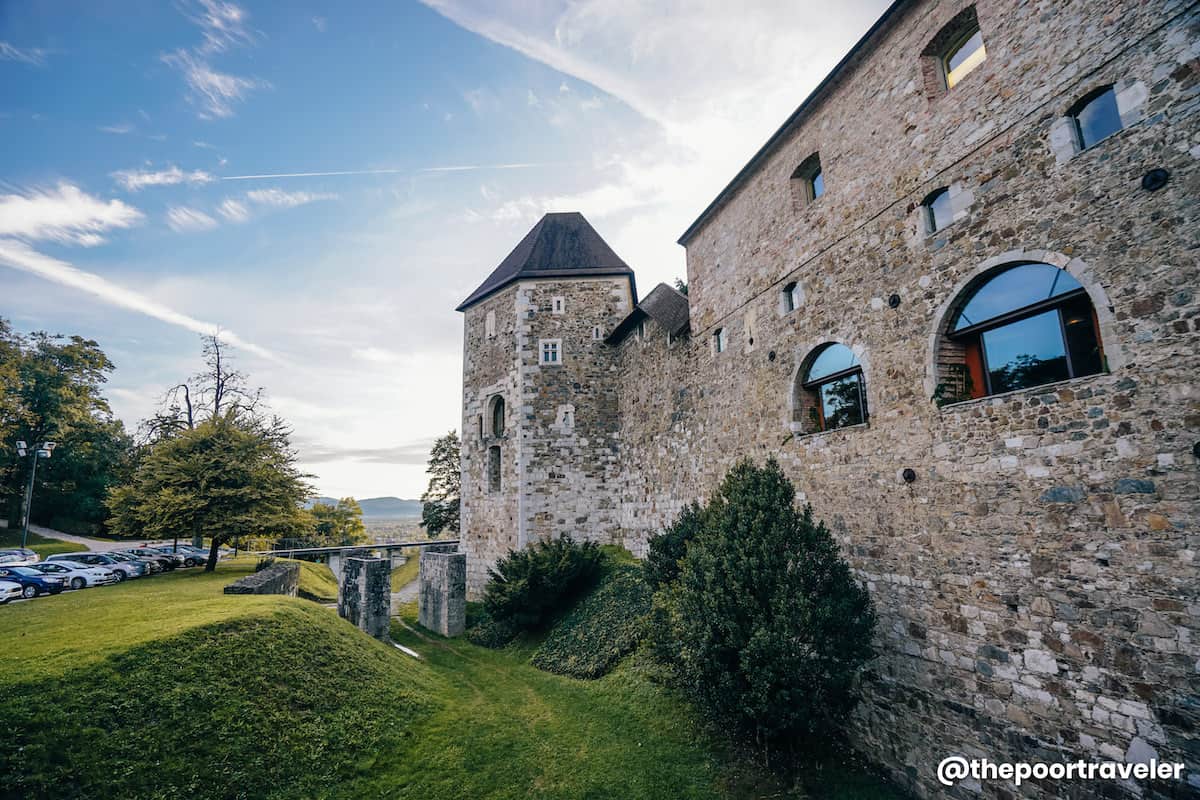 The Ljubljana Castle is probably the city's most famous landmark. Its roots can be traced back to the 11th century. Perched on top of a 375-meter hill, this historic site offers a great view of the downtown Ljubljana. There are three main ways to climb to the castle:
By hiking. You can do this independently or join a group tour.
By Urban tourist train. We explained this in the How to Get Around section above. Fare: 8€.
By funicular. Get to the funicular station at the base of the hill, near the Central Market. The ride will take you up and into the castle. Fare: one-way, 2.20€; roundtrip, 4€.
Opening hours: 10am-10pm.
You can explore the castle grounds FREE of charge. But to enter the watchtower, Chapel of St. George, Museum of Puppets, or the Slovenian History Exhibition, you need to purchase a ticket.
The regular ticket costs 13€, which already includes roundtrip funicular ride and access to the castle's viewing tower, Virtual Castle, Museum of Puppetry, and Slovenian History Exhibition.
You also need to pay more to enjoy some of the other special attractions inside like the Escape Castle (escape game), Behind Bars Guided Tour or the Time Machine Guided Tour. See the rates for other tickets here!
---
Ljubljanica River Cruise
Another way of sightseeing is by joining the river cruise. The journey takes 45 minutes, ensuring a slow and relaxed pace. It's a no-sweat way to explore and enjoy the beautiful sights of the old town.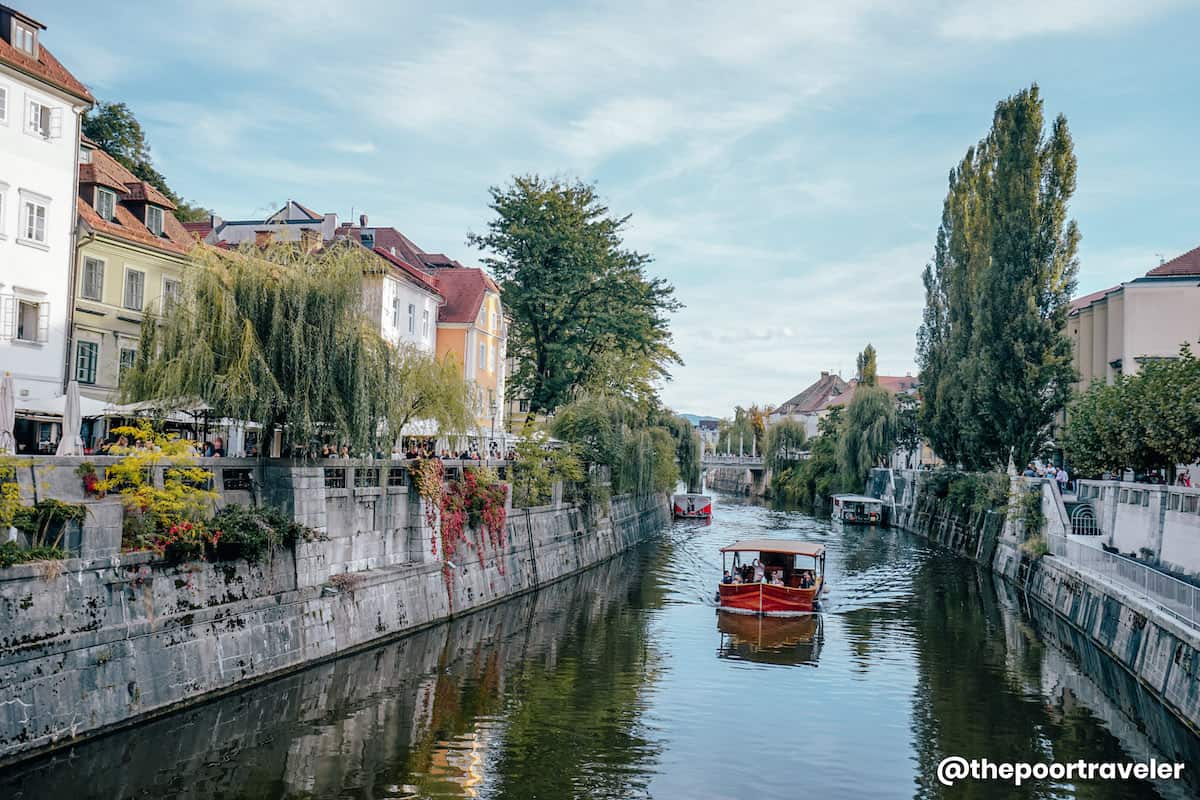 You have two options for the vessel: a tourist boat and a wooden boat.
Tourist boat, which accommodate up to 32 passengers. In winter, the boat is heated for comfort.
Schedule: Daily. April-November, 10am, 11am, 1pm, 2pm, 5pm, 6pm, 7pm, 8pm; November-March, 1pm, 2pm, 3pm.
Boarding spot: Ribji trg pier, close to the Triple Bridge
Wooden boat, which is named after the river, Ljubljanica. Made of larch wood, it can ferry up to 48 pax.
Schedule: Daily, every hour from 11am to 5pm.
Boarding spot: Breg embankment pier
Price: 10€, adult; 5€, children 4-12 yo
---
Stand-up Paddleboarding
If you're up for some excitement and adventure, you can also go stand-up paddleboarding down the Ljubljanica River!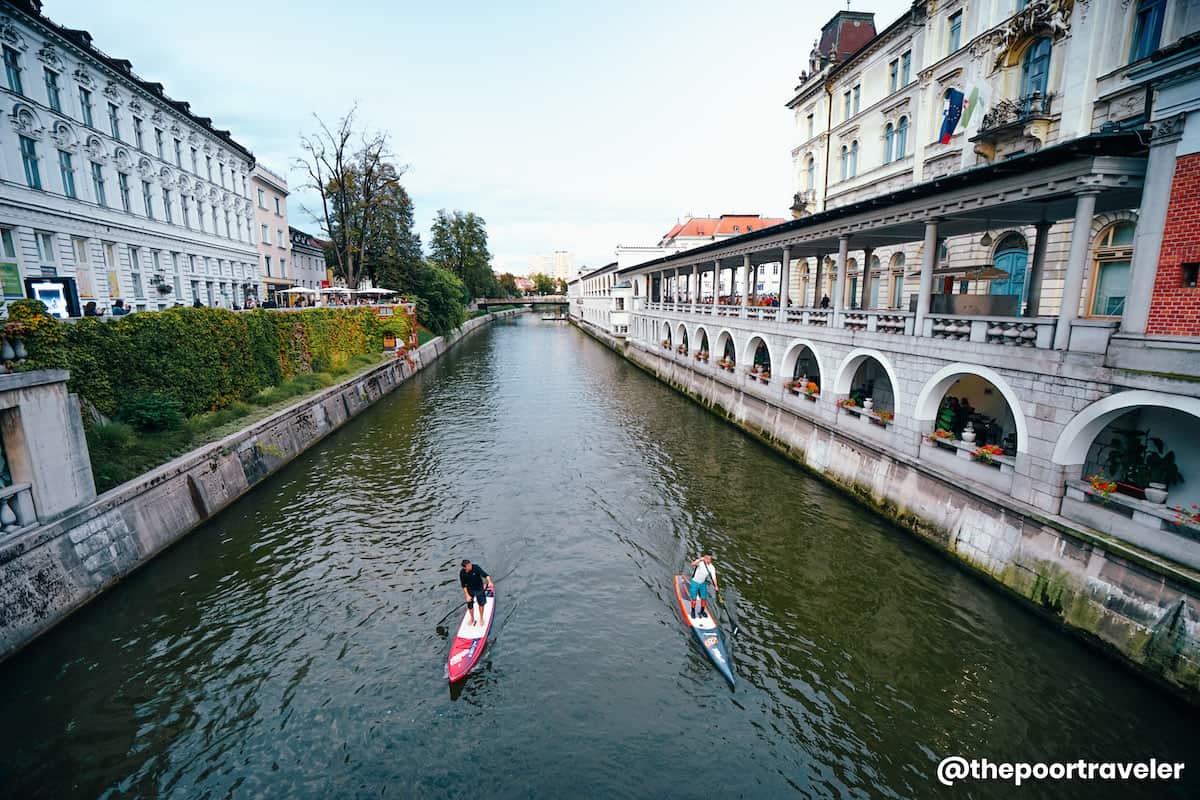 Don't worry if you don't have the skills (yet)! The calm waters of the Ljubljanica makes it an ideal playground for first-timers! Each session starts with an introductory course that will teach you the basics. You'll then join your instructor as you paddle your way across the city center. Each booking also comes with photos.
Schedule: Twice a day. One in the morning (usually 9 or 10am, depending on season) and one in the afternoon (5 or 6pm).
Price: 39€, inclusive of instructor fee, equipment rental, and photos.
Departure point: Špica Cafe
---
Food Tour
Ljubljana is at the crossroads of Slavic, Germanic, and Romance cultures, which makes its cuisine pretty eclectic! You'll find Pannonian, Mediterranean, Balkan, Alpine and other international dishes at the dozens of restaurants scattered around the city. This mixture provides foodies a gastronomic adventure during their visit.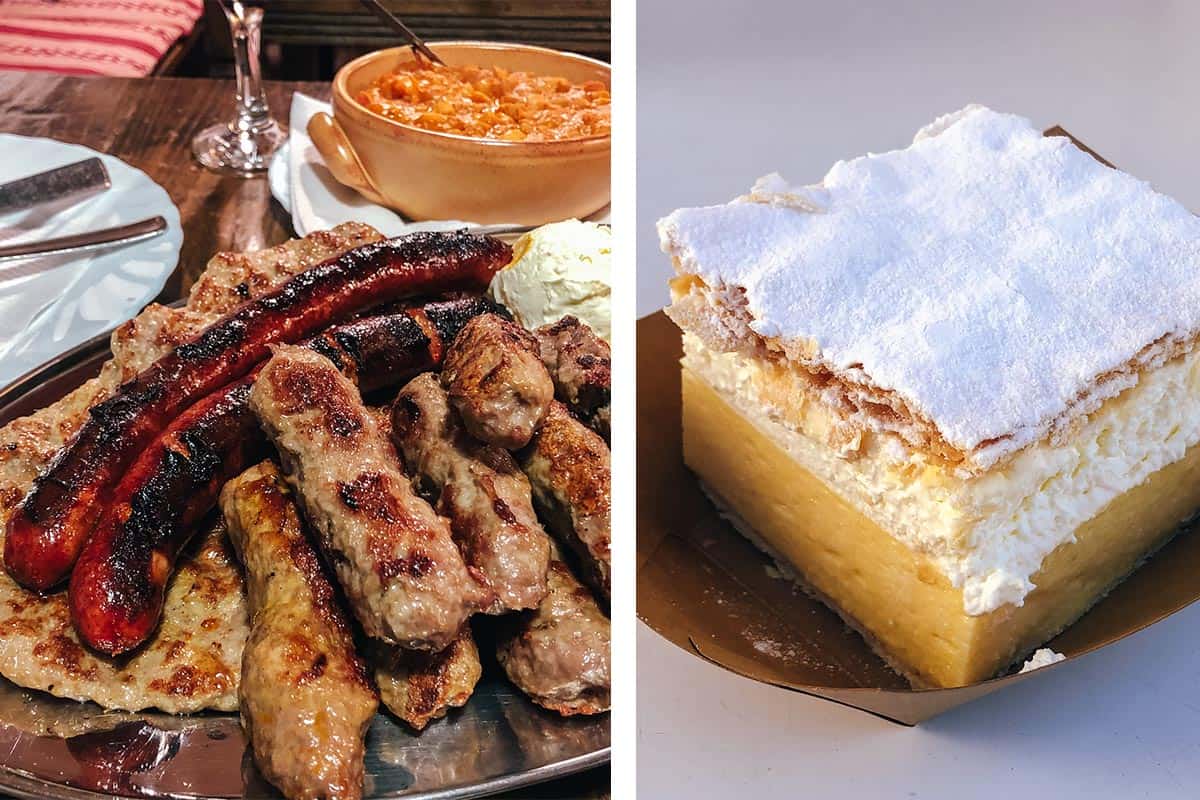 Of course, you can totally do this on your own. But if you want to learn more about Slovenia's food culture, it's best to join a guided tour. A guided food tour will take you to a number of restaurants where you'll sample various dishes and wines. The guide will share information, insights and stories to enrich your experience.
---
Museum Hopping
Whether you're an art enthusiast or a history buff, you'll probably find a museum worthy of your time in Ljubljana! Here are some of the museums you might want to check out.
National Museum of Slovenia
It has two sites: Muzejska and Metelkova
Hours open: Daily 10am-6pm (Thursdays 10am-8pm)
Closed: Some holidays
Entrance fee: 6€ for 1 site, 8.5€ for 2 sites
Ljubljana National Gallery
Hours open: Tuesdays–Sundays 10am-6pm
Closed: Mondays and some holidays
Entrance fee: 8€
The Museum of Architecture and Design Ljubljana
Hours open: Tuesdays–Sundays 10am-6pm; Thursdays 10am-8pm.
Closed: Mondays and some holidays
Entrance fee: 5€
Museum of Modern Art
Hours open: Tuesdays–Sundays 10am-6pm
Closed: Mondays and some holidays
Entrance fee: 5€
National Museum of Contemporary History
Hours open: Tuesdays-Sundays 10am-6pm (Thursdays 10am-8pm)
Closed: Mondays and some holidays
Entrance fee: 5€
Slovenian Museum of Natural History
Hours open: Daily 10am-6pm (Thursdays 10am-8pm)
Closed: Some holidays
Entrance fee: 4€
---
Other Ljubljana Attractions
There are several other places in the city that may be worthy of your time including the following: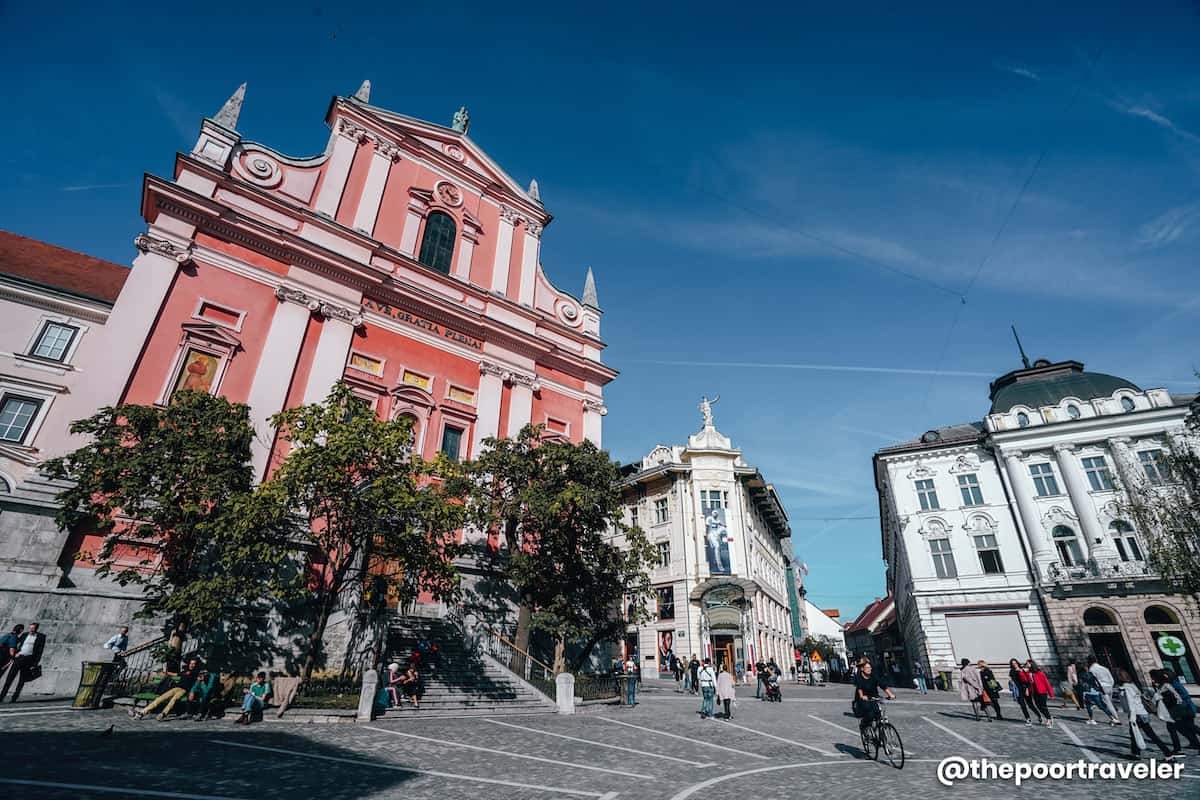 The Central Market lies on the southern bank of the Ljubljanica, at the foot of the Dragon Bridge. It's the place to go for local produce and street eats. For the longest time, it's also where people meet and socialize. Today, the market comprises an open-air section and covered section. On one side, you'll see a colonnaded lane of food stalls. That building was designed by Jože Plečnik.
Hours open: Covered section, Monday-Friday 7am-4pm, Saturday 7am-2pm; Open-air section, Monday-Saturday 6am-4pm (until 6pm in summer).
Closed: Sundays and holidays
House of Illusions, which has 40 exhibits that will trick your brain and put your senses to a test. You'll encounter holograms, puzzles, and several mind-bending spaces like the Mirror Room, the Upside Down Room, and the Vortex Tunnel.
Hours open: Daily 9am-9pm
Entrance fee: 9.95€
Reserve a ticket here!
Krakovo is a trendy neighborhood south of the Old Town and part of Trnovo district. They say that Krakovo is to Ljubljana as Montmarte is to Paris. It used to be a small suburban village but became part of the city as it expanded. Quieter than the city center, you can spend half a day at its cafes and parks or admire the postcard-worthy two-story cottages.
Tivoli Park is the largest park in Ljubljana, painting the vast area west of the city center green. It was designed by Jean Blanchard in 1813, when the city was still a part of the French Illyrian Provinces. Within the park you'll find the Tivoli Castle, a pond, two indoor sport arenas, gardens and several notable sculptures. Also inside the park is Cekin Mansion, which houses the Museum of Contemporary History of Slovenia.
The Preseren Square and the Triple Bridge lie adjacent to each other. The square's current appearance dates back to the 17th century. It is a hub that connects various parts of the old town and leads to many of the historic center's attractions. The Triple Bridge has become the main icon and is the heart of all touristic activities in the city.
We created a separate post for more attractions here: PLACES TO VISIT IN LJUBLJANA!
---
Day Trips from Ljubljana
In this section, we'll share a few of most popular day trip destinations from Ljubljana. You can visit the first two items in a day by booking a tour that has all these in the itinerary. We booked with Klook — the Best of Slovenia Tour, which covers all Lake Bled, Predjama Castle and Postojna Cave — and had a fantastic time. It was one of the best day tours we had in Europe ever.
If you don't have the time or you want a slower pace, you can also visit them individually. We provided the links to separate tours per spot.
✅ BOOK THIS TOUR HERE!
---
Lake Bled
This lake at the foot of the Julian Alps is a premier tourist destination. In the middle of the lake is a picturesque island where the Assumption of Mary Church stands. The history of the church goes all the way back to the 9th century, but the current structure you see was only built in the 17th century. To get there, board a traditional canoe!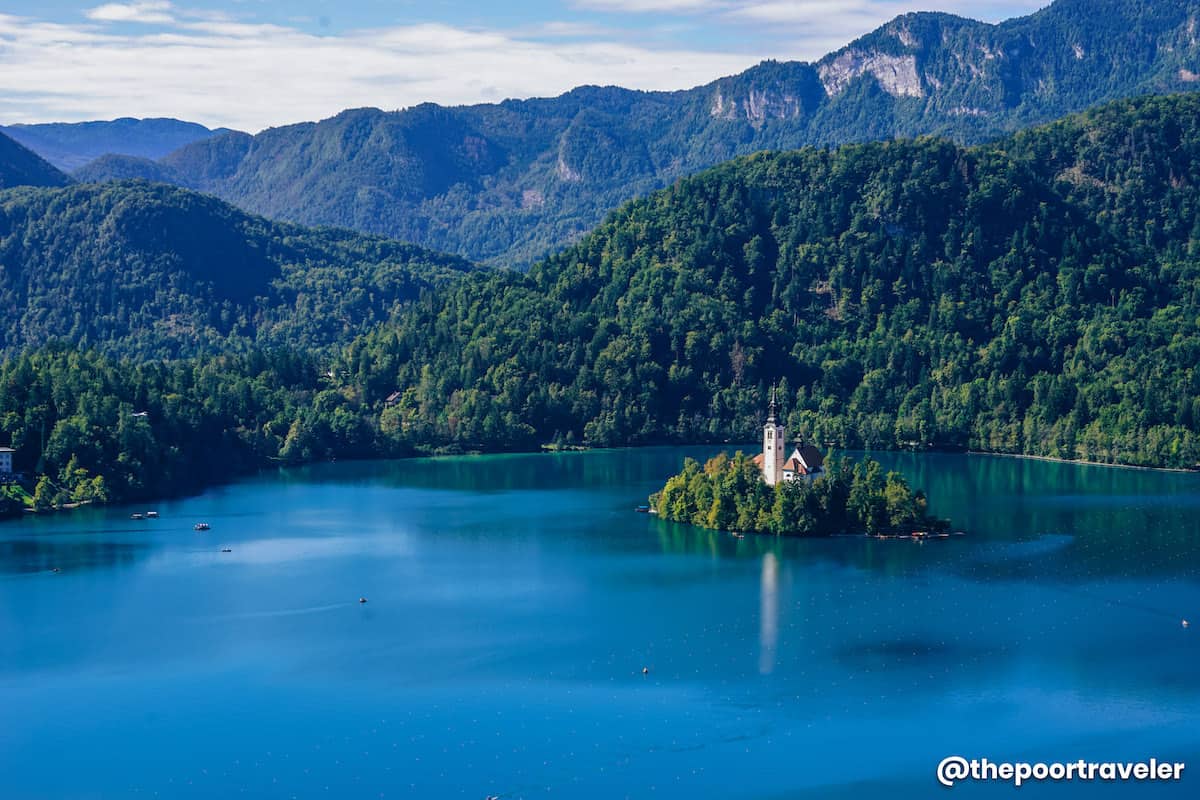 Walk around the lake and check out different viewpoints to see the attractions from various perspectives. Overlooking the lake is Bled Castle, the oldest in the country, dating back to the 11th century. It offers the best view of the island. You can also dig into a slice of a local confection called kremšnita, a vanilla and custard cream cake topped with crispy pastry and a dusting of powdered sugar.
You can travel by bus from Ljubljana to Bled. Fare: 7.80€, one way.
However, to make the trip more enlightening, you may join a group tour. Many tourists also visit other destinations in the country within the same day. Book a tour with Klook to save time and effort in reaching these destinations and to have a stress-free day out.
✅ BOOK THIS TOUR HERE!
---
Predjama Castle
Because of their proximity to each other, the Predjama Castle and the Postojna Cave are often bundled together by tour operators.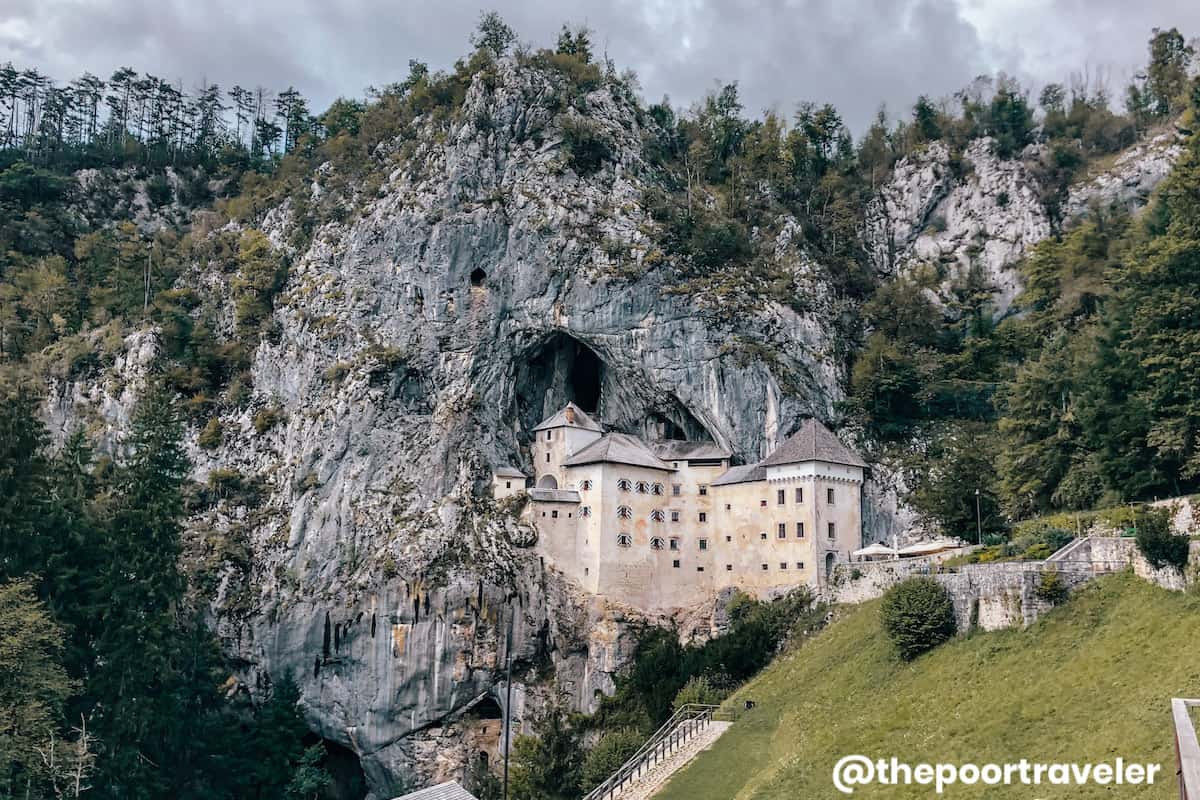 The Predjama Castle is a massive structure that was built in the mouth of a cave, making it almost impregnable. It's not sure when it was constructed, but it was already documented as early as 1274. Legend has it that it became the seat of power of Erasmus of Lueg, a robber knight who killed an army commander. According to our guide, he's like a Robinhood figure, but there aren't that many similarities, IMO. But the castle is amazing! It's also rumored to be haunted, so if you're into spooky tales, pay a visit.
If you can't do the full-day Slovenia tour, you can visit Predjama Castle and Postojna Cave on a half-day tour from Ljubljana!
✅ RESERVE A SLOT HERE!
---
Postojna Cave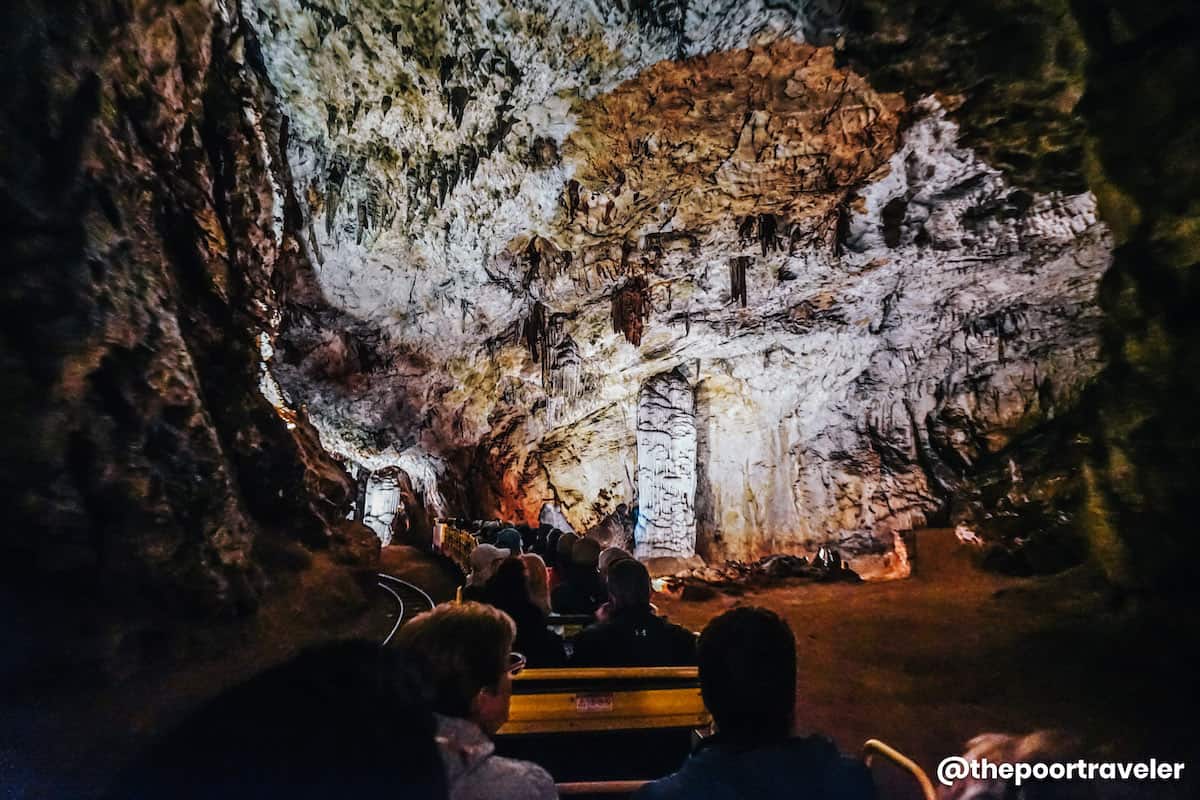 Measuring over 24,000 meters, the Postojna Cave is the second longest cave system in Slovenia. It's definitely, the biggest cave we've had the honor of stepping into. It's so huge that there is a railway system inside, ferrying visitors to the out-of-this-world spots like the Concert Hall and the Big Mountain Hall.
Carved by the Pivka River over millions and millions of years, this karst cave is filled with rock formations like Brilliant, a marvelous five-meter stalagmite which has become the symbol for the cave; and the thousands of spaghetti, thin white noodle-like stalactites that adorn the ceiling of one of the halls.
You can visit Postojna Cave on your own by public transportation. Bus fare: 6€.
You can also join a Predjama Castle + Postojna Cave combo tour!
✅ RESERVE A SLOT HERE!
---
Škocjan Caves and Piran Coast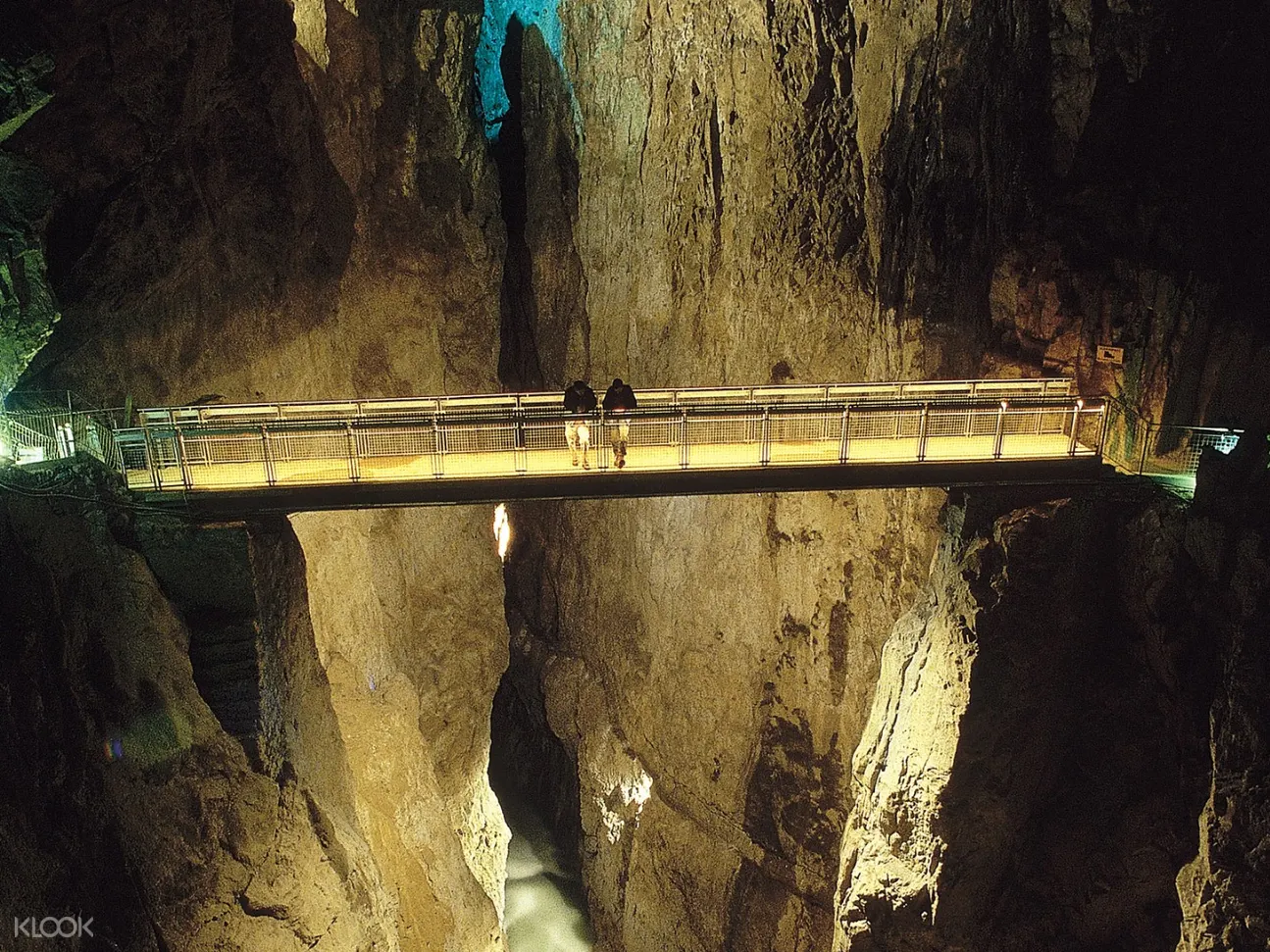 One of the most important cave systems in the world, the Škocjan Caves has been inscribed on the UNESCO World Heritage List for its sheer natural beauty, historical and cultural significance, and ecological value. This karst world has one of the world's biggest underground canyons, nurturing a unique ecosystem.
This Klook tour also covers a stop at Piran, a charming coastal town with beautiful medieval era buildings. You'll also visit other attractions such as the Predjama Castle and the Lipica Stud Farm.
✅ RESERVE A SLOT!
---
Other Day Tours from Ljubljana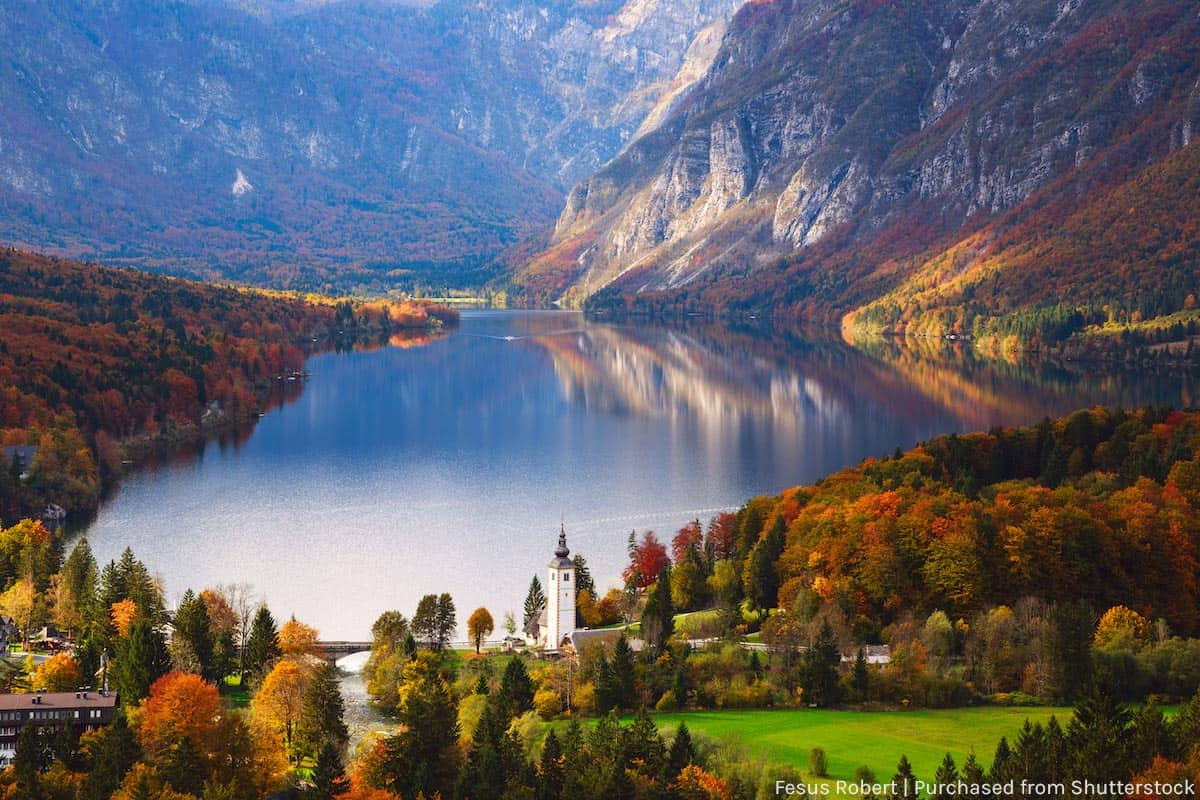 For more day trip options, we compiled some of the best destinations in Slovenia in another post. You can find it here: BEST SLOVENIA DESTINATIONS!
---
SAMPLE LJUBLJANA ITINERARY
Here's a sample 4-day 3-night Slovenia itinerary. This assumes you'll be spending your nights in Ljubljana and will just do a day trip to other destinations in the country. Go ahead and tweak this to match your schedule and other preferences.
This also assumes you'll be coming from another European city by bus or by train, so airfare and airport transfers are not included in the budget breakdown.
DAY 1: ARRIVAL & TIVOLI PARK
01:30 pm – Arrival at Ljubljana Station
01:40 pm – Walk to hotel
02:00 pm – Hotel check-in
– Settle tourist tax, 9.39€
02:30 pm – Late lunch, 10€
03:20 pm – Walk to Tivoli Park
04:00 pm – Tivoli Park
07:30 pm – Grocery shopping, 20€
08:30 pm – Dinner at hotel
09:30 pm – Lights out
*Best if you could catch the sunset
DAY 2: LJUBLJANA TOUR
09:00 am – Wake up, breakfast
10:00 am – River cruise, 10€
11:00 am – Free walking tour, tip: 5€
02:30 pm – Lunch, 10€
04:30 pm – Ljubljana Castle* (via funicular), 13€
06:00 pm – Walk around Old Town
07:30 pm – Dinner, 10€
09:00 pm – Back to hotel
DAY 3: SLOVENIA TOUR
07:00 am – Walk to meetup point
08:00 am – Best of Slovenia Tour, 139€, Book here!

– Kremsnita, 5€
– Lunch, 15€
– Tip guide, 10€
07:00 pm – Dinner, 10€
09:30 pm – Back to hotel
DAY 4 – DEPARTURE
08:30 am – Pack up
10:30 am – Early check out, leave bags
11:00 am – Early lunch, 10€
12:00 pm – Leave for station for next city
Let's say that you're able to book a bed or room for 30€ per person per night. In this case, the itinerary above will set you back at least 380€ (USD 448, SGD 614, PHP 21,800) per person, excluding airfare, airport taxes and visa fees but including accommodations and a little allowance for future price movements and small miscellaneous purchases.
Note that the bulk of it is spent on the Slovenia Day Tour, which took up 40% of the budget. I included this tour because it will allow you to visit the most sites in the country in a day. But if you're on a shoestring, you can choose just one or two destinations and take the bus. This will significantly reduce the total cost.
As mentioned, we didn't include the train or plane fare going to and out of Ljubljana because I don't know where you're coming from or going to next. It varies from person to person, so it's best to not cover it. It's up to you to add that to your total budget.
---
MORE TIPS FOR THE POOR TRAVELER
Walk when you can. Ljubjana is one of the most walkable cities on the planet. It isn't the green capital for nothing! The greater part of the city center is pedestrian-only zone. Taking a stroll in between its picturesque buildings isn't a chore! If you have health or mobility issues, take advantage of the kavalir vehicles, which can transport you for free.
Most good restaurants are not open the whole day. They only operate during lunch hours (11:30 am – 1:00 pm) and dinner hours (7:00 pm – 9:00 pm).
Pay a visit to the supermarket on your first day. It's easy to find budget-friendly restaurants in Ljubljana, but if money is a major issue, you can buy food at the grocery or supermarket and just eat it in your hotel or hostel.
That said, if your pockets are pretty loaded, feel free to spend. Contribute to the local economy by hiring guides, eating at restaurants, joining tours, and purchasing souvenirs!
---
FREQUENTLY ASKED QUESTIONS
Do I need a visa to visit Slovenia?
Yes. Slovenia is a party to the Schengen agreement. If you're a Philippine passport holder, you need a Schengen Visa to visit Ljubljana or any part of Slovenia.
If Slovenia is the only country you are going to visit or if you're traveling to multiple countries but spending the most nights in Slovenia, you must apply for a Slovene Schengen visa. However, Slovenia doesn't have a consulate here in the Philippines. The nearest mission is in Beijing. But you can file your application at the Belgian Embassy (Embassy of Belgium).
In our case, Slovenia is just one stop on our multi-country European tour. Because we would be staying the longest in Italy, we applied via the Italian Embassy.
For more information about how to get a visa, READ: SCHENGEN VISA FREQUENTLY ASKED QUESTIONS!
---
Is Ljubljana / Slovenia safe?
Yes, Ljubljana is one of the safest cities in Europe.
Like most European capitals, there are pickpocketing and scams here and there, so you should remain vigilant all the time. But it is generally safe.
Just remember the following:
Always keep an eye on your valuables.
Don't accept anything from strangers.
When in doubt, ask your guide or hotel staff for advice.
Scams are NOT as rampant in Slovenia as in other touristy destinations in Europe, but we still recommend reading these posts:
✅ HOW TO AVOID SCAMS IN EUROPE
✅ HOW TO AVOID PICKPOCKETS IN EUROPE
---
When is the best time to visit Slovenia?
Spring (March-May).
Ljubljana is a year-round destination. Summer hosts lively festivals and events, autumn paints more colorful memories, and winter can be magical, too. But according to our guides, it's best explored in spring, when the weather is a great mix of cool, dry and sunny.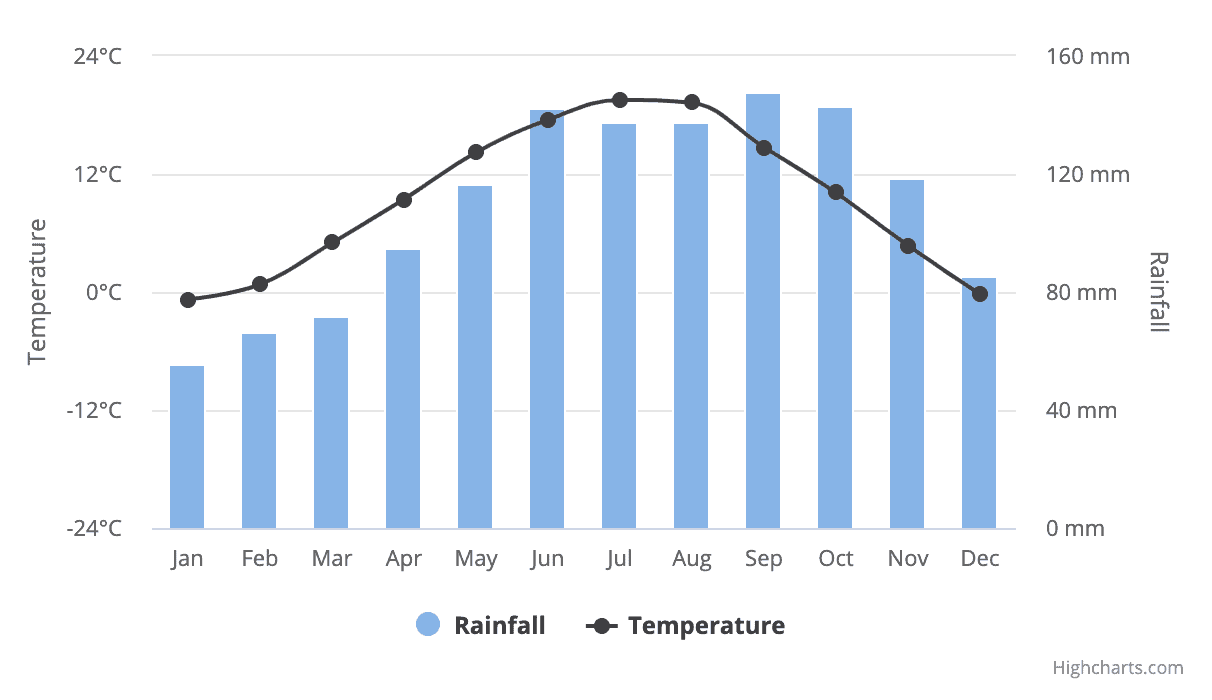 We visited Ljubljana in September, when summer was giving way to autumn, and it rained half the time. Don't get me wrong, the city is still great even when drenched, but the downpour can obviously limits one's movements. Thankfully, there were days that the skies cleared.
---
What is the tipping policy in Ljubljana?
Ljubljana and Slovenia in general don't have rigid rules when it comes to tipping. Tips are not obligatory but appreciated. The locals we talked to say they usually just round up the bill and tip if they enjoyed the service.
At restaurants, the service charge is already included in the bill. But you can still a tip if the service is exceptional.
On paid small group tours, you can tip 5-10% of the cost. At FREE walking tours, most participants leave 5€ if it's a big group.
---
Is tap water safe to drink in Ljubljana?
Yes, tap water in Ljubljana is clean and potable. Even the water from the many drinking fountains around the city is safe to drink, too.
If you have trust issues and you must drink bottled water, purchase big bottles from the grocery or supermarket instead of buying small ones at restaurants. It's cheaper that way.
---
What type of power plug / socket is used in Slovenia?
Electricity Info: 230 volts, 50 Hz. Common sockets are Type F, which also accept plugs that have two round pins (C and E).

---
2020 • 9 • 20