If you are new to the OVATION OF THE SEAS or any ROYAL CARIBBEAN cruise ship, this CRUISE GUIDE BLOG will give you an idea on what to expect and what to do on board! We added tips on WHAT TO PACK, what amenities to try, and HOW MUCH BUDGET for each! Hope this helps you plan your trip! Have fun!
The entire time, I could not stop thinking about my family.
When we saw a mini-concert on board, I kept mumbling, "God, my mom would totally enjoy this." When I entered the Windjammer Marketplace, a buffet restaurant, for the first time, my niece and her monstrous appetite instantly popped up in my head. When I went up to the top deck to see the activity area and all the swimming pools, I knew my nephew would be envious. If I ever doubted for a minute that going on a cruise is one of the most enjoyable trips one can take with family, it was crushed right then and there. And that is especially true onboard Ovation of the Seas.
We recently had the opportunity to try the Hong Kong-Okinawa season of Royal Caribbean's Ovation of the Seas. This wasn't my first cruise, but my time here still felt like a completely new experience. Okay, granted, I have only been on a few, but still. Like most cruises, it is a giant floating hotel and resort. But what amazed me tremendously was the number of attractions onboard: an outdoor cinema, a flowrider, iFly indoor skydiving, just to name a few. We spent 6 days there, but we never got to try everything!
It's easy to get overwhelmed by enormous cruise ships like the Ovation of the Seas, especially if it's your first time. Just the prep part alone can feel daunting, so here's a quick guide to help you plan and make your trip hassle-free and unforgettable.
WHAT'S COVERED IN THIS GUIDE?
What to prepare before the cruise?
Passport. Must be valid for at least 6 months. Bear in mind that the staff will collect your passport upon boarding and you wouldn't see it again until you check out on the last day of the cruise.
Photocopies of passport. You must carry at least one copy of your passport with you every time you leave the ship (because remember, the original passport isn't with you).
Visa (only if applicable). If you're a Philippine passport holder, you DO NOT need a visa for the Hong Kong-Okinawa-Hong Kong season. There is no need for a visa for Japan destinations as long as Japan is bookmarked by another destination. For example, for HK-Japan-HK, no visa needed. For Shanghai-Japan-Shanghai, you only need visa for China, not Japan.
Credit card. If you don't have one, prepare a USD120 deposit instead, to be collected upon check-in.
Set Sail Pass. It's your boarding pass. Just like with flights, you can check-in online and print your boarding pass at home. It must be completed and printed at least 3 days before sailing date. You can skip it if you don't have time, but if you can, do it. This will save you a lot of time during check-in. If you skip this, you'll need to accomplish the forms upon check-in. Doing it at home is just more comfortable.
---
How to get a Set Sail Pass?
Do this at least 3 days before your sailing date:
Enter your last name and reservation number. Click SUBMIT.
Complete the online form. You will need to upload a photo, your credit card details (if you have one) and some pre- and post-cruise details (like what time do you plan to board or disembark, etc.).
Print out the pass.
The pass looks like this: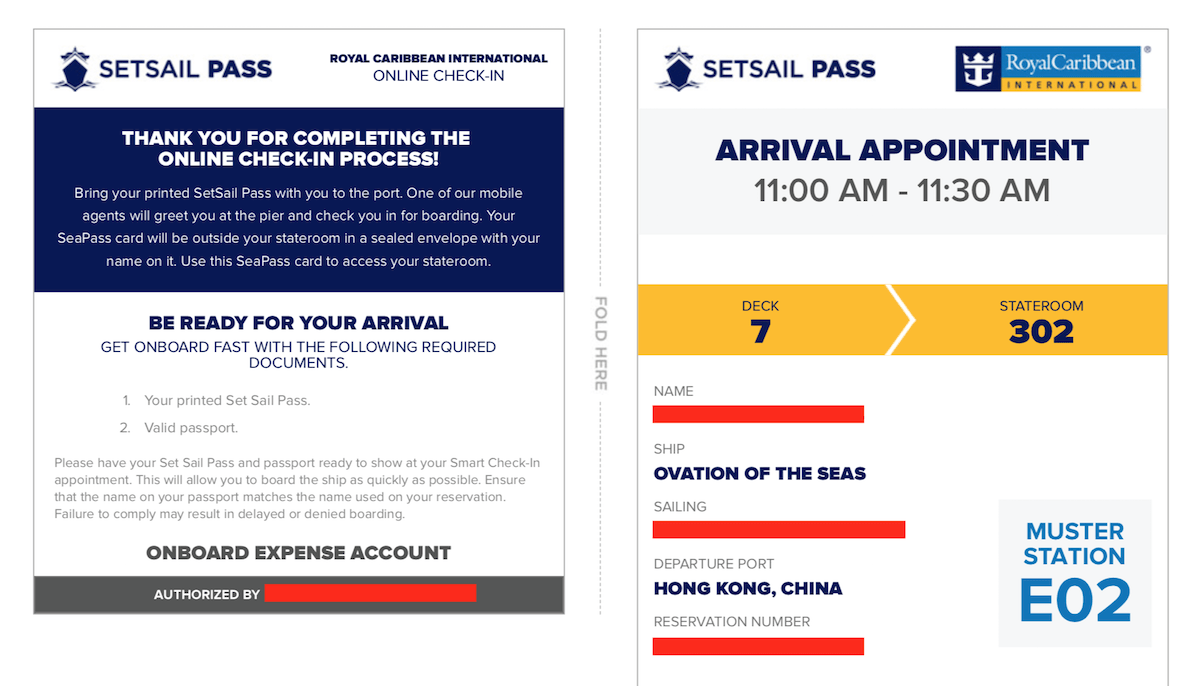 There will be a barcode at the bottom of the page. Make sure that's clear.
---
What to pack?
When I go on a cruise, I usually pack 2 sets of garments per day: one for day tours and activities, and another for night events.
I usually wear a shirt and pants when touring or trying out any of the rides or activities onboard. But I like dressing up a little less casually in the evening for dinner and attending shows. So yep, 2 sets of clothes every day.
Days are casual, so you can sport low-heeled shoes, cruise wear and swimsuits. Ashore, walking shoes are recommended.
For evening wear, any of the following will do:
Casual: Sundresses, trousers and blouses for women. Polo shirts and trousers for men.
Smart Casual: Dresses or trouser suits for women. Jacket and shirt for men.
In addition, a 6-day cruise usually has a formal night, when guests are expected to show up in formal attire. It's completely optional. You can skip it, if you don't feel like going. But if you want the entire experience, pack a formal set: cocktail dress for women, suit and tie for men. They're not that strict so don't think too much about it.
If you can, bring two bags. A suitcase or a big bag for check-in and a smaller bag as carry on. Make sure you carry all valuables, medication, breakables, and travel documents in your carry-on (hand-carried) bag with you.
Upon booking, you will be given a Guest Ticket Booklet with all the necessary information you need to know prior to sailing. On Page 16, you'll find a luggage tag. Print it out and fold along the lines as instructed. The ship's name and company logo must be visible. After folding, staple twice or tape the tag around the luggage handle. This will make sure your bags won't get lost during transfer.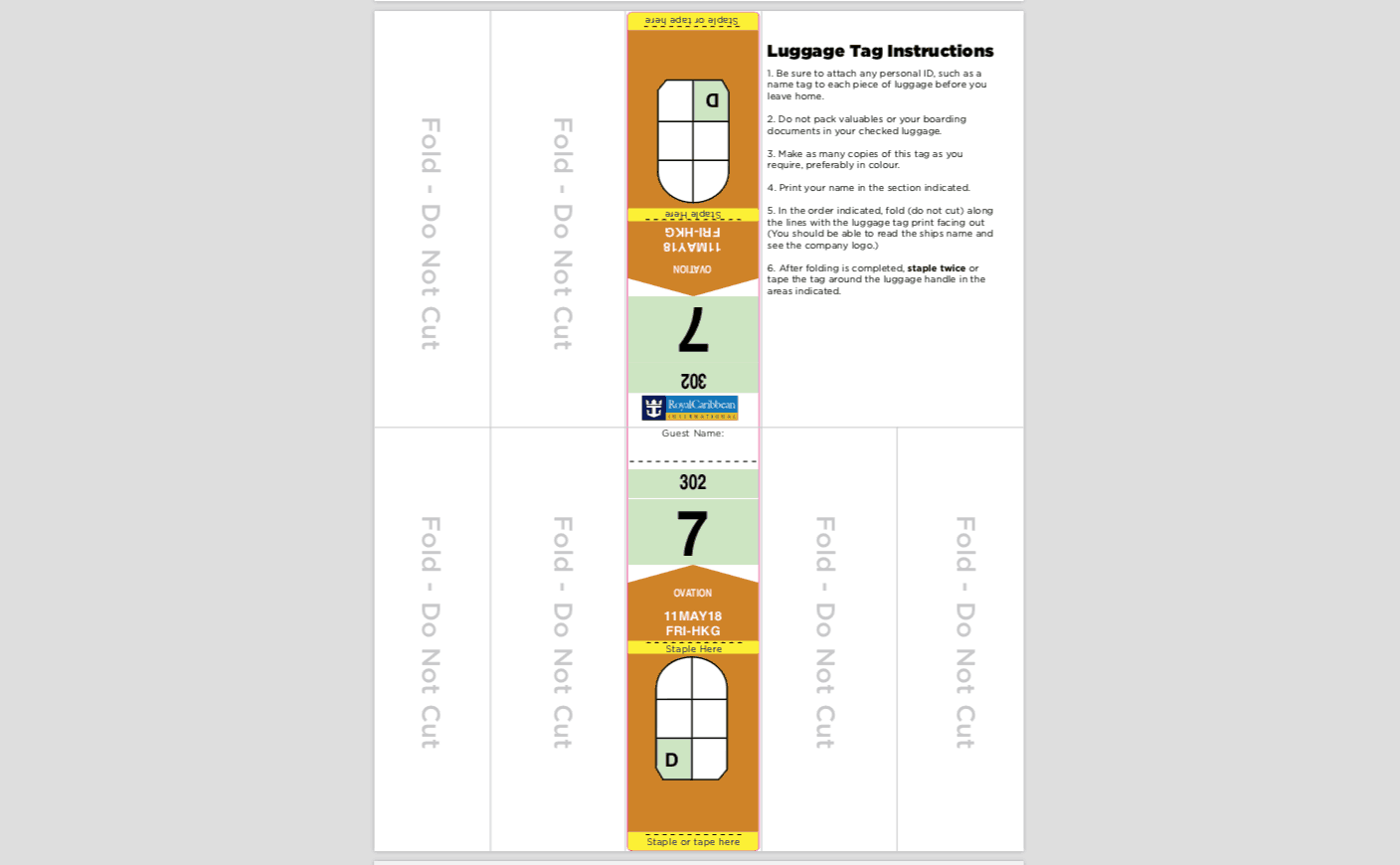 ---
What NOT to pack?
Of course, don't bring in anything illegal!
Aside from that, the following are not allowed onboard:
extension cords
firearms, ammunition and other weapons, including self-defense gear like pepper spray
clothes irons and hot plates
baseball bats, skateboards and surfboards
Guests are now allowed to bring onboard only two bottles (75cl) of wine or champagne per stateroom on embarkation day. They must be consumed inside the stateroom. Otherwise, a corkage fee will apply.
---
How to check in
First, here's the address of the port.
Kai Tak Cruise Terminal
33 Shing Fung Road, Kowloon Bay, Kowloon
啟德郵輪碼頭
地址 : 九龍九龍灣承豐路33號 (入口位於祥業街)
You may check in between 11am and 3pm.
One thing I absolutely liked about the whole check-in process is that signs are aplenty at the terminal. It's impossible to get lost. Just follow the signs that scream OVATION OF THE SEAS. Staff members are also stationed at several spots throughout the terminal to assist passengers.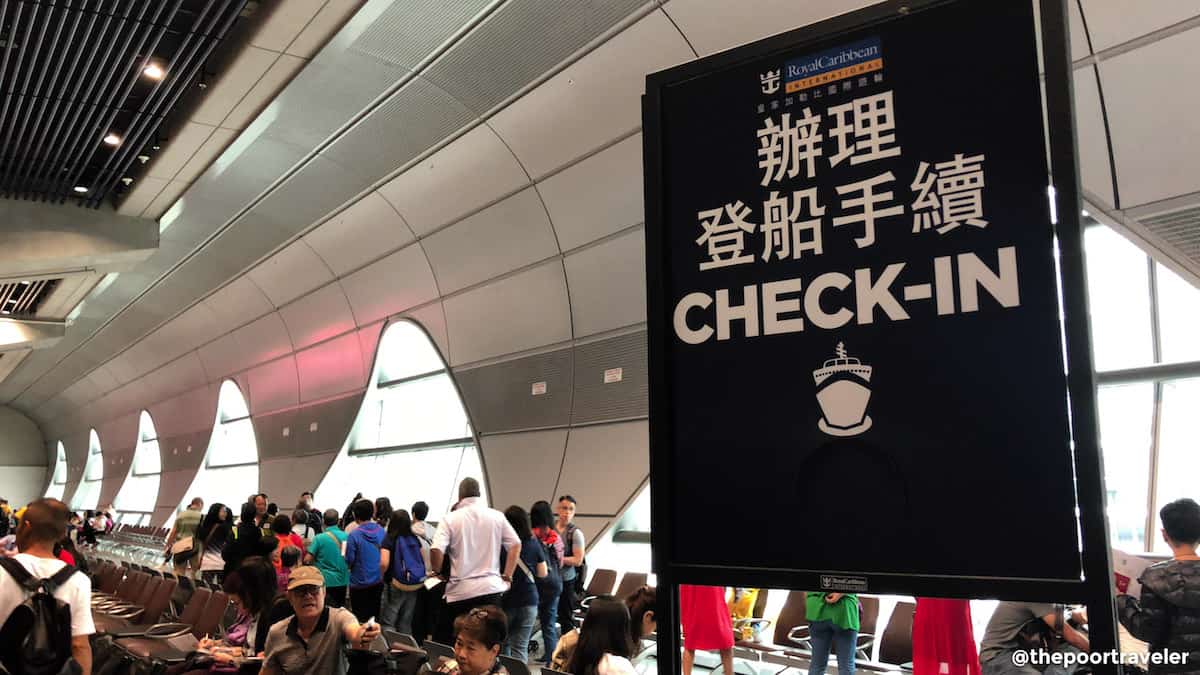 When you reach the check-in counters, you will need to present your passport and set sail pass. They will be collecting your passport and keep it until the end of the cruise. You will be asked for a credit card during check-in for onboard expenses. If you don't have one, you can make a deposit which costs USD150.
You will then be given a Set Sail Card, basically a card that serves as your room key, ID, and credit card for your onboard purchases. Don't lose it. It's everything you're going to need on board. You will be scanning this card every time you board or leave the ship, enter your room, or make purchases.
After this, it's pretty much like checking in for a flight. You will need to drop off your bags, check in, go through security check, and immigration check. Just make sure you have your passport, set sail pass, and immigration departure card.
---
What to do after boarding
After making it through all the check-in processes, it's time to board. All you need to do is walk into the ship and scan the Set Sail Card given to you upon entry.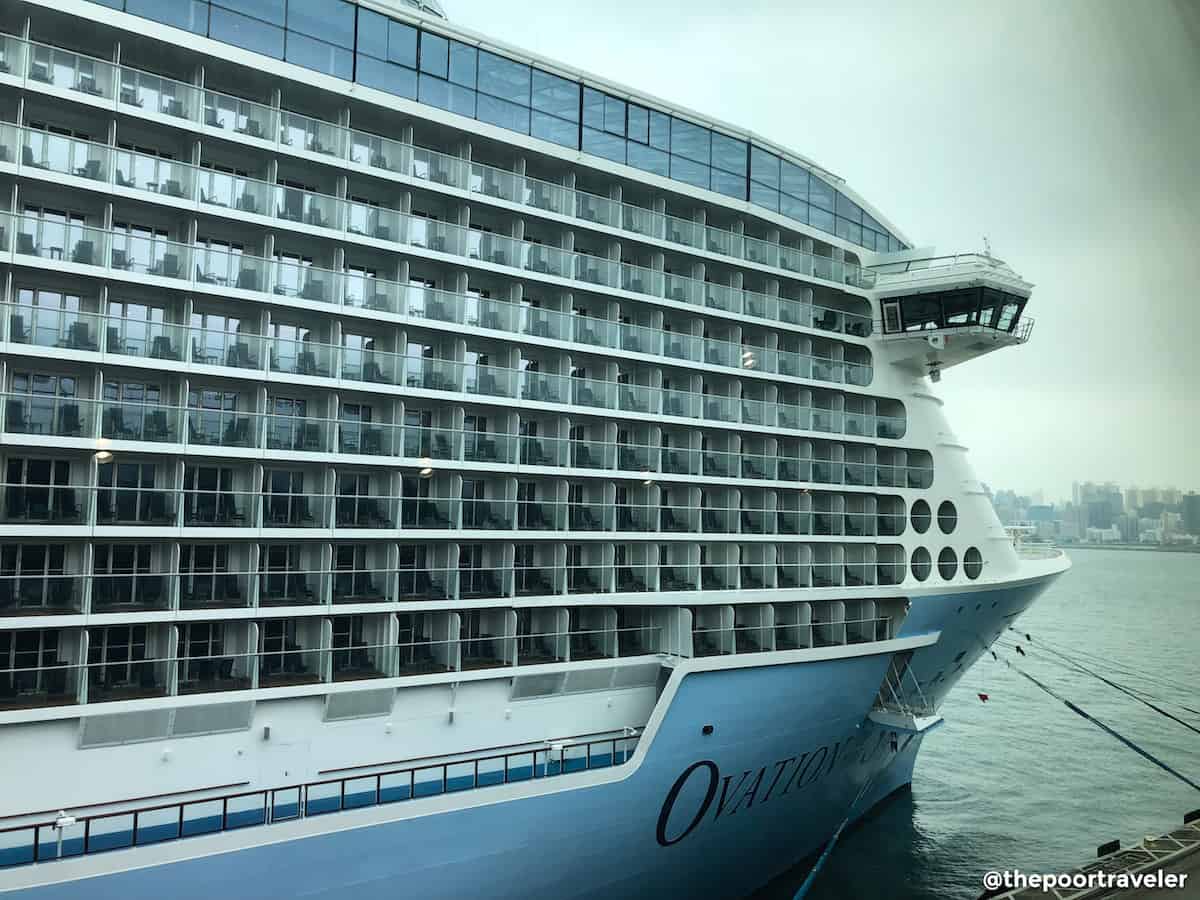 Usually, the rooms won't be ready until around 2pm. If you board early, you'll have plenty of time to kill. What I recommend that you do is to head straight to the Windjammer Marketplace, a buffet restaurant on Deck 14 and have a meal. You can also check out the other amenities on Decks 14 and 15.
Before leaving the port, a mandatory safety drill will be done. It's a muster drill that all guests MUST attend so you know where to go and what to do in case of a real emergency. They will check if every single one is present and will even do a roll call for those missing, so don't skip this one.
On the back of your stateroom door you will find important information and the location of your Muster Station as well as the proper use of a life jacket.
---
Where to find your check-in bags
Your bags will be delivered right at your room's doorstep. The delivery happens until 6pm, so don't panic if your bags don't arrive immediately.
If after 6pm your bags have still not been delivered, it's most likely kept for further inspection. You should receive a note in the evening with instructions on how to retrieve it. But it's most likely being held on Deck 2.
---
Where to eat on board
Ovation of the Seas has 10 complimentary food places on board. You don't need to pay extra if you dine at any of them. It's part of what you paid for when you booked your ticket. These are the 10 restaurants and cafes: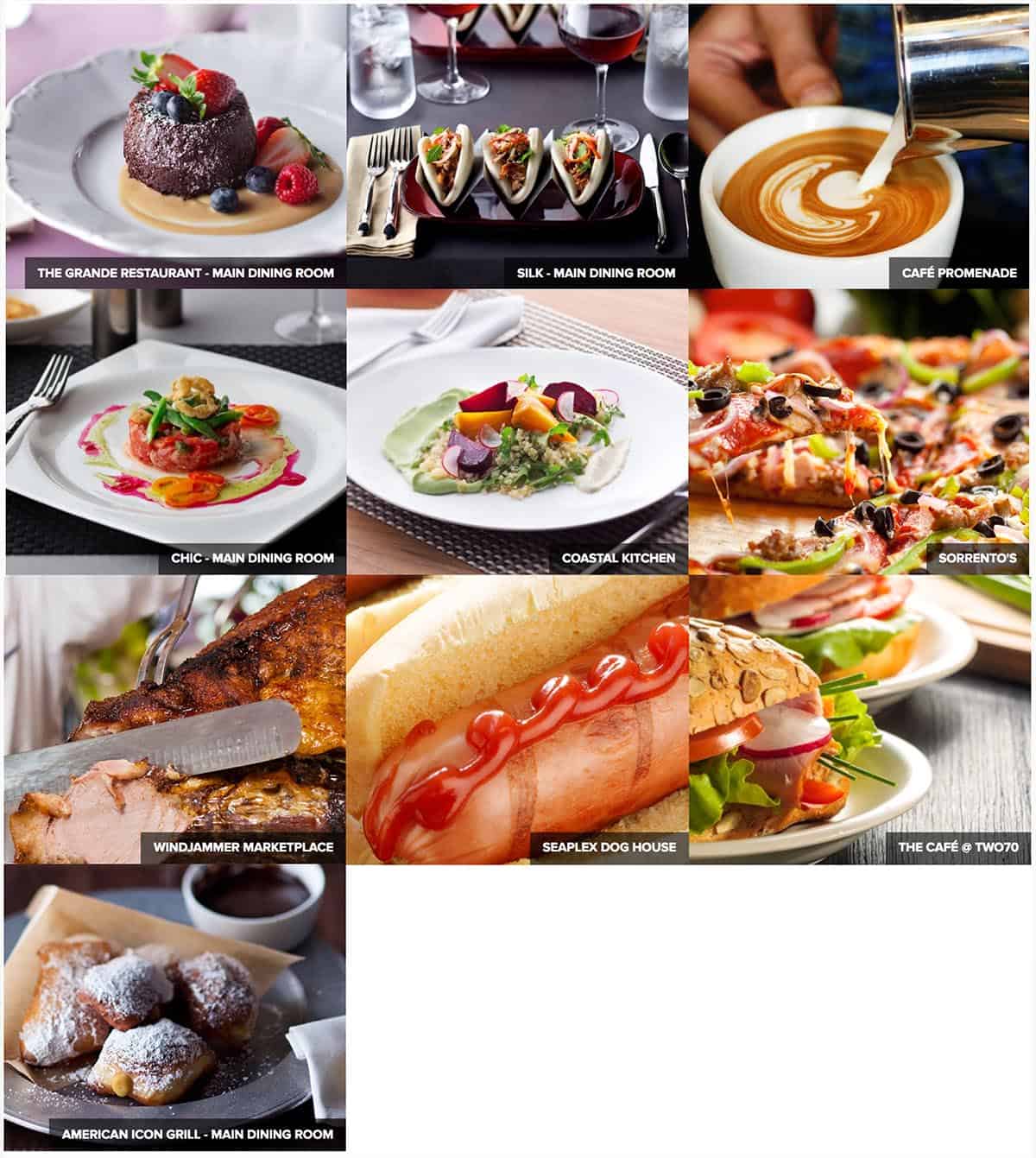 Windjammer Marketplace (buffet-style, international cuisine)
American Icon Grill (main dining room)
The Grande Restaurant (main dining room)
Silk (main dining room)
Chic (main dining room)
Cafe Promenade
Coastal Kitchen
Sorrento's New York Pizzeria
The Cafe at Two70
Seaplex Dog House (hotdog stand)
Of the 10, the Windjammer Marketplace is the biggest, busiest, and the most popular because of its location, on the same deck as many of the activity areas; the variety of cuisines, ranging from Asian to Italian to American; and its buffet set-up. Expect to fall in line a little bit.
Four of the above — American Icon Grill, Silk, Chic, and the Grande Restaurant — are Main Dining Rooms, where meals (breakfast, lunch, dinner) are served.
In addition, there are specialty restaurants inside the ship. These aren't free-of-charge. If you eat at any of the restaurants below, your card will be charged.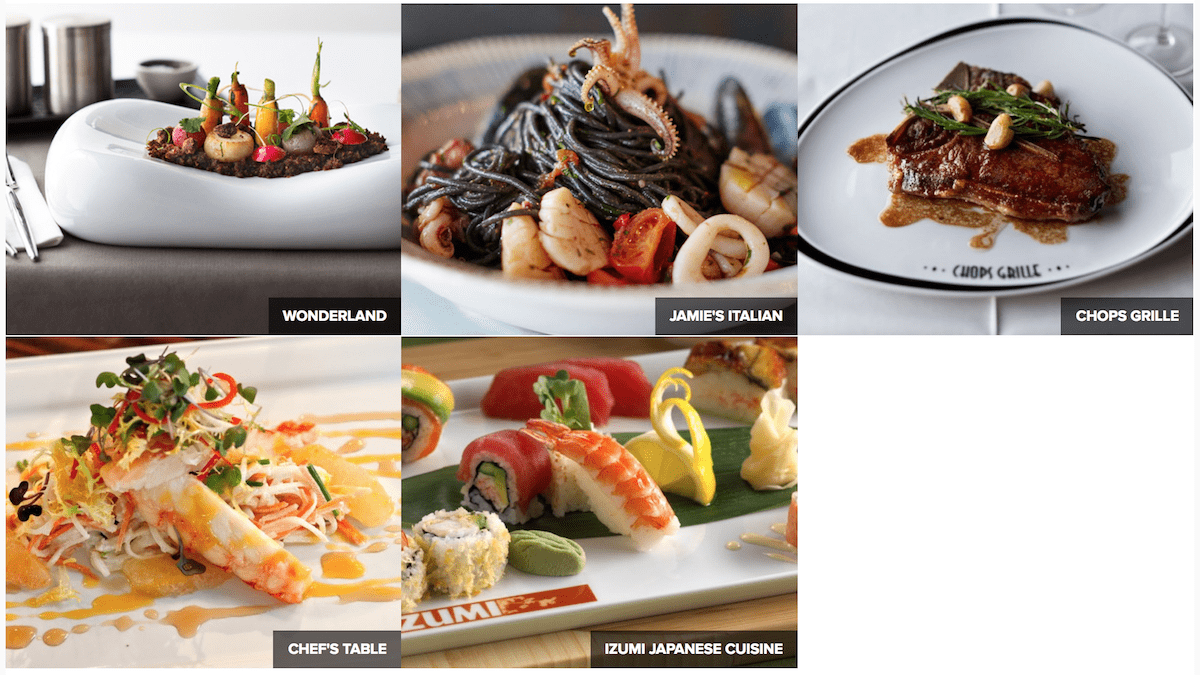 Jamie's Italian by Jamie Oliver
Wonderland
Chops Grille: The New American Steakhouse
Chef's Table: a five-course steakhouse treat (inside Chops Grille)
Izumi, Japanese restaurant
Every restaurant has a hand-washing or hand-sanitizer station to prevent germs from spreading around.
---
Things to Do on Board Ovation of the Seas
A LOT. Like I said, I spent 6 days on this ship but I was still not able to experience everything. Here are some of the most interesting. Some of these charge additional fees; while others are complimentary.
We created a separate post with more details here: Things to Do aboard Ovation of the Seas.
RipCord by iFly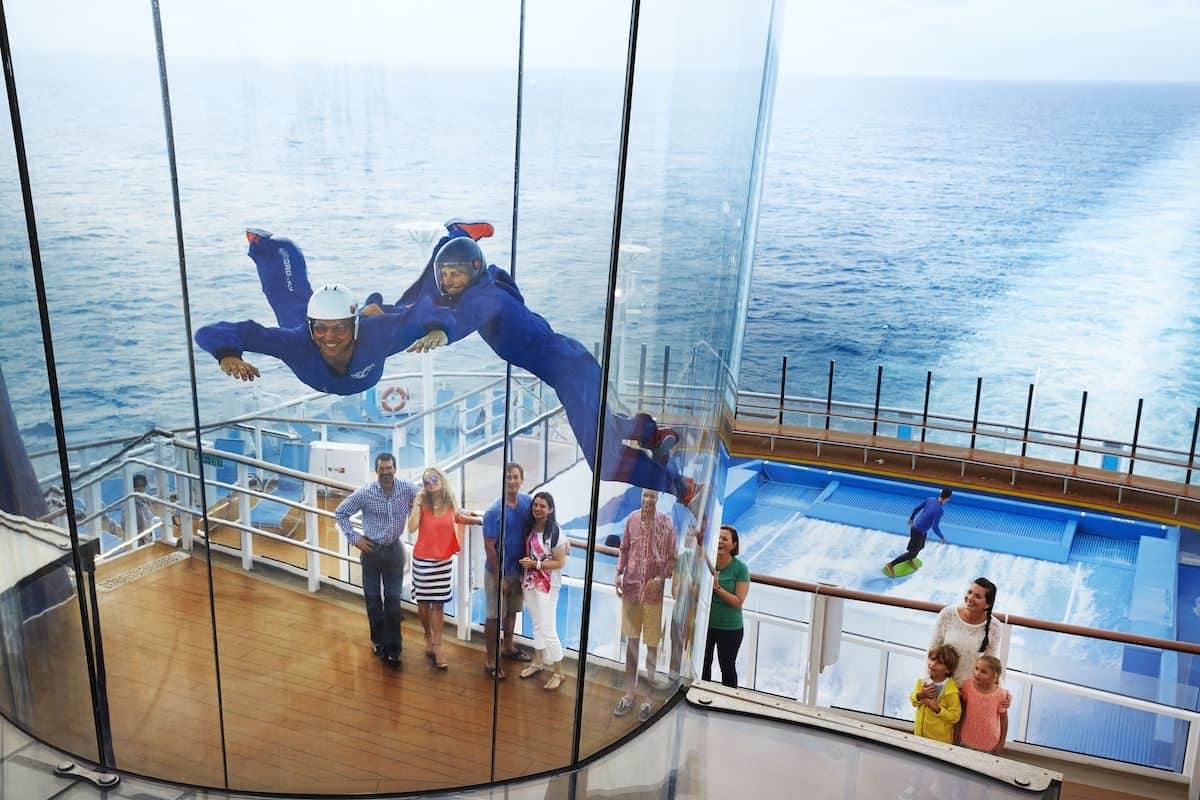 It's a skydiving simulator, which will let you experience how it feels to fly or float on air. Deck 15.
Rates: Depends on the season. In some seasons, it's FREE (complimentary) but you need a prior reservation as the slots get sold out fast. In other seasons, an additional 29 USD (per hour) will be charged to your card.
North Star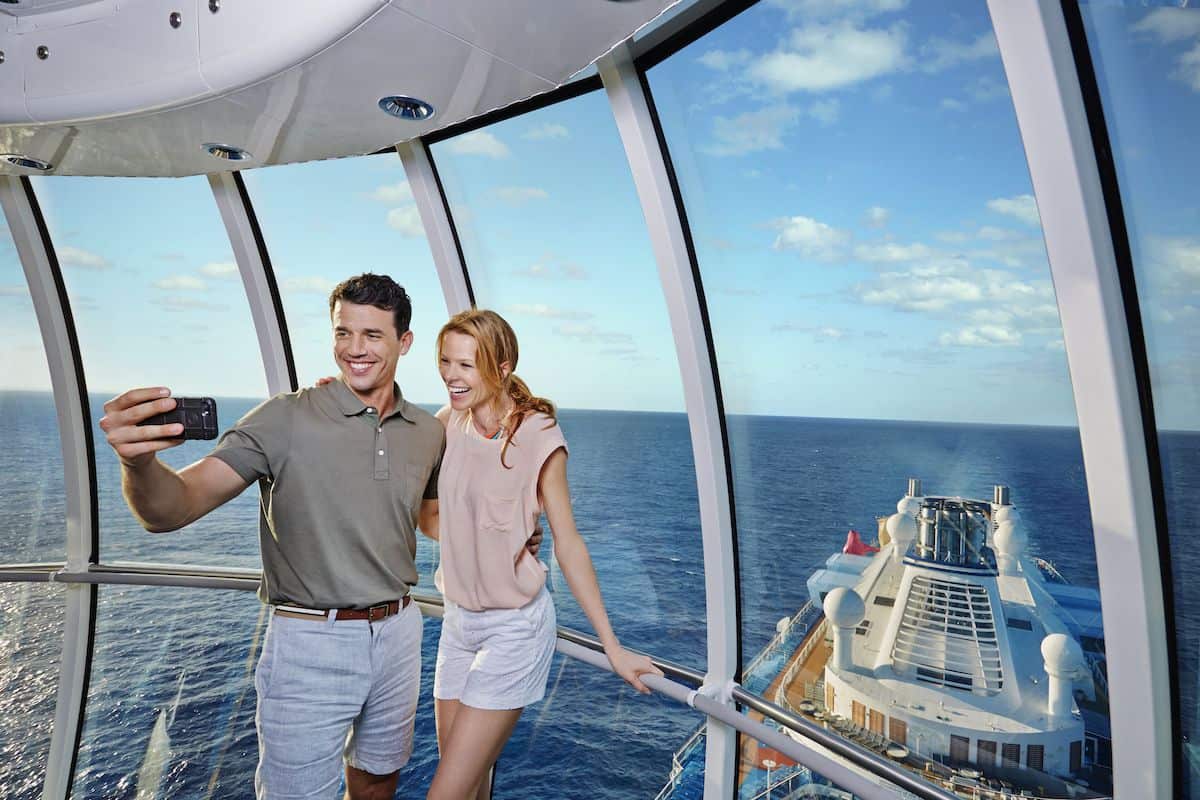 North Star is a 300-foot observational pod which allows guests 360-degress views of the surroundings. Located on Deck 14.
Rates: Depends on the season. In some seasons, it's FREE (complimentary). There's no need to reserve. Just fall in line and wait for your turn. In other seasons, an extra 40 USD will be charged to your card.
Flowrider Surf Simulator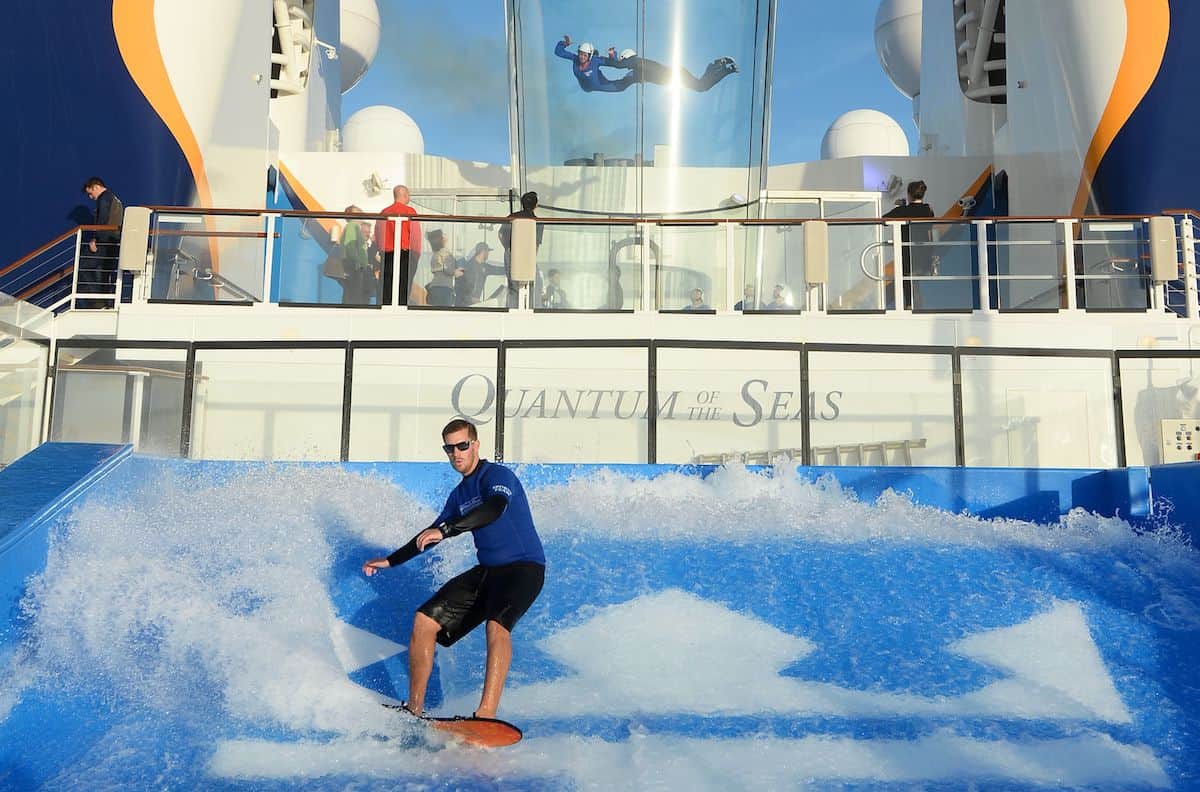 Flowrider is a surf machine. It enables you to ride waves within the safe comforts of a simulator. The photo above is of Quantum of the Seas, but the one installed on Ovation of the Seas looks exactly the same. Located on Deck 15.
Rate: Depends on the season. In some seasons, it's FREE (complimentary) but you need a prior reservation as the slots get sold out fast. In other seasons, an additional 29 USD (per hour) will be charged to your card.
Seaplex Bumper Cars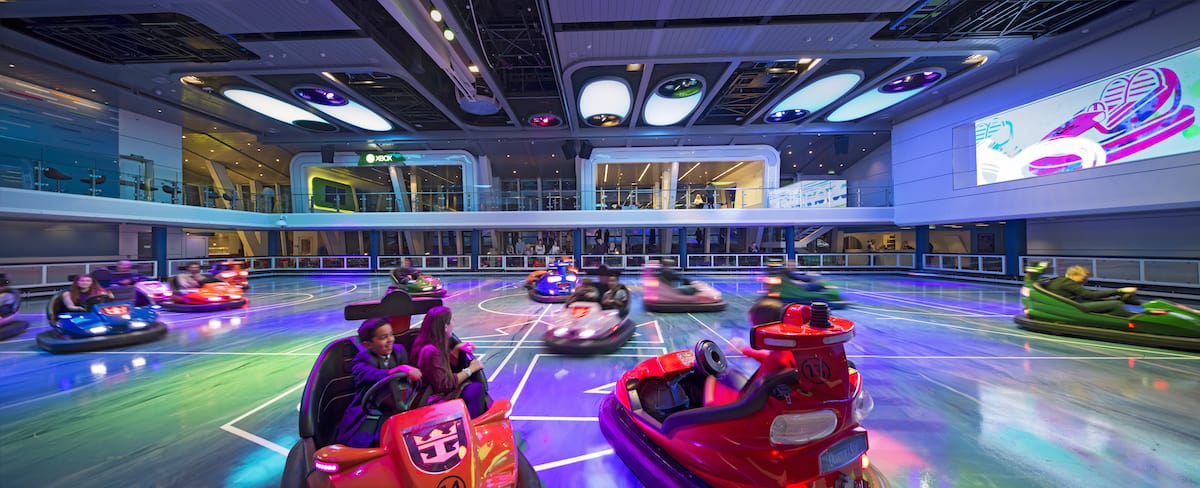 Rates: FREE
Seaplex Seapods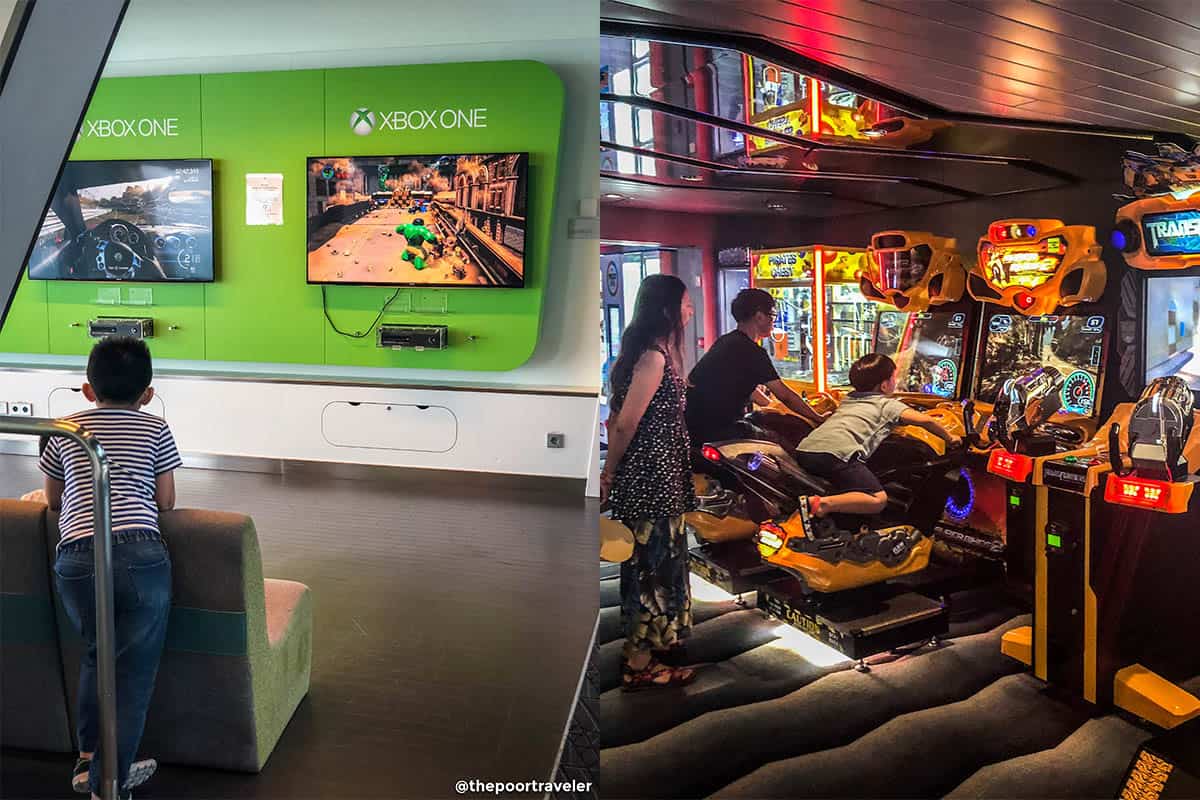 These are small rooms that are equipped with various games and entertainment options like table tennis and XBox units.
Rates: FREE
Swimming Pools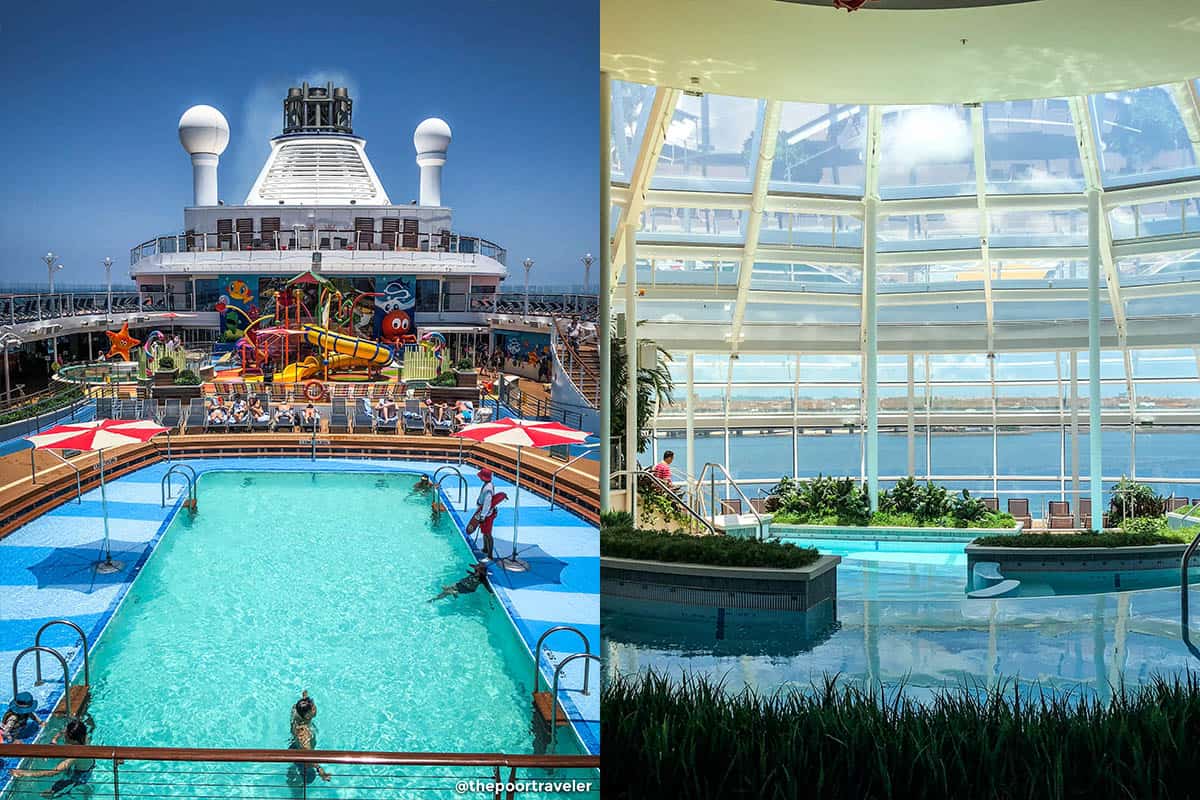 The ship has 2 outdoor pools, 2 indoor pools, and 4 whirlpools. Every pool area is assigned lifeguards to ensure safety of swimmers.
Rates: FREE
Outdoor Cinema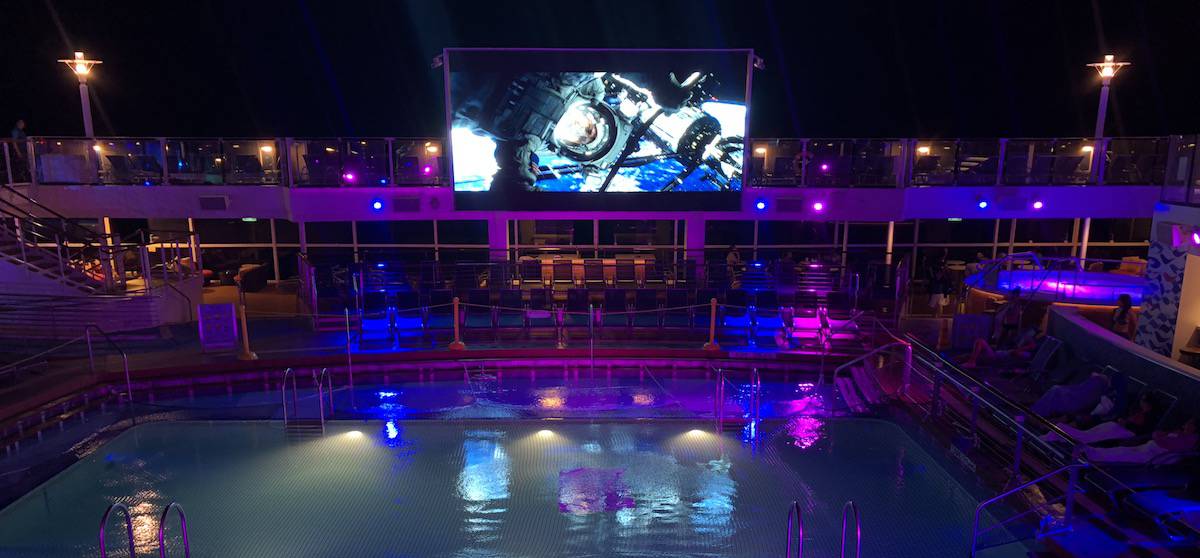 Rates: FREE
Rock Climbing Wall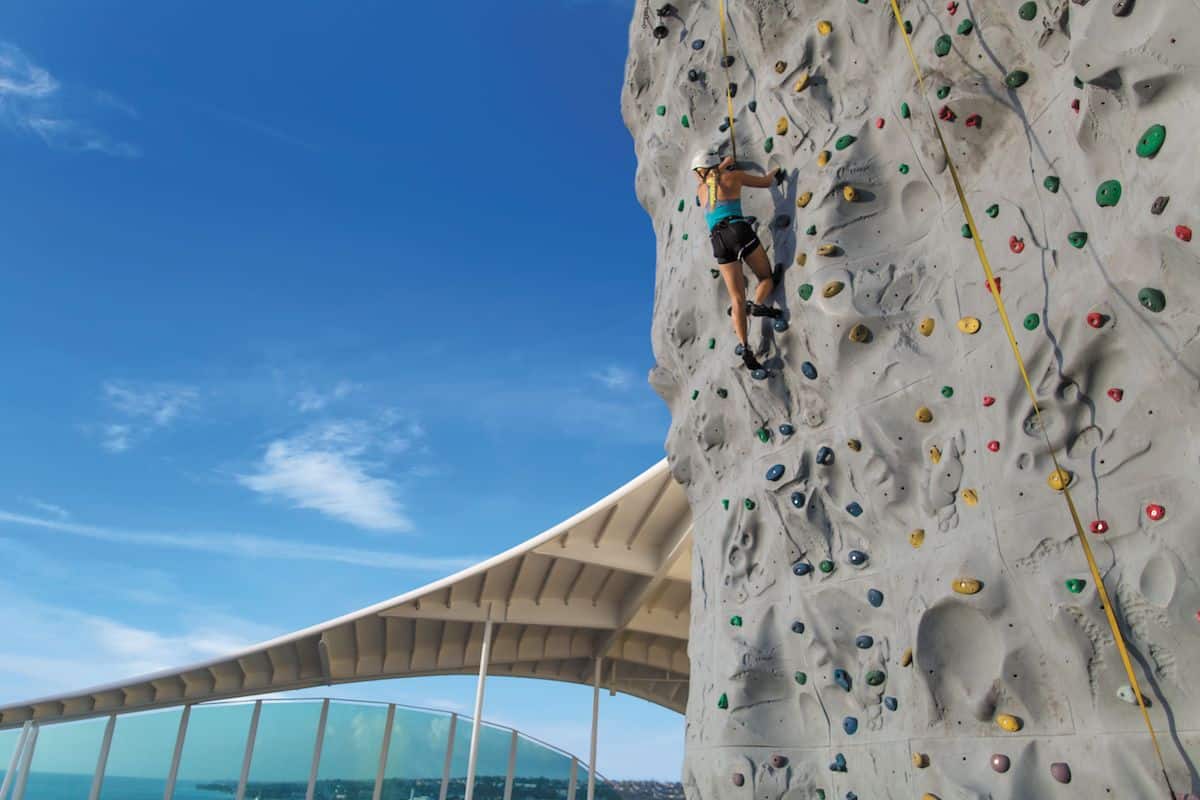 Rates: FREE
Entertainment Shows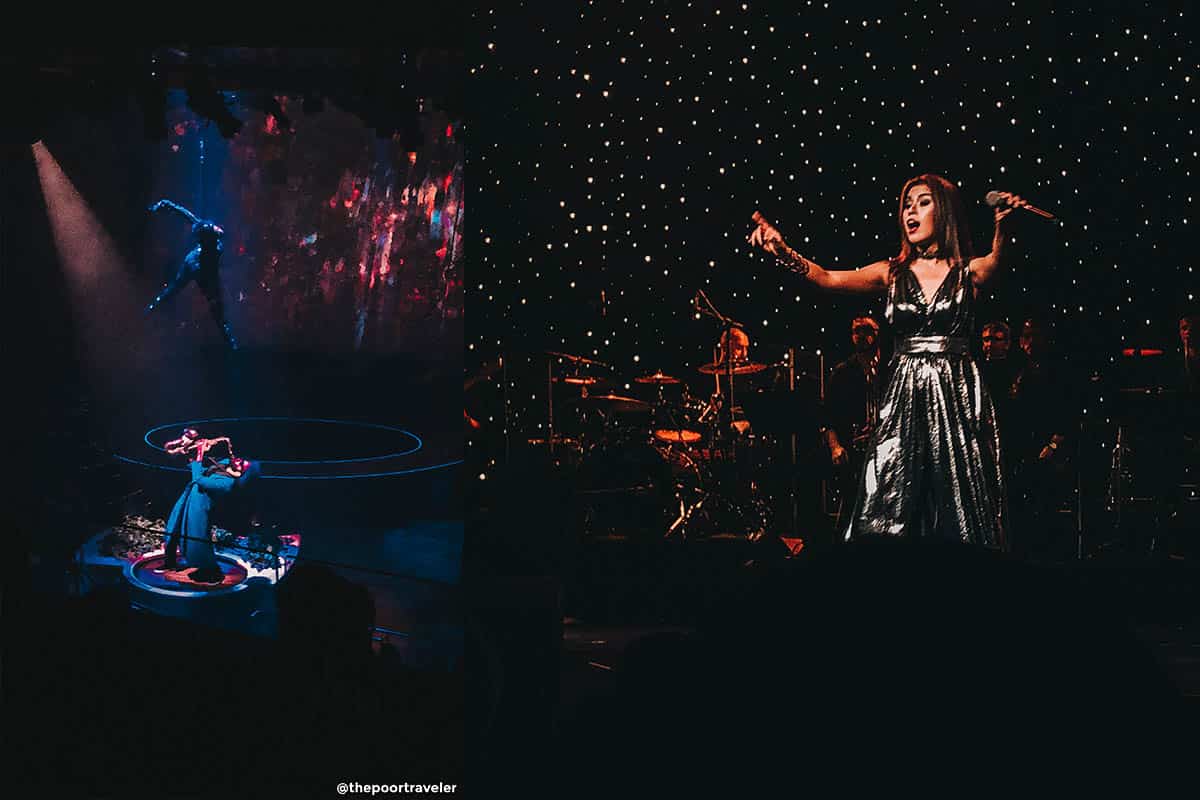 There are entertainment options every night. It may be Pixels, a musical show that utilizes not just the singing and dancing skills of the cast but also 6 LED screens on robot arms. You can also enjoy a mini-concert. During our stay, The Voice contestant Monique Lualhati took the stage.
Other Amenities
Dreamworks Experience
Bionic Bar
Casino Royale
Video Arcade
Vitality at Sea Spa and Fitness Center
---
Shore Excursions
This is the part where you can get off the ship and explore the city where it is docked.
In our case, we only had one stop: Naha in Okinawa, Japan. At the stop, you have two choices: join a shore excursion or pull a DIY.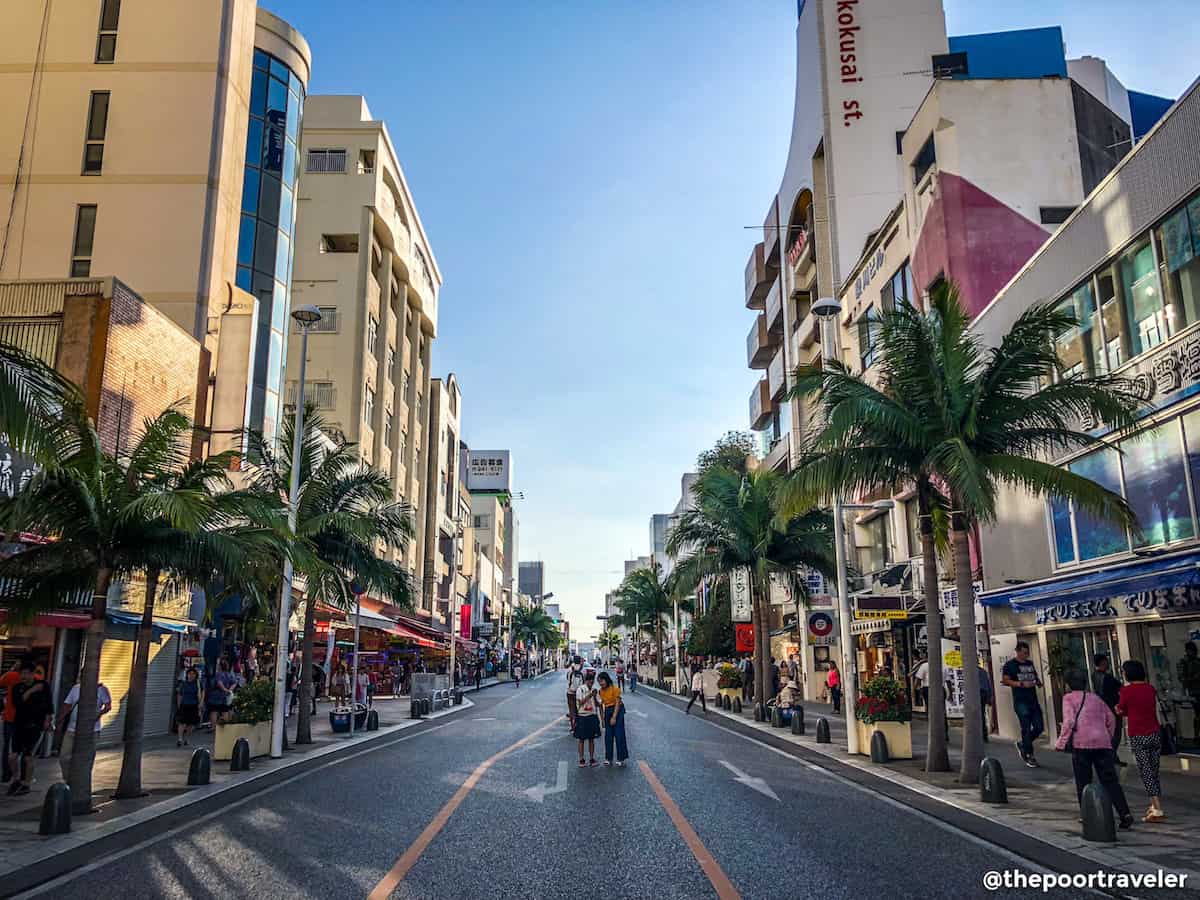 You can book a pre-arranged tour or do it on your own (DIY). It's completely up to you.
If you book a shore excursion, you will be joining the rest of the cruise passengers who booked that tour. The great thing about it is that you have everything taken care of for you. You'll receive your tour pass in your room with instructions. You will have a tour guide and a few members of the crew will join the group. They will make sure you're back at the port in time for sailing.
If you pull a DIY, you have complete control of your time and it's going to be cheaper. You can either board a designated bus or you can take a cab. If you want to take the bus, just head to the Guest Services area first to book a seat on the bus. Prepare to be charged around USD 20. Make sure you're back by the prescribed time because the ship will NOT wait for you.
Whatever you choose, make sure you have your SetSail card and a copy of your passport with you before leaving the ship.
---
Wi-fi Rates
Ovation of the Seas uses VOOM SURF as their internet service provider onboard. It is surprisingly fast, considering we're in the middle of the ocean. Here are the rates:
1 Device at once: 14.39 USD
2 Devices at once: 25.58 USD
3 Devices at once: 35.97 USD
There is strong signal throughout the ship. The connection is fast enough for browsing, checking emails, social media, and even watching YouTube videos.
---
Checking Out
On your last night, you will be asked to already pack up and leave the bag outside your stateroom to be picked up by the staff. You will be seeing your bag again the next day after disembarkation.
Don't forget to settle the bill before disembarking. Know that a gratuity of USD 14.5 PER NIGHT is charged to every guest. USD 17.5 per guest staying in a suite. This gratuity will be shared by dining, stateroom, housekeeping and other behind-the-scenes staff.
Your passport will be handed back to you as you exit the ship.
---
Other Cruise Tips
The official currency on board is the US Dollar.
For more information about the events on board like show schedules, check the Cruise Compass which will be left in your room every day. The Cruise Compass is a daily publication for cruise guests.
You may also use the official mobile app called Royal IQ.
---

2️⃣0️⃣1️⃣9️⃣ • 1️⃣0️⃣ • 2️⃣9️⃣