UPDATE: As of February 2021, when we last visited, Fantasy World remains temporarily CLOSED until further notice.
—–
Here's a budget travel guide to FANTASY WORLD BATANGAS, an abandoned castle in Lemery. This guide includes directions from Manila and TAGAYTAY, and sample itineraries.
The whole class was so excited when the rumor that a version of Disneyland would be built not too far from our school. My body was a big sack of glee just imagining a huge castle surrounded by a theme park in the foothills of our town. "But don't get too excited," our teacher said. "It will take years to finish."
She was right. That was 20 years ago. To this day, Fantasy World, our town's very own "Disneyland", remains unfinished.
In fact, construction had long stopped years ago. It was never opened to the public. The project seems to have been abandoned due to the owner's financial problems. Over the past years, it has become a filming location for movies like Got 2 Believe (starring Claudine Barretto and Rico Yan) and Fantastica (Vice Ganda) and TV shows like GMA 7's Majika (Angel Locsin, Dennis Trillo). Today, the park's main castle still stands royally over verdant hills, like it's stuck in its own fairy tale cliffhanger.
WHAT'S COVERED IN THIS GUIDE?
How to Get to Fantasy World Batangas
Fantasy World was never completed, but it has become a famous landmark in Batangas. Yep, Batangas. Contrary to a popular misconception, Fantasy World is NOT in Tagaytay. It rises in the middle of the rolling hills of Barangay Mayasang in Lemery, Batangas. I know this for sure because I live nearby. I pass by this castle going to or coming from Manila.
Mayasang is the barangay farthest from Lemery's poblacion. In fact, Fantasy World is as far from the Lemery Town Proper as it is from Tagaytay Sky Ranch. Hence, many visitors stop here as part of a grander Tagaytay or Batangas trip. There are two ways you can reach Fantasy World, depending on your overall itinerary.
Via Tagaytay City. The fastest way to reach Fantasy World if you're coming from Manila or Cavite. The only downside is: Diokno highway, which connects Lemery to Cavite, is sometimes closed because of landslides. When it's open, prepare for minutes of zigzags. If the weather is bad, I don't recommend this at all. The fog makes visibility so bad that it gets pretty dangerous for untalented drivers.
Via Lemery. This is the safer but much longer route. But if you're coming from Taal, Anilao or Batangas City, this makes the most sense.
---
Manila to Fantasy World by Private Car
Whip out that smartphone and consult your new best friend, Waze. But if you want to do it old school, here are the directions.
Hit SLEX and take Santa Rosa Exit. You can also take Eton City or Greenfield City Exits to avoid traffic jams in Sta. Rosa.
Stay on Sta. Rosa-Tagaytay Road until you hit Silang Junction.
At the junction, turn right onto Tagaytay-Nasugbu Road and drive across Tagaytay and Alfonso.
At the Batangas-Cavite boundary, TURN LEFT. The left goes to Lemery, the right goes to Nasugbu. You know you're on the right path when you're navigating zigzags that treat you to spectacular views of Calaca's rolling hills.
When you see the Lemery arc, you're close. Fantasy World should be on your left.
---
Manila to Fantasy World by Public Transportation
The easiest way to get to Fantasy World by public transportation is by van.
By Van via Tagaytay. Vans bound for Lemery use the terminals in front of Starmall EDSA-Shaw and on the 2nd floor parking of Starmall Alabang. Fares: P140 from Alabang, P200 from EDSA-Shaw. Before hopping in, ask the driver if it will pass by Fantasy World. If he says yes, go for it. The reason you need to ask: sometimes, drivers take STAR Tollway instead when traffic is so bad in Sta. Rosa or when Diokno Highway is closed. If everything's fine, ask the driver to drop you off at Fantasy World. Travel time: 2 hours from Alabang.
By Bus via Tagaytay. At EDSA-Taft and LRT-Buendia, board a bus bound for Nasugbu. Tell the conductor to drop you off at the "Boundary." It refers to the Cavite-Batangas boundary. Travel time: around 3 hours. Fare: P160. At the boundary, ride a jeepney bound for Lemery and ask to be dropped off in front of Fantasy World. Fare: P18. If there are no jeepneys, you can take a tricycle but it's pricey. Fare is P200 per ride (not per person). Travel time: 15-30 minutes.
By Bus via Lemery. This is the longest route. At LRT-Buendia or Cubao-Kamuning, board a bus bound for Lemery. Travel time: 4 hours. Fare: P178-200. At the bus terminal, hail a tricycle and ask to be taken to the terminal for jeepneys bound for Boundary. Fare: P10 per person. Ride a jeepney and ask to be dropped off at Fantasy World. Fare: less than P40. I dunno the exact fare, but the fare all the way to Boundary is P40, so it should be just a few pesos lower.
Please note that jeepneys and tricycles seldom pass Mayasang. The only jeepney route that use the entire length of Diokno Highway is Boundary-Lemery (and vice versa). Thus, waiting for a ride back to Lemery or boundary can take a while. If you can find a private car, that would be most ideal.
---
Tagaytay to Fantasy World via Public Transportation
Take the bus bound for Nasugbu or Balayan. Tell the driver to drop you off at the boundary. Travel time: 30 minutes.
At the boundary, ride a jeepney bound for Lemery and ask to be dropped off in front of Fantasy World. If there are no jeepneys, you can take a tricycle but it's pricey. Fare is P200 per ride (not per person). Travel time: 15 minutes.
Again, just want to emphasize that jeepneys and tricycles seldom pass this area so if you don't have a ride back, you might be in for a long wait.
---
Taal to Fantasy World by Public Transportation
If you're traveling from Taal Basilica to Fantasy World, here's how:
At Taal Basilica, take a tricycle to the terminal for jeepneys bound for Boundary.
Ride that jeepney and ask the driver to drop you off in front of Fantasy World. Fare: around P40.
That's about it. The journey will take around an hour.
---
Fantasy World Day Tour Rates
The updated entrance fee is P100 per person.
The admission rate used to be P1000, good for up to 10 people. Back then, if your group is smaller than 10 pax, you will still need to pay P1000. But in November 2019, it was changed to P100 per person.
Most of those who would park in front of the castle usually are just there to take a photo and not to enter. But that's partly because they're not aware that they can enter.
Fantasy World Operating Hours: Open from 8am-5pm.
---
Things to Do at Fantasy World
Not much, to be honest. It's basically just a castle and other surrounding structures. There are small rides in the area but they're not operational. Most visitors come just to see the structures up close, admire the view, or take photos.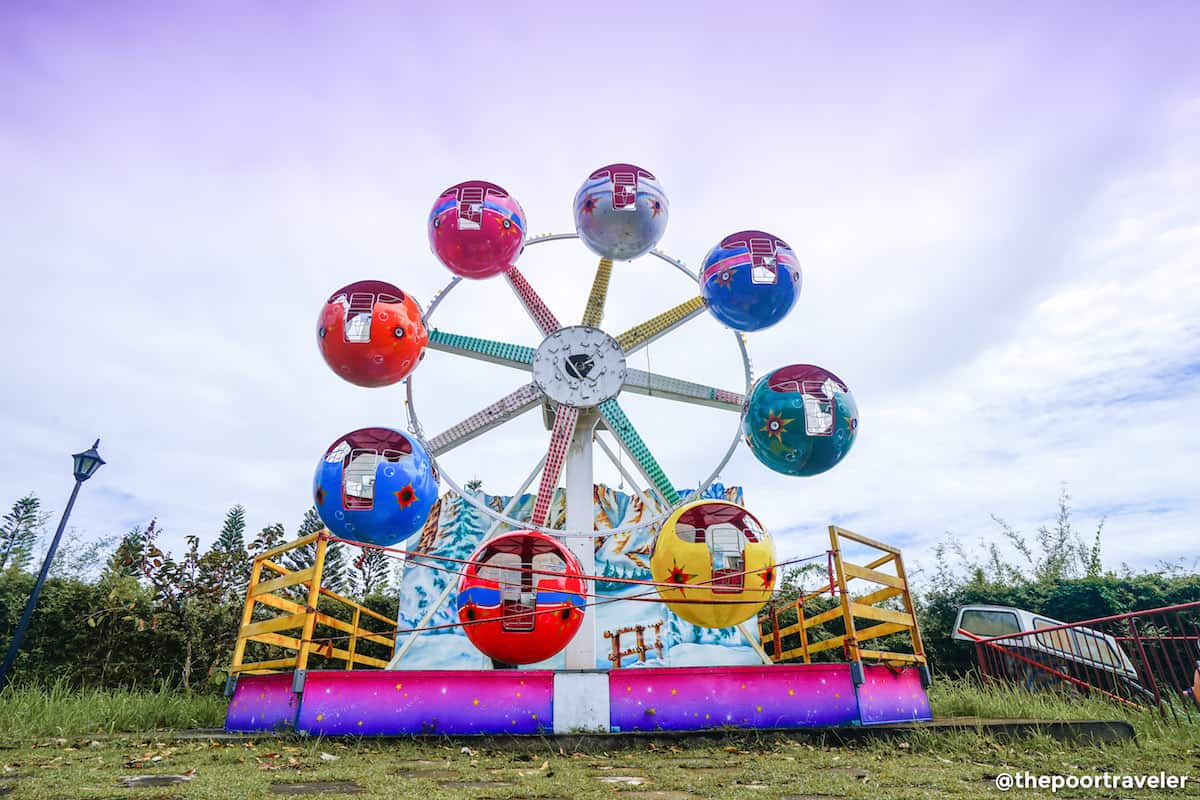 Here are some of the things you can do inside:
Take lots of photos. The park is littered with Instagram-worthy spots. The castle alone is effortlessly captivating. It looks good in photos even without you trying. The rides may not be operational but you can ride them for photos.
Rent a costume. You can play pretend and explore the park in an on-theme OOTD. The park rents out fairy-tale and medieval costumes for P300, good for the entire day. This will make your selfies much more fun.
Climb to the top of the main tower. I forgot how many steps it takes to reach the top, but the balcony allows an unobstructed 360-degree view of the castle grounds and surrounding landscape.
Cross the hanging bridge. Also within the castle grounds are two giant trees linked by a hanging bridge. You can climb and try to cross it for more photos.
Find a moment of peace. Not many people visit this place. When we visited, it was just us and another group. The place is quiet. There's even a chapel inside.
Please note that they collect additional fees for professional shoots, pre-nup shoots, and drones. The fee is P5000.
---
Side Trips from Fantasy World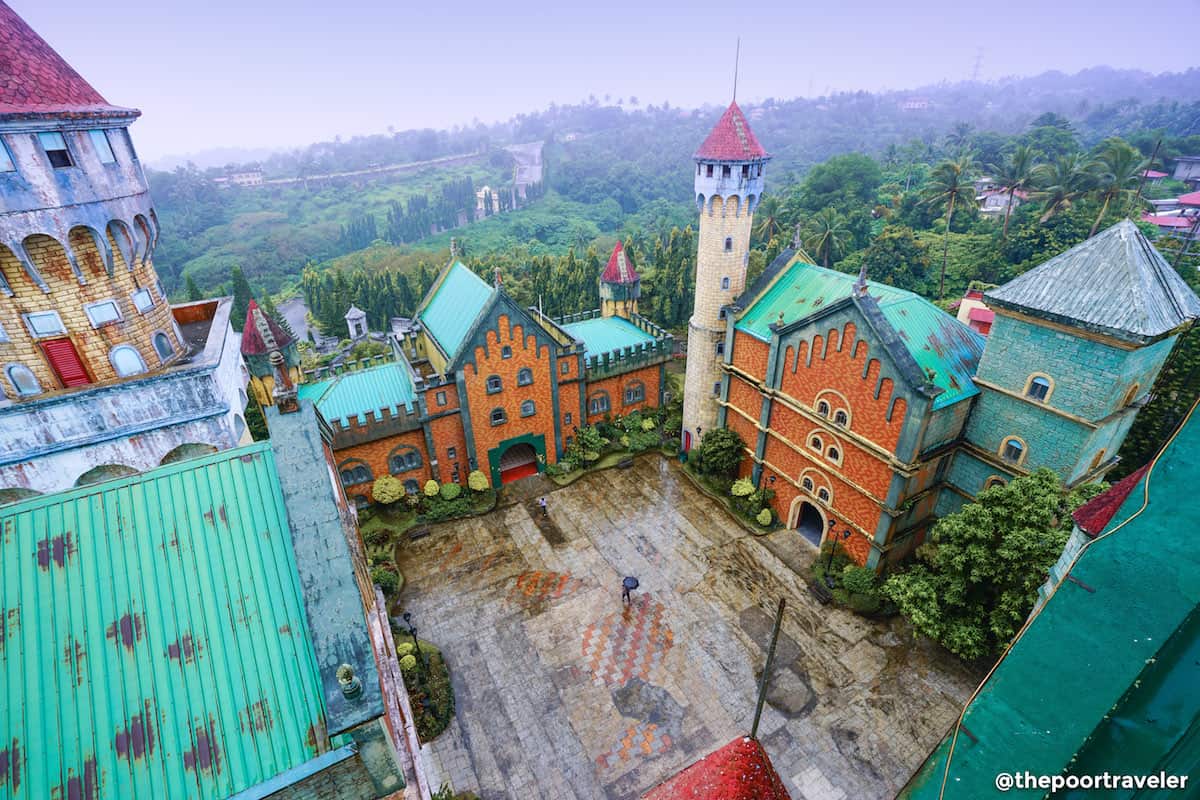 A stop at Fantasy World should not take too much time because there's really not much to do. You can finish exploring the part of the park that is open to the public in 1-2 hours. Hence, I recommend that it be visited as a side trip that is part of a bigger itinerary. It's close to many other destinations that can offer more. Here are some of them:
Tagaytay. Fantasy World is only 40 minutes from Sky Ranch (a popular amusement park) and an hour from Tagaytay Picnic Grove. If you're spending a weekend in Tagaytay, you can go the extra mile and say hello to this dreamy castle.
Nasugbu. Going to Nasugbu via Tagaytay, you'll be passing an area called Boundary. Fantasy World is only 15 minutes from here, but in the opposite direction. You can visit before or after your trip. For more info, here's our Nasugbu Travel Guide.
Calatagan. The route from Manila to Calatagan also passes through the same area. On your way to Calatagan or back to Manila, you can turn to Lemery at the Boundary. Here's more info: Calatagan Travel Guide.
Taal Heritage Town. If you're visiting Taal, you can take Diokno Highway on your way back to Manila. Just make your way to Lemery and ride a jeepney bound for Boundary and ask to be dropped off in front of Fantasy World.
---
Sample Fantasy World Itinerary
If you're not interested in any side trips, here's a sample Fantasy World day tour itinerary. This assumes that you're a group of 5, splitting the entrance cost.
Feel free to make the necessary adjustments if you have other needs and preferences.
07:00 am – Van to Lemery, P140
09:00 am – Fantasy World, P200 (P1000/5pax)
12:00 nn – Jeepney back to Boundary, P20
12:30 pm – Lunch, P100
01:30 pm – Bus back to Manila, P160
The itinerary above should cost you around P620 (USD12, EUR10, SGD16). But this is if you're not stopping anywhere else.
I highly recommend that since you're passing through Tagaytay, you might as well enjoy the city. Tagaytay Sky Ranch is along the way. At the boundary, just take a bus bound for Manila and tell the conductor to drop you off at Sky Ranch. Spend the afternoon there or stay until evening!
We'll be creating more sample itineraries that will include other side trips soon, so be sure to check back.
---
Frequently Asked Questions
Are drones allowed inside Fantasy World?
Yes, but there's a P5000 fee.
How much is the fee for shooting prenup or debut inside Fantasy World?
P5000. Plus entrance fee P1000 per 10 people.
How do I book Fantasy World for a shoot?
I asked the staff and they said you can just walk in even if you plan to shoot. When we visited, there were a couple of groups shooting: one for a debut and another for a prenup. Neither booked in advance. They just walked in.
What are the contact numbers of Fantasy World?
Landline: +632-833-6566
Mobile: +63905-666-9488
---