Last updated: 15 MARCH 2021
Boracay is one of the first major tourist destinations in the Philippines that reopened to leisure travelers. But although the country's most popular beach is now ready to welcome visitors, you still have to make sure you meet all the requirements.
If you are planning to book a trip to Boracay, here are the documents you need to possess to be allowed to travel.
WHAT'S COVERED IN THIS GUIDE?
Which Airport to Fly to: Caticlan or Kalibo?
In the pre-pandemic world, Boracay Island was served by Aklan's two gateways: the bigger Kalibo International Airport and the closer Caticlan Airport, which is now being called and referred to as Boracay Airport. Starting October 2020, however, as advised by the Inter-Agency Task Force on Emerging Infectious Diseases (IATF), each airport will be serving a specific type of passenger, depending on the purpose of travel.
Boracay Airport or Caticlan Airport, for Boracay-bound leisure travelers
Kalibo Airport, for returning overseas Filipino workers (ROFWs), locally stranded individuals (LSIs), and authorized persons outside of residence (APORs)
---
List of Requirements for Travelers Going to Boracay
Online Health Declaration Card (OHDC). Fill it out online. Go to Tourist Boracay website and click Boracay. Accomplish the form. Take a screenshot of the confirmation page because you'll need it.
Tourist QR Code and copy of your Health Declaration Card. These will be sent to your e-mail if the processing is successful. Print or keep a digital copy of your Tourist QR Code and keep it with you at all times when you are in the island.
Confirmed hotel or resort booking on the island. Make sure that you book a hotel with Certificate of Authority to Operate/Provisional Certificate of Authority to Operate from the Department of Tourism. You can check the list of hotels here: LIST OF OPERATIONAL HOTELS IN BORACAY.
Negative RT-PCR test. Must be taken within 72 hours prior to departure. (Previously, the validity was 48 hours but it has since been extended.) RT-PCR tests must be done in any of the accredited laboratories. You can find the list of accredited labs here.
E-mail these requirements to touristboracay@gmail.com:
– copy of your RT-PCR test result
– confirmed booking slip
– flight details
– proof of identification
– screenshot of the OHDC confirmation
Write "OHDC-Family Name, First Name" as the e-mail subject. If you are traveling with companions, you can send the documents in one email, just include a list of names of those who will be traveling with you. You must submit the documents required 12 hours or more before your departure.
According to the Aklan Provincial Government, you should receive a response to your e-mail within 2 hours. If not, you may send a follow up email. You will also be informed through e-mail if the processing is unsuccessful and additional requirement or clarification may be requested.
Note: Your Tourist QR Code is valid only up to 12 hours from from your checkout time. If you plan to extend your stay, send an email of a new booking slip to touristboracay@gmail.com prior to your initial checkout time.
---
DOT's List of Boracay Hotels & Resorts Allowed to Operate
The Department of Tourism (DOT) Region VI has a list of hotels and resorts with a Certificate of Authority to Operate (CAO) or a Provisional Certificate of Authority to Operate (PCAO). Here are just a few of the hotels on their list. (Special thanks to Levantin Boracay for helping us keep this article updated.)
---
List of Requirements for ROFWs, LSIs, and APORs Traveling to Kalibo Airport
First, we need to define these acronyms:
ROFWs are Returning Overseas Filipino Workers.
LSIs are Locally Stranded Individuals.
APORs are authorized persons outside of residence.
Here are the requirements:
Medical Certificate issued by a government physician.
Travel authority issued by PNP or by Joint Task Force COVID Shield for LSIs.
Accomplished Health Declaration Card. Go to the Tourist Boracay website and click your destination. Fill out the Health Declaration Card.
Negative RT-PCR Test (for ROFWs and APOrs only)
Certificate of Acceptance from the receiving LGU (for LSIs only)
Quarantine certification issued by the Department of Health of Bureau of Quarantine (for ROFWs only)
Valid company ID/certificate of employment, and travel or mission order (for APORs only).
Note: Because travel policies these days change frequently and quickly, make sure to double check the government restrictions and regulations of both the national government and the local government prior to your bookings.
---
DOT's List of Kalibo Hotels Allowed to Operate
A confirmed hotel booking is not a requirement for those arriving at Kalibo Airport. But if you need a place to stay, here are some accommodation establishments that successfully secured a Certificate of Authority to Operate (CAO) or a Provisional Certificate of Authority to Operate (PCAO).
---
Related Posts
Both AirAsia and Philippine Airlines have published infographics about these requirements.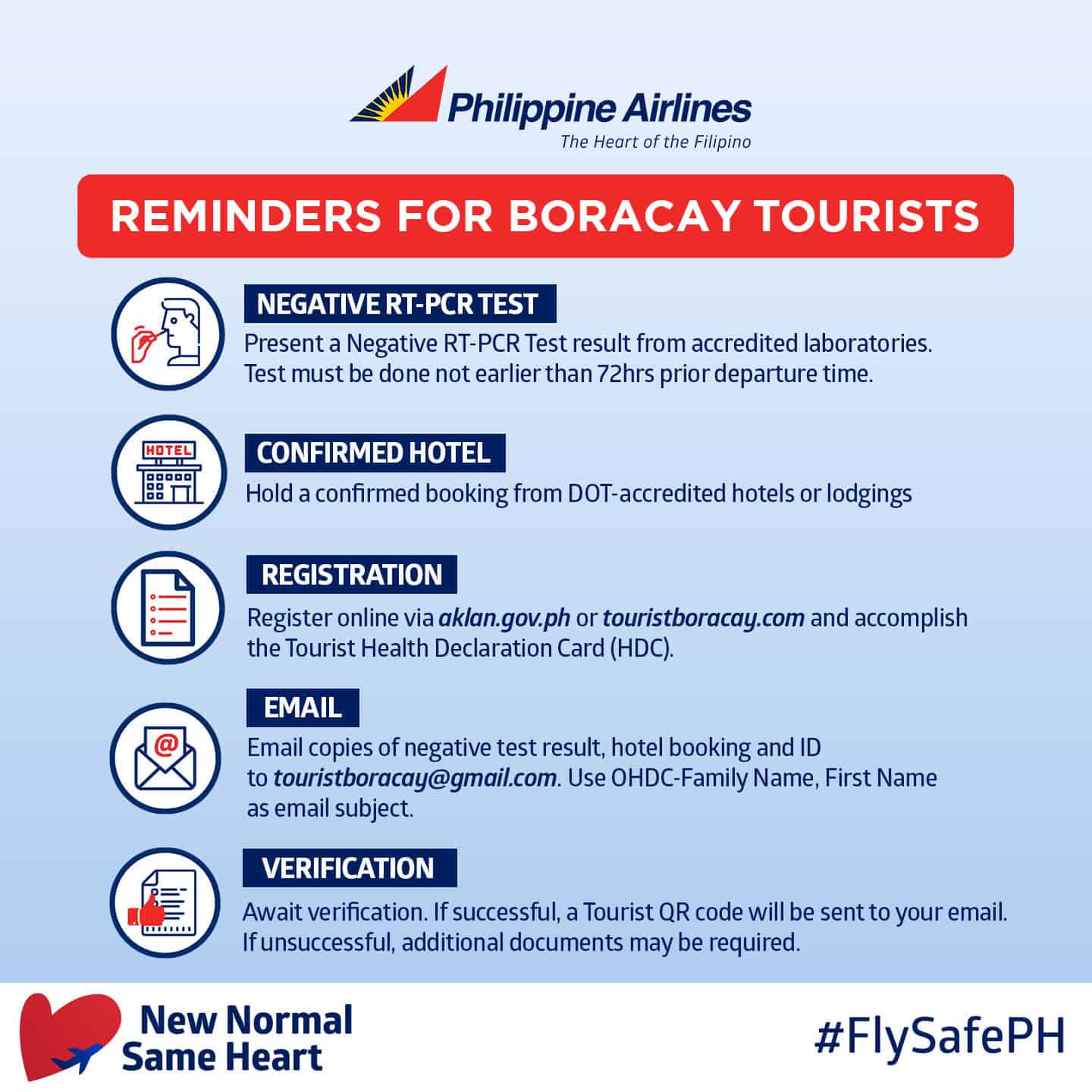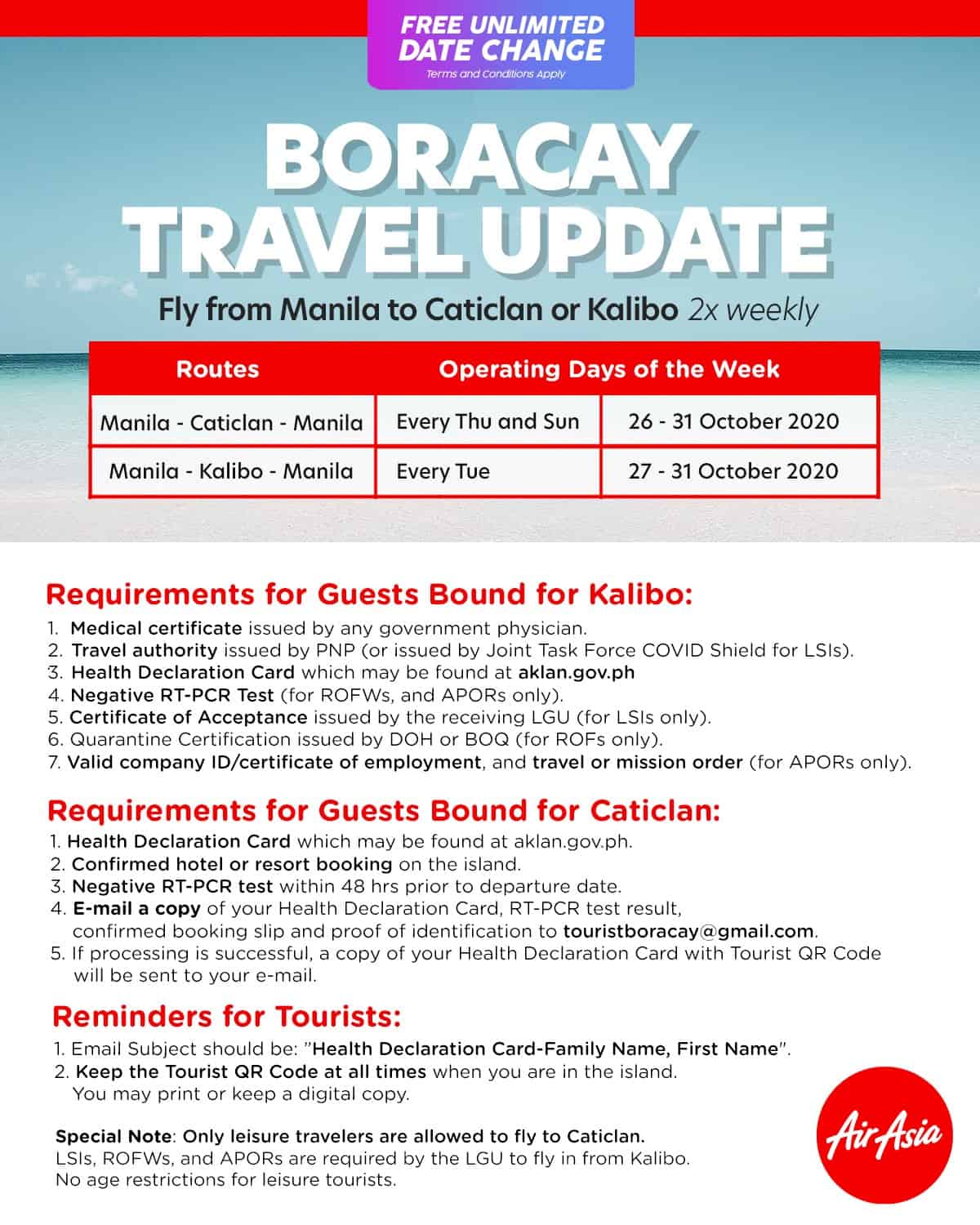 ---
More Tips on YouTube ⬇️⬇️⬇️