Last updated: 2020 • Dec • 11
If you're flying from the Ninoy Aquino International Airport (NAIA, MNL) to a domestic destination with Philippine Airlines, it is important to be familiar with the new procedures that you have to follow prior to departure. The country's flag carrier has released a series of new guidelines on Facebook, and we compiled them in a step-by-step guide!
Note that this guide is for domestic flights originating from Manila. For international flights arriving in Manila, read this instead: NEW ARRIVAL PROCESS IN MANILA!
Here's what to do before your domestic flight.
WHAT'S COVERED IN THIS GUIDE?
1. Pre-register before your flight.
As early as three (3) days prior to departure, you should accomplish the Passenger Profile and Health Declaration Form (PPHD). To get the form, you need to pre-register first via the PAL pre-registration form.
To do this, you need a valid and active email account. If you don't have one yet, it's easy to sign up for a Gmail account. You need this because you'll be sent important information via email.
This applies to the following airports where PAL operates:
Manila – Ninoy Aquino International Airport
Antique – Evelio Javier Airport
Bacolod – New Bacolod Silay International Airport
Basco – Basco Airport
Busuanga – Francisco B. Reyes Airport
Butuan – Butuan Airport
Cagayan de Oro – Laguindingan Airport
Calbayog – Calbayog Airport
Camiguin – Camiguin Airport
Catarman – Catarman National Airport
Caticlan – Godofredo P. Ramos Caticlan Airport
Cebu – Mactan-Cebu International Airport
Cotabato – Cotabato Airport
Clark – Clark International Airport
Davao – Davao International Airport
Dipolog – Dipolog Airport
Dumaguete – Dumaguete Airport
General Santos – General Santos International Airport
Iloilo – Iloilo International Airport
Kalibo – Kalibo International Airport
Laoag – Laoag International Airport
Legazpi – Legazpi Airport
Ozamiz – Ozamiz Airport
Pagadian – Pagadian Airport
Puerto Princesa – Puerto Princesa International Airport
Roxas – Roxas Airport
San Vicente – San Vicente Airport
Siargao – Sayak Airport
Tacloban – Daniel Z. Romualdez Airport
Tagbilaran – Bohol Panglao International Airport
Tawi-tawi – Sanga-sanga Airport
Zamboanga – Zamboanga International Airport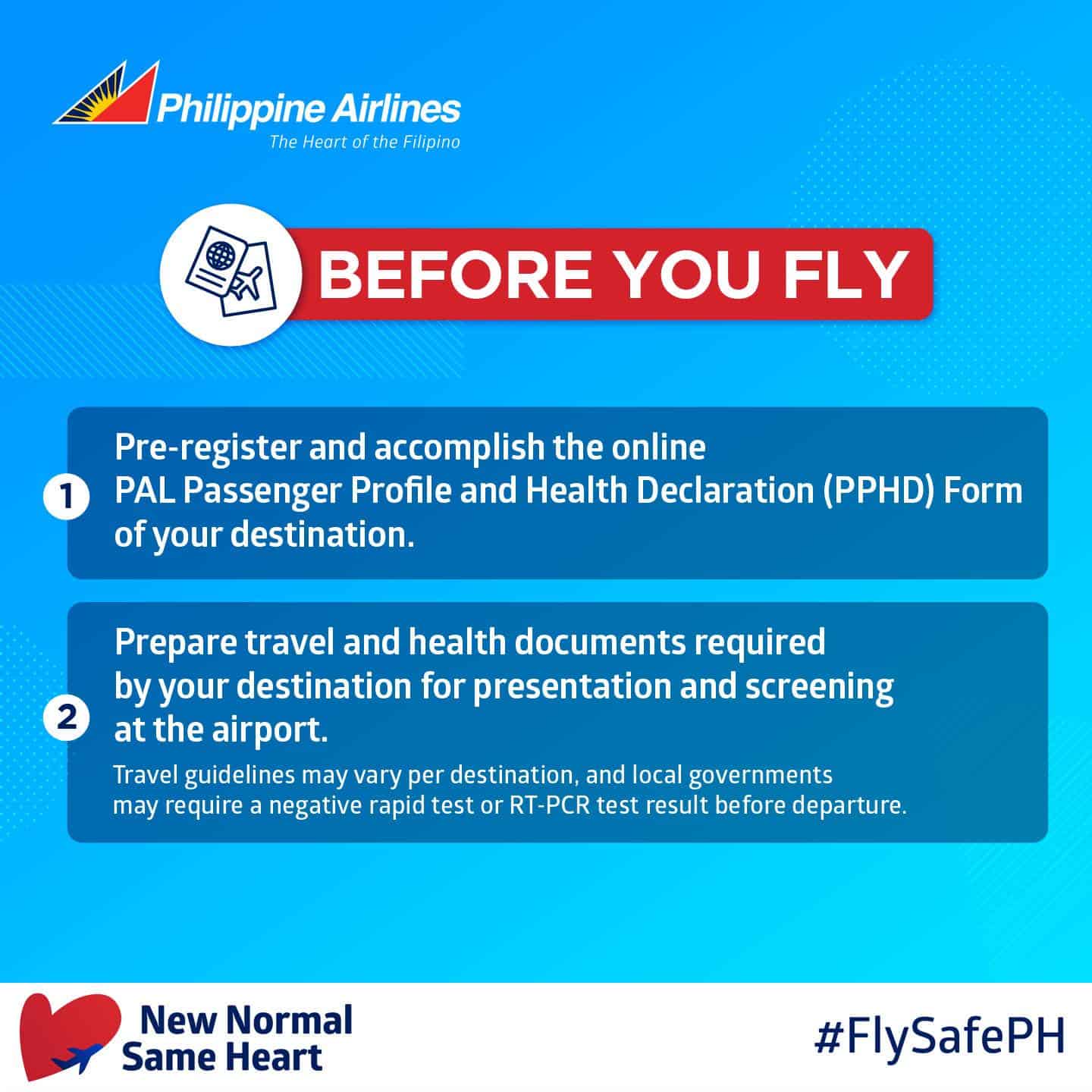 ---
2. Accomplish the PPHD Form.
Once you have pre-registered, you will be sent via email a unique reference code and a link to the actual Passenger Profile and Health Declaration Form (PPHD), which you need to fill out before your flight.
Take note of the reference code because you might use it later on.
Even if you're traveling as part of the group, each passenger must accomplish the form.
Follow the further instructions in the email.
---
3. Secure the requirements of your destination's local government.
Aside from the common requirements like flight booking, some local government units (LGUs) need you to submit or present additional documents. The list varies depending on the destination. Some cities or provinces have more requirements than others. It is essential that you're familiar with these.
You can check PAL's compilation of requirements here: List of Travel Requirements.
On that page, scroll down to the bottom and you'll find a menu. Click those that apply to you and they'll reveal a list of requirements per destination and passenger classification.
Some LGUs require passengers to show negative test results before departure. PAL has partnered with some accredited testing centers. You can also get a PAL-exclusive discount on testing fees and get a queueing priority if you choose a partner testing center. See the full list here!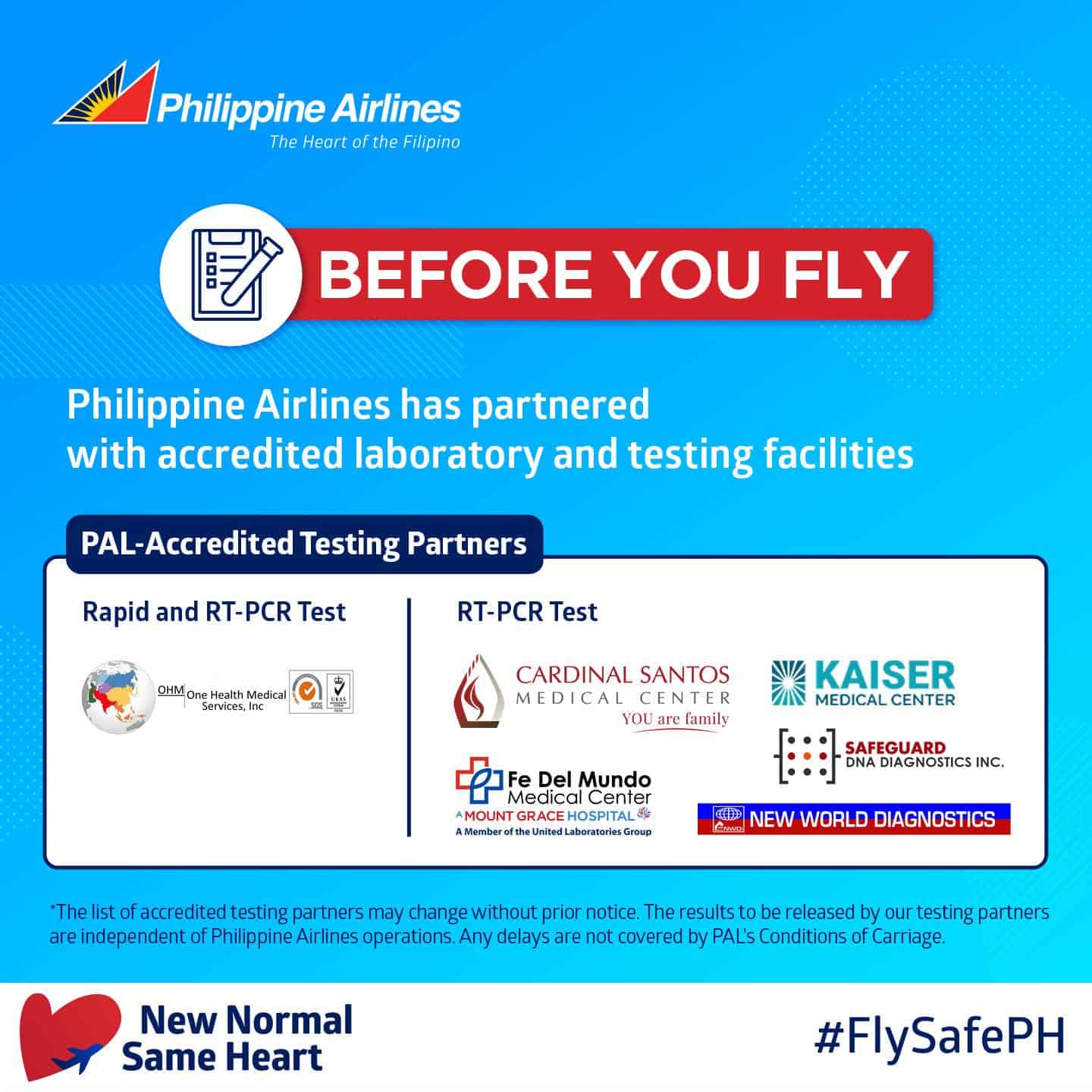 That said, on top of this, we still strongly encourage you to call your destination's local government unit to be sure that you have the updated list of requirements. These policies change quickly and it's always best to get the information directly from those who make the rules.
---
4. Follow safety guidelines at the airport.
To ensure safety, the Civil Aeronautic Board and the Inter-Agency Task Force on Emerging Infectious Diseases (IATF-EID) have set guidelines for domestic passenger air transportation operations that both airline staff and passengers must strictly observe at the airport and on board the plane.
Here are some of the rules:
Wear a face mask at all times. This is mandatory.
Wear a face shield. Effective 15 August 2020, this has been mandatory. The face shield must be clear and with a snug fit, covering the entire face.
Observe physical and social distancing. Minimize contact at all times, even upon check in and boarding, during the flight, and upon deplaning and claiming of baggage.
The aircraft and airport facilities are regularly sanitized and disinfected.
PAL may refuse to accept passengers who fail to meet the requirements.
---
Related Posts
---