Last updated: 17 SEPTEMBER 2021
Starting 2021, there have been changes to the entry process and quarantine protocols for international flight passengers arriving at the Ninoy Aquino International Airport (NAIA), which serves Metro Manila and surrounding provinces. This has been implemented following the latest resolution by the Inter-Agency Task Force for Emerging and Infectious Diseases (IATF-EID).
The resolution describes in detail the separate processes for OFWs, non-OFWs and non-Filipinos. In this article, we're focusing only on ELIGIBLE non-Filipino passengers only. This includes spouse and children of Filipinos, diplomats, foreign officials accredited by the Philippines, and eligible foreigners.
If you're flying to the Philippines through other international airports in the country, you can refer to our other guides. We also have a separate post for arrival and quarantine protocols for Filipinos. READ: ARRIVAL PROCESS FOR OFWs and NON-OFWs!
Here's a detailed guide on what to do prior to your PAL flight to the Philippines including the arrival and quarantine protocols.
WHAT'S COVERED IN THIS GUIDE?
REQUIREMENTS BEFORE YOUR FLIGHT
1. Create a ONE HEALTH PASS account.
The One Health Pass website is set up by the Bureau of Quarantine (BOQ). This serves as your Health Declaration Card (called e-HDC). You can sign up for an account here.
Accomplish the forms and enter your personal information, health details, and travel history. Once done, you will be given a unique transaction number and QR code that you must keep. You will be returning to this website on the day of your travel.
2. Pre-register for an RT-PCR test online.
As early as 3 days prior to your departure, accomplish the Electronic Case Investigation Form (eCIF).
After completing the registration, you will be sent a confirmation email and QR Code. Make sure to save a copy of both.
3. Download and accomplish the Affidavit of Undertaking.
This affidavit will be submitted upon arrival in the Philippines.
You can find the May 2021 version of the document here: AFFIDAVIT OF UNDERTAKING!
Download it and print it out.
4. Pre-book an accredited hotel.
Make sure to have a confirmed booking for at least 10 days at a hotel accredited by the Department of Tourism (DOT) and Department of Health (Bureau of Quarantine).
Yes, 10 days. The total length of the quarantine period is 14 days: 10 of which are to be spent at an accredited hotel or facility, and the remaining 4 days at home, under the monitoring of the LGU.
However, if you're fully-vaccinated, you may be able to shorten this to only 7 DAYS. More info in the section for FULLY-VACCINATED TRAVELERS towards the bottom of this article.
You can find the list of accredited hotels here:
✅ LIST OF ACCREDITED QUARANTINE HOTELS!
5. Download the TRAZE App.
Traze is a contact tracing app that the government requires every passenger.
Before your trip, you should download this app and register for an account. We have a step-by-step tutorial on how to use this app in this post: HOW TO USE TRAZE APP!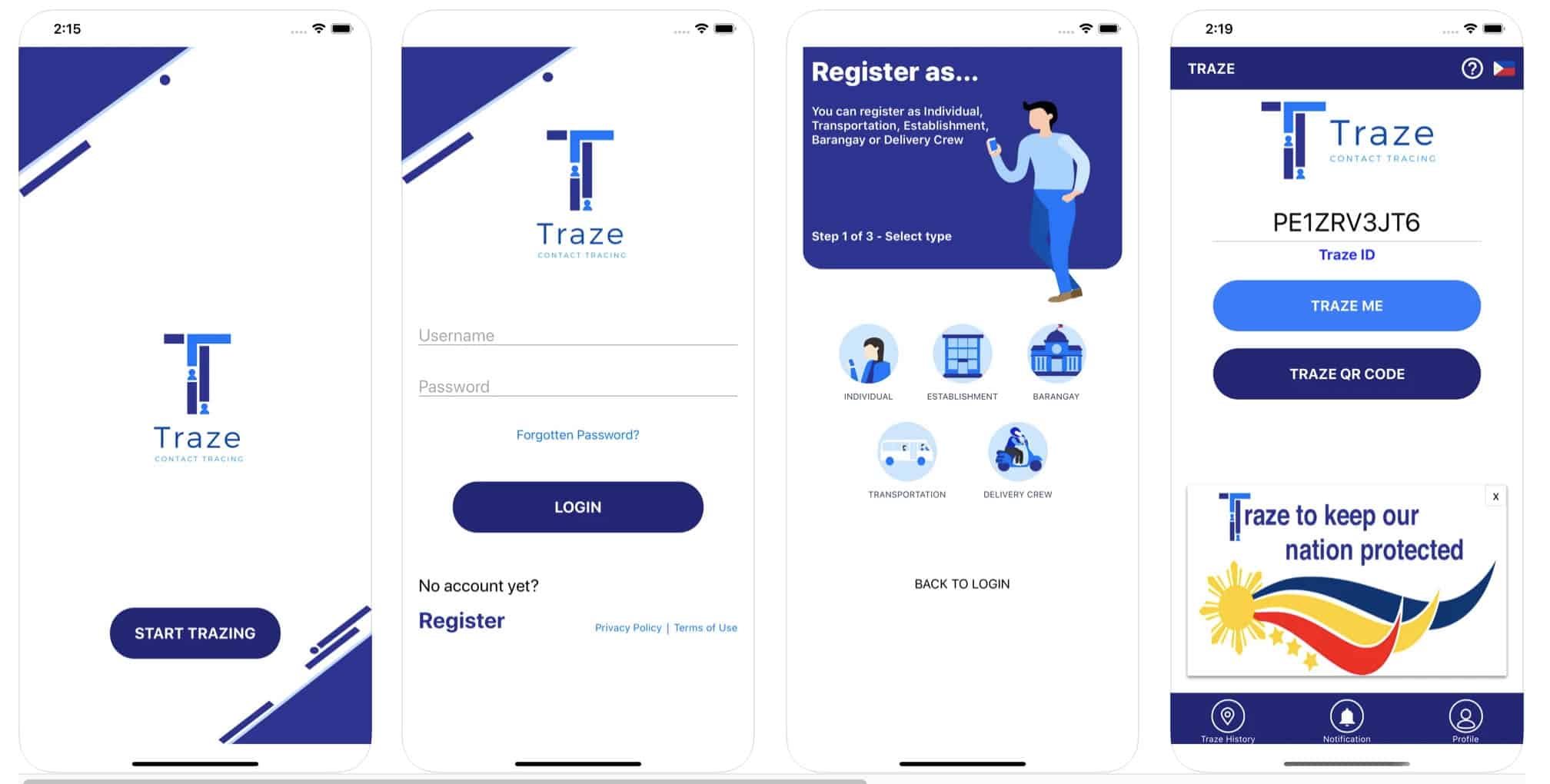 You will need to present your TRAZE app upon checkin.
6. Go back to the ONE HEALTH PASS website before your flight.
Again, you'll find it here.
When asked "Are you currently at the Airport of Departure or are you Departing today for the Philippines?", select YES. Then follow the next steps until the end.
7. Sign the Declaration and Waiver Form.
Upon check-in, a Declaration and Waiver form will be presented by the check-in agent. When you accomplish and sign this, you are declaring that you are healthy and fit to travel.
You also need to present the QR code sent to you when you completed the eCIF on Step 1 along with the TRAZE app.
---
WHAT TO DO DURING THE FLIGHT
Fill out the following forms while onboard the aircraft:
Bureau of Customs Form
Arrival Card
---
WHAT TO DO UPON ARRIVAL
Listen to the briefing to be conducted by the Philippine Coast Guard and the airline.
Upon deplaning, undergo a temperature check and submit the Health Declaration Form.
Verify your quarantine hotel booking with a hotel coordinator and validate your Affidavit of Undertaking.
Arrange a hotel transfer if you haven't yet. There are shuttles or vans available. A separate desk is assigned for coupon and meter taxis. You will be given a color-coded sticker to indicate your choice of transportation to your quarantine hotel.
– Red – Pre-arranged hotel transfers
– Blue – Shuttles/vans
– Yellow – Metered Taxis
– Green – Coupon Taxis
Proceed to the verification booth where staff will confirm your eCIF data.
Pay for your RT-PCR test. The test costs P4,000 and you may pay with cash, card, or through the following online payments: AliPay, WeChat Pay, PayPal, and GCash.
After paying, you will receive a sticker indicating that you have a confirmed booking and you have already paid for your test. Affix the sticker on the back of your passport.
Clear the Immigration check and submit the Arrival Card.
Claim your bags at the designated carousel.
Submit your Affidavit of Undertaking and Bureau of Customs Form.
Proceed to your arranged transportation to your hotel.
---
AT THE QUARANTINE HOTEL
DAY 1: Check in at your hotel and wait for the schedule of your test on Day 7.
– Note that Day 1 starts on the day of your arrival in the Philippines.
– If you exhibit symptoms anytime between Day 1 and the day of your test, inform your hotel immediately. A health or BOQ officer will assess you fro medical management and testing, as necessary.
DAY 3: You should receive a follow-up email for confirmation of your hotel and room number. It will also include an assessment checklist for updates on your health. Answer the form no later than Day 4 of your quarantine stay.
DAY 6: The testing agency may contact you or your hotel to confirm your location and schedule.
DAY 7: Undergo RT-PCR test. You will need to present your passport, QR Code, and payment receipt to the personnel who will administer the test. This may be done on DAY 5 if you're an eligible, fully-vaccinated traveler. More info below.
---
AFTER GETTING THE TEST RESULTS
IF YOU TEST POSITIVE, you will be assessed by a health / BOQ Officer. Based on their assessment, you will either be transferred to a designated hotel for further medical management or stay at the quarantine hotel or transfer to a stringent facility for a 14-day quarantine.
IF YOU TEST NEGATIVE, you may get your BOQ medical certificate by sending an email to boq.qc1@gmail.com or helpdeskboq@gmail.com with the following details:
complete name
complete address
current hotel and room number
country of origin
date of arrival in the Philippines
number of quarantine days
attachment of your official test result
Present your negative test result and the BOQ medical certificate to your hotel for clearance.
---
GOING HOME
Once you get a clearance, you may contact your relatives or your local government (LGU) to pick you up or arrange a transportation going home.
Complete your 14-day quarantine / self-isolation under the monitoring of your LGU and Barangay Health Emergency Response Teams.
---
For FULLY-VACCINATED Travelers
If you've been fully-vaccinated, consider securing proof of vaccination in order to shorten the length of your hotel quarantine from 10 days to only 7 days. But it only applies if you meet ALL of these conditions:
your port of origin is on the list of GREEN List countries, territories and jurisdictions.
you stayed exclusively in GREEN List Countries within the past 14 days before your arrival date in the Philippines.
you're fully vaccinated (in the Philippines or abroad)
your vaccination status can be verified by authorities as valid upon your arrival
You are considered FULLY-vaccinated 14 days AFTER you get your second dose of a 2-dose vaccine (or your only dose of a 1-dose vaccine).
What if you're transiting via an airport in a non-Green country? According to PAL, "All passengers, whether Filipinos or foreigners, merely transiting through a non-Green List country/jurisdiction/territory shall not be deemed as having come from or having been to said country/jurisdiction/territory if they stayed in the airport the whole time and were not cleared for entry into such country/jurisdiction/territory by its immigration authorities."
List of GREEN Countries
As of 4 September 2021, here is the list of countries and territories that are considered GREEN by the DOH. This may change over time because it's based on incidence rates.
American Samoa
Anguilla
Australia
Benin
Burkina Faso
Cameroon
Cayman Islands
Chad
China
Comoros
Republic of the Congo
Djibouti
Equatorial Guinea
Falkland Islands
Gabon
Grenada
Hong Kong
Hungary
Mali
Federated States of Micronesia
Montserrat
New Caledonia
New Zealand
Niger
Northern Mariana Islands
Palau
Poland
Saba
Saint Pierre and Miquelon
Sierra Leone
Sint Eustatius
Slovakia
Taiwan
If Vaccinated in the Philippines
The vaccine you got must be in the list of the Philippine Food and Drug Administration (FDA) or through a Compassionate Special Permit (CSP).
The following are accepted proof of vaccination:
Vaccination card issued by LGU or hospital (original / hard copy)
Certificate of Vaccination issued by LGU
International Certificate of Vaccination or Prophylaxis (ICV) issued by the BOQ
✅ READ: HOW TO GET AN INTERNATIONAL CERTIFICATE OF VACCINATION FROM BOQ!
If Vaccinated Abroad
If you were vaccinated abroad and you stayed exclusively in "Green" countries or jurisdiction over the past 14 days immediately prior to arrival, you may also take advantage of the shorter 7-day quarantine, provided that you present a Vaccination Certificate issued by local health authorities. The Philippine authorities must be able to confirm or verify that the certificate is valid or authentic.
The vaccine must be in the Emergency Use Listing of the World Health Organization.
---
More Tips on YouTube ⬇️⬇️⬇️