The Mactan Cebu International Airport (sometimes referred to simply as Cebu Airport) is one of the biggest hubs and busiest airports in the Philippines. It serves as a key gateway to the country, especially the the Central Visayas Region. In addition, many international flights have been rerouted to Cebu due to the limited capacity of COVID-19 testing and quarantine facilities in Manila.
Philippine Airlines, which resumed operations last June, published a detailed step-by-step guide to the arrival process at Cebu Airport on their Facebook page.
In the infographics below, you'll find two main classifications of passengers:
OFWs (Overseas Filipino Workers). In this post, families with at least one OFW traveling with them are considered all OFWs.
ROFs (Returning Overseas Filipinos) and non-OFWs, including spouses and children of Filipinos.
If the images below are too small on your device, we also typed them and made them clearer below.
WHAT'S COVERED IN THIS GUIDE?
1. Before your flight, register online.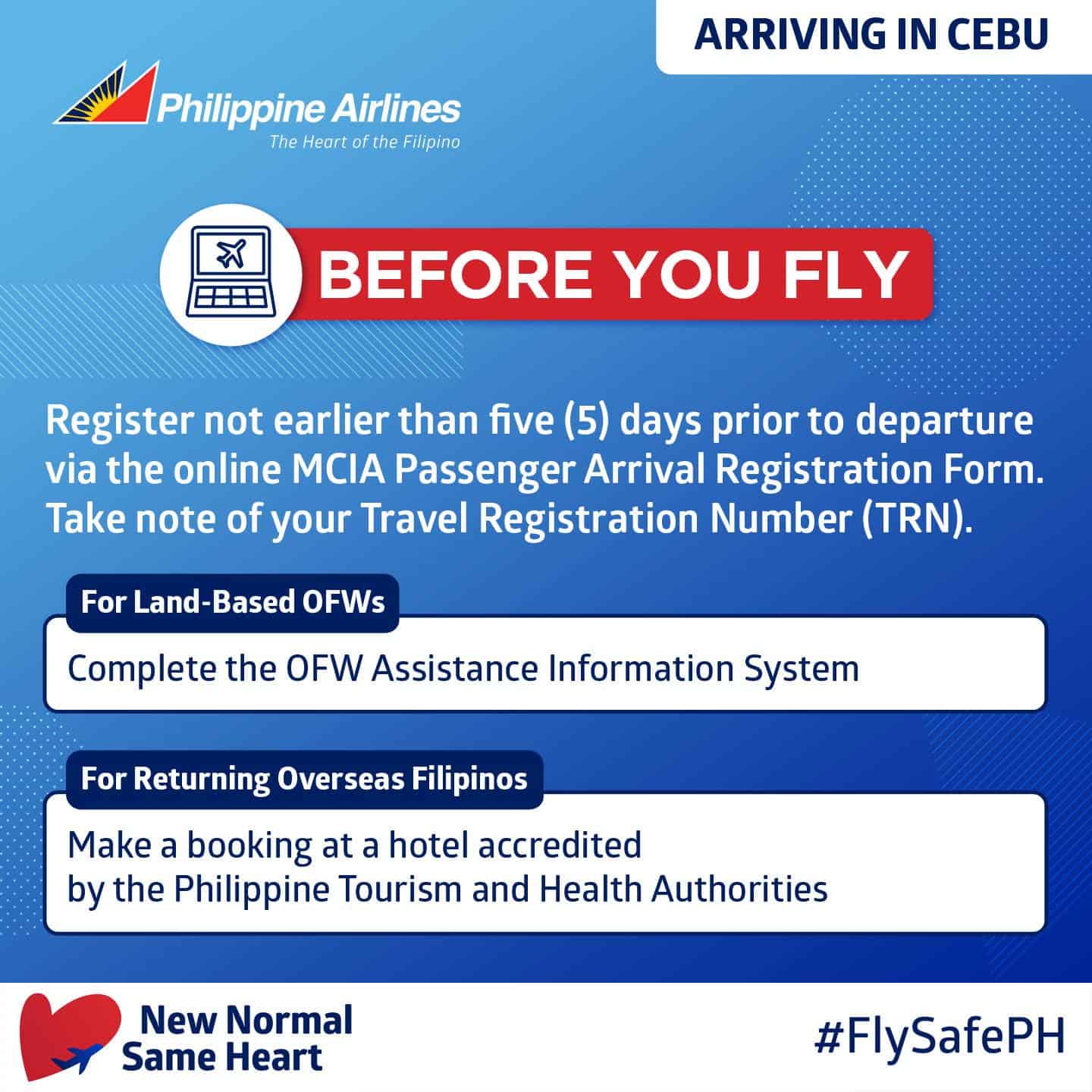 Register by accomplishing the online MCIA Passenger Arrival Registration Form on the Mactan-Cebu Airport's official website as early as five days before your departure date. Note that this is MANDATORY for all arriving international passengers.
Take note of the Travel Registration Number (TRN), which will be given to you upon the completion of registration process.
For land-based OFWs, register with the OFW Assistance Information System (OASIS) on the OWWA website.
For Returning Overseas Filipinos (ROFs, non-OFWs), make sure you have a confirmed booking at a hotel accredited by the Department of Tourism and the Department of Health, good for at least 2 days. You can find the list of accredited hotels here.
---
2. Upon check-in at the airport, present the requirements.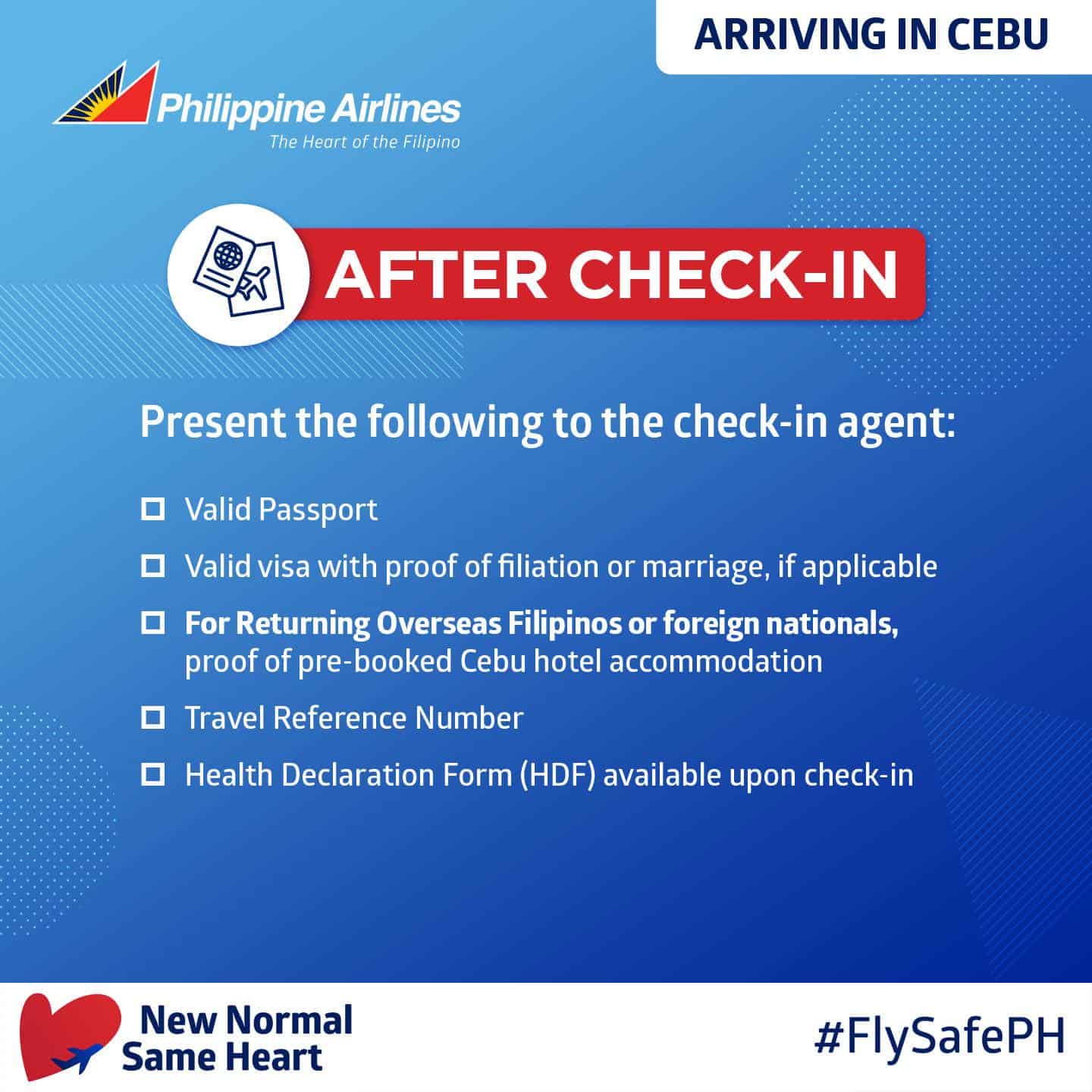 Accomplish and sign the Declaration and Waiver Form, indicating that you are fit to travel, which will be provided by the staff at the check-in counter.
Present the following documents:
Valid Passport
Valid visa (with proof of marriage or filiation, only if applicable)
Travel Reference Number (TRN) given to you when you registered to the online MCIA Passenger Arrival Registration Form
Health Declaration Form (HDF), which you can find at the check-in counter
For OFWs, coordinate with OWWA for specific requirements
For foreign nationals and non-OFWs, proof of confirmed hotel booking in Cebu
On top of these, make sure you also have other documents that are required by the local government of your destination. These may change over time so contact the LGU first to make sure you're updated.
---
3. During the flight, accomplish the Arrival Card.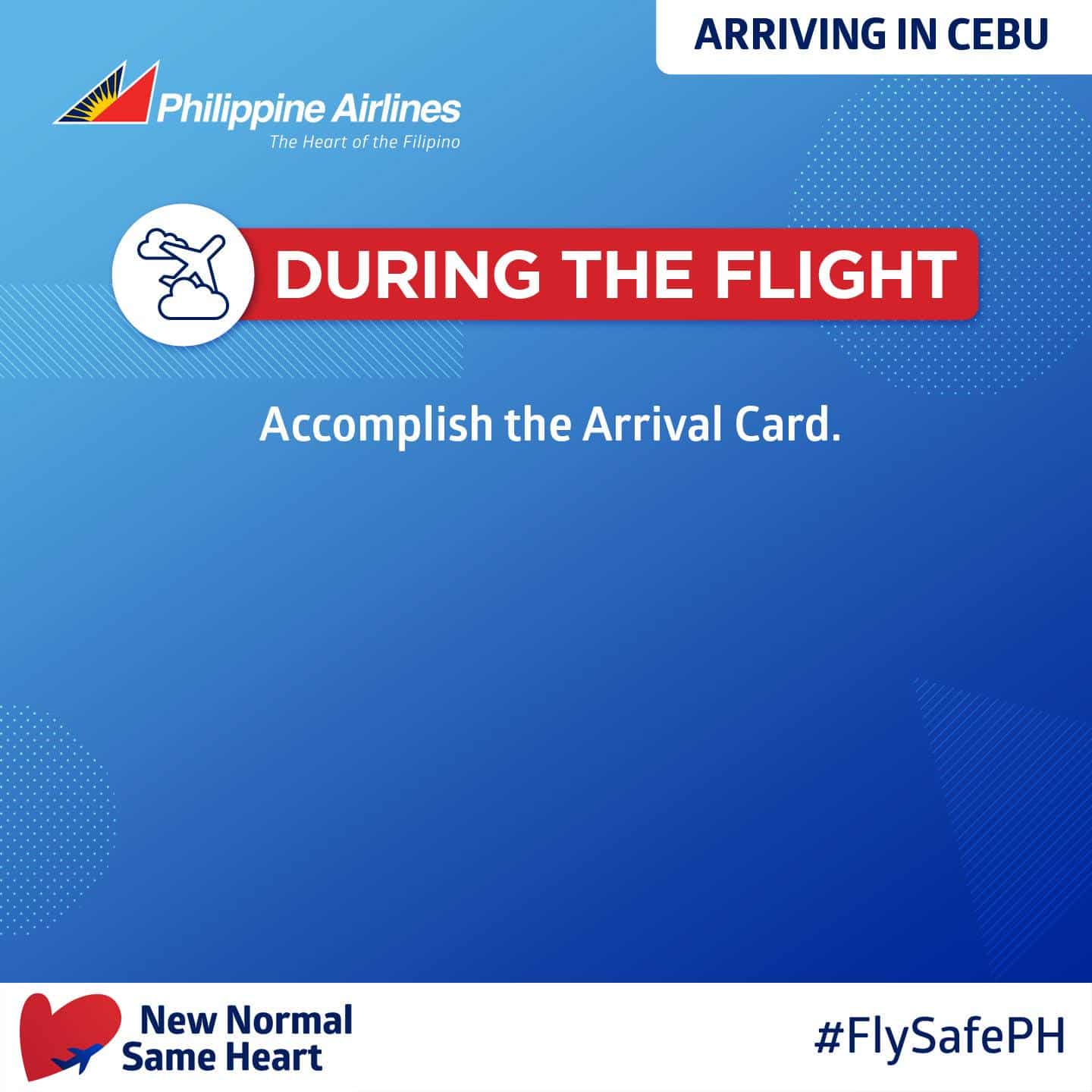 During your flight, fill out the Arrival Card so you don't need to do it upon arrival.
---
4. Upon arrival, clear temperature and immigration checks.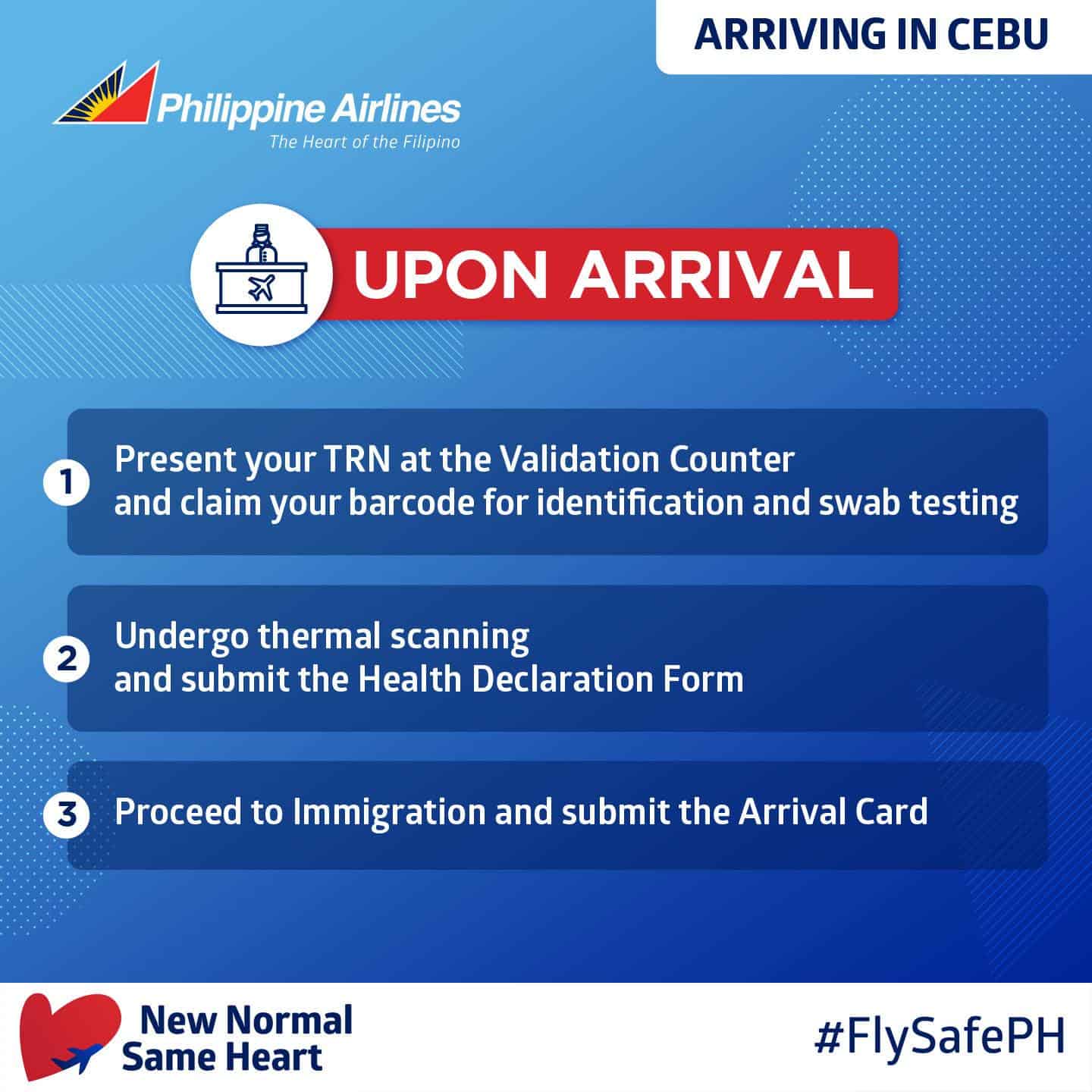 Upon arrival in Cebu, present your Travel Reference Number (TRN) at the Validation Counter. You should be provided a barcode for swab testing.
Proceed to thermal scanning / temperature check, performed by the Bureau of Quarantine (BOQ).
Submit the Health Declaration Form (HDF) to the BOQ.
Go through Immigration inspection and submit your accomplished Arrival Card.
---
5. At the Arrival Hall, proceed to the briefing desks.
For land-based OFWs, approach the OWWA Desk (Overseas Workers Welfare Administration)
For sea-based OFWs, approach the MARINA Desk (Maritime Industry Authority)
For non-OFWs, head to the cashier and pay for the COVID-19 RTPCR Test, which costs PHP 4,900. You may settle the payment in cash or Visa cards. If paying in cash, make sure you have Philippine pesos.
---
6. Head to the waiting area for swab testing.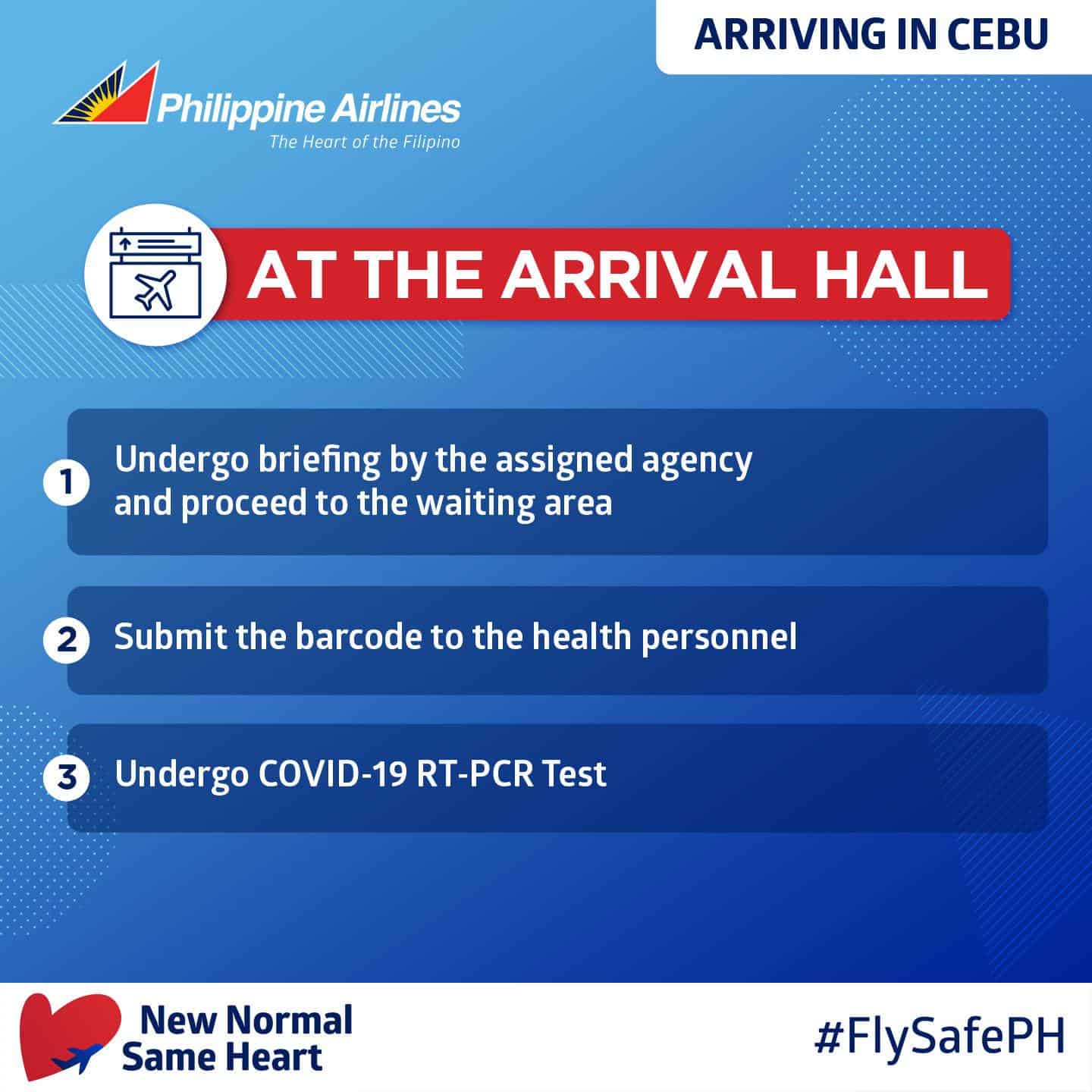 Present the barcode provided to you earlier and undergo the RT-PCR swab test. Once done, wear the orange sticker/band on your right wrist.
---
7. Pick up your baggage and clear Customs check.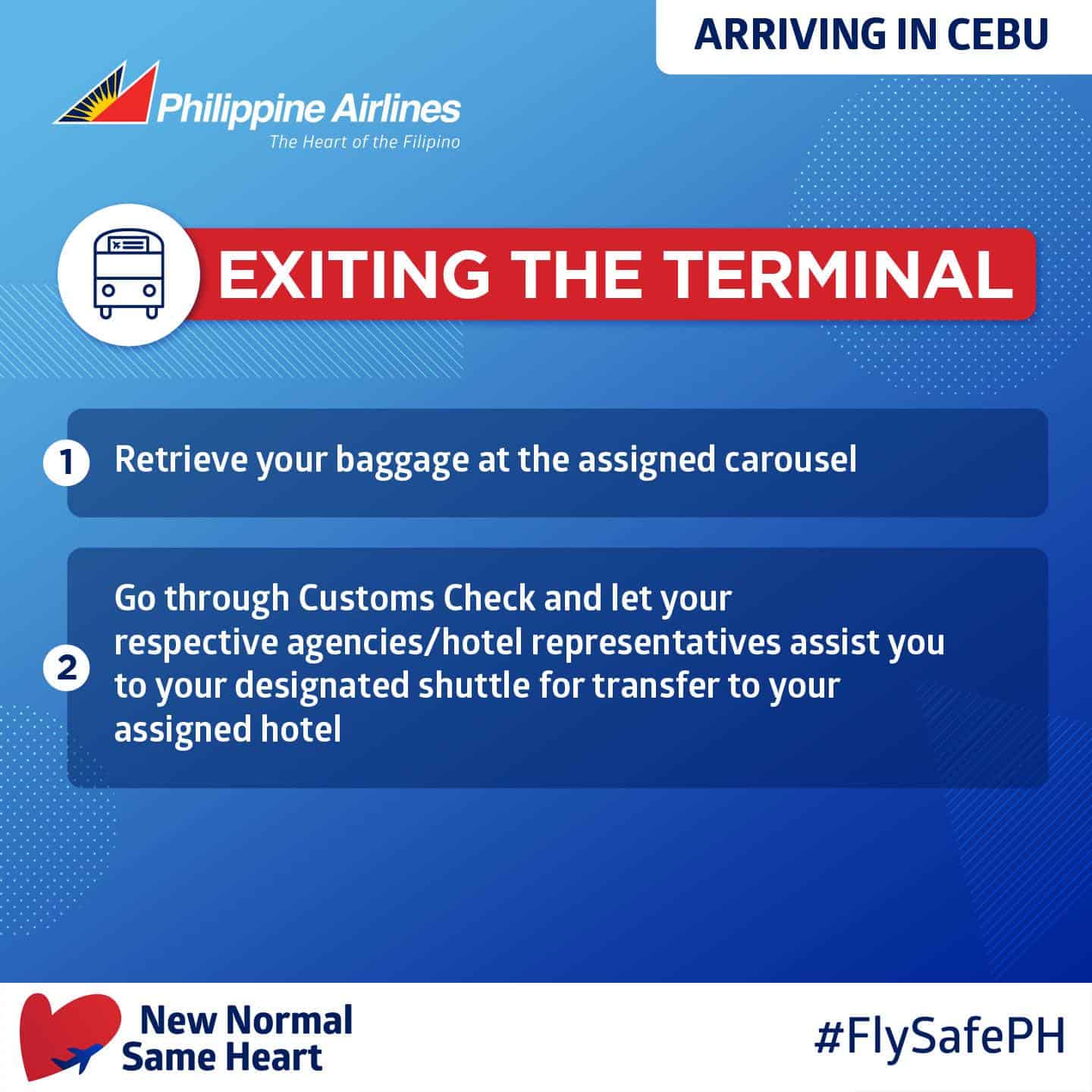 Proceed to your designated carousel to claim your baggage.
Clear Customs inspection.
Find your hotel's staff (for non-OFWs) or agency representative (for OFWs), which will assist you to your shuttle transport service.
---
8. At the hotel, wait for the result of your swab test.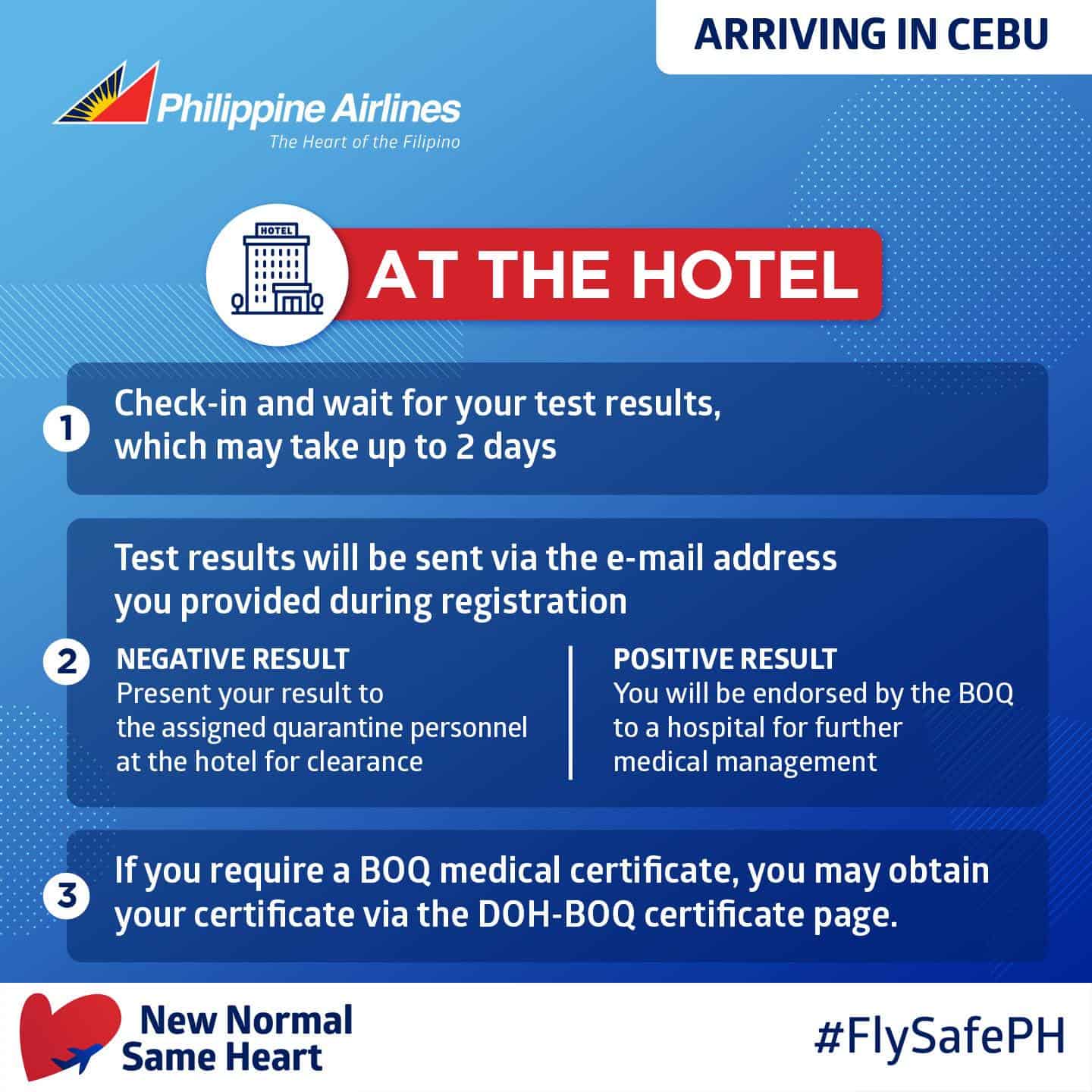 Upon Arrival at the hotel, check in. Note that hotels have their own safety measures that you need to follow. You may need to step on sanitizing mats or have your temperature taken too.
Wait for an e-mail from the Bureau of Quarantine indicating the result of your COVID-19 swab test. This should be released after 24 to 48 hours. If they encounter an issue with your email address, a copy of the result will be sent your hotel. The result will be uploaded to a secure, private website, but a hard copy will also be given to you.
If the test is positive, the BOQ will transfer you to a hospital. If negative, you can secure a copy of a medical certificate via the BOQ quarantine certificate website.
For OFWs, your accommodation and food will be shouldered by the government.
For non-OFWs, you should pay for all your accommodation and meal expenses.
---
9. Proceed to your destination.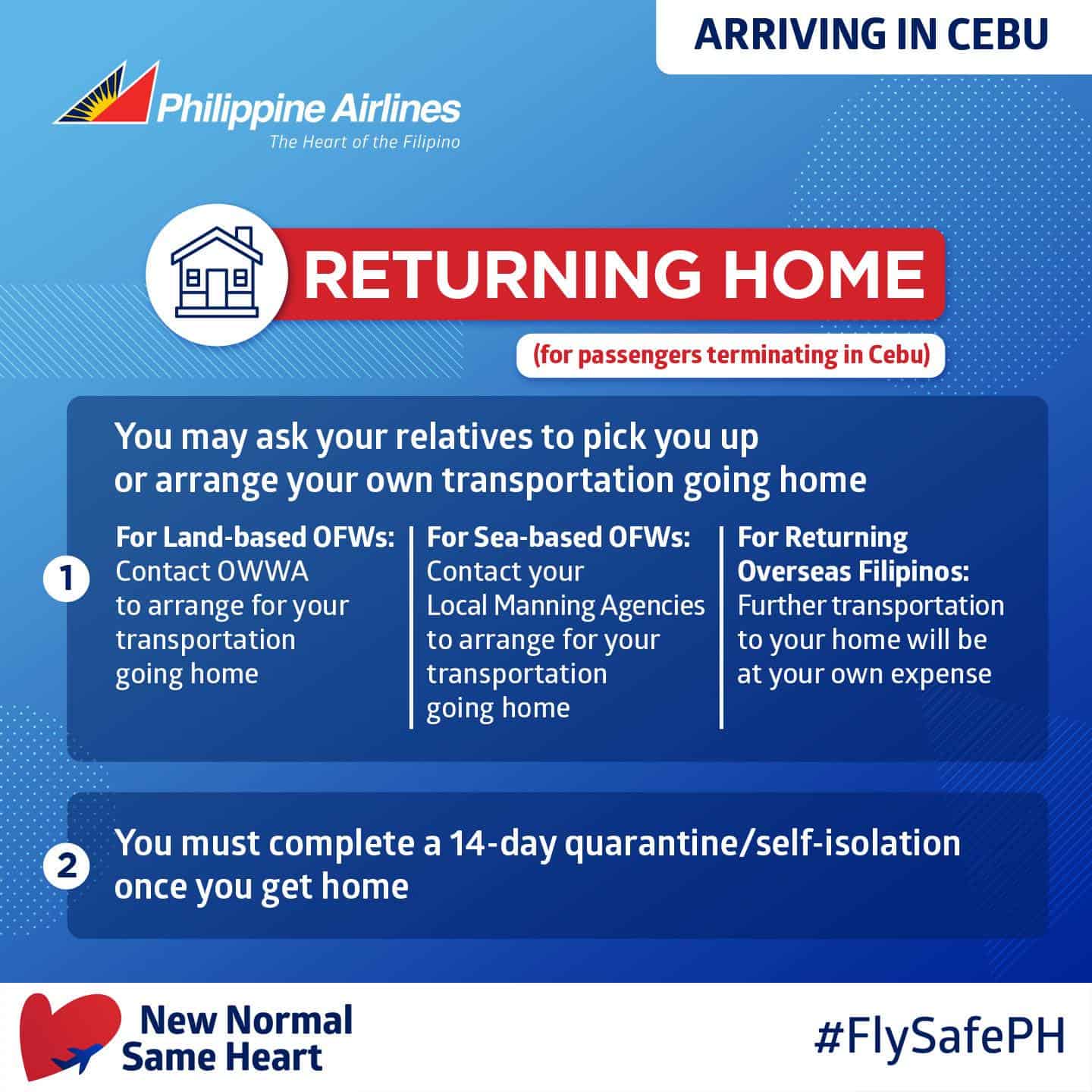 For OFWs, you may coordinate with your Local Manning Agency or with OWWA if you need help with transportation.
For non-OFWs, you should shoulder the transportation costs to your home. You may also be picked up at the hotel by your relatives.
For passengers who are originally bound for Manila but rerouted to Cebu, PAL will take you on the next available flight to your final point of arrival. Call PAL's Cebu Hotline at +6332 340-0191 (available from 8 AM to 8 PM) for changes to the connecting flight.
---
10. Complete the 14-day self-quarantine.
Upon arrival, complete your 14-day quarantine or self-isolation.
---
Related Posts
---
More Tips on YouTube ⬇️⬇️⬇️