2020 • 3 • 14
AirAsia has canceled all its domestic flights to and from Manila (Ninoy Aquino International Airport) scheduled between March 15 and April 14, 2020. The move is in compliance with the Philippine government's travel restrictions and community quarantine of Metro Manila to stop the further spread of COVID-19 (Novel Coronavirus Disease).
If you're one of the passengers whose flight was canceled, you have three options on how to move forward:
Move flight. AirAsia offers FREE one-time flight rebooking to a new travel date. Note that only the date will change and it has to be within 90 calendar days from the original flight date. The new flight has to be on the same route and is subject to seat availability.
Credit account. You can convert the cost of your ticket to AirAsia BIG Loyalty credits, which you can use to book another flight with AirAsia in the future. Once converted, you have to book your new flight within 365 calendar days from the date of issuance; otherwise, it expires. The actual travel dates can be after the expiry date, just make sure you book before it expires.
Full refund. You can request a full refund. The full amount that you paid will be returned to you via the payment method you used to book that flight. If you used a credit card, the amount will be credited back to your account. It might take a while to reflect, depending on your bank and billing cycle.
All three can be done online!
WHAT'S COVERED IN THIS GUIDE?
How to Rebook or Get a Refund for Canceled Flight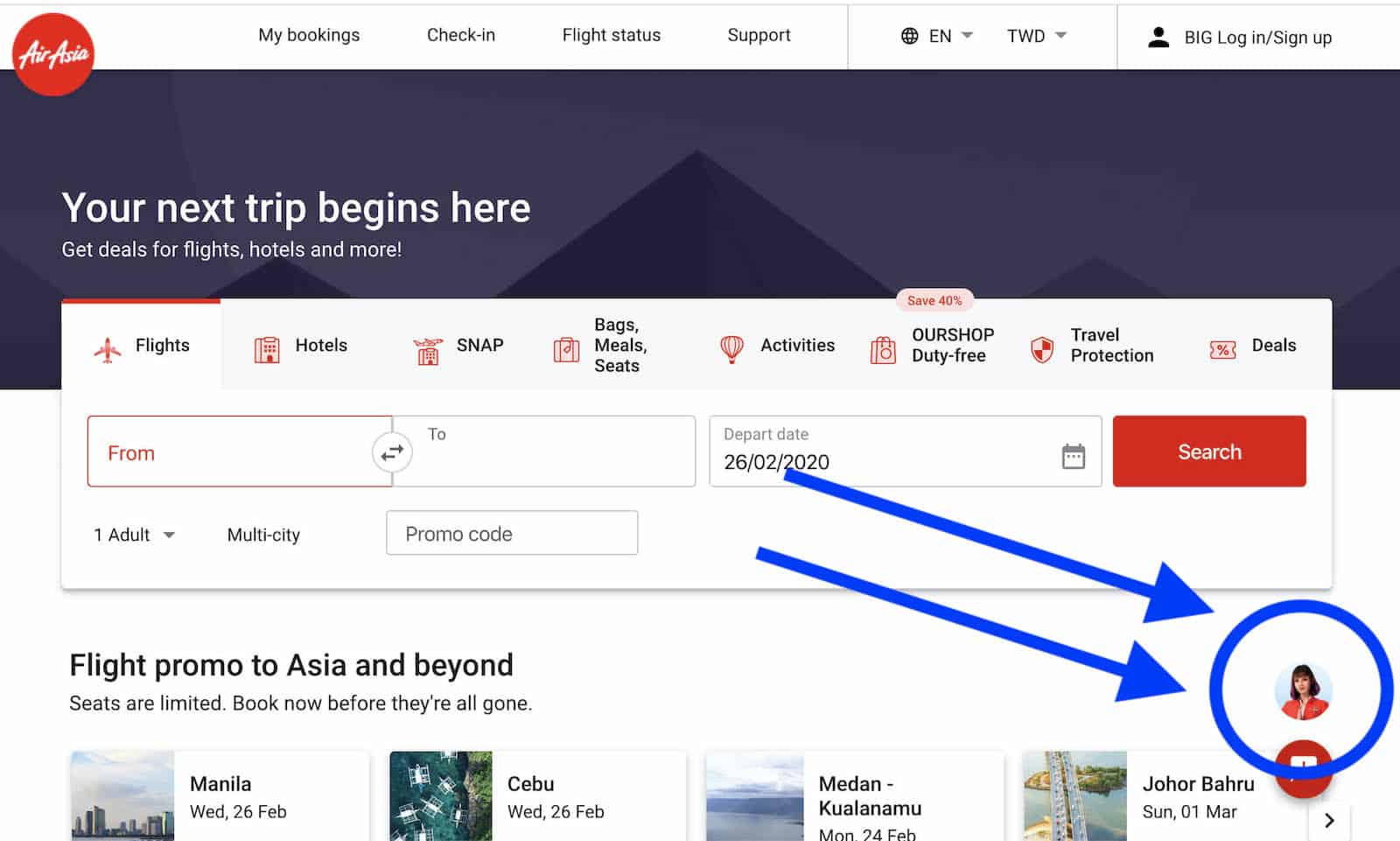 Visit www.airasia.com.
Tap on the floating AVA button on the lower right corner of your screen.
A chat box will appear. AVA will greet you and present a menu. Select COVID-19.
On the next menu, choose AIRASIA PHILIPPINES. A new menu will appear.
Select what you want to do next. Your options are: MOVE FLIGHT (to reschedule your flight to a new date), CREDIT ACCOUNT (to transfer the amount to your BIG account), or REFUND (to get a full refund).
– If the REFUND option doesn't show, select MY FLIGHT IS CANCELED. Then start the refund process.
– If you choose MOVE FLIGHT, you will be asked for the details of the new flight you wish to book so be ready with the information. Note that it has to be on the same route.

Read the reminders that AVA will share. You'll be asked if you would like to proceed.
Enter the booking code. It's the code with 6 letters.
Follow AVA's next instructions. You may be asked your contact information and other details.
If the REFUND option doesn't show, try these steps instead. If you want a full refund, make sure you choose the ORIGINAL FORM OF PAYMENT when asked.
If you coursed your reservation via a travel agency, get in touch with your travel agent for assistance.
Update: Refunds take a lot longer these past several months. Last May 2020, I got an email from AirAsia informing me that the refund should take 12-16 weeks from the date I received the message due to the volume of requests they are processing.
---
How to Refund Airport Tax or Terminal Fee
For refunds due to flight cancellation or rescheduling by AirAsia, the terminal fee or airport tax will be refunded to you together with the fare and other charges.
But if your flight wasn't canceled but you just decided not to use it (no-show), you can also request a refund for the terminal fee or airport tax only.
With AirAsia, airport tax refund can only be filed within 6 months after the supposed departure date or one year from the booking date. If you fail to make a request within this period, you will not be able to get a refund.
We have a separate post for it here: HOW TO GET A TERMINAL FEE REFUND
---
---