Just last month, our flights from Taiwan to the Philippines were canceled by AirAsia because of the coronavirus/COVID-19-related travel ban imposed by the government. We were given options and we chose a full refund.
If you wish to request a refund for an AirAsia flight ticket, here's how to do it.
WHAT'S COVERED IN THIS GUIDE?
Who can get a refund?
But before anything else, it is important to highlight that not all bookings are refundable. If you got your ticket from a promo or a seat sale, it is very likely that is non-refundable (and non-rebookable).
However, there are instances when you will be able to get a refund. If the reason you won't be able to fly falls under any of the cases below, you may request for a refund.
Flight cancellation, when AirAsia cancels your flight
Flight rescheduling, when AirAsia moves your flight with at least a 3-hour difference
Double payment, when you are charged twice for the same booking (with the same booking number)
Duplicate booking, when you booked twice the same flight (with the same flight number, guests, and travel dates)
Medical cases, wherein you are unfit to travel due to serious injury, serious illness, or pregnancy of more than 35 weeks.
Death of a guest or immediate family member of the guest.
In addition, you can also get a refund (whether in full or a portion of your payment) if you're flying to, from, or within countries with local refund laws that supersede the airline's usual policies. Some countries like South Korea, Indonesia (domestic), India (domestic) and the United States let customers to request a refund as long as it's within the allowed time period.
In this post, we'll focus on the first four items above (1-4) because these are what we have personally experienced before.
---
How to request a refund online
All you need to do is chat with AVA (AirAsia Virtual Allstar), which is their digital assistant. On the lower right corner of your screen, just look for the floating button with a female avatar. On desktop, you can see AVA right away. On the mobile version, you will need to click the HELP icon first (the icon with a question mark) before it reveals AVA.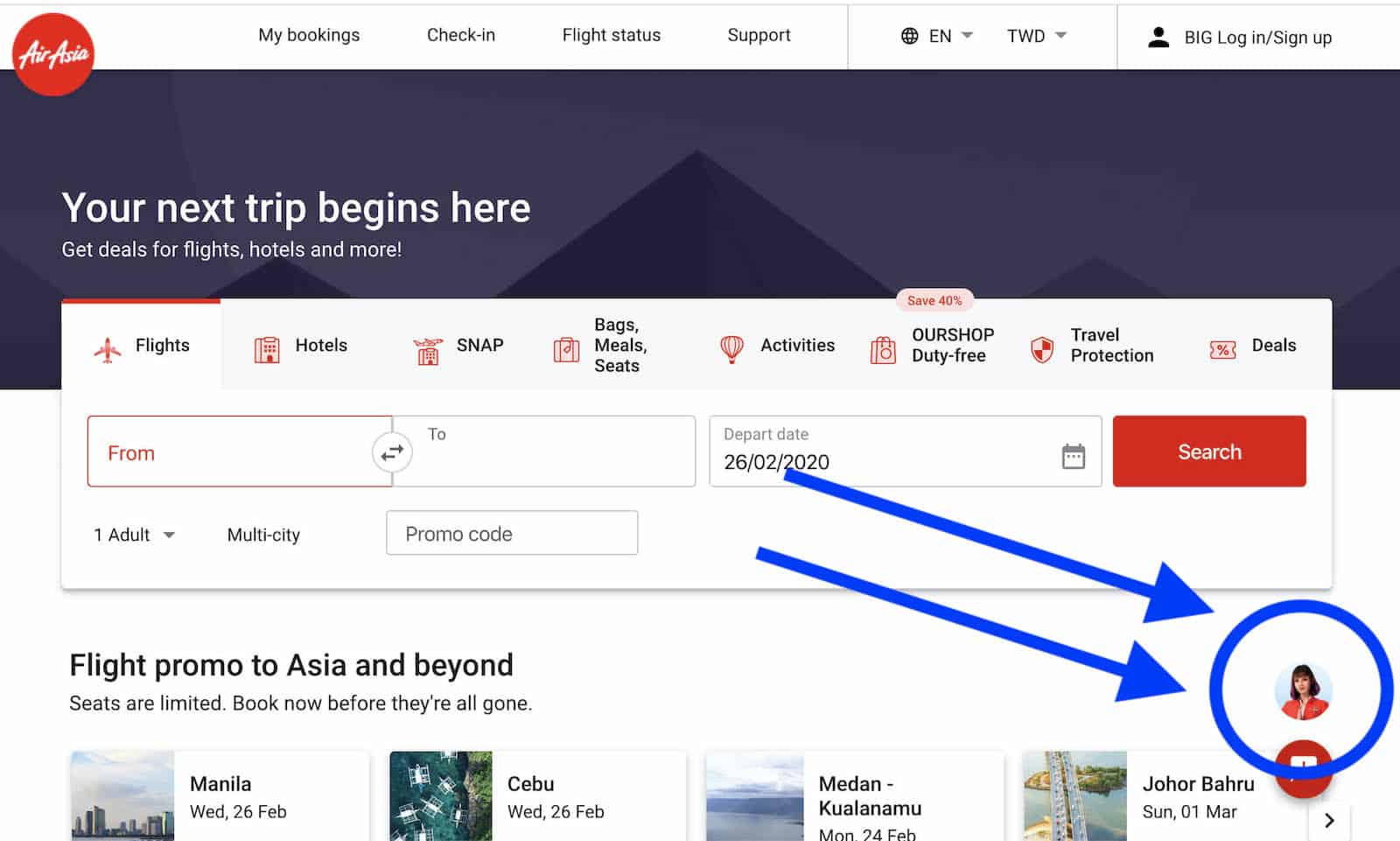 Visit www.airasia.com.
Tap on the floating AVA button on the lower right corner of your screen.
A chat box will appear. AVA will greet you and present a menu. Ignore it. Instead, type REFUND.
On the next menu, choose AIRASIA NEW REFUND REQUEST. A new menu will appear.
Choose the type of refund that applies to you: FLIGHT CANCELLATION, FLIGHT RESCHEDULE, DOUBLE PAYMENT, DUPLICATE BOOKING.

Read the reminders that AVA will share. You'll be asked if you would like to proceed. Choose YES if everything looks good for you.
Enter the booking code. It's the code with 6 letters. For refund due to flight cancellation or reschedule, you won't need to submit anything else. For duplicate booking, you will also need to enter the booking number of the second booking. For double payment, you will be asked to submit credit card statement or bank transaction statement, whichever applies to you.
Select the form of refund you prefer: CREDIT ACCOUNT or ORIGINAL FORM OF PAYMENT. I always choose the original form of payment.
Follow AVA's next instructions. You may be asked your contact information and other details.
The fare, surcharges, taxes, and terminal fees will be refunded to you.
Update: Refunds take a lot longer these past several months. Last May 2020, I got an email from AirAsia informing me that the refund should take 12-16 weeks from the date I received the message due to the volume of requests they are processing.
---
How to refund airport tax or terminal fee
For refunds due to flight cancellation or rescheduling by AirAsia, double payment or duplicate booking, the terminal fee or airport tax will be refunded to you together with the fare and other charges.
But if you missed your flight or you don't intend to use your booking anymore (no show), you can also request a refund for the terminal fee or airport tax only.
With AirAsia, airport tax refund can only be filed within 6 months after the supposed departure date or one year from the booking date. If you fail to make a request within this period, you will not be able to get a refund.
We have a separate post for it here: HOW TO GET A TERMINAL FEE REFUND
---
---
2020 • 2 • 25