Flight cancellations and rescheduling are normal parts of airline and airport operations around the world. They happen due to one or a variety of factors ranging from safety to economic to operational reasons.
I have my share of canceled and rescheduled flights. Just a few months ago, I was supposed to fly with Cebu Pacific to Seoul, but there were changes in the flight schedule that were not favorable for us, so we had to just cancel our trip. It's totally fine because we were notified of the rescheduling months in advance and we were yet to book tours, so we still had plenty of time to rework our travel plans. We were given options on how to move forward, and I chose to request a full refund.
Then last month, our AirAsia flights from Taiwan to Manila were canceled due to the coronavirus-related travel ban that the government imposed at the time.
Both times, I documented my experience so I could share with you the refund process. In this post, we'll focus on Cebu Pacific. (If your canceled flight is with AirAsia, read this instead: HOW TO GET A REFUND FROM AIRASIA!)
If your flight with Cebu Pacific gets canceled or rescheduled and you wish to request a refund, this post might help.
WHAT'S COVERED IN THIS GUIDE?
Who can get a refund?
Before we discuss that, let us emphasize that NOT all flight bookings are refundable. If you got your ticket from a piso sale or another seat sale, there is a big chance that your fare is not refundable unless it is the airline itself that canceled or rescheduled the flight.
Here are the instances wherein you can file a refund request.
Flight cancellation, when Cebu Pacific cancels your flight
Flight rescheduling, when Cebu Pacific moves your flight with at least a 1-hour difference. If the difference is less than 1 hour, you will noy be entitled to a refund.
Double payment, when you are charged twice for the same booking (with the same booking number)
Duplicate booking, when you booked twice the same flight (with the same flight number, guests, and travel dates)
Death of passengers
Some medical cases, but a valid medical certificate and other pertinent documents need to be submitted
Cases where refunds are mandated by local laws
In this post, we'll focus on the first two items above, flight cancellation and rescheduling.
If your Cebu Pacific flight is canceled or rescheduled (with at least an hour difference), you will be given three options:
Rebook or reroute to an alternate airport up to 30 days from original flight schedule without charges
Move to travel fund which can be used up to 90 days from the date of creation.
Request for a full refund. What I like about this is I can get what I paid in full. The downside is, it can take a long time to receive it or reflect on your account.
If you choose to file a refund request, read on!
---
How to request a refund online
You can do so by calling the hotline, but the easiest way is to do it online. Here's how to do it.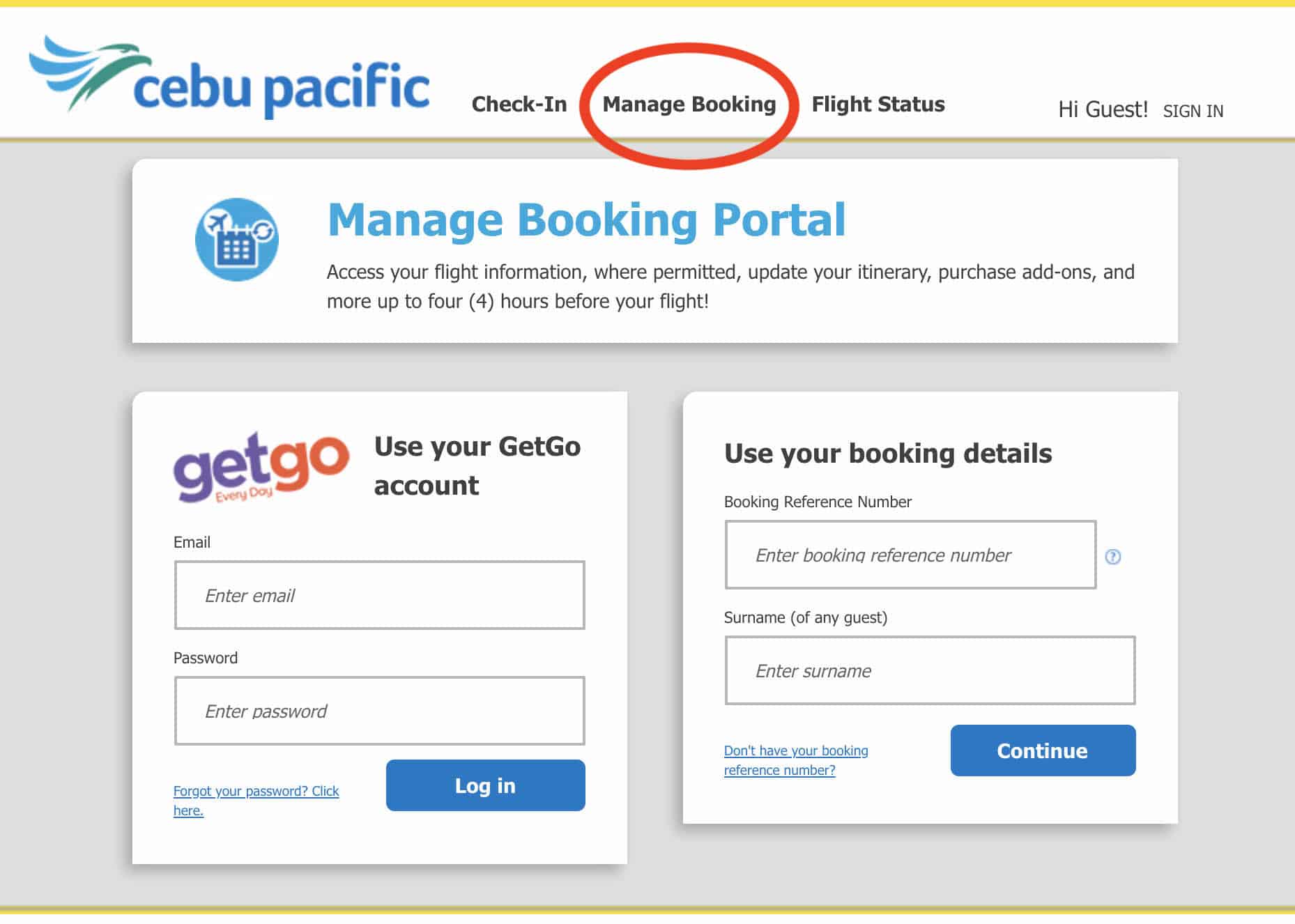 Visit the Cebu Pacific website: www.cebupacificair.com. Click on MANAGE BOOKING.
Enter your flight details: booking code and last name of any passenger. If you have a GetGo account, you can also simply sign in.
On the dashboard, find the flight that you want a refund for. Click the MANAGE button next to it.

On the next page, you will find four icons. Choose the one label REQUEST REFUND / CHECK REFUND STATUS.

Choose the passengers for whom you want a refund. You may be asked to enter some details for confirmation.
Confirm the refund request.
Once done, you will see the status of your refund on the dashboard. Initially, it will display RECEIVED. But it can change over time.
If you paid using a credit card, the refunded amount will be credited back to your account.
If you paid via an offline channel (7 Eleven, Cebuana Lhuillier, etc), you might need to visit a Cebu Pacific ticketing office to receive the refund. You will be informed about it when you complete the request. Here's the list of CEB's ticket offices.
How long before you receive it depends on a lot of factors, some of which may depend on the bank or your card's billing cycle. I got mine in less than 3 weeks.
---
How to refund airport tax or terminal fee
For refunds due to flight cancelation or rescheduling by Cebu Pacific, double payment or duplicate booking, the terminal fee or airport tax will be refunded to you together with the fare and other charges.
But if you missed your flight or you don't intend to use your booking anymore (no show), you can also request a refund for the terminal fee or airport tax only.
We have a separate post for it here: HOW TO GET A TERMINAL FEE REFUND
---
---
2020 • 3 • 6