Did you know that you could get a refund on terminal fees and airport taxes charged to your unused flight tickets?
It's something that I wish I would have known early on. I used to be the type of traveler who would snag low fares whenever there was a seat sale, even when I wasn't sure I would be able to travel. Many of those tickets went unused because I ended up not having the funds when it was time to travel (LOL).
You see, in most cases, when you book flights — yes, even promo flights — you are also charged several other fees on top of the base fare. Check the payment breakdown on your flight itinerary and you'll find all sort of fees there including taxes, fuel surcharges, and terminal fees. The terminal fees and some airport taxes are refundable.
Not all bookings have these fees. If you booked a flight out of Manila's Ninoy Aquino International Airport (NAIA), you were most probably charged the the terminal fee, also known as the Passenger Service Charge. It costs PhP550 per passenger.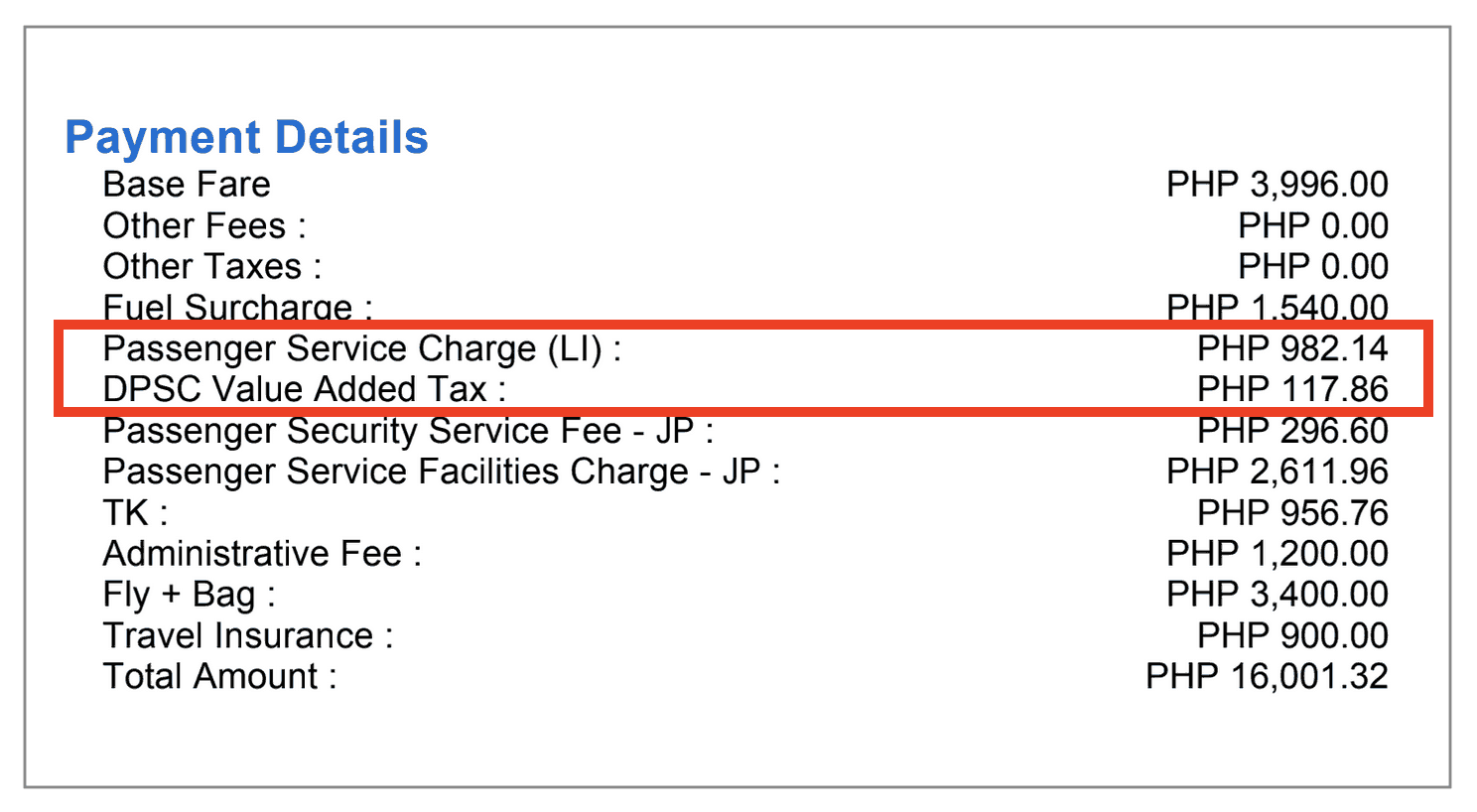 Years ago, this was paid for separately before boarding at the airport. But in an effort to streamline and reduce airport processes, it has been included in the flight booking. (This is one of the reasons why promo flights now don't seem as cheap as before. You're already charged the terminal fee upon booking.)
This has not been fully integrated into flights out of some provincial airports in the Philippines. Hence, you can still expect to fall in line and pay separate terminal fees at some airports outside Manila.
Some countries also collect airport fees or taxes. For example, Japan airports charge for passenger security service and use of facilities. This is also seamlessly integrated in the flight booking. But it's also refundable, albeit for a fee.
WHAT'S COVERED IN THIS GUIDE?
Who can get a refund?
If you purchased a plane tickets but did not travel on that flight, you are eligible for a refund of the terminal fee. Depending on the route and airline, you may also be eligible for refund on other fees charged to you.
In addition, if you were charged the terminal fee upon booking an international flight and you fall under the following, you may also request for a refund if you submit proper identification and exemption certificates.
Overseas Filipino Workers
Philippine Sports Commission delegates
Pilgrims
Note, however, that airlines usually enforce a deadline for filing of refund claims. For example, for AirAsia flights, the refund request must be submitted within six (6) months after the departure date or one year from the booking date.
Anyway, without further ado, here's how to request a refund on terminal fees and airport charges from AirAsia, Cebu Pacific, and Philippine Airlines.
---
Cebu Pacific Refund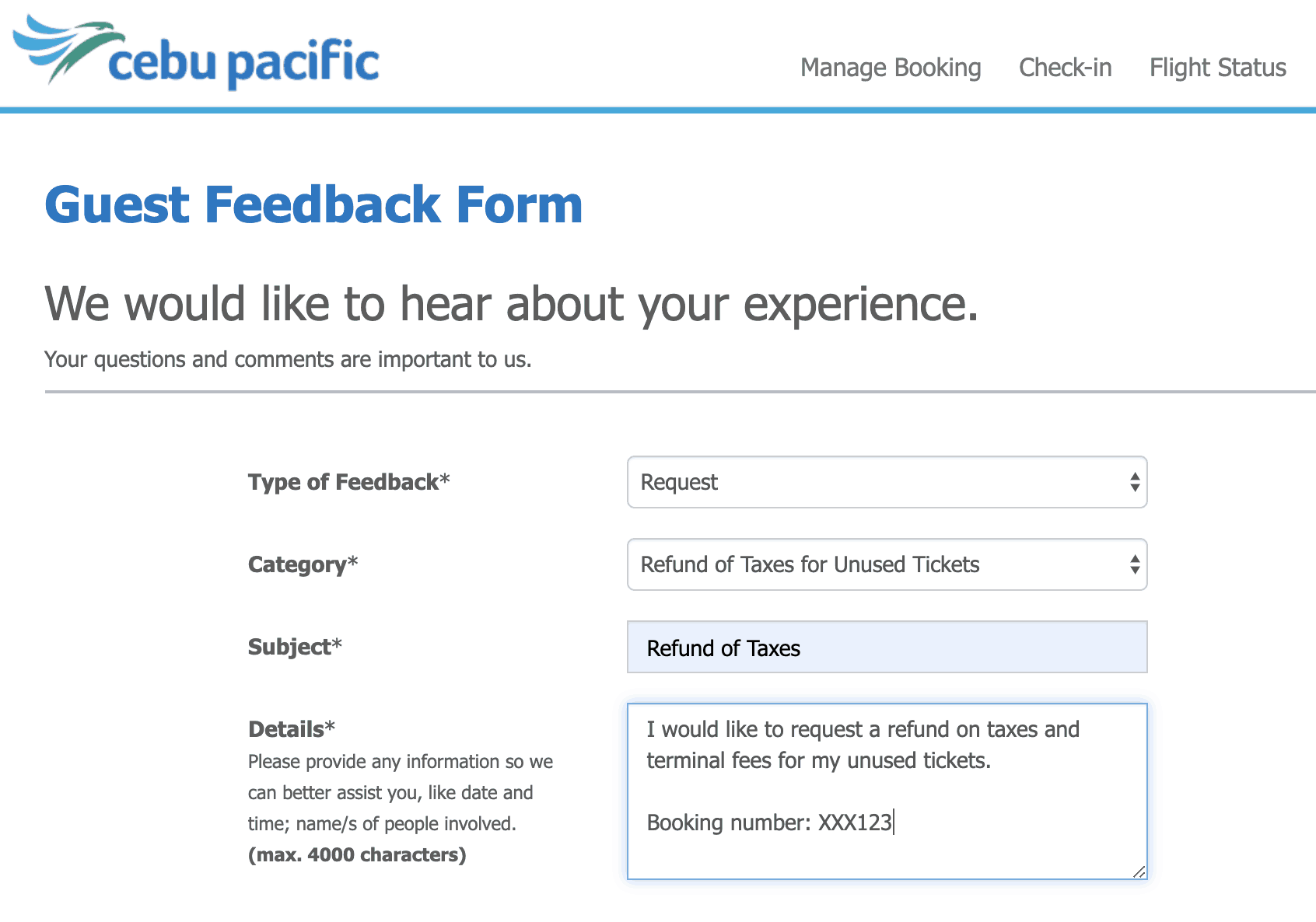 Visit Cebu Pacific's Guest Feedback page. Complete the form that will appear on the next page.
On the Type of Feedback dropdown, choose REQUEST.
On the Category dropdown, choose REFUND OF TAXES FOR UNUSED TICKETS.
On the Subject field, you can just type a generic subject like REFUND FOR XXX123 (booking number).
On the Details fields, enter information like date and time of flights and the names of the passengers. Maximum of 4000 characters only.
Enter flight information. Type your booking reference number, flight number, travel date, and origin and destination of the flight.
Complete the contact info form. Enter your full name, email address, and mobile number.
Tick "I'm not a robot" and click SUBMIT.
It's that easy! Check your inbox because you will be sent an acknowledgment email. Later on, usually within the day, you will also receive another email telling you how much you should expect and when you should receive it.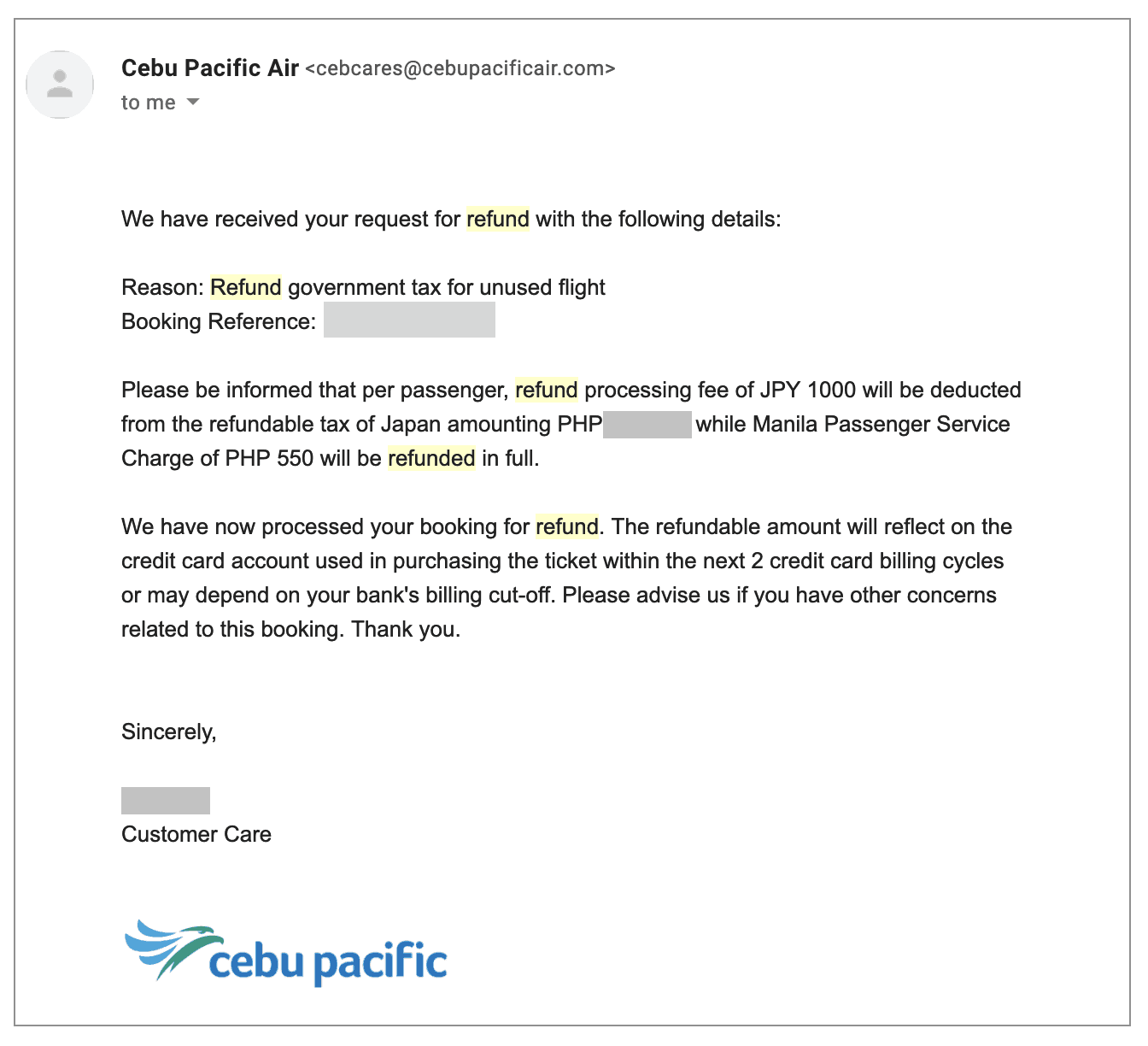 If you paid for your flight using a credit card, the amount to be refunded will reflect on that credit card account usually within the next 2 credit card billing cycles. It can take longer, depending on your bank's billing cut-off.
If you paid offline (via bank deposit, Cebuana Lhuillier, Bayad Center, or an accredited payment center), the email should tell you the next steps. It usually involves a visit to a Cebu Pacific ticketing office. Here's the list of CEB's ticket offices.
---
Air Asia Refund
If you want a refund on terminal fees included in your AirAsia booking, all you need to do is chat with AVA (AirAsia Virtual Allstar), which is their digital assistant. You can "chat" with her to start the refund process. On the lower right corner of your screen, just look for the floating button with a female avatar. On desktop, you can see AVA right away. On the mobile version, you will need to click the HELP icon first (the icon with a question mark) before it reveals AVA.
Based on experience, AVA makes the transaction much easier. Just follow her every step of the way. Here's how.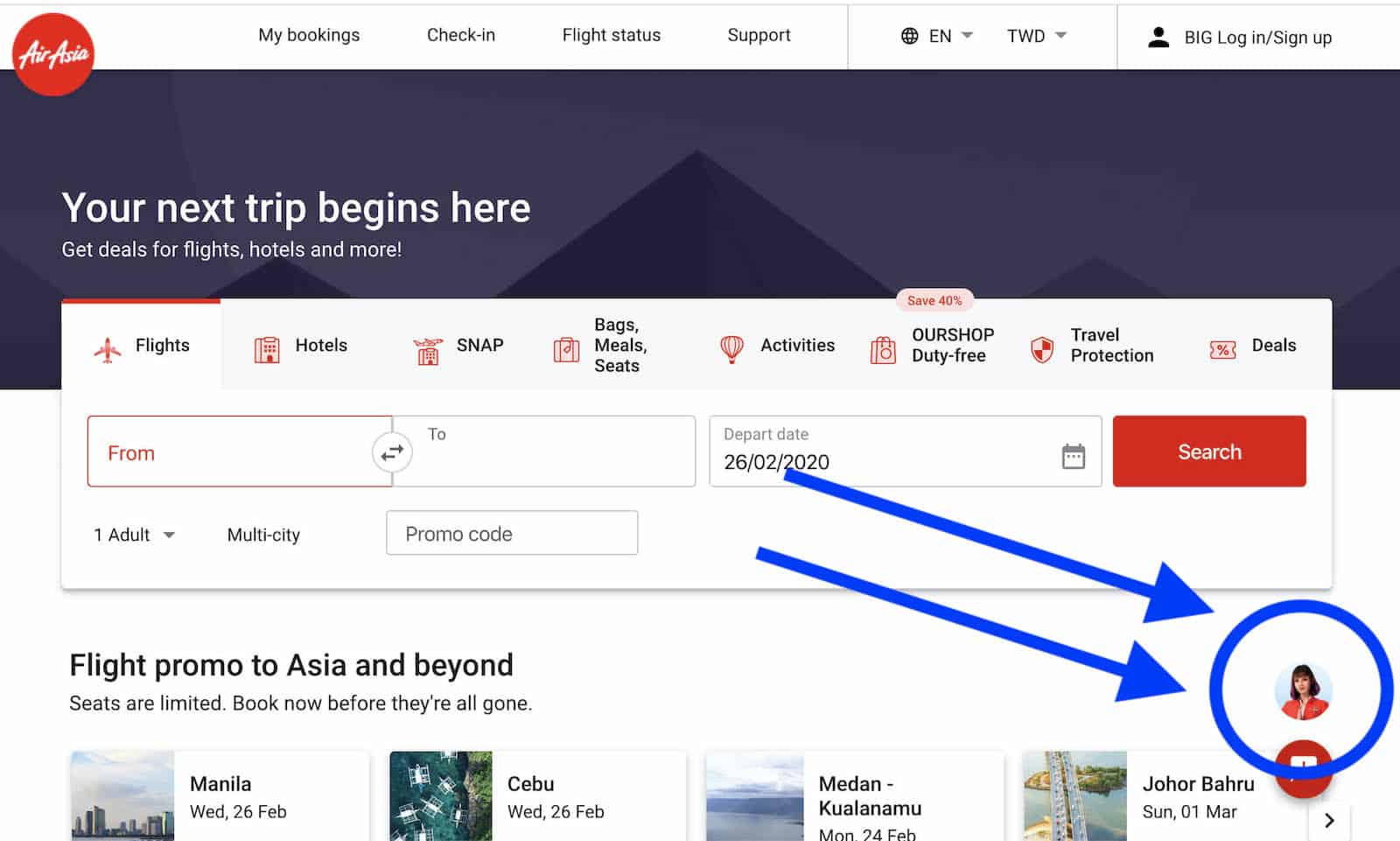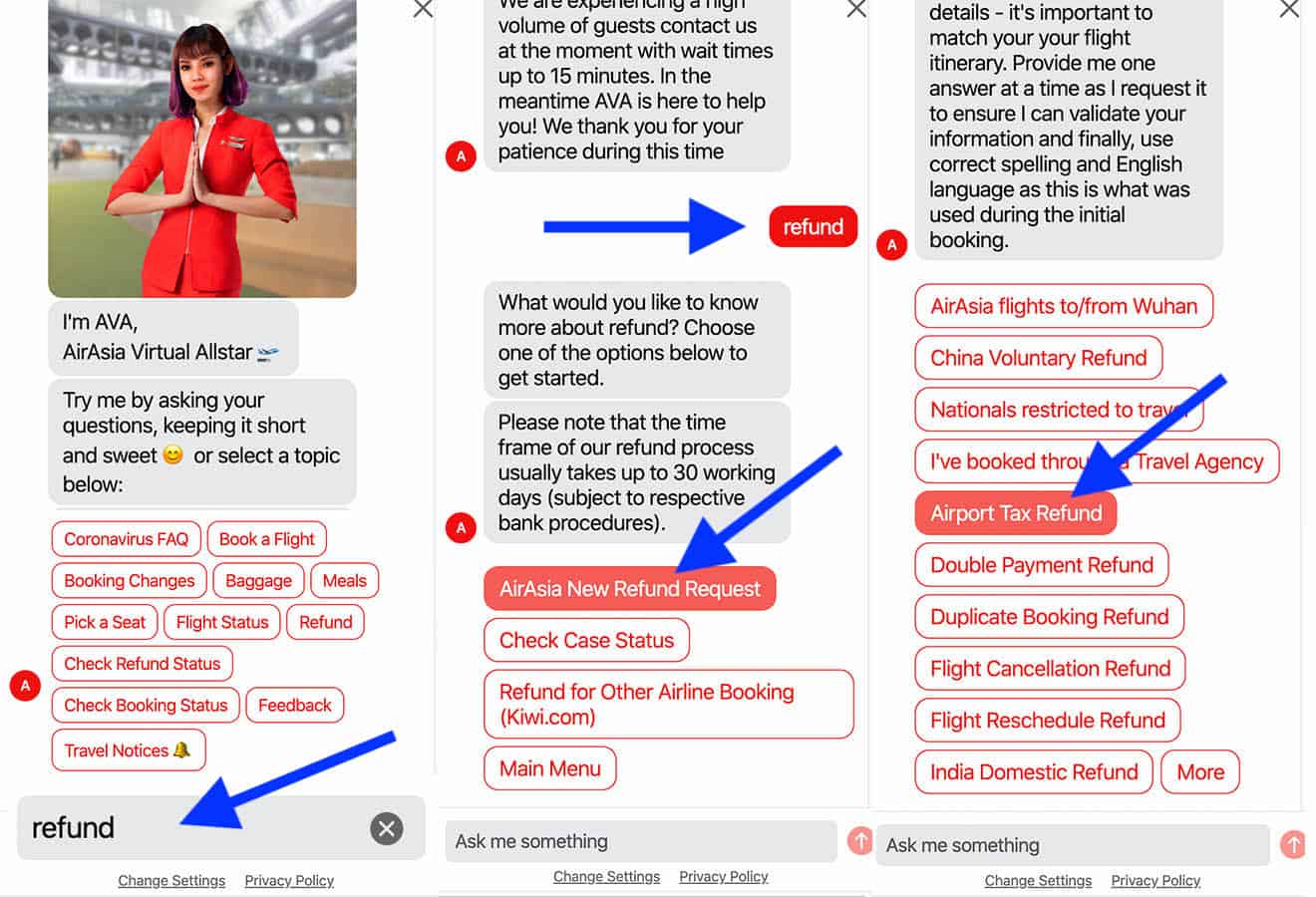 Visit www.airasia.com.
Tap on the floating AVA button on the lower right corner of your screen. Again, on the mobile site, tap on the question mark button first then tap on AVA to start the chat.
A chat box will appear. AVA will greet you and present a menu. Ignore it. Instead, type REFUND.
On the next menu, choose AIRASIA NEW REFUND REQUEST. A new menu will appear.
Choose AIRPORT TAX REFUND. You will be shown some reminders. Read them. You'll be asked if you would like to proceed.
Choose YES if everything looks good for you.
Enter the booking code. It's the code with 6 letters.
Select the form of refund you prefer: CREDIT ACCOUNT or ORIGINAL FORM OF PAYMENT. I always choose the original form of payment because I'm not a fan of airlines' travel funds.
Follow AVA's next instructions.
That's it! Note that with AirAsia, airport tax refund can only be filed within 6 months after the supposed departure date or one year from the booking date. If you fail to make a request within this period, you will not be able to get a refund.
---
Philippine Airlines Refund
For Philippine Airlines, some fare types are refundable, some are not. They also apply a NO SHOW fee for most routes and fare types. If you have an upcoming PAL flight that you don't plan to take it, it is best to call them and check the charges and the refundable amount.
If you canceled a Philippine Airlines flight, you may request a refund by sending your booking details (booking number, flight number, passenger name, travel dates) to the following email addresses:
Onlinebooking_refunds@philippineairlines.com, for flights booked on the PAL website
Refunds_domestic@pal.com.ph, for domestic flights
Refunds_intl@pal.com.ph, for international flights
You may also visit a Philippine Airlines Ticket Office. See list of PAL Ticket Offices here.
If you paid using a credit card, the refundable amount will be credited back to your account. If payment was made in cash, it will be refunded to you in cash too. If you booked via a travel agency, contact your travel agency first on what to do.
---
Important Reminders
Deductions from your refund. Depending on the airport and country, a processing fee may be deducted from the total amount.
Some airlines apply a no-show fee. Usually, Philippine Airlines charges USD75 for international flights and P1500 for domestic flights. For PAL, make sure you cancel your flight if you don't plan to take it if you want to avoid this fee.
Airlines usually enforce a deadline for filing of refund claims. For example, for AirAsia flights, the refund request must be submitted within six (6) months after the departure date or one year from the booking date.
---
---
2020 • 2 • 19