At our first ever meetup event with our followers last year, one of the questions thrown at us by the audience is this: How do you choose your next destination?
We chuckled before giving an answer: For the longest time, we go where we could fly cheaply. For many budget travelers, planning a trip starts with a plane ticket. Booking an affordable flight comes first, then we cross our fingers and deal with everything else when the travel date is almost upon us.
That's how I used to plan my trip. Honestly, I still do it these days, albeit rarely. And I know I'm not alone. Often, the biggest hurdle financially is the plane ticket. It takes a huge chunk of the budget, especially for international trips. Hotels, tours and other expenses are easy to sort out after.
When we were starting out, our trips were all powered by promo fares. But how about when there are no seat sales? How do we find affordable fares?
In this post, we'll share with you some flight booking tips and tricks that we have learned over the 10 years that we have been travel blogging. Note that we are not including promo fare tips because we have already wrote a separate post for that. (READ: HOW TO BOOK PROMO FLIGHTS SUCCESSFULLY!)
WHAT'S COVERED IN THIS GUIDE?
1. Use Skyscanner's SEARCH EVERYWHERE feature.
We learned about this trick from JP Licudan of the Rustic Nomad.
Skyscanner is a flight comparison website that aggregates the prices of flights around the world so you could easily compare and choose. When searching, we instinctively enter our origin airport and our target destination. But Skyscanner has an often-overlooked function. If you're not set on your destination yet and you simply want to check the places that you can fly to at the lowest rate, all you need to do is tap or type EVERYWHERE in the Destination field.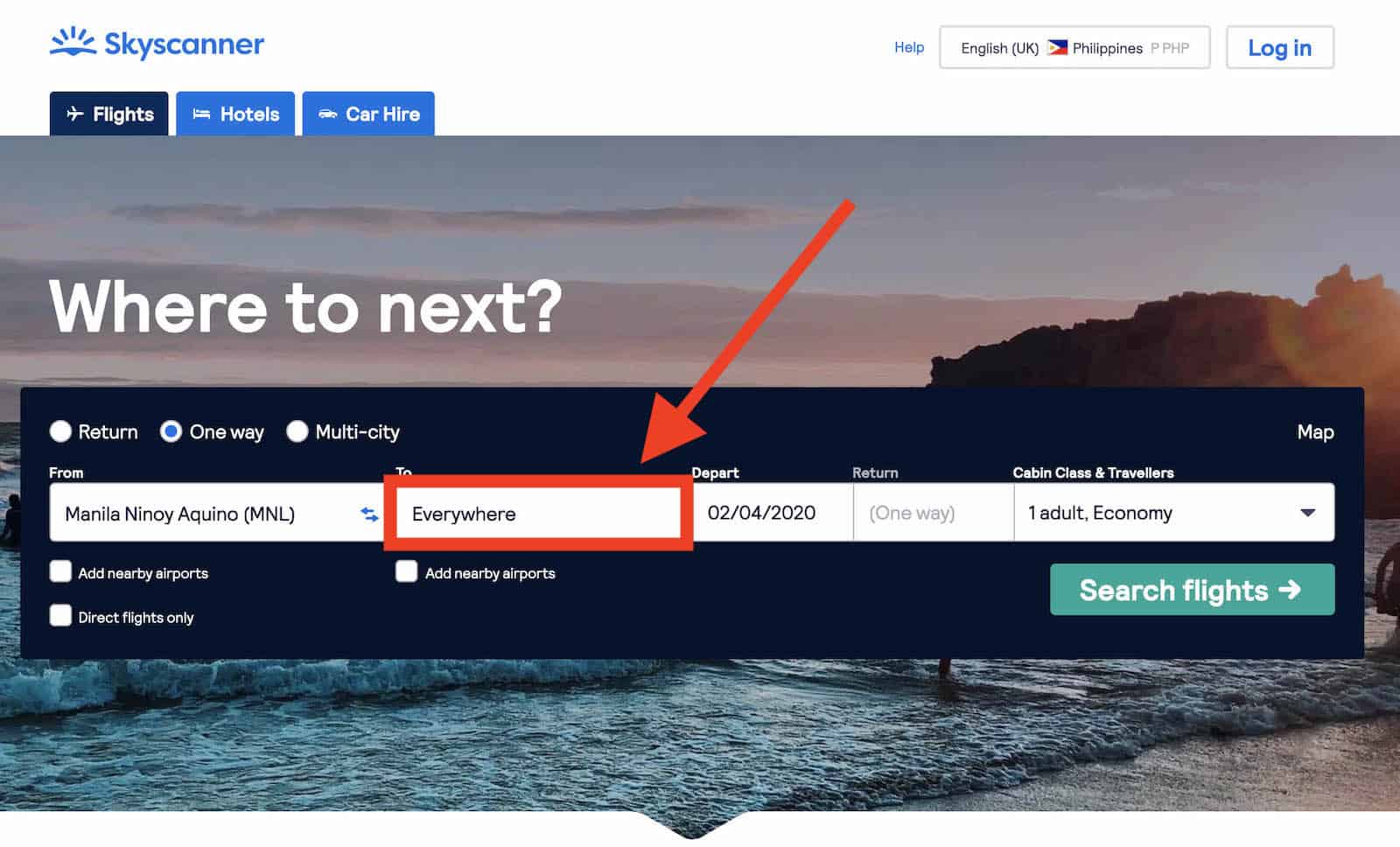 When you hit search, it will scan all the flights coming from your origin. For example, if you're flying from Manila and you enter EVERYWHERE, it will show you the destinations where the cheapest flights are bound for, sorted by price and country. Here's a sample: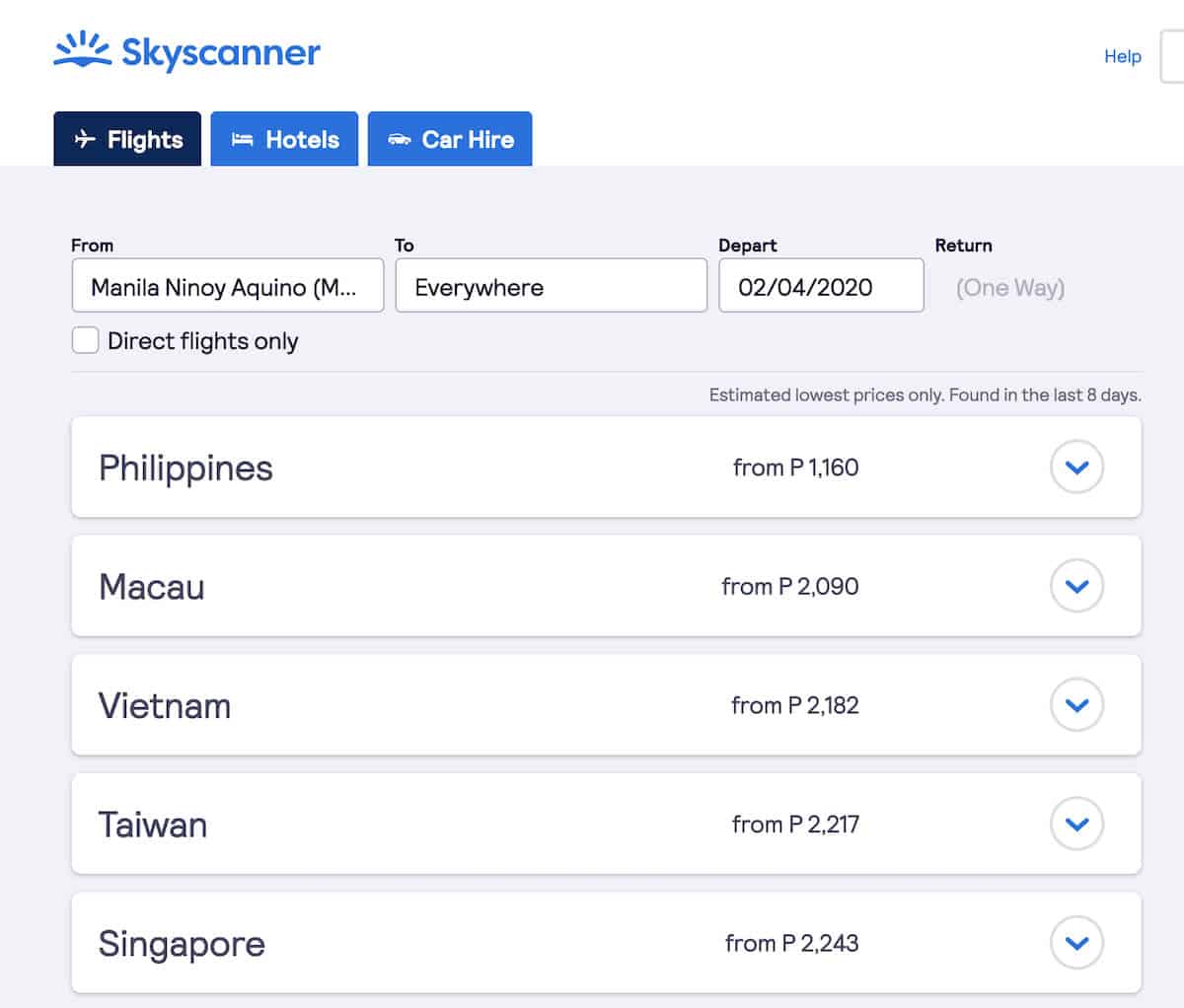 When you click on the country, it will further break it down by city/airport. This trick also works when there are seat sales, too. And it's a great hack when trying to find promo fares!
---
2. Use flight comparison sites.
Speaking of Skyscanner, using flight comparison sites even when you already have a destination in mind is also a good habit. Back in the day, I used to manually visit airline's websites one by one when searching for flights. But it's much easier now because there are numerous aggregators out there like Skyscanner, Kayak, and Traveloka, and airline alliances like Value Alliance.
What's great about these sites is that it can also show you cross-airline flights, even those without code-sharing agreements. For example, let's say you're flying from Manila to Sapporo, Japan. Aside from connecting flights from the same airline (which is often expensive), the system can also present options with the two legs of the flights operated by different airlines (which often end up cheaper). See screenshots below.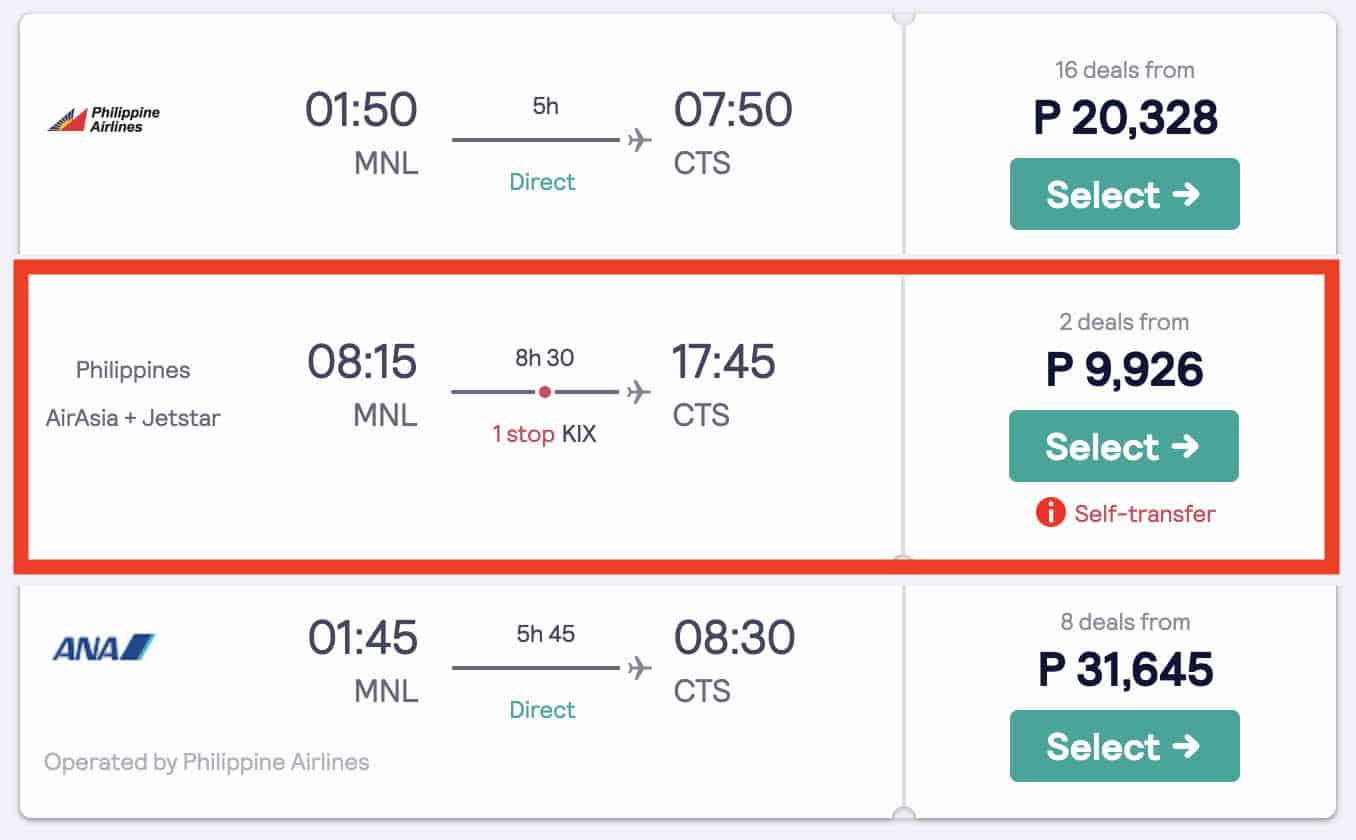 I have relied on these sites so much that whenever I see a tempting fare, I run a search on Skyscanner or Traveloka first to check if there are better deals out there.
---
3. Set up price alerts on your phone.
If you've been eyeing a particular route but the price is just too steep for you, set up a price alert so you could get notified in the event that the fare goes down. This feature is available on Skyscanner and Traveloka.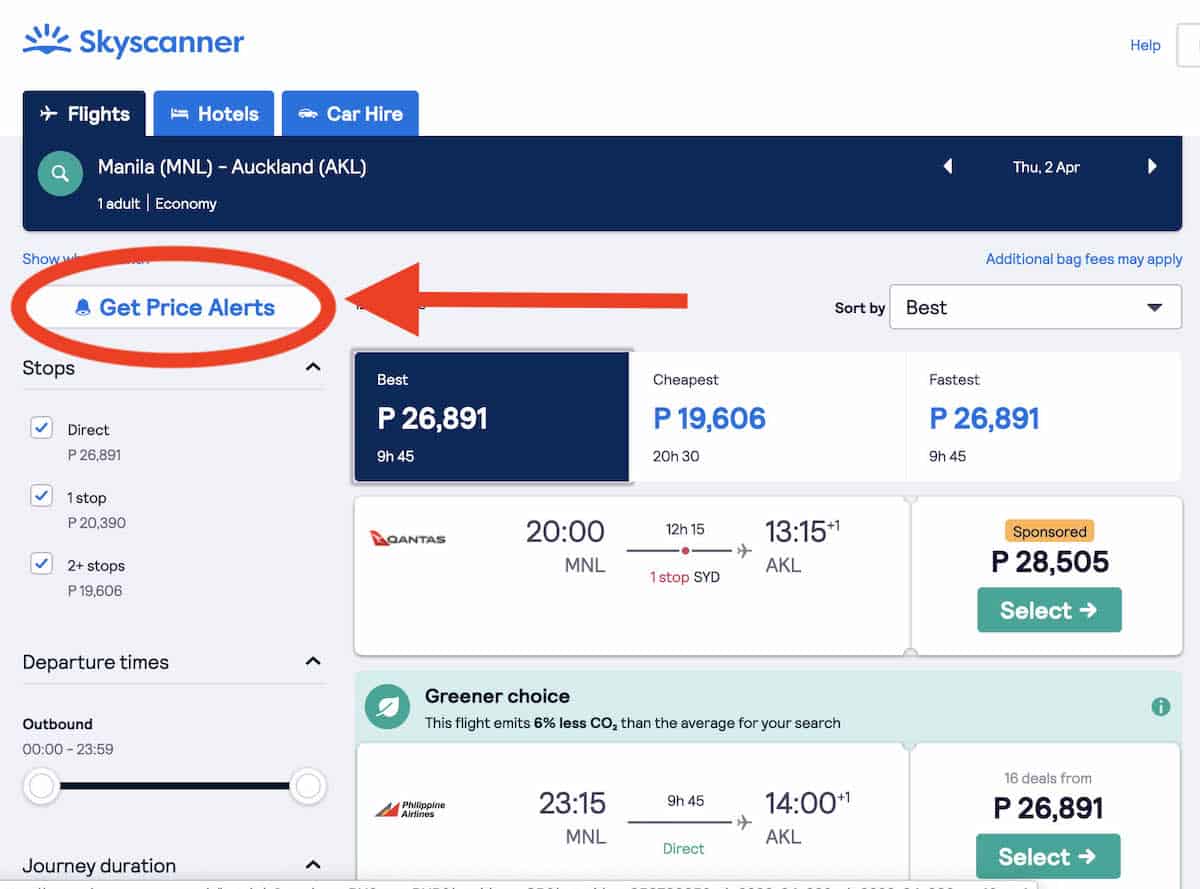 For example, if you only have a P20,000 budget for a flight to New Zealand but the fares are always too high when you check, you can activate an alert on your phone so you won't miss it when the price drops below P20,000. It's a great way to be in the know when there is a seat sale.
---
4. Join travel groups on Facebook.
You'll be surprised how far crowdsourcing can take you! Facebook is brimming with travel groups whose members actively share tips, tricks, and scoops! We have our own Facebook Support Group, and many times, I learn about seat sales from the members first before the official posts by airlines show up on my news feed.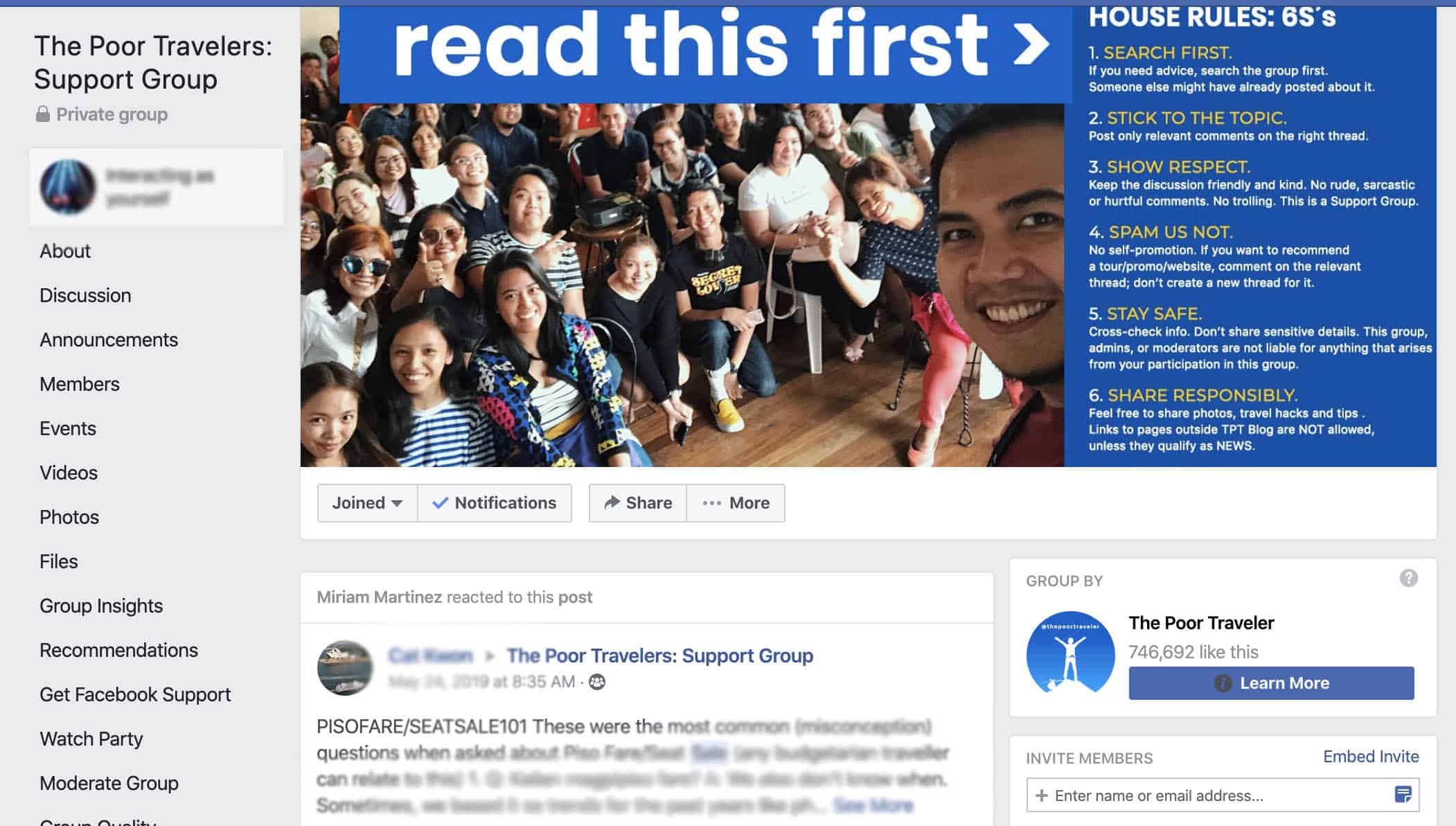 It's not just seat sales. Many unannounced or little-known promos are often shared here, complete with screenshots of their bookings. But that's not all.
A few years ago, a major system glitch happened on an international flight booking website. It was initially posted on a private group online but immediately spread like wildfire on other Facebook groups. Several of my friends were able to book roundtrip tickets to the Maldives and Australia for less than P500! The company honored these glitch bookings.
It's funny because on one weekend, many of my friends were in the Maldives! Thanks to Facebook groups!
---
5. Consider nearby airports.
On one of our European backpacking trips, we ran into a problem. We were in Krakow, Poland, and we need to fly to Athens to catch our flight back home. Unfortunately, despite trying many dates, we couldn't find cheap flights from the Krakow Airport to Athens. Even those that entail a layover in another city were way over our budget.
Defeated, I was about to book an expensive flight when I noticed that just beneath the Origin field on Skyscanner is a small checkbox labeled: Add nearby airports.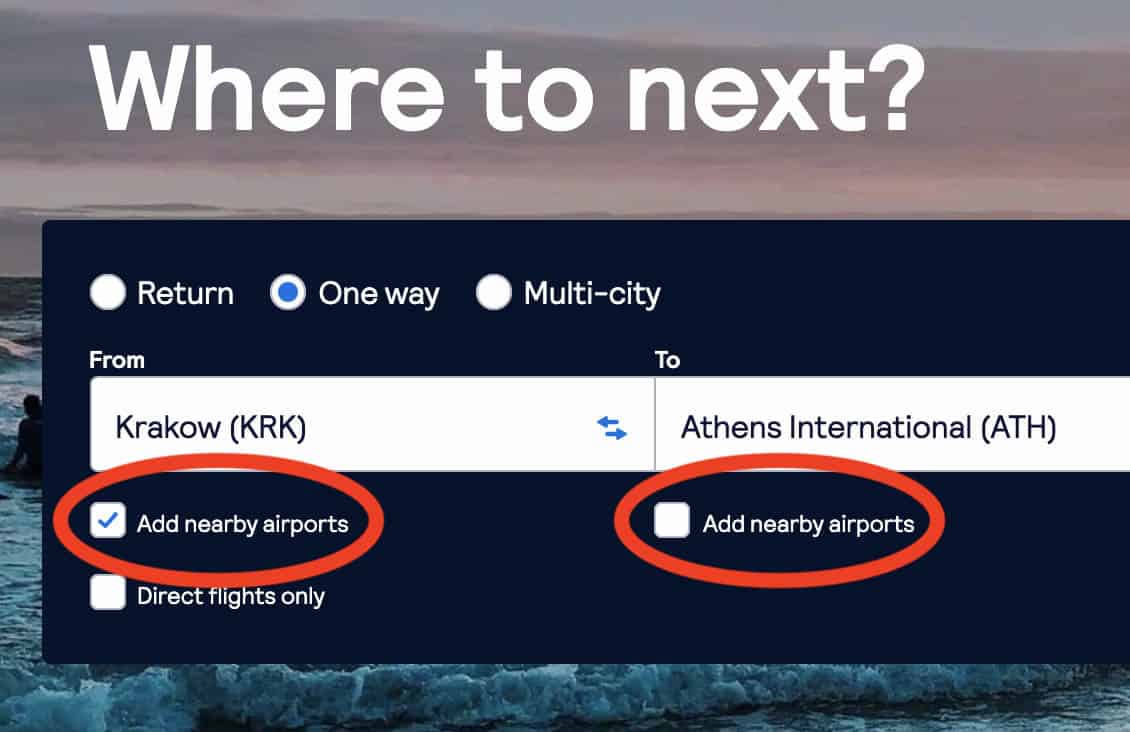 I hit search and it revealed flights to Athens from another airport. Apparently, just 1.5 hours from Krakow is another option — Katowice Airport. And the Athens flights from there were markedly cheaper.
I felt silly for not realizing it sooner because I've always known that some destinations are served by multiple airports. Paris has three (CDG, Orly, Beauvais-Tillé). Tokyo has two (Narita and Haneda). And some airports built for certain cities can be great alternatives for other destinations not too far away.
Can't afford Caticlan flights? Try Kalibo. Want to visit Caramoan but Naga flights are too expensive? Consider Catanduanes. Manila flights out of your budget? Check out Clark.
---
6. The cheapest isn't always the right choice.
In my early years as a travel blogger, my philosophy was something like this: "As long as I'll reach my destination in one piece, I'm good."
I'd just grab the cheapest fares within the first minutes of the seat sale, without considering alternatives. But that has changed over the past few years, especially for medium- and long-haul flights. Comfort climbed higher in my list of priorities. I've grown to look at the other aspects of the flight and how pleasant the journey will be. Maybe it's because I'm not getting any younger. LOL.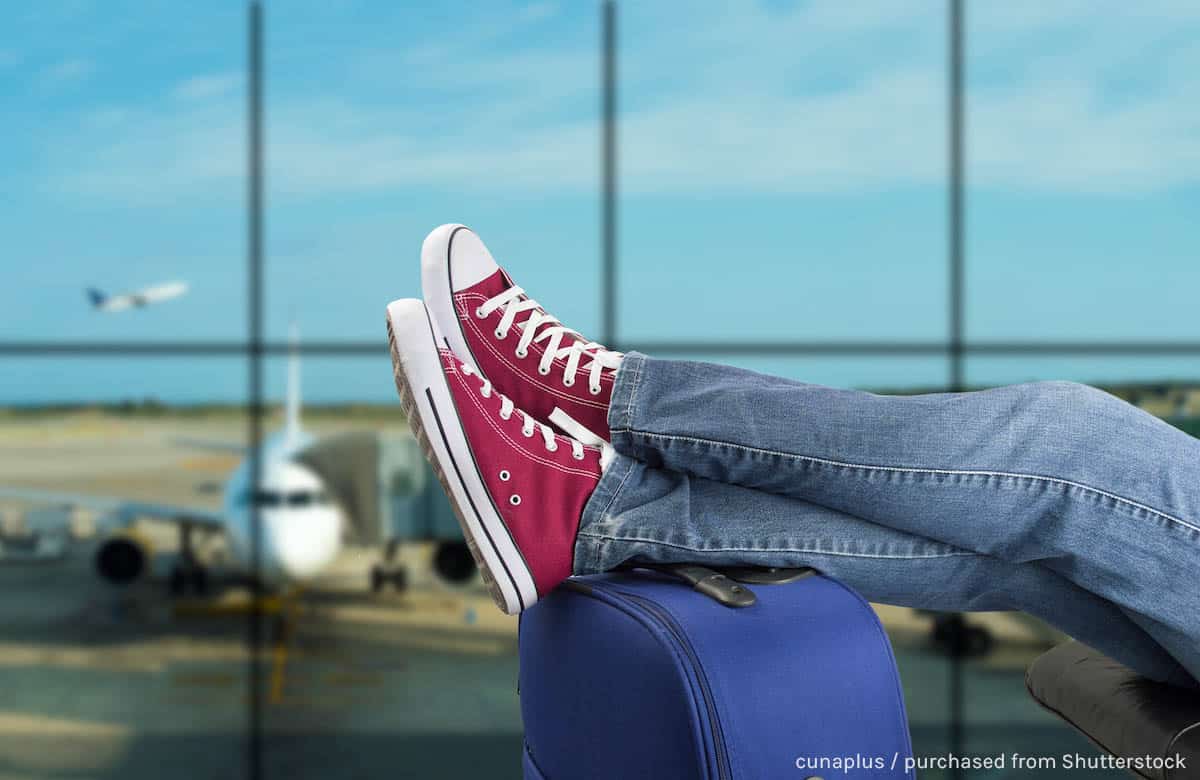 For example, on my flight back to Manila from the Maldives, I was presented with two options. A low cost carrier offers the lowest published rates, somewhere around P10,000, with a long layover. One full-service airline, on the other hand, sells P16,000-tickets, which entails a considerably shorter layover in Hong Kong. The old me would go with the P10,000 right away. P6000 is P6000. That's a big difference.
However, when I digested the details, I ended up booking the latter. Why? The full-service airline's published rate of P16,000 was inclusive of everything: meals, seat selection, check-in baggage allowance. The low-cost carrier's offer was devoid of all those. When I tried adding meals (it was a long flight!) and baggage (because I was carrying a big one), the total cost was at P14,000. P2000 isn't that big a difference anymore, and with all the other things considered (travel time, legroom, in-flight entertainment, time of arrival, etc.), I flew with the full service airline. And I didn't regret it one bit.
---
7. Be smart when booking connecting flights.
If you're trying to make a connection, it's often a wise decision to fly with the same airline for the two legs of the journey. If it's not a viable option, at least choose two airlines that have a code-sharing arrangement with each other. This way, the journey is seamless even when your flights are operated by two different companies, and they can take responsibility in case you miss your next flight because of a delay or cancellation.
In addition, make sure you have researched all the aspects of the transfer.
Baggage. If both flights are operated by the same airline or by two different companies with a code-sharing agreement, you probably won't need to clear Immigration, pick up your baggage, and check it in again at the connecting airport. If you do have to do this, make sure you have the right paperwork.
Visa. Some countries require a transit or a tourist visa even if you only need to pick up your bag and check it in to your next flight. Remember, baggage carousels are positioned AFTER the Immigration check, so make sure you know the policies of the country beforehand.
Airport and Terminal. Just because the two flights are connecting in the same city doesn't mean they will be using the same terminal or even the same airport. Check before booking and ensure you can secure a visa if needed.
Connection time. Make sure you have enough time to catch your next flight. Leave some room for delay, security check, or hiccups at the airport.
---
8. Check out the airline's policies and reputation.
Last year, we booked one of our European flights with Adria Airways, Slovenia's flag carrier. I just saw it on Skyscanner, found their fares competitive and their schedule appropriate, and booked it.
But I had no idea at all about this airline. Had I run a quick Google search, I would have learned that they were in a huge financial trouble. Long story short, my flight and all the other Adria flights were canceled. Adria filed for bankruptcy, so I couldn't get my money back anymore. My insurance provider won't cover this either. I just accepted it and charged it to experience.
It's not just the airline's financial standing that you should check. Before booking, research and read their policies on delays, cancellation, rebooking, refunds, no-show fees, and other details. Check out their history of safety violations too!
---
9. Take note of the credit card policies of the airline.
If you booked your flights using a credit card owned by someone who isn't traveling with you, check the airline's policy regarding this before you fly. Do you need the actual card? Will a photocopy suffice? Do you need a copy of the ID of the owner of that card?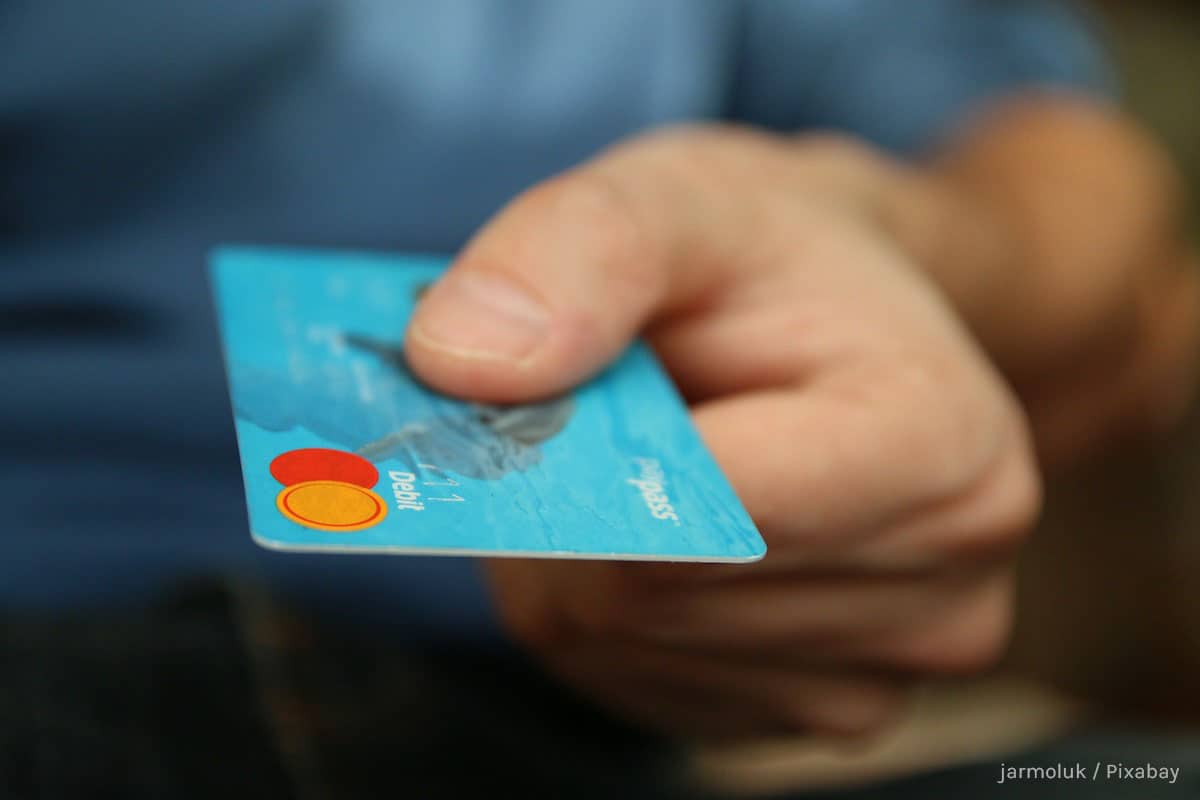 It's one of the most confusing airline policies. It's unclear because every airline has its own rules and they keep changing over time.
For example, Cebu Pacific, AirAsia, and Philippine Airlines don't usually need to see the card or a photocopy of the card, unless in rare cases. But for some routes, Singapore Airlines and EVA Air might need you to complete a verification process first. It is important to call your airline beforehand.
✅ MORE INFO: IS CREDIT CARD REQUIRED WHEN CHECKING IN?
---
10. Just because it's on sale doesn't mean you have to book it.
Over the past decade, I have booked numerous flights that I ended up not taking. I usually got them from seat sales so it wasn't that painful on the wallet, but it's still money that could have been spent on more important things.
Why didn't those trips push through? Usually bad timing, bad weather, or I was just effing broke when the travel date came knocking.
And that's the point. Just because it's cheap doesn't mean you have to spend on it. Remember, promo flights are usually non-transferable, non-reroutable, and non-refundable. It's either you go or you don't. Some airlines even charge a no-show fee!
Book that flight only when you need to or you badly want to travel to that destination! If you're on the fence, take it as a bad sign and bail out.
---
11. You can refund airport fees if you didn't take the flight.
When you book flights — yes, even those on sale — you are usually charged several other fees on top of the base fare. For example, a ticket from Manila's Ninoy Aquino International Airport (NAIA) usually includes the terminal fee, also known as the Passenger Service Charge. It costs PhP550 per passenger, charged upon booking.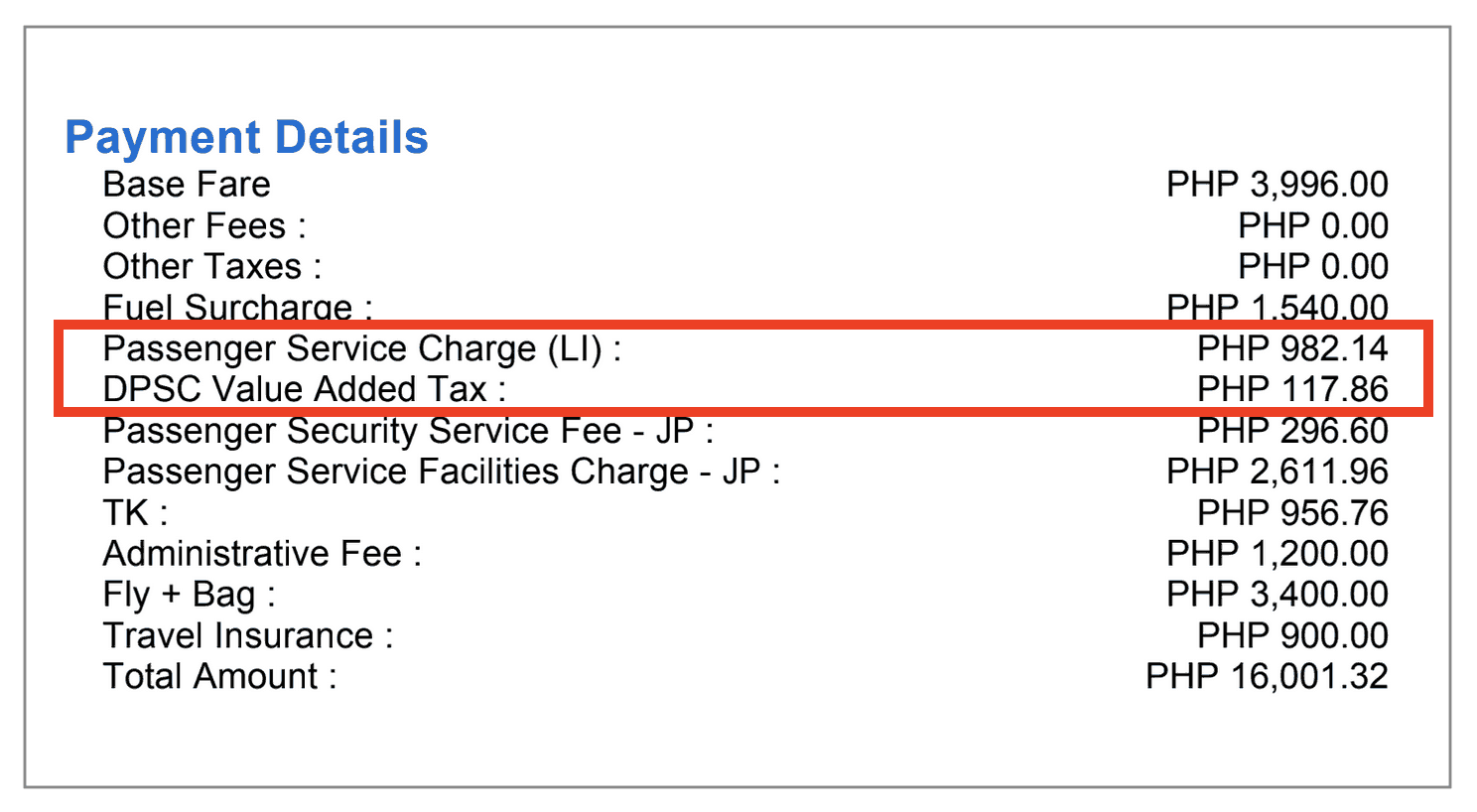 Some countries also collect airport fees or taxes. For example, Japan airports collect an amount for passenger security service and use of facilities. This is also seamlessly integrated in the flight booking so you probably don't notice it. But it's also refundable, albeit for a fee.
If you purchased a plane tickets but did not travel on that flight, you are eligible for a refund of the airport fees. Depending on the route and airline, you may also be eligible for refund on other fees charged to you. Just contact your airline to start the refund process. We also created a separate step-by-step guide for Cebu Pacific, Philippine Airlines, and AirAsia refunds.
✅ MORE INFO: HOW TO GET A REFUND ON TERMINAL FEES & TAXES
---
12. Flying is not always the best option.
In this day and age, when flying is accessible and relatively affordable, it's easy to forget that there are a lot of other transportation modes out there. In many cases, flying is not even the best option.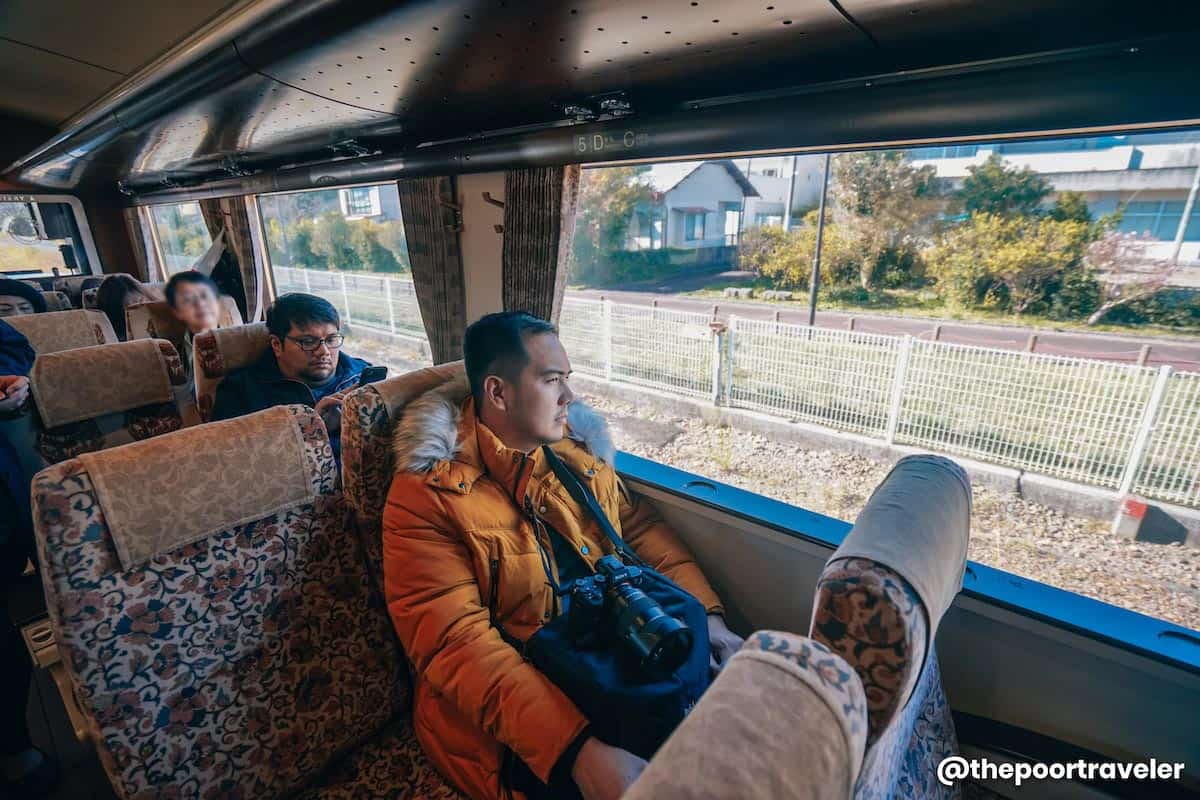 Over the years, I have developed a certain fascination with train rides. It allows me to get a sneak peek into the local way of life as the train zips across the countryside. I always try to appreciate the view from the window, especially in Japan and Europe. What I like about traveling by train is that most central stations are located smack at the heart of the city, unlike airports which are often one to two hours away.
The bus is also something I usually consider. It's often the option that is least likely to break the bank. Yes, the journey is much longer. But sometimes, flying isn't any better when it comes to time. You need to consider the travel time from the city to the airport, be there at least 2 hours before, and go clear security. All these can take hours. Besides, buses these days are getting more and more comfortable! In particular, I enjoy overnight buses, which saves me a hotel night!
Of course, the best mode of transportation is different in every case. But before you book a flight, it is a good idea to also weigh other possible options.
---
---
2020 • 2 • 23