When your Cebu Pacific flight is canceled or rescheduled, the airline provides options on what to to with your booking. You can rebook, request a refund, or convert your ticket to a travel fund.
WHAT'S COVERED IN THIS GUIDE?
What is a travel fund?
In the context of Cebu Pacific, a travel fund a virtual wallet where you can transfer the cost of your ticket, which can then be used to pay for your future bookings. The amount to be transferred excludes insurance add-ons and other service fees, if any.
For example, let's say that my Manila-Cebu flight was canceled. Instead of rebooking it or asking for a refund, I can have that amount be stored in my Travel Fund. In a way, it's like I have credits that Cebu Pacific is keeping for me. Now, in the future, when I decide to book another flight with them, I could use it to pay for that new booking.
You can keep that amount for 90 days (in some cases, 180 days), which starts on the day of conversion. If you fail to use it within that period, it will expire. You can also use it only for the original passenger.
But unlike refunds which usually take weeks (or even months) to complete, you can use a travel fund quickly and easily. If I convert my ticket to a travel fund today and I choose to book another flight tomorrow, I can already use the credited amount. If you can't wait for a refund, this is a good option, provided that you are certain you will be using it within the next 90 days.
---
How to transfer your ticket to a Travel Fund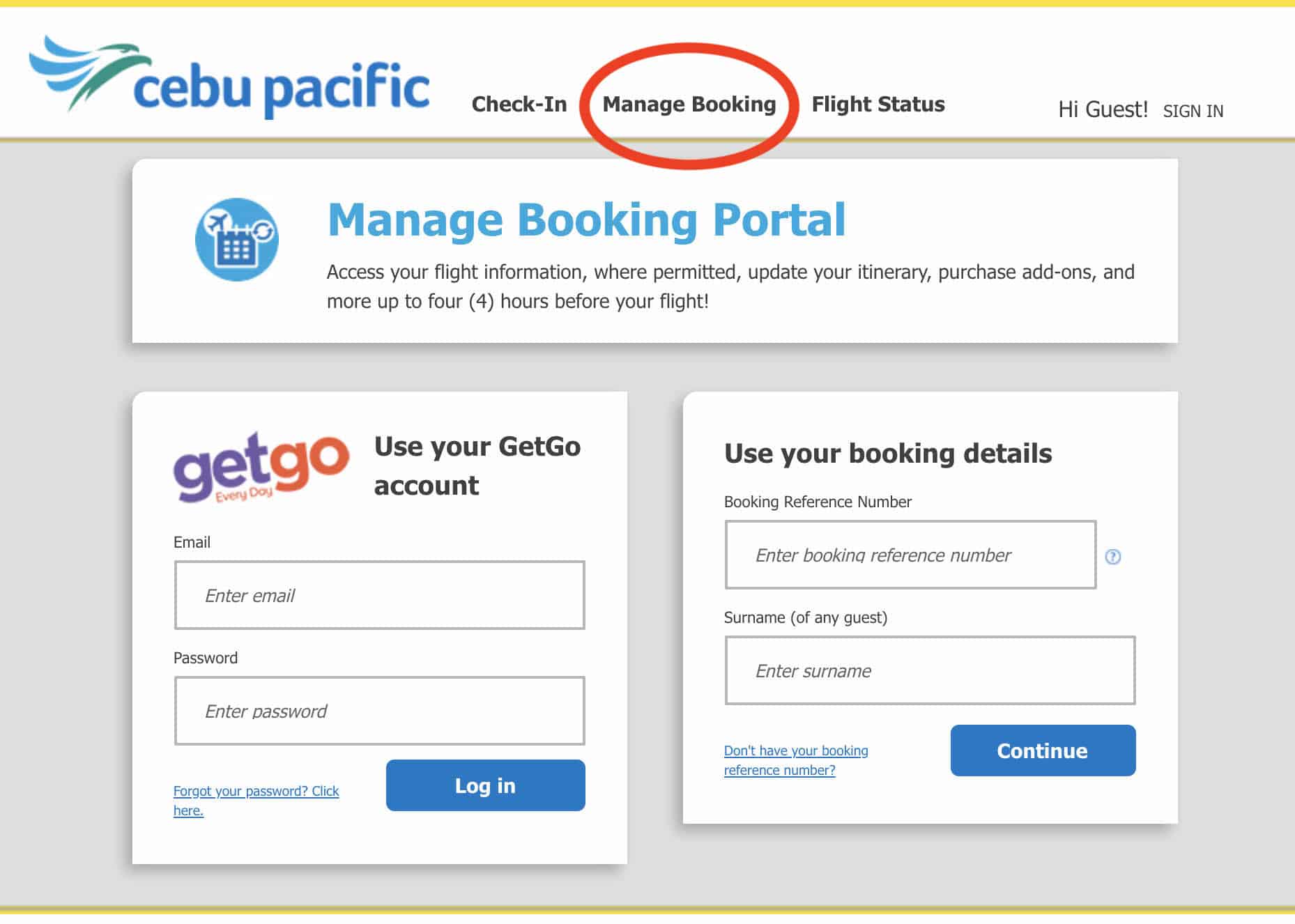 Visit the Cebu Pacific website: www.cebupacificair.com. Click on MANAGE BOOKING.
Supply the information needed to access your booking: Booking Reference Number and Surname of the passenger. If you have a GetGo membership, log in to your account.
On the dashboard, find your flight. Click the MANAGE button next to it.

On the next page, you will find icons. If your flight has been canceled by Cebu Pacific, you will find a TRAVEL FUND option. If your flight isn't canceled, choose CANCEL FLIGHT and follow the next steps.
Enter the information asked on the next page.
Confirm transfer to Travel Fund.
When it's done, you should receive an email from Cebu Pacific stating that the price of the ticket has been converted into Travel Fund credits.
Here's a quick infographic summing up the process: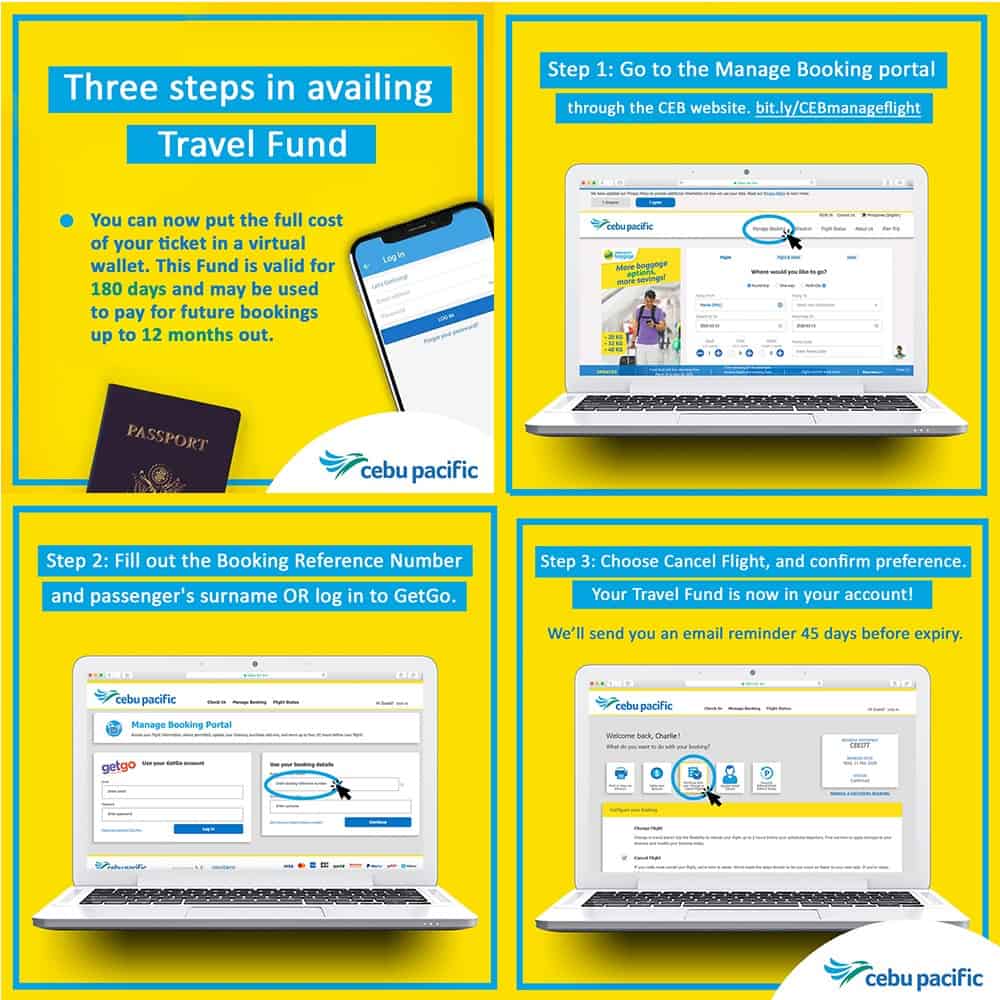 ---
Frequently Asked Questions
Who can avail of Travel Fund?
Generally, if the airline cancels or reschedules your flight with 1-hour difference, you are entitled to a rebooking, refund, or travel fund. Note that there should be at least a 1-hour difference from the original schedule.
If you voluntarily cancels your flight, you may be entitled to these options depending on your fare type. Most promo fares are not covered. Other cases like death or serious illness or injury of the passenger can also be a reason for a refund or conversion to travel fund. You will need to submit a valid certificate and other necessary documents.
---
My flight has been rescheduled, can I avail of the Travel Fund option?
Only when there is a 1-hour difference between the original schedule and the new schedule. Otherwise, you are not entitled to a travel fund, refund, or rebooking.
---
Will the travel tax be included in the conversion to Travel Fund too?
The travel tax will not be included in the converted amount at first, but it will be added within 15 days after completing your booking conversion to Travel Fund.
Travel taxes are processed separately and entail coordination with other agencies, but it will be added eventually.
---
How to use Travel Fund to book another flight?
When you decide to use Travel Fund credits to purchase another ticket, simply book a flight on the website or app as you normally would. The difference is: on the PAYMENT page, when asked how you want to pay, choose the TRAVEL FUND option.
---
If I had my ticket converted to Travel Fund, could I change my mind and ask for a refund?
NO. If your flight is canceled or rescheduled (with 1 hour difference), make sure you weigh your options carefully before making a decision. Once it's done, it is final and irreversible.
---
If the validity of the Travel Fund expires, will I still be able to use it?
NO, not anymore.
You will receive an email reminder 45 days before the travel fund expires. Remember, the travel fund's validity is 90-180 days (depending on the case) from the day of conversion.
---
Is there a fee for converting a ticket to Travel Fund?
If it's the airline that canceled or rescheduled your flight, it's FREE OF CHARGE.
But if it's you who canceled, the airline may charge a processing fee.
---
Can I use the Travel Fund for another person?
NO. It is non-transferable. It may be used for the same person on record.
---
There are multiple passengers in our booking. Are all of us entitled to use Travel Fund?
Here's what Cebu Pacific's Terms has to say about that:
"Multiple passengers named in one Itinerary Receipt will have the option to create a single fund that may be redeemed by anyone in the record or to split the fund to allow each passenger on record to get his share. Except for this instance, the airline will follow a one booking-one Travel Fund policy. A single Travel Fund cannot be created out of multiple bookings, as the Travel Fund is associated with the passenger's booking reference and not with his name."
---
2020 • 3 • 15