A more updated version of this article can be found here: AQUARIA CALATAGAN!
---
2020 • 3 • 20
The municipality of Calatagan in Batangas is becoming the next travel hotspot for weekenders from Manila. Over the past few years, more beach resorts have opened their gates to tourists. Many of these resorts are actually camp sites, with very meager amenities, usually just a few restrooms and grills. However, there is one that stands out — Aquaria Water Park.
Also located in Barangay Sta. Ana, just next to Manuel Uy Beach Resort, Aquaria Water Park is a full-service resort with rooms, cabanas, and a restaurant. It also has swimming pools with thrilling water slides. Although it bears "water park" in its name, don't expect a great variety in the slides. Think of it as a more exciting family resort.
The resort lies by the beach, so you can also enjoy the company of nature as you laze on the supple, cream-colored sand and watch the gorgeous sunset. The best of both worlds!
For first-time visitors, here are some of the things you might want to know before you go.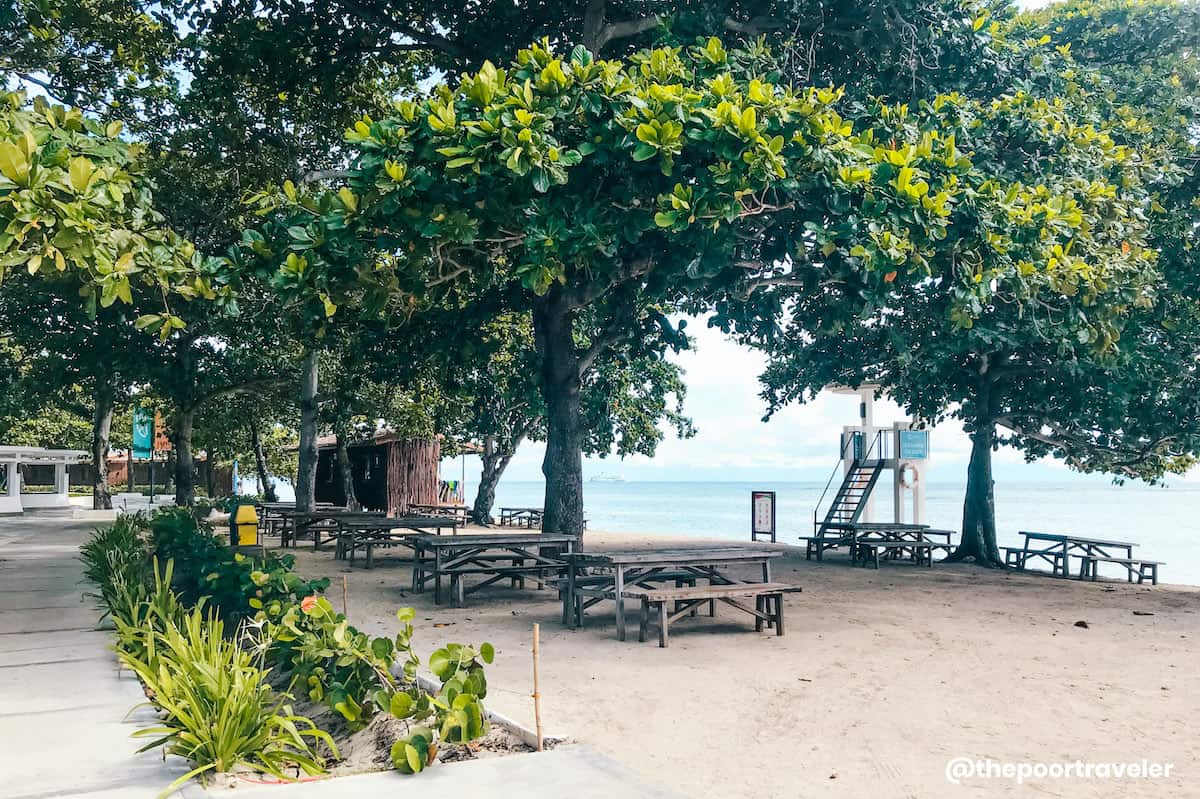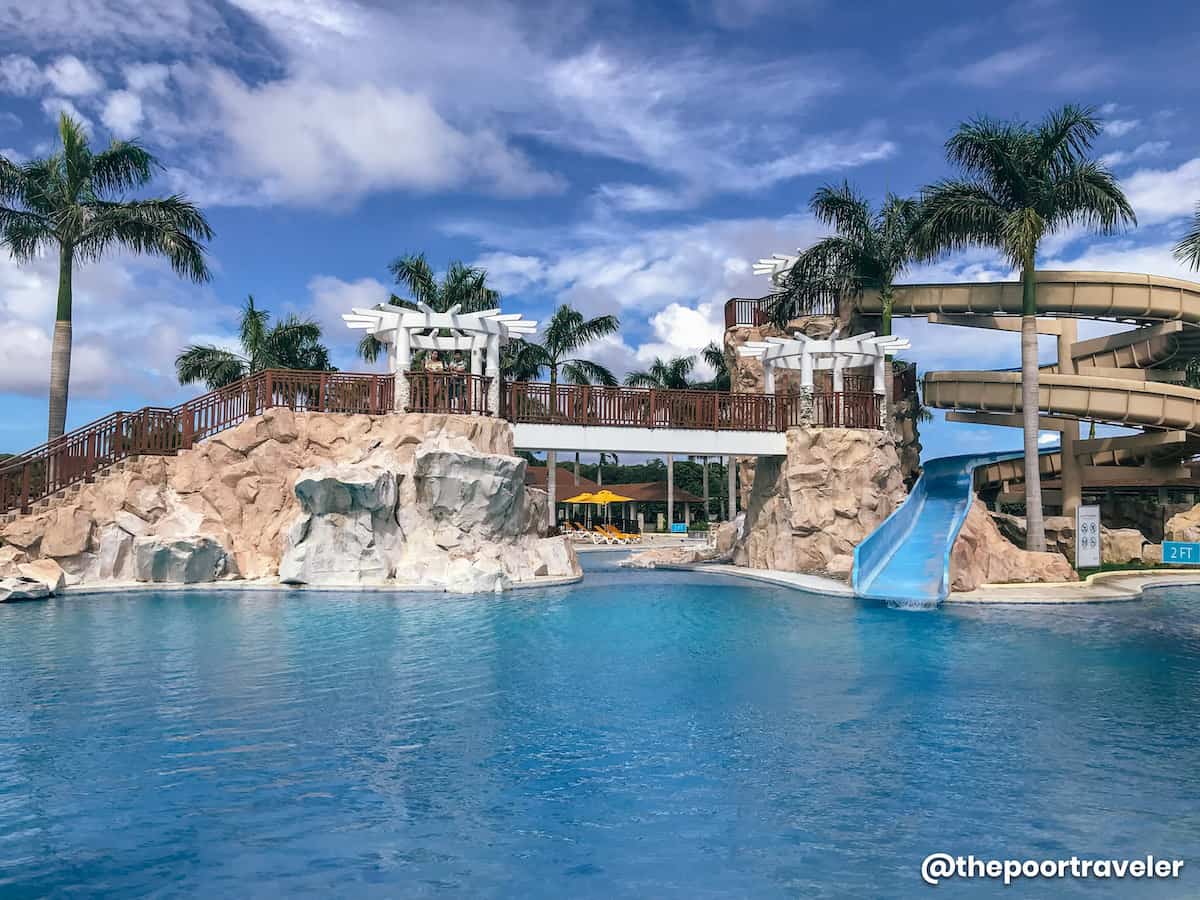 WHAT'S COVERED IN THIS GUIDE?
HOW TO GET TO AQUARIA FROM MANILA
By Public Transportation
You can go there by private vehicle or by public transportation. If you choose to take the latter, here's how:
From Manila (Buendia or EDSA-Taft), take the bus bound for Calatagan. The fare is around P210.
Get off at the town proper or at the Calatagan Public Market.
Charter a tricycle to Aquaria Water Park. The special trip fare is around P200, good for four persons. The travel time is approximately 20 minutes.
The total travel time from Manila to Aquaria Water Park is 3-4 hours, depending on the traffic or road condition.
By Private Vehicle
For convenience, it is recommended to go there by private vehicle. Here's one of the possible routes:
From Manila, drive through the South Luzon Expressway (SLEX), then take Santa Rosa Exit or Eton City.
Continue driving along Santa Rosa-Tagaytay Road until you reach Tagaytay Rotunda.
From Tagaytay Rotunda, continue driving through Tagaytay-Nasugbu Highway until you reach Palico intersection.
Turn left to Balayan-Calatagan Highway. You will pass by Calatagan Municipal Hall.
After the municipal hall, turn left to M. Apacible. Continue driving until you reach Aquaria Water Park.
---
OPERATING HOURS & DAYS CLOSED
Wednesdays to Mondays
8:00 AM – 6:00 PM
Tuesdays
CLOSED
Notes:
The aqua park conducts weekly maintenance that prompts the management to close the park for one whole day (Tuesday) every week.
For those staying overnight, no swimming in the pool and the beach beyond 6:00 PM.
For group package or events, check the official website or contact the management for the available schedule.
There are also dates when the park is closed for private events, weather-related reasons, or maintenance. It's better to check the official website or FB page prior to your visit or booking.
---
DAY TOUR vs OVERNIGHT STAY
It is totally possible to have a grand time even if you're visiting on a day trip. You can arrive in the morning, enjoy the place, and leave before nightfall. However, there is time limit.
Day Trip Schedule: 8:00AM to 5:30PM
Day trippers can only stay until 5:30pm. If you want to make the most out of your day, arrive at 8am, which means you will have to leave Manila at 5am.
If you'd rather spend the night at Aquaria, that's possible too. They offer accommodations called Crusoe Cabins.
Overnight stay: 2:00 PM check in time, 12:00 noon check out.
They have rooms for as low as P3800 per night. More info about the rates in the next section.
Camping is not allowed. If you want to stay overnight in the area but you don't want to book a cabin, you can pitch a tent at Manuel Uy Beach, which is just beside it. Just visit Aquaria on a day tour and then move to Manuel Uy by sundown.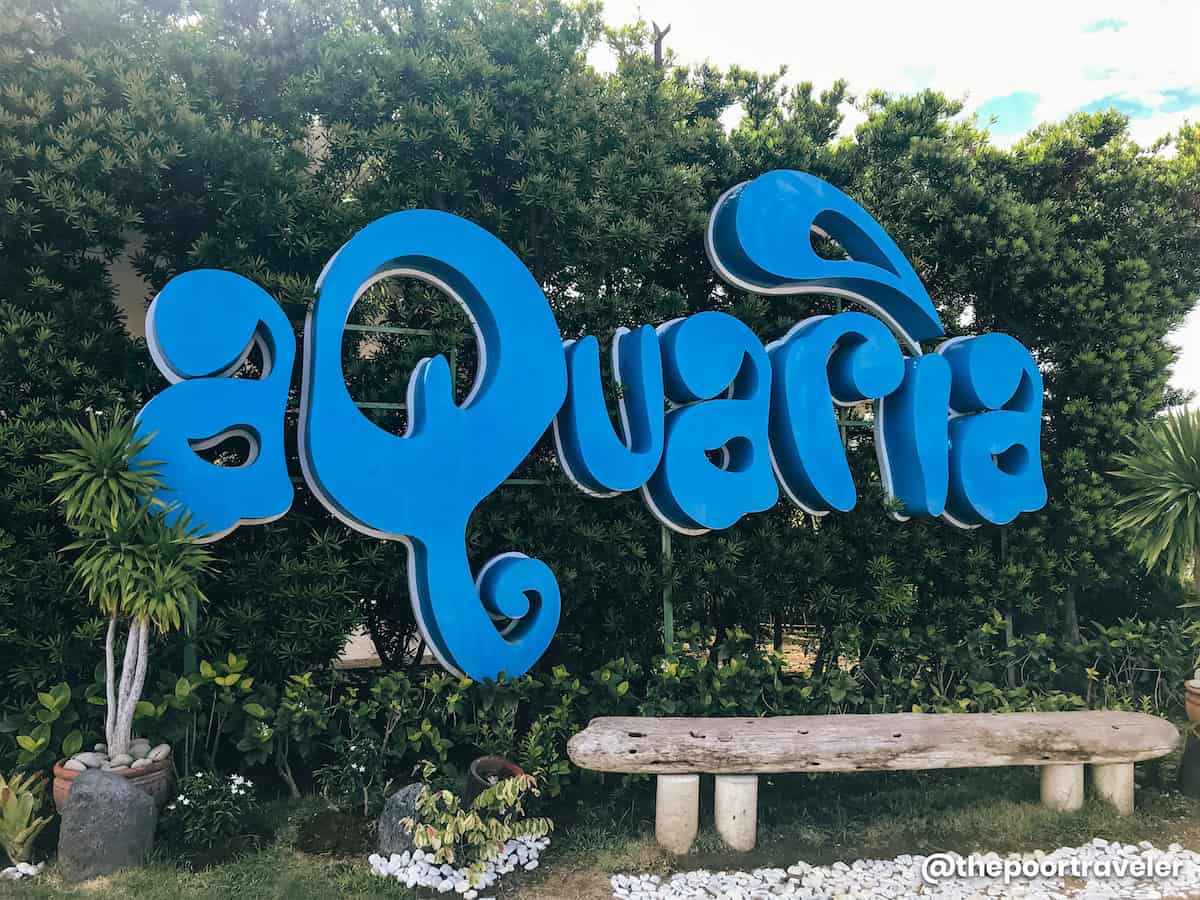 Day Tour Rates
The rates depend on the season. Peak season rates are different from the lean or off-peak season rates. The peak season period is January to June, while the off-peak season is July to December. The rates are inclusive of free use of swimming facilities — pool, beach, and shower rooms.
OFF PEAK SEASON
Weekdays
P400: Adults
P200: Children (4ft and below)
FREE: Infants (1 y/o and below)
Weekends, Holidays & Long Weekends
P600: Adults
P300: Children (4ft and below)
FREE: Infants (1 y/o and below)
PEAK SEASON
Weekdays
P600: Adults
P300: Children (4ft and below)
FREE: Infants (1 y/o and below)
Weekends, Holidays & Long Weekends
P800: Adults
P400: Children (4ft and below)
FREE: Infants (1 y/o and below)
You can do a walk-in purchase for your tickets at the ticket counters. If you want a slight discount, you can also book with Klook.
✅ GET A DISCOUNTED PASS HERE!
---
Overnight Rates
The only way you could stay overnight at Aquaria is by booking one of the Crusoe Cabins. Every booking already includes access to the water park so you don't need to purchase a day pass separately. Here are the rates.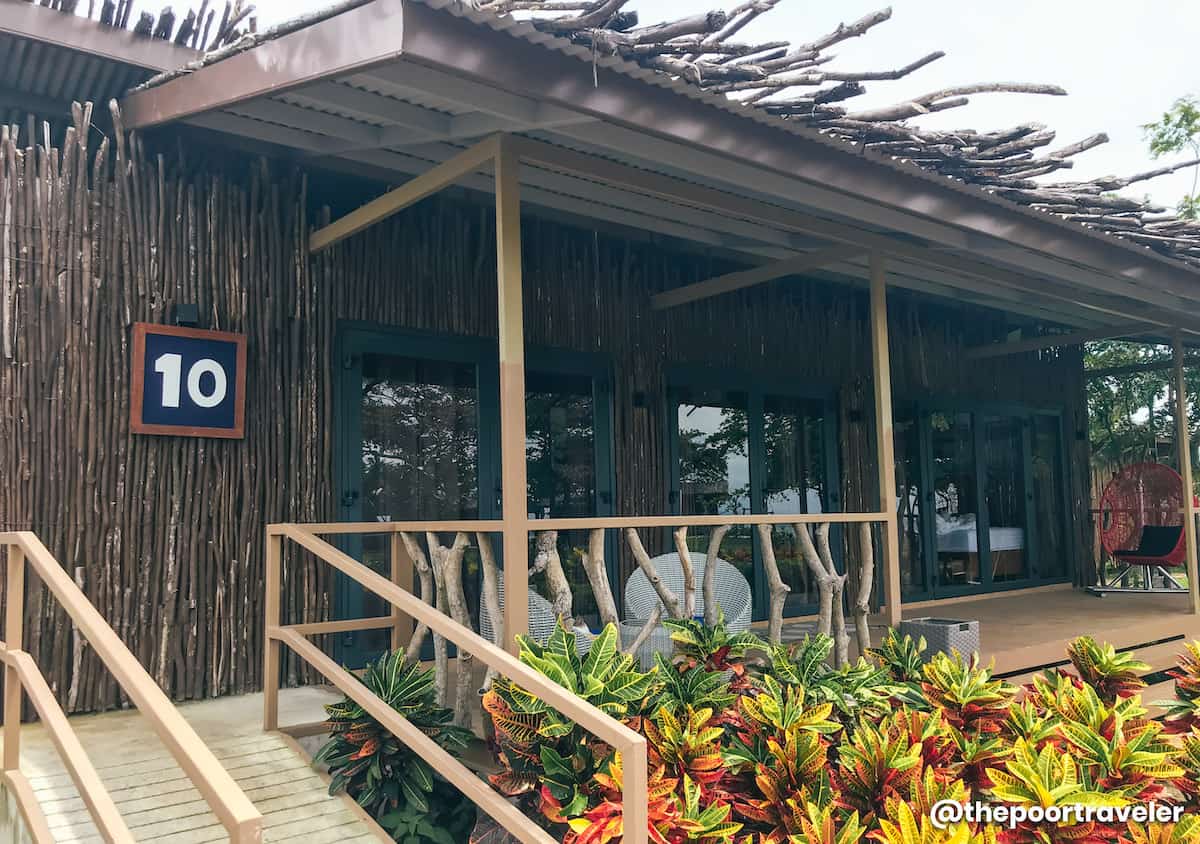 OFF-PEAK SEASON
(January – February, July- November)
Crusoe Sea View
Weekdays: P4,600-P4,700 (2 pax) / P6,800-P6,900 (4 pax)
Weekends: P5,500-P5,600 (2 pax) / P7,500-P7,600 (4 pax)
Crusoe Garden View
Weekdays: P3,800-P3,900 (2 pax) / P6,000-P6,100 (4 pax)
Weekends: P4,600-P4,700 (2 pax) / P6,800-P6,700 (4 pax)
Extra Person – ₱1,000.00 (net)
PEAK SEASON
(March – June, December)
Crusoe Sea View
Weekdays: P6,400-P6,500 (2 pax) / P8,300-P8,400 (4 pax)
Weekends: P7,500-P7,600 (2 pax) / P9,500-P9,600 (4 pax)

Crusoe Garden View
Weekdays: P5,200-P5,300 (2 pax) / P7,200-P7,300 (4 pax)
Weekends: P6,400-P6,500 (2 pax) / P8,300-P8,400 (4 pax)
Extra Person – ₱1,000 (net)
SUPER PEAK SEASON
(Holy Week, Christmas, New Year)
Crusoe Sea View: P10,000 (2 pax)
Crusoe Garden View: P8,000 (2 pax)
Extra Person – ₱1,200
---
RENTAL RATES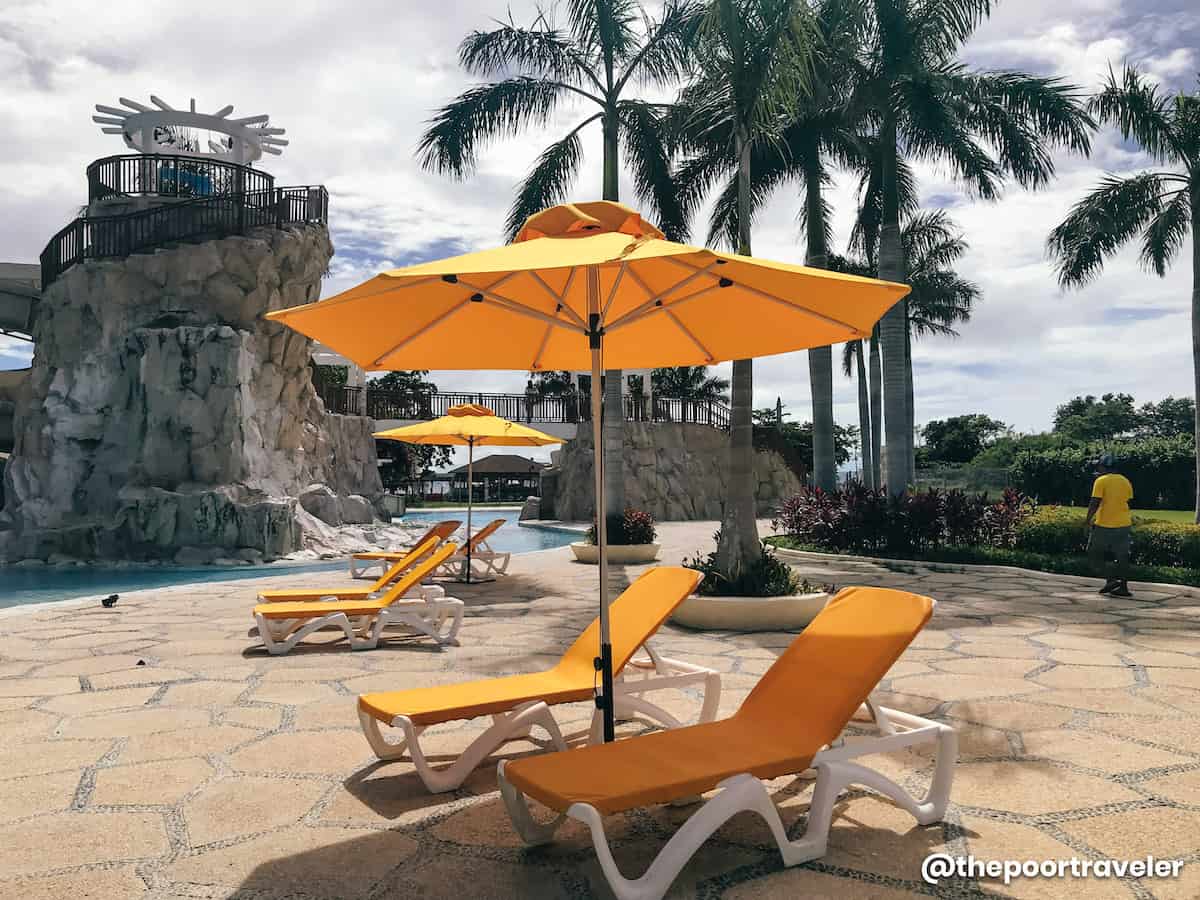 You can rent tables and chairs, picnic tables, and open-air cabanas. Here are the rates:
Table and Chairs: P200
Picnic Table: P300
Beach Front Cabana: P1200 (good for 6-8 pax)
Cove Pool Cabana: P1500 (good for 8-10 pax)
Boardwalk Cabana: P1700 (good for 10-12 pax)
Resort Pool Cabana: P2000 (good for 12-15 pax)
---
ATTRACTIONS & ACTIVITIES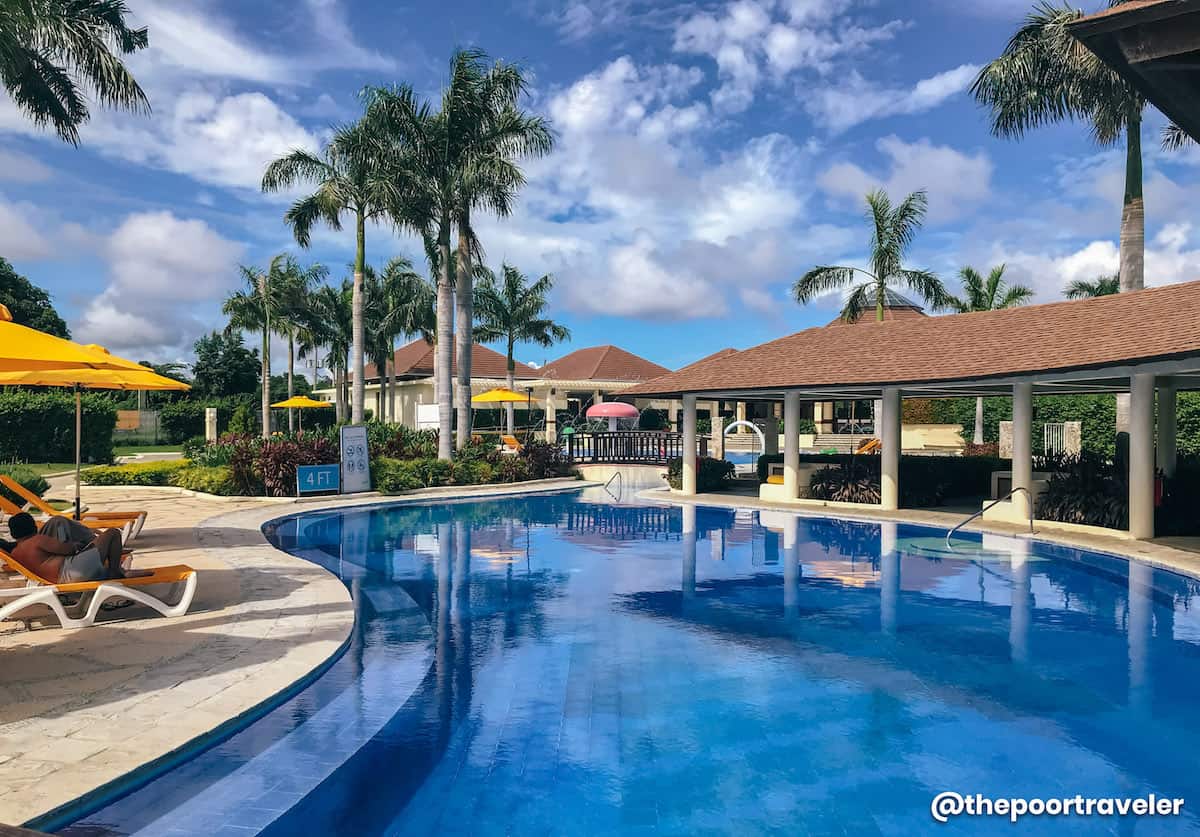 HIGHLIGHTS
3-Storey High Pool Slide. This is the most notable feature of the water park. Note that the landing pool is 6-feet deep.
Resort Pools. There are a number of pools inside the aqua park, including the popular Cove Pools.
Kiddie Pool. A 3-feet deep swimming pool area for the little ones.
Fine-sand beach. The property also boasts over 500 meter stretch of beach.
OTHER ACTIVITIES
Beach Volleyball: P50/hour
Soccer Ball: P50/hour
Kayak Double Seater: P400/hour
Paddle Board: P600/hour
Pedal Boat: P1,000/hour (good for 6 pax)
Aqua Glide: P1,500/15 minutes (good for 4 pax)
Banana Boat: P2,000/15 minutes (good for 8 pax)
Jetski: P2,500/30 minutes; P4,500/hour
OTHER AMENITIES
Welcome Center. You will be greeted warmly at the Welcome Center where you will be served refreshing welcome drinks.
The Sands. This is Aquaria Water Park's in-house restaurant, serving meals, snacks, and beverages.
Bath Houses. The resort's spacious shower and changing rooms. If you forgot to bring your towel, you can rent or purchase one. Towel rental is P50 for a day. If you want to buy one, the price is P650.
---
SAMPLE AQUARIA ITINERARY
Below is a sample day tour itinerary with breakdown of expenses. It assumes you're a group of 4 people, splitting the costs of some items and visiting on a weekday of the off-peak season. Feel free to make the necessary adjustments if you have other needs and preferences.
05:00 am – Bus to Calatagan, P210
08:00 am – Tricycle to Manuel Uy Beach, P50 (P200/4pax)
08:30 am – Pay Calatagan Environmental Fee, P30
08:45 am – Arrival at Aquaria, P400
09:00 am – Rent table, P75 (P200/4pax)
09:15 am – Swim, enjoy the slides
11:30 am – Lunch, P250
02:00 pm – Snack, P200
03:00 pm – Freshen up, pack up
03:30 pm – Trike to town proper, P50 (P200/4pax)
04:00 pm – Travel back to Manila, P210
If you follow this itinerary, prepare to shell out at least P1475 (USD30, EUR27, SGD40).
---
FREQUENTLY ASKED QUESTIONS
What are the rates for photoshoots and video shoots?
For prenup (or any other) shoots, here are the rates:
P5,000: Camera (6 pax + Cabana)
P8,000: Video (6 pax + Cabana)
When is the best time to go?
As usual, summer is the busy season for fun water activities in the country. As mentioned before, Aquaria Water Park gets the highest volume of visitors between January and June, covering the high summer months March, April, and May. The rates are also higher during these months. But the busiest days are Holy Week, Christmas, and New Year.
The off-peak season is the relatively calmer period — fewer crowds and cheaper rates. The rainy or wet season falls during this period which is between July and December.
Are there lockers at the resort?
If you want to store your valuables in a secure place, the park has lockers for rent. The rental rate is P150 for a day.
Are there places to eat nearby?
Yes. As mentioned before, Aquaria Water Park has an in-house restaurant, The Sands. You can order your meals, snack, and drinks here. They have a good selection of food and drinks on the menu. There are also kid-friendly choices.
Note: If you are bringing food that you need to grill, you can rent a griller for P300 for a day.
Can I bring in outside food and drinks?
Yes, but corkage fees apply.
Food
Drinks
Small Cans/Bottles: P50
Local: P200 (maximum of 500ml); ₱500 (exceeding 500ml)
Imported: P500 (maximum of 500ml); P1,000 (exceeding 500ml)
Lechon: P5,000
What are the rules and regulations inside the park?
Wear proper swimming attire. What's allowed: bathing suits, rash guards, board shorts, and trunks. You may also wear aqua shoes.
No pets allowed.
Re-entry is allowed as long as you keep your wristband with you and it's on the same day.
You cannot bring food inside the pool cabanas.
You can bring outside food and drinks and alcohol, but they are subject to corkage fees.
Where can I contact the management for further inquiries?
Landline: +632 553 8888
Email: reservations.aquaria@fuegohotels.com
Official Website: www.aquaria.com.ph
Facebook Page: Aquaria Water Park
Office Hours: 8:00 AM – 6:00 PM (Monday – Friday; except holidays)
---
Words by Asta Alvarez
Photos by Pycan Leynes
---