Over the past few months, more beach resorts in Batangas have welcomed back tourists after temporary closure due to the COVID-19 pandemic. One of these is Aquaria Water Park.
Located in Barangay Sta. Ana in the municipality of Calatagan, Aquaria Water Park is a full-service resort with rooms, cabanas, and three dining places. It also has swimming pools with thrilling water slides. Although it bears "water park" in its name, don't expect a great variety in the slides. Think of it as a more exciting family resort.
While it has exciting water slides and swimming pools, the resort lies along the beach, so you can also enjoy the company of nature as you laze on the supple, cream-colored sand and watch the gorgeous sunset. The best of both worlds!
It is now operating, yes, but because the COVID-19 threat is still present in the Philippines, there are safety protocols to be followed to ensure the safety of everyone — including both the guests and the staff.
For those planning to visit soon, here are the things you need to know before you go.
---
WHAT'S COVERED IN THIS GUIDE?
New Normal Booking and Travel Process
Aquaria Water Park accepts both overnight and day tour guests. However, as of writing, WALK-IN GUESTS ARE NOT ALLOWED in any Calatagan resort. This is mandated by the local government of Calatagan.
All resorts are required to forward a list of guest arrivals to the local government a day before to allow entry of tourists into Calatagan. Guests need to reserve or book their visit in advance. Here's how:
Contact Aquaria Water Park. You may reach the management through any of these contact details.
– E-mail Address: reservations.crusoe@ahg.com.ph
– Mobile Numbers: 0998 847 5028 / 0977 852 9743 / 0917 857 2127
Provide the details the resort needs for your stay, including the total headcount, your choice of lodging (if any), and the date of your visit. The resort staff will also tell you all the requirements that you need to have prior to your trip.
Complete all the requirements. Make sure that you secure all the necessary documents for your trip.
Settle your balance / payment. Bookings done via the official website can be paid by credit card transaction. Otherwise, you can pay through bank transfers and then send a copy of the deposit slip through email.
Save the booking voucher or confirmation letter that you will receive. You'll get it after payment. Keep it and make sure you have two (2) hard copies of the confirmation letter. One will be handed over at the checkpoint.
Have all the requirements ready for checking on the day of your visit or check-in date. There's a representative per resort at the checkpoint. They will check your documents and your name on the resort's guest list.
---
Aquaria Water Park Travel Requirements
As of March 2021, here are the requirements when traveling to Aquaria Water Park and Calatagan in general:
Confirmation Letter or Booking Voucher. This will serve as proof of your booking or reservation.
Barangay Certification. Barangay Certification that proves that the traveler is not in the Barangay Health Emergency Response Team (BHERT) Monitoring List of suspect, probable, and confirmed COVID-19 case in the area. This must be signed by the BHERT Officer and the Barangay Chairman. The document date should be not earlier than a day before your trip or check-in schedule.
Valid Government-Issued IDs.
Notes:
Make sure to bring two (2) hard copies of the documents. The officer-in-charge/an Aquaria staff will ask for a copy at the checkpoint. The other one will be presented at the resort's registration counter.
The Barangay Certification is a new travel document requirement announced on Aquaria's official Facebook page on March 2, 2021 in accordance with the Executive Order No. 07-2021. Before the LGU announcement, the resort used to require a Medical Health Certificate, a negative RT-PCR or a negative Rapid Antigen Test result document. The Barangay Certification replaces the Medical Health Certificate document.
Kids and senior citizens are allowed. Just secure all the necessary documents required by the resort. Pregnant women and persons with comorbidities are not allowed. This is in accordance with the guidelines of Administrative Order No. 2020-006-C.
Still following the guidelines of A.O. No. 2020-006-C, guests must come from CALABARZON or NCR regions and must adhere to the "point to point" travel between the two regions.
---
How to Get to Aquaria Water Park from Manila
Aquaria Water Park is located in Barangay Sta. Ana on the western coast of Calatagan in Batangas. Coming from Manila, the travel time is three to four hours, depending on the traffic conditions.
By Private Car
Traveling via private vehicle is the safest option these days. Going to Calatagan from Manila, the South Luzon Expressway (SLEX) is the fastest route. Another route is via Aguinaldo Highway. Whichever route you choose, road tripping is now easier when you consult Waze or Google Maps for direction.
From SLEX, you can either take Santa Rosa Exit or Mamplasan Exit. The latter is a faster route with the launching of the Cavite-Laguna Expressway (CALAX). Ready your Autosweep and EasyTrip (if taking CALAX).
Whatever route you take, you will be driving along Santa Rosa-Tagaytay Road. Continue driving until you reach Tagaytay Rotonda.
Continue driving along Tagaytay-Nasugbu Road. You will reach the Batangas-Cavite boundary, driving past the arc with a "Welcome to Nasugbu" greeting.
Take a right turn when you reach the Palico Rotonda or junction. The landmarks are Jollibee and Caltex.
Continue driving along Palico-Nasugbu Highway until you reach the Lian-Nasugbu Intersection / Rotonda. Your landmarks are Shakey's and Shell gasoline station.
Take the Calatagan-Lian Highway, passing through Lian town proper. There may be a checkpoint upon entry to Lian so make sure you have the requirements and tell the staff that you're bound for Calatagan. Continue driving until you reach the boundary of Calatagan and Lian.
You will reach the checkpoint where you need to present the travel requirements. See the previous section for the new normal entry/travel process. Have your Guest Confirmation Voucher and Medical Certificate ready just in case they ask for proof.
When you are already cleared, continue driving through Calatagan town proper. You will pass by Lago de Oro. Follow the signs. When we visited, the highway became a one-way road at one point and we had to take the adjacent then parallel roads to get to Aquaria.
Continue driving onto Apacible Street, passing by Stilts. Shortly after, you will see Aquaria Water Park entrance to your right.
Alternative Route: Another route from SLEX is to continue driving to STAR Tollway then take Batangas City Exit. Then drive through the towns of Bauan, Lemery, Calaca, and Balayan to reach Calatagan.
By Public Transportation
Most buses bound for Batangas can now be found at the Parañaque Integrated Terminal Exchange (PITX). Unfortunately, we haven't tried this yet. But based on information posted at the terminal, San Agustin Transport / Batman StarExpress Corporation (BSC) operates a PITX-Nasugbu route via Aguinaldo Highway.
Here's the schedule as of October 2020.
From Nasugbu, you can ride a bus or jeepney to Calatagan Town Proper. Then hail a tricycle to Stilts Calatagan. fare is P200.
---
Aquaria Water Park New Normal Admission Procedure
Our team had been here before the pandemic. But this time around, we actually booked with a different resort, but we dropped by Aquaria to check what has changed and inquire about the new process and the requirements. The members of the staff from the guard to the receptionists were very welcoming and accommodating!
Here's the new normal entry process:
At the gate, the guard will ask you about your business and your booking confirmation.
There's a staff member who will assist you at the parking lot, guiding you to the registration area.
From the parking lot, you will go through the foot bath or foot sanitation area.
After that, you will be asked to wash your hand inside the restroom. One person at a time.
After washing your hands, you will be asked to sanitize your hands with alcohol when you exit the restroom.
You will then be led to the registration counter. There are significant floor markings and signs reminding you of the health and safety protocols.
Before you approach the registration counter, you have to go through thermal scanning to check your temperature.
Check in and register. You will find different QR Codes there. These are for the the following:

Registration Form
Health Declaraton Form
Waiver

Welcome and enjoy. Don't forget to observe social distancing and other safety protocols.
---
Operating Days and Hours
Office Hours
8:00 AM – 6:00 PM
Monday – Friday (except holidays and with 1-hour lunch break)
Resort Hours
8:00 AM – 6:00 PM
Daily (except Tuesday)

CLOSED
Tuesdays
Notes:
The aqua park conducts weekly maintenance that prompts the management to close the park for one whole day (Tuesday) every week.
For those staying overnight, no swimming in the pool and the beach beyond 6:00 PM. The pools are open from 8 AM to 6 PM only.
For group package or events, check the official website or contact the management for the available schedule.
There are also dates when the park is closed for private events, weather-related reasons, or maintenance. It's better to check the official website or FB page prior to your visit or booking.
---
Day Tour vs Overnight Stay
Which is better depends on how much time you have, what you want to experience, and what your mode of transportation will be. The place is not too big or complicated and is pretty easy to explore. If you have your own ride, it's possible to have a grand time even on a day tour.
If you want to explore the water park unhurriedly and you have the budget and the luxury of time, then you may opt to book an overnight stay. This is also a wiser choice if you're taking the bus + tricycle because public transportation options are still limited due to the pandemic-related restrictions.
---
Day Tour Rates
Entrance Fee
OFF-PEAK SEASON
Weekdays
P400: Adults
P200: Children (4ft and below)
FREE: Infants (1 y/o and below)
Weekends, Holidays & Long Weekends
P600: Adults
P300: Children (4ft and below)
FREE: Infants (1 y/o and below)
PEAK SEASON
Weekdays
P600: Adults
P300: Children (4ft and below)
FREE: Infants (1 y/o and below)
Weekends, Holidays & Long Weekends
P800: Adults
P400: Children (4ft and below)
FREE: Infants (1 y/o and below)
Notes:
The rates depend on the season. Peak season rates are different from the lean or off-peak season rates.
The peak season period is January to June, while the off-peak season is July to December.
The rates are inclusive of free use of swimming facilities — pool, beach, and shower rooms.
Day Trip Schedule is from 8:00 AM to 5:30PM only.
The Calatagan Municipality has mandated the collection of P30 per person for the Tourism Ecological Fee. This is normally paid at the resort either upon check in or check out.
If you want to book through online booking platform such as Klook, you might also score a discount. Make sure you contact the management to inform them of your booking. Show your booking voucher, so the management can confirm your reservation. Secure the other requirements as well. Check the previous section for the necessary travel documents.
✅ CHECK AVAILABILITY & RESERVE HERE!
Hut/Table Rentals
You can rent tables and chairs, picnic tables, and open-air cabanas. Here are the rates:
Table and Chairs: P200
Picnic Table: P300
Beach Front Cabana: P1200
Cove Pool Cabana: P1500
Boardwalk Cabana: P1700
Resort Pool Cabana: P2000
Notes:
For the open-air and day tour only cabanas, the capacity will be reduced to half of their original capacity in accordance with the mandated safety standard by the local government.
Beachfront Cabana: 5 pax
Medium Pool Cabana: 5 pax
Large Pool Cabana: 8 pax
Round Cabana: 6 pax
Boardwalk Cabana: 6 pax
There will also be a vacant one in between every occupied cabana.
---
Overnight Rates
If you'd rather spend the night at Aquaria, that's possible too, but this option is not for those on a budget. Camping is not allowed, so that's out of the picture. The only way you could stay overnight at Aquaria is by booking with Crusoe Cabins. There are two types:
Beachfront Cabin
Garden Cabin
You can check the rates and book here: Crusoe Cabins
Notes:
Every booking already includes access to the water park so you don't need to purchase a day pass separately.
Following safety and health standard during the new normal, a maximum of only three (3) persons are allowed in each cabin.
For overnight stay, check in time is at 3:00 PM, while check out time is at 12:00 PM the next day. This will allow the resort to disinfect the cabins properly.
---
Things to Do at Aquaria Water Park
The facilities and amenities of Aquaria Water Park promise a fun-filled day for the resort guests. Splash and slide at the pool areas, sunbathe and watch the sunset at the beach area, try some of the water sport activities, and make the most of the amenities.
Highlight Attractions
3-Storey High Pool Slide. This is the most notable feature of the water park. Note that the landing pool is 6-feet deep.
Resort Pools. There are a number of pools inside the aqua park, including the popular Cove Pools.
Kiddie Pool. A 3-feet deep swimming pool area for the little ones.
Fine-sand beach. The property also boasts over 500 meter stretch of beach.
When we visited, one or some of the pools were being renovated.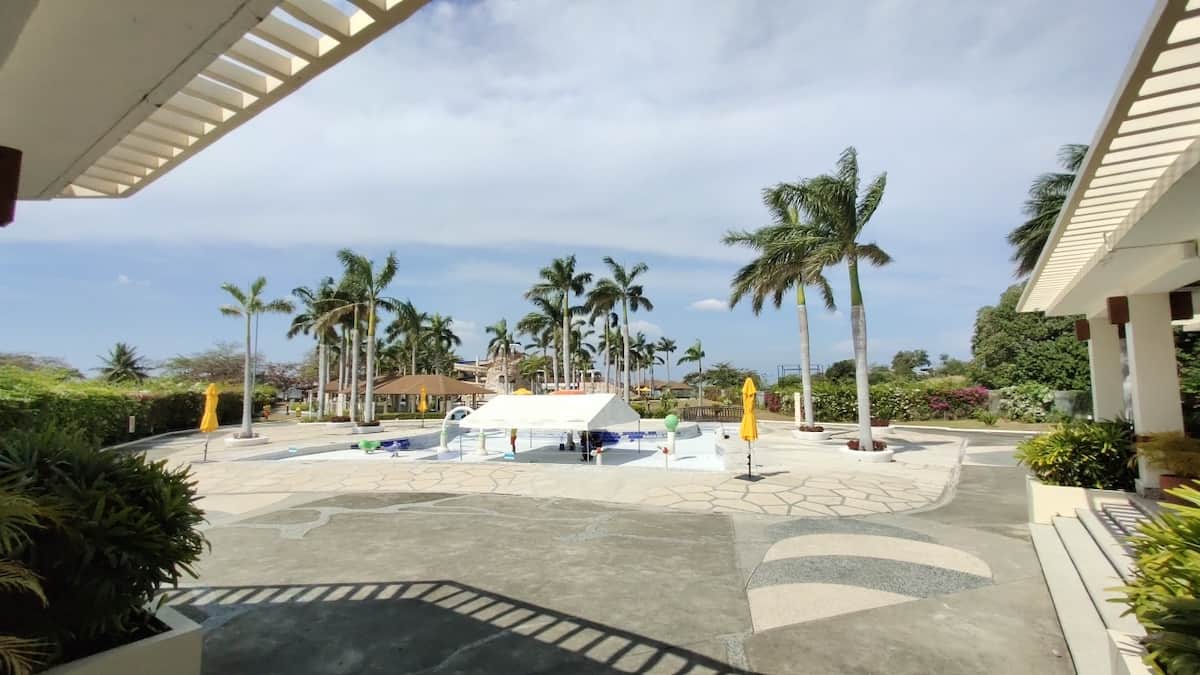 Other Resort Amenities
The Boardwalk. This is a beach promenade, stretching 400 meters. It is dotted with cabanas, outdoor showers, lifeguard showers and retsuarants. It also features a regatta walkway.
The Sands. This is one of Aquaria Water Park's in-house restaurants, serving Filipino-themed meals, snacks, and beverages. The Sands is open from 6:00 AM to 6:00 PM.
The Coffee Shack. In-house coffee shop, brewing and serving iconic Batangas coffee, Kapeng Barako. The coffee drinks are brewed and served by Taza Mia. It's open from 10:00 AM to 6:00 PM.
Swing Bar. This unique bar features swing seats. Drink your favorite cocktails while bonding with friends or watching the sunset. You can also order your favorite comfort food here from the Rib Shack. The bar is open from 10:00 AM to 10:00 PM.
Welcome Center. You will be greeted warmly at the Welcome Center where you will be served refreshing welcome drinks.
Bath Houses. The resort's spacious shower and changing rooms. If you forgot to bring your towel, you can rent or purchase one. Towel rental is P50 for a day. If you want to buy one, the price is around P650.
Other Activities
As of writing, watersports are temporarily suspended until further notice. Check the resort's Facebook page or contact the management for updates. But hey, the highlight attractions and other facilities will still fill your day with exciting activities. For your future reference, here are some of the resort's watesports activities.
Beach Volleyball
Beach Soccer
Kayak
Banana Boat
Jetski
Aqua Glide
Paddle Board
---
Aquaria Water Park Rules and Regulations
Guests must fill out the Health Declaration Form upon arrival for proper screening and contact tracing.
No face mask, no entry policy. Guests must wear their masks (and face shileds) properly at all times except when swimming and eating.
Cover your mouth and nose when you sneeze or cough, especially in situations when you have to take your face mask off (like when eating or swimming).
Make sure to keep your hands clean. Sanitation stations and handwash stations are located around the resorts, particularly in common areas or high foot traffic areas like food places and restrooms. Better if you can bring your personal alcohol or hand sanitizer.
Observe social distancing. There are markers on the floor for your guidance and follow the standard maximum capacity of each area.
Food delivery to your cabin is permitted; however, the resort staff are only allowed to deliver outside your cabin to reduce physical contact and protect both parties.
Alcohol and masks will be provided when you book a cabin for an overnight stay.
Cashless transaction or contactless payment is highly encouraged. The preferred mode of payment is via credit card or PayMaya. Cash is still accepted for additional charges while inside the water park.
Regular sanitization of areas and high touch items is strictly implemented. Cabins are also cleaned and sanitized throroughly before the next guests check in.
No outside food are allowed inside the water park except for chips and light snacks.
You can bring outside drinks, but they are subject to corkage fees.
You cannot bring food inside the pool cabanas.
Wear proper swimming attire: bathing suits, rash guards, board shorts, and trunks. You may also wear aqua shoes.
The swimming pools are open from 8:00 AM to 6:00 PM only. No swimming in the pool before 8:00 AM and beyond 6:00 PM.
Locker rooms are available for rent.
Guest parking is free of charge.
Pets are allowed but must be on leash. More details about pet policy on the FAQ section.
---
Other Tips for the Poor Traveler
Day trippers can only stay until 5:30pm. If you want to make the most out of your day, arrive at 8am, which means you will have to leave Manila at 5am.
Protect your skin from the harmful rays of the sun. Bring sun protection like hats, sunglasses, and sunscreen.
Please use coral-friendly brands. A study conducted by the Archives of Environmental Contamination and Toxicology revealed that many sunblock products contain chemicals like oxybenzone, benzophenone, and parabens that are harmful to marine life. Choose the ones that do not contain these chemicals.
Wear comfortable footwear or aqua shoes. The sand can be too hot when the sun is high, especially at noon.
Always observe social distancing and follow the resort's safety protocols and procedures.
---
Frequently Asked Questions
Are kids and senior citizens allowed? Yes! Just secure all the necessary documents required by the resort. However, pregnant women and persons with comorbidities are not allowed. This is in accordance with the guidelines of Administrative Order No. 2020-006-C.
Are pets allowed? Yes, for a fee. Pets must be on leash at all times. For pets staying with you overnight, here's a detailed copy of the resort's Pet Policy including the rates.
Can I bring outside food? As of writing, only snacks and chips are allowed inside the water park. Outsode heavy meals and food are prohibited. You can bring in outside drinks, but they are subject to corkage fees.
Are there places to eat inside? Yes. As mentioned before, Aquaria Water Park has in-house dining places like The Sands, the Rib Shack at Swing Bar, and Taza Mia at Coffee Shack. You can order your meals, snack, and drinks here. They have a good selection of food and drinks on the menu. There are also kid-friendly choices.
Can I use the restroom or shower if I'm on a day tour? Of course! The rates are inclusive of free use of swimming facilities — pool, beach, and shower rooms.
When is the best time to go? Weekdays (Mondays to Fridays) in off-peak season. As mentioned before, Aquaria Water Park gets the highest volume of visitors between January and June, covering the high summer months March, April, and May. The rates are also higher during these months. But the busiest days are Holy Week, Christmas, and New Year.

The off-peak season is the relatively calmer period — fewer crowds and cheaper rates. The rainy or wet season falls during this period which is between July and December.
---
More Tips on YouTube ⬇️⬇️⬇️