2021 • 7 • 4
Here's a list of the TOP 15 BEACH RESORTS in BATANGAS, PHILIPPINES, according to online users. For this compilation, we didn't take the price into consideration and we only included properties with at least 50 reviews.
Previously, we featured the 13 best beaches in Batangas with information on how to pull off a do-it-yourself getaway. This time, let's have a little bit of pampering — beach resorts!
Whether it's only a day trip, an overnight stay, or an extended getaway, Batangas is an easy choice for the weekend warriors. Thanks to its proximity to the Manila megalopolis, the province remains one of the top choices for leisure travelers looking for a relaxing time, adventurers chasing some thrills, or business people seeking a refreshing venue for planning and team-building activities. And Batangas has something for them all.
But if "beachfront" is a non-negotiable criterion, then we've done the dirty work for you. Although the sand is not as fine or as white as that of Boracay and other poster beaches in the Philippines, its coasts and islands still have unique and interesting things to offer. The beach towns like Lian, Nasugbu, Mabini (Anilao), Tingloy, Lobo, San Juan (Laiya), and Calatagan have more than their share of beachfront accommodations — ranging from luxury resorts to budget guesthouses.
Here's a list of the best-rated Batangas resorts by the sea, as ranked by Agoda reviewers as of March 2021. Note that we're also including dive resorts, which may or may not have a bed of sand fronting it.
And boy was I surprised to see how expensive these resorts are! But anyway, these are the top choices regardless of the price. For the list of resorts for the budget-conscious, check this out instead: TOP 10 AFFORDABLE RESORTS IN BATANGAS!
1. Palm Beach Resort
Location: Brgy. Hugom, San Juan, Batangas (Laiya Area)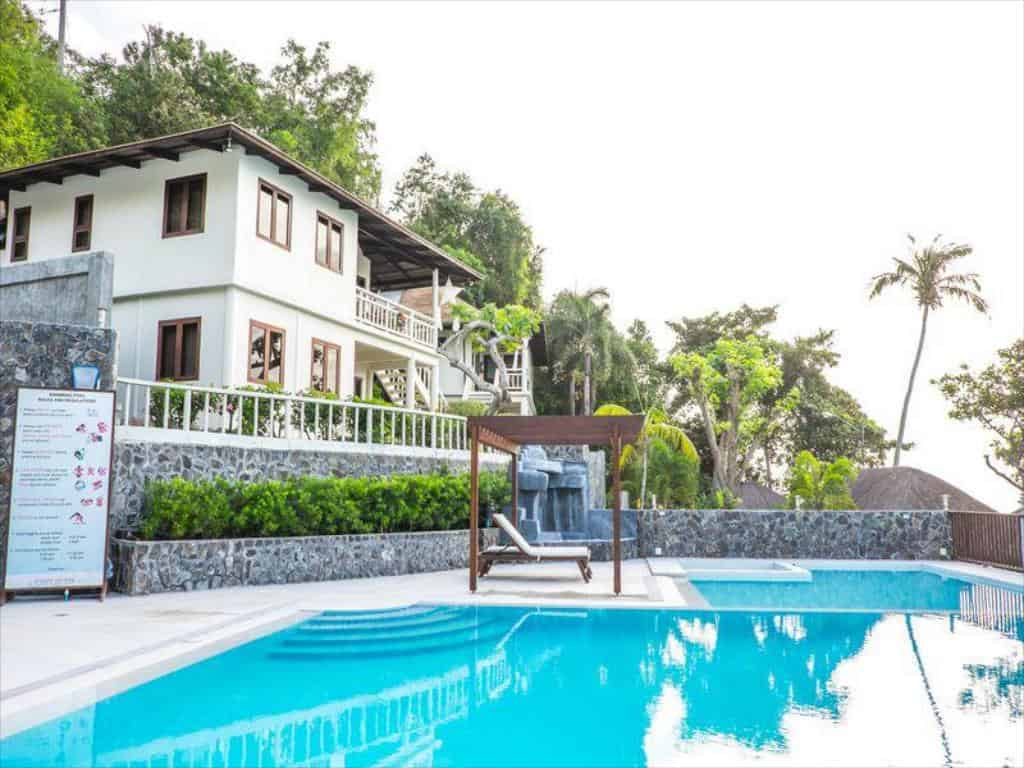 ---
2. Altamare Dive and Leisure Resort
Location: Brgy. San Teodoro, Mabini, Batangas (Anilao Area)
---
3. Acuaverde Beach Resort & Hotel
Location: Laiya area, San Juan, Batangas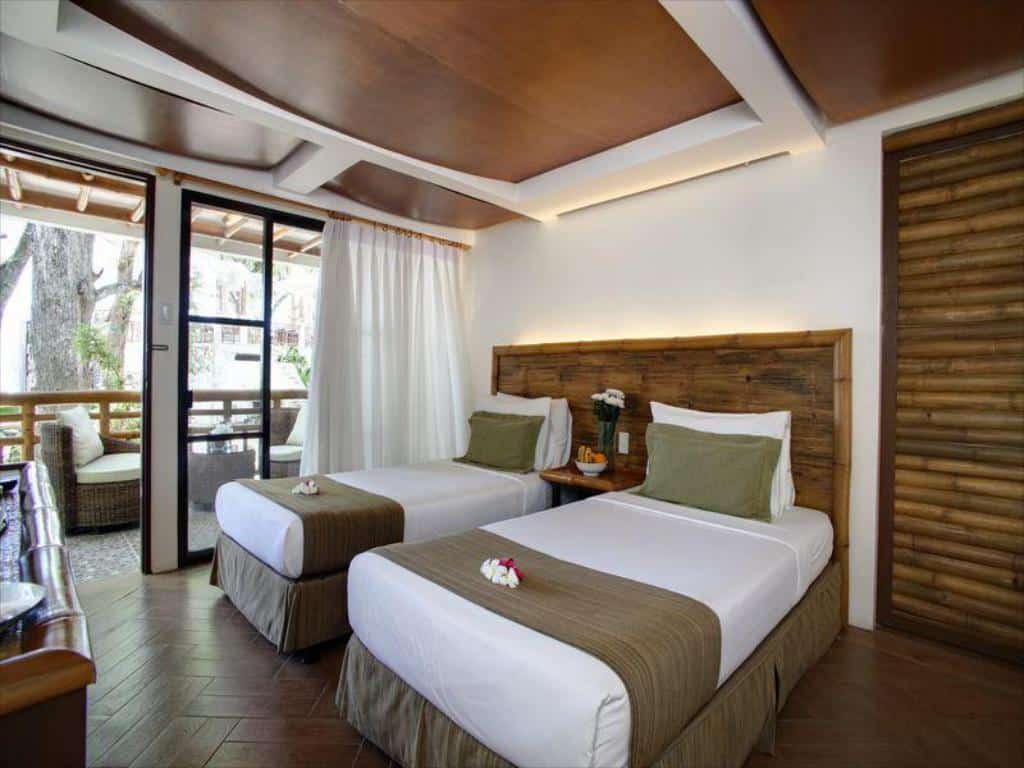 ---
4. Blue Ribbon Dive Resort
Location: Ligaya, Mabini, Batangas
---
5. Coral Beach Club
Location: Matabungkay, Lian, Batangas
❗️ UPDATE: June 2021. Coral Beach Club is closed again until further notice.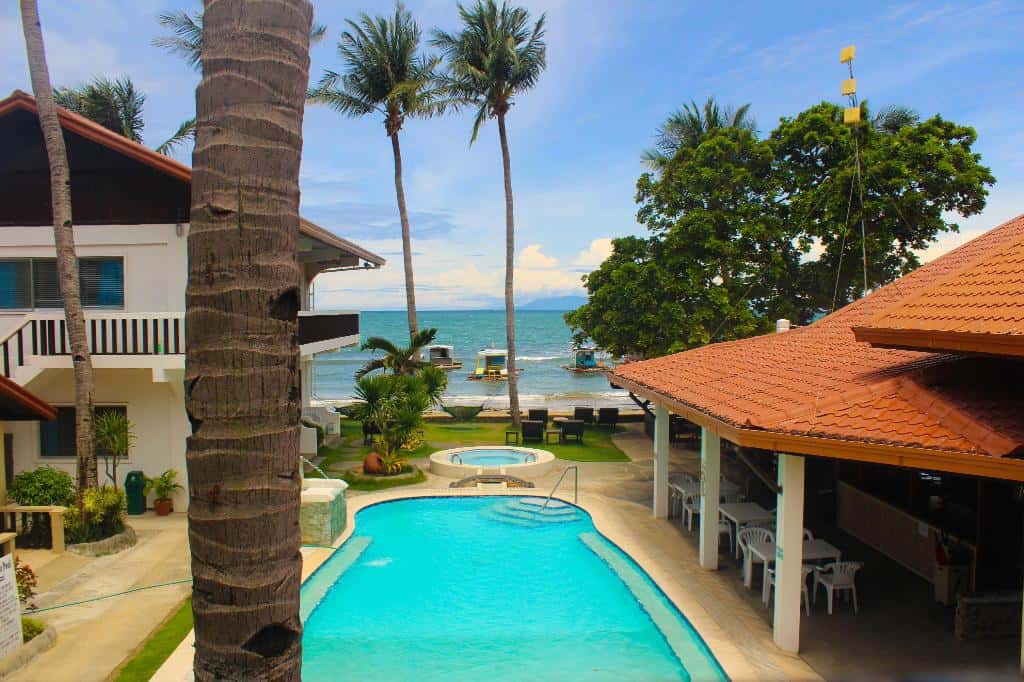 ---
6. Aquaria Water Park (Crusoe Cabins)
Location: Brgy. Sta. Ana, Calatagan, Batangas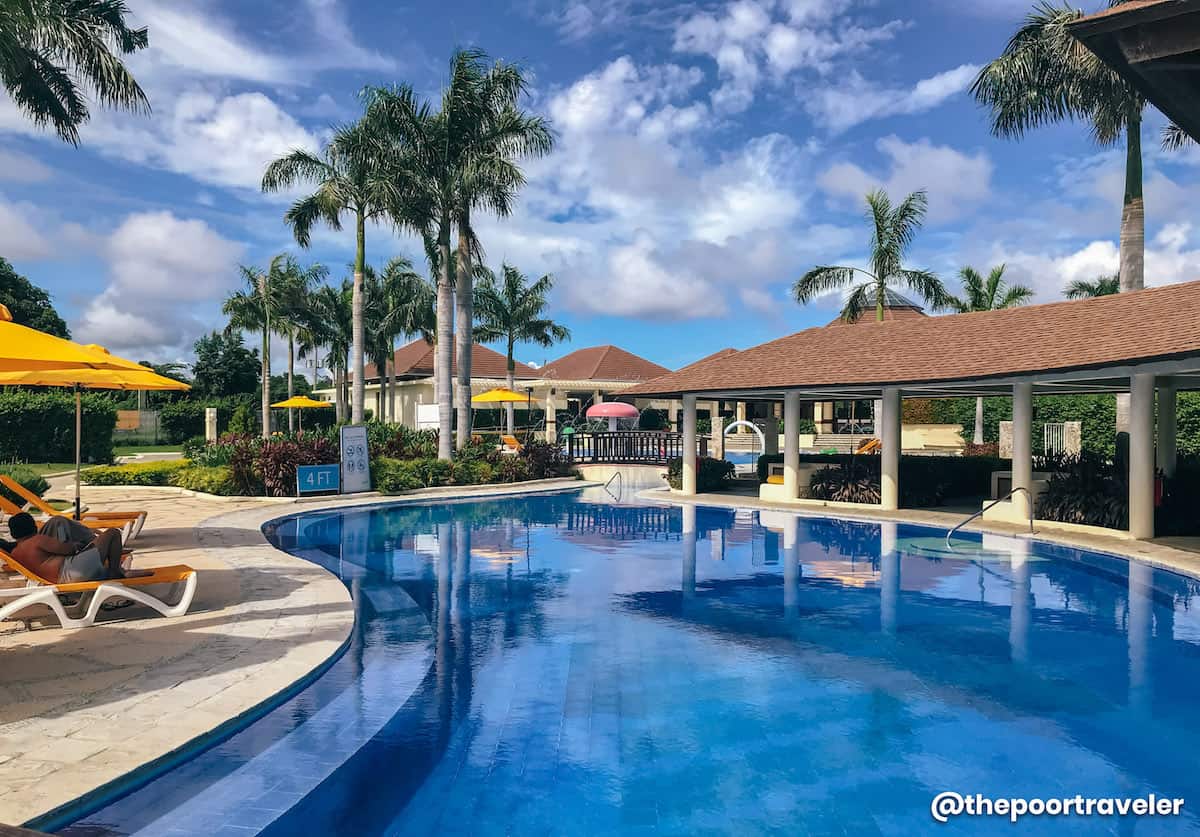 ✅ CHECK ROOM RATES & AVAILABILITY!
---
7. Bentrina Diving Resort
Location: Brgy. Ligaya, Mabini, Batangas (Anilao area)
---
8. Vivere Azure Resort
Location: Brgy. Aguada, San Teodoro (Anilao Area), Mabini, Batangas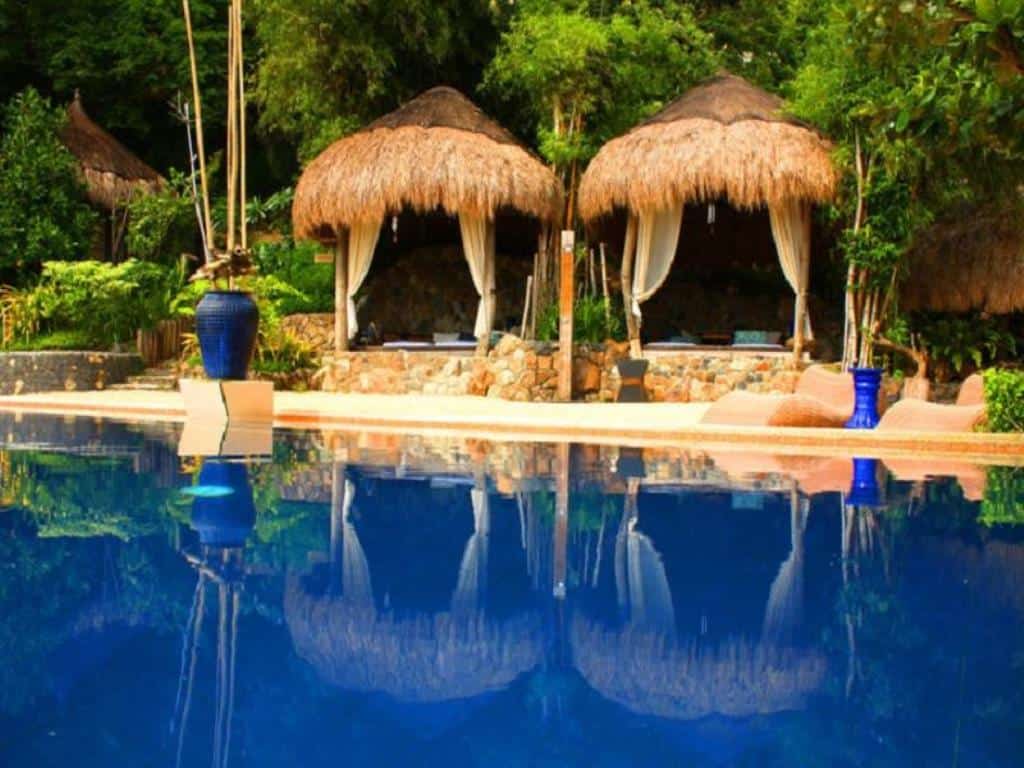 ---
9. Camp Netanya Resort and Spa
Location: Brgy. Ligaya (Anilao area), Mabini, Batangas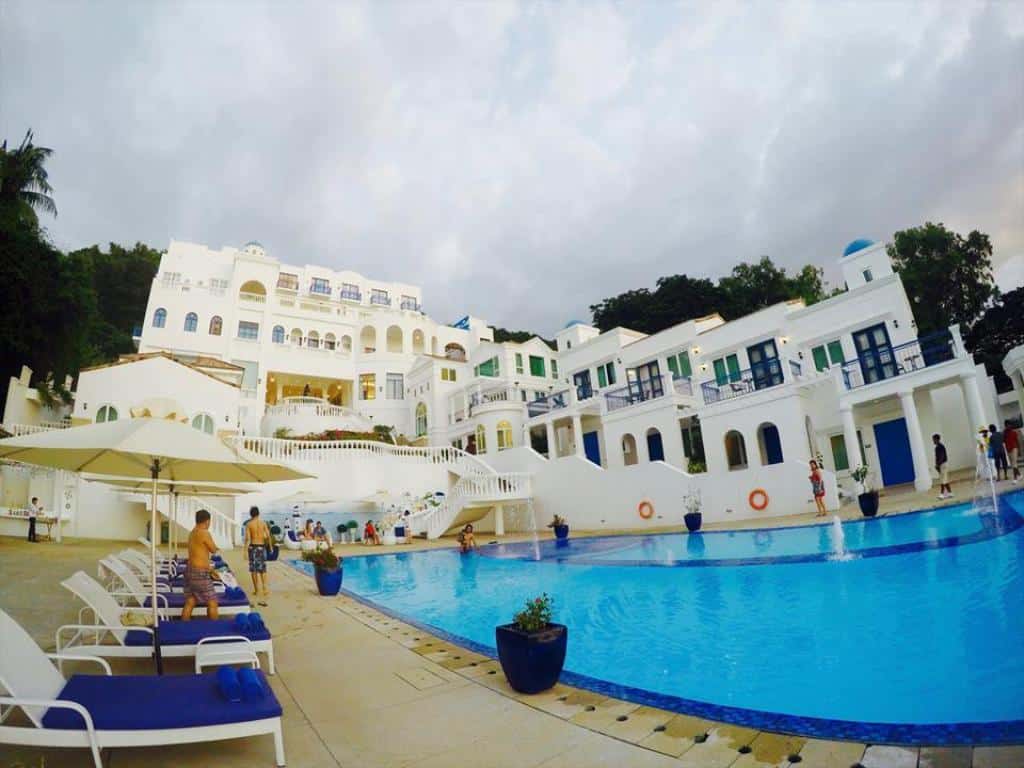 ---
10. Paseo Verde Beach Resort
Location: Pook Magalang, Laiya-Aplaya, San Juan, Batangas
---
11. Acuatico Beach Resort & Hotel
Location: Laiya area, San Juan, Batangas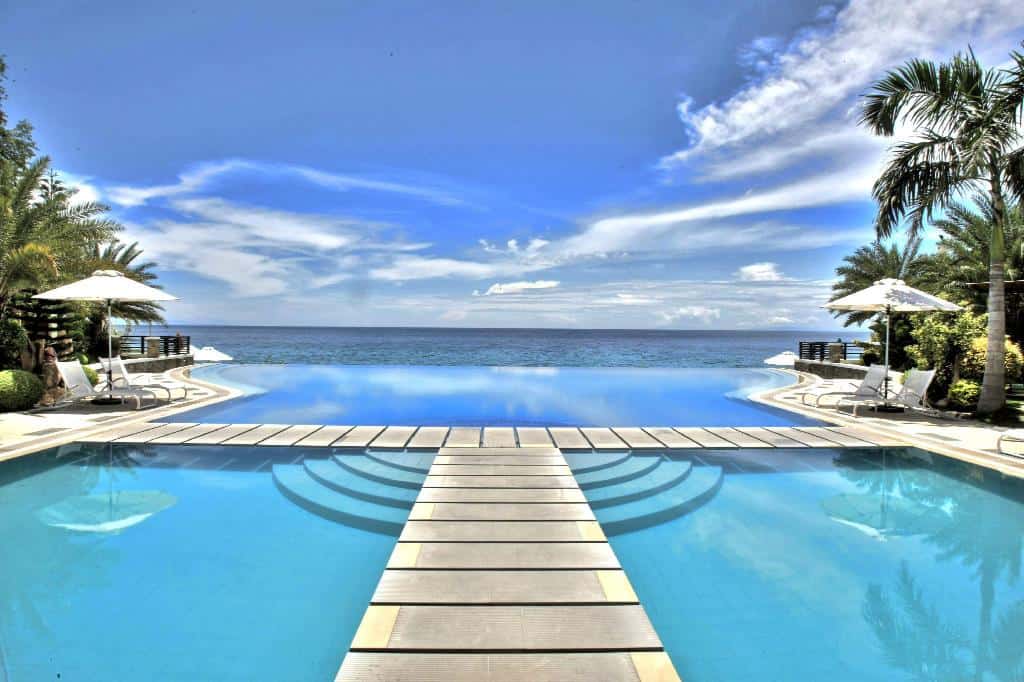 ---
12. Anilao Awari Bay Resort
Location: Brgy. Solo, Mabini, Batangas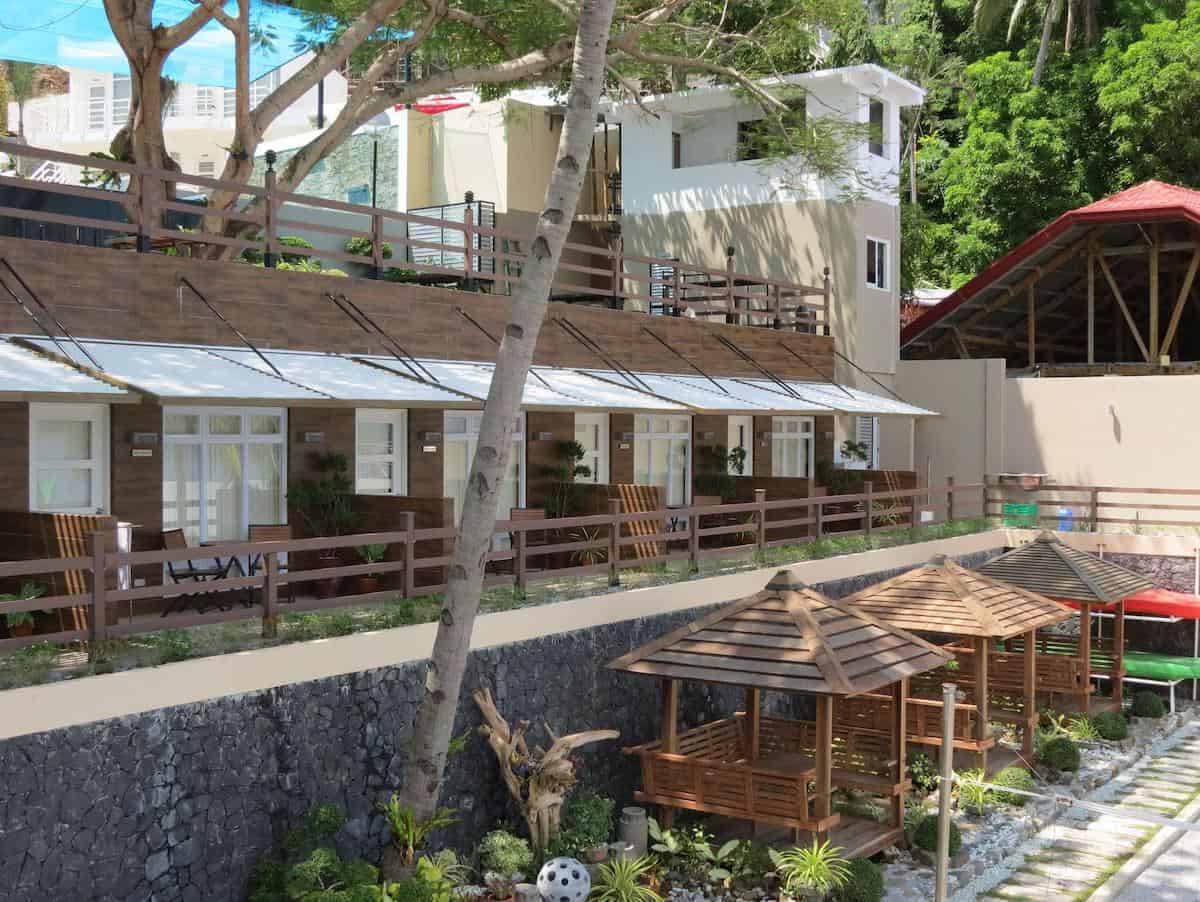 ---
13. CML Beach Resort & Waterpark
Location: Nonong Casto, Lemery, Batangas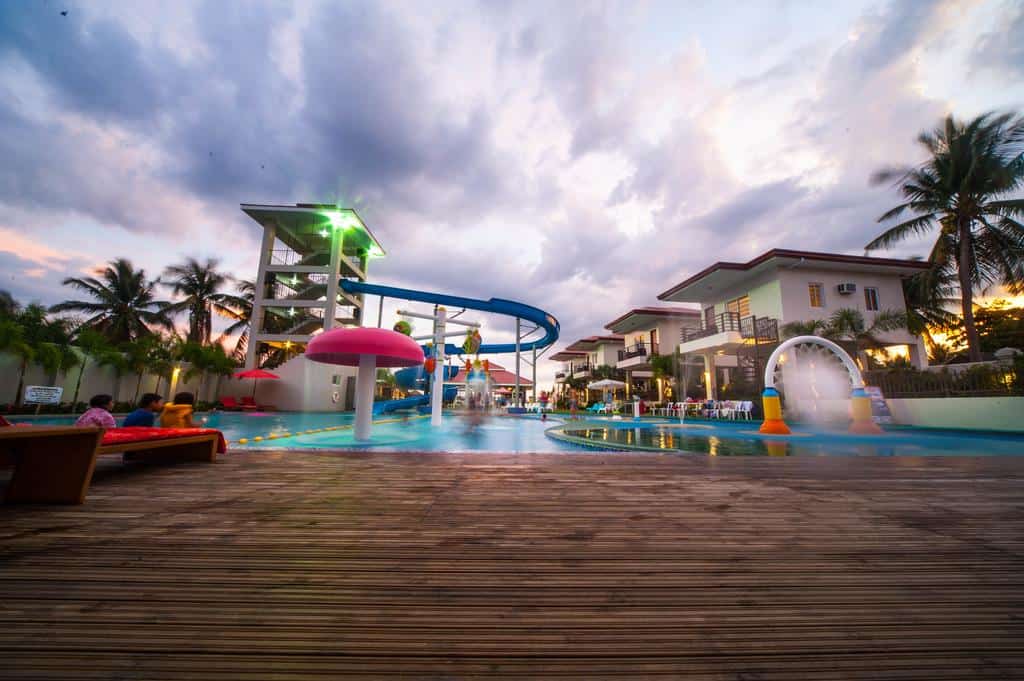 ---
14. Virgin Beach Resort
Location: Laiya area, San Juan, Batangas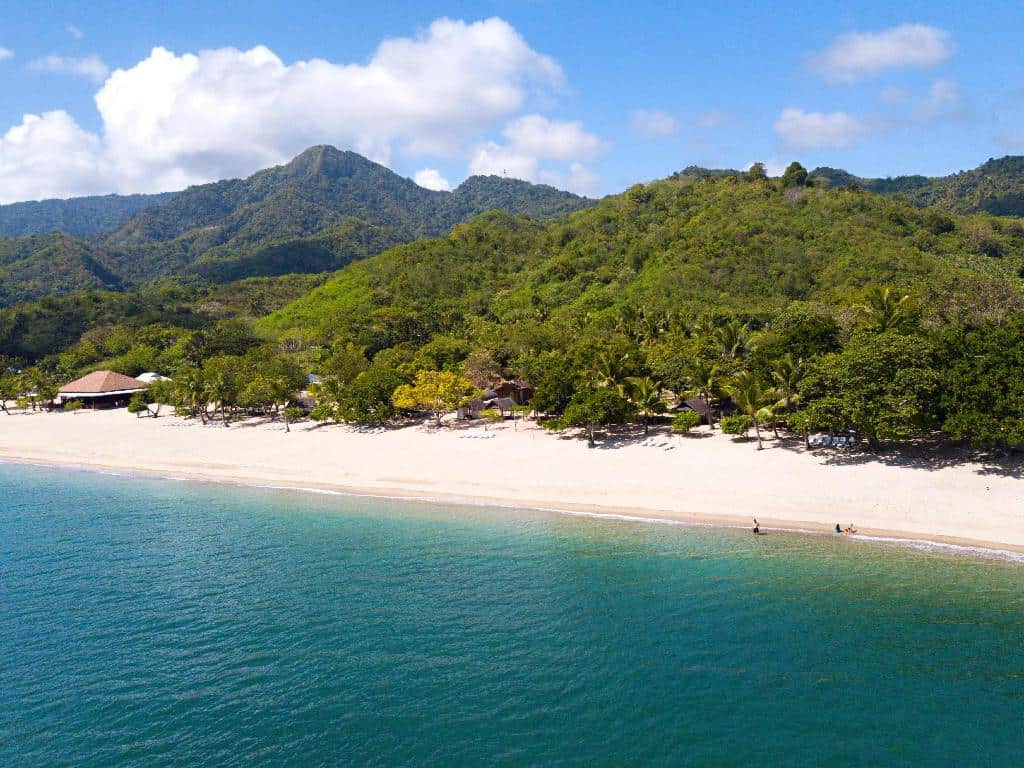 ❗️ Note: As of this writing, Virgin Beach Resort remains temporarily closed and currently refurbishing facilities.
---
15. Matabungkay Beach Hotel
Location: Matabungkay, Lian, Batangas
---
---
Important Reminders
Local government units (LGUs) implement their own rules. How things are done in Laiya isn't necessarily the same with how things are done in Anilao. Each municipality has its own set of policies including tourist requirements. For example, as of February 2021, Calatagan needs a health certificate from a government physician, but San Juan accepts medical certificates from private doctors. When in doubt, contact the LGU of the destination you want to visit.
Get in touch with the resort before booking. In the time of COVID-19 or New Normal, this is the first thing you should do. Resorts are usually the first to be briefed on the LGU policies and updates. They should be able to tell you the latest requirements and protocols. Resort management may also implement policies on top of the LGU's. For example, while it's not imposed by the local government of San Juan, some Laiya resorts do require guests to undergo a same-day rapid COVID-19 antigen test upon check-in. Result must be negative, of course.
Work on all the requirements. Some areas have checkpoints — some but not all. Calatagan does have and they do mandatory check upon entry. Lian also has one at the entrance to the town proper, as of Feb 2021. Many areas don't have checkpoints, but it's always best to just comply to be on the safe side.
Always follow the COVID-19 health and safety guidelines. Always wear a face mask unless you're eating or swimming. Observe physical distancing at all times. Wash your hands frequently. Don't forget to bring alcohol, sunscreen and other sun protection!
Pay attention to the details and fine prints. Some resorts look cheap but mandatory meals are not included. These meals can take much of the cost. For good measure, contact the hotel management about their mandatories and other rules.
Some resorts accept day trips. If you feel like you don't need to stay overnight and pay a room, you can visit on a day trip. For some destinations like Calatagan and San Juan, however, you will still need to present confirmed booking from the resort even if you're visiting on a day tour.
Visit on a weekday. Avoid the weekends and holidays. Traveling on a weekday means fewer guests and less contact with other people. It's safer.
Some public beaches are open. Matabungkay's public beach remains open. But expect them to be crowded even at this time.
---
Beach Attractions in Batangas
Batangas has a world of wonder to offer, and we can't really discuss all of them in this section. But here's a quick summary per destination. Note that not all of these may be accessible in the New Normal so always check with the LGU first before planning a trip.
Nasugbu has some public beaches like Calayo and Papaya, which are the jump-off points to some of the province's most stunning islands and remote coves like Loren Island and Bituin Cove. There are also exclusive resorts and subdivisions like the Punta Fuego Beach Club, Canyon Cove, Hamilo Coast, Pico de Loro Beach & Country Club, and Tali Beach Subdivision, which are mostly open only to members and residents and their guests. Pristine coves are usually tucked away in these exclusive resorts and villages, but in the pre-COVID-19 world, if you know someone living there or book one of the houses or units, you may be able to get access. Fortune Island is also a popular camping attraction.
Verde Island is an untouched gem. It's located in the Verde Island Passage, between Batangas and Mindoro. Not too many resort options there.
Tingloy, the only island municipality, has Masasa Beach, perhaps the most scenic of all the beaches in the Batangas. It also harbors Sepoc Point and Sombrero Island, all of which can be reached by boat from Anilao or Talaga Port in Mabini.
Anilao is a diver's paradise. It does have a few strips of sand here and there, but it's best known for its dive sites. Mountain enthusiasts can also do a trek and island-hopping combination — climbing Mount Gulugod-Baboy and then hopping from the mainland to Tingloy's Masasa Beach.
Lian is known for Matabungkay Beach's floating cottages and sunsets. But it also has several other coves that are less known. Most beaches are open to the public, peppered with different types of resorts and lodging from which you can choose.
Laiya is the most popular attraction in San Juan. Known for its long and wide stretch of cream-colored sand, it is one of the most developed coastlines in the province.
Lobo has some great beaches too and they come in various shapes and sizes. The Malabrigo Point is one unique beach as it is blanketed with smooth stones and pebbles instead of sand.
Calatagan will give you the best of both worlds — luxury resorts and beach camping. Stilts Calatagan is, in our opinion, its most prized possession. It's also one of the favorite beach wedding venues near Metro Manila. The budget-friendly Manuel Uy Beach and the more upscale, family-friendly Aquaria Water Park are also located here.
Lemery has some beach resorts too. The municipality's shore is naturally strewn with black volcanic sand, which isn't too attractive to white-sand-worshippers. But resorts like Lemerish Beachotel and CML have found a way to make their properties more appealing by upgrading swimming pools or installing water-park amenities. The most visited attraction, however, is perched in its highlands — Fantasy World, an unfinished themed park with a massive straight-out-of-fairy-tale castle.
Aside from all these, Lipa City and Balete have some mountain resorts perfect for a romantic or idyllic escape. The towns of Laurel and Alitagtag have accommodations with a stunning view of the Taal volcano and the surrounding lake.
---
Photos above were provided by resorts via Agoda.
Additional words by Joshua Berida.
2️⃣0️⃣2️⃣1️⃣ • 7️⃣ • 4️⃣ – last update
2️⃣0️⃣1️⃣7️⃣ • 3️⃣ • 8️⃣ – first up
---