Last updated: July 6, 2019. (Philippines section)
In an effort to bolster their tourism efforts and attract more visitors, Taiwan has relaxed its visa policies. While the Electronic Travel Authority system has been implemented for nationals of several countries, the Taiwanese government made it even more convenient for Filipinos by allowing them to travel visa-free.
However, please note that even without a visa, there are still certain requirements that you need to meet. This article is divided into two sections: one discusses the visa-free entry requirements for Filipino travelers; while the other is a step-by-step Electronic Travel Authority for nationals of other Asian countries. You don't need to do both because only one of these applies to you.
Here's how to enter Taiwan without a visa.
TAIWAN VISA-FREE ENTRY REQUIREMENTS FOR FILIPINOS
Filipinos may enter Taiwan for tourism purposes completely visa-free until July 31, 2020. In a recent statement posted on the website of Taipei Economic and Cultural Office in the Philippines, the Taiwanese government announced the extension of the visa-free policy for another year.
Filipinos DON'T NEED to apply for a visa or a Travel Authorization Certificate, either. You may simply show up for your flight, provided that your trip is no longer than 14 days, that you have no criminal record in Taiwan, and that you meet the following requirements:
1. Valid Passport
Must have at least 6 months validity. You will not be allowed to leave the Philippines or enter Taiwan if your passport will expire within the next 6 months of departure.
Must have signature. If you're holding the newest version (with 10-year validity), you will find the signature field on the page adjacent the Bio Page. It's on the bottom part of the page, below the flag. Your passport is NOT VALID unless it is signed. If you're holding the previous version of the e-passport, the signature should be digitally added to the Bio page so no need to do anything.
2. Return or Onward Ticket
If Taiwan is the only country you will be visiting, you must have a ticket to a flight back to the Philippines.
If you're visiting multiple countries on this trip, you need to present a ticket to the next country and a visa to that country if needed. If the next country requires a visa, you must have corresponding visa too. You need to show you will be exiting Taiwan.
3. Proof of Accommodation
If you're visiting as a tourist, you must have hotel booking and/or tour arrangements.
If you're staying with a friend or relative, make sure you have your host's contact information, address, and/or tour arrangements.
4. Sufficient travel funds.
This can be any of the following:
cash
credit cards
travelers checks
money orders or similar forms
This is the newest addition to the list of requirements. According to travelers who flew to Taiwan recently, they weren't asked to show money at all, so this is probably done randomly. However, to be safe, I strongly urge you to make sure you have enough funds to cover your entire stay in Taiwan.
How much is enough show money? Well, they don't explicitly state the amount. I don't know for sure. But as a personal rule, I always travel with at least P3000 per day. That's just me, though.
Note: The initial announcement lists "financial statement," which led people to believe that a bank certificate or bank statement is needed. But the Taiwanese authorities have since clarified that it is proof of travel funds that they want to see instead.
5. Accomplished Arrival Card
This will be handed to you by the flight attendants at one point during your flight. You might be able to find a copy at the Immigration area at the airport.
If you're on a cruise, you may get this from the check-in staff upon boarding the ship.
This visa-free policy was initially effective from November 1, 2017 to July 31, 2018. However, it has now been extended to July 31, 2020!
If you need more help planning your trip, read this: Taiwan Travel Guide
---
Top Budget Hotels in Taipei
Here are the top budget hotels in Taipei as scored by Agoda users.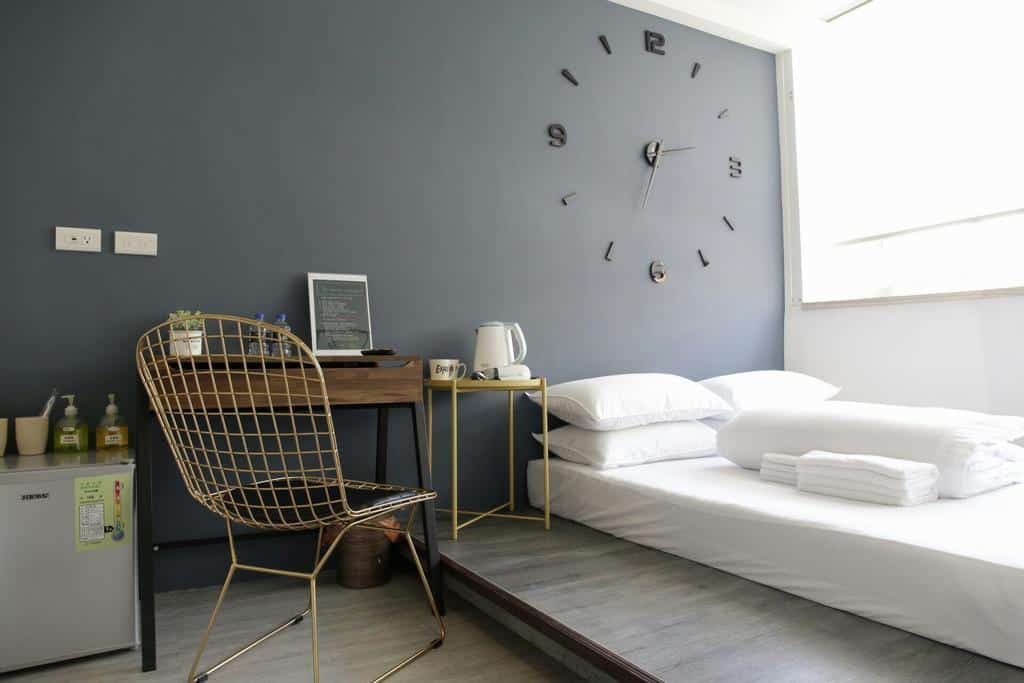 ---
---
TRAVEL AUTHORIZATION CERTIFICATE for Nationals of Cambodia, India, Indonesia, Laos, Myanmar, and Vietnam
Updated: July 2018.
Nationals of the countries above may enter Taiwan visa-free provided that they secure a Travel Authorization Certificate before their trip.
According to the Taipei Economic and Cultural Office (TECO), the following conditions must be met:
Your passport must still be valid at least 6 months from your entry date.
You must have an onward or return ticket (plane or ferry).
You must never have been employed as a blue-collar worker in Taiwan.
You must have at least ONE of the following documents from Australia, Canada, Japan, South Korea, New Zealand, United Kingdom, United States, or any of the Schengen countries:
– Valid entry visa. E-visas are accepted.
– Valid resident or permanent resident card
– Visa or resident card that has expired less than 10 years before your intended entry date in Taiwan.
*Taiwan was added to the list last June 2017. So if you have an existing Taiwan visa or resident card that expired not earlier than 10 years ago, you may use that too. However, Taiwan visas bearing a remark of "FL" (foreign labor) or "X" (others) and resident cards with the purpose of "Foreign Labor" are not eligible.
If you meet all four requirements, then you don't need a visa to visit Taiwan.
But hold your horses!
This doesn't mean you can just sashay your way through Immigration without doing anything. You still need to secure an ROC Travel Authorization Certificate (aka Visa-Free Certificate). And it's great because:
It is valid for 90 days. Each stay must be not longer than 30 days.
It can be used for multiple entries.
It is FREE.
The best part, getting one is a piece of cake. The whole process takes 5-10 minutes. Here's how to do it:
1. Visit the ROC Travel Authorization Application Site.
You'll find it right here. You'll be greeted with this page: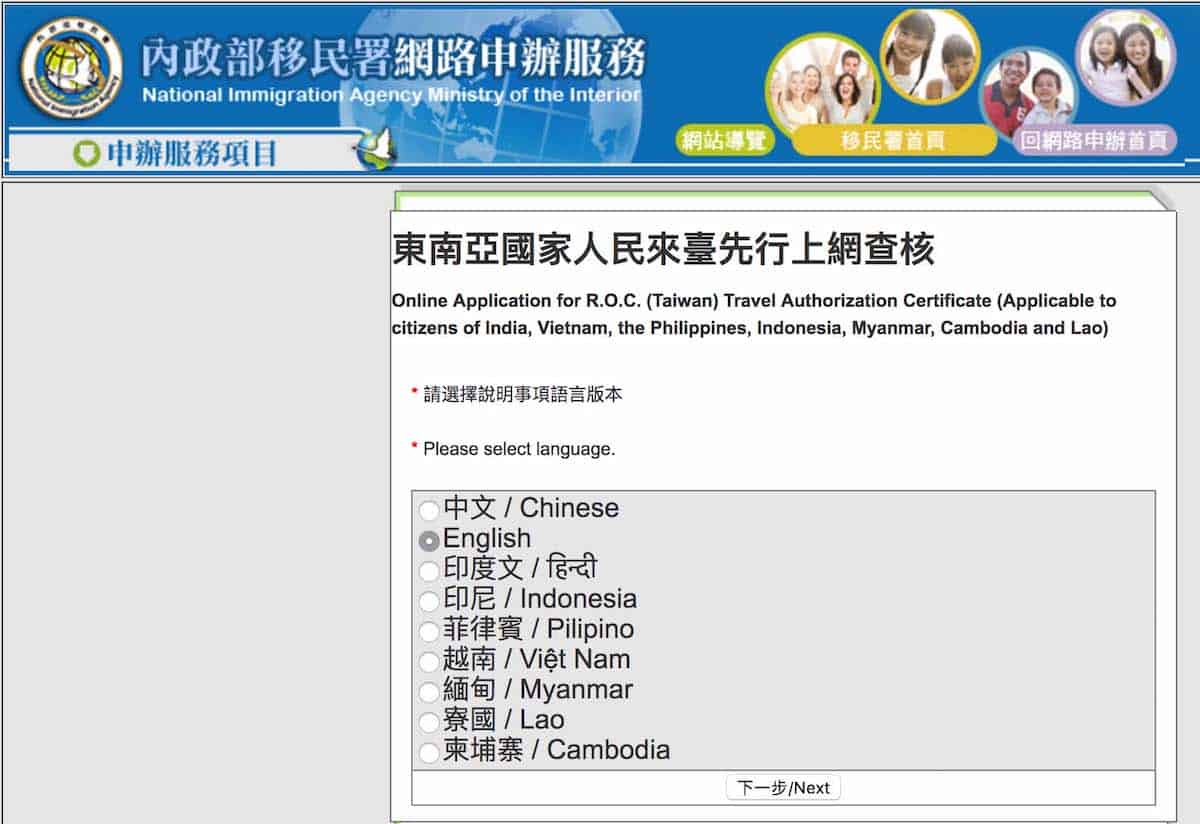 2. Choose your language.
You will be taken to this page with a flow-chart explaining the whole process. Looks easy, right? It is easy. Click the NEXT button at the bottom of the page.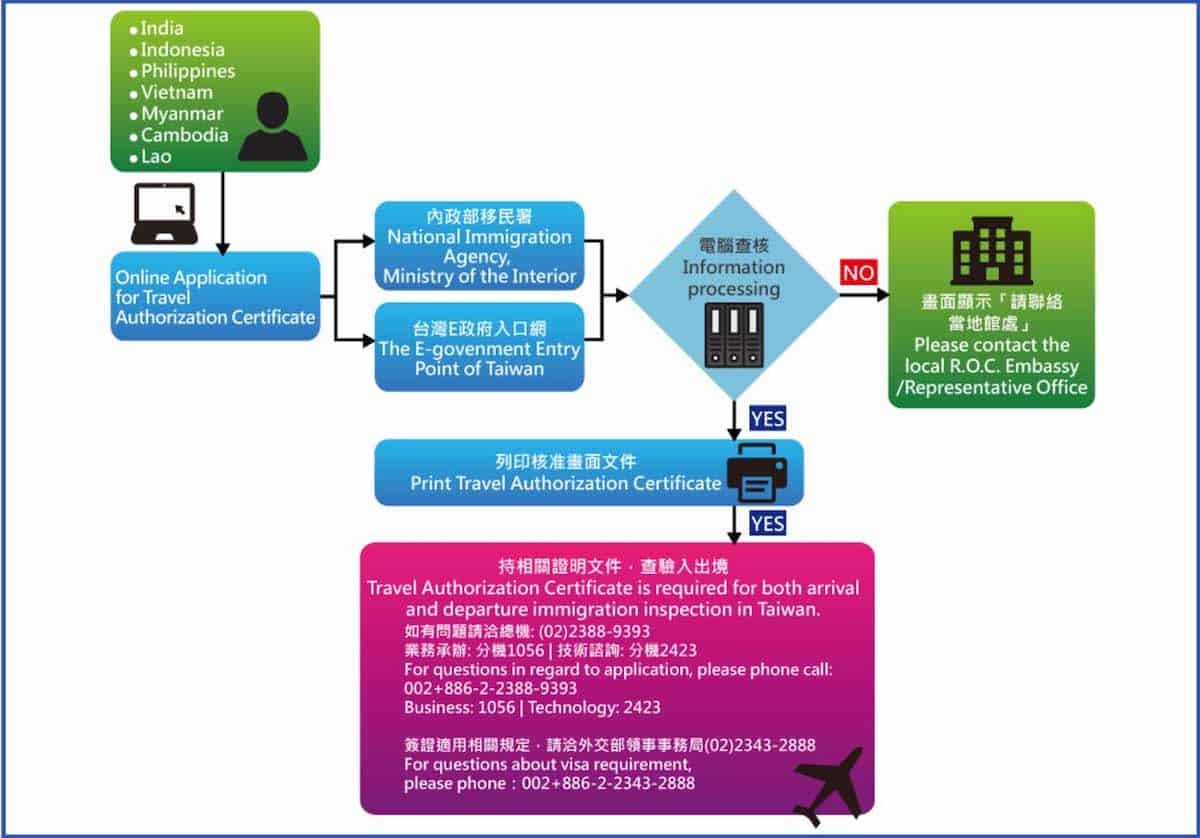 3. Read and understand the terms.
On the next page, you'll find more info about visa-free entry. Read it. Understand it. Then click NEXT again. You'll be led to the actual form: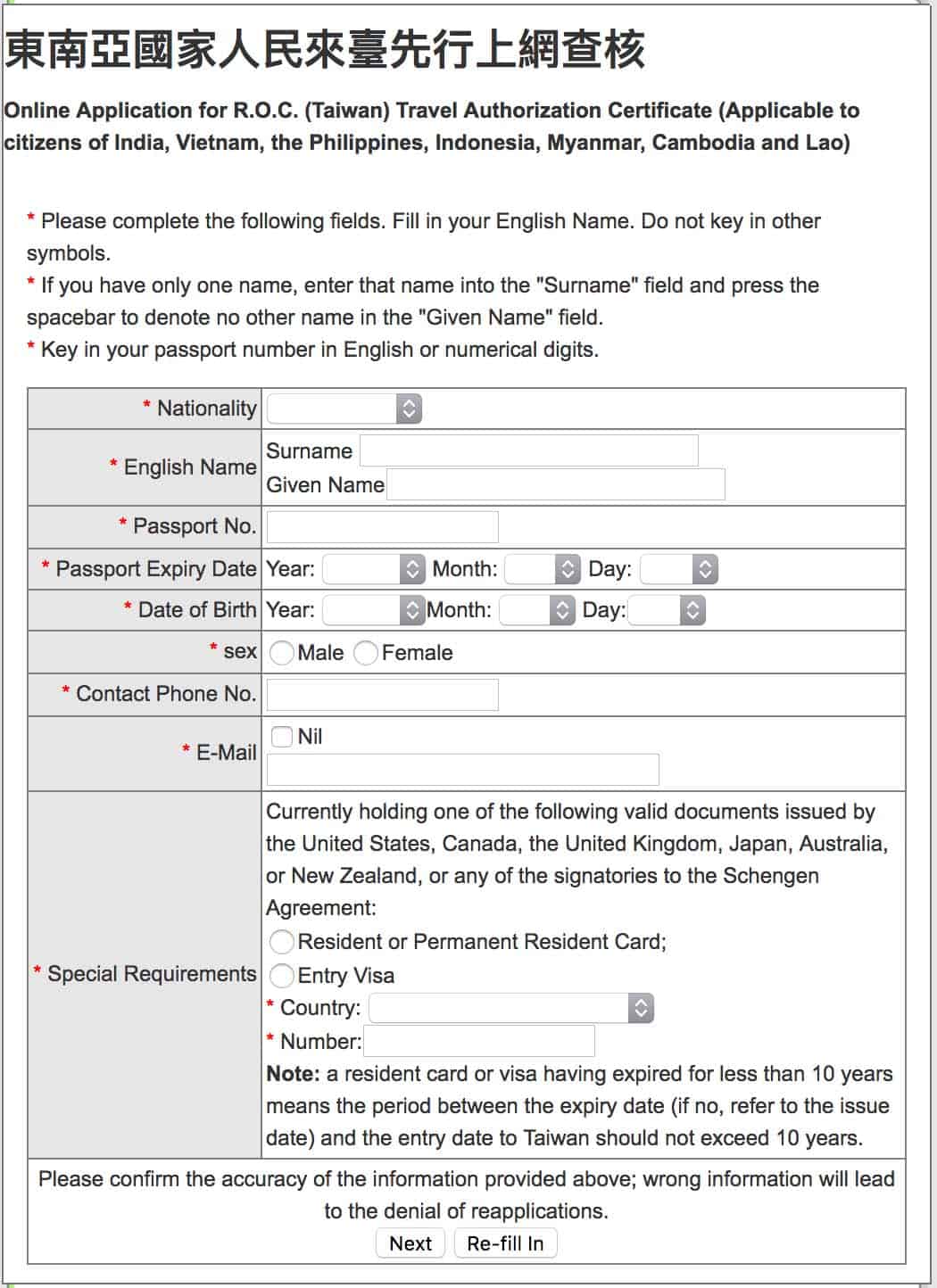 4. Fill out the application form.
Fill in all the fields. Make sure you have with you the supporting visa you will use because you will have to enter that document's number. Yep, your expired Japan or Korea visa is accepted as long as it hasn't been expired for more than 10 years. That is, the period between the expiry date of that visa and your entry date to Taiwan should not be longer than 10 years.
"I have a Korea visa that I never used. Can I use it?" YES, you can use it.
"My Korea visa expired last year. Can I use it?" YES, you can use it.
"My Japan visa expired 5 years ago. Can I use it?" YES, you can use it.
"My Australia visa expired 9 years ago. Can I use it?" YES, you can use it.
10 YEARS, OKAY?
Note: You cannot use a visa that is stamped VOID, CANCELLED or CANCELLED WITHOUT PREJUDICE.
Click Next!
5. Make sure all the info you entered is correct.
If all's good, enter the code displayed and click SUBMIT!
If approved, voila! You have your visa-free certificate. It looks like this: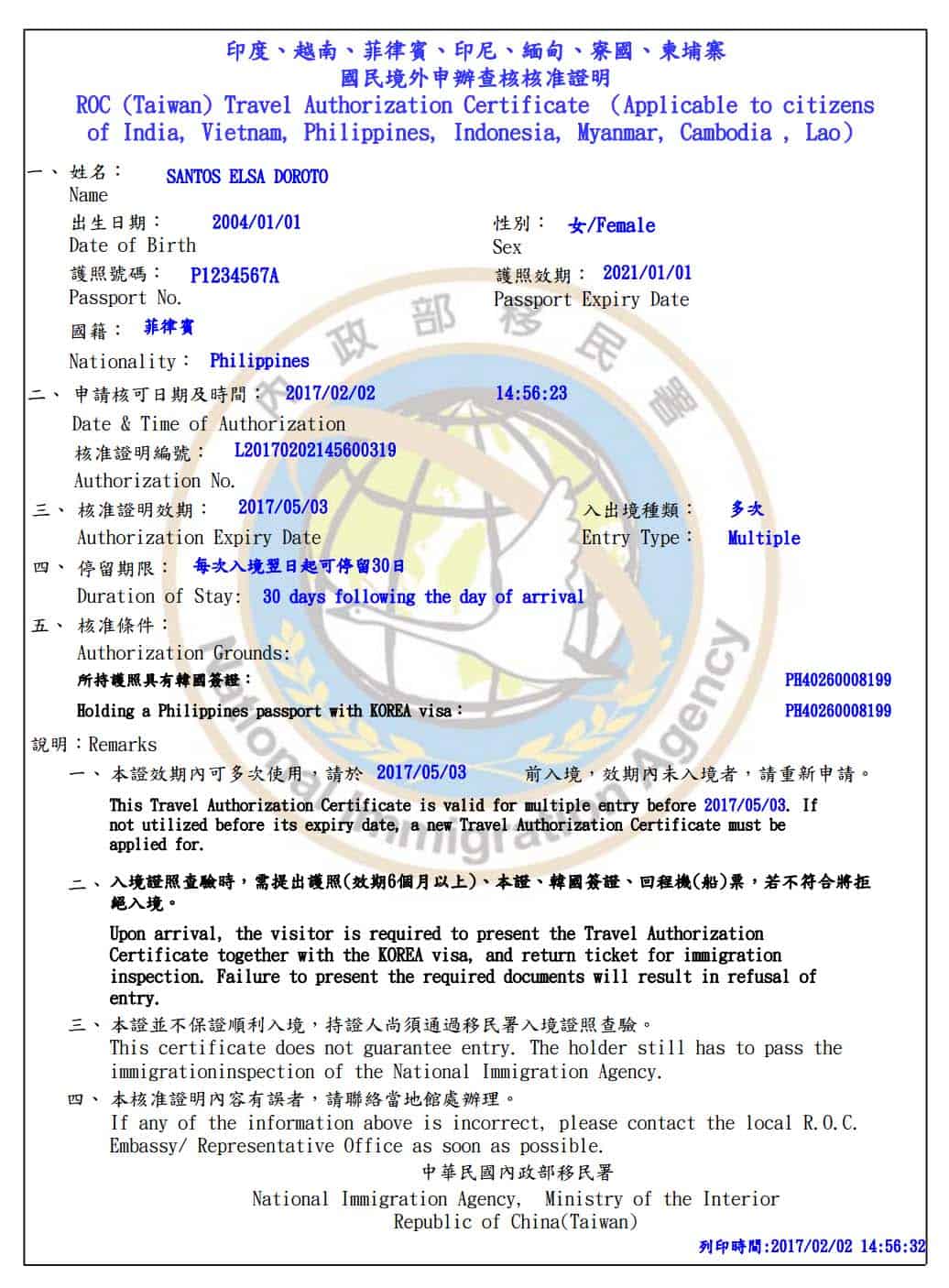 6. Print out the certificate.
You will have to present this, together with your supporting visa or resident card, at both the arrival and departure inspections in Taiwan, so make sure you don't lose it before or during your stay!
That's it! Again, this certificate is valid for 90 days and will allow you to stay in Taiwan for up to 30 days. You can apply for another ROC ROC Travel Authorization Certificate if you want, but do it 7 days before the expiry of the current certificate.
---
2️⃣0️⃣1️⃣9️⃣ • 7️⃣ • 6️⃣ – last update
2️⃣0️⃣1️⃣7️⃣ • 2️⃣ • 2️⃣8️⃣ – first up