Pearl milk tea, also called bubble milk tea, has risen to "rockstar" status in terms of popularity in many parts of Asia. Even here in the Philippines, where tea isn't a staple drink, milk tea shops have sprouted. International and local brands compete to catch the attention of the drinking public by offering signature drinks and special ingredients.
But it is said that pearl milk tea originated in Taichung, Taiwan. It is believed to have been concocted by Liu Hanjie (Liu Han-chieh), who opened a teahouse shop in the early 1980s. Located at Siwei Street, West District in Taichung, it was originally named Yang Xian Tea Shop (or Yangmu Tea Shop) and later, Chun Shui Tang. The owner introduced cold teas after coming back from his Japan trip where iced coffee drinks were sold.
But it was not until 1987 that bubble tea was discovered unexpectedly when Lin Xiuhui (Lin Hsiuhwei), then the product development manager, tried incorporating tapioca pearls into her iced milk tea while on a meeting. The original store is still operating to this day. From the outside, it was unassuming, but the ground floor and the basement present the story of Chun Shui Tang through visual displays and decorations.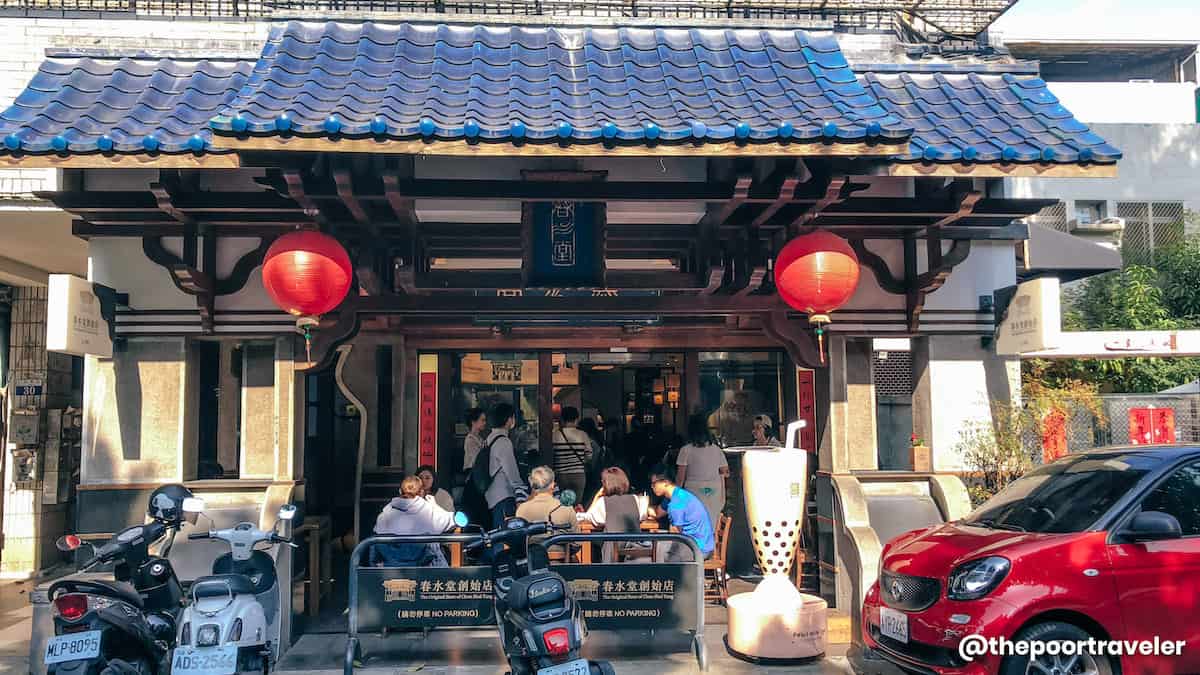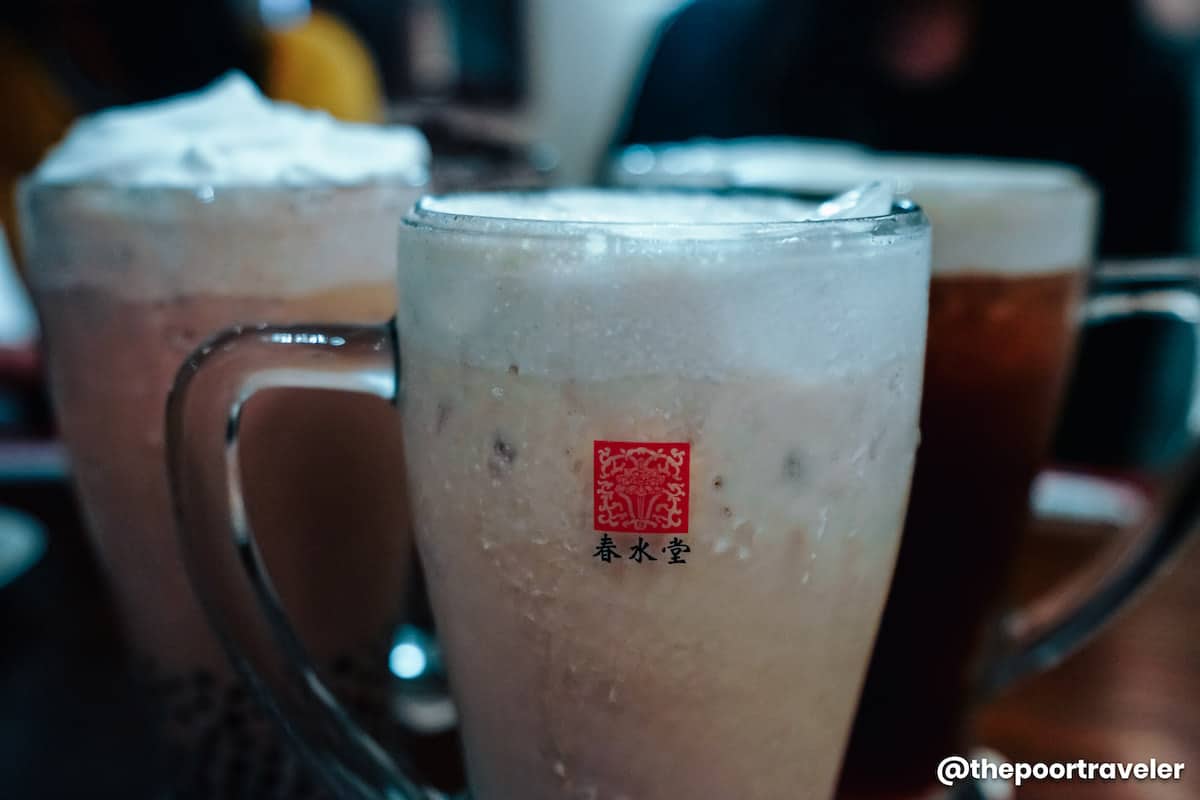 Are you a bubble-tea lover? You might want to consider visiting Chun Shui Tang — the "birthplace" of bubble teas. For first-time visitors, here are other details you might want to know before you go.
---
WHAT'S COVERED IN THIS GUIDE?
What are the operating hours of Chun Shui Tang?
The original store in Taichung is open from 11:00 AM to 10:00 PM.
But because of its popularity, there are over 40 Chun Shui Tang stores in Taiwan, and operating hours may differ.
---
When is the best time to go?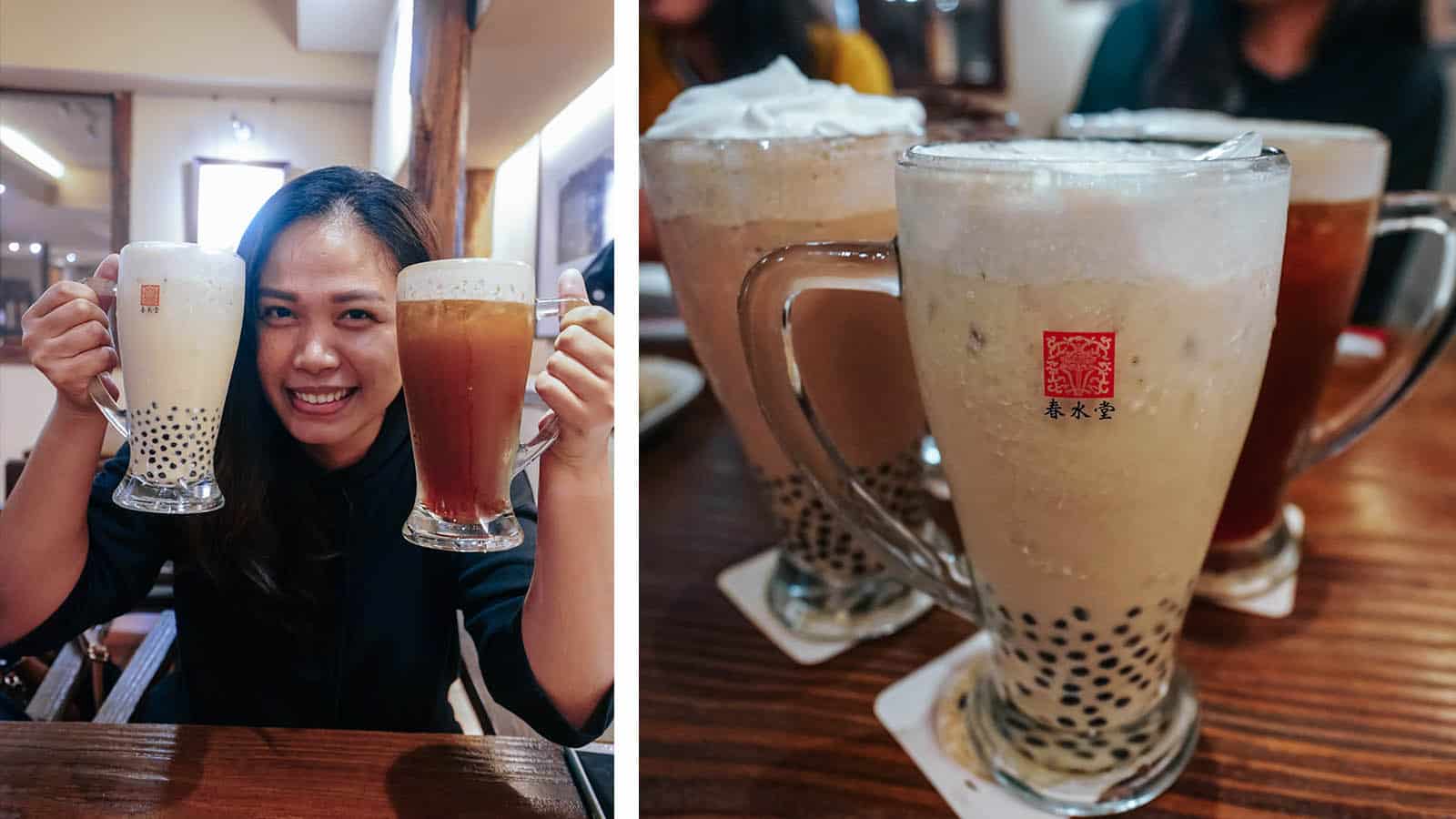 Although the store has a two-level dining area (basement and ground floor), it can really get packed during brunch, lunch, and dinner time.
There are fewer people in the afternoon (after lunch and before dinner) and an hour or two before closing time.
---
How to get to Chun Shui Tang?
From TRA Taichung Station, you can reach Chun Shui Tang on foot in approximately 20 minutes. Should you decide to take a taxi, the travel time is about 5 minutes, depending on the traffic condition. Here's how to get there on foot.
From TRA Taichung Station, walk towards Jianguo Road. You will pass by the Golden Plaza building. Continue walking straight ahead.
Turn right to Minsheng Road. You will pass by Juren Junior High School on your right and Taichung Municipal Taichung Girl's Senior High School on your left.
Turn left on Shifu Road. Continue straight ahead.
Turn right to Siwei Street. Walk straight ahead and keep looking on your right until you reach Chun Shui Tang.
---
What are the popular products on the Chun Shui Tang Menu?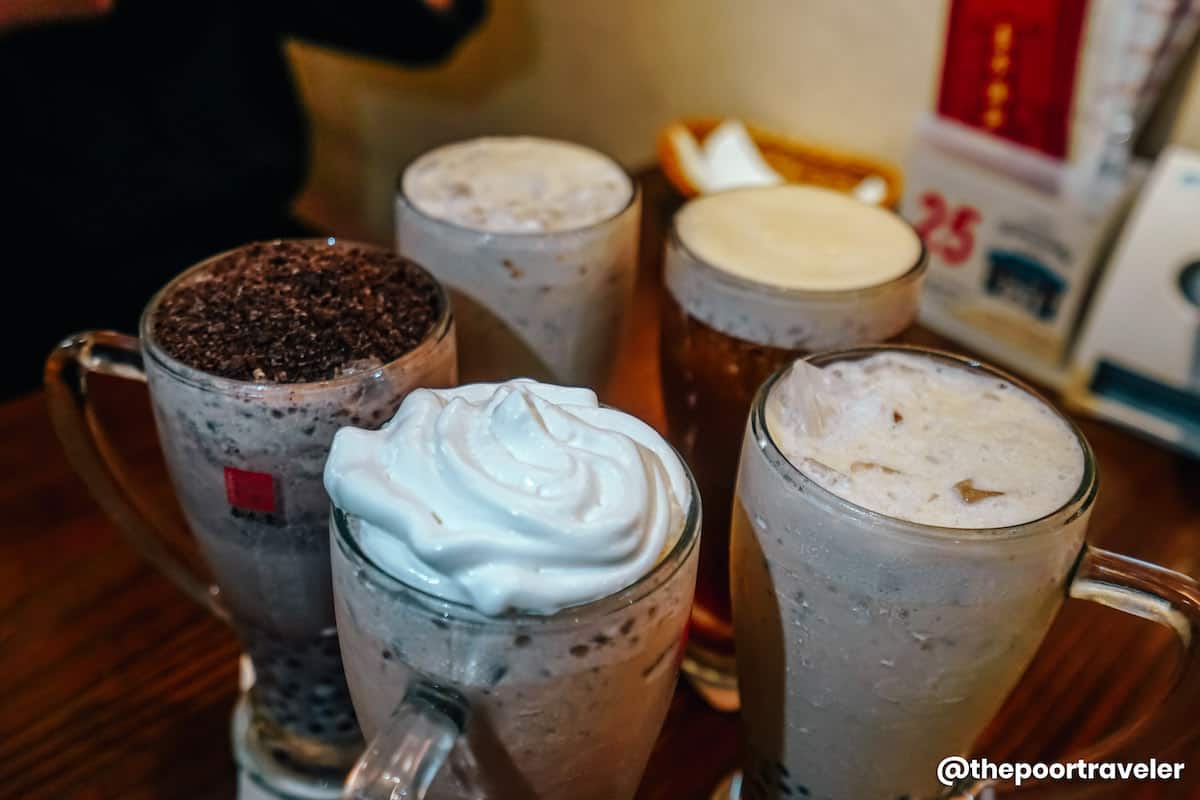 Since its conception in 1983, Chun Shui Tang not only developed various drinks and flavors but also came up with meal and snack choices.
Out of this wide array of choices, there are those that captured the hearts and palates of its loyal customers, making them staple products and regulars on the menu. The price range for cold and hot tea drinks is NT$ 70 – NT$ 140. These are Chun Shui Tang's classic products.
Iced Tea
Pearl Milk Tea. Created in 1987, this is said to be the ancestor of pearl milk teas. It contains raw tea juice from natural tea leaves, chewy tapioca pearls (or boba), rich milk, and sugar cane.
Signature Black Tea. First served in 1983, the cold drink is made of select black tea from India and Sri Lanka.
Lemon Jasmine Tea. Combination of jasmine tea and fresh lemon juice.
Pearl Milk Tea with Red Bean Paste. Made of Assam black tea, rich milk, tapioca pearls, and house-specialty honey red beans.
Tieguanyin Iced Tea. Made of roasted Tie Guan Yin tea leaves dipped in a small pot of hot water and then poured into a shaker with ice.
Hot Tea
Pearl Milk Tea. Same ingredients with the cold version.
Lemon Black Tea. Made of Assam and Ceylon black tea and fresh lemon juice.
Black Tea Latte. Made of Lixiang black tea, fresh milk, and milk foam.
Pomelo Jasmine Tea. Made of premium jasmine tea and pomelo essence.
Tieguanyin Latte. Made of rich milk, Tie Guan Yin, and milk foam.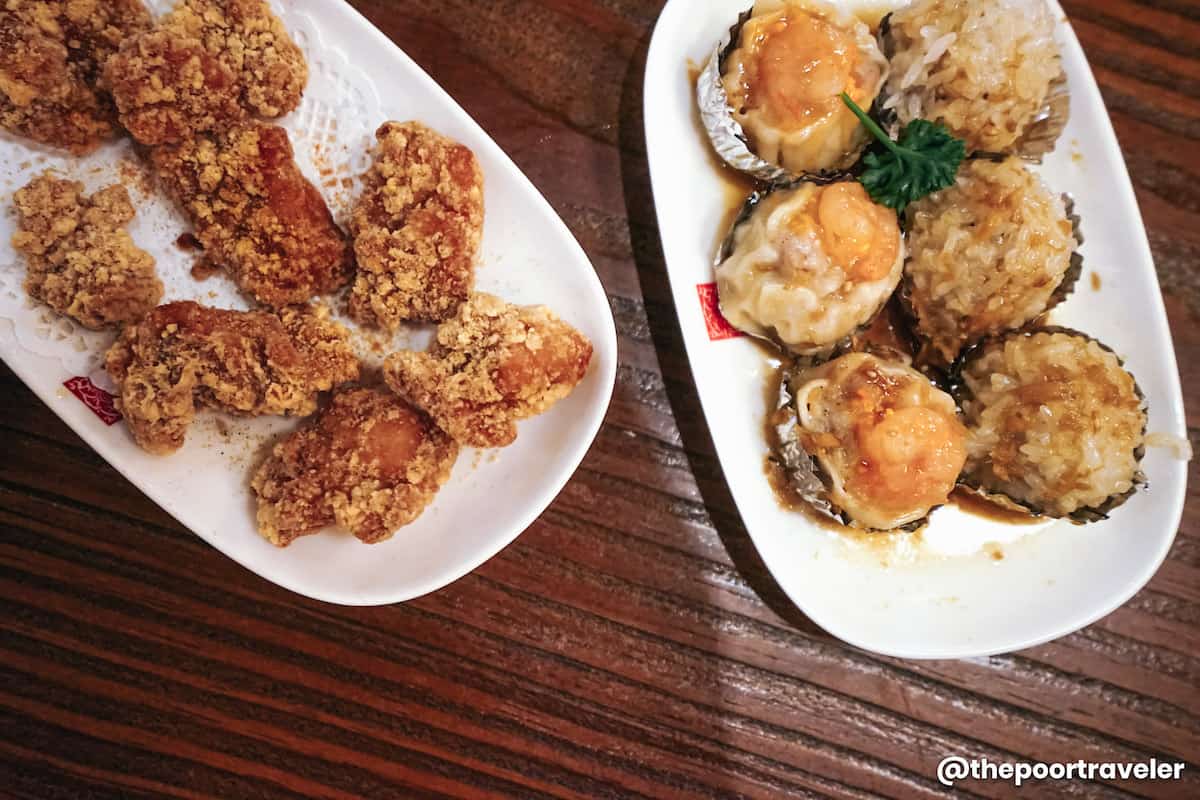 Meals

Kung-Fu Noodles
Braised Beef Noodles
Handmade Thin Noodles
(With Sesame Oil)
Noodles With XO Sauce
Vegetarian Noodles

Tea Snacks

Braised Bean Curd & Rice Gao
Deep Fried Chicken
Braised King Oyster
Mushroom With Basil
Turnip Cake
Shao-Mai Combo
---
What are the attractions or landmarks near Chun Shui Tang?
Painted Animation Lane. An alley with colorful anime-inspired mural paintings/graffiti.
Fifth Market. A public market that houses the popular Da Fang Roast Chicken food stall.
Natural Way Six Arts Cultural Center. A cultural well-preserved Japanese dojo complex that also offers tea ceremonies event and themed lectures.
National Taichung University of Education. Founded in 1899.
---
Where can I contact the management for further inquiries?
Address: No. 30, Siwei Street, West District, Taichung City, Taiwan
Landline: 04-2259-2567 / 04-2229-7991
Email: admin@chunshuitang.com.tw
Official Website: chunshuitang.com.tw
---
Other Chun Shui Tang Tips
The teahouse shop serves brunch, lunch, and dinner. Expect the place to be crowded during these hours.
The basement area is cozier and offers more privacy.
The basement area also displays Chun Shui Tang's other merchandise for souvenirs like postcards, thermos bottles, mini shaker, secret notepaper, and many more.
The store also has a postal service. You can purchase a postcard and write a message to someone. The dropbox is located at the basement counter, right at the base of the staircase.
They are strict when it comes to taking photos at the counter. Kindly ask for permission before taking photos.
Be mindful of others. Don't be too loud to avoid disrupting other customers' dining experience. Respect other people's space.
Bring your own refillable water container to keep yourself hydrated.
The restroom is located on the ground floor level.
---
Where to Stay in Taichung
If you decide to make Taichung City your base, here are some of the nearby hotels and lodges available on Agoda.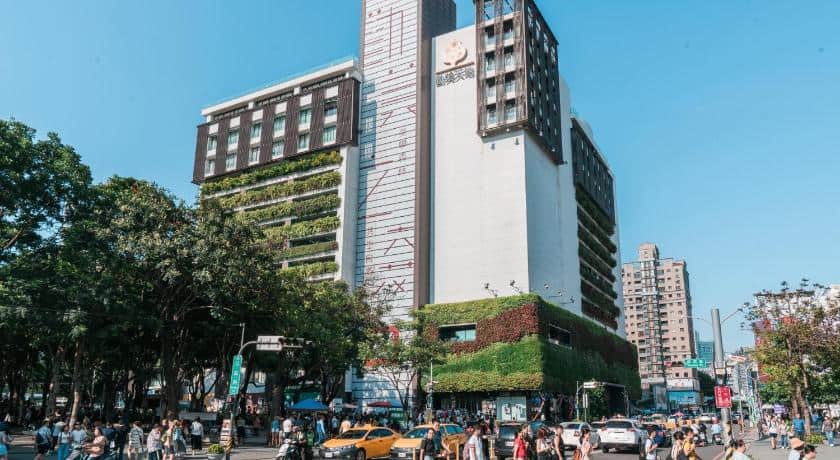 ---
---
2020 • 8 • 16