Is FlixBus legit?
YES! We have made three backpacking tours around Europe, and one of our go-to transportation options is FlixBus. So far, save for a few grouchy drivers, we have never encountered any trouble when traveling with them.
Of course, I know that it's not like this for everyone every single time. It's easy to find negative reviews and accounts of delays and baggage problems online. But thankfully, based on our personal experience, our journeys have all been safe, on time, comfortable, and pleasant. The only complaint I have is that wifi is slow, but that's about it.
Here's more information about FlixBus:
WHAT'S COVERED IN THIS GUIDE?
WHAT IS FLIXBUS?
FlixBus is a network of regional bus companies operating in many parts of Europe. By "network", we mean that FlixBus doesn't really own the actual buses. Instead, it brands, markets, and runs some aspects of the business of several small-to-medium bus companies under one FlixBus banner.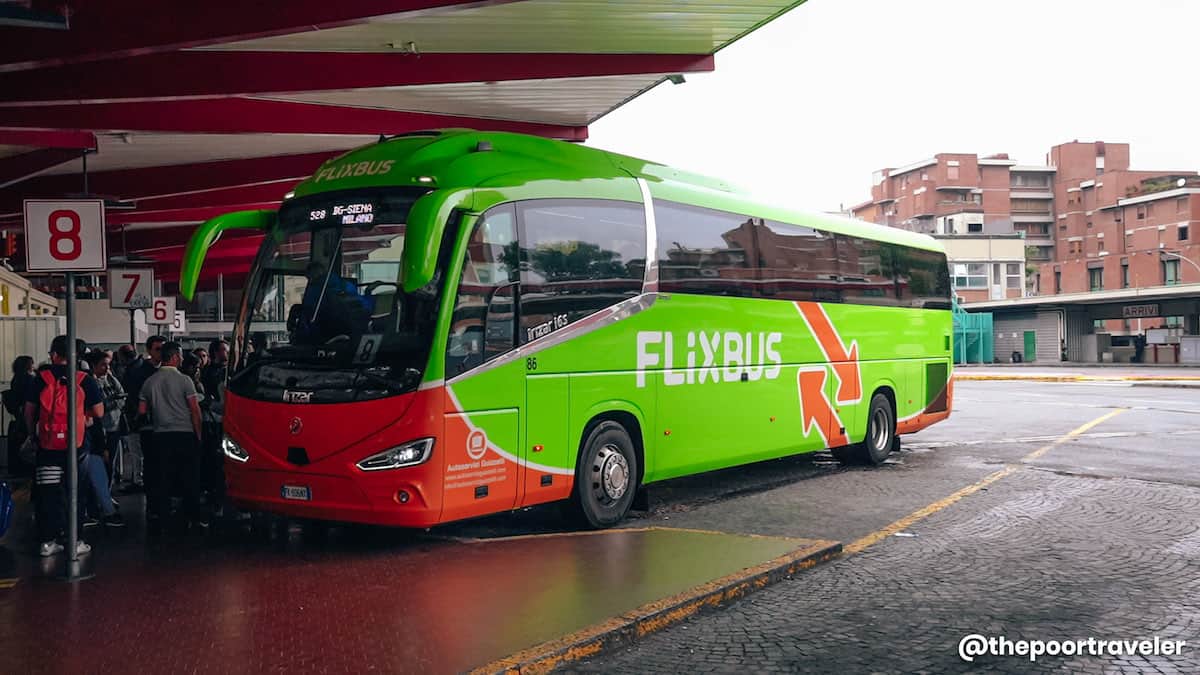 Although not a direct analogy, it's pretty much like Uber or AirBnB in the sense that it aggregates numerous entities and presents them to passengers as one brand.
FlixBus is a German company with headquarters in Munich. It was founded in 2011, starting out in Bavaria. Today, they operate in 2500 destinations in over 30 countries.
---
HOW TO BOOK FLIXBUS ONLINE
One thing I appreciate is the user experience when booking with them online. The process is easy, fast, and straightforward.
1. Sign up for an account.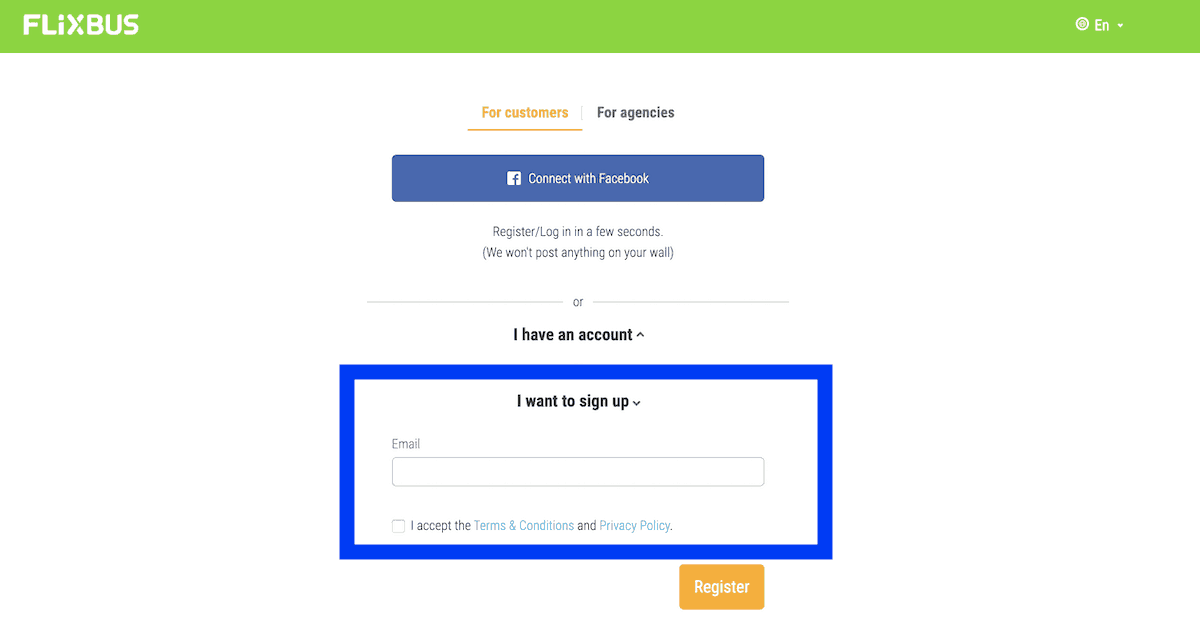 If you don't have an account yet, you can sign up using your Facebook account or email address.
Got an account? Visit www.flixbus.com.
---
2. Complete the booking form.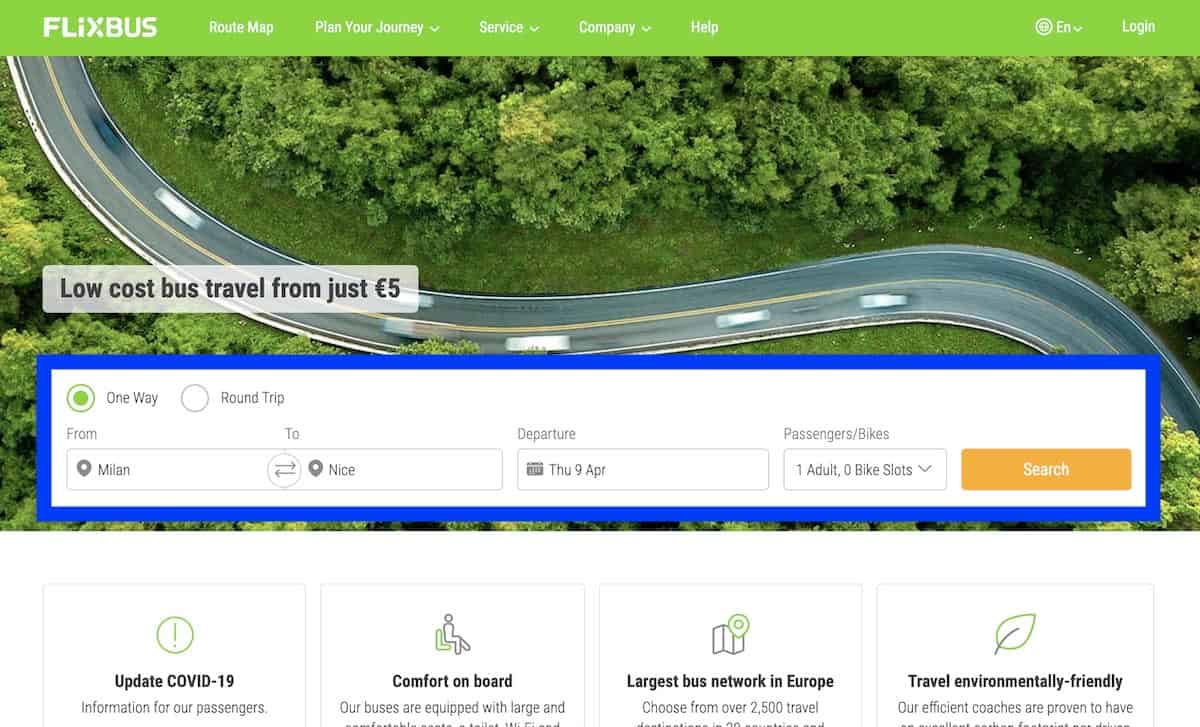 Enter the following:
Origin
Destination
Departure date
Return date
Number of passengers
Note that some cities may have multiple stops. If your final destination is an airport, you can also enter the name of the airport instead of the city. Some buses can take you directly to the airport.
If you're bringing a bike, you should also indicate in your booking.
---
3. Select a trip.
The next page will display all the possible trips based on your search parameters.
Take note of the following: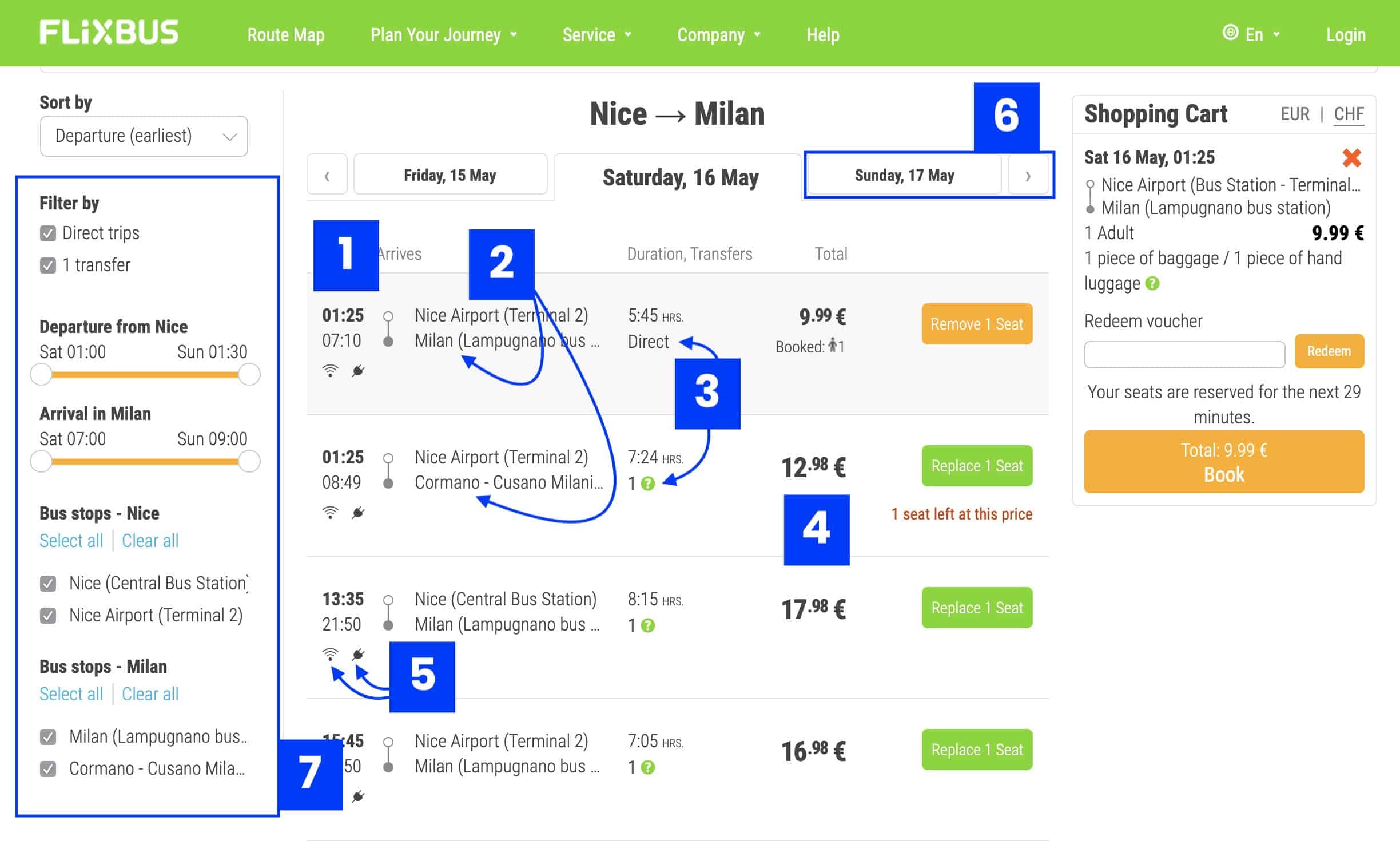 Departure and arrival times. Make sure it fits your schedule.
Departure and arrival stations. Buses may be using different terminals or stops, and they may be far from each other, so take these into consideration,
Travel time and transfers. Some trips are longer than others because they may entail a transfer somewhere. The time of departure and traffic conditions may also affect the duration of the trip. Check first before booking.
Price. By default, it's in euro.
Amenities. Not all buses are created equal. The features of the bus like free wifi, restroom (WC), and power outlets are indicated.
Other Dates. If none of the trips displayed match your preferences, try checking other dates.
Filters. You can fine-tune your search by tinkering with the filters on the left sidebar.
Once you have chosen a trip, hit the RESERVE button.
A summary of the journey you select will be displayed on the right sidebar. If you have a voucher you'd like to use, enter the voucher code in the field on the right sidebar and click REDEEM VOUCHER. It will apply the deductions.
---
4. Enter passenger details and add-ons.
The next page will ask for the passengers' names and contact numbers.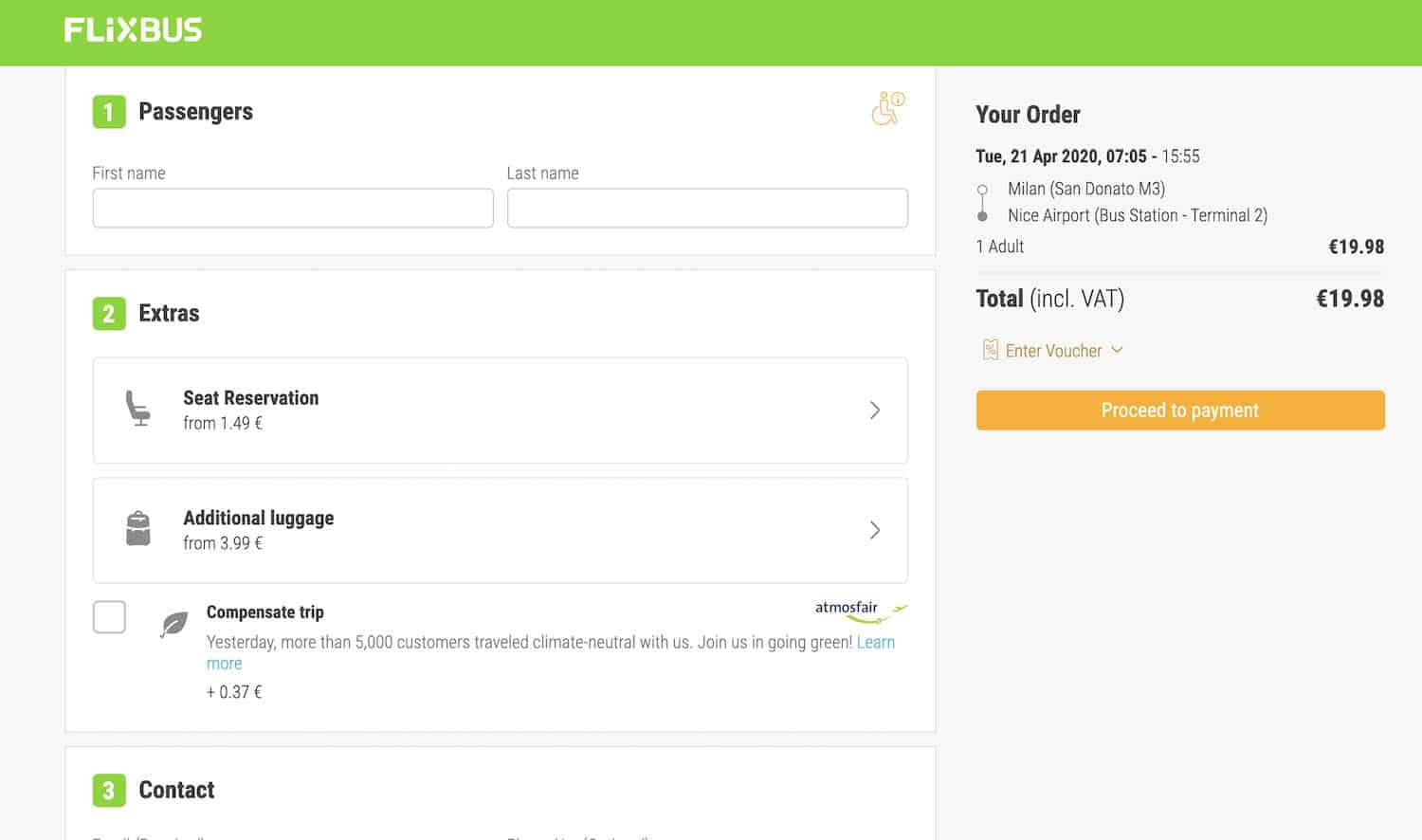 Seat Selection. If you want to choose a specific seat, you may do so for a small fee. If it's a popular route, it's high season, or you're traveling with someone, I recommend that you reserve seats to avoid unnecessary drama come boarding time. There are two types of seats: classic and panorama. Panorama seats are the first four front seats. Everything else is considered classic.
Additional Baggage Allowance. Each passenger is allowed only one (1) item of luggage (max. dimensions per item 80x50x30 cm, 20kg in total) labelled with their name and address, plus one (1) item of hand luggage (42x30x18cm, 7kg). If you're carrying more, you need to pay for the excess.
Once satisfied, hit the PROCEED TO PAYMENT button.
The system can hold your reservation for only 30 minutes. If that time elapses, you will be asked to start the process again.
---
5. Pay.
You can pay online with any of the following:
Credit card (Visa, Mastercard, American Express)
PayPal
Google Pay
Done? Click or tap on PROCEED.
---
6. Save your ticket.
The next page will display your Booking Confirmation Number and links to the ticket and luggage label. These will also be sent to you by email.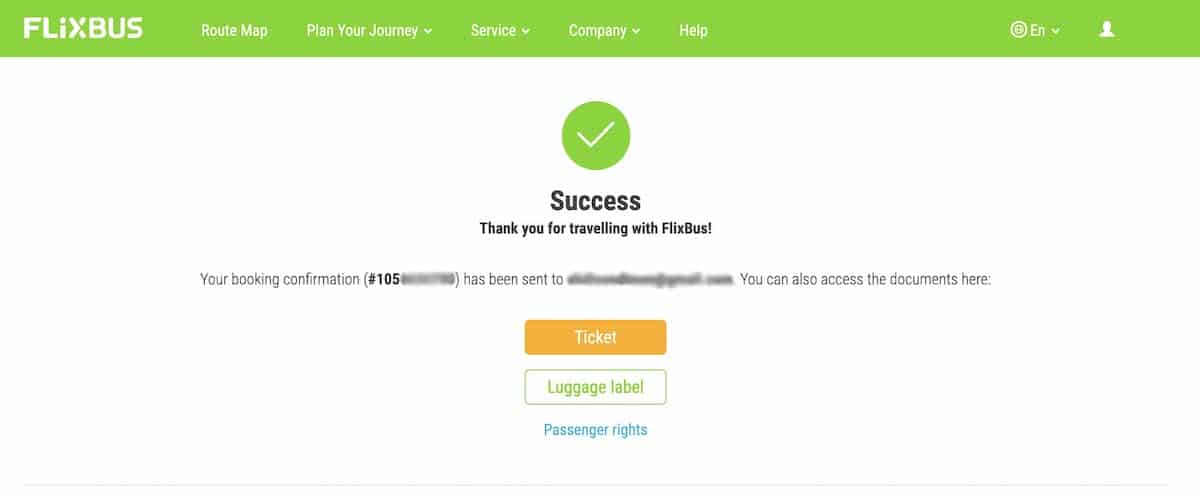 You can print out the ticket or save it on your phone. Better yet, download the FlixBus app so you can easily access and manage your bookings.
The most important part of the ticket is the QR code, which will be scanned by the driver upon boarding.
---
HOW TO BOARD FLIXBUS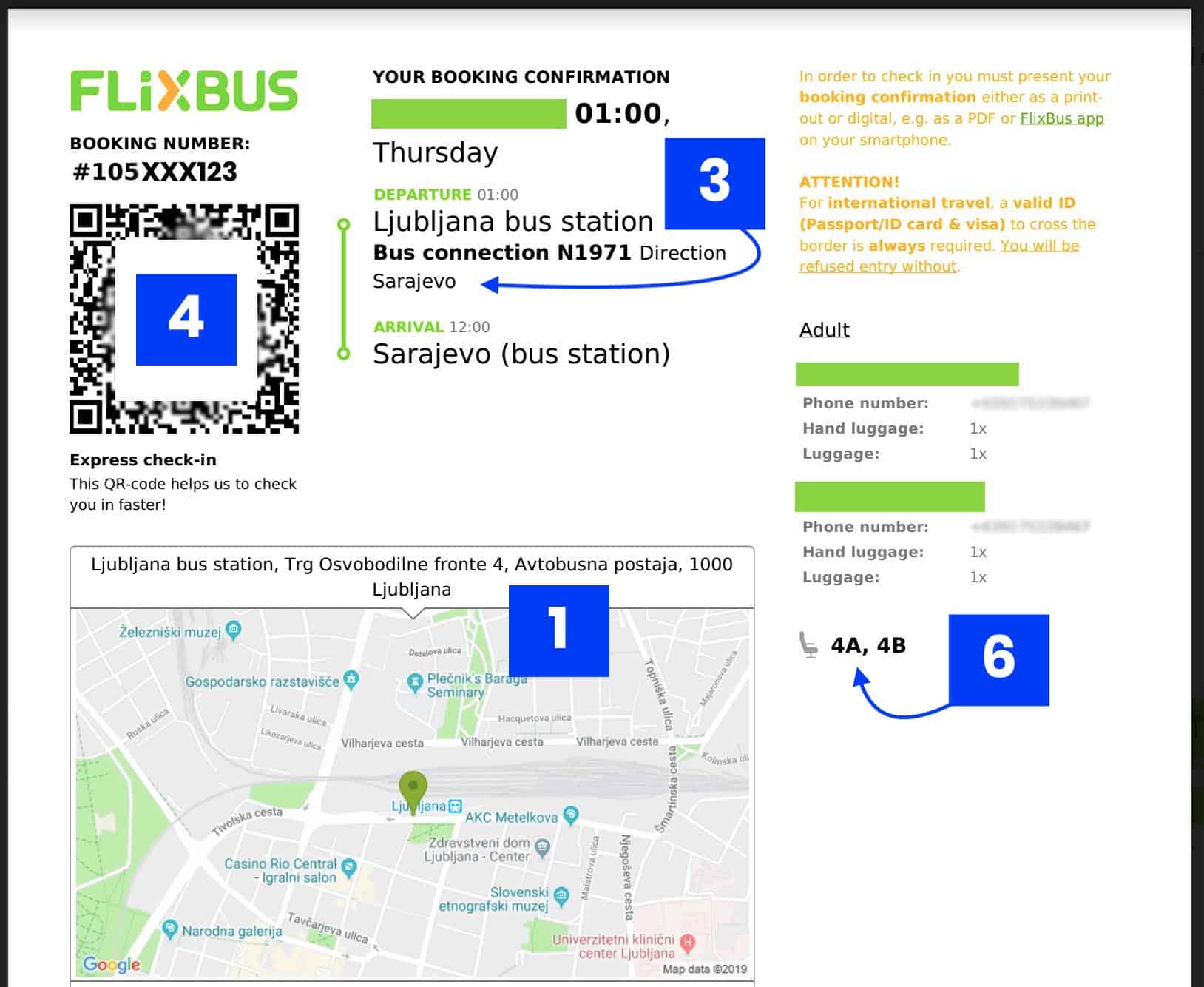 Make your way to the assigned bus station. The specific bus terminal and address are indicated on your ticket. Be there at least 15 minutes before departure time. To be safe, I usually show up 30 minutes ahead of time.
Find your platform. It's usually displayed at the station. If not, ask a staff member.
Wait for your bus. Most FlixBus units are usually dressed in a green hard-to-miss Flixbus livery, but not all. Double check the Bus number. The final destination (indicated as "Direction" on the ticket) is also displayed on a sign in front of the vehicle.
Present your ticket and ID/passport/visa. When the bus arrives, the driver or another staff will stand by the door for the boarding process. The staff will check you in by scanning the QR code of your ticket and your ID. For international trips, you need to present your passport and visa.
Load your luggage. Once verified, you'll be asked to place your luggage in the compartment and then board the bus.
Board the bus. If you reserved a specific seat, take it. If someone else is seated there, ask them politely to move.
That's it! When everything is in order, the bus will leave.
Bear in mind that your destination may not be the final destination. For example, we booked a ticket from Bologna, Italy, to Ljubljana, Slovenia. Our bus had a Zagreb sign not a Ljubljana sign because it would terminate in the former. Ljubljana was just one of the brief stops along the way. Zagreb was indicated on our ticket as the "Direction."
Same with transfers. If you book a trip involving a transfer, you should approach the journey per leg.
---
FREQUENTLY ASKED QUESTIONS
What is the process when crossing the border?
If traveling within Schengen Zone, there are usually no immigration checks. If crossing a hard border, the process differs depending on the country's policies.
Usually, passengers need to alight the bus, fall in line, and clear Immigration in person one by one. The bus will be waiting for you on the other side of the border.
In some countries, an officer boards the bus and check your passport and visa. Sometimes, they collect them and process without the passenger having to face the officer. Either way, the driver will inform you of the right process.
Make sure you have your passport and visa with you!
---
Are food and drinks allowed inside the bus?
Yes, on some buses, snacks are served. You can also bring your own, but as courtesy to other passengers, please don't eat food with strong, pungent smell.
---
Are there stopovers?
Depends on the route. Short trips usually don't, but long journeys have one or more stopovers.
You can use the time to buy snacks, have a meal, or stretch your legs. Our longest FlixBus trip so far was from Ljubljana to Split, Croatia, which lasted over 9 hours. We had a lunch stop after crossing the border.
---
How to change or cancel my booking?
We created a separate, more detailed post about it here: HOW TO REBOOK OR GET A REFUND!
---
2020 • 8 • 16