The city of Nice is served by Nice Côte d'Azur Airport (NCE), the third busiest airport in France, welcoming almost 14 million passengers in 2018 alone. It is also the primary gateway to the French Riviera region, which encompasses several postcard-worthy towns and villages including Antibes, Villefranche-sur-Mer, Cannes, and Saint-Tropez.
The good news is, the airport is not too far from the city center of Nice, only around 6 kilometers and less than 30 minutes away.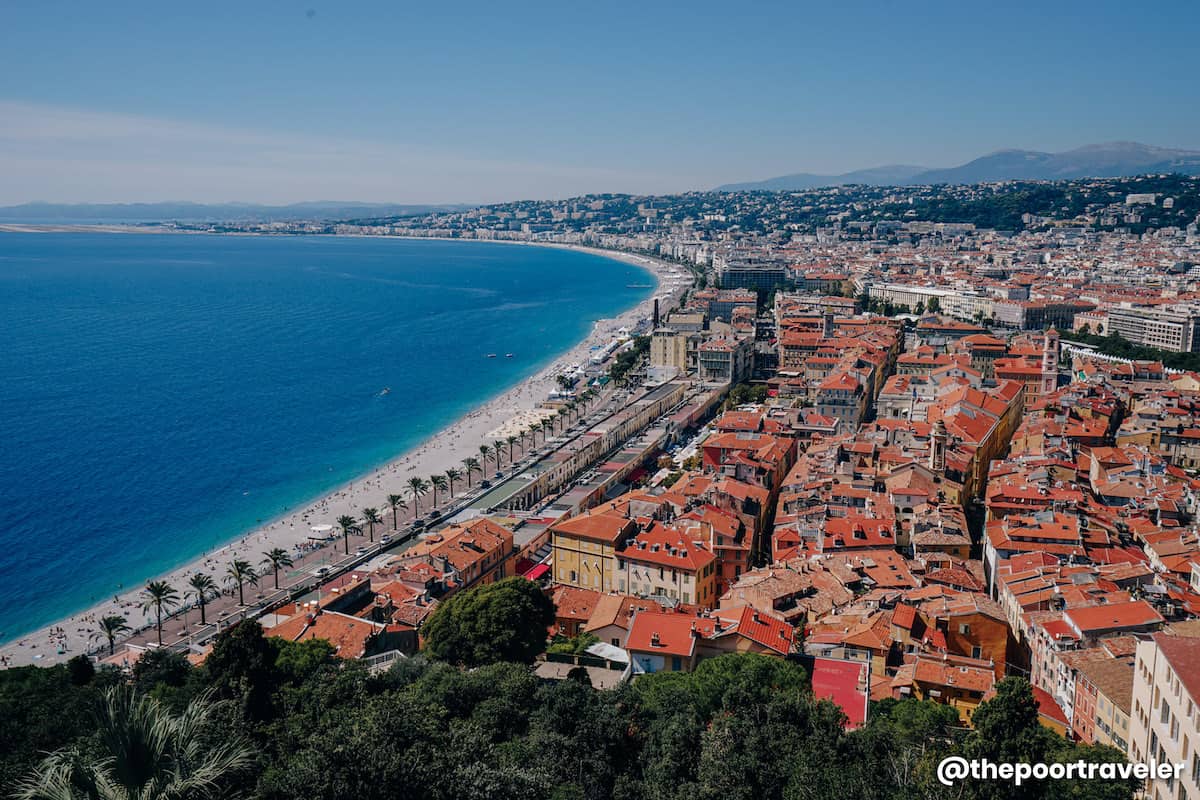 There's not much updated information available online about how to get to the Nice city proper from the airport. Not in English, at least. Most of the tips we found suggest taking Bus 98 or 99. But when we arrived in Nice, we found out that these bus routes are no longer operational.
If your hotel is in the Old Town, Jean Medecin or in the area near the Nice Ville Station, the more reliable mode of transportation is the tram. Both Terminals 1 and 2 of Nice Airport are linked to the city center by Tram Line 2 (T2). You'll find the tram station immediately after getting out of the Arrival Hall. Here's how to get to the city center by tram.
WHAT'S COVERED IN THIS GUIDE?
Nice Airport to City Center by Tram
1. Purchase a ticket from the machines at the station.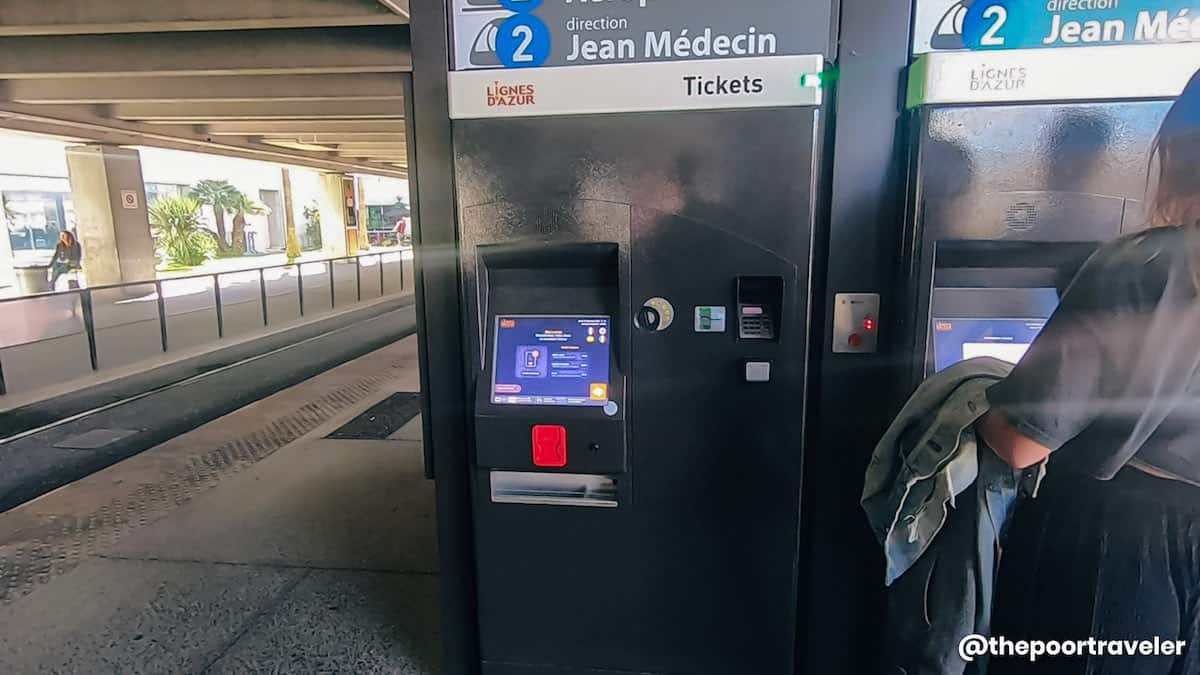 Coming from the airport's Arrival Hall, you can find the station right in front of you. It's pretty unassuming, but it's hard to miss. Ticket machines' interface is in French by default, but there is an ENGLISH option.
One-way single-journey fare is only 1.50€. The machine accepts euro coins and credit card only. Don't forget to get your ticket before you leave! The solo ticket looks like this: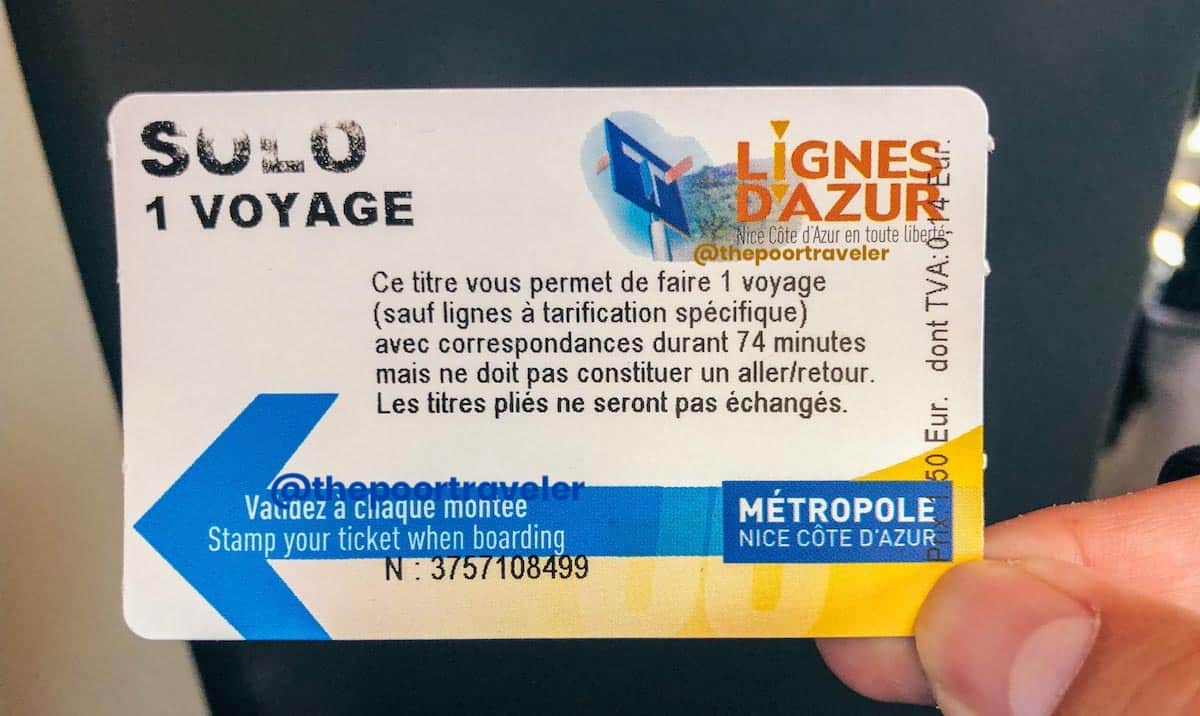 Aside from single journey tickets, you can also purchase a tram and bus pass, which comes in three variants:
1-day pass, unlimited. Valid for 24 hours. Price: 5€.
7-day pass, unlimited. Price: 15€.
10-trip pass. Valid for 10 trips only. Can be used simultaneously by multiple travelers. Price: 10€.
Which pass is best for you depends on your itinerary and where you will be staying. If you can't decide just yet, purchase a single-journey ticket first and then figure it out later on.
---
2. Take the tram to Jean Médecin.
There are several tram journeys from 5:19 am until 12:15am (24:15). But note that there are fewer journeys in the early morning (5-7am) and late night (9pm-12:15am).
To check the latest schedule, click here.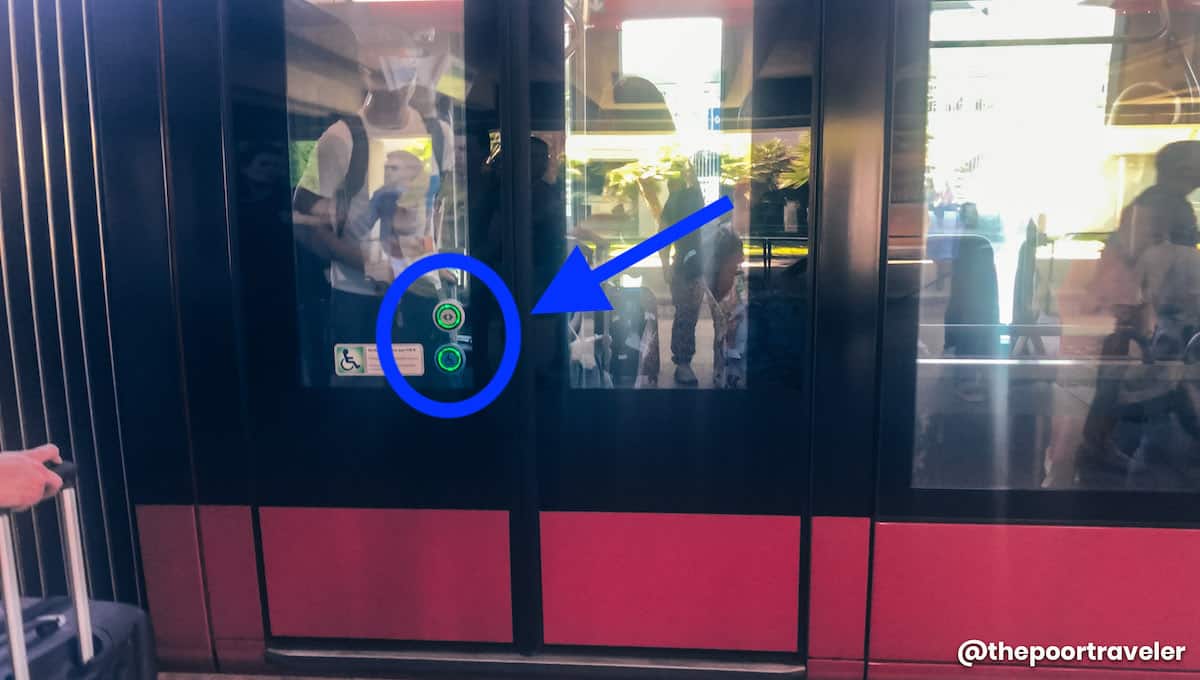 Press the OPEN button on the door if it doesn't open (if no one's alighting). Each door has one.
---
3. Validate your ticket.
Do this immediately upon boarding. You'll find validation machines onboard the tram. Just find the small box, insert your ticket (with the arrow down), and wait for it to stamp your card.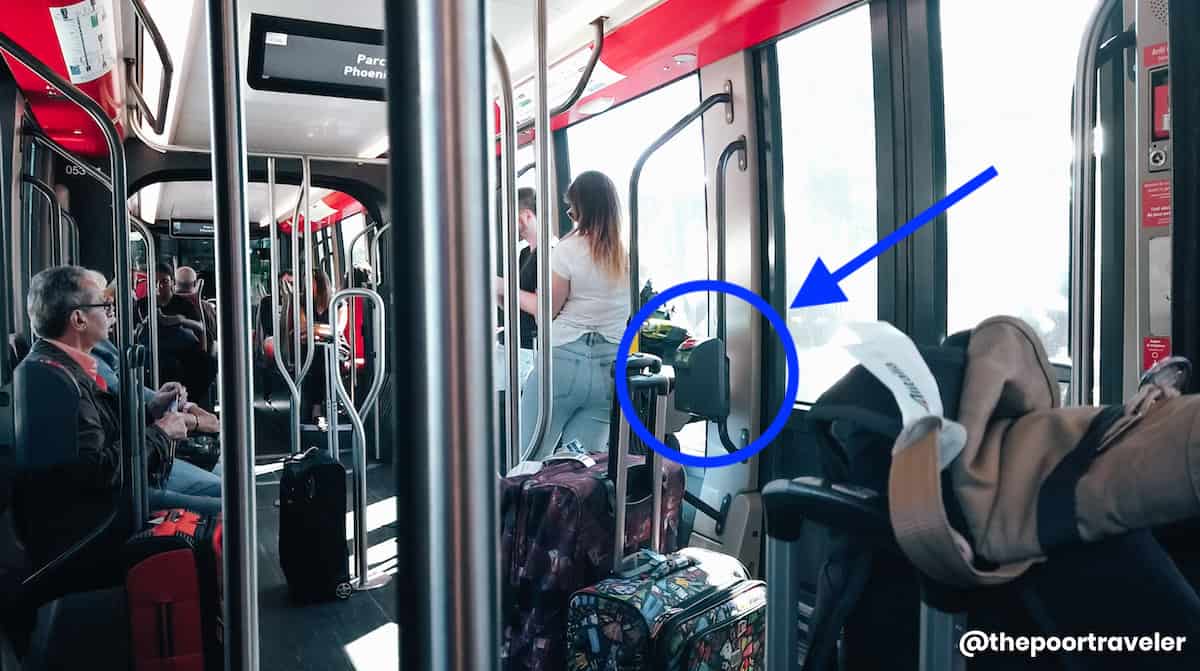 It is important that you validate your ticket. Spot inspections are sometimes conducted. If caught, you'll be fined 30€.
---
4. Alight at Jean Médecin stop.
This stop is located near the corner of Boulevard Victor Hugo and Avenue Jean Médecin.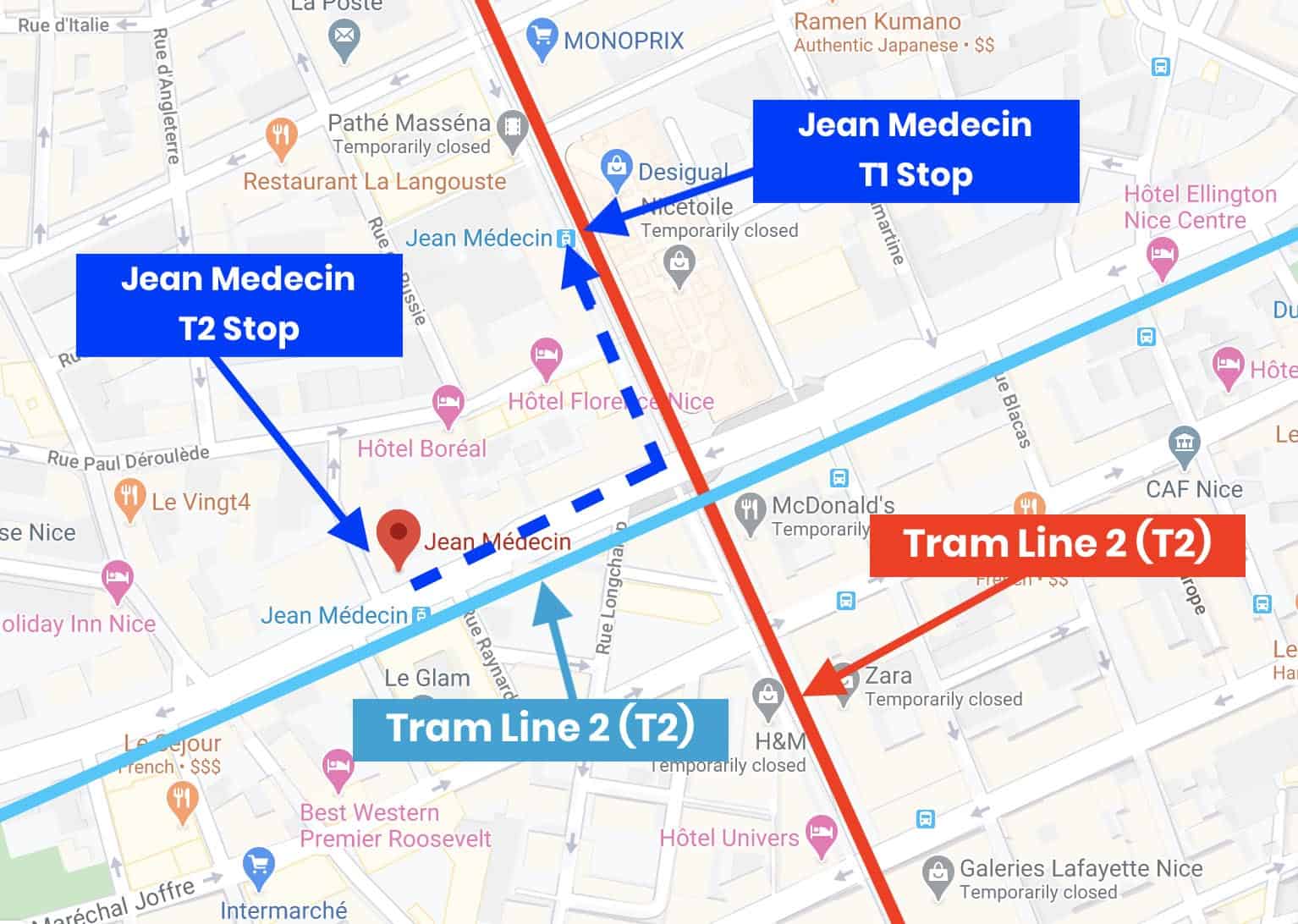 Avenue Jean Médecin straddles the railway (a short walk from the main railway station) to Place Massena (at the entrance to the Old Town). It is Nice's primary shopping street and most popular area for tourists.
Expect a lot of people, especially tourists, to get off at this stop. Press the OPEN button if you're closest to the door.
---
5. Make your way to your hotel.
You can travel on foot or transfer to Line 1, depending on the location of your hotel.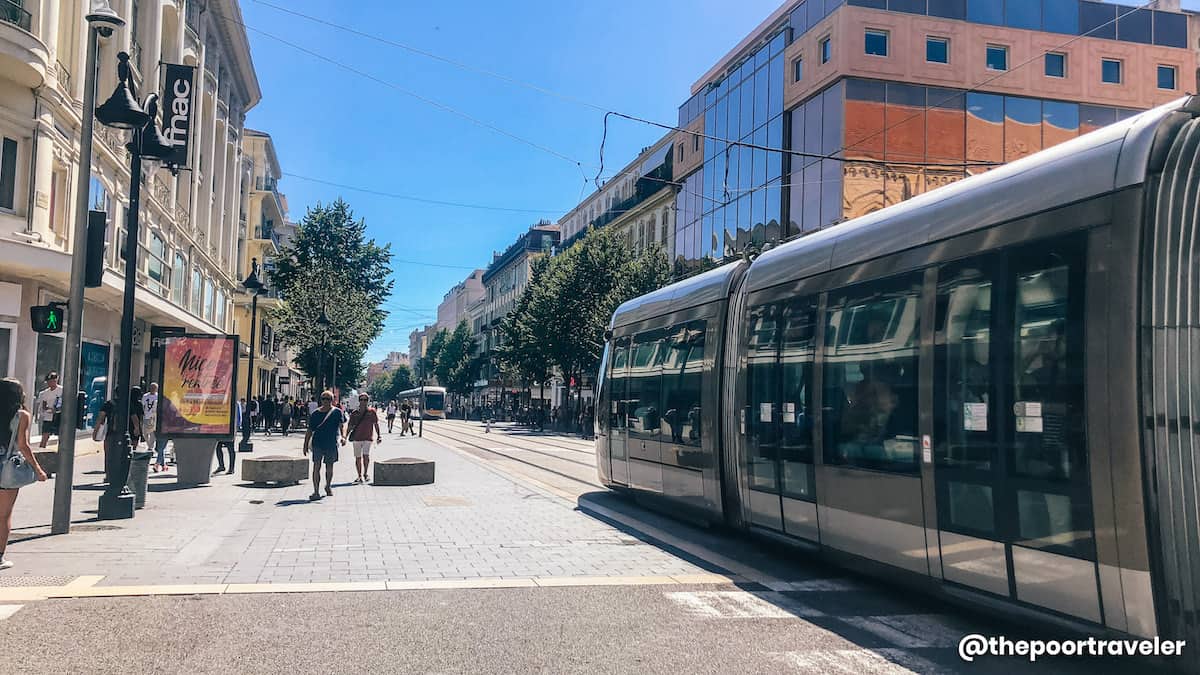 If your hotel is in the Old Town, switch to Line 1 and alight at either Opéra – Vieille Ville or Cathédrale – Vieille Ville stop, whichever is closer to your hotel.
If your hotel is near the Nice Ville Train Station, transfer to Line 1 and take the tram bound for Henri Sappia. Alight at Gare Thiers, which is just one stop away.
You can also travel on foot to Old Town or to Nice Ville Station. It's a long walk, but it's pretty easy because it's generally flat. I prefer walking because the tram tends to be crowded at Jean Medecin station.
---
Important Reminders
Validate your ticket upon boarding. Inspections are sometimes conducted. If caught, you'll be forced to pay the 30€ fine.
Don't lose your ticket. If you fail to present a ticket upon inspection, you'll need to settle the 90€ fine.
Pay the exact amount. If you're purchasing a ticket from the machine and not using a credit card, make sure you have Euro coins. The machine does not give change.
---
Top Budget Hotels in Nice
Here are top-ranking but relatively inexpensive places to stay in Nice, as scored by Agoda customers:
---
---
2020 • 8 • 15