One of the most confusing parts of traveling to Paris is getting out of the airport. Well, it's confusing if you don't know what you are looking for. But if you're already familiar with the airport's layout and the city's train signs, it's actually a walk in the park.
Before anything else, let me explain this first. Paris is served by 3 airports. Charles de Gaulle (CDG), Orly (ORY), and Beauvais (BVA). This article is about CDG and getting to the city from there.
Now, know that CDG has three terminals: 1, 2, and 3, with Terminal 3 situated between 1 and 2. Confusing, right? To make it more complicated, Terminal 2 is divided further into 7 sub-terminals: 2A, 2B, 2C, 2D, 2E, 2F, and 2G.
Still with me? Good.
There are 2 train stations within the airport vicinity. Both are connected to the city proper by the RER B (Blue) train line, which is the cheapest and fastest way. These stations are located at Terminal 3 and between Terminals 2F and 2E.
WHAT'S COVERED IN THIS GUIDE?
If your flight is landing at Terminal 1…
Take the FREE CDGVAL airport shuttle train to Terminal 3. After going through Immigration, look for the CDGVAL signs, which are all around Terminal 1. Board the shuttle to Terminal 3.
At Terminal 3, you will be greeted by a large hall. Walk straight and you will see on your left white-and-fuchsia vending machines. You can buy one-way ticket to the city center for EUR 10. The machine accepts only Euro coins or chip-enabled credit cards.
If you don't have either, find the manned ticket booths to your right. You can buy a ticket here. OR, you can buy a NAVIGO PASS, which I will explain below.
If your flight is landing at Terminal 2 or 3…
Lucky you! All you need to do is follow the signs that read TRAIN TO THE CITY or RER. There are plenty of these signs around. You'll reach the train station in minutes. At the train station, you may purchase tickets via the automated machines or the manned booth.
Travel time to the city center is around 50 minutes, depending on which part of the city is your destination.
What is NAVIGO WEEK PASS?
A NAVIGO Week Pass is a card that gives you unlimited access to the metro, RER trains, trams, and buses for one week. The pass costs EUR 22.15 (plus another EUR 5 for the actual card), which covers all 5 zones of Paris, including the city center, Versailles, Disneyland, and the airports.
Is it a good buy? Yes, in my opinion. The fare from the airport to the city center alone is EUR 10. Round trip is EU 20. But a NAVIGO Découverte costs only EUR 27.15. That's a great bargain.
Another case that proves Navigo Découverte as a wise choice is when you're traveling to Versailles. The trip to Versailles alone costs EUR 7.10. But Versailles is in Zone 4, and is covered by Navigo. You won't have to purchase another ticket to get there. Same applies to Disneyland Paris, which is in Zone 5.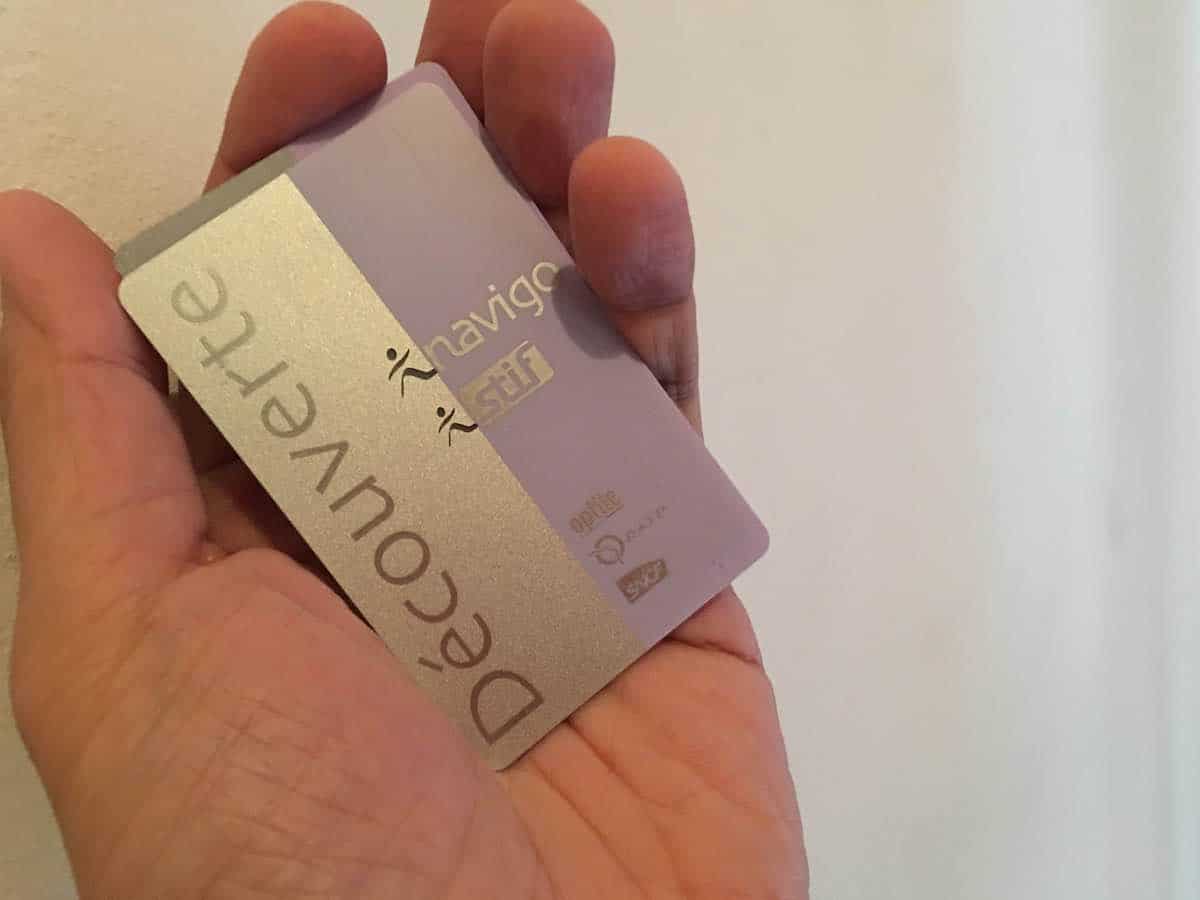 But there's a catch. Timing is everything when it comes to Navigo. Each card is valid only from Monday 00:00 (12 mn) to Sunday 23:59 (11:59 pm). It doesn't take into consideration what day you first use it. So for example, you purchase it on a Wednesday, that gives you only 4 days to use the card. You will have to reload it on Monday if you still want to continue using it.
That's the reason why they stop selling Navigo Découverte passes for the week on Thursday 23:59. If you buy on a Friday, that pass will be valid for the coming Monday, not that same week.
To purchase a Navigo Découverte card, read this: How to Purchase a Navigo Week Pass.

2️⃣0️⃣1️⃣6️⃣ • 1️⃣0️⃣ • 1️⃣6️⃣