This Visa Application and Appointment Guide is for applicants in the Philippines planning to visit France or other parts of the Schengen Zone for tourism. You'll find the list of requirements and detailed information about the application process below. If you're applying as a worker or as a seafarer, I'm afraid this post isn't for you.
France has recently implemented a new Schengen visa process, centralizing applications from around the world on just one website.
Not much has changed, though. VFS still accepts the application requirements on behalf of the French Embassy. The only difference now is that the first part of the process, which is the filling out of the application form, is done entirely online.
And oh, another difference is the length of processing time. Our friends from travel agencies, who work on Schengen Visa applications on a daily basis, claim that it is much faster now. According to them, applicants in good financial and employment standing and who have complete requirements often get the results within just 48 hours. However, some still have to wait 5-7 days. Others, weeks,
WHAT'S COVERED IN THIS GUIDE?
WHAT IS A SCHENGEN VISA?
The Schengen Visa allows the holder to visit any of the 26 countries within the Schengen area including France. It's sort of your one-for-all pass, allowing you to enter many of the countries in Europe without having to apply for a visa for each individual country. You can apply at any embassy of a member state.
We highly encourage you to read this post first to have a basic understanding of the Schengen Visa and how it works: Schengen Visa Frequently Asked Questions
Note, however, that you can't apply just anywhere. You need to apply at the right embassy, which depends on the purpose of your trip or your overall European itinerary.
---
WHEN TO APPLY AT THE FRENCH EMBASSY
Apply at the French Embassy only if ANY of the following is true:
You're going to France only and will not visit any other country.
You will visit multiple Schengen countries, but you will stay the longest in France.
You will visit multiple Schengen countries, but the main purpose of your journey is in France. (Example: you will attend a conference in France but you plan on going out to other Schengen countries while you're there.)
You will stay in multiple Schengen countries for exactly the same number of days, but France is your point of entry (first in your itinerary).
Here's how to apply using France's new visa website.
---
LIST OF FRENCH SCHENGEN VISA REQUIREMENTS?
The list of requirements varies depending on many factors like the type of visa you're applying for, the country where you're applying from, the duration of your stay, the purpose of your travel, and whether or not you have family members in France.
You can check that here: French Visa Requirements
After filling out the short form, you will be given the list of requirements.
If you're applying for a short-stay visa for tourism purposes, here's the list of documents you need to submit. Know that this may change depending on your condition so it's important to NOT skip Step #1.
The Embassy of France categorizes the requirements into six. This is where it gets confusing. Previously, it was just a simple checklist with all items considered mandatory. But the checklist that the new website provides gives the impression that you only need at least one item per category. For example, ITR is no longer listed as a requirement. However, the travel agents we talked to are saying that despite this, you must still provide as many items as you can (including ITR) for better chances of being granted a visa.
PREREQUISITES
Accomplished Application Form. This is the CERFA form n°14076*01 or 14571*05, dated and signed.
ID photograph. 35 x 45mm, white background
Passport. Must be valid for at least three months after the planned date of return. (In addition, know that Philippine Immigration policy requires that the passport must have 6 months validity.)
Photocopy of your current and old passports. They need the photocopy of the bio page and ALL pages with stamps and affixed visas, even on your old passport.
PROOF OF PURPOSE OF STAY
Pre-booked return ticket or flight reservation. As much as possible, don't pay for your flights in full until you get your visa. Find a travel agency that can reserve flights for you. You can get one online here: Get Flight Reservations Here
Detailed itinerary (if DIY) or reservation confirmation of an organized trip (if taking a tour). See sample detailed itinerary here.
TRAVEL HEALTH INSURANCE
Travel health insurance certificate (for medical expenses and repatriation). Must cover the entire duration of the trip and valid for all Schengen countries. Coverage must be AT LEAST EUR 30,000. Get Travel Insurance Here
PROOF OF ACCOMMODATION
Hotel Reservation for the entire duration of your stay, if you're staying at a hotel. Emphasis on the entire duration of your stay. If you're staying in multiple countries, you must submit hotel reservation for all the countries where you will be staying, not just France. You can also submit proof of sufficient means to cover the cost of accommodation (travel provisions of 120 euros / day) or lease agreement.
Proof of Accommodation (Document) if staying with a local. "Proof of Accommodation" is a document that your host must get from their local town hall in France on your behalf. You must have it before submitting your application because it will be stamped by the consulate. Your host can find more info about it here.
PROOF OF FUNDS. These can be any or all of the following. If you haven't booked accommodations yet, your docs must prove you can afford 120 euros per day of stay.
Bank statements and bank certificates. Make sure that the bank certificate and statement cover at least the past 6 months, and that they were issued within the past 30 days.
Pay slips
Pension statements (if applicable)
PROOF OF SOCIO-PROFESSIONAL SITUATION
If an employee, Certificate of Employment or Employment Contract
If self-employed, business registration documents
You can also submit any other document proving rootedness in the Philippines such as land titles.
ITR is not listed on the website, but if you have it, it would certainly help. We and the travel agents we talked to still highly recommend that you submit it.
VISA FEE
€60 euro (or its equivalent in peso that day). Note that you will also be paying the VFS Service Fee, EUR 26. It can still change depending on individual circumstances. Fees are non-refundable.
---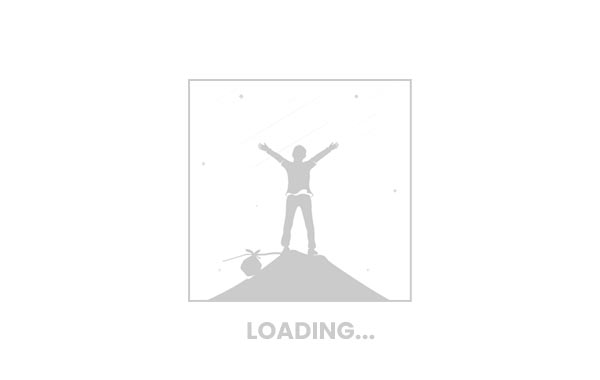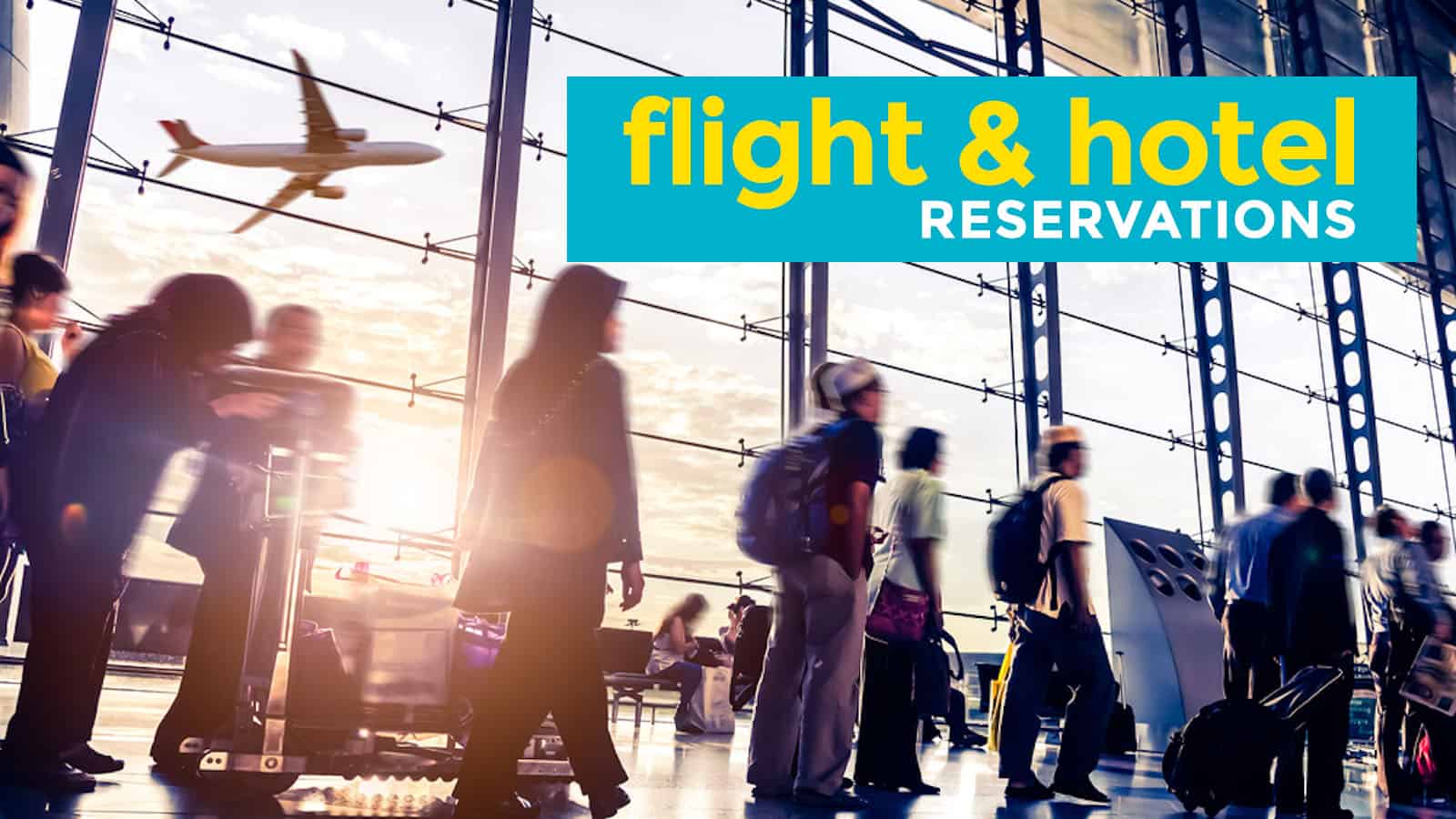 ✅ READ: FLIGHTS AND HOTEL RESERVATIONS
---
HOW TO APPLY FOR A FRANCE SCHENGEN VISA?
1. Complete the Requirements.
Again, the list of requirements varies per person. You can see the set of documents they will need from you here: French Visa Requirements
---
2. Create a France-Visas Account.
To do that, visit this page: France-Visas Registration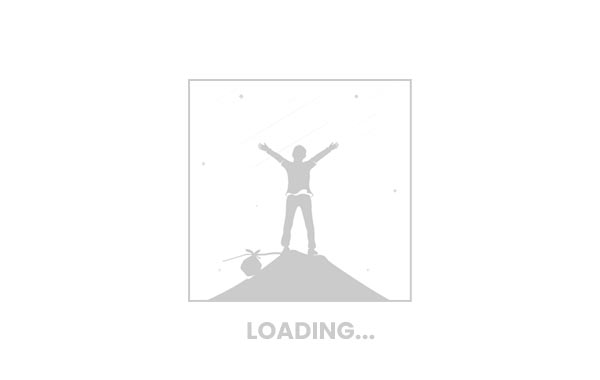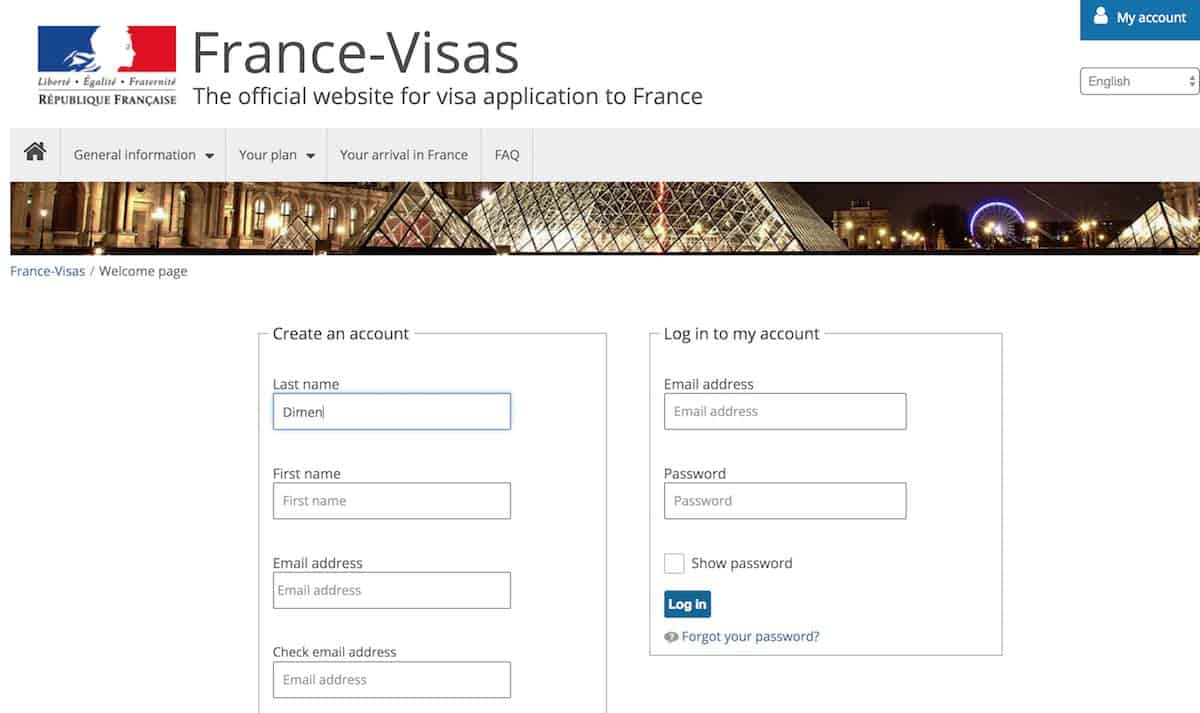 Verify your account. A verification link and verification code will be sent to your email account. Follow that link and enter the code.

IMPORTANT: Because the email is multi-lingual (French, English, Spanish), there's a big chance that it will go straight to your Spam or Junk folder. Make sure to check those if you don't get it in your inbox instantly.
You will then be asked to set up a new password.
---
3. Accomplish the online form.
After setting a new password, you will be taken directly to a page where you have to input the specific details of your travel plan.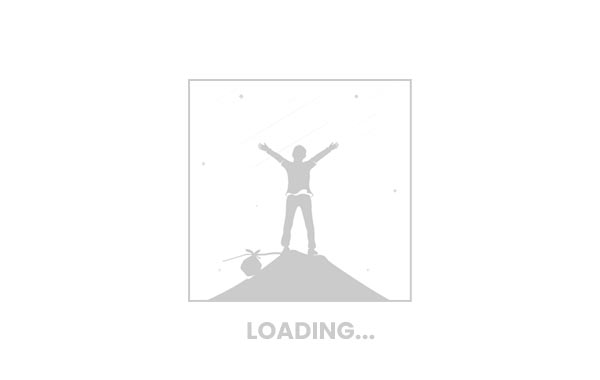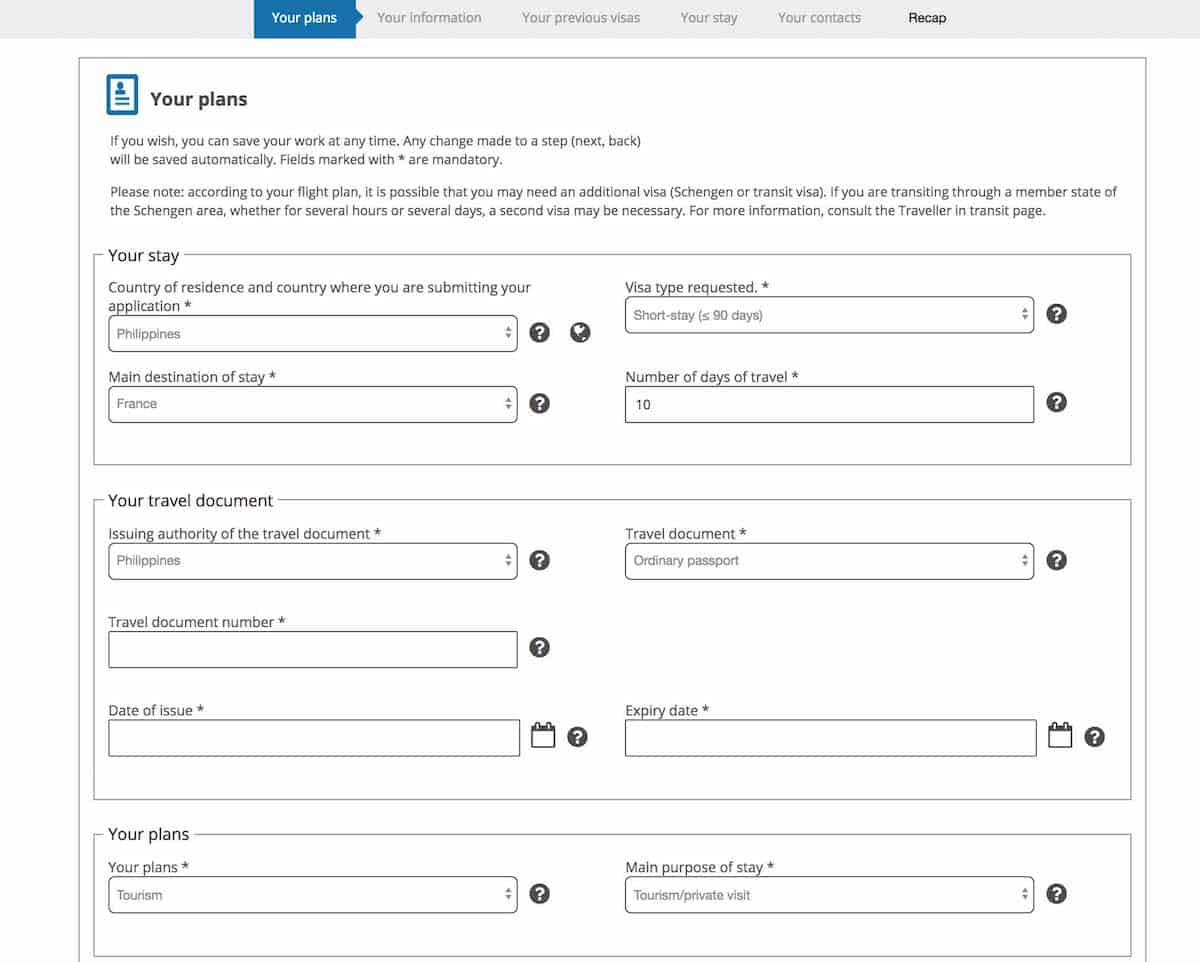 The form has 5 pages:
Your travel plan
Your personal information
Your previous visas
Your stay
Your contacts
These are all pretty straightforward. Just provide whatever info is needed in the corresponding fields.
The only part that you may find confusing is the YOUR CONTACTS page. It will ask you who your HOST PERSON OR ORGANIZATION is in France is. If you don't have any, simply choose the MY HOTEL option and enter your hotel's address and contact details.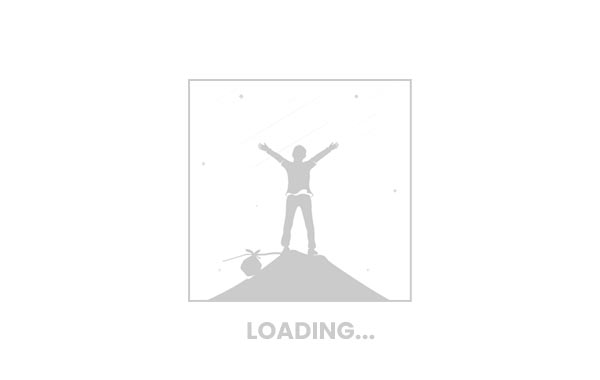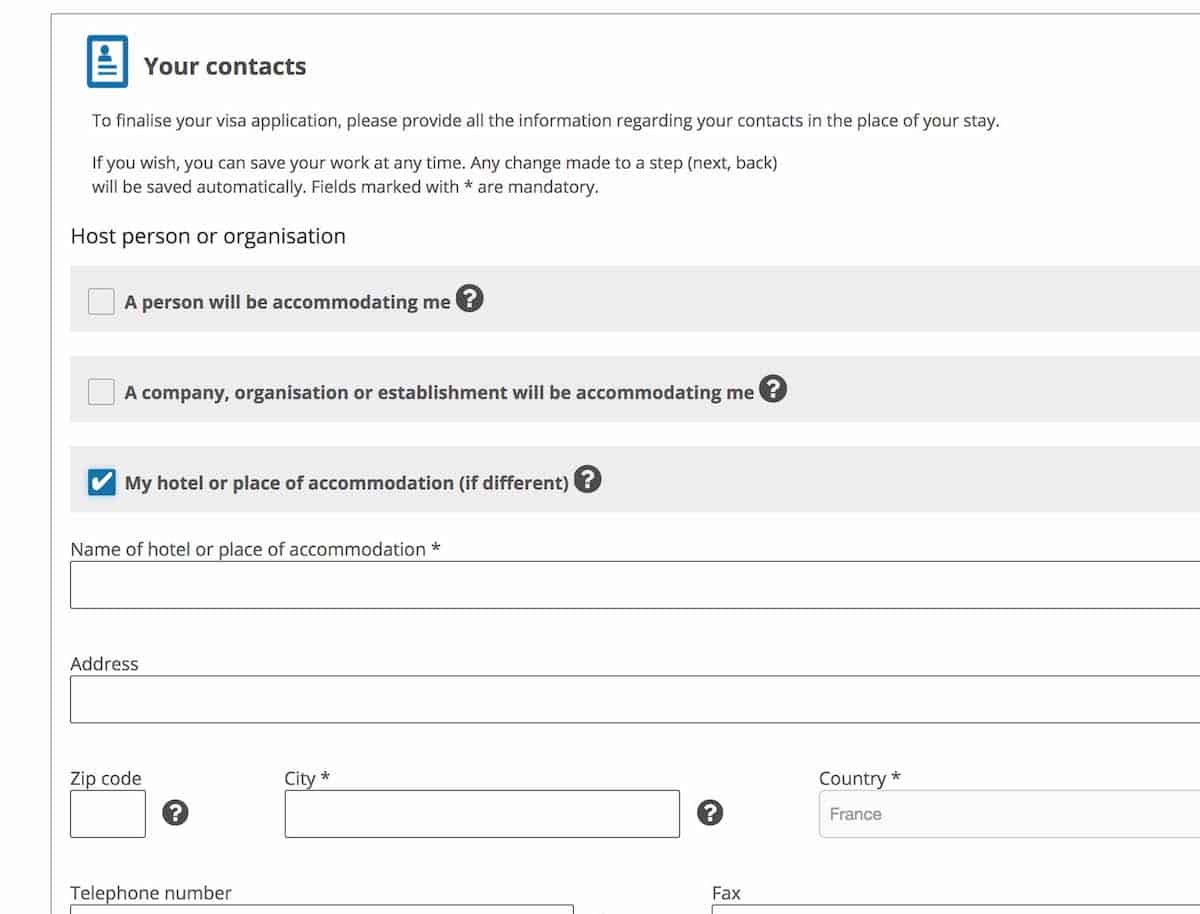 You will also be asked who will be funding your trip.
If you don't have a sponsor, just choose MYSELF and tick the boxes that apply to you.
If your trip will be sponsored by someone else, you must enter their full names (last name then first name) in the provided space and tick the appropriate boxes.
After that, you will be asked to double check the information you entered on the RECAP page.
Then follow these steps after the RECAP section:
If you find everything to be alright, submit your application.
You will be presented a CHECKLIST and the completed APPLICATION FORM. Print both the checklist and the form.. IMPORTANT!
You will also be redirected to the VFS Online Appointment System.
According to James, one of our readers who recently applied, if you don't print out the checklist, they will use the old list of requirements (which has more items) because they will attach a different set of checklist. In the old list, they will require a cover letter, birth certificate & photocopy of your passport. So make sure you print out both the checklist and the completed application form.
---
4. Book an appointment with VFS Global online.
To get a schedule, sign up first. Go to this Appointment System page and click on NEW USER.
If you already have an account, simply log in.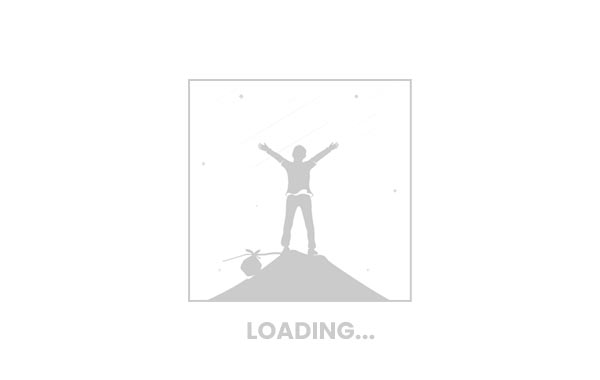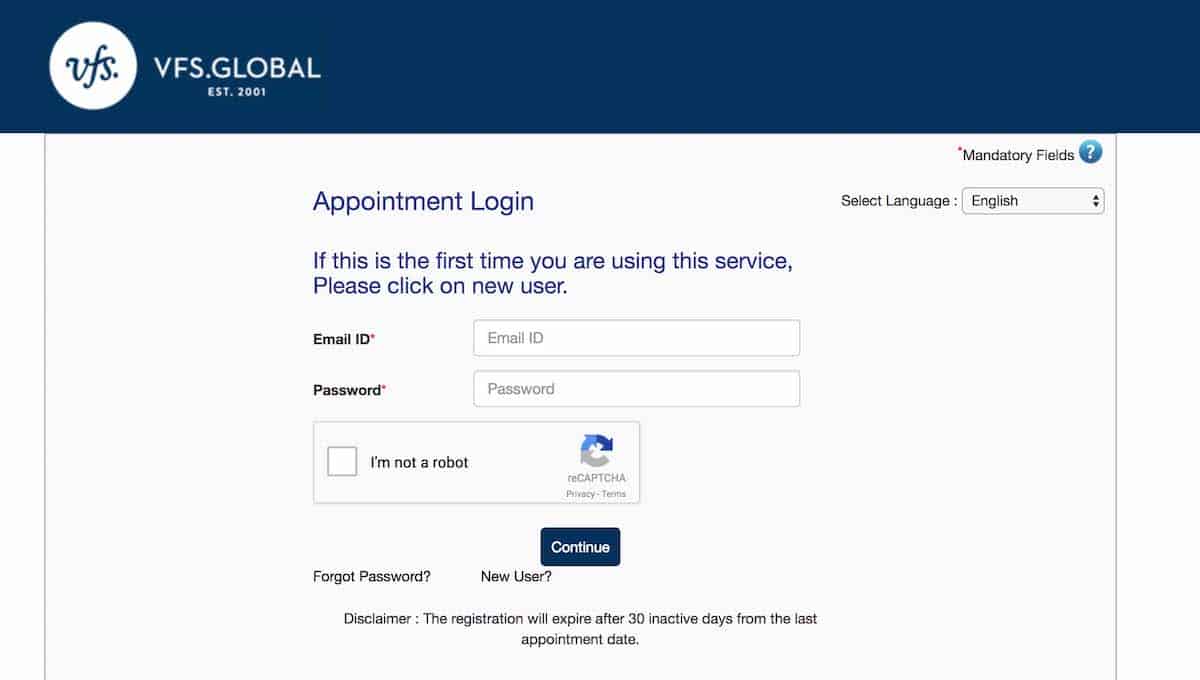 For short stay visa applications, book a date at least five days before your planned date of departure.
Once you have an appointment, print out the Appointment Confirmation Letter, which you need to bring to the VFS Global Visa Application Center.
---
5. Submit the requirements at the VFS Visa Application Center.
The applicants themselves must show up on the day of appointment. For children below 12, either parent can submit.
They recently moved to a new address:
VFS Global
France Visa Application Centre,
30th Floor, The World Centre, Senator Gil Puyat Avenue, Makati City
Phone Number: +63 2 790 4903
When I applied, this is the schedule. But I am not sure if it still applies today.
Submission of application: Monday-Friday, 7am-2pm
Passport collection: Monday-Friday, 2pm-4pm
Again, make sure you bring the Visa Appointment Letter I mentioned at Step 4. You will need it to get in. You'll go through a security check, and will be waiting for your turn. Once they accept your documents, they will get your biometrics.
You will also be given a choice on how you want to receive your passport (with a visa, hopefully): pick up or by courier. If you choose the latter, expect to pay an additional PhP 330. Finally, settle the visa fee. Make sure you have the exact amount.
That's it. All you need to do now is wait.
The processing usually takes 48 hours. However, don't count on it, There have been cases when they got theirs after a longer wait. Some will be asked for an interview at the embassy. It really depends on many factors, which probably depend on how strong your case is and how much work load they have. Regardless, it's out of your hands. Just hope for the best.
Update (December 2018): We've been hearing a lot of cases lately wherein the application took over a month. It might be because of the volume this peak season. Maybe not. But just apply as early as possible to be safe.
---
FRENCH VISA FREQUENTLY ASKED QUESTIONS
How long is the validity of the Schengen Visa?
Depends on the itinerary you submit. The Embassy will decide based on your itinerary so take it seriously. The first time I applied, my itinerary was for 7 days, I was given a visa valid for 15 days. The second time, my itinerary for for 53 days, I was given a visa valid for 60 days.
---
Should I apply for a single-, double-, or multiple-entry visa?
Again, it depends on your itinerary and flight reservations. If your itinerary/flight reservations entail going out of the Schengen area once and coming back, then apply for a double-entry visa. If you will be flying our of the Schengen area multiple times, then go for the multiple entry visa.
Please take into consideration all your connecting flights. For example, if aside from France you will also be visiting Italy (which is a Schengen state) but you're flying via Istanbul (which is outside Schengen), you will need to count that as "going out" of the zone.
Don't apply for a multiple-entry visa if you intend to stay in France the whole time. There is no need for your visa to be multiple and will probably just raise more questions.
---
How much money should I have in the bank to get approved?
No one knows exactly. But remember this: You will be submitting hotel reservations (that you haven't paid for yet) and a detailed day-to-day itinerary. So make sure that your bank has enough funds to cover the cost of the flights you submitted and the EUR 120 per day of your stay.
What's the EUR 120 per stay? Think of it as your pocket money and accommodations budget.
---
What are the reasons why my application would be denied?
This applies not just to the French Embassy but also other Schengen embassies:
You can't prove that you intend to return to the Philippines. You probably don't have a stable job at this point, newly employed, or newly resigned, and it's giving the impression that you plan on staying longer than your declared duration.
You can't prove that you can financially afford this trip. You or your sponsor may not be in good financial standing.
You seem to not know the details of your trip. You may have appeared as though you're not really doing what you declared you would be doing, which may raise some red flags.
Your purpose in France or Europe is unclear or dubious. This is why it is best to be specific when you're detailing the reasons for your visit.
---
What does a French Schengen Visa look like?
Like this: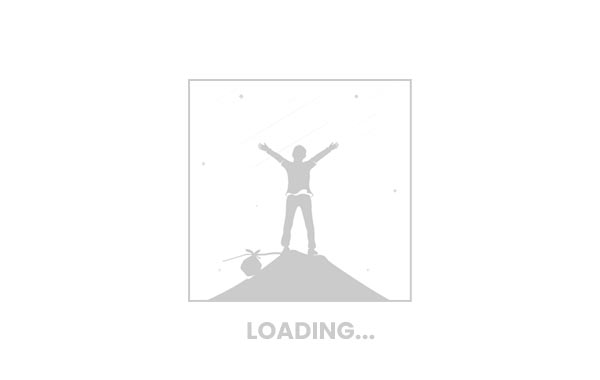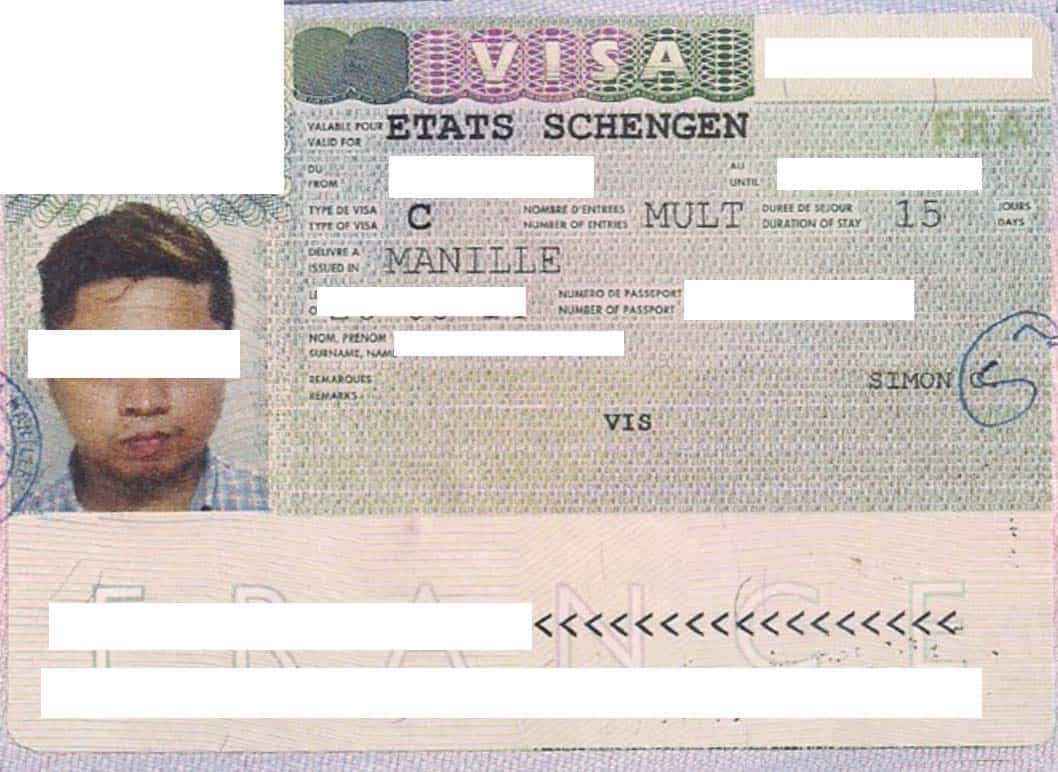 ---
Do I really need plane tickets before applying? What if I get denied? Sayang the pera.
Nope! Like I said before, you don't need to purchase flight tickets. What you need are "flight reservations." It's not the same as actual tickets. "Reservations" are just proof that you have blocked these plane seats, and you can cancel these in case your application is denied. Some airlines can hold the booking for you.
Travel agencies can also issue flight reservations. If you don't have time to go to a travel agency, you can have it reserved online. When we apply for hard-to-get visas like Canada and Schengen, we hire Gazelle Travel and Tours, a DTI-registered and DOT-accredited agency. We created a form here so you can contact them completely ONLINE.
✅ GET FLIGHT RESERVATIONS HERE
---
What is the format of the daily itinerary? Do you have a sample?
This is the format I followed. I think what's important is that they see the day-to-day activities and the places where you will be going. I also added the hotel details.
schengen-visa-france-itinerary

---
I'm traveling to multiple cities. Do I need to submit train transfer and flight reservation within the Schengen area?
It's not in the checklist when you fill the form online. I submitted transfer tickets when I applied, so I don't know if it's okay to not provide them.
But according to some of our readers who recently applied, if you don't print out the checklist, they will use the old list of requirements (which has more items) because they will attach a different set of checklist. In the old list, they will require a cover letter, birth certificate & photocopy of your passport. So make sure you print out both the checklist and the completed application form.
---
I'm traveling to multiple cities. Do I need to provide hotel reservation for all the countries I'm visiting or for France only?
If you're staying at hotels, you must provide hotel reservation covering the entire duration of your stay. If you're staying in multiple countries, you must submit hotel reservation for all the countries where you will be staying, not just France.
---
Is travel insurance really needed?
The short answer is YES.
The long answer is still YEEEEEEESSSSS.
You can purchase one online. You can also get one from travel agencies. Again, we have partnered with Gazelle Travel & Tours for this. You can purchase travel insurance along with flight reservations at once.
---
If my application is approved, do I have to stick to the itinerary I submitted?
In theory, yes. But in practice, many deviate from the itinerary. There are no Immigration checkpoints between countries within the Schengen Zone, so there's really no way for them to check. You can make some changes from the itinerary you submitted, as we have done in the past.
But my advice is this: At your point of entry, know that you might be asked questions about your itinerary. At the very least, stay the longest in the country where you got your visa so you won't run into trouble. They have the right to refuse entry even if you already have a visa.
---
Is a cover letter required?
No, not really. But if you can, go ahead. I highly encourage you to write a cover letter if you have something to explain, like why you can't provide a requirement or why you're submitting alternatives. Remember, there will be no interview. Having a cover letter will allow you to explain the purpose of your trip better. Here's a sample.
schengen-visa-france-letter

---
How early should I apply for a Schengen visa?
3 months before your planned travel date is ideal. Although the French Embassy processes applications much faster these days, applying early will give you time to work on additional documents in case they ask for them or if you encounter a problem with your application.
Update (December 2018): We've been hearing a lot of cases lately wherein the application took over a month. It might be because of the volume this peak season. Maybe not. But just apply as early as possible to be safe.
---
Is the French Embassy really strict?
If you asked me 2 years ago, I would have said "not that strict." But it looks like they have become a lot stricter than ever over the past few months.
In our Support Group alone, there are a lot of seemingly qualified applicants with stable jobs, great finances, and impressive travel history that were denied a visa. So my advice is to build a strong case and submit as many documents that can support your application.
---
Watch our Latest Video!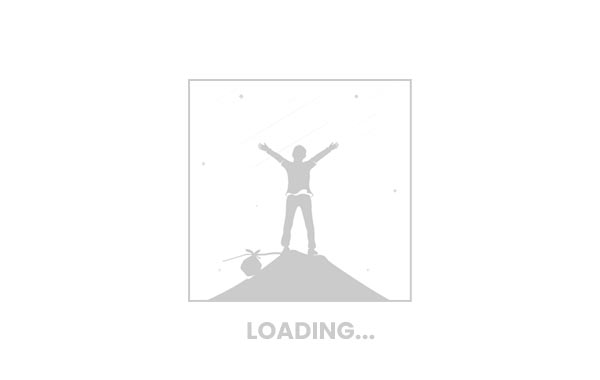 ---
Important Reminders