Few joys beat the ecstasy of being on a luxury holiday at a top-notch hotel. And while some tourists are happy with a conveniently located hotel that provides all the basic necessities and comfort, others want more. For intrepid travelers like me, one of those few joys is staying at a quirky hotel that has a personality of its own, because when you're splurging, shouldn't it be on something phenomenal?
From a glass-shaped 'treehouse' in Sweden to an inn that is shaped like a dog in Idaho, here are eight hotels recommended by HolidayMe (EN|AR) that are guaranteed to give you unique experiences that you wouldn't want to miss out on:
WHAT'S COVERED IN THIS GUIDE?
SAS Attrap'Reves, France
Want to sleep under the stars with all the luxuries of a five-star hotel? With locations in Allauch, La Boulladisse, Montagnac, Puget Ville and Saint Maime regions of France, the Attrap'Reves chain of hotels have come up with this ingenious way to let you do exactly that.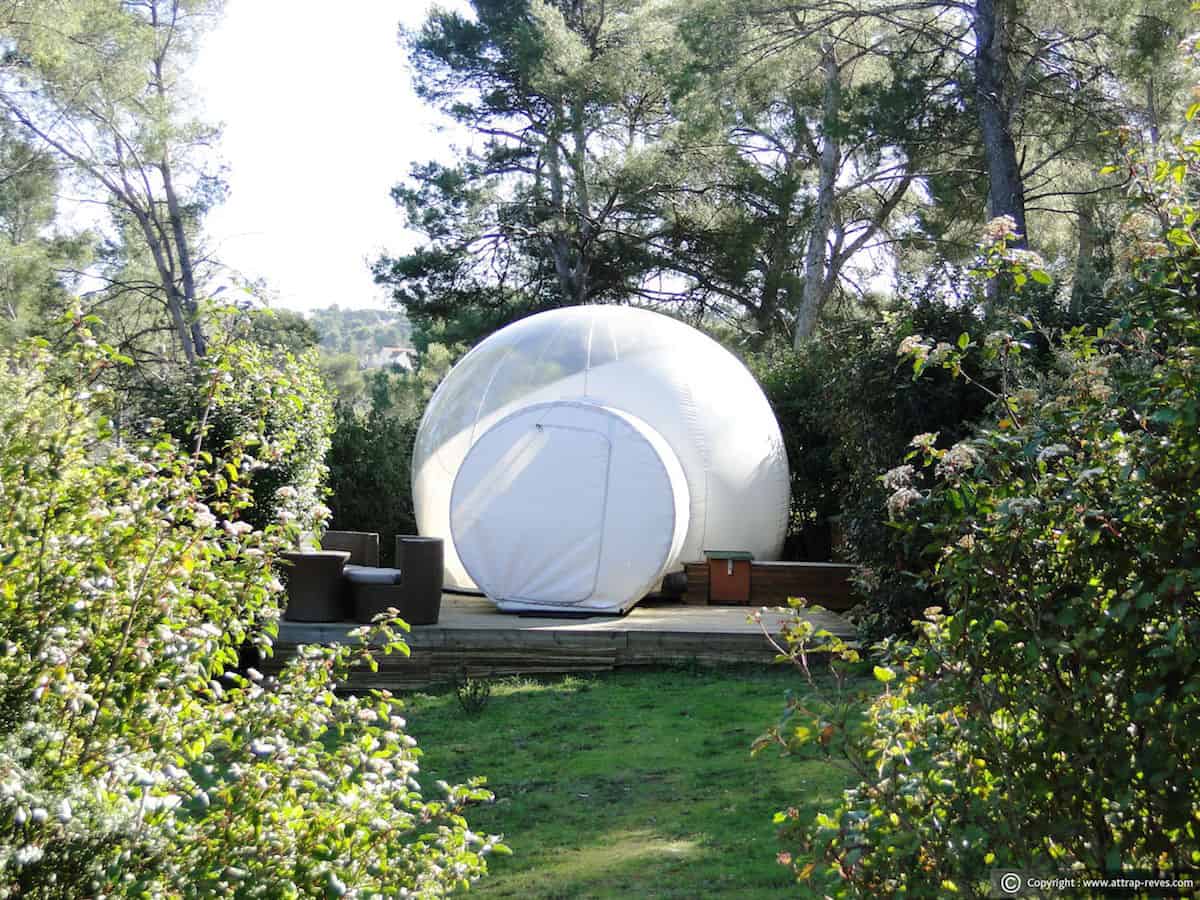 Each room here is a fully-furnished, transparent pod set amidst forested surroundings. What's more, these sophisticated bubbles not only protect you from bugs and pests while giving you a free view of the night sky, they are also eco-friendly, having been made from recyclable material.
---
Sun Cruise Resort, Donghae, South Korea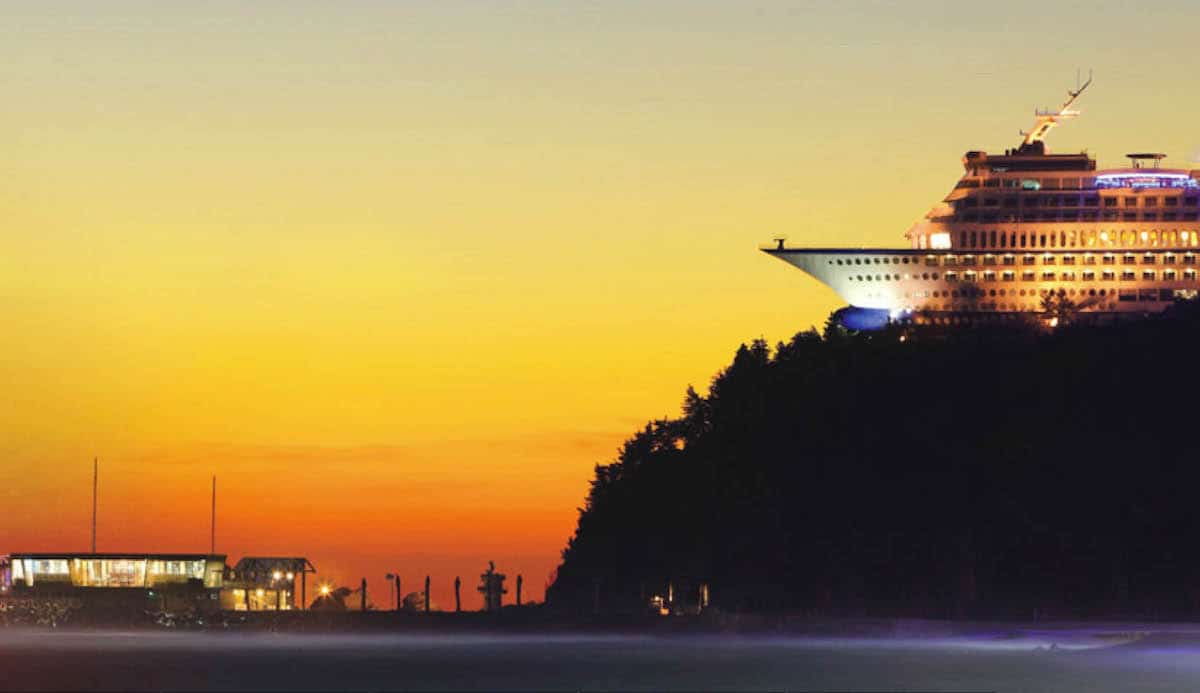 If you're prone to seasickness but still dream of getting on a cruise, South Korea's Sun Cruise Resort is your dream come true. Calling itself the "first luxury cruise ship on land," the hotel offers all the amenities as well as the experience you'd expect from luxury cruise ship – minus the nausea! The resort also has a rotating sky lounge that has stunning views of the ocean.
---
Inntel Hotel Zaandam, Amsterdam, Netherlands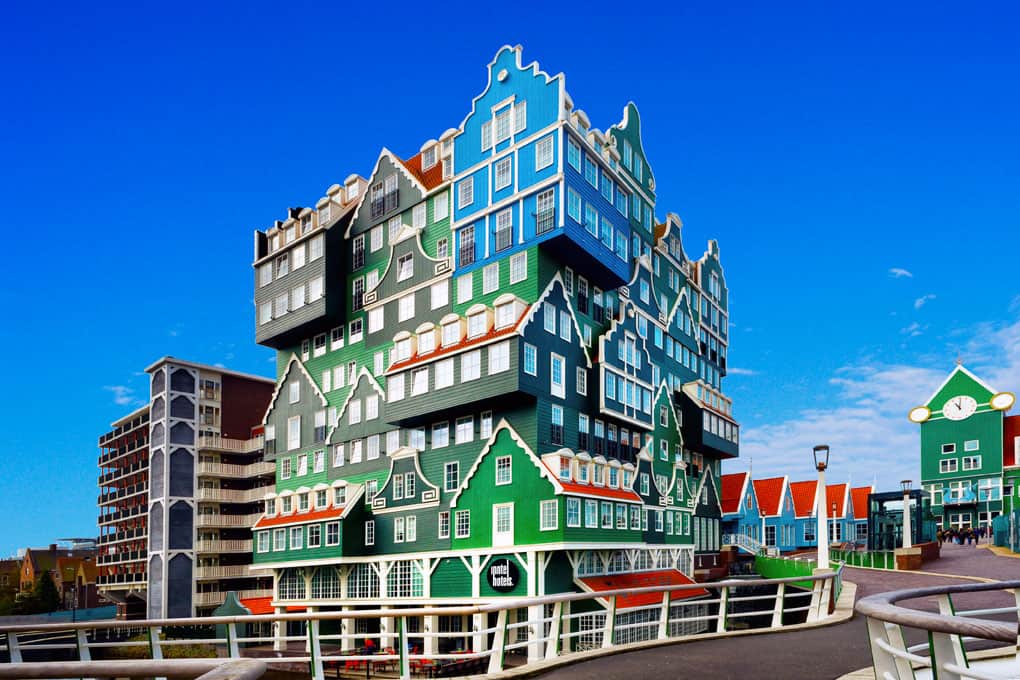 On first look, the Inntel Hotel resembles a set of houses neatly stacked on one on top of another. The lodging, which is motivated by Dutch design, depicts customary places of Netherland's Zaan region, giving Inntel Hotel its unique façade. The hotel has 70 such stacked houses, and also features an indoor pool, Finnish sauna, Turkish bath, tropical rain shower, and gym, among other facilities.
---
Treehotel, Harads, Sweden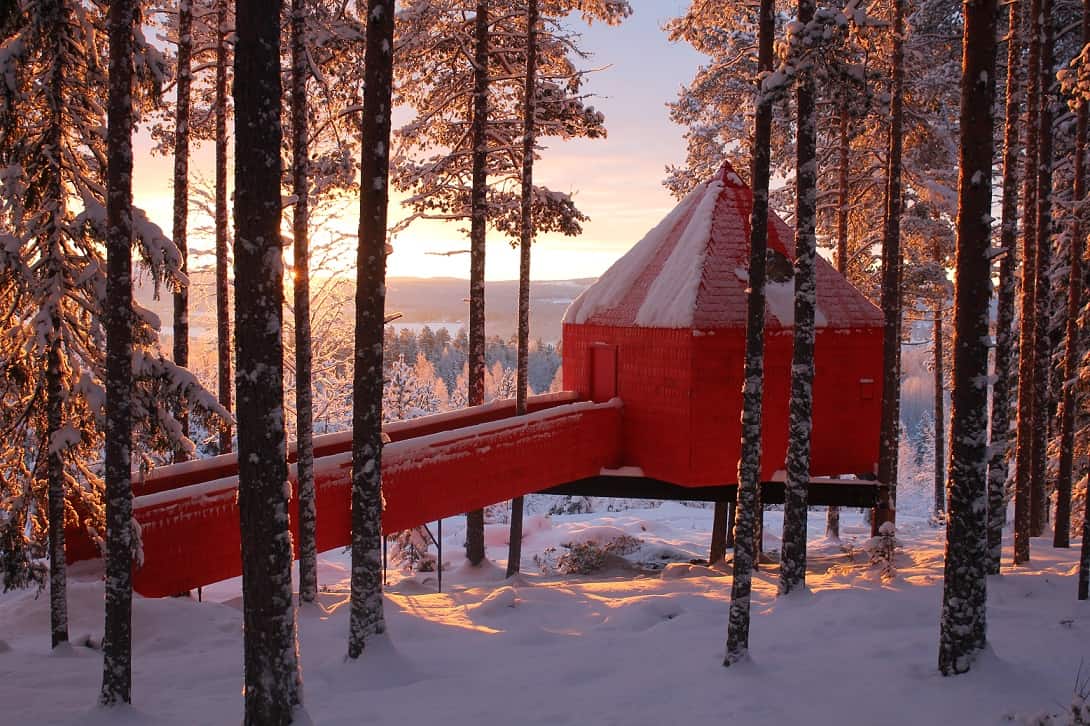 Situated in the pine woods around Sweden's Harads region, Treehotel is a boutique hotel that is a must-visit for every nature lover. It features unique, eco-friendly rooms that come with huge beds as well as a chic decor. There are six interesting "treerooms" that are shaped like a glass lodge, an authentic-looking bird's nest, a dazzling Mirrorcube that is fully reflective, and a UFO that'll remind you of Steven Spielberg's E.T. movie. Additionally, there're rooms named Blue Cone, Dragonfly and a fabulous Tree Sauna.
---
Faralda Crane Hotel, Amsterdam, Netherlands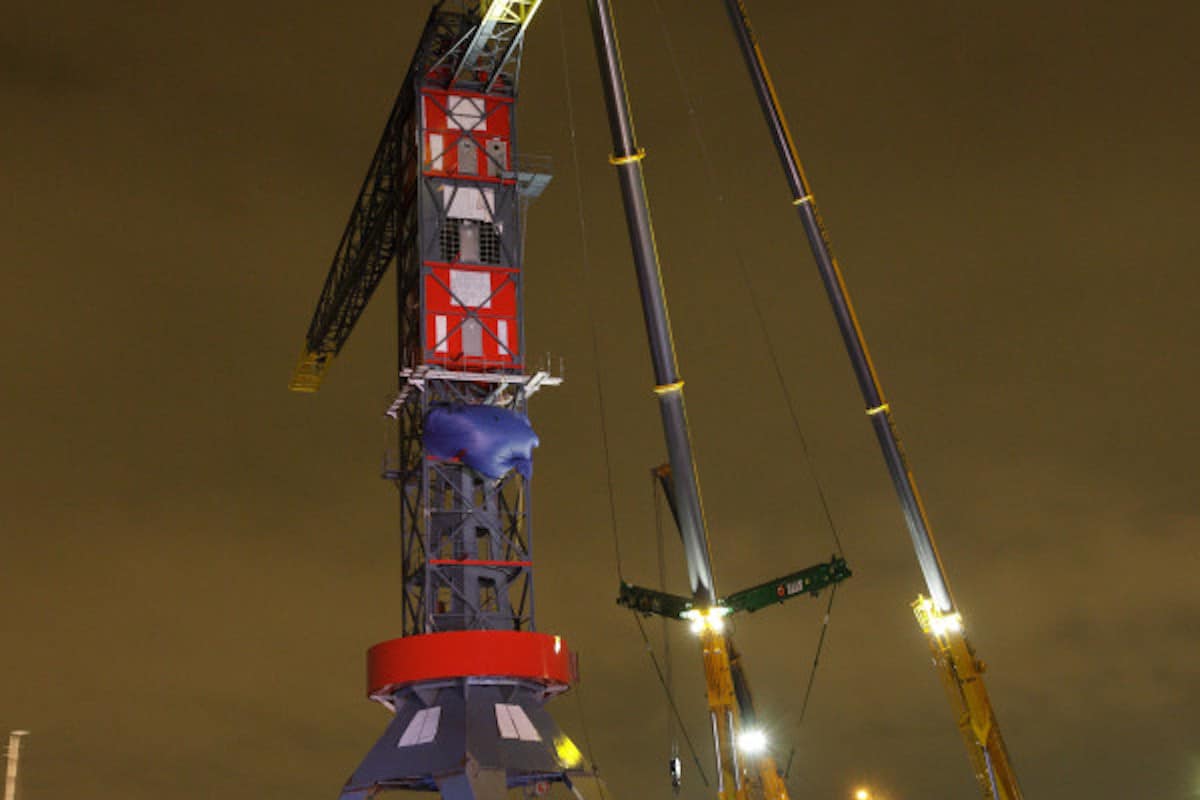 As improbable as it sounds, Faralda Crane hotel was actually an industrial crane once upon a time. Situated in Amsterdam's previous NDSM shipyard, this hotel is weird, even for this list! There are three luxury hotel suites instead of typical rooms, all of which are located in the crane's old machine room. Adrenaline junkie guests can likewise bungee hop from the highest point of the crane, while others can basically loosen up in the open air Jacuzzi and take in the view. And whenever you think you need to rest in a gigantic crane dangling 50 meters mid-air, you know where to go!
---
The Dog Bark Park Inn, Idaho, USA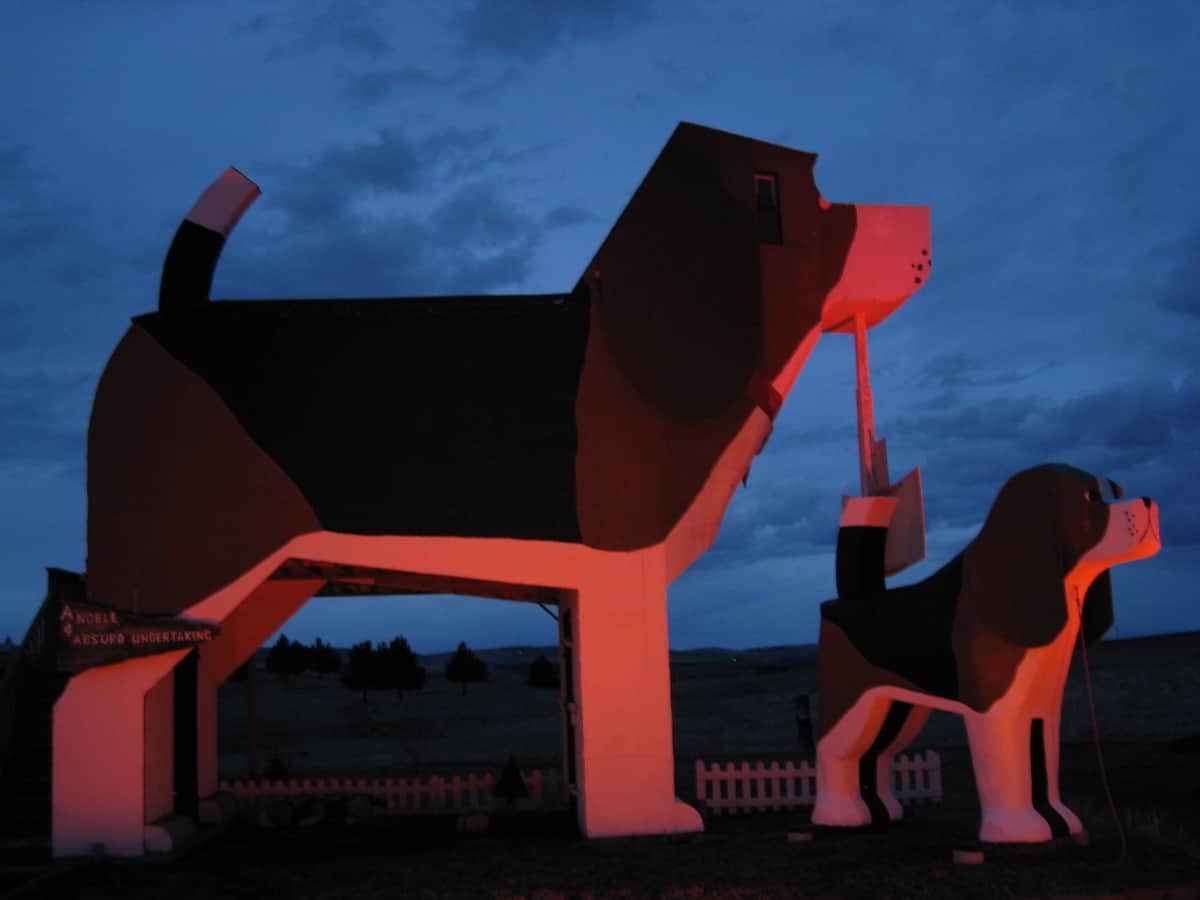 This popular Idaho hotel takes the term 'dog lover' to a whole new level. Located in a 30-foot beagle which has been named "Sweet Willy" by the locals, Dog Bark Park Inn is guest friendly as well as pet-friendly. Though small in size (it's only a 2-bedroom B&B), the guesthouse is completely decked out with canine-inspired furnishings. Interesting, no?
---
Montana Magica Lodge, Panguipulli, Chile
Rising from Chile's jungles like a huge stone monolith, Montana Magica (English Translation: Magic Mountain) hotel is nothing short of a fairy-tale wonder. Located in Huilo Huilo Biological Reserve in Panguipulli city in Chile, this mountain-shaped hotel has a permanent waterfall and exteriors covered in grass and moss. And if you believe it's not for you comfort-seekers, think again! Montana Magica has cosy wood-furnished rooms, a spa, wellness centre, as well as an indoor pool!
---
9 Hours Capsule Hotel, Kyoto, Japan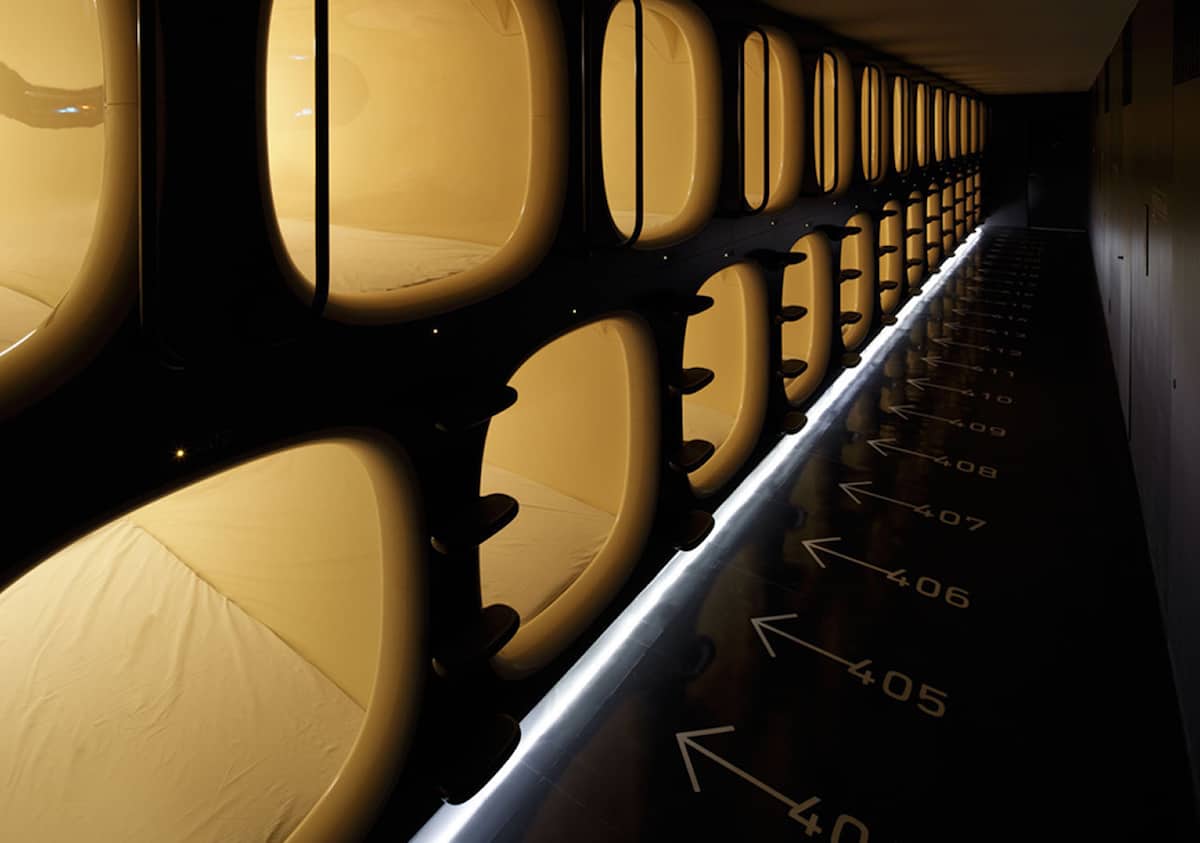 A complete no-no for claustrophobics, Kyoto's 9 Hours Capsule Hotel offers a spaceship-like décor with clean lines and unique capsule beds. There are separate floors for men and women, and each sleeping pod comes with a sleep-ambient control system that claims to help you get rest better. Showers and toilets are shared, and the hotel has its own room-wear, slippers and Japan-made toiletries for you to indulge in.
2️⃣0️⃣1️⃣6️⃣•5️⃣•1️⃣5️⃣
More Tips on YouTube ⬇️⬇️⬇️