Hotel Chuo Oasis was my first choice when I was browsing online for affordable places to stay. Just by reading the reviews, I was already sold. It has a stellar 89% rating on Hostelworld, 83% on TripAdvisor, and 8.2/10 in Agoda. Although listed on Hostelworld, it is not a hostel but a hotel. A very affordable hotel, considering how expensive everything is in the mighty city of Osaka.
Rooms and Rates
Hotel Chuo Oasis houses 108 rooms across 10 stories. Don't worry they have an efficient elevator. The twin room given to us was on the top floor. Teehee. The room was pretty spacious, much bigger than I anticipated. (The pessimist in me was expecting a space just a notch wider than the famous capsules!) There were two single beds, a television set, a small dining table, a bedside table, a closet, and LOTS of sockets for the gadgets! Bath and face towels are also provided. For a moment, I felt spoiled!
The ensuite bathroom was cramped but equipped with everything I needed. There was even a tub and a hairdryer. Even their toilet was impressive. Definitely the most advanced my butt had ever graced thus far. (Yes, I said it!) There was a bidet, and even the water pressure and temperature could be controlled with some fancy little buttons on the side. It was like a mini-bathroom of the future!!! Apparently, this is pretty common in Japan.
I booked the twin room via HostelWorld for JPY 3000 per person (JPY 6000 per room). That's roughly PHP 1330 per head (PHP 2,660 per room). Not bad in Japanese standards. Not bad at all.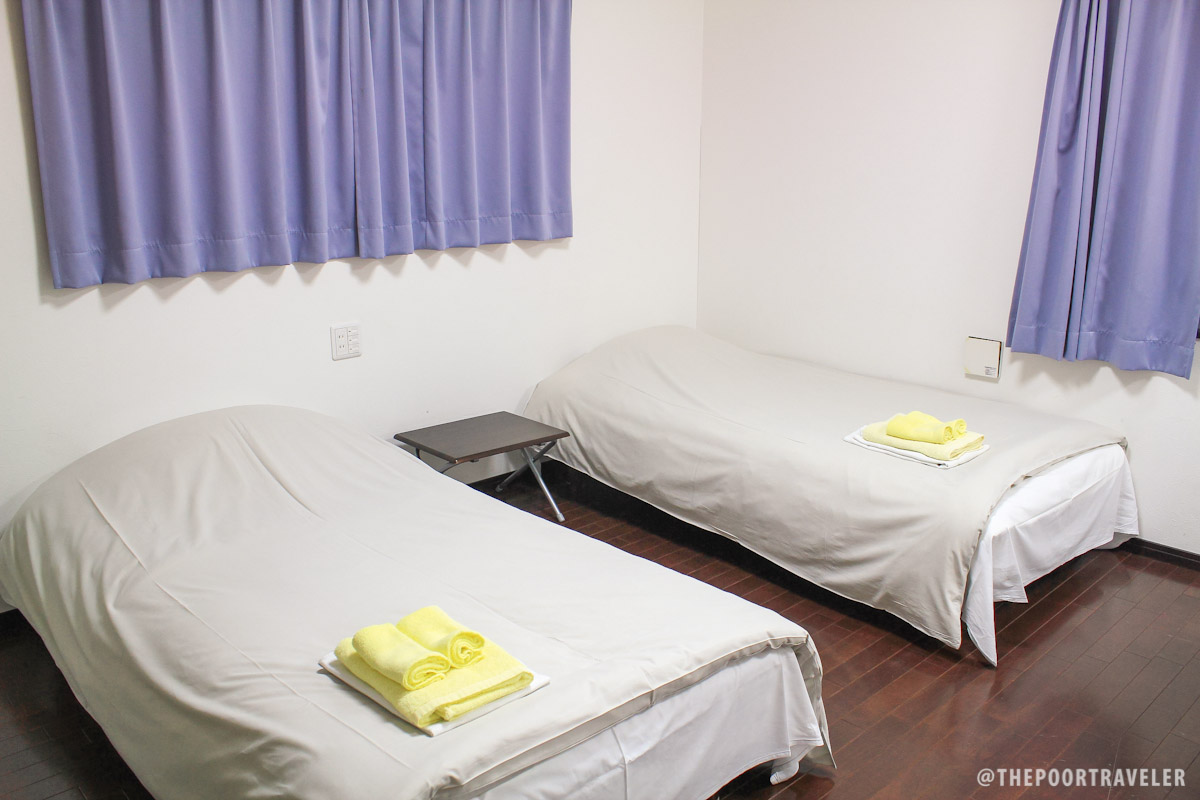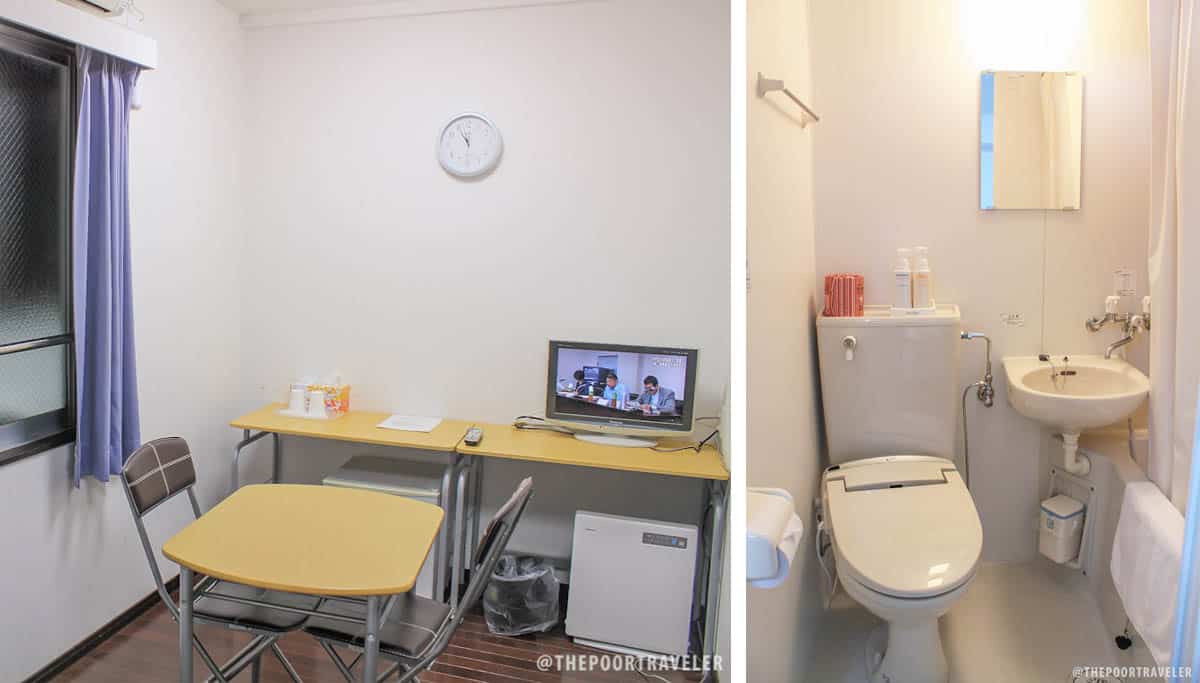 ---
Location
Located in Taishi, an area in South Osaka, Hotel Chuo Oasis is just two subway stations away from Dotonbori. The nearest subway station is Dobutsuenmae, just around the corner. The nearest JR station is Shin-imamiya, a block away. It is in a quiet neighborhood, but there are a number of other hotels nearby. A convenience store and a lane of restaurants are within walking distance.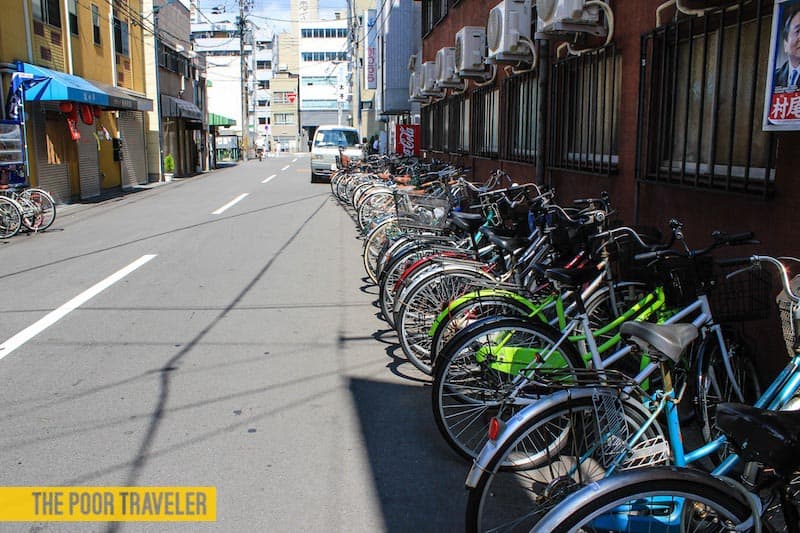 ---
Service
I was already in love with Hotel Chuo Oasis even before my plane landed at Kansai Airport. Without a concrete plan yet, I booked two nights with them just so I could have a hotel voucher to show at the Japanese Embassy for my visa. When I finalized my Osaka-Kyoto itinerary, my stay here would have to be shorter. I emailed them if they could accommodate the adjustments, and they did so without any trouble.
After checking out, we proceeded to Kyoto. Just as I was exiting the train station, I discovered that I left my camera's battery charging in the room. Since going back would mean wasting precious hours, I decided to just pick up the battery and charger on the way to the airport on my last day in Japan. (Electronic items and accessories are cheap in Japan so I just bought another battery.) I called the hotel, and they checked the room right then. They confirmed that I indeed left the items, and I confirmed that I was forgetful and stupid. They kept it for me until I returned. They were nice and reliable like that.
I didn't see that many staff members, only the ones at the reception. They were very warm and friendly. And they spoke good English.
There's wifi — fast and free. There's also a cafe, but I wasn't able to try it. The only thing I found quite restricting was the 12midnight curfew.
---
---
A horrible nightmare ruined my sleep on my first night in Japan. It was one of those cases of sleep paralysis. I still remember that awful feeling of not being able to move a muscle or speak a word when I seemed to be awake and aware of my surroundings. Thanks to my roommate who forcefully smashed a pillow on my face, I was pulled out of that terrible state. It wasn't a good way to start my dream Japan backpacking.
Not that the bad dream had anything to do with where I spent the night. If anything, my overall experience at Hotel Chuo Oasis was anything but a nightmare. It was comfortable.
How to get to Hotel Chuo Oasis: From Kansai Airport, take the JR Kansai Airport Line train bound for Osaka and alight at Shin-Imamiya Station. Take East Exit and turn right. At the traffic lights, cross the street to your left. Cross Route 43 (road to your right). Turn left after  one block, then turn right.

Note: This is not a paid post. We paid for our stay in full.