Bang! I didn't realize just how much of my early years had been taken over by the Japanese until I was standing in the middle of the movie park.
I may be a foreigner here, but everything around me looked and sounded mighty familiar. There's a ninja statue clinging on to the wall in one corner, an anime robot in another, and two samurai warriors fighting in a make-believe Edo town. All that was missing was a hentai screening, and the characters of my puberty would have been complete. Tee-hee.
It didn't start as energetic and lively as this. It was a glum morning. Not only was the sun missing, the rain was shoving its buzzkill self into Kyoto that day. Even before I could find the theme park, the clouds were already pissing on me every two minutes. It didn't help that the destination was a bit difficult to find. There were no signs on the way, and it was in a residential maze.
After thirty minutes and ten run-for-cover stops, I finally spotted the inconspicuous entrance to the park. There was no queue. I sashayed my way into the park, no problem. Inside I found myself awfully alone in an old Japanese town set. Where is everyone? Having a place to yourself is nice if that place is a beach or a shop, but a theme park? Where the EFF is everyone? There was only this geisha flashing a vestal smile at me. Creepy. Seriously, girl; not now, not when I was starting to think I was in a ghost town.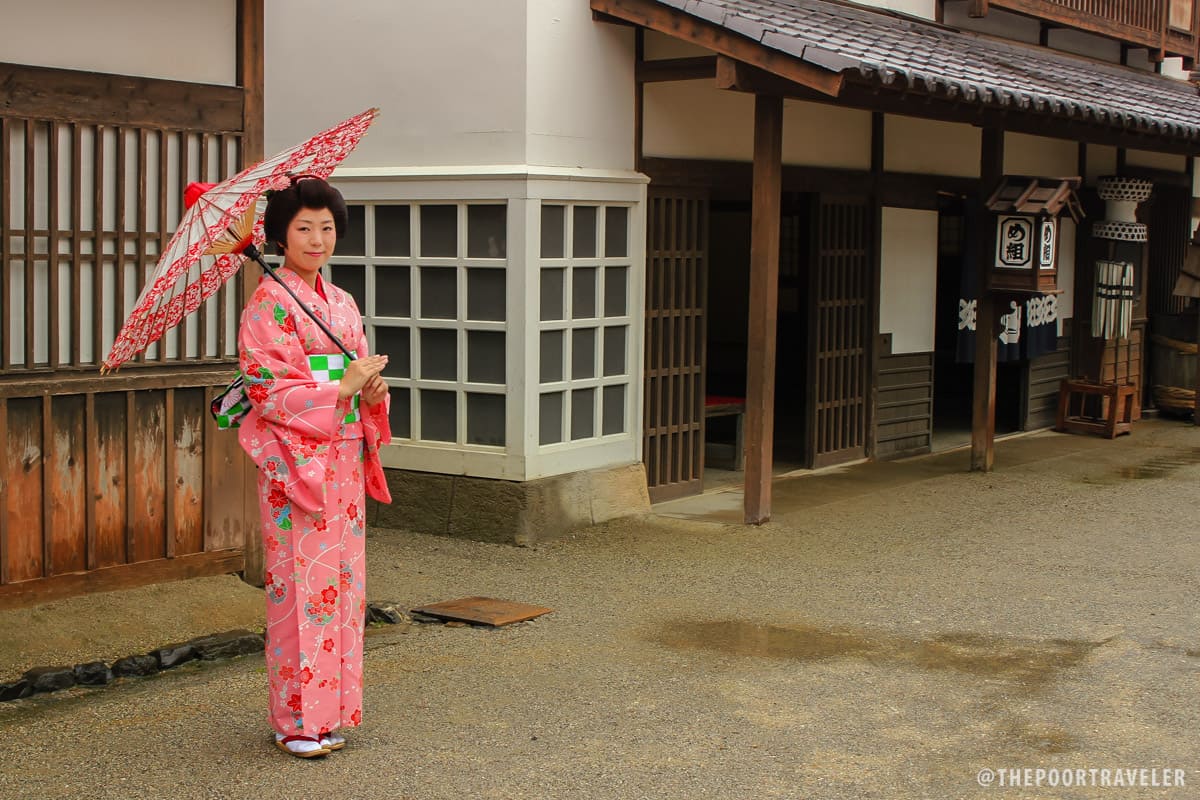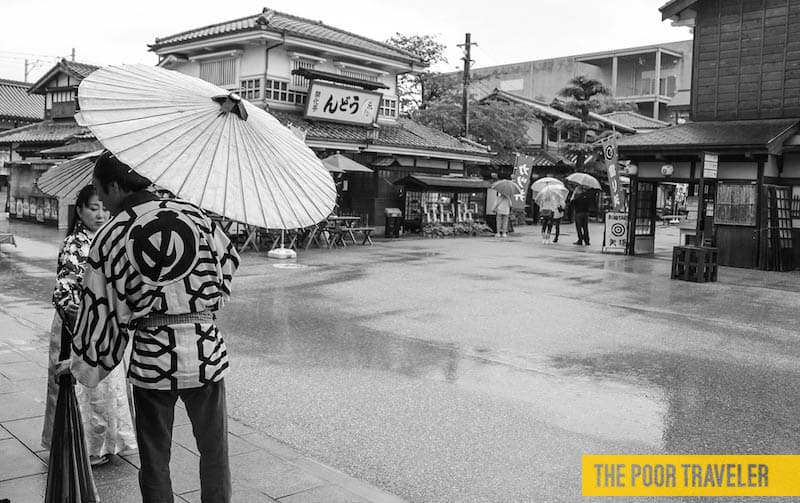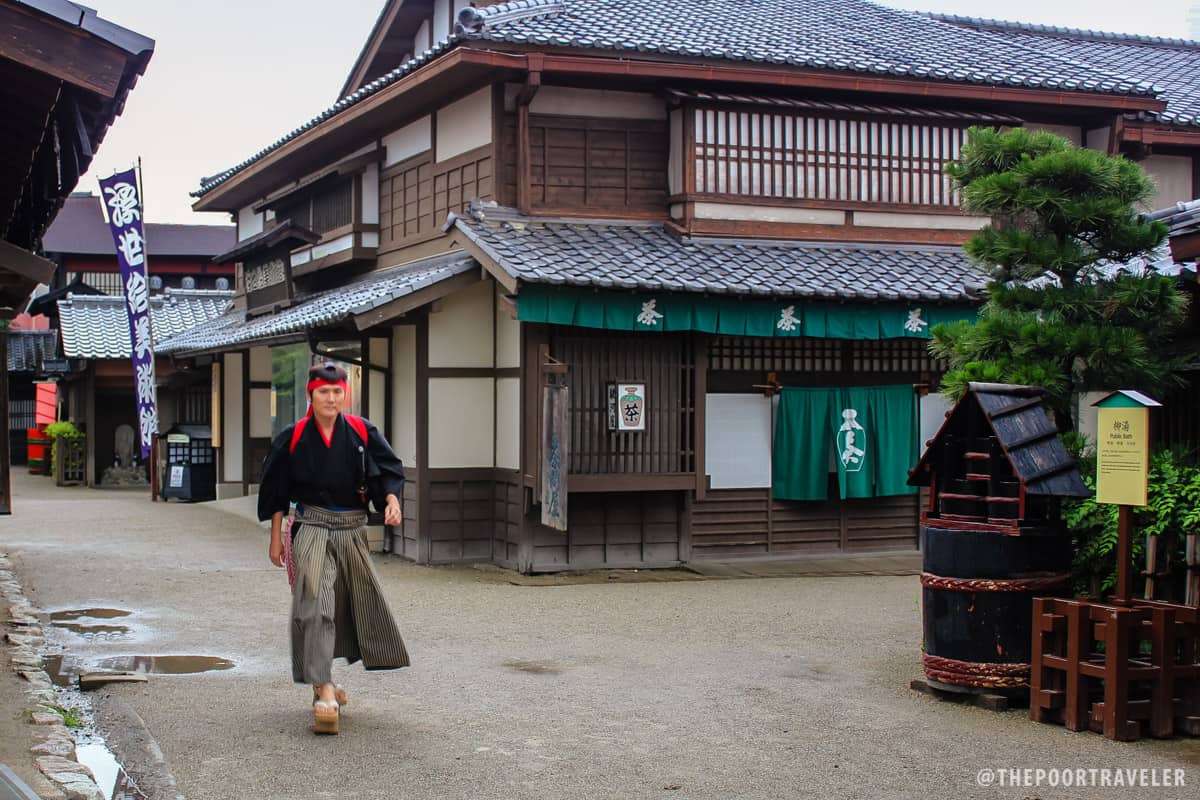 All of a sudden, a big crowd came flooding out of the theater behind me! There's everyone! Apparently, they were all inside enjoying a ninja show. Now this is the theme park I'm talking about! Let the fun begin!
WHAT'S COVERED IN THIS GUIDE?
About Toei Kyoto Studio Park
The Toei Kyoto Studio Park  (東映太秦映画村, Tōei Uzumasa Eigamura, or more simply Movie Land) is actually a film set that has been made open to the public. It is the only theme park in Japan where visitors can watch and observe actual filming of period dramas (jidaigeki films). More than 200 movies are shot here every year! But it is more than a movie set. It has already been transformed into an amusement park featuring an anime museum, a ninja maze, and a maddeningly effective haunted house, among others. Visitors may also choose to rent a full Edo period costume and dress up as a samurai or a geisha so they could explore the park in style!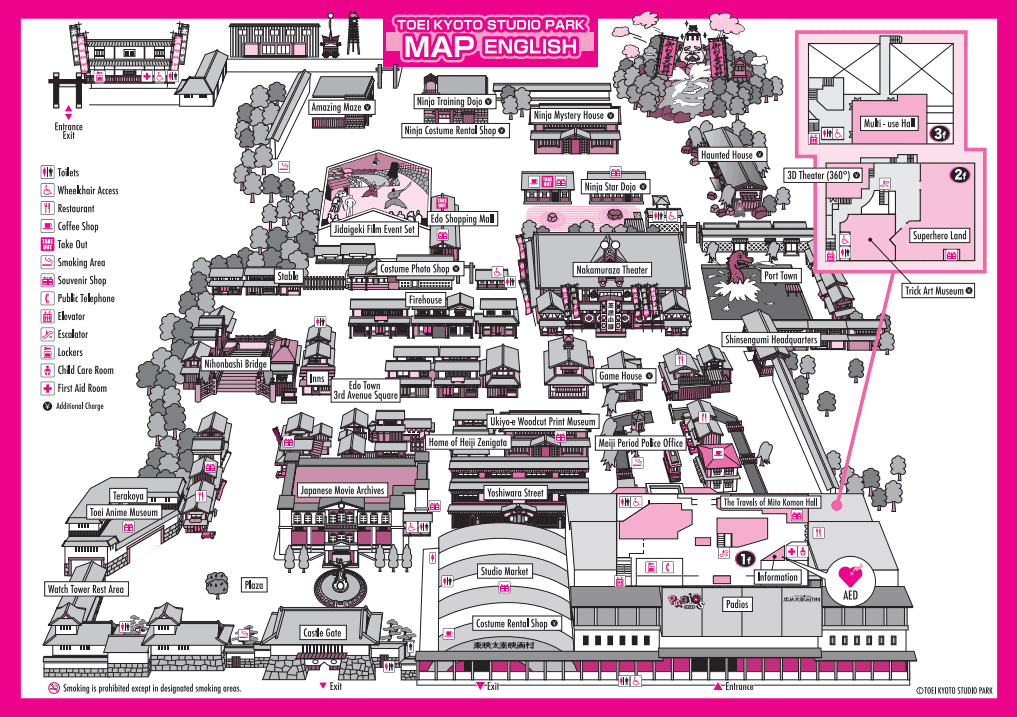 ---
Edo Town
One of the most fascinating sections of the park is Edo Town, an entire block made up of old, traditional houses and shops built to foster a very convincing Edo Period vibe. Make a turn onto this part, and you'll be lost in Ancient Japan! There's a full replica of the Nihonbashi Bridge, the most recognizable landmark in the busiest mercantile district of old Tokyo, and the Yoshiwara red-light district. "Wanted" posters are everywhere, and samurais appear in the area showcasing their mastery of the katana.
West of the town is the Meiji Period Police Office, in front of which I watched two warriors give some Samurai fighting lessons and teach lucky guests some of their killer moves!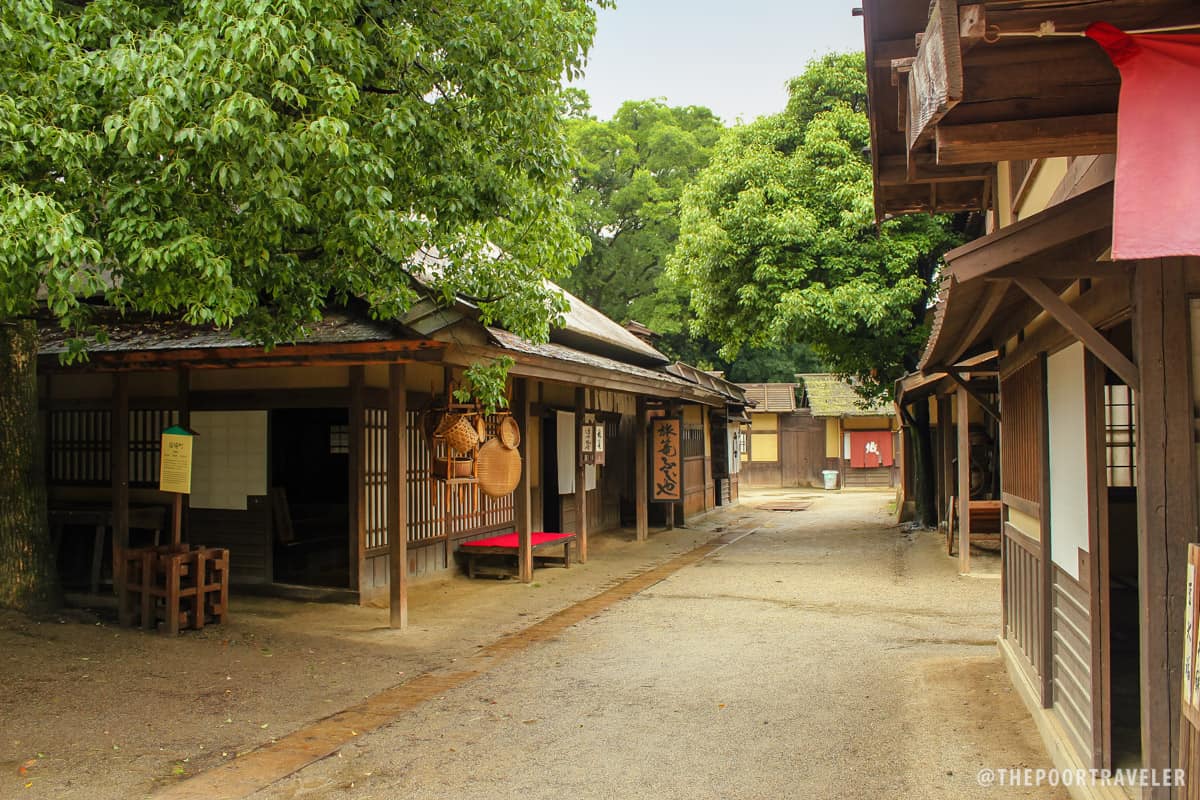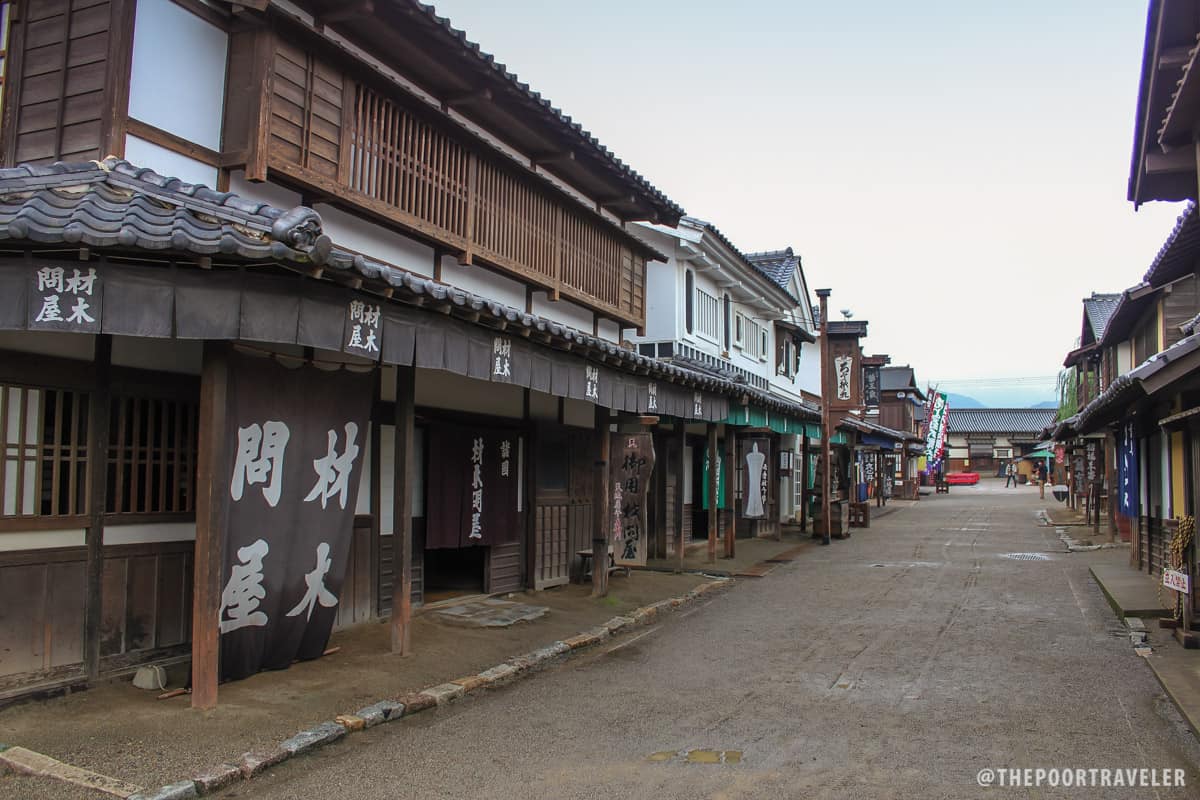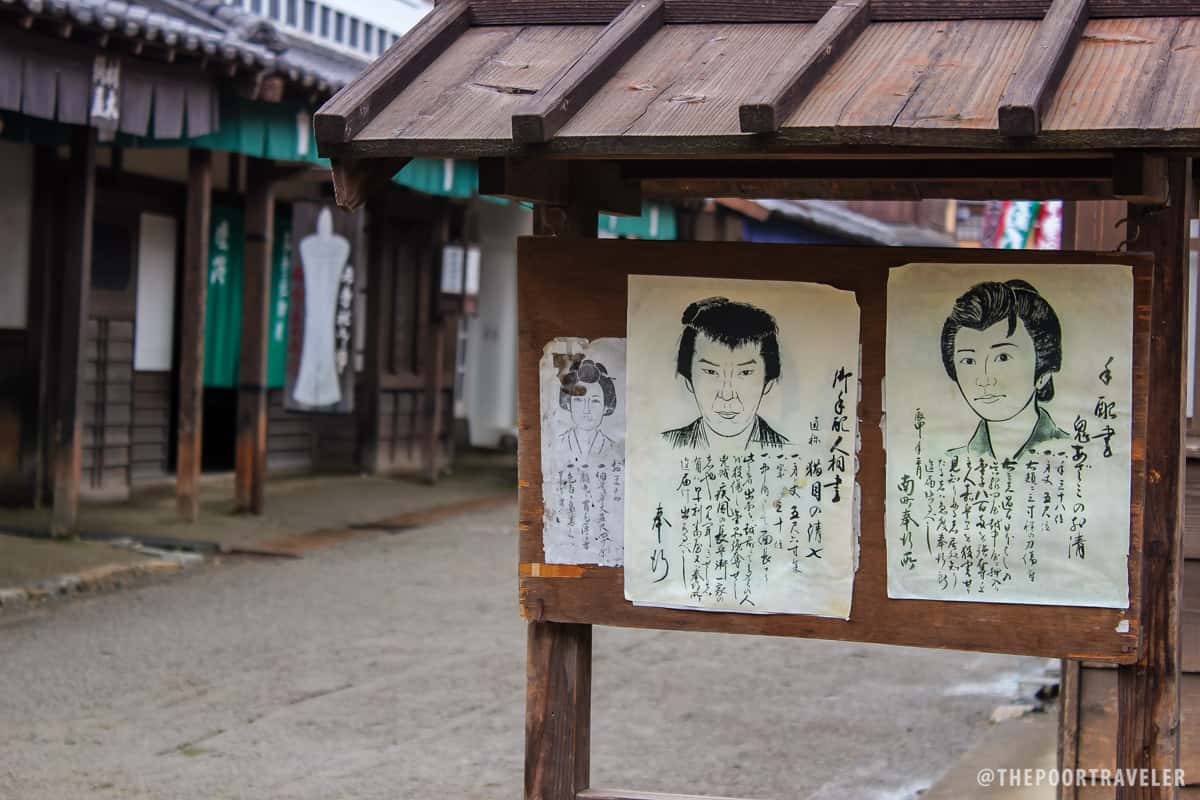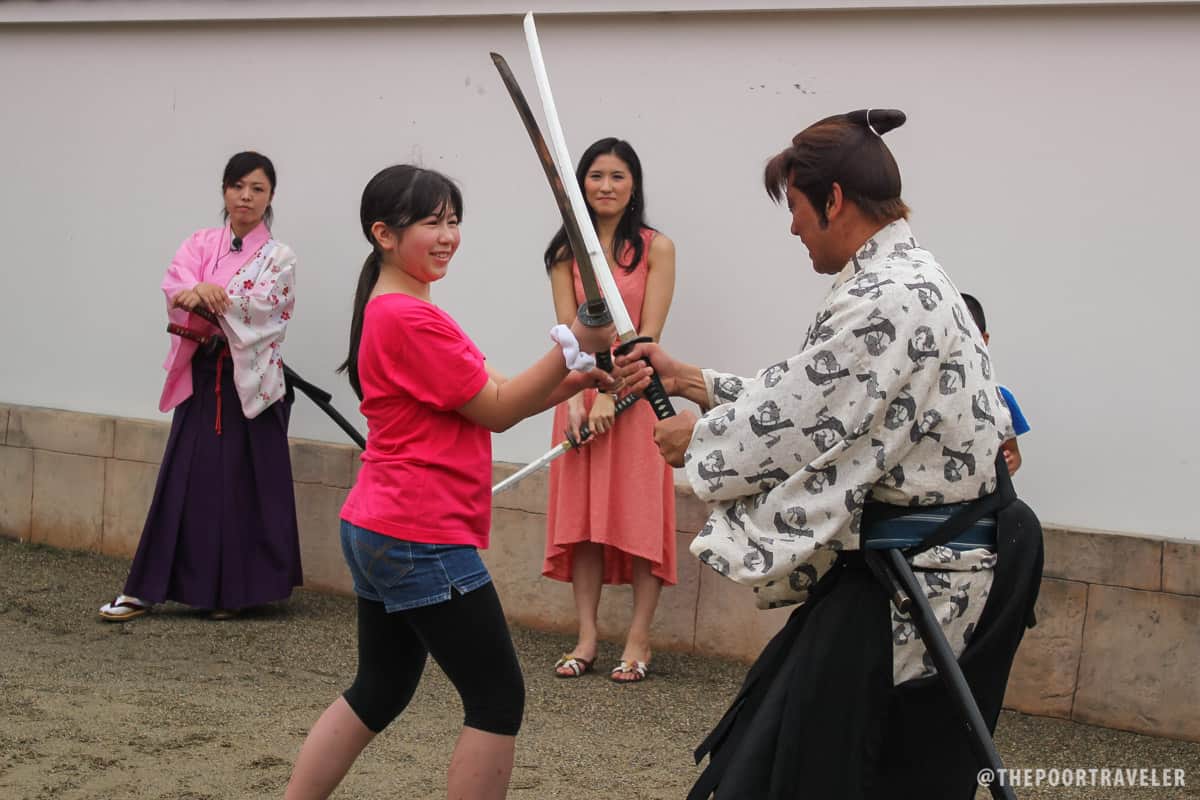 ---
Haunted House
The Japanese know how to deliver a scare, a fact that I was afraid to be proven right as I plodded toward its direction.It didn't help that we had to sign a waiver or some sort, and was reminded OVER AND OVER AGAIN that there would be NO TURNING BACK if we made it past the front door.
Trust me. It was the BEST — no, the WORST — haunted house you'll have the crazy pleasure to experience. Spine-tingling props fill the room and hair-raising sound effects send the creeps. I knew what I was getting into, but each step I took was heavy and reluctant. As hard as I tried to not freak out, I could not help but scream with every bloody body and decapitated head that suddenly blocked my way. And the actors inside! THE ACTORS INSIDE!!!!!!
Photography is prohibited inside for obvious reasons. (I could've smashed the actors with my camera had I carried it with me!)  There was an extra charge. It was as if I paid them to scare the living schnitzel out of me. It was amazing. Terrifying but amazing. Upon emerging from it, I wanted to do it again!
---
---
Nakamuraza Theater
At the dead center of the park is the Nakamuraza Theater, where they stage a variety of free shows. The one I saw was an action-comedy live ninja show. The problem was that it was in Japanese, but it was so action-packed it didn't really matter. I just assumed the comedy part because everyone else was laughing so hard at many points during the program.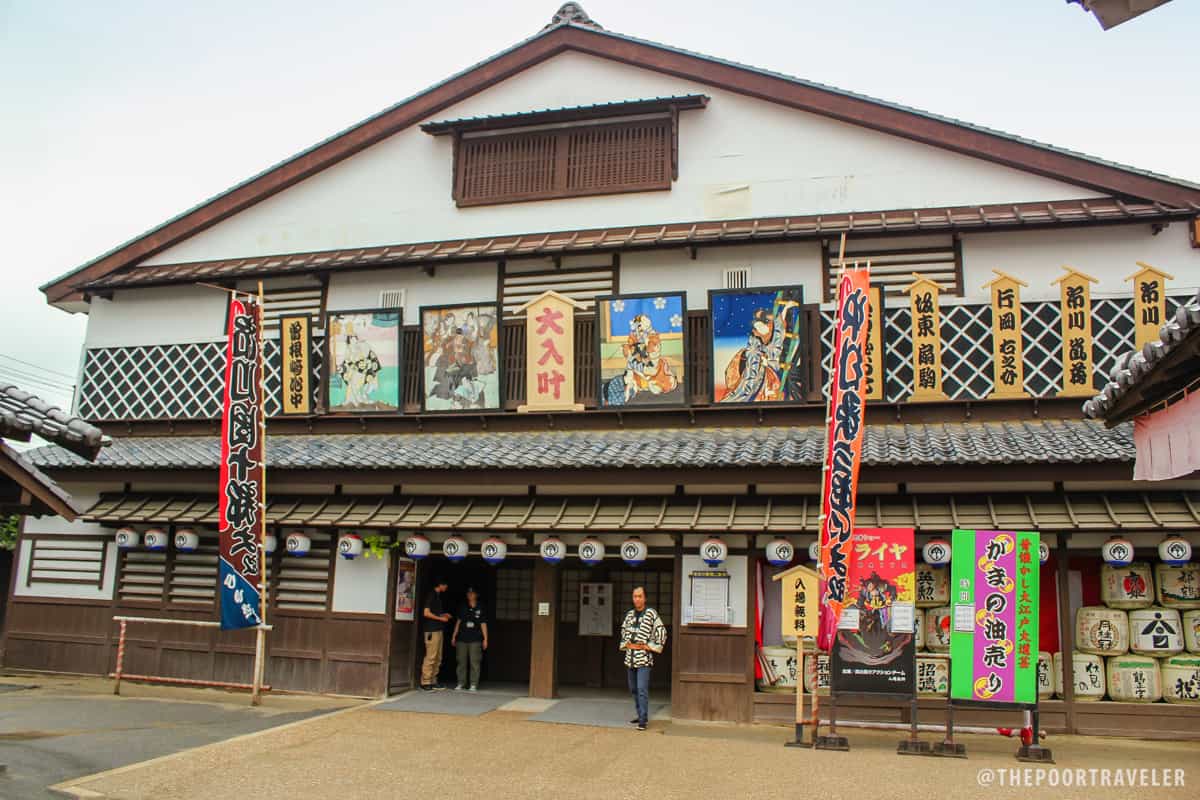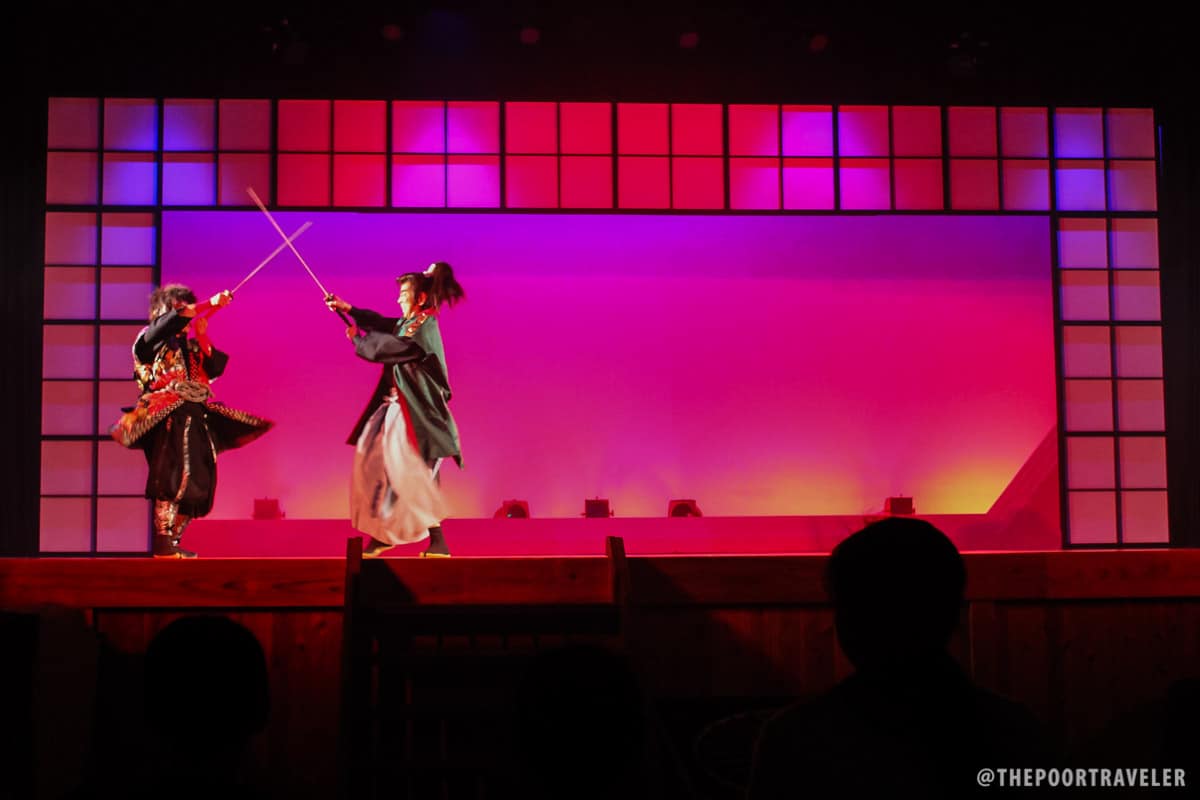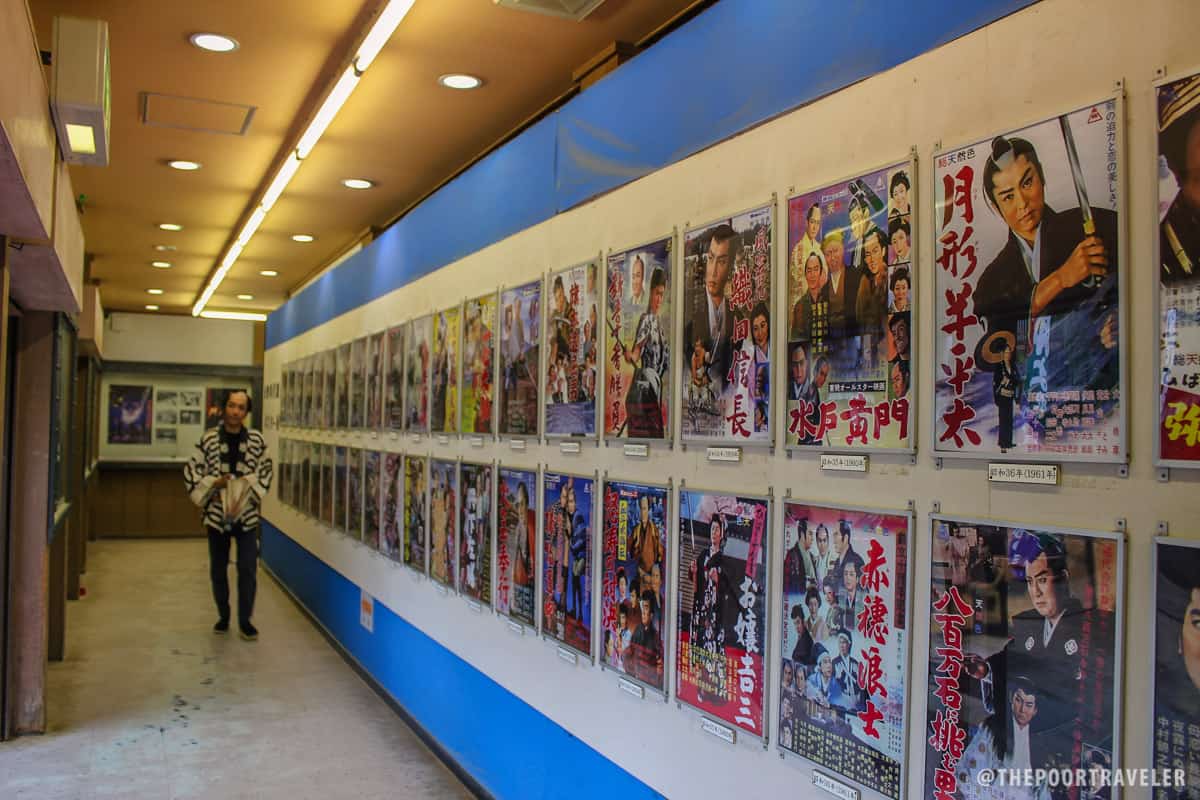 ---
Ninja Mystery House
Speaking of ninja, another interesting attraction is the Ninja Mystery House. You go inside and you have to find your way out. "Learn about some of the inner workings of this mysterious building," the park invites, "then it is up to you to escape." There are revolving doors, secret passages, and other traps to make exiting quite a challenge. I decided to skip this one because there was an additional charge again.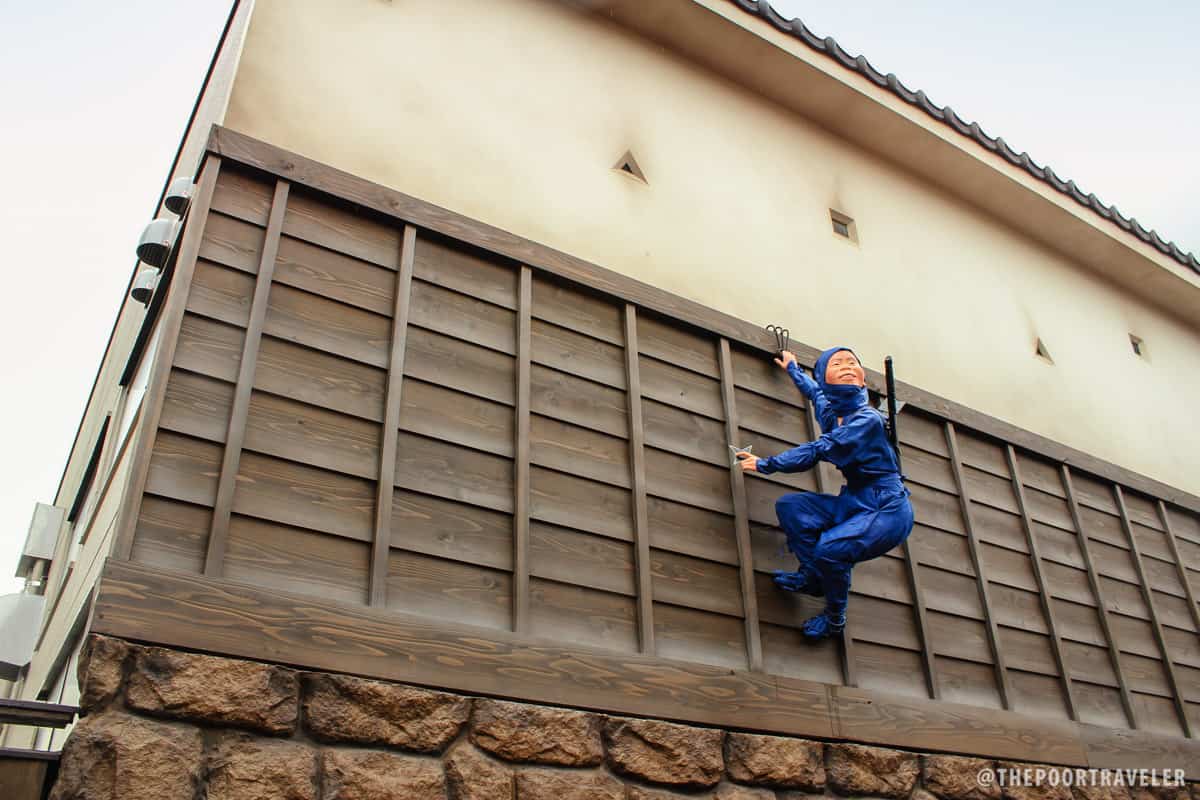 ---
Toei Anime Museum
Dragon Ball Z, Sailor Moon, One Piece. Just a few of the many anime on display inside the museum. "Here on display are original pictures, animation cells, promotional goods and more, from some of Toei's classic pictures as well as new productions," their website brags. It is pretty cozy, but it is nostalgia galore for those who had developed a lifelong bond with these characters! I was stoked!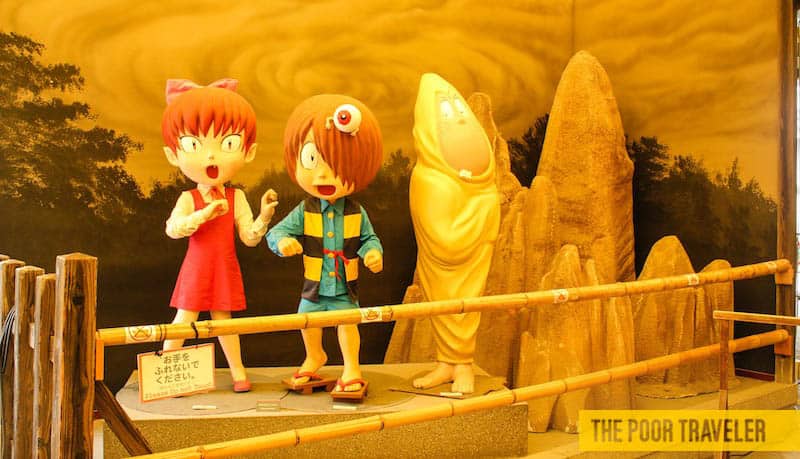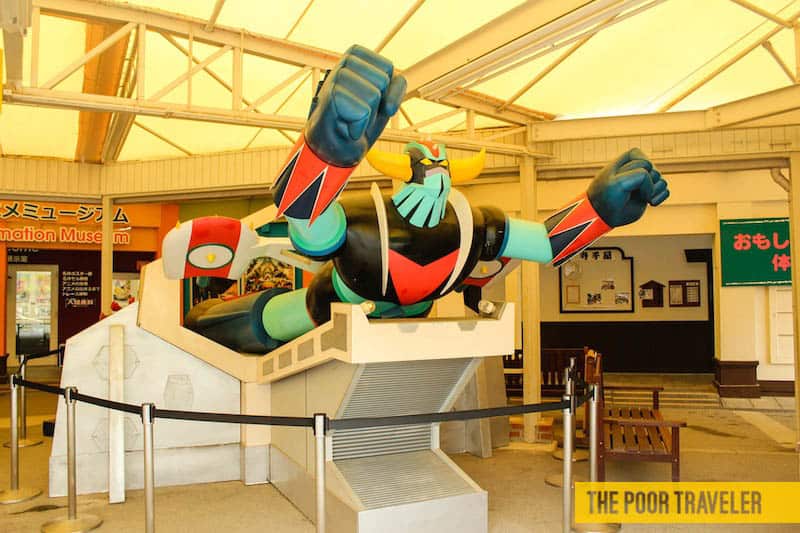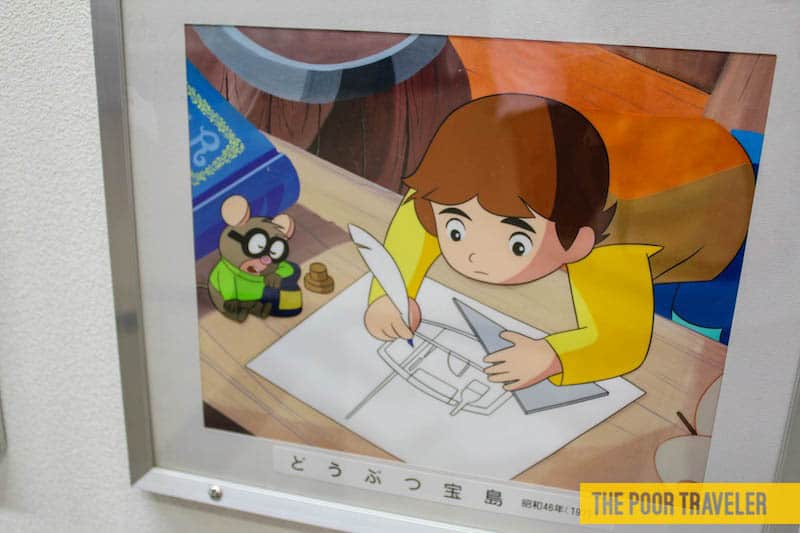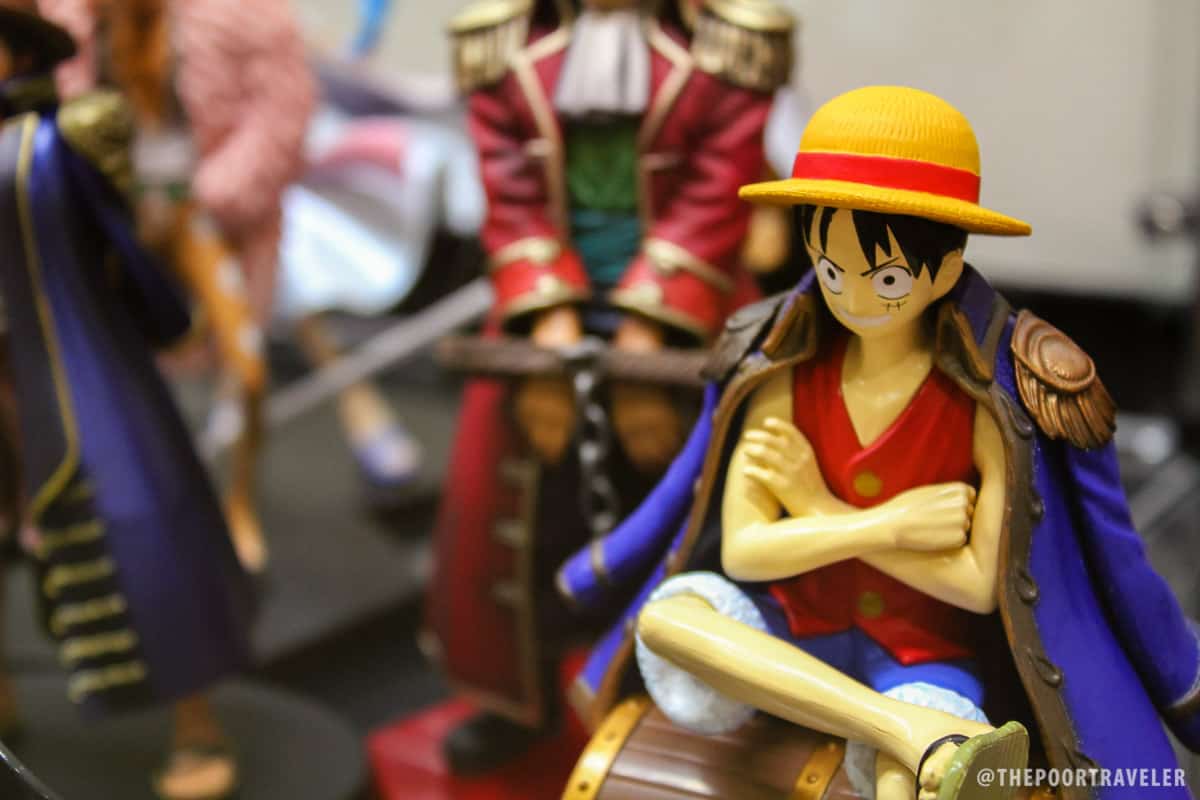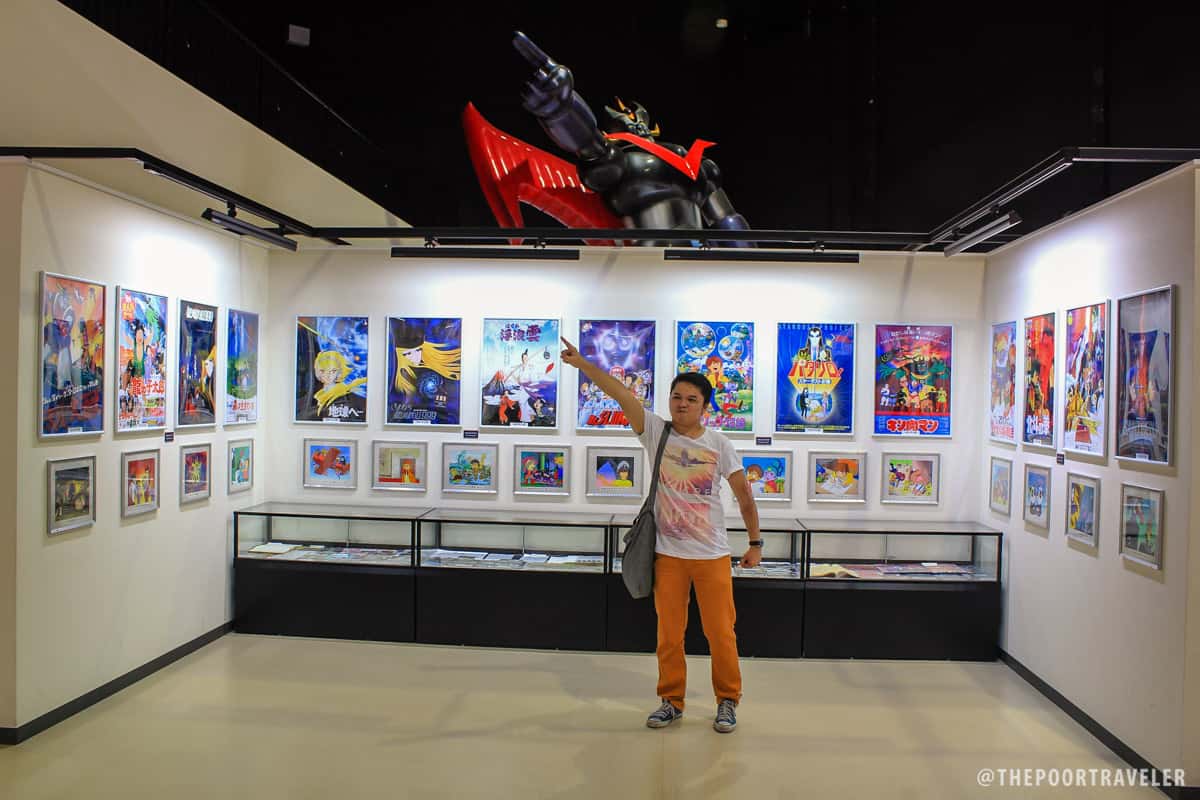 ---
Super Hero Land
I spent most of my time here looking for any member of Bioman. I found Red One in company of other red rangers from other super sentai series. And wow! There were 23 of them! I also spotted Masked Rider Black and Maskman! There were also mecha and kaiju gathered in their own corners.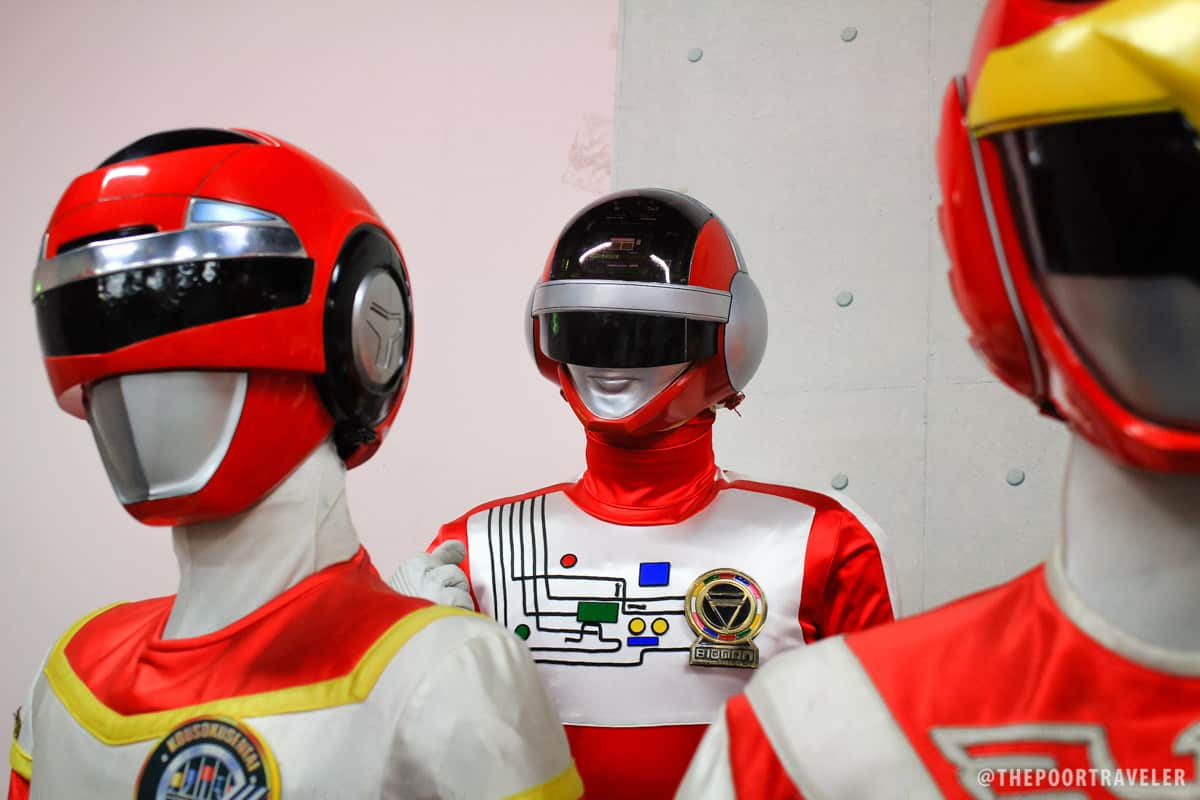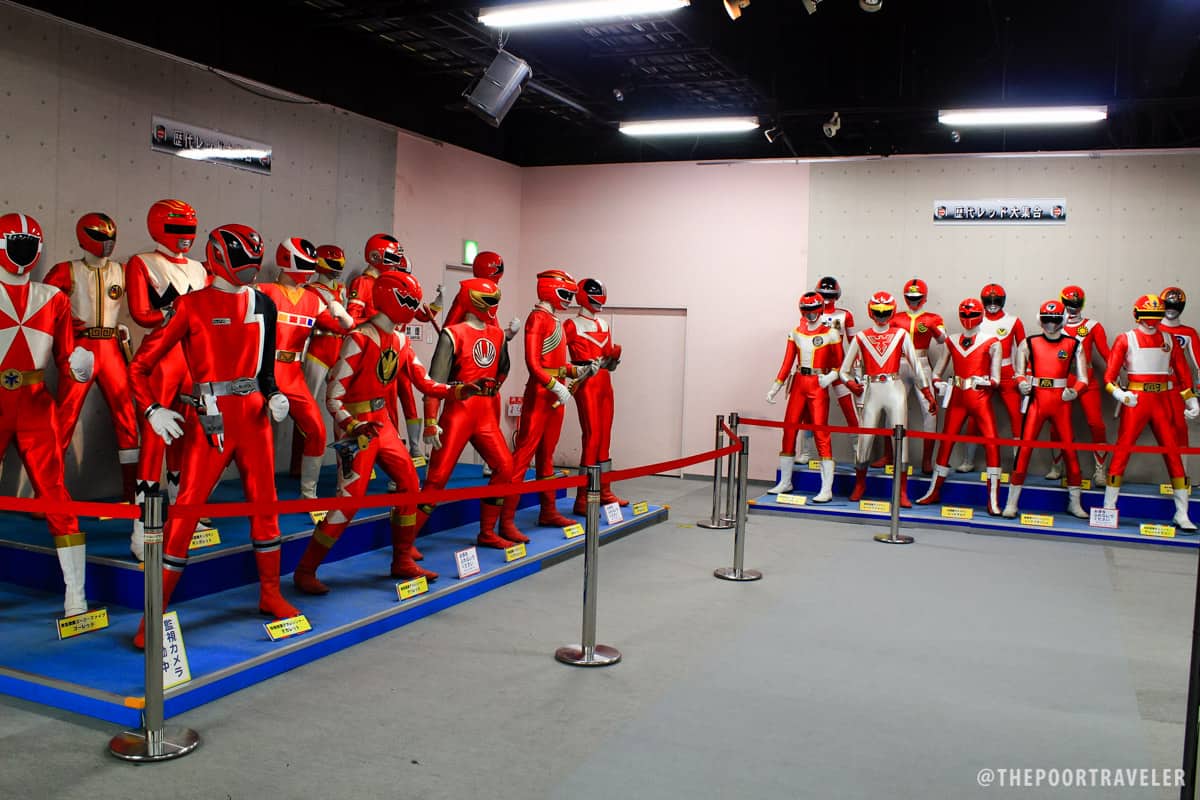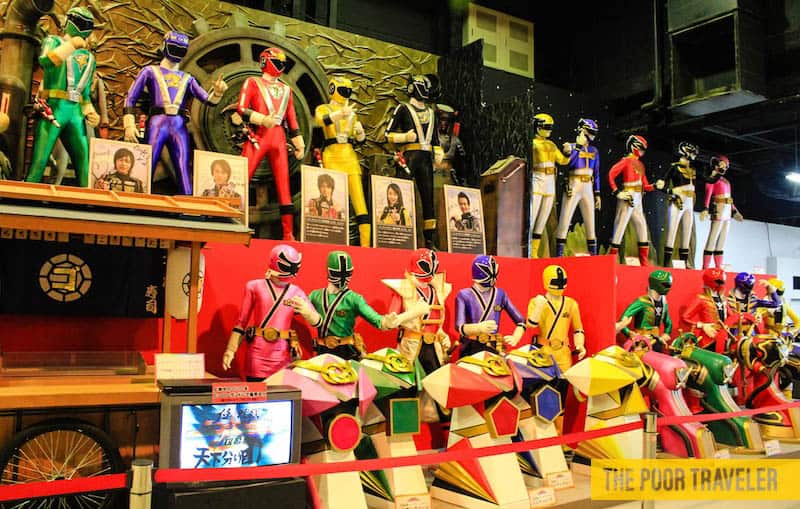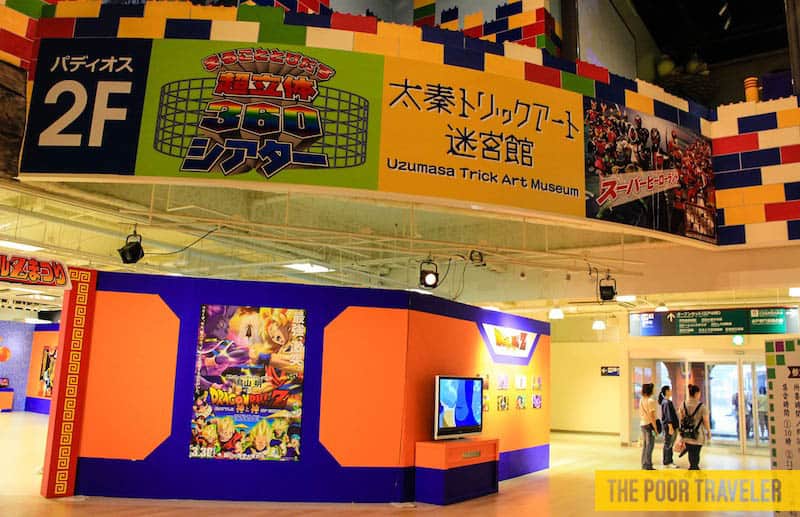 It wasn't a perfect day. The rain poured every now and then, taunting everyone and pushing them to run for cover each time. I also didn't see the rest of Bioman and I was really looking forward to meeting all of them. (Especially Blue Three. I was always Blue Three.) It was also cut short because my flight back to Manila was scheduled later that day. But it was the highest peak of my visit to Kyoto. Perhaps because I'm a sucker for anything that reminds me of childhood. Perhaps because I had always felt my youth slip away, and it was nice to be reminded of it. Perhaps because it was just darn fun. Who cares why? All I am sure of is, it felt good that my Kyoto trip ended not just on a high note but with the proverbial — what do they call it? — bang.
Toei Kyoto Studio Park
Opening Hours: 9:30am – 4:30pm
Entrance Fee: JPY 2200
For more info on ticket prices and operating hours, visit this page.

How to get to Kyoto Movie Park: From Kyoto Station, take the Sagano Line train to Uzumasa Station. From the exit, walk straight ahead until you hit the end of the street and turn right. Walk a couple of blocks and you'll see Toei Studios to your left.