A wind of optimism hugged me as I emerged from the train station, but it went away in an instant. I was at the center of Kyoto's Geisha District and the birthplace of the Kabuki theater. But I had a hunch. I had this awful feeling that I won't see what I came here for. Call it intuition. Call it lack of faith. I'd say I was managing my expectations. My track record with Lady Luck had not been shining, shimmering, and definitely not splendid at all. I doubted fate would be so kind to allow me to see any geisha even at this place.
Gion District is famous for two iconic forms of traditional Japanese entertainment — the kabuki and the geisha. They are what people from all over the world travel to Kyoto for. While they are very different from each other, their roots are intricately tangled. I was thankful that once in my life my soles touched the ground where these two art forms burgeoned and flourished.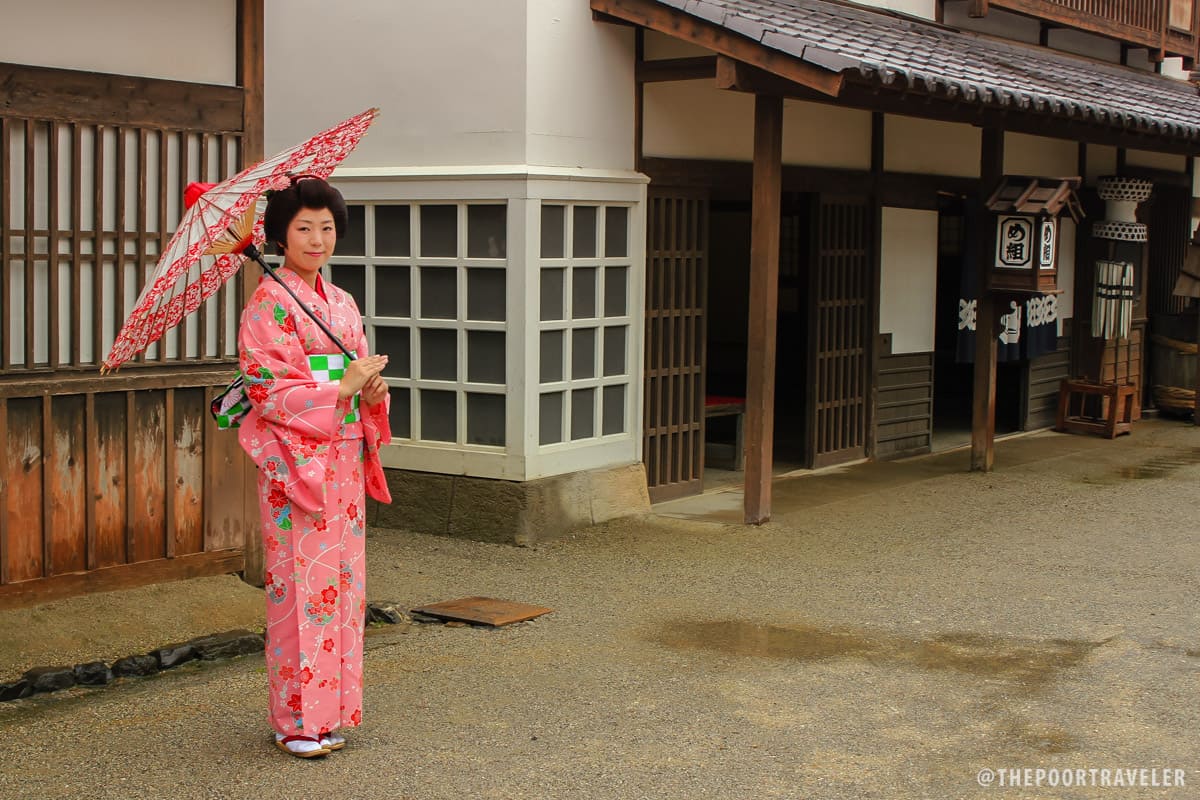 WHAT'S COVERED IN THIS GUIDE?
Minamiza Theater
The first structure to greet me was a grey four-story building along Shijo Street. The Minamiza Theater was one of the seven theaters that staged the first formally organized kabuki shows. But the very first performance wasn't held here.
The year was 1603. A maiden named Izumo-no-Okuni set up a stage on the dry bed of Shijo River and performed new dances and skits to raise funds for Izumo Shrine, where she came from. She quickly attracted flocks of audiences and even taught other young women her ways, thereby establishing a new form of entertainment. Kabuki, it was called. In 1620, the seven theaters along Shijo were built. The other six closed in the 19th century, making Minamiza the oldest (and the only remaining original) kabuki theater that continues to host performances today. The building was reconstructed in 1929 and was remodeled in 1991, but preserving its look.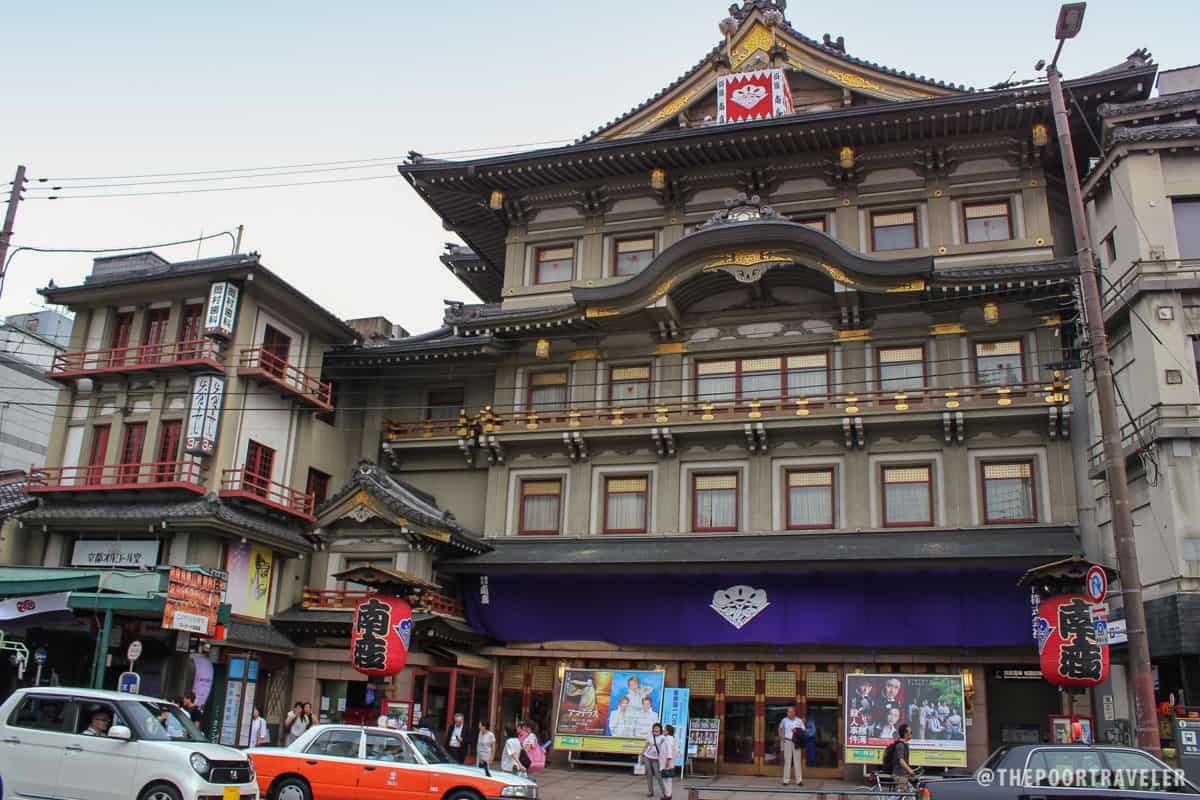 ---
The Kabuki-Geisha Connection
Kabuki's connection to Geisha is a complicated one. Okuni's new dance became a phenomenon, and groups in other parts of Japan picked up the new style. Pop culture, traditional Japanese-style! Performances — featuring a mixture of dances, music, and some sensuality — attracted massive crowds from all social classes, something that the government did not approve of. Kabuki, however, was almost unstoppable. It continued to flourish. So much so that the shogunate considered it a threat to the social order. In 1629, onna-kabuki (or women's kabuki) was banned. The female performers were replaced by young boys, but even they were seen as sexual objects by some and were prone to prostitution. In 1659, they too were replaced by adult male actors.
Some of the former kabuki performers found themselves in Yoshiwara, a pleasure district! (Pleasure!) Many "pleasure quarters" were allowed to exist by the government, and some of them were actually established to separate the sex trade from the entertainment centers. Yoshiwara was the only licensed pleasure quarter in Edo. Others became odoriko, teenage female dancers who were invited in the households of daimyo and other upperclass samurai to perform dances (without sexual acts). This arrangement eventually became very popular.
According to the book Yoshiwara: The Glittering World of the Japanese Courtesan: "Odoriko who were no longer teenagers began to call themselves like the male geisha, and in Fukugawa they engaged freely in prostitution." The first geisha with a name was Kikuya, a prostitute in Fukugawa in the 1750s. By the 1770s, female geishas became extremely in demand. Many of them entertained through dance and music only and did not engage in sexual acts, giving rise to the modern geisha we see today.
---
---
The Modern Geisha at Hanami-Koji Street
Sundown had come, and the soles of my shoes had almost melted from the friction against the stone floor. I still had not seen any geisha. I had walked down Hanami-Koji Street repeatedly and tirelessly, but they remained elusive. This narrow alley stemming from Shijo Street is flanked by series of Ochaya (teahouses), where many Maiko (trainees) learn the ways of the Geisha, and where Geisha entertain. Guests here are treated to a lavish authentic Japanese dining experience while the geisha perform dances and engage in conversations with them. Many of these teahouses are "exclusive." Only those with connections and money can afford them. I have neither. Aha!
Traditional lanterns lit up as the crowd rushed towards the main road. Still no geisha or maiko in sight. Oh what I would give to just see them pass by in their elaborate kimono, or hear the clanking of their wooden sandals, or capture the smile on their meticulously made up faces. Before the dark completely blanketed the site, I moved on to another spot.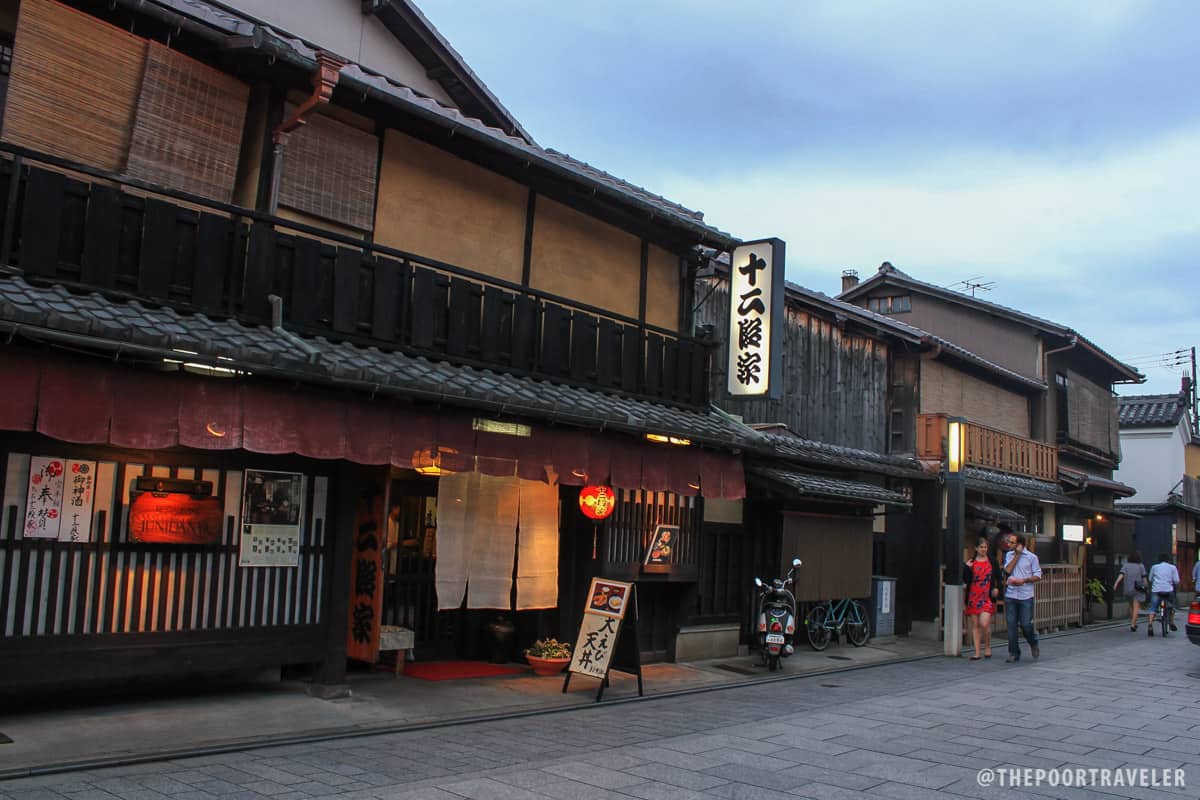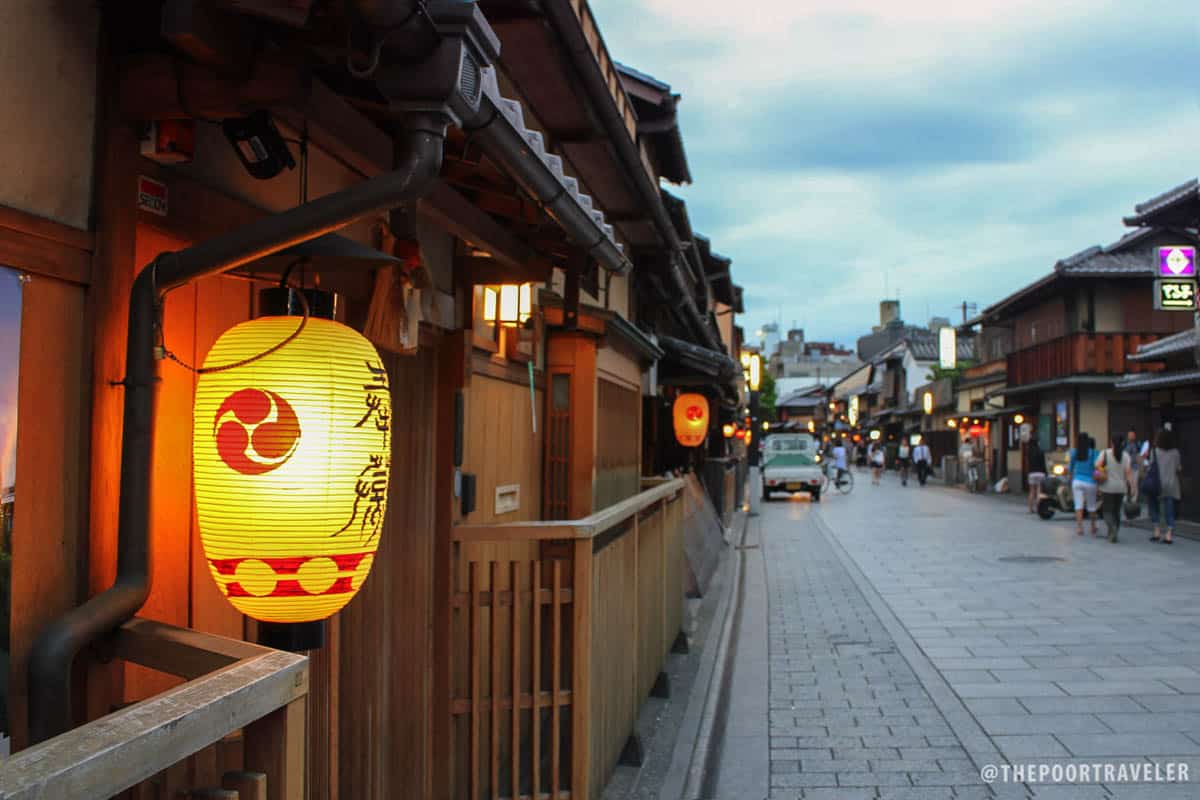 ---
Yasaka Shrine
Yasaka Shrine (八坂神社, Yasaka Jinja) used to be known as Gion Shrine. It was established over 1350 years ago. Its vermilion-colored gate is a striking structure at the very end of Shijo Street. I spotted four women wrapped in white and red traditional clothing and for a moment thought they were maiko. (They weren't.)
The main hall of the shrine features a honden (inner sanctuary) and a haiden (offering hall) in one building. Across it lies a dance hall adorned with countless lanterns with Japanese characters, the names of the donors.
The shrine is most famous for the Gion Matsuri, a summer festival celebrated in July! (It was June when I was there!)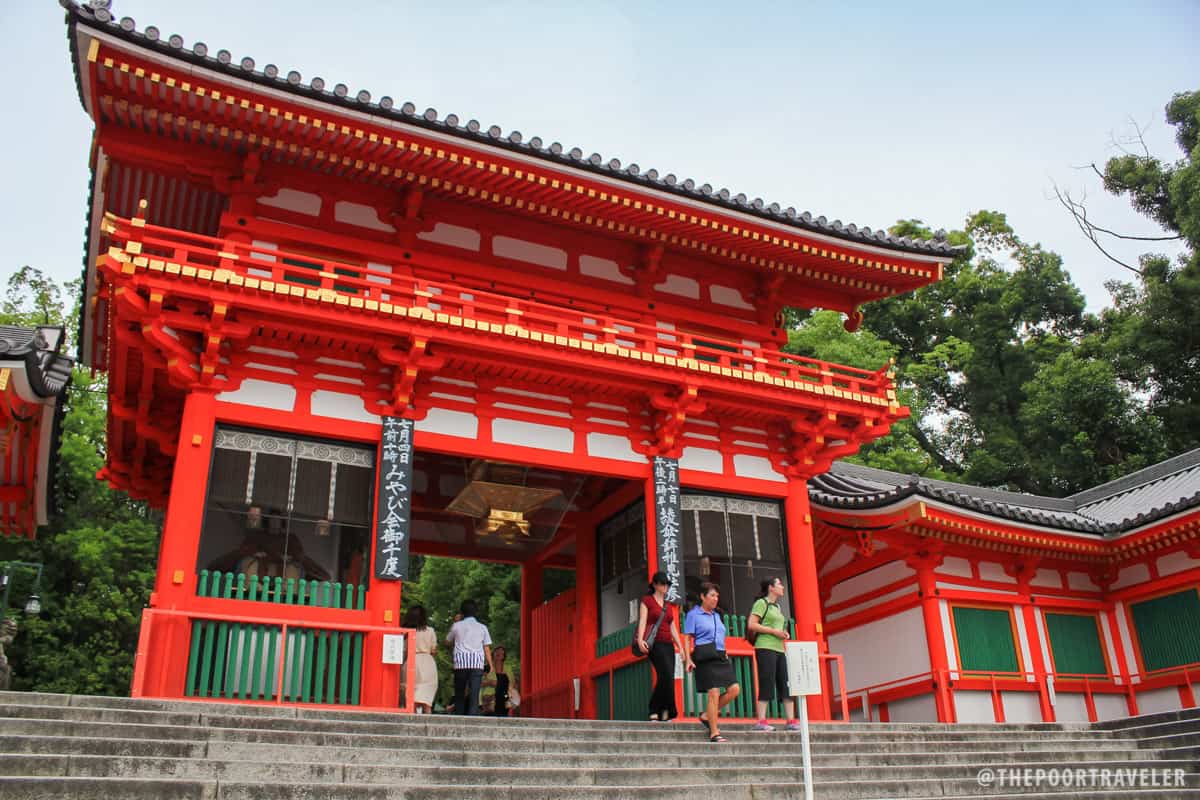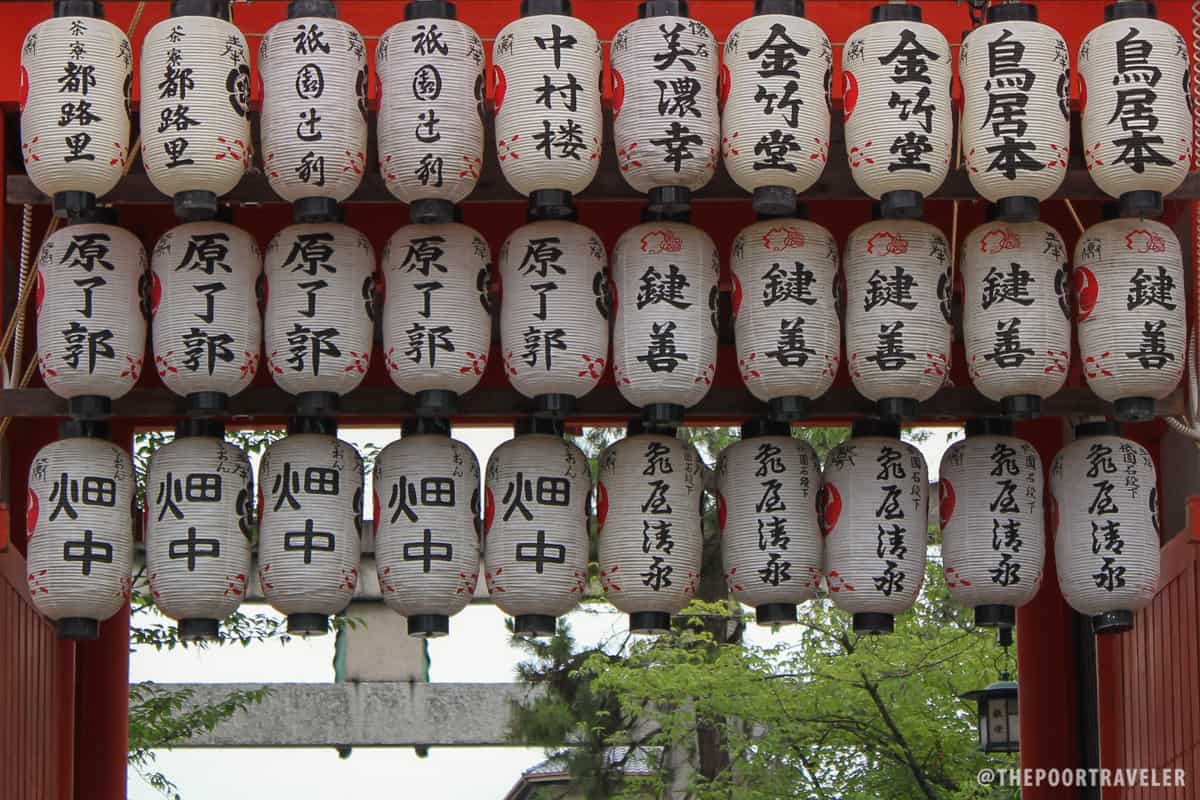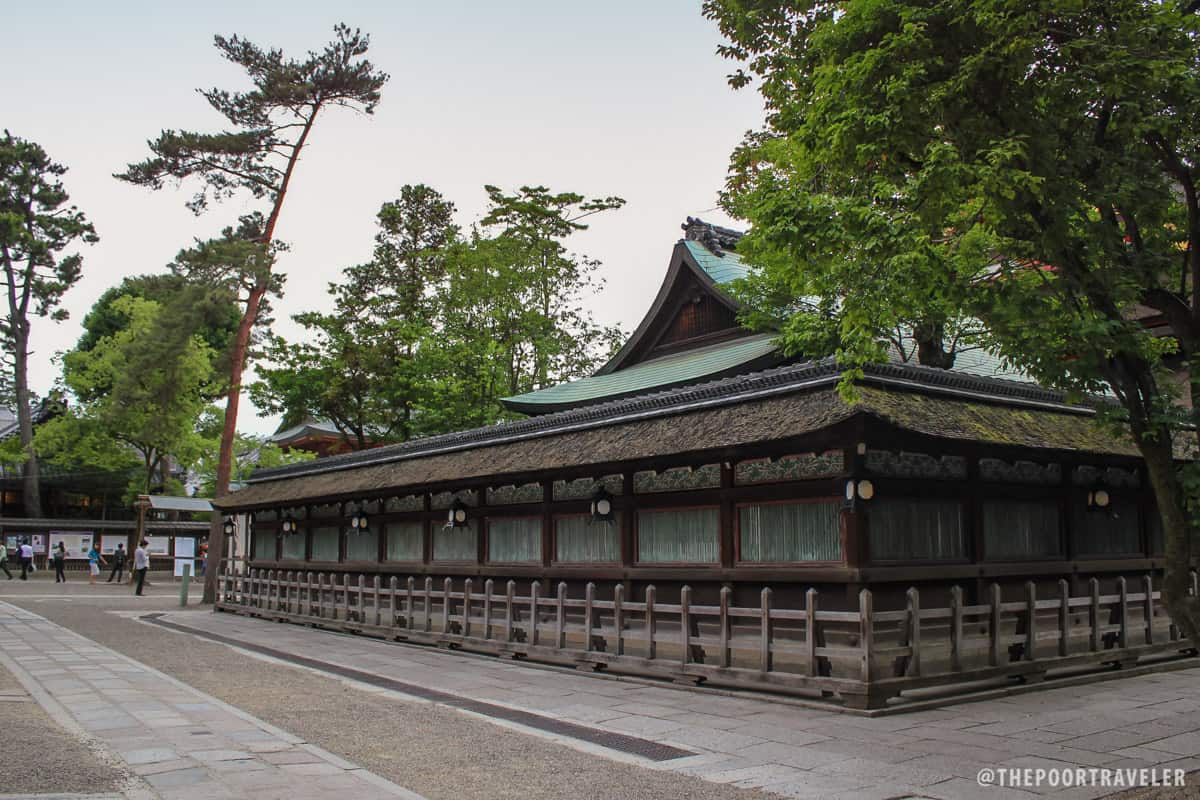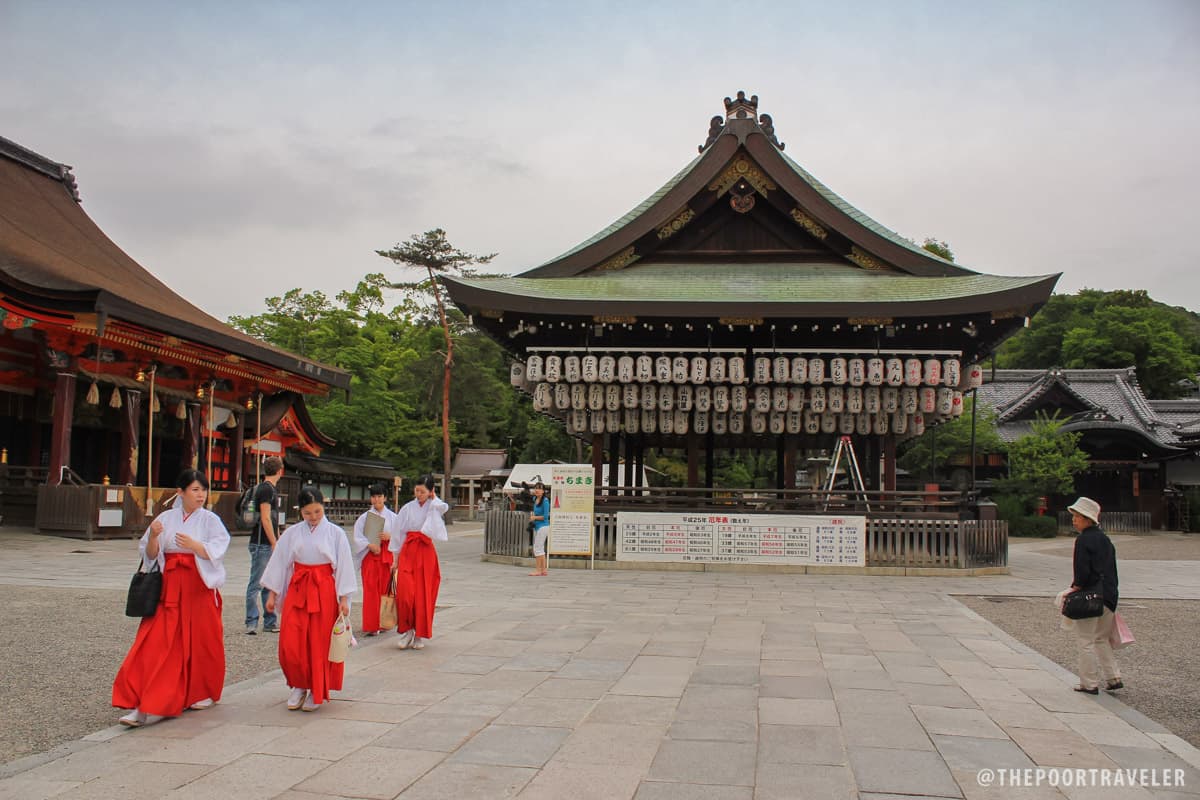 ---
Maruyama Park
I walked farther into the site and reached a torii, marking the entrance to what could be the quietest part of the district. Apparently, the Maruyama Park (Maruyama-koen) is only quiet during summer. Come April, tourists and locals alike swarm around the park for cherry blossom viewing parties. Tables and benches are scattered everywhere. I traipsed on the concrete ground and past a bridge that straddled a pond. Locals were there to kill time, relax, and perhaps admire the surroundings under the summer skies. I could not help but imagine what it would look like during spring.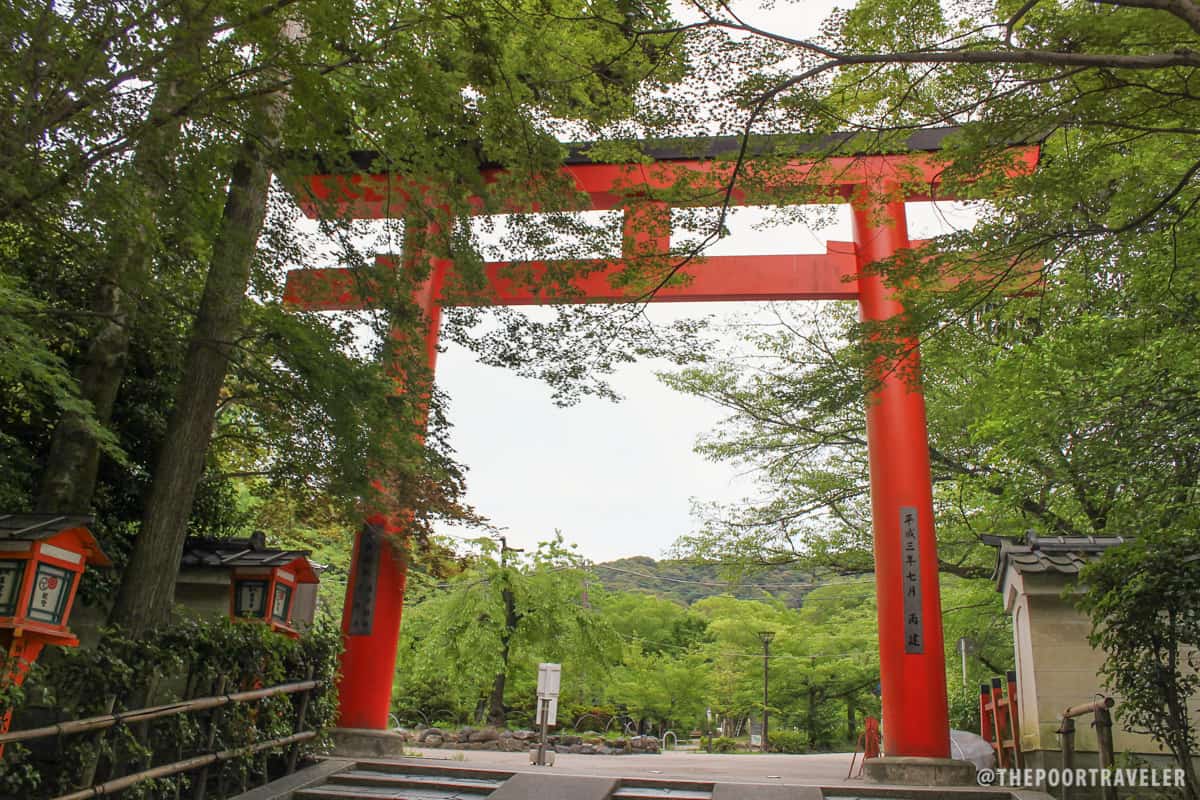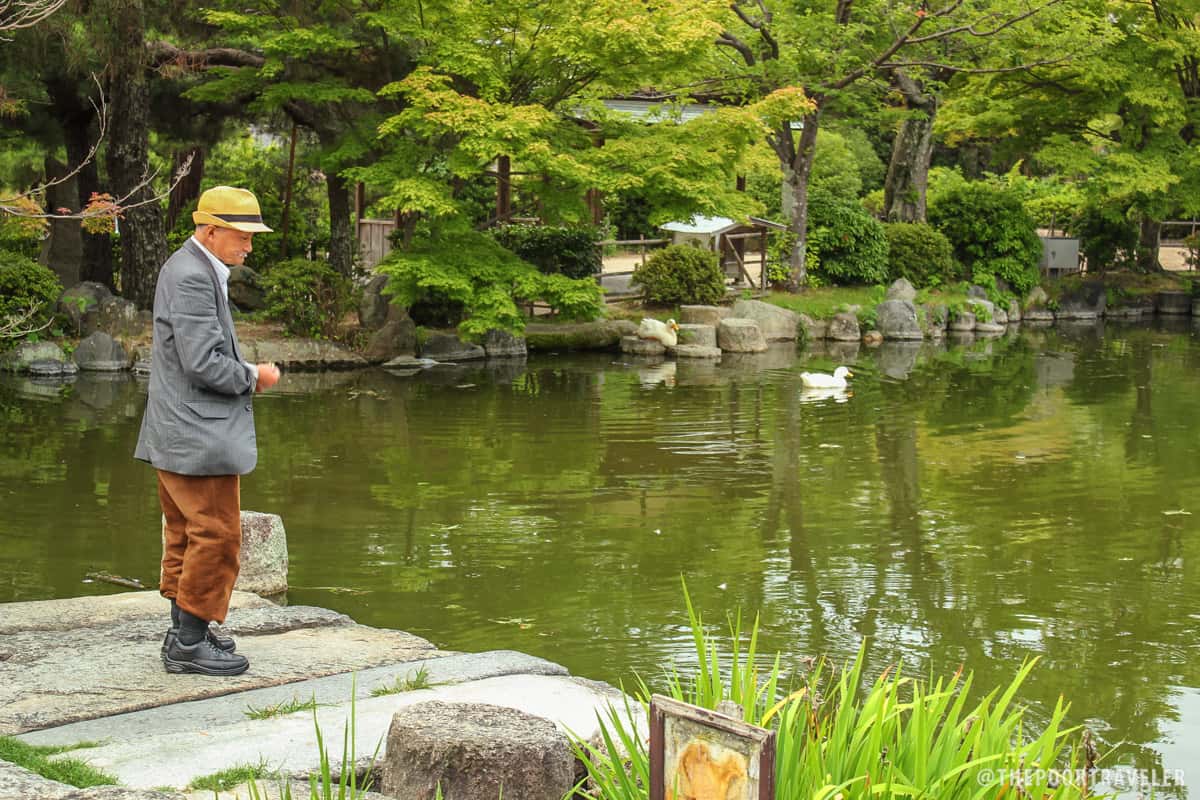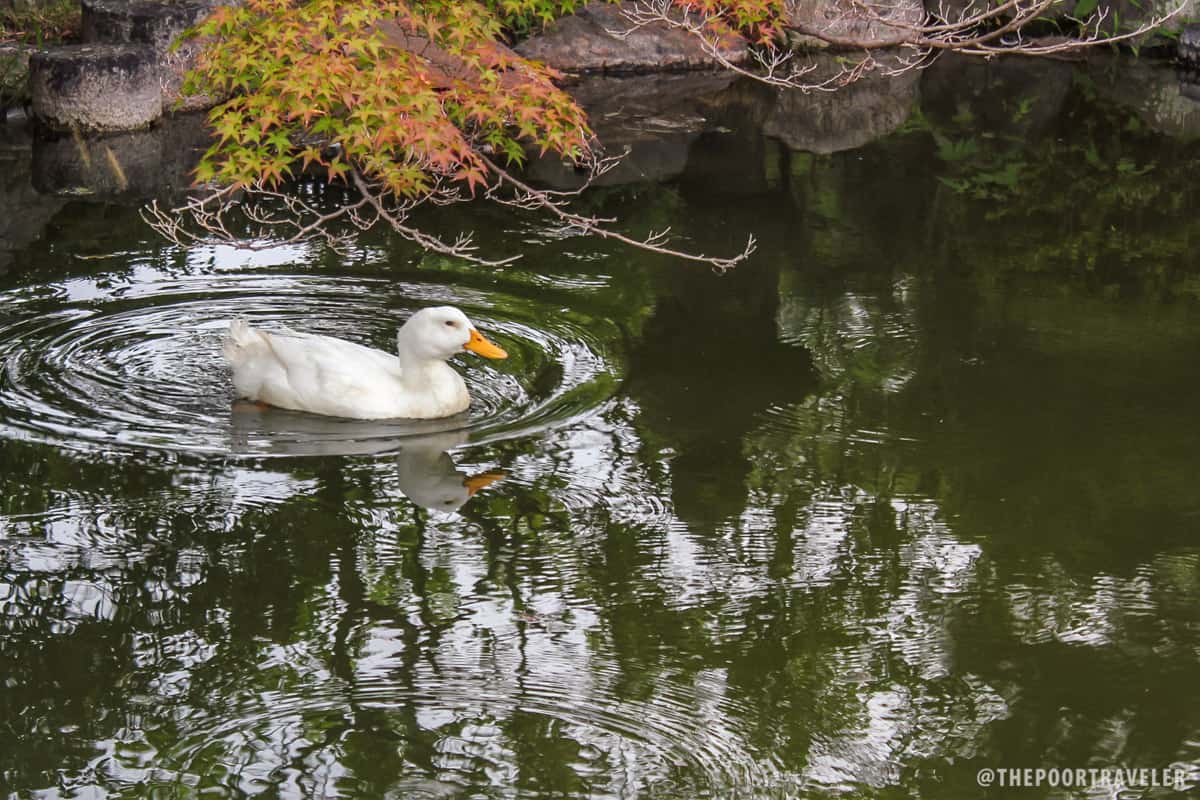 Concealed behind low hanging branches is a statue of Ryoma Sakamoto and Nakaoka Shintaro. A prominent figure during the Bakumatsu Period, he played an important role in overthrowing the Tokugawa Shogunate that changed the course of Japanese history. He and companion Nakaoka was assassinated at Teradaya Inn in Kyoto.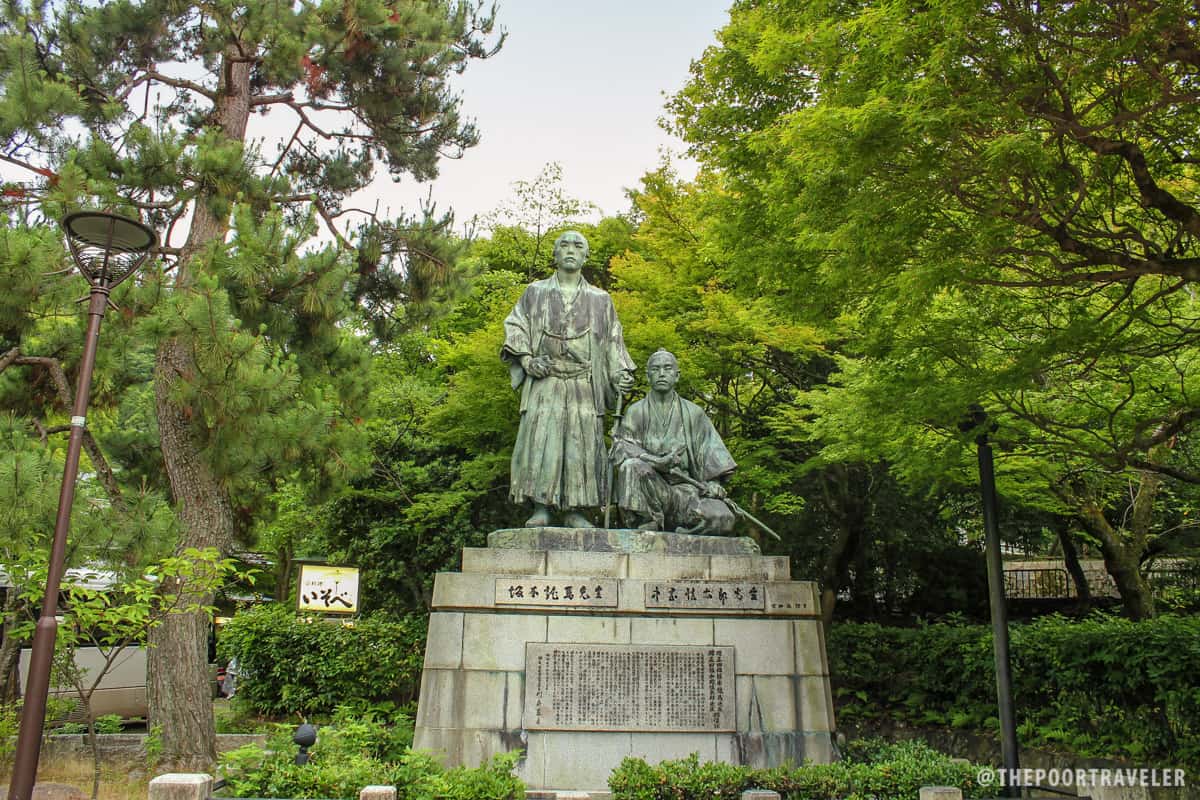 I didn't see any geisha. I didn't find the actual birthplace of kabuki. I walked around the district the entire afternoon until evening, but luck was just not on my side. Perhaps I was always at the wrong place at the wrong time. Perhaps I just wasn't looking hard enough. Perhaps it just wasn't my day. But although the night proved to be geisha-less, I still had an entertaining time exploring one of Kyoto's famed districts. Geisha or no geisha, kabuki or no kabuki, this visit would be unforgettable, I said to myself before coming here. And unforgettable this visit turned out to be.
How to get to Gion: From Kyoto Station, take the Keihan line to Gion Shijo Station. You may also take Bus no. 100 or 206.